I'll never forget stepping off the plane in Cape Town in shorts and a T-shirt in mid-July and watching my breath curl upwards. I'd forgotten winter and summer were reversed in the Southern Hemisphere.
My first shopping stop? Long underwear…
If you're planning a vacation and trying to decide the best time to travel, you've come to the right place. The most critical factor to ensuring the best possible vacation is the weather. So finding the best weather around the world and planning your trip to coincide can help determine when to go. However, weather can be unpredictable in some places, making the best times to travel limited.
From visiting Madrid to experiencing Africa, this post will take you through the best time of year to visit each country and why.
Choosing the best time to visit a destination
It's a sad fact: weather and climate don't come with guarantees, especially when global warming makes temperatures even more unreliable.
Like this day in Istanbul, when I'd planned to take a lot of photographs… and so much fog rolled in I ended up sipping coffee half the day instead.
One recent Easter holiday, British tourists accustomed to cold and rain packed their suntan lotions and bathing suits and headed off to Spain – only to find cold and rain! Had they stayed home, the heatwave in England would have kept them hot and tanned. So how do we know when is the best time to visit each destination is?
The following color key explains what season is the best to visit your country and why:

So yes, as we know, the weather is impossible to predict and can affect the best months to visit.
To make your trip (a bit) more predictable I've prepared these little charts to help you decide the best time to go travel and where. But please – if you land down under in winter in your shorts, just don't blame me! (The white squares mean "no opinion" on when to visit – it's sometimes good, sometimes not, usually an unpredictable mixture).
Best time to travel to North America
North America is so vast it's almost impossible to categorize its weather. My favorite traveling season is fall foliage in the northeast US and Quebec. My worst? It's a toss-up between mid-winter in the windswept prairies and high summer in the Southeast US.
May can be beautiful anywhere on the West Coast, as can September, making them the overall best time to visit America's Northern regions.
Best time to travel to Central America, including Mexico
The climate for most of Central America is hot and humid – especially near the coast. To escape the heat, go upwards, into the mountains. So when's the best time to go to Mexico and the Central USA? The dry season between December and April is the best time to go to Central America.
For the rest of the year, brace yourself for heavy rains and tropical storms, maybe not the best time to visit Latin America.
Best time to travel to the Caribbean
Despite variations, weather throughout the Caribbean is relatively similar. The best time in the world to visit is sometime between November and April, although the seasons on some islands are shorter. Here, the weather abroad in April can be temperamental, but don't let that get in your way.
The rainy season takes up the rest of the time, but of particular note is September-October, the hurricane season. Stay away if you can!
Best time to travel to South America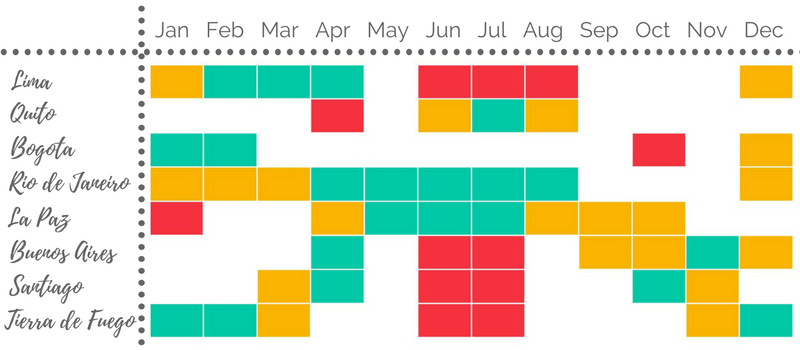 The best time of the year to visit South America varies. The climate for this region is incredibly diverse and the Equator cuts right across the continent. Depending on which side you're standing, winter and summer are reversed.
In the North, when visiting Colombia and Venezuela, the dry season (and best time to visit) is usually winter, sometime between Christmas and Easter. In Ecuador, visit Quito between June and August.
In the Amazon, humidity is just about 100% most of the time with violent storms in the afternoon, usually timed to coincide with the one daily incoming flight. The best time to visit the Amazon is June to October. If you're visiting Rio, the June to September summer is pleasant, although the water can be a bit cold.
Along the western coast of the continent, the dry season tends to be around June to October, with the season slightly longer or shorter depending on the country. The best time to travel to Machu Picchu is in winter, between May and mid-September.
Chile, more than 4000km long, has several types of climate, as does Argentina. They range from desert through tropical to nearly Antarctic, or from bikini to parka in a single country.
Best time to travel to the Middle East and North Africa
Climate for most of this region is uniformly torrid, except for the Sahara Desert. The flatter the land the hotter the weather, especially in summer. So if you're hot, head up to the highlands, where altitude can make winter downright cold. Coastal areas are greener and wetter – and cooler.
Best time to travel to West Africa
West Africa's climate goes from hot and dry in the Sahel, just south of the Sahara, to hot and humid along the tropical coast. The nearer the coast, the greater the rainfall. Summers are stifling and muggy, winters dryer and cooler.
When deciding the best time of year to go to Africa, avoid the rainy season; rain makes dirt roads muddy and travel difficult, and you'll constantly be swatting mosquitoes.
Best time to travel to East and Central Africa
This is the Africa of the tropics, with majestic rainforests and humidity so thick you could cut it with a knife. In the northernmost part of the region, around the Horn of Africa, the weather is hot, with some areas – such as the below-sea-level Danakil Depression in Eritrea – among the hottest on earth.
The region also has some of the highest cities on the planet, with cold nights and cold winters. You might freeze, but you'll take amazing photographs in the crystal clear light of Ethiopian winters.
Best time to travel to Southern Africa
Don't forget: the further south you go, the colder it gets in winter. April to October, autumn and winter, are usually the best times to visit Africa's Southern regions – no rains, warm sunny days, and cool nights.
The rains, from November to March, are bearable as long as you are well above sea level. Madagascar, in the Indian Ocean, is a huge island with varied climates – to see the entire island, go in September or October. And if you're there on the right day, South Africa will provide you with some of the most spectacular thunderstorms you'll ever see.
Best time to travel to Europe
What is the best time to travel to Europe? Well, Europe's climate tends to be relatively stable – cold in winter, which lasts from around December to February, becoming warmer as summer (July-August) nears.
The further North you go the colder it becomes, with the northernmost tips nearly Arctic in winter and the South scorching in summer. Spring can start early and then freeze again. There are distinct rainy seasons in the autumn (October-November) although areas with Atlantic coasts seem to have longer rainy seasons. And even if London tends to be miserable in December, there's a wonderful Christmas spirit in the city so don't let weather alone be your judge!
Best time to travel to Central and South Asia
The winters are frigid and snow is frequent, with springtime the best time to visit Central Asia. South Asia, by contrast, is warmer and more humid, with monsoons for part of the year and cold winters.
Climate is also extremely diverse; a country like India ranges from tropical in the South to temperate in the North, near the Himalayas. The best time to visit Asia for a trekking holiday could be either before the monsoons, from February to May, or after them, from October onwards.
Best time to travel to Southeast Asia and East Asia
This region ranges from temperate Japan in the North to tropical Borneo in the South. Southeast Asia has a tropical climate with plenty of rainfall, except in the more northern mountainous areas, where the weather is a bit cooler.
The northern part of the continent is more diverse. It can be very cold in Japan in winter – with good skiing too! The weather here is not unlike that of Europe or North America's more temperate regions.
Best time to travel to Oceania
This is the continent that groups Australia, New Zealand, and the islands of the Pacific. Traveling to New Zealand and exploring Australia are great to visit almost anytime, although Australia's summer (December to February) can be quite hot – but that's what beaches are for!
Island weather differs from island to island, although they do share in common tropical wind systems and even cyclones, so check before you go.
Best time to travel if you're looking for seasonal events around the world
The world is full of festivals, special events, championships, or cultural high points. Here is a brief sample taken from around the world… just in case this is when you want to go!
To make it easier for you, the list is divided into almost quarters: Dec-Feb, Mar-May, Jun-Aug, and Sept-Nov. and – it goes without saying – this is NOT a complete list, only highlights to get you started now that you know what is the best time to visit the country.
Special events in North America
December-February
Sundance Film Festival in Utah, USA
Quebec Winter Carnival, Quebec City, Canada
Winterlude, Ottawa ON, Canada
March-May
Mardi Gras in New Orleans, LA
Kentucky Derby, Louisville, KY
Coachella, CA
Texas Sandfest, Port Aranasas, TX
June-August
Comic Con International in San Diego, CA
Montreal International Jazz Festival, Montreal, Canada
September-November
Macy's Thanksgiving Day Parade, New York City
New England Foliage in the Fall, Northeast USA
Albuquerque International Balloon Fiesta, Albuquerque, NM
Special events in Latin America
December-February
Festival de la Candelaria, Bolivia & Peru
March-May
Carnival, Rio de Janeiro, Brazil
Mendoza Wine Harvest Festival, Argentina
June-August
Inti Raymi in Cuzco, Peru
Tango Festival – August – Buenos Aires, Argentina
September-November
Day of the Dead, Mexico City, Mexico
Special events in Europe
December-February
March-May
Monaco Grand Prix
Frieze in London
St. Patrick's Day, Dublin, Ireland
Anastenaria Firewalking Ceremony, Greece & Bulgaria
June-August
The Fringe Festival in Edinburgh, Scotland
Royal Ascot, UK
Wimbledon, London, UK
Melt Festival, Gräfenhainichen, Germany
Le Tour de France
Running of the Bulls, Pamplona, Spain
La Tomatina, Valencia, Spain
Midsummer's Eve Pagan Festival, Tallberg, Sweden
Salzburg Festival, Salzburg, Austria
September-November
Oktoberfest in Munich, Germany
Rubber Duck Race, Tübingen, Germany
Wexford Opera Festival, Wexford, Ireland
Special events in Asia
December-February
Chinese New Year, Shanghai, China
Ice Festival in Harbin, China
Sapporo Snow Festival, Sapporo, Japan
Mevlana Whirling Dervishes Festival in Konya, Turkey
March-May
The Lantern Festival in Taiwan
Elephant Festival, Jaipur, India
Holi Festival of Colors, India, Nepal, Sri Lanka, and other Hindu regions
June-August
Dragon Boat Carnival, Hong Kong
September-November
Diwali, Festival of Lights, Mumbai, India
Loy Krathong and Yi Peng in Chiang Mai, Thailand
World Nomad Games, Cholpon-Ata, Kyrgyzstan (every other year)
Special events in Africa
March-May
Asa Baako: One Dance Festival, Ghana
Cape Town Jazz Festival, South Africa
International Festival of the Arts, Harare, Zimbabwe
Gnaoua World Music Festival, Essaouira, Morocco
September-November
Sun Festival at Abu Simbel, Egypt (in February and October)
The Great Migration of the Serengeti, Tanzania and Kenya (can start in November)
Mombasa Carnival, Kenya
Special events in Oceania
— Originally published on 31 July 2011
PIN THESE PICTURES AND SAVE FOR LATER!