By Michela Fantinel
Travel to Australia is my preferred solo travel escapade. It all started with a two-month backpacking trip on a gap year in 2004 and it was love at first sight!
That experience has hooked me ever since. With a total of 23 months spread over 12 years of trips to Australia, I haven't yet seen it all.
Down Under is a remote country that I highly recommend to the adventurous solo traveler. It is twice the size of Europe and has a population of only 24 million people, but more than 50 million kangaroos, 75 million sheep, cattle stations the size of Belgium and national parks that are as big as half of Switzerland. You'll soon get the picture of how big the country is.

A few random facts you might want to know about Australia
– It is HUGE, as large as the continental USA. The 6th largest in the world, in fact.
– Australia has more than 10,000 beaches and you'll need some serious sunblock.
– Don't be fooled. It can be hot – but also very cold in some parts, especially at night.
– Australian English can be hard to understand as it has plenty of slang.
– 75% of local species are still unknown (and the 10 deadliest snakes live in Australia).
– Most animals aren't deadly. But if you need to, dial 000 for emergency services.
– Australia is not cheap. On the other hand, you don't tip.
– Wifi is slow and expensive. Enjoy going offline.
The major draw for the solo traveler is its amazing nature, along with the abundance of outdoor and off-the-beaten path adventures. It's a country that offers endless possibilities for road trippers across a vast, fascinating landscape.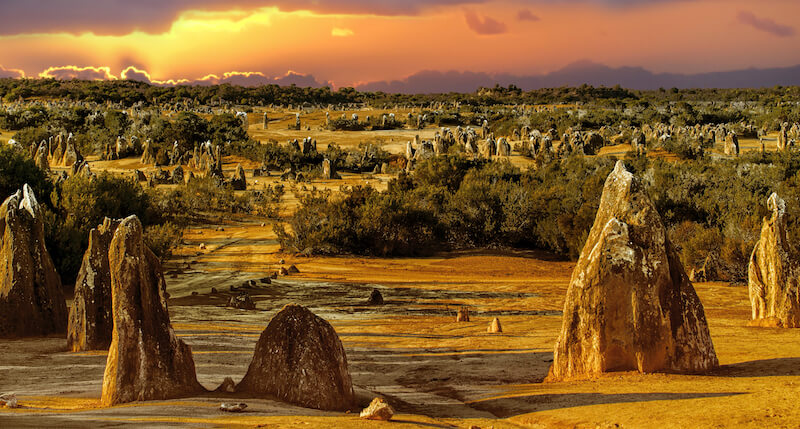 Australia is a safe and woman-friendly country. As a woman you can safely travel at night on buses, trains and public transportation with no fear.
First, travel at night is quite common in Australia, and second, people are easygoing and respectful. I have traveled alone to different countries and visiting Australia, I never felt safer.
Heading to Australia solo? The perfect travel guide to Australia
Your Australia Itinerary, by Michela Fantinel, is hands-down the best guidebook for Australia travel itineraries on the market. It's packed with valuable first-hand information and rock solid advice from the author, who has traveled through Australia for more than 15 years. From how to allocate time and advanced planning tricks to choosing the right destinations to see and activities to do, this book is the perfect tool for creating your own trip itinerary around Australia.
Traveling to Australia solo? The perfect travel guide to Australia
The locals are welcoming towards solo travelers and generously offer help (even when you don't to ask for it) by giving advice, tips and also offering to host you at their homes. At the same time, this is a country of extremes, with huge contrasts and challenges too. So you definitely need to know what you can and can't do while traveling around Australia on your own.
How to get around: organizing your trip around Australia
Travel within Australia is probably the biggest challenge all travelers face when touring the country.
To cover long distances, flying is the most cost-effective. However, domestic flights are not cheap and you must book ahead of time. If you have enough time, train travel can also be a great way to see the country.
While you can travel safely anywhere and with a wide range of transportation, the best way to explore the country is by going on a road trip, either with a car or a campervan.
Most remote areas have only limited public transportation, so there are two main options for solo travel in Australia: either joining a tour or self-driving.
For a solo woman, driving around the country on her own may sound daunting. Yes, it can be quite challenging. It took me a while to get familiar with self-driving and I can tell you that it's easier than I thought. You will not need to hire a 4WD car. The majority of road trips are on sealed roads. Certainly any road trip requires good preparation and the awareness that you will be alone on the road for a long time. I always recommend you combine as many ways of transportation as possible.
Best Australian destinations for first-time solo travel to Australia: bucket list
If you are embarking on a trip, these are the best destinations in Australia, from both ease and safety standpoints, and the ones I would recommend for the first-time solo traveler to Australia.
Melbourne
Melbourne and its surroundings offer an insight into the great Aussie food and coffee culture plus the opportunity to discover Melbourne's surroundings with easy day-trips. You can see striking coastal landmarks, ancient fern tree gully and eucalyptus forest, go hiking and enjoy the great outdoors in Yarra Valley and Mornington Peninsula. Take stroll or bike along the beach from Melbourne to Brighton. You can taste the local specialties and great variety of wines, see native animals at Wilson Promontory, one of the top locations for nature and wildlife in the region.
Queensland
North Tropical Queensland is known for its fabulous beaches and heaven for aquatic sports from snorkeling to surfing and scuba-diving. Although it's a bit touristy you will love the variety of things to do and see, which go beyond the Great Barrier Reef. The rich vegetation of the Daintree Forest (the most ancient rainforest in the world) north of Cairns is a striking landscape with unique native animals. The inland wetlands with heritage sites offers great food tours (organic tropical fruits and veggie, dairy products and more), picturesque landscape with lakes, hills, vast coffee and tea plantations. You can easily tour the region by car and everything is within 250 km of Cairns.
Central Australia
Uluru and The Red Centre must be on your list, even though climbing it is now banned. This is one of the seven wonders of the world and thinking of Uluru gives me shivers. The huge red rock can be experienced at sunrise and sunset and by walking around the 9 km base walk. Moreover, aboriginal guides offer free guided tours and an insight into the significance of Uluru to the local Aboriginal population. To visit, you can also take a day trip from Alice Springs.
Sydney
Sydney is a must-see destination, what so many call "London in the Sun". Sydney Harbour is one of the city's highlights but the city, next to the famous city beaches of Bondi and Manly, is also a gateway to many more destinations like Royal National Parks and the Blue Mountains. You can also start a once-in-a-lifetime train journey across the country aboard the Indian Pacific, and go west.
Tasmania
Tasmania is a paradise for hiking adventures. Australia's heart-shaped largest island boasts a wealth of beautiful spots and varied landscapes. From deep forests, waterfalls and mountains of the South and Western regions, to coastal national parks and smaller pristine islands. An easy itinerary route is to start from Hobart, explore the surroundings with Mount Wellington and then go on a road trip along the East Coast through the Freycinet National Park, Bicheno, Darby, Scottsdale, to Launceston.
Beyond Tasmania's outdoor attractions, you'll discover excellent premium wines and an array of local produce. If you are interested in history, then plan in a visit to Port Arthur to learn about convicts and Australia's colonial past.
Off-the-beaten-path adventures in Australia
If you are looking for more adventurous experiences, the country offers plenty – but there are more challenges, too.
Driving on your own in remote areas can a be challenge if you are not used to it. You may find yourself driving for hours and rarely meet any cars or humans. There are many Outback destinations worth visiting if you are prepared to embark on a solo trip adventure, such as the Kimberley in Western Australia, with the Purnululu National Parks.
Kangaroo Island and Flinders Ranges are among the best places to visit in South Australia: they have some of the most striking outback landscapes and top places to see native Australian wildlife in the wild.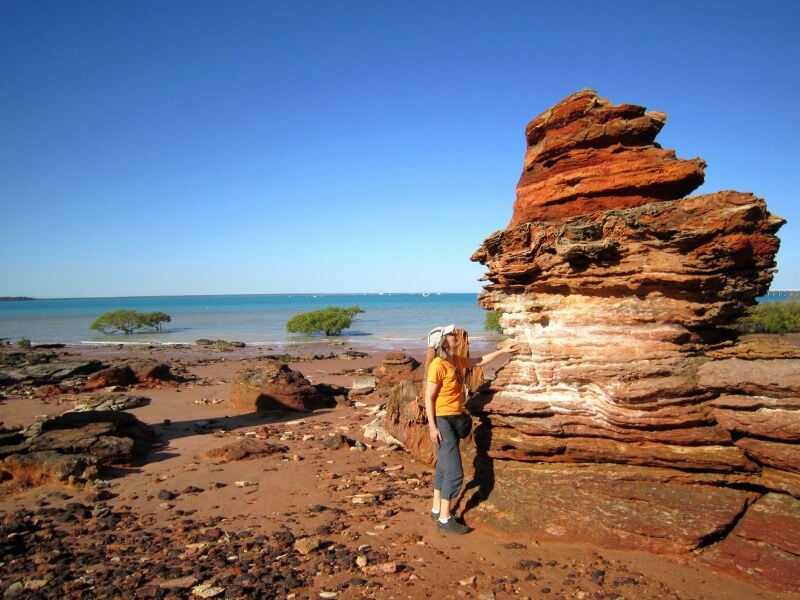 What to pack for Australia
Australia is a sunny country and sun is one the main hazards for your travel health. Unfortunately, too many travelers don't know or simply forget about this and I cannot emphasize enough the importance of choosing your clothing wisely in Australia.
My best tips: pack +50°C sun protection, a wide-brimmed hat, long-sleeved shirts and hiking trousers to avoid sunburn in Oz. Prefer good quality functional travel wear and only pack casual clothes: Australia is not really a country for formal or fancy dresses. Good walking shoes or lightweight hiking boots are a must if you plan outdoor adventures.
What to eat in Australia
Not many people know that Australia has some of the finest local produce you can imagine. The best food areas are from South Australia and Western Australia to the Yarra Valley in Victoria to North Tropical Queensland. The best local produce can be found at the farmers' market in any city, town and village and tested in food tours or local restaurants.
I don't have a typical dish, but love fish and Australia boasts some excellent fish. You can try the Tasmanian salmon, the huge blue crabs from South Australia and the famous oysters, Barramundi in Northern Australia, prawns from Queensland. And of course, the best fish and chips I have ever had are from Australia!
What to buy in Australia
One thing I would recommend is aboriginal art. Alice Springs is the top place to buy all types of indigenous art forms: from paintings, wooden and glass art, clothes, gadgets and accessories. The UGG boots made of sheep wool are another Australian shopping icon. Australian essential oils like Tea Tree Oil, Eucalyptus, as well as merino wool products are worth buying.
If money is no object, then head straight for the Broome South-Sea pearls and the pink and brown diamonds of the Kimberley, for which Western Australia is a top world producer of the finest quality.
Michela Fantinel is the founder of Rocky Travel Guide, a website and a blog for the smart, independent and solo traveler in Australia. She is also the author of Your Australia Itinerary, the most comprehensive guide to help you create your solo trip to Australia. Join one of Michela's guided walking tours for small groups of women.
Additional Australia travel resources
Please don't forget your travel insurance! Women on the Road recommends World Nomads if you're under 66 (70 in some countries). If that birthday has come and gone, click here for travel insurance recommendations that cover you at any age.

— Originally published on 21 December 2016
PIN THESE PICTURES AND SAVE FOR LATER!