By Chris Fry
When most people think of the Uluru region in Central Australia, they imagine a dry, desolate area without a soul in sight. This suggests you need to book a tour or have experience with a 4-wheel drive vehicle.
But these aren't the only misconceptions: some people think Uluru (Ayers Rock) and the rest of the Uluru/Kata Tjuta National Park is the only place you need to visit.
I would like to debunk these myths: Outback Australia is a great destination for the solo female traveler, even if you're visiting Australia for the first time. You do not need any special experience, and there is plenty to see and do here. This guide will show you how simple and easy it is to get around and showcase what's on offer in this unique, remote region of Australia.
A FEW INTRODUCTORY FACTS ABOUT CENTRAL AUSTRALIA
Alice Springs is the largest city in the area, with a population of 25,000. The next are Yulara (also known as Ayers Rock Resort) with 1000 people and Kings Canyon, with 500 people. Yulara is closest to Uluru and provides shopping and accommodation for visitors to the sacred site.

Names in this region can be confusing. For years, places went by their Australian names but in recent years Aboriginal names are being used. A good example is Uluru-Ayers Rock: Uluru is the present preferred use of what used to be called Ayers Rock. So when someone asks "Where is Ayers Rock?" they're actually asking "Where is Uluru located?" Another confusion arises from using the same name for several places. While Ayers Rock is Uluru, Ayers Rock Resort is Yulara, and Kata Tjuta The Olgas. So be vigilant when using names in this region.
Apart from these three, several other smaller towns or districts service cattle farming and gas (called petrol in Australia) stations between cities. In between, there is plenty of open space, no fences, and long straight roads, giving you that "middle of nowhere" feeling.
HOW TO GET TO ULURU AND TRAVEL AROUND CENTRAL AUSTRALIA
You can fly with Qantas, Virgin or Jetstar to either Alice Springs Airport, or a further 500 kilometres away, southeast, to Ayers Rock Airport. Prices can vary, but ultimately your choice will depend on which sites you plan to see.
While you can fly to Uluru (Ayers Rock Airport is closer) flying into Alice Springs will probably be cheaper. It will be easier to find deals, cheaper to hire a car, and add a lot more things to do to your list.
A good option is to get your car directly from the Alice Springs Tourist Information centre. You will get the same vehicle you would from a local car hire firm but they offer a special deal: for a small extra charge, you can have unlimited mileage, and this means savings in an area with such huge distances to cover.
The best (and frankly, the only) way to get around this region is by driving and organizing you own Australian Outback road trip. Most of the roads you need to drive on are sealed and only require a normal vehicle. Distances from town to town can be long, although painless enough to travel in half a day.
That said, there ARE tours of Central Australia, if you're short on time and would rather have someone else do the organizing:
TOP SITES NEAR ALICE SPRINGS
Other than cost savings, a major reason to start your road trip journey in Alice Springs is the number of unique sites you can explore in a short distance. There are at least five different sites to visit, contained in a 130 kilometre road trip, west of Alice Springs. All could be explored quickly in a day, although a couple of days will ensure many of the hikes and viewpoints can be explored.
Most attractions available from Alice Springs are within an hour's walking distance from their respective car parks. They show the area's character and a uniqueness you won't see in the rest of Central Australia.
Standley Chasm
This is a rock formation with narrow walls scaling 80 metres and a path that cuts into the quartzite orange-tinged rock. The middle of the day is the best time to see it, with the sunbeams shining through and reflecting off the rock.
Ochre Pits
Alternatively, you could visit the Ochre Pits, which were once the source of colours used for Aboriginal paintings and now viewed as a tourist attraction. You will see a range of earth shades ranging from white, yellow, orange, brown all the way to red.
Aboriginal people made weapons from wood for hunting – spears, spear throwers, clubs, shields, boomerangs. They mixed rock colours with water to make the paints, which helped protect their weapons from termites.
Simpson Gap
Like Standley Chasm, Simpson Gap is part of the West MacDonnell Ranges. It is home to many plants and wildlife as well as a permanent waterhole, ideal for an escape from the extreme summer outback heat (the waterhole can be chilly and shaded most of the day). Many people are drawn here for the gorgeous ghost gum trees you'll see everywhere.
Ormiston Gorge
Ormiston Gorge is another popular waterhole you could explore nearby.
Choose to hike up and around this waterhole or just chill on the banks of any of the sandy creek beds. If you have time, take the (moderate) 3-4 hour Ormiston Pound Walk across the rocky slopes and around the pound. Just expect to get your feet and legs wet.
Glen Helen Gorge
You'll be amazed at Glen Helen Gorge's towering sandstone cliffs and views of Mount Sonder. This is one of the highest points in Central Australia and can change colours with different lights. It is an important refuge for animal life, especially given the permanent waterhole.
Palm Valley
Palm Valley is located within Finke Gorge National Park, but a little harder to get to than the other sites because you'll need a 4WD. This is the only spot in Australia you can witness the rare red cabbage palm trees, growing within the rocks and dry red soil. These palm trees can form an oasis and gorges despite the harsh conditions of Central Australia. If you've decided to hire a two-wheel drive vehicle, then visiting Palm Valley would require joining a four-wheel drive day tour bus from Alice Springs.
EXPLORING KINGS CANYON
You will find Kings Canyon in the Watarrka National Park, a 3.5-hour drive southwest of Alice Springs. This is a canyon with walls over 100 metres high, and a creek running through the middle, full of plant and animal life. You can reach here in two different ways. The first is along the sealed road and this is the recommended route if you have a two-wheel drive vehicle. The second route is along the Mereenie Loop Road, which is slightly shorter but will require a $3AUD permit to drive and a 4-wheel drive vehicle. Both take roughly the same amount of time, however, the sealed road is easier and safer for solo travel.
Kings Canyon Rim Walk
Kings Canyon has a rim walk you can complete along both sides of the canyon, giving you an overall view of the canyon and of Kings Creek Gorge below. The loop hike starts at the bottom of one side of the gorge, but requires a steep 20-minute stair climb to reach the top. A reasonable amount of fitness is needed here: it is nicknamed "Heartbreak Hill" because of all the stairs. However, this part of the journey is over quickly and the rest of the hike is moderate.
The hike continues through beehive-shaped rocks and uneven terrain, with a stairway climb to reach the halfway point at the "Garden of Eden". Continuing on the hike, you will walk back over the second rim and end the loop hike back at the car park.
Walking poles will come in handy, especially for uneven terrain. In all, the rim walk will take about 3-4 hours to complete and will be a definite highlight to your Central Australian journey. That said, you do need a decent level of fitness.
Due to the extreme Outback heat, which is made worse by reflections off the rock, try to visit and hike in the mornings. In fact, authorities recommend this during the summer. In winter, however, you can hike in the afternoon and witness a golden sunset reflected off the smooth rock face of the canyon.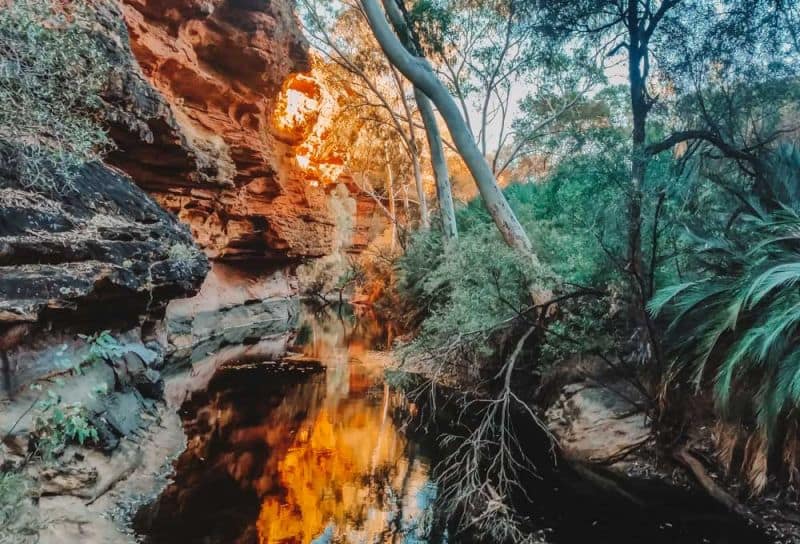 Kings Canyon Creek Walk
Alternatively, Kings Canyon does have a shorter gorge walk through the middle of the two rims. This will be a great alternative for those limited on walking and wanting to admire the plant and wildlife. Both rims can still be viewed from this area and substitute for the Rim walk.
ULURU TRAVEL AND KATA TJUTA NATIONAL PARK
From Kings Canyon, making your way down to Uluru, or Ayers Rock, will take about 3.5 hours on sealed roads. Along the way, you need to be mindful of loose cattle: since there are no fences, they often wander onto the road and may cause accidents. Furthermore, kangaroos roam free and can jump out in front of you in the blink of an eye. Night driving, sunsets and sunrises are unsafe and best avoided. Even though roads in Central Australia are long and straight, seeing obstacles at a distance can be a challenge.
Uluru (Ayers Rock) means "Great Pebble" and has been the home of the Anangu aboriginal people for many years. It is considered a sacred site, a resting place for ancient spirits and a home for Anangu cultural identity.
Yulara (Ayers Rock Resort)
Yulara, or Ayers Rock Resort, is essentially a small town created specifically for Uluru accommodation. There are several Uluru hotels, an Uluru caravan park, a fuel station and a supermarket. A courtesy shuttle bus criss-crosses town all day, making it easy for tourists to move around without their own vehicles.
Uluru and Kata Tjuta are located in Uluru/Kata Tjuta National Park, a half-hour drive from Yulara, so having your own vehicle is a more convenient way to get around without tours. If you do need to book day tours or special events, this can be done online or through the tourism office in Yulara.
There is a minimum 3-day pass available to enter the Uluru/Kata Tjuta National Park, but don't worry, there is plenty to do here to fill in your time. The pass can be purchased online or at the gate on your way in; either way, you'll have to collect the pass when you enter the National Park. The money raised by the park entry fees contributes to operations, preservation, rangers' wages, and the lease of the land by Parks Australia from the Anangu Aboriginal people.
Things to do in Uluru (Ayers Rock)
While you can walk around the base of Uluru, you can no longer climb it. Growing concern over the impact of tourists prompted its closing to climbers. The climb had long been considered disrespectful because of the spiritual significance of the site, as well as for safety and environmental reasons. These days, the so-called "Uluru Scar" is the mark left by the thousands of tourists who trampled and bruised the rock each year.
The walk around the base of Uluru is around 10 kilometres; it is an easy flat walk and will take about 3.5 hours to complete. The journey will have you visiting springs, waterholes, rock caves and ancient paintings that the Anangu people have previously used for ceremonies, storytelling and shelter. If you're not up to the entire loop track, there are options for shorter walks returning on the same track. Or, jump on a short Segway tour to roll your way around Uluru.
This is the closest you will ever get to the rock, and you will be amazed at its sheer size and smooth texture.
One of the biggest highlights near Uluru is Bruce Munro's "Field of Lights" display, whose 50,000 different-coloured solar bulbs draw crowds from all over the world. The tour positions you at a viewing spot, overlooking Uluru at sunset or sunrise. As the sun sets, the solar bulbs light up, constantly changing, and creates an amazing effect for this art display.
Kata Tjuta (The Olgas)
The National Park has another rock formation: Kata Tjuta, also known as The Olgas, a 40-minute drive from Uluru. This is an amazing rock creation, with two main hikes available, including a short one of less than an hour.
Having explored the area from the ground, why not try it from the air?
The aerial view gives you a much different perspective, especially when it comes to the size of the rocks and the surrounding areas. You can admire this spectacular view by helicopter, airplane or hot air balloon.
You will find sunset and sunrise car parks at the National Park for both Uluru and Kata Tjuta but given the limited time for these events, parking will always be crowded, although both lots have plenty of room. You could escape the crowds with a dinner tour and your own personal viewing area for sunset. Enjoy the evening with drinks and a good ole Australian meal, with table service and fine dining.
CENTRAL AUSTRALIA TRAVEL SAFETY
Australia is a safe country to visit as a solo female traveller and the people are friendly, helpful, especially in small towns or major tourist destinations. Still, there are some things you should know that will help make your trip safer.
Anywhere in Outback Australia, phone service is limited, but there is Wi-Fi and sometimes data available at your accommodation.
You should carry extra supplies (especially water) for the long road trip journeys or exploring the sites.
Travel during daylight. This will reduce accidents caused by animals, ensure service stations are open, and that other cars will be on the road. If any issue should arise, there will be other cars on the road to stop and send help your way, although bear in mind that the nearest towns will be a few hours away.
Walking around at night by yourself will pose few risks in the major tourist hotspots, but it is not recommended on darker streets in Alice Springs.
The area is not known for pickpockets, but Alice Springs will have a few beggars asking for money, especially from tourists. A money belt may be overkill, but a good cross-body purse might be a good idea. Either way, just be aware that tourists are sometimes targeted by thieves.
Animals of the Australian Outback are notorious for their danger, so don't approach or touch anything without knowing what it is and how dangerous it could be. This includes wild kangaroos! (They don't call them boxing kangaroos for nothing.) Most wildlife will probably run away from you, but best to stay aware and admiring from a distance.
If you'd rather have it all organized for you, there are plenty of Central Australia tours you can take from one of the country's main cities. Here's one example.
BEST TIME TO GO TO ULURU AND CENTRAL AUSTRALIA
The best time to visit Uluru and Central Australia is dependent on how hot it is.
Central Australia weather can be a bit surprising. If you're coming from the Northern Hemisphere, remember that the seasons in Australia are reversed: summer season is from October to March, during which temperatures in Outback Australia can reach 35℃/95℉. Temperatures can also vary wildly, dropping by as much as 15 degrees in a single day. This makes hiking in summer exhausting. During the day, always carry plenty of water but in summer, carry even more.
Visiting Central Australia anytime from April to September is a little more pleasant, although in winter (June-August) temperatures could drop down to 1 or 2 degrees in the evening. The temperature changes will require light jackets and carrying around layers but will make the sites more enjoyable and easier to do.
WHERE TO STAY IN OUTBACK AUSTRALIA
Accommodation options vary from camping, caravan, glamping, hotels, motels, and luxury styles. An Australian outback road trip using a Campervan or RV could turn out to be a cheaper option for accommodation, although hiring these vehicles from Alice Springs can sometimes be costly. Hiring a small two-wheel-drive vehicle and staying in simple motels can be cost-effective.
Where to stay in Uluru or Central Australia will often depend on how much you are willing to spend: the cost of operation and maintenance in a remote location is high. Alice Springs would be your cheapest alternative and probably the one with the most variety; as for Kings Canyon, it has only one option for motel and camping. This leaves Ayers Rock Resort, with several different accommodation options and something to suit everyone's budget.
One tip would be to keep an eye out for a bathroom available in the room you're staying in. Cheap motel-style accommodation in Ayers Rock Resort can have shared bathroom facilities, and this is not always flagged when you book.
Please don't forget your Australia travel insurance! Women on the Road recommends World Nomads if you're under 66 (70 in some countries). If that birthday has come and gone, click here for travel insurance recommendations that cover you at any age.
WHERE AND WHAT TO EAT
Remoteness also plays a part in food choices in Central Australia. Australia's food prices are already higher than average, and in remote areas even more so. Hotels and restaurants and those located on the street will be more expensive than take-away or fast food options. Outside Alice Springs, your cheapest option may well be a supermarket.
Before driving to any of the popular sites in Central Australia, it's best to plan a shop at the supermarket in Alice Springs. There is one other smaller supermarket along the way that will help you stock up, but slightly high prices than Alice Springs. Alternative options will be at the service or petrol stations for simple and basic supplies on the road.
Don't forget you're still in Australia, and trying a few different local Aussie meals shouldn't be off the cards. It's a great idea to budget in a couple of meals or special nights to try some of the local cuisines. For the more adventurous, try a kangaroo steak or grilled crocodile. A little less adventurous? Go for the Aussie meat pie from the bakery, or try an unbeatable roast lamb. You will find typical Aussie meals like this in cafés and restaurants in Yulara (Ayers Rock Resort). Most are in-house or part of your accommodation, making them quite safe for women who travel solo.
This is a guest post by Chris Fry, the writer and photographer behind Aquarius Traveller, where she shares her journeys and which provides valuable information and inspiration for your land and underwater travels. Chris lives in Australia, and has travelled to 36 countries and across Australia.
SHOP THIS POST ON AMAZON
PIN THESE PICTURES AND SAVE FOR LATER!