Packing for winter travel requires a bit of skill: when space and weight are an issue, warm winter clothes can weigh a lot more than a summer halter top and shorts.
Enter the winter travel packing list.
In this article, I suggest what to take, what to pack and how to assemble your winter travel wardrobe.
Despite the extra bulk and weight, you're still better off having warm things with you if you're heading into the cold. I'll never forget landing in South Africa one July morning in a T-shirt and shorts, blissfully unaware that the seasons were reversed in the southern hemisphere. I took a taxi straight from the airport to a sports shop for some warm thermal underwear.
COLD WEATHER TRAVEL CLOTHES: MY RECOMMENDATIONS AND BUYING GUIDE
Having lived through at least a dozen Canadian winters (and the same number of warmer Swiss ones) I take my winters seriously. May you stay snug through the cold! Caveat: this page covers how to dress for winter travel, NOT winter sports. So if you're spending your vacation skiing or snowboarding, what follows are clothing suggestions for the travel and sightseeing parts of your trip.
If you'd like those clothing recommendations right away, you'll find them right below. You'll find your winter travel wear tips and packing advice right below that.
| Name | Image | Description | Buy |
| --- | --- | --- | --- |
| FiteX Women's Maxheat | | My friend Sandra swears by these FiteX Women's Maxheat Thermals which she says "feel like silk". Soft and comfortable but above all - warm! But beware if you're tall - they might not cover your ankles. Best for medium and short women. | Buy Now! |
| TSLA Women's Thermal Underwear | | The TSLA Women's Thermal Underwear are warm, comfortable and snug. These are the long underwear you want if you're going to wear some layers over them. They're a tight fit so get one size up if you don't want a skin-tight feel. | Buy Now! |
| VERO MONTE Womens Opaque Warm Fleece Lined Tights | | If you like to wear skirts or dresses or even pants that aren't that warm, these polyester fleece tights work like thermals and keep your legs warm. | Buy Now! |
| Columbia Women's Glacial Fleece half-zipper | | If you need an insulating layer - something between your long underwear and your outer layer, the Columbia Women's Glacial Fleece is perfect - it's light, it's warm and comes in so many colors you're going to be seriously challenged when it comes to choosing. | Buy Now! |
| Columbia Switchback Iii Rain Jacket | | Columbia is always a favorite travel brand and if you're headed into "light winter", with rain or very light snow, this semi-waterproof rain jacket will do the trick. It may not protect you from torrential rain but you'll be fine in light rain. It's not lined with anything warm so make sure you wear something warm-ish underneath. Layering is the trick! | Buy Now! |
| EQUICK Packable Down Jacket with Travel Bag | | For a jacket that's mid-way between light rain and freezing winter, the Equick is perfect. It's waterproof, extremely lightweight and packs into a tight tiny little back. This is one jacket you can pack and won't have to wear on the plane. A big plus: it's down, not synthetic, and will keep you warm (as down does) despite its lack of weight. | Buy Now! |
| Beyove Women's Hooded Winter Coat | | If you're packing for winter travel in Europe and are looking for a more urban vibe, this faux-fur lined coat will keep you warm but in line with winter travel fashion. Drawstrings help it fit snugly, and you'll keep warm right into winter temperatures. | Buy Now! |
| Minus33 Merino Wool Ridge Cuff Beanie | | Made of 100% Australian merino wool, this lightweight beanie will keep your body heat from escaping. Breathable and comfortable, it comes in plenty of colors and is perfect for city wear in winter. | Buy Now! |
| Purjoy Warm Thickening Fleece Balaclava | | For real winters you might want to cover your face (or your mouth, nose and ears) with the Purjoy Warm Thickening Fleece Balaclava, which at least won't make you look like someone about to rob a bank. | Buy Now! |
| Mariyaab 100% Lambswool wool Pashmina Shawl | | This Lambswool Oversized Scarf is decorative, warm, and can be used as a blanket on the plane. It's also ultra-soft, and comes in plenty of colors, a great way to brighten up a winter travel dress. | Buy Now! |
| Women's Winter Touchscreen Gloves | | One of the most frustrating things in winter is accessing my phone - my gloves have to come off and by the time that's done, either the caller is gone or I've missed the photograph. These gloves end all that: you'll be able to swipe, click and otherwise manipulate your screen without having to take them off. | Buy Now! |
| YZKKE 5Pack Womens Vintage Winter Knit Wool Socks | | These socks are a blend of wool, cotton and polyester, very soft and breathable (moisture wicking) but thick enough for cold weather. You can wear them with boots or with shoes - they're comfortable and cheerful and snug. | Buy Now! |
| RAY-BAN RB2132 New Wayfarer Sunglasses | | I don't think Raybans need an introduction but... these are and have been my winter (and summer and spring) sunglasses since forever. I never leave home without them, period. | Buy Now! |
HOW TO ORGANIZE YOUR WINTER TRIP PACKING LIST: TRAVEL CLOTHING
There's a secret to packing light for winter.
Layering!
Not only will this keep you warmer (or cooler as the weather changes) but you'll pack less.
You'll typically need three layers: one to wick, one to insulate and one to protect.
winter travel clothes: base layer
Start with the lightest base layer of long underwear you can find, either silk or merino wool or light polyester to wick away the sweat and smells and keep you toasty. This layer, worn against your skin, absorbs your sweat and allows it to evaporate, keeping you dry and comfortable.
You can always use legwarmers or tights if you don't have thermal underwear. They'll keep you warmer under your clothes and can also double as a city outfit under a skirt.
cold weather clothes: insulation layer
Your next layer of cold weather clothes serves as insulation and should be a bit thicker, a hoodie made of wool, a fleece, or a wool or silk turtleneck. A turtleneck is always useful in cold climates.
You should look for something light and warm and when you're not wearing it, ideally it should scrunch or roll up easily into a tight light sausage you can use as a pillow on those long plane, train or bus rides. This layer helps keep your natural heat trapped and the cold air out.
Some of the lightest fleeces are the warmest and can even be water-resistant. A fleece is comfortable to sleep in and doubles as a pillow or backrest when rolled up.
winter travel outfits: outer layer
Finally, an outer protective shell covers both your torso and your legs. Steer clear of the heavy traditional down parkas (they're great when they're dry, but you don't want to get caught in a cold rainstorm) and choose either one of the newer lightweight fibers or the new waterproof lightweight duvet jackets (expensive but worth it!).
Make sure the air can circulate through your outerwear in case you get too warm – panels or zippers should do the trick. For rain, jackets with a roll-up hood will be useful in wet weather, especially if you're battling driving winds.
If you're looking for coats or jackets for European winter travel (and here I mean city travel, not winter sports), then get a roomy but lightweight coat that keeps you warm, looks stylish and is easy to carry (not to mention it'll keep you dry).
As for travel pants, I'm not making any specific recommendations for winter, because thermals or leggings will make all the difference. You can wear relatively lightweight pants if you wear tights or thermals underneath. If the weather isn't too cold you can always wear jeans, although in winter I prefer to wear either woolen pants or something lighter but layered. There is no cookie-cutter suggestion that everyone will like.
WINTER TRAVEL ESSENTIALS: THE OTHER BITS AND PIECES FOR YOUR WINTER TRAVEL PACKING LIST
Bear in mind that cold weather travel is more expensive than warm weather travel. Not only is some of the clothing more expensive, but in some non-urban areas it might be harder to get the basic necessities so these will be more expensive.
Don't always think of winter fibers when you pack: silk is wonderfully warm and won't take up much space in your backpack. Long silk underwear can also be used as pyjamas.
I'd also stay away from cotton in winter. It absorbs water instead of repelling it, and doesn't keep you warm at all. Leave cotton for warmer temperatures.
Make sure you check the pockets, linings and zippers of things you buy. Like with any kind of travel, easy access to things like phones and gloves is essential but you don't want things to be able to fall out and into the hands of pickpockets.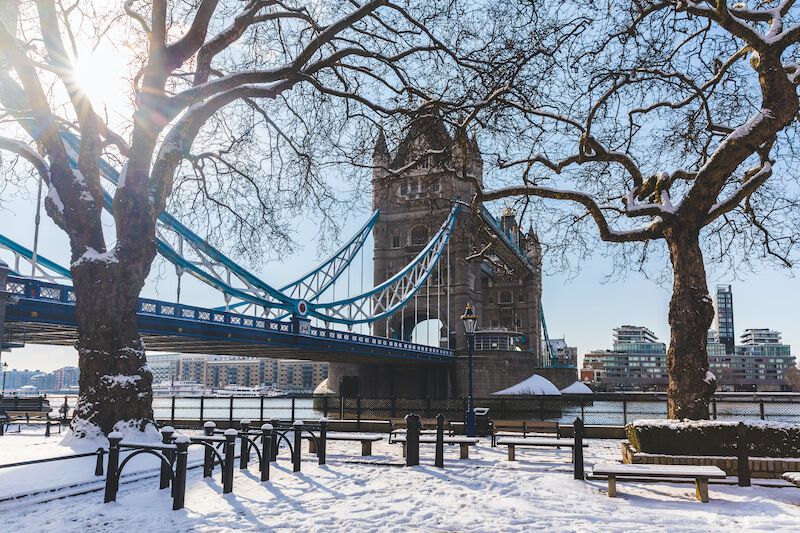 That's all well and good for winter vacation outfits but what about all those other bits and pieces that come with it?
Protecting your head and face
A wool cap or beanie or headband is one of your most essential pieces of winter wear, especially since much of your body heat escapes through your head.
If you're headed for a Siberian kind of cold, you'll probably need a balaclava or similar face protection. In the Canadian Far North, where I spent a winter, not a single inch of skin could show for fear of frostbite.
Don't even think of leaving without high-quality sunglasses, the kind that protect you 100% from harmful UV rays. They also keep out the glare and are a fashionable item that doesn't add to your packing weight.
Although it's winter, remember that when the sun reflects off the snow, you can get as much sunlight as if you were by the sea, so don't neglect things like sunscreen and lip balm, especially if you plan any side trips into the mountains.
Keeping your hands warm
Taking gloves goes without saying, and if it's going to be very cold, use glove liners, in silk or synthetic fabric (they warm up even the thinnest gloves). For women who travel solo, dexterity is a must so I'd suggest gloves rather than mittens.
Keeping your feet toasty
Thick, warm socks are important, and I also wear sock liners, usually in silk or light wool (I find it more comfortable and warm to wear two thinner pairs rather than one thicker one, but that's a personal call). Be careful though: if your shoes or boots are too tight with a double layer, you'll be better off with a single layer of socks and roomier footwear.
Best winter travel shoes and boots
Shop well for cold weather boots, a combination of lightweight (remember, you'll have to carry them around when it gets warmer) and waterproof, because there's little worse than being cold and wet.
Think about where you plan to wear them. If most of your time out will be spent on snow-slicked cobblestones, you're looking for something with grip. If all you need is warmth and dryness, a more snowy boot will do the trick – but then, you'll have to bring additional shoes for evening or restaurant wear.
Make sure the soles of your shoes or boots have decent teeth – snow and ice will be slippery on any material and the last thing you want is to factor a fall into your travels.
You may not need all these cold-weather clothes if you're simply headed into a city winter. But if the Himalayas, Siberia or Lapland are in your plans, make sure you take the basics with you and top your gear up with local professional accessories, which are often better up to the task.
HOW TO PACK FOR WINTER TRAVEL
Bulky clothes are often harder to lug around – but packing winter clothes in a carry on IS possible if you follow a few common-sense tips:
Layers: it's the only way to go in winter. This will allow you to pack a number of lightweight items that won't make it much more painful than any other season.
Use packing cubes or ziplock bags to pack your cold winter clothes layers. Since they're bulkier than normal clothes, you'll need to flatten them as much as you can.
Wear your bulkiest items – your winter coat, and you heaviest shoes or boots. What's left in your bag won't be much different from what you would pack in another season.
Wear as much as you can – and fill the pockets with anything you can't squeeze into one of your bags.
Take less than you would in summer. I know this is a no-brainer but instead of taking four tops, take three. Same with pants. Yes, it's inconvenient, but your clothes won't get as sweaty as they do in summer so you won't need as many.
Make sure every item of clothing can be worn with every other item. The more you can match things up, the less you'll have to take – and that also goes for your outside wear, such as hats and gloves and pashminas.
Take a good-sized travel purse or personal item on the plane – whatever doesn't fit in your carry-on should fit into this.
And remember, when it comes to winter, practical trumps fashion (although one does not preclude the other). You'll be better off warm and comfortable than glamorous and freezing!
Make sure you keep you winter travel packing list handy – you might think of things to add to it (that's how I develop my lists – I start with one and then keep adding to it).
One last thing: if you're on a multi-climate trip, what do you do with those cold-weather clothes once you're headed to the beach?
Ship them home! You'll be happy to find them again when you plan that next glacial trip.
PIN THESE PICTURES AND SAVE FOR LATER!