Are you the kind of traveler who wants the best travel accessories for women without paying top prices? A woman who wants someone else to sift through the millions of items available out there and come up with a few solid recommendations?
I've spent weeks researching products and creating buying guides that do just that, from carry-on baggage to mosquito nets to money belts.
With a lifetime of travel and more than 90 countries under my belt, I've tried plenty of travel accessories and have my favorites – along with plenty of intriguing travel gear for women that I'm keeping an eye on and would love to try for myself. Below I'll share all those with you, divided into categories to make it easier for you to search.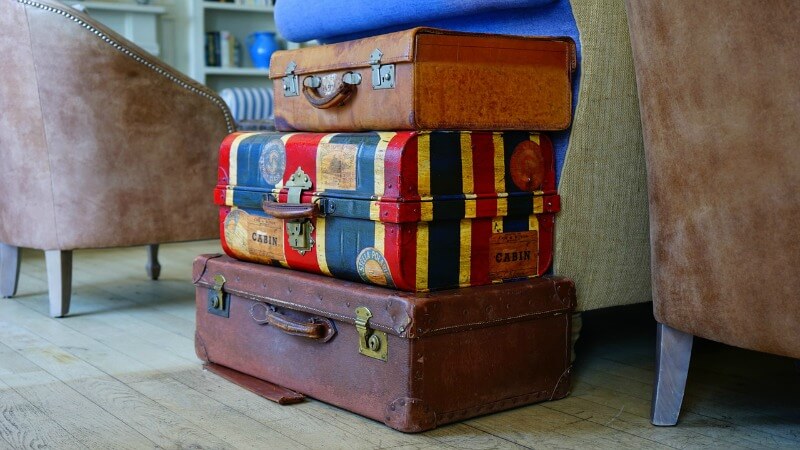 START AT THE BEGINNING – WITH PACKING LISTS
The best travel accessories for women are those you take with you, so this first section deals with packing lists and what you can't possibly travel without.
This ultra-complete packing list comes from decades of trial and error and has everything on it that I would pack for a long trip into rough terrain. I've been adding to the list and removing items over the years (you no longer need a Walkman, right??) so it's quite thorough. Just pick and choose if you're headed on a shorter trip or if you're planning to spend your time in the city. Find my travel list online here or download a printable version.
Being comfortable during a long flight makes a huge difference in how you feel when you finally land. True, you won't really be rested, but at least you won't feel like something the washing machine spit out. Here's a list of what you should wear – and what you should actually pack (there should be a lot more than clothes on your list!)
Europe is seen – sometimes rightly but sometimes wrongly – as a stylish continent where standard travel clothes might not fit in. What many women don't realize is that Europe has become much more casual than it once was. Still women's travel clothes for Europe might still outdress what you'd wear at home. So please check out my travel accessories for Europe, where I combine essential travel items with the best travel clothing brands and stylish travel accessories.
Staying at an Airbnb can be a great experience – but you don't want to find out you're missing some essentials or that your stay could have been ten times better if only you'd brought something along from home. Wondering what that something might me? Have a look at the list.
Sometimes you're heading for the opposite – a nature-based holiday, in the tropics, where the rainforests are lush and the rainbow birds screeching. This requires completely different travel wear, along with hugely useful travel accessories you wouldn't need in the city. (Leech socks or mosquito tent, anyone?)
Even if you're going on a relatively safe trip to an urban environment with pharmacies on every corner, a well-stocked first aid kit can come in extremely handy when a pharmacy is closed or if you're out in a rural area. Just don't forget to take along your prescriptions for health and glasses – if your bag goes missing, you'll be awfully relieved to have these with you. Click here to see my list.
Don't forget those additional items that will make your trip so much easier – and find out why I suggest you pack unique travel accessories, like a sarong…
LUGGAGE AND BAGS
Once you've decided what you're taking with you, you'll have to decide what to put everything into. Every woman has a different travel style and below I'll try to cater to each one.
Taking a carry-on is my favorite way to travel – I've managed to fit a month's worth of clothes and gear into one. Choose the right carry-on and you'll be able to do the same. Wheel your way smoothly through any airport and make those tight connections with your lightweight luggage. Click here to see some of the best!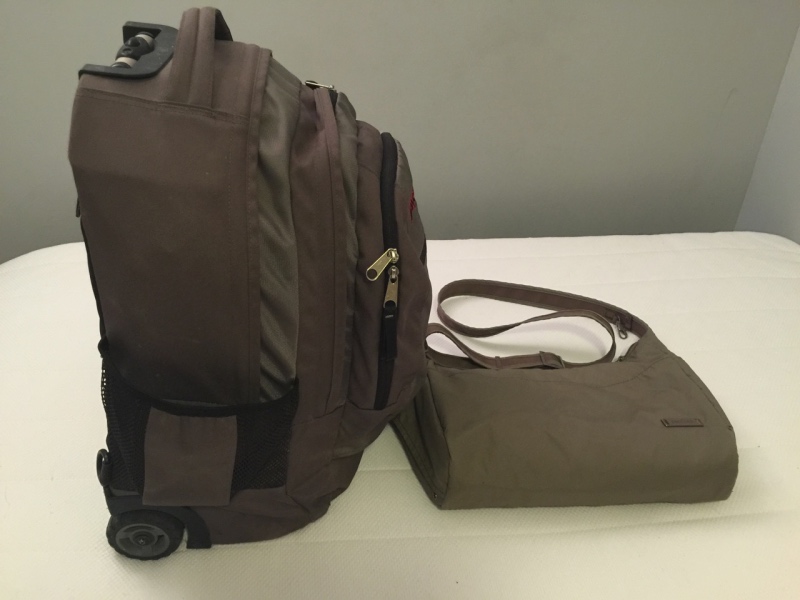 Sometimes we're not clear on whether we need wheels on a suitcase – they get in the way, they prevent suitcases from lying flat, they break… yet in some cases, you wouldn't dream of taking a trip without one.
This page takes a look at the pros and cons of wheeled luggage, and goes deeper to look at the differences between roller luggage and spinner luggage, and the advantages and disadvantages of each.
If you use a carry-on, you'll be traveling light and most times, as I mentioned above, you'll be allowed to carry a personal item. While that item can be a tote or a messenger or cross-body bag, it can also be a daypack. You'll be able to take extra things on the plane with you and use it to go sightseeing during the day. This list has a daypack for every occasion, from a daylong hike to an urban business trip.
In addition to your carry-on, what's the other thing airlines usually let you bring with you on board? It's the "personal item", that nebulous extra that can range from a small wheeled bag to a pillow and everything in-between. Here's what the airlines consider a personal item where you can pack your travel accessories for long flights.
You may not be the carry-on type – for years I preferred traveling with a backpack. If you share this travel style, then make sure you choose one that's perfect for you. Remember, these days you can get good-looking bags that look just like cloth suitcases. If you're going any place rural (or with a cobblestone streets), a bag on your back can be much easier to carry. You'll also pack lighter naturally since you'll be conscious of having to carry everything on your back. Click here to find out more about backpacks.
In addition to traditional backpacks for travel, there's a new range of anti-theft backpacks whose designers aim to keep pickpockets and thieves at bay. Some are large, travel gear luggage size while others qualify more as a travel purse (see below for more on those). Remember – the harder you make it for someone dishonest to get into your luggage bags, the safer your belongings will be.
This is my list of the best theft-proof women's travel bags – the same ones I use to make sure no one dips their hands into my bag when I'm not looking and runs off with my passport and money (It has happened to me!) Now, I choose my bags carefully and while I have several, they all belong to the same, reliable brand. Find out which are the best anti-theft travel bags: Pacsafe or Travelon? (Or something else?)
In addition to anti-theft purses, there are plenty of other handbags we can use in daytime. My absolute favorite is the one I usually travel with (hint: it's a PacSafe!). I say 'usually' because as I write this I'm trying out a different bag – also a favorite. I'll let you choose though, so here are the 7 best travel purses I can recommend.
These are my newest must-have travel items and they've completely revolutionized the way I pack and what I take with me. First, they help me keep my suitcase organized and second, I can unpack quickly as soon as I get to my destination.
TRAVEL SAFETY ITEMS AND ACCESSORIES
Once you know what to take and what to pack it in, you'll want to consider how to keep your items safe – and yourself, while you're at it.
Hotel room safety gadgets
If you're tempted to simply stick your valuables into your hotel room safe, read this first and watch the video about how unsafe those devices really are. Instead, use one of the products I recommend, like an old-fashioned door stop or a portable safe. Find them here.
They come and go when it comes to fashion but so far, not much has successfully replaced the money belt. It's still the best way to keep pickpockets out of your valuables. They're not the loveliest of items but I still can't travel without one. Here are my top picks, including one that's waterproof!
If you can't handle the thought of carrying cash on your stomach, maybe a leg wallet is more practical? Here are a few choices that allow you to strap cards around your thigh, calves or even ankles.
These days finding a travel scarf is easy – there are plenty, with lots of designs and in a range of prices. This is where safety and fashion meet. Some of them can easily hold up to two passports as well as some cards, and accessing your valuables is easier than with a money belt. Depending on the occasion, I might choose a money belt or a travel scarf, so have a look at my recommendations. (This is one of the most useful travel accessories I own!)
While this is one of those travel products for women I highly recommend if you're going somewhere off the beaten path, it can be just as handy in the city – in case of fire or accident, for example. Here are the ones I trust to light my way.
Malaria, West Nile Virus, Zika…mosquitoes carry all kinds of deadly diseases and depending on where you're going, a mosquito net could save our life. On this page I review everything from the basic net, to the very nifty and practical pop-up mosquito tent. Find out which one I use, and why. If you really don't want a net, consider taking along some mosquito repellent products or at least some clothes designed to repel mosquitoes.
A reader recently asked me about the best mosquito repellant options, especially those that were environmentally friendly and least harmful to your body. Including alternatives and some recommendations from environmental organizations. Here's what I found.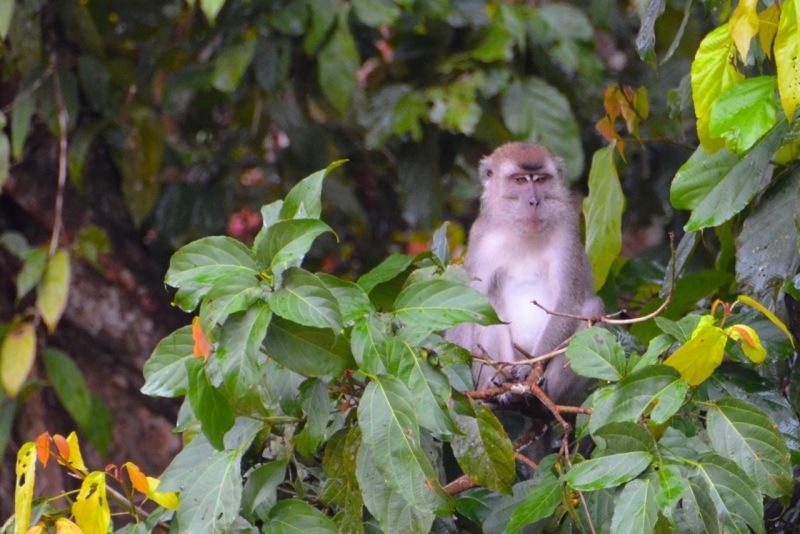 Personal locator beacon
It's not often you'll need one of these but if you ever do, you'll be awfully glad you have it. A personal locator beacon can get you out of deep trouble if you're in a far-off area that's away from the tourist path. The PLB, as it's called, is a small device that allows you to press an emergency button and alert someone you're in trouble. I took one to Kyrgyzstan with me and while I didn't use it, I was happy to have it.
These days, PLBs are becoming obsolete as phones and GPSs improve. Still, there are some parts of the world where you simply cannot get a signal and for those – dwindling – locations, there's at least an alternative.
This isn't something you buy – it's free and I love it! It allows you to research your destination's safety score ahead of time, and on a much more local and specific level than government advisories offer.
COOL TRAVEL ACCESSORIES AND BEST TRAVEL GADGETS
Ah, how I love stationery! This is one of those women's travel accessories that can be just as lovely as it is practical. Keeping track of your journeys, feelings and experiences in a travel journal is an amazing way to record your adventures or relive them when you're home. Here is my list of gorgeous travel journals.
I don't have a page dedicated to comparing the different Kindles, but I do think you ought to get one. I love reading, but real books take up tons of space and weight in a carry on! This is one of those must-have international travel accessories because you can bring your entire library wherever you go. I often use the Kindle app on my phone, but once in a while I want something a little more realistic in size.
This doesn't really fit into a category but is perfect if you want to buy someone a travel gift or if you need something travel-related that's fun and inexpensive, From a collapsible water bottle to the coolest passport holder you've ever seen, this is my guide to unique travel accessories and gifts for solo female travelers ⎯ all under $30!
Not everyone believes in luck, but if you do, a special talisman or amulet might help you feel safer on the road: something small you can wear around your neck or in your pocket. I liked these beautiful (and sometimes handmade) options.
They may not be quite accessories but guidebooks are still going strong, despite competition from blogs and apps. Somehow, the e-versions just don't seem to cover as much… If you don't like the idea of carrying around books, simply download the Kindle version. A travel guidebook, to me, is still the best guide to travel… here are the ones I rate most!
TRAVEL INTANGIBLES
There are plenty of things you need to take with you but can't pack – still, they're travel accessories in some way because they help make your trip more enjoyable and safe.
It used to be so easy – get to the airport, look for a free WIFI connection and check your email or Facebook. Not anymore. These days, whenever you're logging on to an "unsecured" WIFI, you may be risking your identity, your data, your passwords and bank accounts… Stealing your information has become scarily easy and can be done easily, from a mobile phone or laptop, by someone sitting right next to you – without your knowledge. There's really only one way to protect yourself: by using a virtual private network, or VPN. I never log on without using mine, period.
Travel insurance
An unexpected incident during a trip to Washington DC would have put me out $25,000 had I not had travel insurance, the ultimate of the must have travel accessories. To date I've always used World Nomads and have been thrilled with their coverage, but they have an age limit. If you're older than 65, check out these other travel insurance agencies who would be more than happy to insure you (even if you have preexisting conditions).
These are just as important as the best travel gear: in some countries, you'll need a visa to even be allowed to board the plane. Make sure you check the very latest of what's needed and get the appropriate visa in time – click here to find out more about visas.
You probably don't expect a woman who has been travelling for 50 years to be afraid of flying ⎯ but it's been known to happen! If like me you don't like the idea of hanging out in a tin can six miles above land, I highly recommend this course I took to help me cope. I still need to take a few deep breaths when I get in my seat, but this did help reduce my panic and these days, I occasionally even look forward to flying.
— Originally published on 29 April 2011
PIN THESE PICTURES AND SAVE FOR LATER!