Germany is a wonderful country for first-time travelers, even if you don't speak the language. Many people have at least some knowledge of English, it is a relatively safe country, it is easy to navigate, and Germany is such an interesting country to explore.
If you're trying to decide where to go on your first female travel solo Europe trip, solo travel to Germany is a really great choice.
Your first-time Germany trip itinerary
From big cities to picturesque villages, mountains to forests, Christmas markets to castles along the Rhine, Germany is one of those travel destinations that truly has something for everyone. If this is your first time in Germany and you don't have much time, the cities below will give you a good taste of what the country has to offer.
This itinerary will focus on the capital, Berlin, and on Munich, in Bavaria, before briefly exploring a few other German destinations. Germany has so much more to offer, but if this is your first visit to Germany, you'll have plenty to keep you busy.
Berlin solo travel: a look at Germany's capital
Germany's capital is packed with history, culture, and delicious food, so you could easily spend your entire trip there. But since you probably want to see more of Germany, give Berlin at least two or three days to really see the sights and get a feel for the city.
Start with the big sights.
Brandenburg Gate, the TV Tower, and the East Side Gallery are some of the most famous landmarks in Germany, so they're worth seeing while you're in Berlin. The only remaining city gate is Brandenburger Tor, which also sits along the former border between East and West Berlin.
The city was for years divided between East and West. East Berlin was the capital of the German Democratic Republic, a Soviet satellite in Eastern Europe, while West Berlin was West Germany's capital, a city very much part of the Western world. After years of isolation and unrest, in 1961 the East Berlin authorities finally built the Berlin Wall, which would only come down in 1989 with the collapse of the Soviet Union. During those years, West Berlin would remain a tiny island surrounded by East Germany.
Visit parts of the wall and learn all about Berlin during the Cold War on this tour.
Getting to West Germany was more complicated than traveling in other parts of Europe. You could fly to Berlin with a handful of airlines, take the train along restricted rail corridors, or drive along a single route with no stopping allowed (except for emergencies) – a road trip to Germany is very different today.
Berlin's TV Tower was built by the Soviets while the city was split and is one of the tallest buildings in Europe. The East Side Gallery is the longest section of the Berlin Wall that still stands, and it is covered in creative works of art.
Aside from these major attractions, the Reichstag Building is also worth visiting. This is the seat of the German government, which under Hitler's rule served to rubber-stamp his policies. Today, it houses the German Parliament, and you can visit either by registering here (beware, tours book up several weeks in advance) or by reserving a two-hour guided tour of the building. Or, just get a skip-the-line ticket and bypass the crowds.
Otherwise, it's still an impressive building from the outside.
Want to read up? This recent Germany travel guide will give you the background you need!
Not far from the Reichstag Building and Brandenburg Gate is the Holocaust Memorial, a moving place to pay your respects to the millions of Jews who were killed by the Nazis.
The Berliner Dom, or Berlin Cathedral, is the most famous church in the city, and really stunning. Take the tour to learn more about it, and you can even climb to the top for fantastic views. This cathedral is located on Museum Island, where you'll also find a collection of five world-class museums that together are a UNESCO World Heritage Site.
The Berlin Wall shaped a lot of the city's past and present, so learning more about that time period is usually interesting for visitors.
One of the best places to go for this type of history is the Berlin Wall Memorial at Bernauer Strasse. This memorial is mostly outdoors and includes a long section of the Wall, plenty of information placards and photos, and markers on the ground that show you where buildings were when the Wall went up and tunnels people built to try to escape to the West.
There's also a building where you can go up a few stories to a viewing platform, which shows you the Wall, a former watchtower, and the section of land that was the death strip. At one end of the memorial is the visitors center, which shows two 15-minute films about the Berlin Wall (alternating English and German) that are very moving. This memorial is one of the best free things to do in Berlin.
People don't normally think of Berlin as a pretty city, but there is actually plenty of green space.
Tiergarten is a big leafy park to the west of Brandenburg Gate where you can go for a stroll, have a picnic, and see several memorials and statues. The Victory Column is located in the middle of a roundabout in the park, and it's one of the best places for views of Berlin.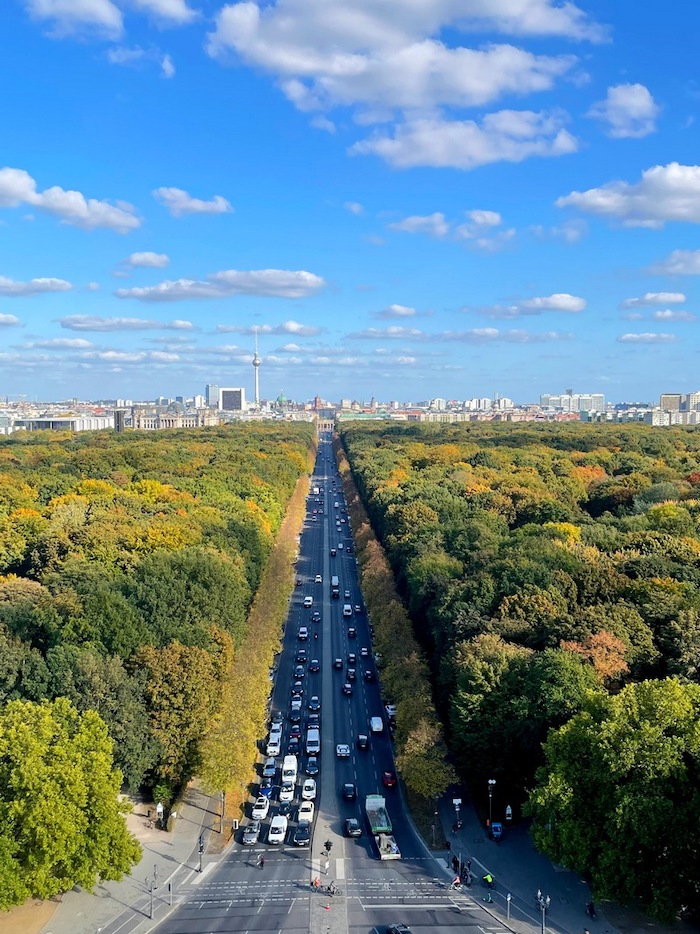 Tempelhof is a local favorite that was once an airport. The airport ceased operations in 2008, and in 2010 it reopened as a park where you can walk, run, cycle, rollerblade, and more on a former runway. Plus the airport building is still there, and you can take a tour.
If you have time, Charlottenburg Palace is gorgeous. It's a little farther from the center of Berlin but still very much within the city. This palace was built in 1695 as a summer residence for Sophie Charlotte. Even if you don't want to go inside, it's free to wander through the gardens and the park that surrounds the palace.
One of the more popular visits is a day trip to the Sachsenhausen Concentration Camp, located north of Berlin and reachable by Sbahn. Another option is Potsdam, southwest of Berlin, where you'll find a huge collection of palaces, including Sanssouci Palace.
Travel destination Munich, the heart of Bavaria
Munich is another excellent choice for a trip to Germany and Munich solo travel is as simple as in Berlin.
Though travel may be equally simple, the two cities are utterly different so try to include both on your Germany road trip or itinerary.
When most people think of Germany, they imagine giant beer steins, giant pretzels, and people in lederhosen and dirndls. This image is really what you'll find in Munich and parts of Bavaria.
Start by exploring the old town.
Marienplatz is where you'll find the famous Neues Rathaus (New City Hall) building. At 11 am and noon, the Glockenspiel plays, so get there a few minutes ahead of time to see and hear it. Or avoid the area completely at those times if crowds aren't your thing.
Viktualienmarkt is a big market nearby with stalls selling all kinds of food and other things. It's also home to the city's most well-known beer garden. Other important sights in this area include the Frauenkirche and St. Peter's Church, both excellent places for views of Munich from above. For palaces, check out the Munich Residenz and Nymphenburg Palace.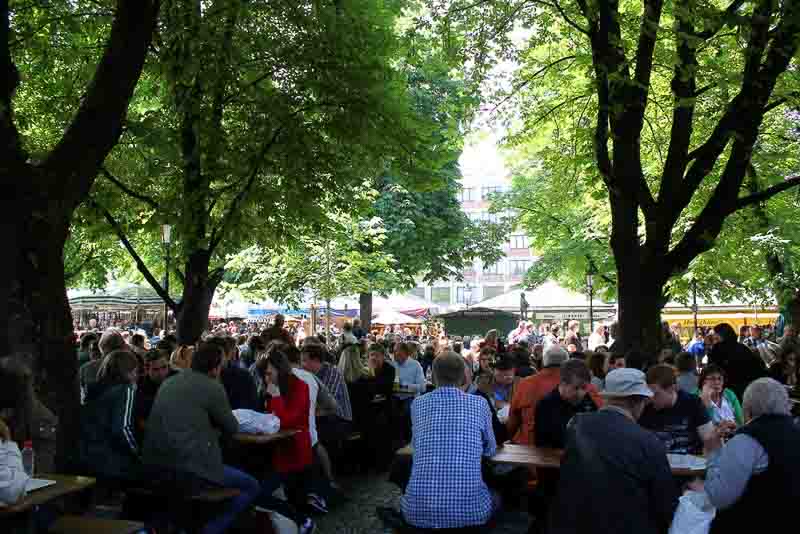 Munich is also a great place to base yourself for day trips. Neuschwanstein is a popular one, but also consider Dachau Concentration Camp, Nuremberg, Bamberg, Salzburg (Austria), or other parts of Bavaria.
Other places to include on your trip to Germany
How much time do you have to travel in Germany? There are so many other great places to see.
For more cities, consider Hamburg in the north. This port city was part of the Hanseatic League and has ties to the Beatles. It's yet another city that's very different from Munich and Berlin.
Or if you're more into nature, spend some time in the Black Forest. The small city of Freiburg makes a good base where you'll have access to hotels, restaurants, and transport options. From there you can easily take a short train to small towns and lakes in the area or go hiking in the forest.
If you're planning on travel by train in Germany, book your tickets or buy your passes here.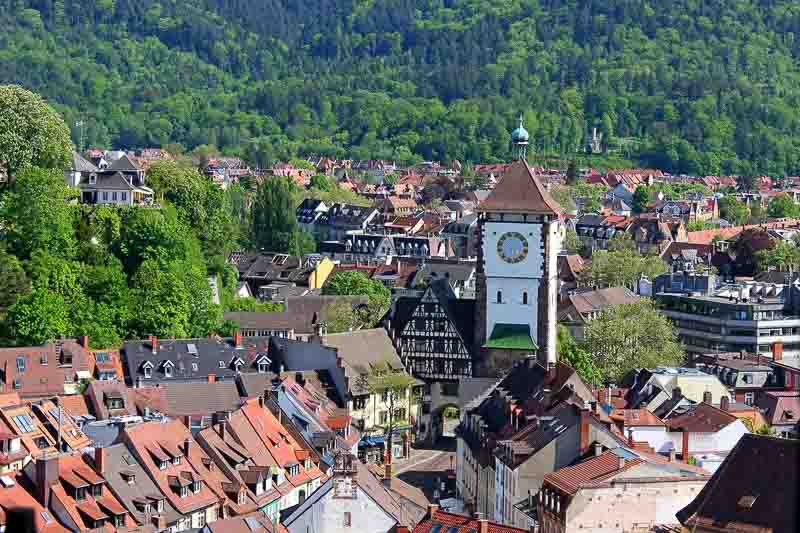 To see some of Germany's castles, check out the Rhine Valley region. There are day trips on the river where a boat takes you past many castles, and usually you can get out and back onto the boat as many times as you want throughout the day. The Rhine is also Germany's most well-known wine region.
Getting around Germany
Driving in a foreign country can be stressful and confusing, but luckily Germany has an excellent transport system. Deutsche Bahn is the German railway, and it has connections to just about anywhere you want to go.
ICE and IC trains are the fast trains, best for long-distance journeys. These tickets can be a bit more expensive if you book at the last minute, so it's best to book in advance if you know your plans. Sometimes you'll also see an EC train, which is similar to ICE and IC trains, but it's a non-German train that has part of its route in Germany.
Check out the best ways to travel in Europe!
When you book tickets for the fast trains, you will usually be bound to the exact train you book. This means if you book an 8 am train and oversleep, you cannot use the same ticket for the 10 am train. The exception is if you buy a Flexpreis ticket, which lets you use any train on the same day for the same route. This type of ticket is more expensive though.
RE and RB trains are regional trains. They go a little slower and have more stops, so they're best for shorter distances. Ticket prices for these types of trains don't change as much, and you aren't bound to a specific train when using the regional trains.
If you're on a tight budget, another option to consider is FlixBus, and occasionally their train counterpart, FlixTrain. Buses can be a good cheaper alternative on shorter routes, but probably not worth it on longer routes. It's worth comparing FlixBus with Deutsche Bahn for price and time differences to see which works best for you.
Is Germany safe to travel alone?
Safety isn't really an issue in Germany, which makes it a great choice for solo travelers. Many Germans, especially in cities, speak at least some English, so if you're lost or have questions, you can usually stop someone and ask for help.
Public transportation is the easiest way to get around in any city in the country, but this is where you need to watch your belongings. Take normal precautions such as keeping your purse in front of you, making sure you aren't flashing your money or jewelry around, and in general, be aware of your surroundings. Pickpocketing does occur, but it's not a rampant problem. To stave off pickpocketers, consider carrying a cross-body antitheft travel purse, or using a money belt.
When using public transport, especially in bigger cities, sometimes a busker or group of buskers will board the train, play a little music, and ask for money. Or sometimes you'll see a person trying to sell a newspaper, or even simply asking for money. It's up to you to decide if you want to donate some money to any of these people, but in general, they're usually not dangerous. When in doubt, simply ignore them or shake your head no, and they will quickly move on to the next passenger.
Need a hotel in Germany? Compare prices right here.
Solo travel to Germany: Other things to know
Germany is well known for its beer, so you might want to try some while visiting. But if you're used to drinking light beer (common enough in the US), remember that German beer could be stronger than what you drink at home. Your light beer might have 4% or so alcohol, while a German beer could have 5% or higher, especially if you're drinking craft beer. Plus, beer in the US is often served in 12-ounce cans or bottles, whereas in Germany you could easily get a half-liter beer, which is almost 17 ounces.
Solo travel in Germany is relatively simple. Restaurants and cafés usually won't bat an eye when you ask for a table for one. If there is a bar, sometimes it can be nice to sit at the bar instead of a table because you can enjoy a more social setting. At many beer gardens, you'll find long tables that are often shared with strangers, so don't feel shy about asking to sit at a table that's already occupied.
One of the things to know about Germany is that small talk or chatting with strangers isn't common. So if you do share a table with someone, if they are in a group, they might not talk to you at all, although some people are friendlier than others.
At grocery stores and other stores, the cashiers generally will not want to chat with you either. Germans can also be rather direct, which may surprise Americans traveling to Germany, but it is usually not meant to be rude.
Even though Germans might not be the most friendly on the surface, you will not struggle to find someone to help if you need directions or info. Traveling in Germany is so easy – the country has many fantastic sights and is rich in culture and history, making a first trip to Germany solo an ideal adventure.
Guest Contribution by Ali Garland. Ali is a full-time travel blogger who travels with only carry-on luggage whenever possible. On her site Berlin Travel Tips, she loves showing people how to explore her adopted home city of Berlin, where she has been living since 2015.
And please – don't forget your travel insurance before you go! I recommend SafetyWing if you're 69 and under. If that birthday has come and gone, click here for travel insurance that covers you at any age.