The best anti-theft purse is the one that foils pickpockets every time.
And if I'd had one of these clever items when I visited Beijing, I wouldn't have looked like such an idiot… or worse, a criminal.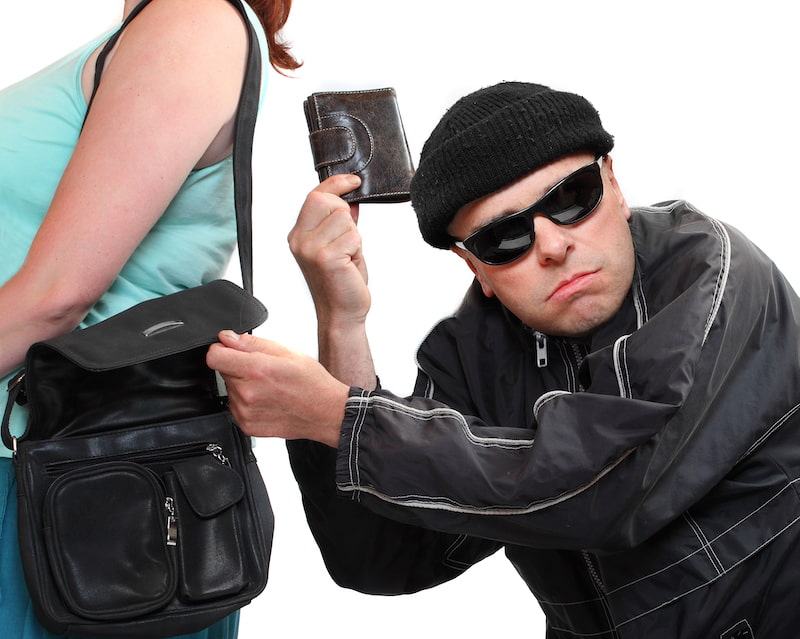 That's exactly how I felt as I tried to convince embassy officials to please let me in to get a new passport – because mine had been stolen, along with my money.
But I didn't have a pickpocket-proof purse, and I had committed the cardinal sin of travel: I had put my passport into an unsecured daypack.
Believe me, this is the kind of mistake you only make once, and I'd love to make sure you don't have to make it at all!
So I now have not one, but several of the best anti-theft travel bags on the market. I never travel without one. And yes, my passport is now snugly secure.
Today I want to focus on day bags designed to ward off pickpockets. I've been testing several of these during my travels and to paraphrase the well-known ad, I would 'never leave home without one'.
There are two big names in anti-theft travel bags for women: PacSafe and Travelon. The last time I searched for "PacSafe" and "Travelon" on Amazon I found hundreds of results for these brands. While the two giants dominate the market, I've also looked at others and have added those further down this page.
These travel accessories range from tiny clutches to roomy purses and every color under the sun, so try to narrow down your choices before you shop by asking yourself:
Are color and style important to you?
Do you need something ultralight because you have back issues or is heavy fine?
What do you plan to carry – just a wallet and phone or do you need space for your tablet, paperback book, glasses, keys, tissues, pens and a notebook for quick notes, a small camera… you get the picture!
Will you be heading into the rainy season? The material could be an issue.
Do you need oodles of pockets or do you like to have it all mixed up at the bottom of your purse?
Make sure you answer some of these questions before you shop!
Meantime, though, here's a comparison chart for my top 9 bags. 
Best anti-theft crossbody bag: comparison table
| Name | Image | Weight | Size | Features | Buy |
| --- | --- | --- | --- | --- | --- |
| Pacsafe Metrosafe 200 Gii Shoulder Bag | | 1 lb. 3 oz / 0.53 kg | 13.8 x 10.2 x 5.5" / 35 x 25.9 x 13.97 cm | Sleek, frills-free day bag with pockets and a padded electronic sleeve for laptops 13" and under. This Pacsafe crossbody has wire mesh, slash-proof, RFID and locking zippers, | Buy Now! |
| Pacsafe Citysafe Cx Anti Theft Convertible Crossbody | | 0.66 lb / 0.29 kg | 11" x 10.2" x 3.2" / 28 x 26 x 8 cm | Compact cross-body bag, can be locked to a fixture. 1 zipper front pocket with 2 inside pockets. Wire-reinforced straps and RFID-blocking pocket and roomy main compartment | Buy Now! |
| Pacsafe Citysafe CS200 Handbag | | 21 oz / 0.59 kg | 10.6 x 16.5 x 4.3" / 26.92 x 41.91 x 10.92 cm | Still compact but larger than the CS150 above - you'll get your small tablet into it. Has the usual Pacsafe safety features - wire mesh, security zipper hooks, RFID blocking features. | Buy Now! |
| Travelon Small Anti-Theft Classic | | 1.1 lbs | 3 x 13.8 x 11.5" / 7.62 x 35.5 x 29.51 cm | Super simple, few pockets and no bells and whistles but plenty of safety features - anti-slash mesh, RFID blocking pockets and locking zippers and compartments. | Buy Now! |
| Travelon Anti-Theft Signature 3 | | 1.1 lbs / 0..45 kg | 3 x 13.8 x 11.5" / 7.62 x 35.5 x 29.51 cm | Larger than the crossbody above, this doesn't look like most anti theft bags but has pockets, more space and locking compartments, plus all the usual safety features of a Travelon purse. | Buy Now! |
| Lewis N. Clark Secura | | 1 lb / 0.45 kg | 8 x 2 x 6" / 20.32 x 5.08 x 15.24 cm | Compact, with a wide anti-slash shoulder strap with locking hardware and internal stainless steel cable, slash- resistant fabric panels and RFID blocking pockets | Buy Now! |
| Baggallini Slim Pocket Crossbody | | 8.8 oz / 249 g | Click to Edit | Not quite anti-theft but does have an RFID blocking wallet and cross-body strap - and several of my friends love it (and that's good enough for me!) | Buy Now! |
| YALUXE Smartphone Wristlet Crossbody Clutch | | 2.5 lbs / .92 kg | 9.8 x 5.3 x 1.9" / 24.89 x 13.46 x 4.82 cm | If you really need something tiny. It does have a crossbody strap, or tuck it into one of the larger anti-theft bags. Blocks RFID but no slash proof fabric or straps. | Buy Now! |
What should I look for in the best anti-theft bags?
Each bag will be different, but each will have specific anti-theft properties that make them attractive.
The best crossbody bags should have as many of these characteristics as possible:
Slash-resistant

or slash-proof fabric (typically wire mesh)
Strong fabric (canvas, nylon)
Anti-slash straps (usually wire-reinforced)
Locking zippers or closures OR hidden zippers

RFID blocking pockets

/compartments
Multiple interior pockets with separate closures (like zippers)
Non-flashy design or colors (to blend in rather than attract attention)
Compact enough to be worn under a cardigan, jacket even a large pashmina, making it hard for thieves to spot.
Daypacks are also good for use as travel purses, but under certain conditions:
That they are designed specifically to thwart thieves
That you wear them on your chest instead of your back (I do dislike that but that's my personal bias)
That you avoid putting anything of value in exterior or unlocked pockets.
Some find that the best anti-theft backpack purse is the one that is versatile enough to act as both a backpack and a handbag in different situations.
Standard Pacsafe purse features
Every Pacsafe bag (or most) shares a few features that set the brand apart from others:
Stainless steel wire mesh in fabric and wire-reinforced straps
Locking clips and zippers, turn and lock security hooks.
RFID blocking pockets and compartments
My three most highly rated Pacsafe bags are described below.
Pacsafe Metrosafe 200 Gii Shoulder Bag
This is a cross between a travel purse and a backpack.

Its not huge, but its big enough to carry everything youll need for a day trip.

It features a couple of pockets and a padded electronic sleeve, but its more suitable for a small laptop or a tablet than for a serious computer.

Its not the loveliest purse on the block but youll be able to wear it in both urban and rural settings without screaming rob me, Im rich.

You can get it (depending on stocks) in black, olive, beige, navy and light grey (mine).
Pacsafe Citysafe Cx Anti Theft Convertible Crossbody
Even more compact than the Metrosafe 200 Gii, this cross-body purse will carry just what you need for a day in the city. It comes in several colors although in all fairness fashion isnt why youll buy this bag (and not all colors are available all the time).

Youll have to leave your work equipment at home for this one, although I can fit a large-screen iPhone, a small paperback, my glasses, keys and a few other odds and ends.

I particularly like using this bag when I fly on discount airlines, the kind that allow you only ONE piece of cabin luggage. I put my passport, phone and tickets into the bag and slip the bag into my carry-on. Then, once on the plane, I pull my little bag out and at least I have my travel essentials with me on the plane.

And remember, discount airlines can also ask you to put your luggage into the hold at the last minute, so youll be glad you packed thoughtfully for the flight.
Pacsafe Citysafe CS200 Handbag
Slightly more compact than the Metrosafe 200 Gii and with a slightly more urban look, this cross-body purse will carry just what you need for a day in the city. It comes in a few bright colors, like cranberry and teal and mulberry, but is otherwise not overly stylish. The large pocket would fit a tablet, small paperback or journal, and one reviewer was pleased it held both her pairs of glasses. The only issue is that the zipper sometimes catches on the lining, so take caution.
Standard Travelon purse features
Most Travelon bags are made to foil pickpockets and tend to share certain characteristics:
Slash-resistant mesh body panels and shoulder straps
RFID blocking pockets
Locking zippers and compartments
These two are among the most highly rated Travelon handbags by women who travel with them.
Travelon Anti-theft Classic Small E/W Crossbody Bag
For those who like to travel light and hate an abundance of pockets, this extremely simple crossbody travel bag for women has one exterior zipper pouch and a large interior pocket with slots for cash and credit cards and room for an iPad, travel books, sunglasses and more. Plus, what's better than a dedicated key clip and a built-in LED flashlight? No more leaving your keys around or losing your chapstick in the bottom of your bag.

Comes in classic colors like beige, black, navy and burgundy.
Travelon Anti-Theft Signature 3
A step up both size-and-fashion-wise from the Class Small E, this cute crossbody purse has three large locking compartments to help you stay organized. Because of its stylish exterior, you'll be the only one who knows it's a theft proof bag. And best of all, it can fit a surprising amount of stuff including your tablet, water bottle and camera. Buy it in one of 10 colors: something fun like magenta and cayenne, or something more classical like black, pewter or navy.
Pacsafe vs Travelon: who wins?
Let's talk Travelon vs PacSafe. Both PacSafe and Travelon offer a wide range of bag styles from compact backpacks, to wallets, to purses. Both incorporate great anti-theft features like slash-proof fabric/straps, RFID-blocking pockets and ways to lock zippers and closures. Both have highly-rated bags that people swear by.
So what are the biggest differences between PacSafe and Travelon? Price, color options, and overall style.
Pros and cons of Pacsafe
In general, PacSafe bags are more expensive than bags of similar quality (often by $20 or more, depending on the sales and bag in question), and they come with fewer color options. There are exceptions, of course, but PacSafe tends to put safety and practicality before fashion in their bag designs. 
In this case, safe really does equal boring, which can be great if your main priority is to transport your things securely and not be noticed. They are also sturdy and buying one means you may have to stick with it for a long time because it won't wear out.
✔ Durable and practical
✔ Will not draw unnecessary attention
✔ Highly-rated and trusted by travelers
✖ More expensive than other bags of equal quality
✖ Fewer color choices/More "boring" designs
Pros and cons of Travelon
Travelon isn't a designer purse but the brand does have a range of handbags with quaint stitching, stylish fasteners, and bolder color choices.
If you're budget-conscious, Travelon bags cost less overall. That said, the flashier colors and accessories might attract more attention, which could backfire if the point of buying an anti-theft bag was to deter thieves from snatching your things.
✔ Durable and practical
✔ Budget-conscious option
✔ Highly-rated and trusted by travelers
✔ More color choices/Fancier styles and designs
✖ Could attract unnecessary attention
✖ Sadly, the 'plainer' designs have the highest user ratings
It really is up to you. My own personal choice is Pacsafe, which I find the most reliable and neutral, a feature I like for traveling. They're also well made (mine seem indestructible) and well thought through. If you're in need of a small and a larger travel anti-theft purse, you could decide to buy one of each (I don't need much of a nudge to buy an extra bag for travel!)
The next best anti-theft bags
If you aren't a fan of PacSafe or Travelon, then these are the next best anti-theft bags for travel made by other reputable brands. Whether you're looking for a stylish anti-theft purse, or a slash-proof purse, these will suit or travel bag needs.
Lewis N. Clark Secura Anti-theft Commuter Shoulder Bag
This compact crossbody bag will hold your passport, credit cards and a few extras, and the wide shoulder strap will make carrying the bag on one shoulder less cumbersome, distributing weight well. I like that the nylon this one is made of comes with a water-resistant PU coating so you don't have to worry about hiding your bag under your jacket when it rains. Buy it in Onyx (black) or Ember (orange), although youll also sometimes find moss green or plum or blue colors.
Baggallini Pocket anti theft Crossbody Bag
If Baggallini isn't specifically about anti-theft, why feature one?

Because the brand makes wonderful secure travel bags, and this particular one comes with a separate RFID-blocking wallet for your passport and cards. Also, the crossbody strap allows you to keep your valuables close.

It's incredibly light, quite small, and perfect for just the essentials. Plus it comes in over 15 colors and patterns ⎯ something for everyone, which will satisfy your desire for style.
YALUXE Women's Leather Smartphone Wristlet Crossbody Clutch
This tiny wristlet holds only your cell phone, credit cards and cash, but you'll be able to keep them close to your body with the crossbody strap. Or, you could tuck it into one of the larger anti-theft bags. Either way, it blocks RFID scanners to keep you safe from identity theft, but doesn't have slash-proof fabric or straps. The leather is a nice, stylish touch, as are the colors – blue, red, light grey, orange (which looks more like tan) and plum.
It's true, we are spoilt for choice. Our tremendous thirst for travel, combined with our need to keep our valuables safe, means that traveling without some kind of anti-theft bag is simply not an option anymore. Whichever bag you choose, make sure it is comfortable on your body because no matter how secure it is, if you don't enjoy wearing it, you won't.
— Originally published on 26 September 2018
PIN THESE PICTURES AND SAVE FOR LATER!