Argentina is one of my all-time favorite destinations. It's a massive country, stretching from the Tropic of Capricorn to the southernmost town in the world, where cruise ships depart for Antarctica. After spending 12 weeks (over two different trips) crossing the country from north to south and east to west, I still haven't seen everything.
WHY VISIT ARGENTINA?
Argentina seems to have everything a woman could want: forests, lakes, mountains, pampas, some of the biggest waterfalls in the world, an advancing glacier, fascinating history and literature, vineyards, colonial architecture, Jesuit missions, indigenous handicrafts, leather goods (including cheap shoes), amazing food, and of course the tango!
You can hike, ride a boat to a glacier, see penguins, taste wines, watch a tango show (and take lessons), visit museums and churches, shop until you drop − and that's just to start.
Is Argentina safe to travel to? Yes it is. As a woman traveling solo you won't attract any undue attention. Most of the population is of European descent, middle-class, and holds Western values and attitudes. Argentina is also one of the most developed countries in South America, with modern culture and infrastructure. In some neighborhoods of Buenos Aires, you could be forgiven for thinking you're in Paris, or even New York City.
Given the size of the country, and how far you have to travel to get there, I recommend allocating as much time as possible to your trip. If you only have a couple of weeks, choose one or two regions, in addition to Buenos Aires, to avoid spending too much time in transit.
There are too many Argentina tourist attractions to count. Although Patagonia and Iguazú Falls look more dramatic, I really enjoyed the Lake District around Bariloche for its landscapes, hiking opportunities, and food. I also loved Córdoba and Salta, less-visited cities, but easier to access from Buenos Aires. From Salta you can take day trips to stunning areas reminiscent of Bolivia, like Purmamarca and the Salinas Grandes (salt flats).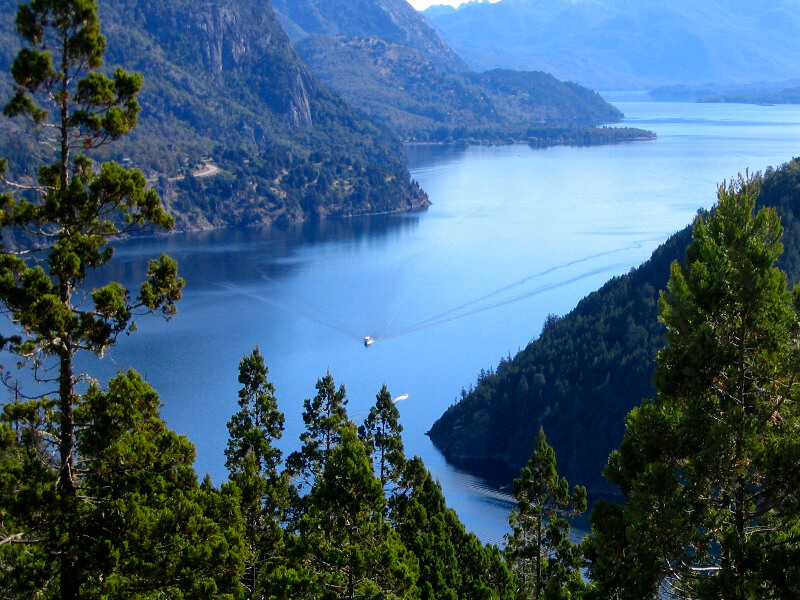 GETTING AROUND DURING YOUR HOLIDAYS IN ARGENTINA
Distances are huge in Argentina, and the country lacks a discount airline, or even fast trains. The best and most economical way to travel around Argentina is on night buses. This isn't as bad as it sounds. In fact, Argentina has some of the best buses I've ever seen. In a cama suite bus, for example, the seats recline completely horizontally and are surrounded by curtains for privacy so you can get a good night's sleep (with the help of some earplugs). Dinner and breakfast are served on the bus and are included in your ticket price.
Unlike taxis and private cars, bus drivers are careful on the road, and driving at night means little traffic. The main risk is a mechanical breakdown, which happened to me once on a day bus in Patagonia and once in a minivan during a day trip.
Argentina has a dozen major bus companies. Although Andesmar is a cut above the rest, the risk of breaking down seems more related to the age of the bus than the company itself. There doesn't seem to be a regular maintenance program for the vehicles.
In 12 to 13 hours you can go from Buenos Aires to Mendoza or Córdoba to Salta. I took night buses several times and never had any issues. For longer distances, you could get decent prices on domestic flights if you book online far in advance, or through a local travel agency.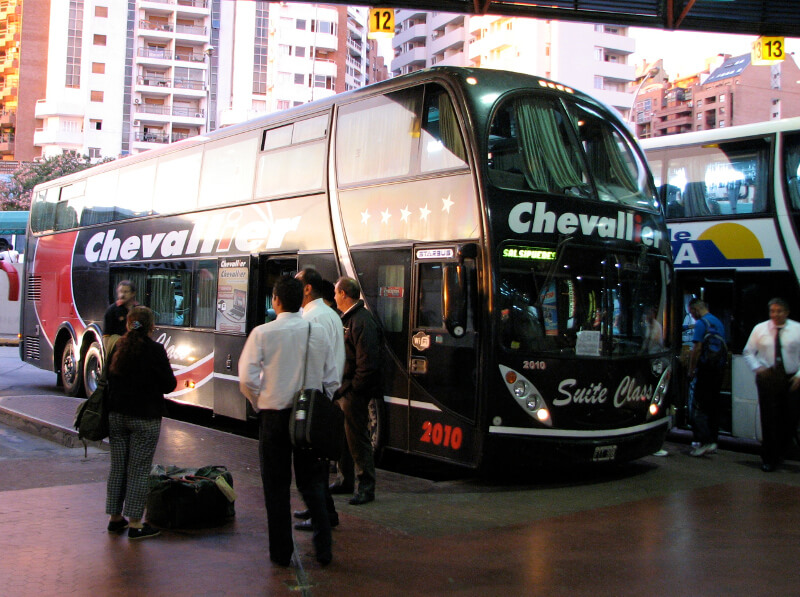 Within the capital, Uber is available and safe. It's one of the best ways to get around Buenos Aires if you're a foreign visitor who doesn't speak Spanish. You may find it difficult to use from the airports, however, due to opposition by taxi companies.
WHO ARE THE ARGENTINIANS?
The majority of the Argentinean population is of European descent, mostly Italian and Spanish in Buenos Aires province. There is a considerable smattering of Scottish, Welsh, French, German, and Swiss inhabitants in Patagonia and the Lake District, and Eastern Europeans in the northeast of the country. Indigenous people (only 3%) and mestizos (15%) live mostly in the northwest, the region with the richest history of pre-Hispanic civilizations.
During the Spanish colonial era, indigenous people in the northwest were forced to work in the silver mines, and those in the northeast lived in Jesuit missions, cultivating yerba mate and tobacco. The indigenous tribes of the Pampas and the south, on the other hand, were murdered in the late 19th century by President Roca's army during his genocidal "conquest of the wilderness".
Argentineans are highly educated (95% literacy rate) and hold Western values. Most are officially Roman Catholics, but the Church's influence is less significant here than in other South American countries. This is due in part to the introduction of a system of non-religious state schools in the 19th century.
Although Spanish is spoken everywhere in Argentina, the accent, pronunciation, and some expressions are different than what you may be used to. The most striking difference (if you've learned Spanish anywhere outside of Argentina and Uruguay) is the pronunciation of "ll" and "y" sounds, which become something between a "sh" and the "s" in "measure". It threw me off at first. Argentineans use the pronoun "vos" instead of "tú" (with a different conjugation of the verb) and they say "chau chau" (from the Italian "ciao") when they take leave. In Buenos Aires, the intonation bears a definite Italian lilt.
And they kiss. A lot. Greeting and taking leave from a friend requires two "kisses" on each cheek (alternating), even between men! This is especially true in Buenos Aires. As a side note, I once met a man in a park who took advantage of this custom by trying to kiss me on the mouth as he moved in to do the "parting kiss" thing. I pushed him away and yelled at him and he left. He's the only sleaze ball I met on both my trips.
The way you speak Spanish (or don't) and how you greet people will give away your foreignness in Argentina way before your appearance does.
EATING AND DRINKING IN ARGENTINA − AND HOW LATE IT ALL IS
The food in Argentina is delicious and varied. It's not the best country for vegetarians though, since the whole food culture is based on meat. Beef comes in a dozen different cuts offered at parrillas (restaurants that cook meat on their namesake grills). Tenedor libre restaurants (basically "all you can eat" buffets) have large pits where half carcasses are grilled on racks. Servings of meat are large and come with different types of potatoes, including a variety of squash called calabaza.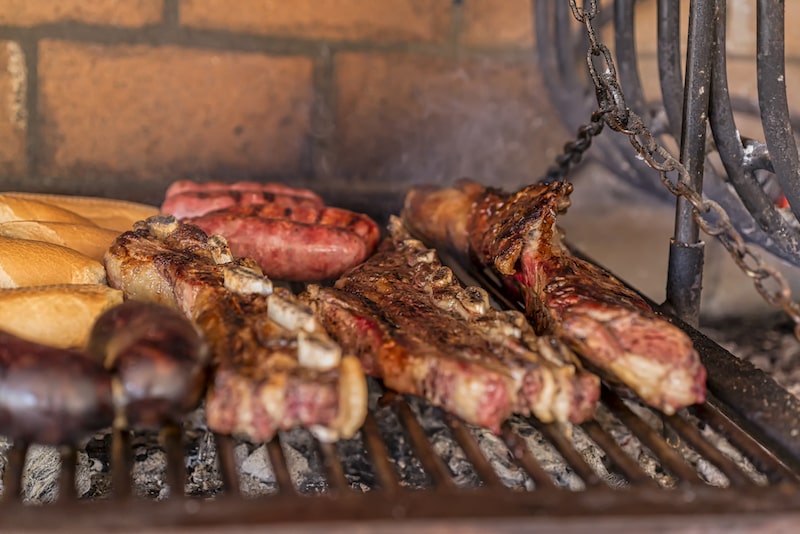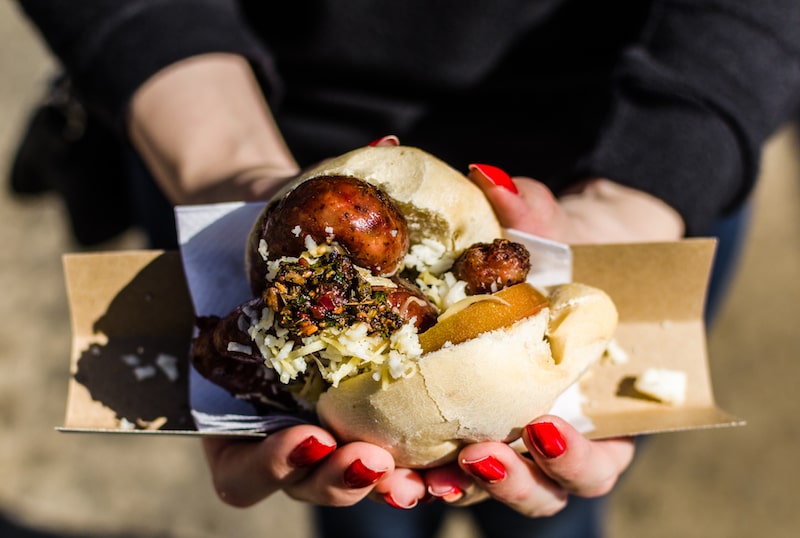 In the Lake District (around Bariloche and San Martin de Los Andes) you'll come across some delicious local trout. Patagonia and Tierra del Fuego in the south have a predilection for lamb. Try it in a mustard sauce. So good.
Thanks to its large population of Italian immigrants, Argentina also knows pasta. You'll often find homemade pasta offered with a variety of sauces such as decadent gorgonzola and walnuts. On most restaurant menus, the pasta and the sauces are listed in different sections, and your order them separately. Pizzas all seem to come with double cheese.
Then you have the sweets: ice cream, cakes, and chocolate. And let's not forget dulce de leche, a caramel-like spread present on every breakfast table. Artisanal chocolate is a feature of Patagonia and the Lake District. In Calafate, the chocolate wafers surrounding a flavored filling were to die for.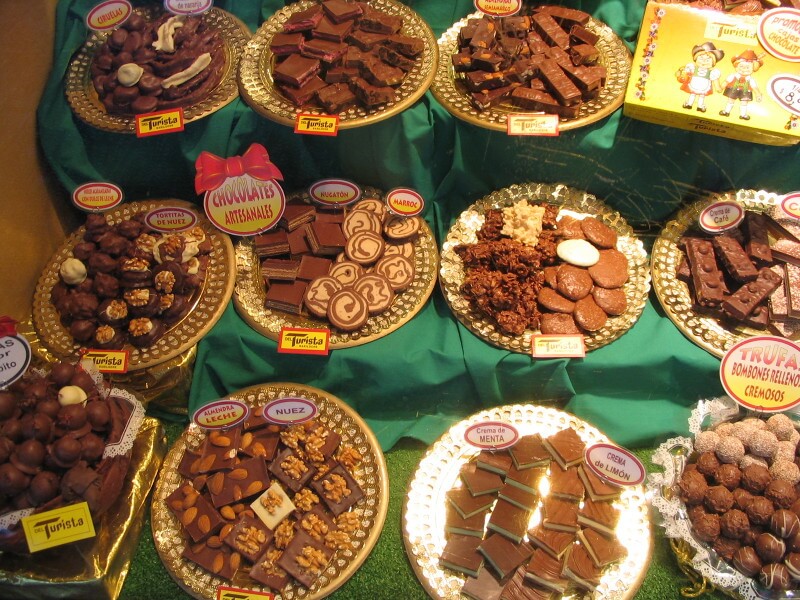 Vegetarians can easily avoid meat by ordering salads, pasta with vegetarian sauces, cheese empanadas, and omelets, but the limited selection may get a bit boring after a while. You will find good vegetarian restaurants in Buenos Aires.
Argentina produces plenty of wine (mostly in the foothills of the Andes around Mendoza) and red wine is abundant and cheap. A common varietal is Malbec, which I love because of its smooth tannins. The only white wines produced in Argentina are Torrontes (from the northeast) and the occasional bubbly. You can buy a bottle of good table wine in the store for a few dollars.
An important thing to keep in mind is that meal times in Argentina are similar to those of Spain: a small breakfast, a midmorning snack, a late lunch, an early evening snack, and an insanely late dinner. Restaurants do not open until 8:00 PM at night, and if you show up before 10:00 you'll see only tourists. Locals don't have dinner until 10:30 or 11:00 PM! I usually showed up by 9:00 and had a nice quiet dinner with a book, and a waiter all to myself.
DOES IT REALLY TAKE TWO TO TANGO?
I attended tango shows in both Buenos Aires and Córdoba and I just loved the music and watching the professionals perform on stage. In Buenos Aires, you'll also come across free tango demonstrations in the touristy area of San Telmo, La Boca, and on Calle Florida. I walked past tango schools, but always shied away from trying a lesson because I didn't have a partner.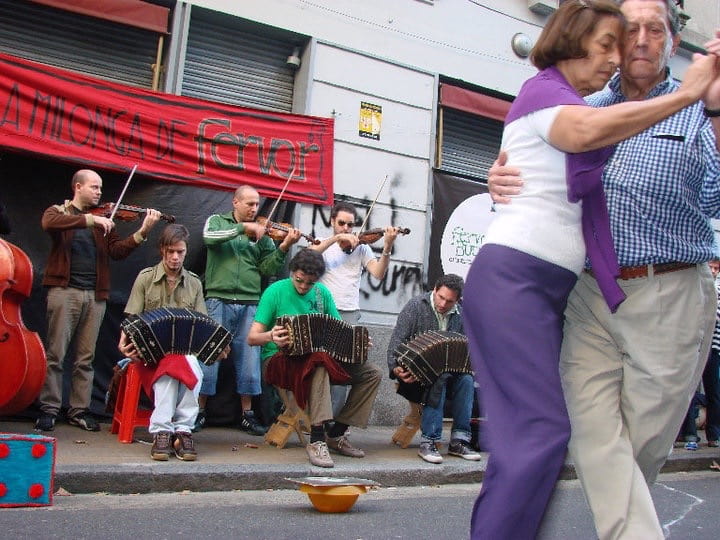 How does a solo woman who is fascinated by tango learn to dance, I wondered? Do you need to be a couple? Do they supply you with a man if you're solo? I decided to investigate.
DNI Tango in Buenos Aires, reputed to be one of the better schools, teaches both group and private lessons at all levels. For group lessons, the website says you don't need to come with a partner; you will dance with different solo partners during the class. This could work well, or not, depending on the men to women ratio. Private lessons don't have this issue since you have the teacher all to yourself. The staff and teachers speak good English at DNI. You can get your first group class for free.
La Viruta Tango Club also gives private lessons on request and says this about their group classes: "You don't need to have a partner; there are always plenty of people to practice with." They also offer tango shows and a restaurant.
There are hundreds of places to learn the tango in Buenos Aires, and many cater to non-Spanish speakers, teach at different levels, or even offer a free class. To a lesser extent, you will also find tango shows and lessons in the colonial city of Córdoba.
SOME MORE TRAVEL TIPS FOR ARGENTINA
But first…
Argentina safety
Argentina is as safe for solo women travelers as Western Europe, and because people are out to dinner so late, streets stay busy well into the night. However, there are a few things you should be aware of.
There are 12 million people in Greater Buenos Aires and the City of Buenos Aires, a third of the total population of Argentina. The infrastructure is good with a metro, wide paved roads, and traffic lights, but Argentineans are Latino and that is reflected in their driving habits. The taxi drivers are especially reckless. Take care when crossing streets. Also, be aware that the metro can get extremely crowded at rush hour.
Petty crime such as pickpocketing and purse or cell phone snatching is common in big cities, especially Buenos Aires. Tourist areas requiring extra vigilance include La Boca, as well as transport terminals such as the Retiro Bus Station. Avoid public parks after sunset.
You're likely to see people rummaging through the garbage at night looking for cardboard, metal and bottles, which they resell to recycling facilities. They're called cartoneros and have become part of the urban landscape since Buenos Aires passed a "zero waste law" in 2005.
stray dogs and rabies
You'll find stray dogs in every town and village. Buenos Aires used to be the exception but not anymore. I'm personally very wary of stray dogs, and even more so since I got bitten by a stray in Puerto Iguazú on my way back from the famous Iguazú Falls in 2005. Rabies is present in Argentina, so if you are bitten, you need to go to a clinic as soon as possible (within a week) and start the series of five vaccinations. Buenos Aires has travel clinics with English-speaking doctors who are used to handling this.
Always look out for dogs and don't get too close. Locals told me to grab a rock and pretend to throw it if a dog acts aggressively. Pick your accommodation near a main road if they worry you, since they prefer quiet back streets.
the sagging economy
Argentina's economy and currency have been in constant turmoil since the 1950s. And the backlash continues to be felt. The Argentinean peso is not tied to the US dollar anymore and it fluctuates wildly. In 2005 there were about 3 pesos to the dollar and everything seemed on sale for 66% off. In 2011 there were 4 pesos to the dollar but hotels had tripled their prices or set them in $US. In 2016 you had around 15 pesos to the $US, and by April 2021 it was 91.8 pesos to the $US. This does not necessarily mean a bargain anymore, as prices are updated to reflect the devaluating peso. When you decide to go, check what the currency is doing and what things cost as it's constantly changing.
ATMs accept foreign cards but are often out of service or out of money. Shops never seem to have change. This is probably the greatest day-to-day annoyance I had in Argentina.
As well, the symbol for the Argentinean peso is the $, just to make things confusing. So if you see $100 on an Argentinean website, it's probably 100 pesos.
and finally…
The Falkland Islands are called the Malvinas in Argentina. Never ever say Falklands when talking to an Argentinean!
Guest Contribution by Marie-France Roy. Marie-France is a freelance writer in Toronto, Canada. Her blog, Big Travel Nut, focuses on affordable solo travel for independent travelers over 40. After visiting 66 countries and every continent, she wants to use her experience to help solos travel cheaper, further, and longer, while discovering off-the-beaten-path destinations.
ARGENTINA SOLO TRAVEL RESOURCES
SHOP THIS POST ON AMAZON
PIN THESE PICTURES AND SAVE FOR LATER!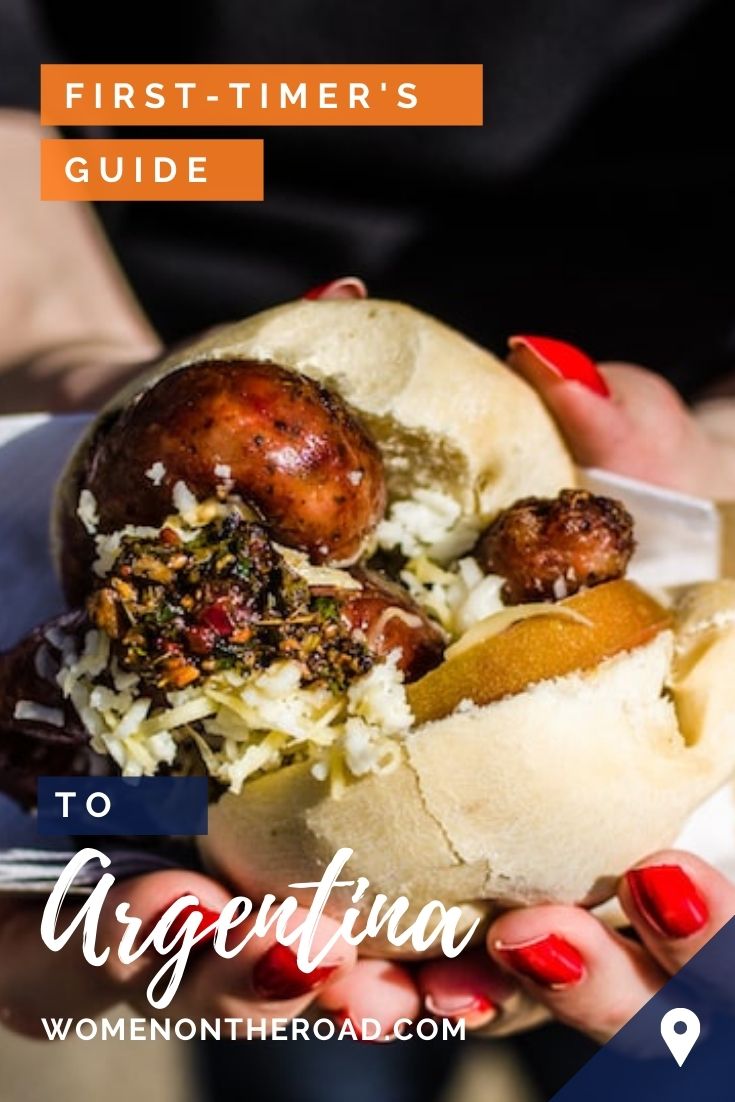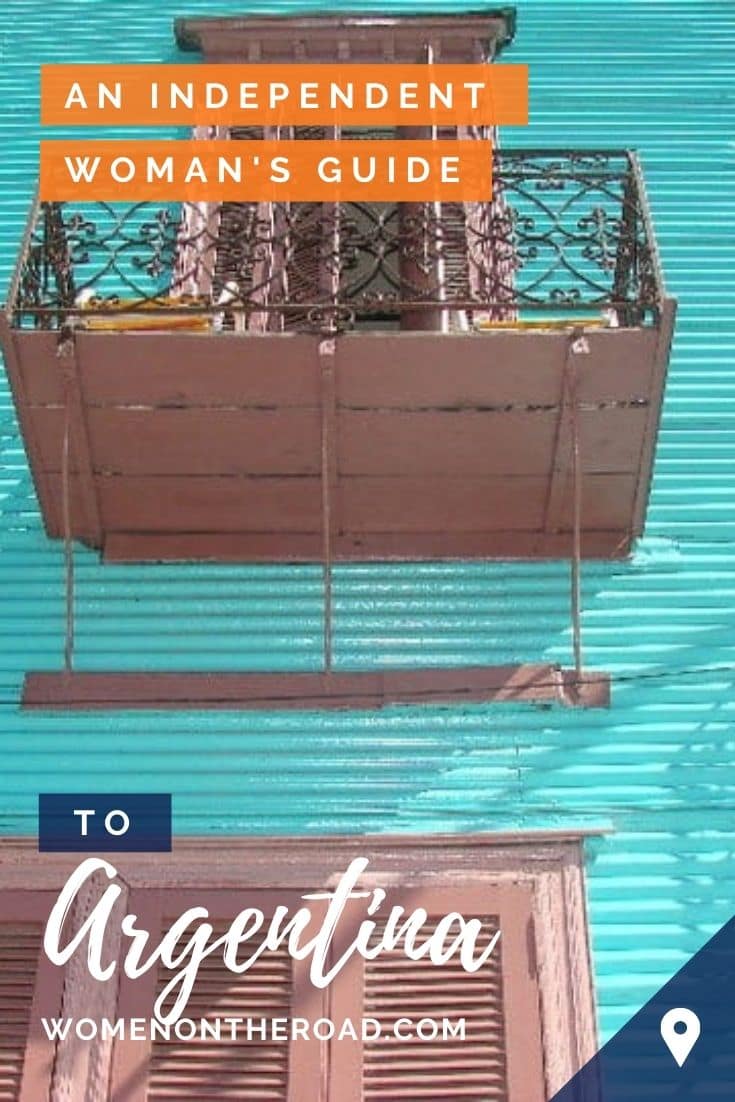 Argentina solo travel pin3