New Zealand is a small country with an enormous heart and breathtaking scenery. Lapped by the Pacific Ocean to the east and pounded by the Tasman Sea on its wild West Coast, there's no shortage of bays, coves, and deserted beaches to explore.
You may have visions of surf and sand – and these would be correct – but there's certainly far more to discover in this out-of-the-way island nation. A list of what the country doesn't offer would be faster to write than one with a list of where to go in New Zealand.
Tucked away down the bottom of the globe, with nothing between it and Antarctica bar the open ocean, not many people make it to New Zealand.
Kiwis (named after the flightless native bird, not the fruit) are famed for their warmth and hospitality. With only around four million people, there is plenty of wide-open space, and it really is a playground for lovers of adventure and the great outdoors.
New Zealand has a multitude of islands, but the two largest are the North and South Islands. The North boasts the biggest city, Auckland, and the capital, Wellington. There's history and marine life to discover in Northland, beaches, rainforests, and city life in Auckland, and lakes, bubbling mud, and steaming geysers in the geothermal center.
The South Island is prime Lord of the Rings territory, with rugged mountainscapes, gorgeous fjords, and a wealth of natural treasures, with a few larger cities scattered around for good measure. Generally, the further south you go, the colder it gets, and the fewer people you'll run into. Trekking is a top activity here, although the North Island offers its fair share of mountains and hikes, too.
While there are plenty of activities for the athletic and intrepid traveler, that doesn't mean the more leisurely or low-key explorer should give it a miss. If you're more at ease in the museums of Europe than trekking up a mountain or flinging yourself off a bridge, New Zealand's culture and history (although relatively youthful) is still intriguing. And while there's no doubt the nation is a natural wonderland, there are options for those of all fitness levels to discover its beauty.
New Zealand might be a bit of a journey away from the rest of the world, but therein lies its beauty. If you're headed to Aotearoa (the land of the long white cloud in the Maori language) for the first time, here are some of the essential sights to include in your itinerary. And no, you don't have to be a world-class athlete to visit!
Below I've asked top travel bloggers – who either live in New Zealand or have visited a specific area – to share some photographs and recommendations of where to visit in New Zealand.
New Zealand North Island must-see sightsbays
Northland
Paihia (by Stella Jane of Around the World in 24 Hours)
The Bay of Islands is one of the most beautiful places in NZ, and Paihia, an adorable and historic town, is the best place to make your base as you explore the waters of the Bay of Islands.
Paihia has an amazing number of aquatic adventures both for travelers who love sports and those looking more for rest and relaxation. Athletic travelers will love the chance to kayak and get close to local waterfalls like the Haruru. Kayak instructors in Paihia, like the ones at Coastal Kayakers, are experts at dealing with all levels, from advanced to beginners. After kayaking, you can hike through Paihia's beautiful natural surroundings (and if you're lucky, you might even spot a kiwi bird).
To simply relax on the water, take the ferry to the nearby town of Russell. In the 19th century, this quaint village was known as the Hell Hole of the Pacific because it had so many smugglers.
Now, it is famous for its beautiful architecture, antique shops and delicious seafood.
Paihia is a three-hour car drive (or four-hour bus trip) from Auckland and is best visited during New Zealand's summer, with flawless weather and when most activities are open.
Te Paki sand dunes (by Adriana Plotzerová of Czech the World)
This may seem like an adrenaline-packed activity – it certainly can be, but it doesn't have to be.
The Te Paki Giant Sand Dunes in the far north of New Zealand's Northland are a truly beautiful spot with sandy hills reaching up to 100 meters, ideal for sandboarding. In case you've never done this, it's a bit like surfing on sand, and you can stand, sit or lie down on your board. Just be ready to end up with sand everywhere, and bring your sunglasses (but not your favorite ones, because the sand could scratch them).
You don't, by the way, need to bring your own as you can rent them where you park. If you happen to have a 4WD, you can follow the stream and drive through the river (sand dunes will be on your right-hand side). If driving on the beach is something you've always wanted to do, head for Cape Reinga or 90 Mile Beach nearby; just make sure you wait for low tide…
In this region, summer is the best time to visit (December-March) because of the weather; however, Northland is known as "The Winterless North", so it can be pleasant year-round.
The easiest way to get there is by car, although some Northland bus tours from Auckland, Mangonui, Paihia, and other cities do stop at Te Paki Sand Dunes.
Sandboarding at Te Paki Sand Dunes might just be the New Zealand adventure you've been looking for… crazy, but a lot safer than surfing.
Auckland
Auckland's West Coast Beaches (By Sarah Chant of Exploring Auckland)
Auckland must be visited – after all, Lonely Planet says it's one of the top 10 cities in the world to visit in 2022! But no visit to Auckland is complete without paying a visit to the city's stunning West Coast beaches.
With striking black sand (which exists due to past volcanic activity), wild surf and a variety of unique features, it's hard to believe that such beautiful scenery exists within the confines of New Zealand's largest city.
Though all of the West Coast beaches in Auckland are worthy of a visit, head along to Piha or Muriwai if you're short on time.
Piha is known particularly for its rugged beauty. It attracts world-class surfers and is home to a number of memorable walks (including both the Mercer Loop and Kitekite Falls). It is also home to a fabulous little café − grab a bite to eat from there and enjoy it on the sand.
Another fabulous West Coast beach, Muriwai, extends as far as the eye can see. Best of all, though, it's home to a large gannet colony which is easily accessible from a several different spots. These quirky birds are fun to watch, making this a great day trip for everyone.
Waiheke Island (by Caroline Keyzor of CK Travels)
Waiheke Island is an oasis of calm, with beautiful scenery located a short 40-minute ferry ride from Auckland. The island is a premium wine region and home to many world-class wineries, olive groves, beautiful beaches, charming coastal walks and a lively arts scene.
Waiheke has a unique micro-climate that allows for a long growing season. It also has more than 30 boutique vineyards set amongst the rolling hills, many of which have cellar doors located along the coast, with stunning views of the Hauraki Gulf, Rangitoto volcanic island and the Auckland skyline. You can visit them independently or join a wine tour to explore a few different ones. There are also hop-on, hop-off buses available to visit the most popular wineries.
The island is a great spot for a quick day trip or a weekend away, with several boutique hotels and b&b's. Waiheke can be visited year-round but is best in summer, when you can enjoy outdoor wining and dining, and swimming in some of the gorgeous turquoise bays, such as Palm Beach or Oneroa Beach.
Waiheke has many beautiful restaurants with sea views, where you can sample delicious platters of local oysters. Oneroa Village is the main town on the island and has several cute cafés, restaurants and gift shops, art galleries and a cinema.
Mount Eden in Auckland (by Lucy Ronan of Faraway Lucy)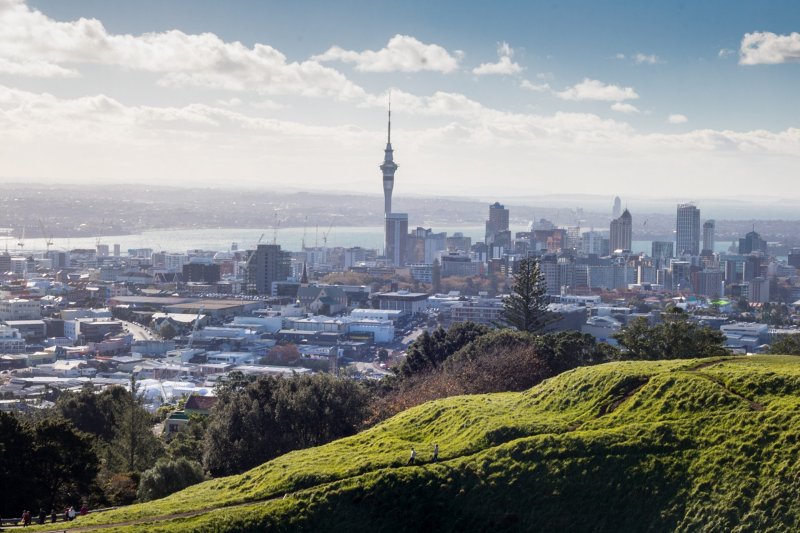 If you're planning on spending a few days in Auckland, you cannot leave without experiencing the most iconic view of the city from Mount Eden. Mount Eden is an affluent, residential suburb and home to Maungawhau, Auckland's highest volcano.
Rising 196m/640ft above sea level, the volcano is the perfect place to catch spectacular 360° views of the city. Nothing to worry about – the volcano last erupted about 15,000 years ago. While you're up there, see which of Auckland's popular attractions you can spot! Keep an eye out for the Sky Tower, the Auckland Harbour Bridge, the Waitakere Ranges and out to Rangitoto Island.
To reach Mount Eden, take a bus. You can either take the commuter service or hop onboard the Auckland Explorer Bus and get off at Stop 12. The commuter service departs at Downtown Britomart every 15 minutes, 7 am to 7 pm Monday to Friday – just catch metro bus numbers 27H, 27T or 27W.
From the base of Mount Eden, a ten-minute walk will get you up to the top. There's no vehicle access to the summit. Go up for sunset so you can see the city ablaze in bright colours, and the twinkling of building lights as they switch on one by one.
Waikato
Hamilton Gardens
Hamilton Gardens is one of the must-see places in New Zealand. Whether you're a natural green thumb or not, you'll love this varied and beautifully maintained free attraction. While a great destination for families, it is also a perfect place to visit as a solo female traveller; it's closer to an adult playground than a predictable, traditional garden.
Hamilton Gardens is not one, but many unique gardens, each with a distinctive theme. Missing European architecture? You'll love the Italian Renaissance and English Flower Garden. Prefer Asian culture? The serene Chinese Scholars' Garden and vibrant Indian Char Bagh Garden will be right up your street. And then there's the magnificent 'Surrealist' garden, which felt like diving headfirst into a Picasso painting or Alice in Wonderland's rabbit hole.
Hamilton Gardens is also a great place to see some of New Zealand's natural flora and fauna.
You can drive over on a day trip from Auckland, or, since Hamilton is a city, it is easily reachable via public transport. Visit all year round: in autumn, the vibrant burnt orange leaves line the pathways, and in summer, the rose gardens come to life. In early spring, many flowers are in full bloom and it is easy to ignore the rain.
There is a café and bathrooms on-site and the gardens are free to visit, although maps are available for purchase.
Waitomo Glowworm Caves (By Alanna Koritzke from Periodic Adventures)
The Waitomo Glowworm Caves are a must-do activity that should be on every New Zealand North Island itinerary. Located just an hour south of Hamilton, two hours south of Auckland or two hours east from Rotorua, the Waitomo Glowworm Caves are a natural wonder.
This cave system is known for its unique bioluminescent glowworms that sparkle a beautiful turquoise color in the dark. Once you travel farther into the caves, no outside light will be present, and when your eyes fully adjust to the darkness, you'll see the marvel of glowworms.
To see the glowworms properly lit up, you need to take a tour, most of which usually include a walk and boat ride through the caves.
The best way to get to the caves is via rental car, if possible. The city of Waitomo is very small and out of the way of the bigger cities in New Zealand. However, there are multiple tours that depart from Auckland, one of which is by InterCity, a bus system that also travels to and from other locations in New Zealand.
The Waitomo Glowworm Caves are a popular tourist attraction so to avoid crowds, visit in the off-season – typically fall and winter. It also helps to avoid peak hours by reserving the first or last tours of the day. Regardless of the time of year and day, the caves maintain a cool 17°C/63°F.
Hobbiton (by Lindsey Puls of Have Clothes, Will Travel)
You don't have to be the world's biggest Lord of the Rings fan to get swept up in the magic of Hobbiton, in Matamata, New Zealand, right in the middle of a farmer's field.
(Seriously, you'll have to dodge roaming sheep and cows as you drive up to Hobbiton). It's a quiet little area that is everything you would expect The Shire to be and more.
The Hobbit homes you see in Hobbiton are permanent structures that were built for filming The Hobbit trilogy. The Lord of the Rings Hobbit homes were demolished after filming, leaving just bare plywood facades. The remnants of those homes became such a popular tourist stop that Sir Peter Jackson (director of these epic movies), decided to make the set a permanent little town when they started filming The Hobbit.
You do have to be part of a tour to wander through Hobbiton, and these are wonderful. Many Hobbiton tour guides were part of the filming of Lord of the Rings and The Hobbit. They have all kinds of fun little facts to share while you make your way through The Shire and are very passionate about their jobs. Be sure to book your tour in advance, as Hobbiton is always a busy place.
Hobbiton is located about one hour from Rotorua and two hours from Auckland. The easiest and fastest way to get there is by taking a Hobbiton shuttle bus from either location. Even though it's further away, you'll have a wider variety of places to stay in Auckland vs Rotorua. Some of the coolest Airbnbs in New Zealand and hotels are located here.
Coromandel Beaches (by Sarah from New Zealand Travel Tips)
As one of the best places in NZ for summer, the Coromandel is unlike anywhere else in the country.
With hundreds of stunning beaches spread across 400 km of coastline, it's easy to find a memorable spot to enjoy.
New Chums Beach, a beautiful, pristine spot with white sand, is accessible only along a coastal walk that takes about half an hour and gives visitors a chance to climb a little higher for incredible views. The walk isn't too strenuous, but you will need to consider sun protection and water – New Zealand's sun is nothing to be trifled with, even on a cloudy day.
Hot Water Beach offers something very special to visitors – the possibility to dig holes in geothermal sand and create naturally formed hot-water pools. To dig your own spa, arrive within two hours of high tide (either side is fine); outside these hours, you'll find the hot water sand will be covered by waves.
Here are some recommendations for the best beaches in the Coromandel – there are quite a few! And if you're able, drive yourself, because the Coromandel is fairly spread out. With a rental car, you'll be able to see it all yet be flexible.
Bay of Plenty
Waiotapu Geothermal Springs (by Daria Bachmann of The Discovery Nut)
Wai-O-Tapu Geothermal Hot Springs are near Rotorua on New Zealand's North Island. They are the largest surface area of thermal activity in the Taupo zone, which has one of the highest geothermal activity ratings in the world, with bubbling hot springs, mud pots, and geysers.
When you enter the site, you'll be hit by a distinct sulfur smell resembling that of rotten eggs. This pungent odor comes from vents and geothermal pools scattered around the site.
A tour of Wai-O-Tapu will take you along a boardwalk with several intertwined routes, so spare at least a couple of hours for your visit here – there is much to see.
One of Wai-O-Tapu's most distinctive features is the Champagne Pool, where the orange frame around the bubbly water looks much like a glass of champagne.
The Devil's Bathtub is one of the most stunning features of the entire area. A deep crater created by an underground eruption, it is filled with neon-colored water as a result of the high concentration of sulfur on the surface.
Ngakoro Lake is also a major feature: it changes hue from subdued to iridescent green when the sun comes out. Although it is located at the end of the walkway, it is well worth the effort!
Just beware where you walk: many of the geothermal features are fenced off and have numerous warnings; falling in could cause serious injury or even death.
Manawatu/Whangaui
Tongariro (by Anna Sherchand)
The trekkers among you should head to Tongariro, New Zealand's oldest national park (1887) and a UNESCO World Heritage Site.
The park is home to three mountains – Ruapehu, the largest mountain in the North Island, Ngauruhoe, the youngest volcano, and Tongariro, whose landscape has developed over the last 300,000 years.
If you're using public transport, the best starting point is Hamilton: hop on a train to Wellington and get off in Ohakune, a four-hour journey. Once in Ohakune, you're a five-minute walk from the park.
The national park may be best known for the Tongariro Alpine Crossing, 19.4km long and requiring 6-8 hours to complete. You can book a round-trip shuttle bus here.
This hike can also be stretched into a multi-day hike, or scaled back to a day trip. Given the unpredictable weather, this hike is best undertaken in the November-April summer months.
If this sounds overly strenuous, there are plenty of stunning waterfalls and lakes to visit nearby. You could also spend the day water rafting, visiting the Bullswool Heritage Farm Park or, why not go on a mountain air scenic flights day tour! Whatever you choose to do, know that this area is one of the best photo spots on New Zealand's North Island.
Wellington
Wellington (by Pamela of The Directionally Challenged Traveler)
Among the rolling hills of Wellington is a bright red cable car that stands out from the other attractions of the city. The Wellington Cable Car is an icon of the capital city of New Zealand and one of the best things to do in Wellington.
The cable car started operating in February 1902 and quickly became a success. More trams were added, and it has been a staple of Wellington ever since. It starts from Lambton Quay in the city center and works its way to Kelburn lookout with three stops in between.
At Kelburn Lookout, you can choose from a number of different paths. A free shuttle will take you to Zealandia, a wildlife sanctuary, and you could visit Carter Observatory and enjoy Space Place.
Another option is to take a breathtaking fresh-air walk through the Wellington Botanic Garden. Covering 64 acres, the garden is home to some of the oldest exotic trees in the country. Enjoy strolling through colorful floral displays, several sculptures, a herb garden, and even the Lady Norwood Rose Garden. However, the best part of the walk is the view of the city and harbor.
Red Rocks Coastal Walk (by Cecilie of Worldwide Walkers)
The Red Rocks Walk in Wellington is one of the top things to do in New Zealand. It's a half-day trip that promises you a fresh sea breeze, beautiful views along the coast, and the sight of a seal or two on the way.
It's called the Red Rocks Walk because you walk towards a place full of big red rocks, which are more than 200 million years old and important to Maori history. From the starting point to the rocks is about an hour's walk, but if you continue along the coast, you'll reach the Sinclair Head, where Wellington's seal colony lives. You should be able to spot a few sunbathing on the rocks and playing in the ocean, a unique experience.
This beautiful coastal walk starts from Te Kopahou Visitor Centre in Owhiro Bay. You can either drive here, cycle from Wellington, or take bus 29 from Wellington city center to Owhiro Bay. The walk to and back from Sinclair Head takes about three hours. To really enjoy this place, set aside an extra hour and eat a packed lunch at Sinclair Head while you watch the seals.
You can visit all year round, but summer is best.
Kapiti Island (by Jeb Bryant of Chur New Zealand)
Are you a bird-lover? If so, head for Kapiti Island, 4km off the coast of Paraparaumu, a 40-minute drive north of Wellington. It's a small island, a pest-free nature reserve, where New Zealand's native birdlife thrives (including kiwis).
Getting to Kapiti requires taking a tour, and few companies hold the permits required to visit the island. These permits not only limit the number of visitors (no overtourism), but also ensure no pests are transported to the island (stoats and rats being two of the most devastating to bird life).
Kapiti Island is full of birdlife. Some are birds you can hear in the trees above but never see, but many are at ground level. Many of these are birds you won't see on the mainland, like the takahe.
The island has many walking tracks, including one to the summit, 521 metres above sea level. But even close to the landing point, you can still see a variety of birds.
Taking a tour does not mean you have to follow a group. Once you have had your briefing, you can choose to explore on your own, or take a guided tour.
Best visited in summer, a trip to Kapiti Island makes for a great day trip from Wellington. If you're not driving, you can reach the departure point, Kapiti Boating Club, by public transport from Wellington. Catch a train to Paraparaumu Station and a bus (#260) to Kapiti Boating Club. Alternatively, book a tour that includes a pick-up from Wellington.
Oh, and if you want the opportunity to see a kiwi in the wild, you'll need to book an overnight tour as they're a nocturnal bird.
New Zealand South Island must-see sights
Nelson-Marlborough
Abel Tasman National Park (by Roxanne de Bruyn of Faraway Worlds)
Visiting the Abel Tasman National Park is a must when you're travelling through New Zealand's South Island. With golden sand, turquoise coves and the occasional waterfall, the park is the jewel of the Nelson-Tasman region, offering a peaceful, restorative experience for visitors. The Abel Tasman Coastal track is probably the most popular activity in the park – a multi-day walk along the shady forest tracks, featuring tiny bays with clear water dotted along the coastline.
You can walk into the park from the seaside town of Marahau, or you can be dropped off at various points along the track by the frequent boats that leave from Kaiteriteri Beach near the southern entrance of the park.
But there are plenty of options to walk for 3-5days. You can take a boat to a bay, walk to the next one, and get picked up again, allowing you to have a taste of strolling through the beautiful bush. You may also decide to paddle to the park through the clear, turquoise water in a kayak.
If you have the luxury of time, spend a night or two in the national park to see what it's like without the daytime visitors. Accommodation options vary from camping or floating backpackers to a range of luxury lodges with spectacular coastal views. Whichever way you choose to experience the park, your visit will definitely be one of the highlights of your travels to New Zealand.
You can visit year-round, but pick the summer months if you want to spend your time on the water.

West Coast
Helicopter ride on Franz Josef Glacier (by Lora Pope of Explore With Lora)
New Zealand is home to some of the world's best adventures. While this one may be out of your comfort zone, at least one serious adventure should be included in this list, should you decide to go for it: taking a heli-hike on Franz Josef Glacier. This stunning glacier is one of the most accessible in the world, making it a perfect addition to a New Zealand South Island itinerary.
The glacier is five kilometres from the town of the same name, and a 1.5-hour hike will take you to within 750m. For a closer look, you can take a helicopter up and even go on a guided trek on the glacier.
The helicopter lands on the glacier. From there a guide will take you on a hike to explore the unique frozen landscape with crampons. The ever-changing environment here is unlike anything else you will see in the country, complete with ice caves and incredible mountain views from all sides.
Franz Josef glacier is open to visit year-round, but the best time to visit is during the winter (June to August) since glaciers are all about ice and snow!

Driving the West Coast (by Delphine Mignon of Lester Lost)
New Zealand is a fantastic destination for solo travellers; it's safe and easy to travel around. That said, the best way to get around is to drive.
New Zealanders drive on the left, but the roads are good and people are quite disciplined and courteous on the road.
One of the best drives in the South Island of New Zealand is along the West Coast. If you base yourself in Greymouth, you can head north on the coastal road to Cape Foulwind, one of New Zealand's best coastal walks.
The road south will take you across the mountains to Fox Glacier and Franz Josef, but on the way, don't miss Hokitika, a small coastal town with a quaint 1950s feel.
To get to the West Coast from Christchurch, you need to cross Arthur's Pass, another spectacular drive in New Zealand. This is true mountain driving, and the weather might be intimidating at times but the scenery is stunning…
Another option for this crossing is to take the TranzAlpine train from Christchurch to Greymouth. You can then travel in comfort while admiring the beautiful scenery. To explore the West Coast from Greymouth, you will need to hire a vehicle though, as there aren't many options for public transport. Visiting the West Coast feels like a true adventure as it's a less popular spot in New Zealand but still incredibly beautiful.

Hokitika Gorge (by Suzie of Suzie Stories)
Tucked between the dense forests inland from Hokitika is a spot that seems better suited to an otherworldly magical realm than to the rugged West Coast. Hokitika Gorge has become known for vibrant turquoise waters and stunning views from suspension bridges, all seen via a short and easy loop track that is an absolute must-visit while exploring the West Coast.
The loop track takes an hour to walk, although speedier walkers will easily complete it in less time. You can also choose how far to walk, with lookouts 5, 15, and 30 minutes from the start.
The first viewpoint is wheelchair accessible and just 5 minutes from the car park, making it ideal for visitors of all abilities. Hokitika Gorge is popular enough that you can easily follow other visitors to reach the viewpoints without much guidance, but also peaceful enough to enjoy the surroundings at your own pace.
Note that during the summer months, you'll likely come across lots of sandflies who just love to bite, so bring bug repellent! Due to the West Coast's unpredictable weather, you may also want to pack sturdy, waterproof shoes and a rain jacket year-round. That said, the misty clouds only add to the atmospheric scenery, so don't let wet weather put you off!
Due to its remote location, Hokitika Gorge is not easily accessible by public transport. As it's a 30-minute car journey from Hokitika, you might prefer to hire a car and drive yourself to the gorge, where parking is free. Alternatively, you can take a half-day tour from Greymouth or transport from within the Hokitika area.

Maori Culture (by Katie Diederichs from Two Wandering Soles)
Before traveling to New Zealand (or any country, for that matter), it's a good idea to brush up on some of the region's history and culture. One fun fact about New Zealand is that many Kiwis wear pendants around their neck made from a stone called pounamu.
Often called "greenstone" or "nephrite jade", pounamu is precious and has a great deal of cultural significance to the Māori, New Zealand's indigenous peoples. It was used throughout their history in trading, and treasures made from this stone have been passed down through generations.
Typically found near rivers on New Zealand's South Island, pounamu is green in color and very durable, making it perfect for creating beautifully-carved pendants. The town of Hokitika is a great place to shop for pounamu jewelry, as there are many shops in the artsy town. Plus, pounamu is often found in this general area, so you are shopping near the source.
If you're feeling crafty, you can carve your very own necklace at one of the workshops in town, like Bonz N Stonz.
This shop has local artisans on staff who will guide you through the process of designing and carving your very own masterpiece using their professional equipment and by following traditional designs or creating your own. Be sure to block out a good chunk of a day for this activity, as you won't want to rush the process. A jade necklace is perhaps one of the best souvenirs you can take home to remember your special time in New Zealand!

Canterbury
Hiking Tracks at Mount Cook (by Jennifer Parkes of Backyard Travel Family)
Mt Cook National Park is one of the most beautiful regions in New Zealand, and home to the highest peak, Aoraki Mt Cook.
One of the best ways to experience the wonder of the mountains is to take one of the beautiful Mt Cook Walks. For a lovely short walk, try the Kea Point Track or the Tasman Glacier Viewpoint. The Kea Point track has a very gentle incline and takes about 30 minutes each way. It is a well-formed walking track on gravel and rock that leads to a viewpoint overlooking Mueller Lake. On a clear day, you'll have a great view of Mt Cook itself.
Reaching the Tasman Glacier viewpoint takes around 20 minutes, and while it includes a number of stairs, the walk is quite short and is doable for most people. The viewpoint overlooks Tasman Lake and Tasman Glacier and is particularly beautiful at sunrise and sunset.
The best way to access Mt Cook National Park is by private vehicle, giving you the flexibility to drive to the many walks. The Intercity Bus also stops at Mt Cook Village, or you could take the Cook Connection shuttle between Tekapo/Twizel and Mt Cook.
The most popular time to visit is during the summer and Christmas holiday season, but in mid-winter, the mountains are covered in snow and there are fewer people.

Hooker Valley Track (by Kami of My Wanderlust)
Hooker Valley Track is one of the easiest hikes in the South Island, yet it is spectacular and should be included in your New Zealand itinerary, whether you are driving or using public transportation.
The trail is around 5 km long and offers breathtaking views of Mount Cook and the Southern Alps. You will feel as though you are walking in photoshopped pictures, it's that stunning.
Hooker Valley Track starts near the parking lot close to Mount Cook village and takes you all the way to Hooker Lake, where you will be welcomed with an even more stunning vista of Mount Cook. Take advantage of this spot to have a lunch break in beautiful surroundings.
When you get to Hooker Lake, you'll need to return the way you came. The route includes three swing bridges that might be a bit nerve-wracking but are fun to cross. Still, this is considered an easy hike with an elevation change of only 200m/650ft, you don't need to be in any special shape to hike it.
If you travel by car, there is a large parking space at the entrance to the trail. You can also reach Mount Cook Village by bus; there are daily connections in the summer season from Twizel, Tekapo, or Queenstown. The bus schedule should allow you enough time to walk the trail and return to the village to catch the bus back. Or, you could stay overnight in Mount Cook Village.

Lake Tekapo (by Lotte of Phenomenal Globe)
One of the most beautiful lakes in New Zealand is Lake Tekapo, located in the middle of the South Island. It has a vivid blue color, caused by sunlight refracting of the floating mineral particles carried to the lake by meltwater from the surrounding mountains.
When visiting Lake Tekapo, an excellent (and budget-friendly New Zealand activity) is hiking the Mount John circuit. This trail starts at Tekapo Springs and leads up to the Mount John observatory. From this 1,029-meter-tall mountain, you'll have an amazing view of the surrounding area before descending via a track along the lakeshore. This hike is suitable for anyone with a moderate fitness level and takes around three hours. You can also do this hike the other way around.
The best way to get to Lake Tekapo is with your own transport. If you're not driving, there are daily buses from Christchurch to Tekapo. The journey takes just under four hours, and the scenery along the way is breathtaking, especially as you get closer to Lake Tekapo. (You could also take a day trip from Christchurch that includes Mt Cook.)
Lake Tekapo is wonderful in any season, although visiting in spring is extra special because of the colorful lupin flowers that peak in mid to late November. While technically considered an invasive species, these pink and purple flowers do look beautiful against the backdrop of sparkling Lake Tekapo.
Lake Tekapo town is very small, but there are nice several places to stay, as well as nearby campsites if you are traveling by campervan. There is also a small grocery store, and plenty of tour companies offer excursions.

Arthur's Pass with the Tranzalpine (by Wendy of Adventurous Retirement)
Considered 'a great train journey of New Zealand,' the TranzAlpine Scenic Railway is the best way to see the beautiful Southern Alps in the South Island interior. Leaving from Christchurch on the east coast or Greymouth on the west coast, this is considered one of the most scenic train trips in the world; it's a safe, easy, and beautiful way to travel from coast to coast.
This is an ideal opportunity to relax, sit back, and gaze at the stunning natural scenery through huge panoramic windows while listening to a detailed narration. Take in the lovely Canterbury Plains, farms, striking mountain foothills, gorges, exquisite river valleys, and jaw-dropping snowcapped Southern Alps, even in summer.
If you arrive in Christchurch jetlagged, the TranzAlpine Railway is a perfect way to acclimate and delay a car rental while adjusting to the time change. Go directly to Greymouth on the 4.5-hour train ride or take advantage of stopovers, at no extra cost, and spend a night or two at each of the scenic stops – Arthur's Pass and Moana.
At the first stop, Arthur's Pass, experience forest and hiking paths with rich earthy aromas, laden with a multitude of moss varieties. Hike up to Devil's Punchbowl, a stunning waterfall.
The second stop is Moana on the shore of Lake Brunner. It is delightful for walks and hikes, panoramic views, and water sports.
Greymouth, the last stop, is the largest town on the South Island's West Coast. It has a history of gold and coal mining; forestry and fishing are key industries today. Look for the famous Pounamu (greenstone/jade) in shops and galleries. Greymouth is a great starting point to visit west coast beaches, wild coastline, scenic rock overlooks, and mountain glaciers. Catch a bus or rent a car here to access the west coast from Greymouth.
The TranzAlpine Scenic Railway journey is a comfortable way to see the stunning inland scenery on New Zealand's South Island.

Hanmer Springs (by Nicholas of Rambling Feet)
Hanmer Springs is a pleasant getaway from Christchurch, and popular with locals at the weekends. While there are plenty of adrenaline-pumping activities and pristine countryside you will find elsewhere in New Zealand, the most famous spot in town is the eponymous Hanmer Springs Thermal Pool and Spa. There are few things better than soaking the hours away as you admire the mountain scenery and the hot water warms you to the bones – you can find a pool with a temperature that suits you.
Beyond the geothermal spa, those who feel the need to earn that soak can take one of the walking trails around the village; the easier ones include the Conical Hill Walkway, the Nature Trail and the Forest Amble Walk.
Hanmer Springs is great any time of the year, but especially pretty in winter, when clouds of steam billow across the snow-covered ground and trees. For visitors who aren't doing their own New Zealand road trip, a Hanmer Connection bus goes from Lichfield Street bus station in Christchurch every morning and returns in the late afternoon. The ride each way takes two hours and can be booked through the Intercity website. If you decide to make it an overnight trip, there are plenty of accommodation options too.

Whale-Watching at Kaikoura (by Nadine Maffre at Le Long Weekend)
Situated on the east coast of the South Island, Kaikoura benefits from stunning scenery, a mild climate, and a privileged coastal location. And while visitors are often lured in by its beauty, it's the town's wildlife that makes a trip to Kaikoura extra special.
Known as the best place in New Zealand to spot whales, these marine mammals are the main drawcard, but hop on a tour boat and you'll likely spot a lot more than just whales, including dusky dolphins, seals and a diverse birdlife population.
Sperm whales frequent the nutrient-rich waters of the Kaikoura canyon year-round, giving the quiet seaside town a unique advantage. Humpback whales also pass by in winter, and pods of orcas are commonly spotted in summer, meaning a whale-watching tour is a rewarding experience in any season.
To get to Kaikoura from Christchurch (the main transport hub of the South Island), you can drive the 2.5hr journey north, or take the Intercity bus that passes by on the way to Picton. The bus option takes around three hours each way, so it's possible to fit a visit into a day. That said, an overnight stay in Kaikoura would be advisable. A whale watching tour isn't among the cheapest things to do in Kaikoura, but it's one of the most memorable, and an experience you'll cherish for years to come. Pro tip: You can often find discounted tickets if you wait to book until the last minute. But this is only advisable if you have a flexible schedule!

Otago
Otago Peninsula (by Sinead of Map Made Memories)
The scenic Otago Peninsula is often overlooked as a tourist destination in favor of other world-famous South Island locations. But for nature lovers and those who like quieter locations, the 20-kilometer-long peninsula is well worth visiting.
The Otago Peninsula is a five-hour drive southeast of Christchurch or six hours by bus from Christchurch to Dunedin. Public transport from Dunedin to and around the peninsula is limited, but day tours are available from Dunedin.
Alternatively, for those on a New Zealand road trip, the peninsula's roads are easy to self-drive and navigate. As the main attractions are outdoors, spring or summer is the optimal time to visit. Enjoy scenic drives with sweeping views along the peninsula's winding roads to find isolated, deserted beaches, such as stunning Sandfly Bay, which is perfect for beachcombing and boasts some of New Zealand's tallest sand dunes. Be aware that sea lions regularly come ashore here!
Stop off to explore Larnach Castle, New Zealand's only castle. At the end of the peninsula lies Taiaroa Head, home to the Royal Albatross Centre, where visitors can learn about these magnificent birds, view their nesting sites and watch the birds in impressive flight.
A small stretch of beach below is a great spot for observing rare Yellow-Eyed Penguins, or visit nearby Pilots Beach to see Little Blue Penguins (the world's smallest penguins). The Otago Peninsula can be visited in one long day trip, but to fully experience all the wildlife opportunities on offer, an extended stay of 2-3 days is best.

Lord of the Rings Tour from Queenstown (by Holly from Globeblogging)
New Zealand is often used as a set for Hollywood blockbusters, but few are so identified with the epic landscapes of the country as, Tolkien's Lord of the Rings trilogy.
The South Island of New Zealand has plenty of Lord of the Rings locations, but the majority is in or near the city of Queenstown.
While a number of locations aren't terribly difficult to find on your own, some are challenging or not accessible by private vehicle – such as the locations used for Lothlorien and Isengard, which cannot be reached with a 2WD.
Many of the locals were also involved with the films in production or as extras; they love to tell stories of the shoot, making it a must for any fans of the film.
There are a number of tour possibilities, both full day and half-day, each offering a standard highlight reel of locations, along with something unique. The 4WD tour options include river crossings, panning for gold at the Arrow River where Arwen washes away the Ringwraiths, and even one of the most dangerous roads in the world – Skippers Canyon. This becomes an immensely popular ski field in winter so this tour is best kept for the warmer months.

The Blue Pools (by Chris Fry of Aquarius Traveller)
The Blue Pools are one of the most outstanding sights on the South Island of New Zealand, with unbelievably crystal clear waters.
These beautiful pools are located on the highway between Haast and Wanaka, and while there are some public bus with taxi options from Wanaka, it is easiest to drive.
The hike in from the main car park is only a 3km round trip and takes about an hour. This is a fairly easy walk through the ancient forest, with very little elevation. At the end, you will come to the second swing bridge, which gives you the best views of the pools. Making your way down to the water's edge can be more difficult, but it's still enjoyable from above. Extra time is needed for exploring and taking photographs, and if you can brave the cool calm waters, taking a quick dip can be very therapeutic.
While the pools are beautiful year-round, they can become cloudy after heavy rain through Mount Aspiring National Park.
This spot can get quite busy, and if the parking lot is full, you can park at Cameron's Flat campgrounds, about half an hour's walk away.

Roy's Peak (by Alice Milne of Alice Adventuring)
One of New Zealand's biggest drawcards is its beautiful scenery – and what better way to experience this than through hiking?
New Zealand has an amazing system of backcountry huts managed by the Department of Conservation (DOC) that are just waiting for you to visit: hidden in rainforest valleys, perched on top of snowy slopes, and nestled on the shores of breathtaking alpine lakes, which vary greatly in terms of facilities and cost. You don't have to go on a long, multi-day hike, because New Zealand is also full of rewarding short day and half-day trips. And yes, it's generally safe to hike solo in New Zealand!
Some of the most well-known New Zealand hikes are the Great Walks, the Tongariro Alpine Crossing, and Roy's Peak, but there are also plenty of hidden gems to explore. It can be daunting to choose, but a quick online search or browse through the DOC website will help. The obliging locals at visitor centres are also a valuable resource.
The best time to hike in New Zealand is summer and autumn (some tracks are closed due to snow or avalanche risk in winter and spring). And remember, this means June to October in the Southern Hemisphere! New Zealand is, however, notorious for having "four seasons in one day", so you'll be able to find great hikes any time (just keep an eye on the changeable weather).
New Zealand doesn't have many dangerous animals, but the sun is extremely powerful, and bites from sandflies (like small mosquitos) are rather itchy, so sunscreen and insect repellant are must-haves.
It's easiest to bring your own hiking gear, although you can easily buy everything once in New Zealand. You'll need good quality hiking boots or shoes, a backpack, and appropriate clothing (non-cotton, warm and breathable), including a rain jacket.

Southland
Milford Sound (by Trisha and Modi from Try Wandering More)
Often referred to as the eighth wonder of the world, no South New Zealand trip is complete without visiting Milford Sound in South Island, a fjord with magnificent cliffs, cascading waterfalls, lush rainforests, diverse marine wildlife and the striking Mitre Peak.
The drive to Milford Sound is at least as spectacular. There are numerous points of interest along the way like lakes, footbridges, lupin-covered fields, grass flats, and panoramic viewpoints.
While adventure lovers have the option to explore the area on a multi-day hike, the most popular way to admire the fjord's beauty is through a 2-3 hour cruise. There are plenty of cruises to choose from, but it is best to go for tours with smaller boats for a more peaceful, devoid of crowds experience.
The Milford Sound cruise can be done as a day trip from Queenstown (total 10-hour drive) or from Te Anau (total 6-hour drive). You can either drive there yourself or book a cruise tour with transfer options like bus, scenic flight or a combination of both. Albeit expensive, you can opt for an overnight cruise for a more slow-paced trip.
Milford Sound can be visited year-round. It experiences around 182 days of rain per year, so your chances of visiting on a sunny day are 50:50. That said, the fjord is beautiful no matter the weather, with a significant number of impressive waterfalls on rainy days and beautiful, low-hanging cottony clouds on sunny ones.

Stewart Island (by Josie of Josie Wanders)
Generally known as New Zealand's third island, Stewart Island is located at the very south end of the South Island.
Getting to Stewart Island can be an adventure in itself on the 30-minute ferry ride over from Bluff. The Foveaux Strait can be a little rough, but it is worth the effort. There are also flights from Invercargill if you prefer to fly.
Stewart Island only has only one town, Oban, which is where you will arrive and spend most of your time. The accommodation available ranges from backpacker hostels to luxury B&Bs.
With a population of around 400 people, Stewart Island is a relaxed nature destination. You won't find crowds here, and your visit will run on relaxed island time, spent on leisurely walks around Oban. Stewart Island, by the way, is the best place in New Zealand to see kiwi birds in the wild, with over 20,000 of this elusive, nocturnal bird calling the island home.
If you're looking for a challenge, Stewart Island is also home to one of New Zealand's Great Walks, the three-day Rakiura Track.
After your walks, you can relax on pristine beaches or enjoy the fresh local seafood at the only pub in town. If you're here on the weekend, join in with the raucous Saturday Night pub quiz with locals and visitors alike.
While summer is the best time to visit Stewart Island for the warmer weather, a visit in winter might include the Aurora Australis. Being furthest south, this is the best place in New Zealand to see the spectacular Southern Lights.

SHOP THIS POST ON AMAZON
PIN THESE PICTURES AND SAVE FOR LATER!