Are 3 days in Prague enough to get to know this fairy-tale town of Baroque architecture, colorful buildings, castles, towers, beer, pastries, and goulash?
Yes, it's perfect for a first visit and ideal for solo female travelers.
Prague is a safe city, with plenty of English-speaking businesses and accommodation options and is ideal for strolling, eating, and enjoying history and art.
For a long time, Prague was under the radar of many travelers visiting Europe, perhaps apprehensive about exploring countries that had once been in the Soviet orbit.
After the Velvet Revolution and the fall of Communism in 1989, Prague flourished and soon it was a must-see city for any traveler to Central Europe. Low-cost airfare carriers have helped make Prague easy and cheap to reach.
Read on to learn everything you need to know for the 10 top things to do in Prague in 3 days – just don't be surprised if you come back for three weeks!
Traveling to Prague
You can easily reach Prague by train, plane, and even by bus.
Prague is a well-connected railway hub, with plenty of high-speed and sleeper train options to cities like Munich, Zurich, and Vienna. These cities are all major connection hubs for trains around Europe. You can check train schedules here.
Flying in is equally simple. If you're coming from the USA, you can fly direct on major airlines like Delta and American Airlines. You can also travel from within Europe on low-cost carriers like Ryanair, Wizz, and EasyJet.
You can even travel to/from Prague by bus! Flixbus offers bus services to Prague from other cities including Vienna, Berlin, and Budapest.
Getting around Prague
Prague is an incredibly walkable city, if you're sure-footed. Many of the pedestrian streets are cobblestone, both large and small, so be sure to wear stable footwear that can handle the constantly changing stones.
If you're exploring places of interest in Prague that are a bit further afield, there is a subway system (the Pražské metro) which has three lines, with transfer points around the Old Town/Prague 1 area. You can also ride the tram network, which has 34 lines and operates at street level. These colorful trams are also picture-worthy.
Where to stay in Prague
Like most European cities, Prague has a huge diversity of places to stay but assuming this is your first time in the city, your best bet is to stay in the Old Town, right in the heart of most of the attractions you'll be wanting to see.
Here are some recommended accommodations in Prague to get you started:
On future trips, once you've exhausted everything the Old Town has to offer, you could stay further afield in the New Town, or Nové Město, where you'll be near the action but not right in the middle of it. You could also try the castle district, or some of the new, hipper neighborhoods. The beauty of Prague is that it is small enough to get around easily. Wherever you stay, you won't be much further than a few tram stops from the Old Town.
3 Days in Prague: Best things to do and see
It's always fun to try and map out "exactly what to do" in a city.
For Prague, there's so much to choose from, it's hard to narrow it down – so you'll have to use what follows as inspiration for your 3 days in Prague itinerary.
You might not be able to see everything and if you can't, well, you'll just have to come back.
Old Town Prague
If you feel like you've stepped into a fairytale when you visit Prague's Old Town, don't worry: that's a normal reaction.
The Old Town in Prague is a dreamlike maze of cobblestone alleyways and colorful buildings, punctuated by squares surrounded by stunning towers and cathedrals. It's outrageously picturesque and easy to get distracted gazing at every new, magical-looking street.
Here are the things to see in Prague Old Town.
Astronomical Clock and Old Town Hall Tower
The famous Astronomical Clock is one of the top places to visit in Prague and one of its landmarks. The beautiful clock has an hourly show where figurines move in and around the face, and a crowd regularly gathers to watch the extraordinary mechanisms move.
You can also climb the Old Town Hall tower for a panoramic view of Prague, on foot or in the elevator – and definitely worth it. Pro-tip: visit at sunset to see golden hour light all over the city. (Skip the line by getting your entrance ticket ahead of time.)
Old Town Square
Overlooked by the Old Town Hall, Old Town Square is the center of the action in Old Town Prague. It's where you'll see street performers and live bands working all summer long. Children will be wildly running around (parents chasing after them!). Tourists will be everywhere. But for all the chaos and noise, it's the place to be, if only for a little while.
You can explore Old Town Square, visiting the buildings (like Old Town Hall and the Astronomical Clock or Church of Our Lady before Týn), or use it as a base to explore the rest of the city.
In the winter months preceding Christmas, a massive Christmas market is set up in Old Town Square with a gigantic tree. You can shop, eat, drink mulled wine, and listen to live Czech music – and people watch.
Wenceslas Square
In Prague, the place to shop is along the long boulevard at Wenceslas Square. You can window-shop too, if that's more your style, or enjoy the buskers and street performers working along the long street.
Charles Bridge
There are 18 several bridges across the Vltava River in Prague, but the most famous by far is Charles Bridge. It connects Old Town Prague to Malá Strana, the Lesser Town.
Charles Bridge is a pedestrian-only span over 600 meters/2000 feet long with 30 statues along its length, and three towers at the ends (one on the Malá Strana end, two on the Old Town end). These statues are all replicas of the originals, due to damage and exposure (you can see the originals at National Museum). Along the length of the bridge, you'll see artists and street performers, as well as occasionally some people begging.
Funky Museums
Just off Old Town Square, the Sex Machines Museum is a bit of an unusual destination – but a noteworthy one. It's the only sex machine museum in the world. Expect to see everything from adult toys to vintage black-and-white erotic films. Not for everyone, but it IS popular.
If you're in the mood for a different kind of funky, Prague is full of small, quirky museums, like the Apple Museum (dedicated to Steve Jobs), the Beer Museum (no explanation needed) or the Prague Beer Museum. Yes, there are two beer museums. Let's not forget Pilsner was born in this country, where people consume more beer per capita than anywhere else in the world and where in a restaurant it costs less than coffee.
Vltava River
If you love to explore a city on foot or an unstructured activity that shows you the city sights, go for a long walk along the Vltava River.
The part of the Vltava between the dancing House and Vyšehrad is called Náplavka. Both shores boast anchored ships with bars, restaurants, live music, and cultural events, including evenings with swing music, dancing classes for beginners, and boats with theatre plays called Loď Tajemství, which means mystery boat.
The wall of the river embankment is full of "Kobky", former storage cells (literally dungeons). These were once used to store ice but were renovated in 2019 and now house shops, galleries, cafés, and bars.
The Vltava is the longest river in the Czech Republic and runs through the city center. You can cross back and forth on one of the bridges, and use it as your base/landmark to explore other neighborhoods.
John Lennon Wall
The Lennon Wall is a beautiful, colorful wall of street art in Malá Strana. Originally started as public art in the 1980s, it was used as a canvas for messages of dissent during the communist revolution in 1989. Now it's covered in Beatles lyrics, notes to loved ones, and other scribblings.
Take your time to read some of them – you won't regret it.
You'll regularly find a crowd of Instagrammers and selfie-stick-wielding people trying to snap the perfect pic… but the best way to experience the Lennon Wall is by looking at all the messages of love and peace people leave on the wall. We need more of that in this world!
Prague Castle
On the western side of the Vltava River, Prague Castle stands high on the hill overlooking the city. This extraordinary building is more than 1000 years old and is the Czech Republic's premier historical building, protected as a Unesco World Heritage Site.
There are two ways to approach the castle: through the Hradčany neighborhood after crossing Charles Bridge, or by climbing the castle steps. Enter through Hradčany and leave down the castle steps so you can enjoy the city views on your climb down.
You can also book a guided tour of Prague Castle, which includes a visit to Saint Vitus Cathedral, and learn all about its intriguing history.
Petřín Hill
Petřín Hill is another major hill on the Malá Strana side of Prague and was once one of King Charles' vineyards. You can climb it from any number of sides. The hill is covered with trails, parks, and green spaces to explore, so if you have the time, try climbing from one direction and descending another.
Petřín Lookout Tower
Atop Petřín Hill, you might imagine you're seeing something slightly taller than the Eiffel Tower. This is actually the Petřín Lookout Tower (Petřínská rozhledna) with two observation decks, including one at the top. You can climb the 13 flights of stairs to see panoramic views from the highest point in Prague.
Memorial to the Victims of Communism
At the base of Petřín Hill, a small memorial honors the victims of Communism. This disconcerting set of statues shows a figure being slowly decayed to nothingness, a stark reminder of the impact of Communism – especially on political prisoners.
Beer-Tasting Tour
While Prague is filled with culture and history, the fact that it is the home of Pilsner-style beer is inescapable.
You can of course pop into any local pub and try the beer there (Pilsner Urquell is the go-to, even if it's not the best), or you can book a beer tour and sample all the possibilities.
Explore Prague on your own
The above are 'must-do' recommendations but Prague is a great city to just get out and explore.
Here are some other sights you might want to visit:
Powder Tower – a restored 15th Century tower gate to the Old Town
Dancing House –a modern office block designed by Frank Gehry with a top-floor restaurant
Jewish Quarter – not far from Old Town, you can explore the historic Jewish neighborhood, synagogues, and the old Jewish cemetery
National Museum – because natural science and history museums are good for your brain
Kampa Island – an island in the Vltava River with houses and a park
Strahov Library – a picturesque Baroque library that is part of a Premonstratensian monastery at Strahov near Petřín Hill.
Klementinum Praha – also spelled 'Clementinum,' this Baroque library dates back to the 18th century. Its Astronomical Tower and Mirror Chapel (a well-loved chamber classical music concert venue) are definitely worth a visit too.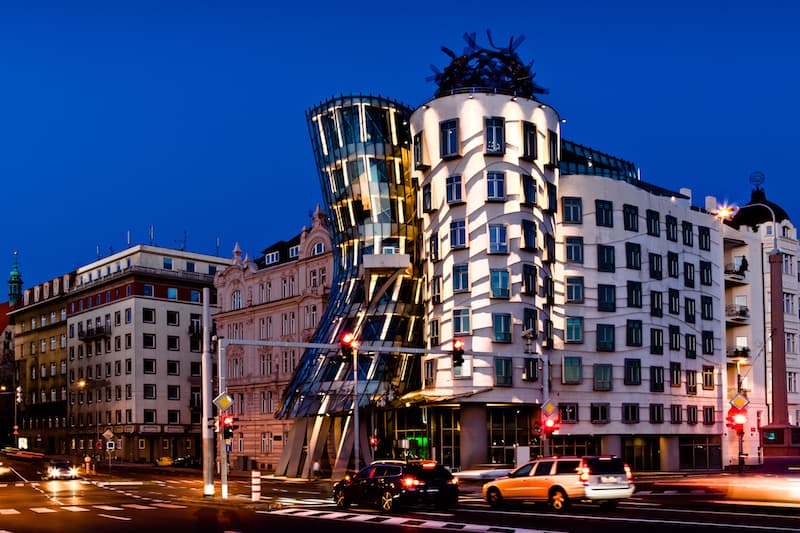 Where to stay in Prague
A 3-day itinerary for Prague
With all those great things on your to-do list, how do you put them in any order to see them all? Here's a quick three day Prague itinerary that somehow squeezes most of it in.
The Prague Visitor Pass covers entry to more than 60 attractions and includes public transportation. Buy yours here!
Day 1: Explore Old Town
On the first of your three days in Prague, spend the whole day exploring Old Town. This is not a large geographic area, but there is so much to see.
Start by getting to Old Town Square and use that as your base to explore in each direction.
Climb Old Town Hall and get oriented by seeing Prague from above.
Wander toward Wenceslas Square for souvenir shopping.
Visit the Jewish Quarter to learn a different perspective on history.
Meander through the alleys toward Charles Bridge.
And don't forget to be in the square to see the Astronomical Clock show at least once! (You can catch it every hour between 9am and 11pm)
Day 2: Explore Malá Strana (Lesser Town)
On your second day in Prague, spend time in Malá Strana, the Lesser Town. If you're staying near Old Town, cross Vltava River via the Charles Bridge early in the morning.
Climb Castle Hill to Prague Castle before the crowds and get a view of the city.
Don't forget to stop and see St. Vitus' Cathedral, a stunning Gothic structure.
Do some window shopping along Golden Lane of the Hradčany neighborhood.
Wander through the Wallenstein Palace Gardens to get a break from the crowds.
Visit Lennon Wall for a few selfies.
Stop by the Memorial to the Victims of Communism for a quick reminder of that chapter in Czech history.
Climb Petřín Hill, explore the vast green areas, and take in the panoramic vista of Prague.
If you're feeling really ambitious, climb Petřín Tower for an even better view or to watch sunset bathe Prague in all shades of golden light.
Day 3: Experience Czech Beer Culture (or not)
If you're a beer-lover, then this is your day and an opportunity to get a real 'taste' of Prague.
Book a morning session at the Beer Spa to start the day on a relaxing note.
Spend the afternoon at the Prague Beer Museum to learn more about Czech beer heritage and the history of pilsner.
Simply spend time at one of many Prague bars and see first-hand how easy it is to make friends in this city.
And end your day with a Prague food tour – perhaps like this all-you-can-drink medieval dinner…
You don't drink beer? The advantage of the day to visit some of the museums you couldn't see on the first two days, or take a day trip – here's a selection to give you an idea of what's out there.
And please – don't forget your travel insurance before you go! I recommend SafetyWing if you're 69 and under. If that birthday has come and gone, click here for travel insurance that covers you at any age.
Guest Contribution by Valerie Stimac Bailey. Valerie writes about travel in the American West on her blog Valerie & Valise. Her site can help if you've always wanted to visit Alaska, California, or another destination in the region.
These books will help enrich your Prague trip
Pin these pictures and save for later