By Barbara Wagner
There are so many reasons to visit Budapest, the capital of Hungary – and one of the most charming cities in Central Europe. For a woman traveling on her own, those reasons include security, culture, beauty – and health.
Since it lies at the heart of Europe, it is easy to reach from nearly anywhere on the continent. If you happen to be here for a weekend or for a few days, you'll easily fill every minute.
Budapest, Hungary was once a sparkling hub, filled with music and refined culture. Dictatorships and the Communist regime took some of the shine off the city but today, it is at the heart of a renaissance from which it has emerged with greater brilliance than ever.
Its name is a combination of Buda and Pest, two cities split by the Danube River, which united in 1873 to become a single city, Hungary's capital.
Budapest has a harmonious skyline and that's because, like Paris, buildings must adhere to a certain height, the maximum being 96 meters, a symbolic height: 896 CE is the year the Magyars first settle here.
Budapest is also a UNESCO World Heritage Site, which includes the Castle District and the Danube embankment from Liberty Bridge to Margaret Island.
Is Budapest safe for solo female travellers?
Budapest solo female travel is perfectly safe, whether during the day when visiting the city's many rich historical sights, or at night when sampling great nightlife and wonderful restaurants. It has a deserved reputation for safety and has little violent crime.
Women can walk freely anywhere in the city center during the daytime and the streets are full of young people, especially in summer. Only a few areas should be considered off-limits at night, so it might be wise not to reserve your accommodation in these districts. These include Józsefváros, especially Hös Street; District 11 (Kispest is believed to have the most criminals in the city); and Köbánya in District 10. Otherwise, feel free to wander.
That said, it's always great to have a few safety tricks and tips up your sleeve in case you ever need them. While petty crime, like pickpocketing, is far from common in Budapest, you can help keep your valuables safe and secure by carrying a small anti-theft waist bag or money belt.
The bag sits around your waist and is nice and discreet as it's covered by your sweater or trousers. That way you can keep safe and still show off your favorite outfits in this dazzling city. Anti-theft waist bags are big enough to fit your passport, a credit card, and a few extra bills in case you should need them.
10 things to do in Budapest alone
Women will enjoy exploring the city alone, as the transport infrastructure makes it easy to get around (not to mention that the city is fairly reasonably priced compared to other European capitals). Most attractions are relatively near one another and you won't find it difficult to get from one to the next. It's a beautiful city — and here are some of Budapest's top Instagrammable spots.
Here are some of the top things to do in Budapest if you're fortunate enough to be spending a few days here.
1. Get your food at the Central Market Hall
The Great Market Hall, as it's also known, is wonderful building built in 1896 and is the oldest indoor market in the city. It has won many awards for being one of the most beautiful market halls of Europe. 
You'll find plenty to buy here. The ground floor is filled with spices and pastries, and the basement has all the substantial fish and meat stalls, along with plenty of pickles. But to eat, head up to the second floor and after you're full, pick up some traditional Hungarian handicrafts – and some paprika, everyone's favorite purchase.
If you happen to be staying in a rented flat nearby, have fun looking for the ingredients for your meal.
Try this great walking food tour, which includes the market but goes far beyond!
2. Go to the spa, of course
Isn't this the first thing you think about when someone mentions Budapest? Of course, it is because Budapest has long been famous for its spas. In fact, even the Romans enjoyed the city's thermal waters and it proudly carried its title of "City of Spas". Today, it has more thermal springs and medicinal waters than any other city in the world: 118, to be exact, with 15 public baths and scores of private ones.
Some of the most famous Budapest spas and baths are the Rudas, Gellert, and Szechenyi. Get your entrance to Szechenyi thermal bath ahead of time and avoid the crowds.
3. Visit the back of Vajdahunyad Castle
Vajdahunyad Castle is a delight, with its replicas of stunning buildings from across Hungary, but a wonderful way to relax after your visit is to get lost in the park by the castle's lake. Walk around, enjoy nature, or taste some Hungarian delicacies if there happens to be one of many food festivals organized there.
4. Stand at the heart of revolutionary Budapest
Visiting the National Museum will teach you about Hungary's history: it is an important landmark because the revolution of 1848 started in front of the museum. Another revolution took place just behind the museum, at the Hungarian Radio, when Hungarians rebelled against Soviet oppression in 1956.
5. Look at the city from above
On the Buda side of the Freedom Bridge, you can climb Gellert Hill to reach the Citadel. As of 2022, the citadel is undergoing renovations (expected to end in 2023), but the panorama is still worth the climb. You'll be rewarded with the best views of the city and you'll take the most amazing photos from here. It takes about 15-20 minutes to reach the top. It is not a difficult hike, but it can be quite tiring, so bring a snack and wear comfortable shoes!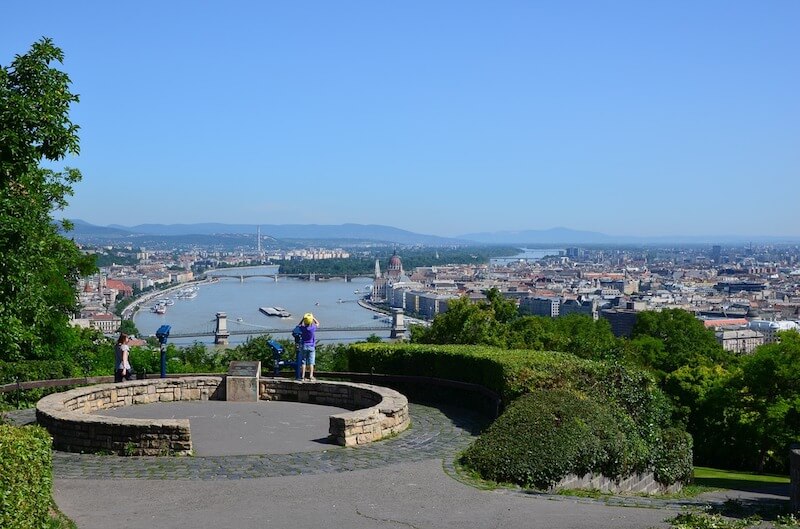 6. Sail past Budapest along the Danube
Hop on a boat between the Elizabeth and the Chain Bridge on the Pest side and cruise down the river to enjoy the scenery – and cool off on a hot summer day. Better yet, get evening views with this night cruise.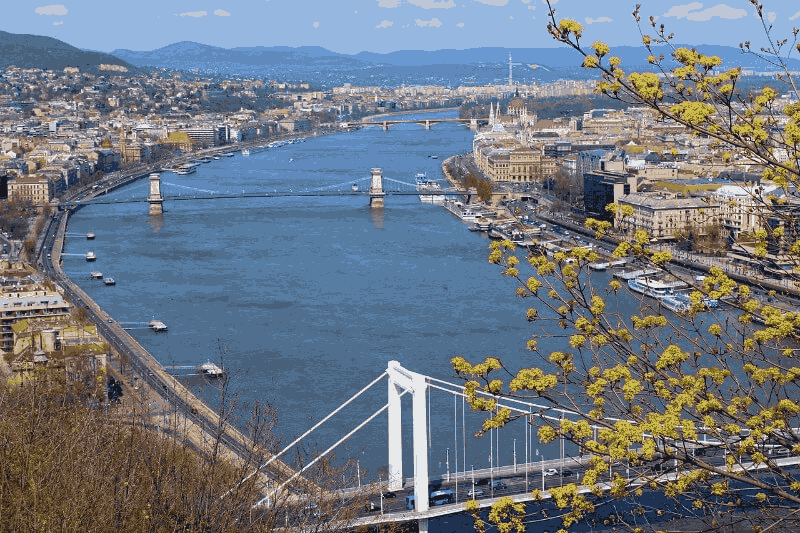 7. Do some exercise
Go for a run or for a walk around Margaret Island. Take tram 4-6 across Margaret Bridge, get off in the middle, and take the stairs down to the island. There is a 5.5 km running track around the island. You can see a giant singing fountain near the entrance of the island. There are a zoo and a Japanese garden on the island, as well as one of the most famous spa hotels in Hungary.
Another great way to explore this quaint island is by bike. Budapest has lots of different bike rentals on offer; an electric bike might be the perfect option if you want to explore a large chunk of the city without having sore legs the next day.
Budapest also has a fantastic bike rental system called Mol Bubi. Their bikes are scattered around the city at different drop-off and pick-up stations, so you can grab one on the go without having to go through the hassle of finding a rental company.
You can also leave the bike wherever is convenient for you, which is handy as Budapest is a huge city, and having to make a long commute back to the bike rental store before closing hours is far from ideal.
8. Visit the Hungarian Parliament, naturally
You cannot leave without visiting at least some of Budapest's most iconic attractions – like the Hungarian Parliament, whose spectacular architecture was designed specifically to face the Danube River. (The official entrance is on the building's east side, however.) You'll need to buy tickets in advance or take a guided tour to visit, however.
10. Enjoy local celebrations
Budapest is beautiful year-round, and there's always plenty to do and see regardless of when you go.
Around Christmas time you can visit the city's charming Christmas markets, with their strong scent of forralt bor (the local mulled wine) in the air. Budapest's mulled wine is renowned around Europe as some of the best.
In February, the farsang, or carnival in the local language, begins. Each year, the city hosts cultural events, concerts, and various markets. People dress up in traditional costumes and come together to celebrate their heritage and cultural identity. You can get involved or enjoy the spectacle from afar, but either way, the mood will be contagious. Whenever you decide to visit Budapest, you'll find your day is full to the brim – there's so much to see and do in the city.
11. Visit nearby towns
If you're going for a week or more, you can also explore some of the towns and villages nearby to get a sense of Hungary's rural lifestyle and culture.
If you like history, take a day trip to the nearby town of Eger. There are 17 Baroque churches, a Turkish minaret, and thermal baths you can explore when you arrive. Once you've taken in the sights around the town, you can head up to the medieval Eger Castle, built in the 11th century.
What to pack and what to wear in Budapest
Budapest is a world-class European city and women should wear anything they would at home. Some Hungarian women tend to be a bit flashy while others are more conservative. Like anywhere, there is a mixture but anything is acceptable on the streets of the city.
Budapest is a cosmopolitan city and if you're missing anything, you can buy it here so no need to pack any more than you normally would.
Don't forget to bring a plug converter if you are traveling from the US or UK, good shoes to walk around and explore the city's different sites, and your bathing suit to enjoy the spas.
What to eat in Budapest
Hungarian cuisine has a wonderful reputation, and it is well deserved. Here are a few traditional dishes you must try during your stay, although admittedly they are a little heavy in summer.
Goulash soup is a traditional soup made with plenty of paprika, beef, and vegetables. It is often served in a small pot. Traditionally it was made over the fire in the open air by the shepherds and is both tasty and filling.
Stuffed cabbage is classic Hungarian fare, the stuffing made of minced meat and rice. It is a delicious comfort food, often eaten in winter.
Roast duck in Hungary is crispy and delicious, so well cooked it falls off the bone. It is usually served with sautéed red cabbage and onion potatoes.
Here are some of my favorite Budapest restaurants offering great food at reasonable prices: Kor near the Bazilika, Trofea Grill in Buda, Bistro Deryne also on the Buda side near the Chain Bridge and Menza on Liszt Ferenc Square. Check out the New York Café at the Boscolo Hotel for coffee and dessert, surely the most beautiful café in the world.
If you get a little hungry when you're out and about, but you don't want a big meal, make your way to a bakery. Hungarian bakeries have a delicious selection of exquisite pastries, both sweet and savory!
And please – don't forget your travel insurance before you go! I recommend SafetyWing if you're 69 and under. If that birthday has come and gone, click here for travel insurance that covers you at any age.
Barbara Wagner is the publisher of Jet Settera, a London-based luxury travel and lifestyle blog. She left Hungary at 17 to conquer the world as a model and has since visited 68 countries, living in seven. Find her on Twitter, Facebook, Instagram and Pinterest.
Budapest travel resources
— Originally published on 24 May 2017