Here are all the things to do in Budapest, the Spa Capital of the World!
There are so many reasons to visit Budapest, the capital of Hungary, and one of the most charming cities in Central Europe. For a woman traveling on her own, those reasons include security, culture, beauty, and health.
Since it lies at the heart of Europe, Budapest is easy to reach from nearly anywhere on the continent. If you happen to be here for a weekend or for a few days, you'll easily fill every minute.
Budapest, Hungary was once a sparkling hub, filled with music and refined culture. Dictatorships and the Communist regime removed some of that shine but today, it is experiencing a renaissance from which it has emerged with greater brilliance than ever.
The name Budapest is a combination of Buda and Pest, two cities split by the Danube River, which united in 1873 to become a single city, Hungary's capital.
Budapest has a harmonious skyline and that's because, like Paris, buildings must adhere to a certain height, the maximum being 96 meters, a symbolic height: 896 CE is the year the Magyars first settled here.
Budapest is also a UNESCO World Heritage Site, which includes the Castle District and the Danube embankment from Liberty Bridge to Margaret Island.
There's no question you'll have plenty of things to do in Budapest.
Is Budapest safe for solo female travelers?
Budapest solo female travel is as safe as in any world-class European city, whether during the day when visiting the city's many rich historical sights, or at night when sampling great nightlife and wonderful restaurants.
It has a deserved reputation for safety and has little violent crime. The streets are often full of young people, especially in summer.
Only a few areas should be considered off-limits at night, so it might be wise not to reserve your accommodation in these districts. These include Józsefváros, especially Hös Street; District 11 (Kispest is believed to have the most crime in the city); and Köbánya in District 10. Otherwise, feel free to wander.
That said, it's always great to have a few safety tricks and tips up your sleeve in case you ever need them. While petty crime, like pickpocketing, is far from common in Budapest, you can help keep your valuables safe and secure by carrying a small anti-theft waist bag or money belt.
The bag sits around your waist and is nice and discreet as it's covered by your sweater or trousers. If you don't like anything around your waist, then one of these cross-body anti-theft bags will do the trick.
15 things to do in Budapest alone
Women will enjoy exploring the city alone, as the transport infrastructure is safe and makes it easy to get around (not to mention that the city is fairly reasonably priced compared to other European capitals).
Also, most attractions are relatively near one another.
It's a beautiful city, and if you're in the mood for photography, here are some of Budapest's top Instagrammable spots.
Here are some of the top things to do in Budapest if you're fortunate enough to be spending a few days here.
1. Get your food at the Central Market Hall
The Great Market Hall, as it's also known, is the city's oldest indoor market, dating back to 1896. It has won many awards as one of the most beautiful market halls of Europe.
You'll find plenty to buy here. The ground floor is filled with spices and pastries, and the basement has all the fish and meat stalls, along with plenty of pickles.
To eat, head up to the second floor and once you're full, pick up some traditional Hungarian handicrafts – and some paprika, everyone's favorite purchase.
If you happen to be staying in a rented flat nearby, have fun looking for the ingredients to cook a Hungarian-style meal.
To learn more about Hungarian cuisine, try this great walking food tour, which includes the market but goes far beyond!
2. Go to the spa, of course
Isn't this the first thing you think about when someone mentions Budapest?
Budapest has long been famous for its spas. Even the Romans enjoyed the city's thermal waters and it proudly carries its title of "City of Spas".
Today, it has more thermal springs and medicinal waters than any other city in the world: 118, to be exact, with 15 public baths and scores of private ones.
Some of the most famous Budapest spas and baths are the Rudas, Gellert, and Szechenyi. They can get crowded though, so make sure you get your entrance to Szechenyi thermal bath ahead of time.
Gellert thermal baths are a part of the famous Gellert Hotel in Buda. The water is rich in minerals and quite hot (35° to 40°C), so it's popular year-round.
You'll find swimming in Budapest spas relaxing and therapeutic, even if you're not in need of physical therapy (joint diseases and circulatory problems are traditionally treated at Gellert).
3. Walk around Vajdahunyad Castle
Vajdahunyad Castle is a delight, with its replicas of stunning buildings from across Hungary, and a wonderful way to relax after your visit is to get lost in the park by the castle's lake. Walk around, enjoy nature, or taste some Hungarian delicacies if one of many food festivals organized there happens to be taking place.
4. Stand at the heart of revolutionary Budapest
Visiting the National Museum will teach you about Hungary's history: it is a landmark because the revolution of 1848 against the Hapsburg monarchy started in front of the museum. Another revolution took place just behind the museum, at the Hungarian Radio, when Hungarians rebelled against Soviet oppression in 1956.
5. Witness the terror of Hungarian suffering
If you're wondering what to do in Budapest solo and you happen to be a history buff, don't miss the House of Terror.
Located in the former headquarters and prison of the ultranationalist Hungarian Arrow Cross Party, the House of Terror museum contains a number of unnerving exhibits that lift the veil off Hungary's turbulent 20th-century history under Nazi and Communist regimes. It is also a memorial to the victims of these regimes.
6. Gaze upon the city from above
On the Buda side of the Freedom Bridge, you can climb Gellert Hill to the Citadel, which has been undergoing renovations.
The panorama is worth the climb and you'll be rewarded with the best views of the city. It takes about 15-20 minutes to reach the top and while the hike is not difficult it can be quite tiring, so bring a snack and wear comfortable shoes!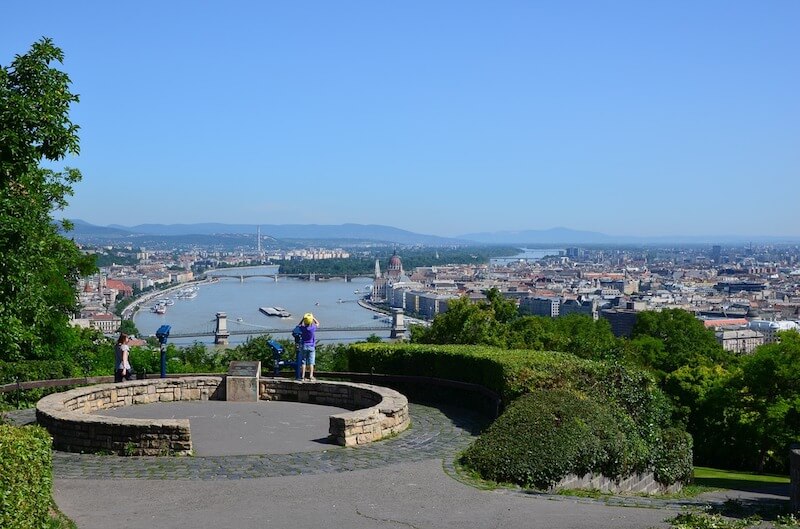 7. Keep an "eye" on the city
Another fun way to view Budapest at a glance is by taking a ride on the Budapest Eye.
The large Ferris wheel is located in Erzsébet Square and provides panoramic views of the city from a height of 65 meters (213 ft). Built in 2017, it's already a recognizable modern landmark on the Budapest skyline.
8. Sail past Budapest down the Danube
Hop on a boat between the Elizabeth and the Chain Bridge on the Pest side and cruise down the river to enjoy the scenery – a perfect way to cool off on a hot summer day.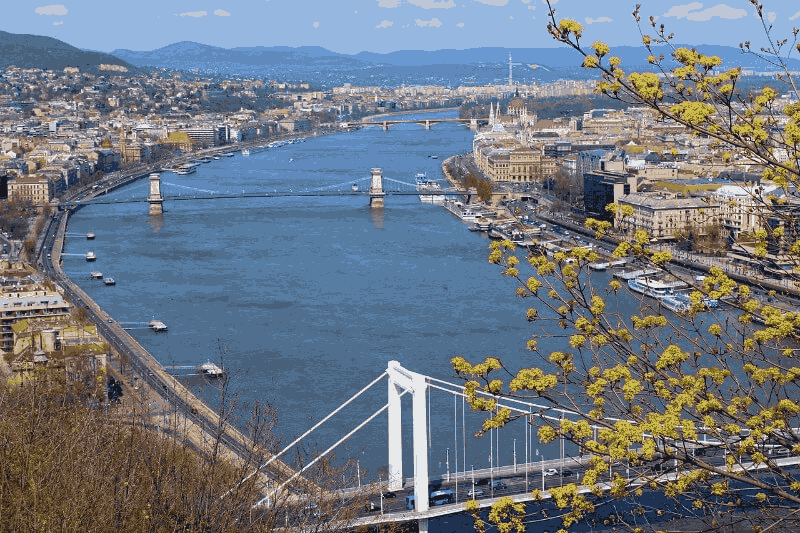 9. Stroll around the Kerepesi cemetery
Get a unique glimpse into Hungary's past and the lives of those who shaped its identity at the Kerepesi cemetery, Budapest's renowned burial ground that dates back to 1847.
Its lush green space and array of beautiful tombstones and mausoleums serve as the final resting place for many prominent figures in Hungarian history, including such key political figures as János Kádár, Hungary's socialist leader for over 30 years, and József Antall, Prime Minister of the first democratically elected government after the Socialist era.
10. Do some exercise
Go for a run or walk around Margaret Island. Take tram 4-6 across Margaret Bridge, get off in the middle, and take the stairs down to the island.
You'll find a 5.5 km (3.4 mi) running track around the island, a giant singing fountain near its entrance, a zoo, a Japanese garden and one of the most famous spa hotels in Hungary, the Ensana Thermal.
Another great way to explore Margaret Island is by bike. Budapest has many different bike rentals including electric bikes, perfect for avoiding sore legs the next day (although a stint at the spa should take care of any muscle pain).
Budapest has a fantastic bike rental system called Mol Bubi. Their bikes are scattered throughout the city at different drop-off and pick-up points, making them easy to use – no searching for rental companies, and no long commute to return your bike before closing time.
11. Visit the Hungarian Parliament, naturally
You cannot leave without visiting at least some of Budapest's most iconic attractions – like the Hungarian Parliament, whose spectacular architecture was designed specifically to face the Danube River. (The official entrance is on the building's east side, however.) You'll need to buy tickets in advance or take a guided tour to visit.
12. Enjoy local celebrations
Budapest is beautiful year-round, and there's plenty to do and see regardless of season.
In December you can visit the city's charming Christmas markets, with their strong floating scents of forralt bor (the local mulled wine), reputed throughout Europe as among the best.
In February, the farsang, or carnival, begins. Each year, the city hosts cultural events, concerts, and various markets. People dress up in traditional costumes and gather to celebrate their heritage and cultural identity, and the cheer can be contagious.
13. Escape into the deep sea of Budapest Tropicarium
If you enjoy seeing aquatic life, you could visit the Budapest Tropicarium, located in the Campona Shopping Center. Sharks, tropical fish and reptiles mix with lush plant life in eight halls of this immersive space.
14. Crawl the Budapest ruin bars
Abandoned buildings and courtyards don't sound like they belong on a list of tourist attractions –- but in Budapest, they definitely do.
Given a new lease on life, many urban ruins have been transformed into iconic nightlife destinations, and you really should drop by one of these, even if you're no party animal.
Besides being all the rage in Budapest nightlife reviews, ruin bars offer a unique artistic atmosphere even during the day, when they serve coffee and tea.
These bars tend to be furnished with vintage furniture and eclectic decor. They host plenty of events and have become integral to the city's urban art scene.
15. Take day trips from Budapest: Eger and Szentendre Open-air Village Museum
If you're visiting for more than a few days, take the opportunity to explore nearby towns and villages to get a sense of Hungary's rural lifestyle and culture.
If you like history, take a day trip to the nearby towns of Eger and Szentendre.
In Eger, you'll find 17 Baroque churches, a Turkish minaret, and thermal baths to explore. Once you've taken in the sights around town, you can head up to the medieval Eger Castle, built in the 11th century.
A short distance from Budapest, in the Pilis-Visegrád Mountains, Szentendre (meaning Saint Andrew) is a small town with re-creations of 400 traditional buildings from various regions of Hungary in an open-air Village Museum. The buildings include farmhouses, churches, and mills from the 18th to the 20th century. If you don't have time to roam around the countryside, this museum will allow you to discover the daily lives, customs, and craftsmanship of Hungary's past.
What to pack and what to wear in Budapest
Budapest is a world-class European city and women should wear anything they would at home. Some Hungarian women tend to be a bit flashy while others are more conservative. Like anywhere, there is a mixture but anything is acceptable on the streets of the city.
Budapest is a cosmopolitan city and if you're missing anything, you can buy it here so no need to pack any more than you normally would.
Don't forget to bring a plug converter if you are traveling from the US or UK, good shoes to walk around and explore the city's different sites, and your bathing suit to enjoy the spas.
What to eat in Budapest
Your solo travel to Budapest experience may involve extra calories…
Hungarian cuisine has a well-deserved reputation, and you must at least try some of the traditional dishes. That said, traditional Hungarian fare is admittedly a little heavy in summer.
Hungarian goulasch is made with plenty of paprika, beef, and vegetables and is often served in a small pot. Traditionally, it was made by shepherds over an open-air fire and is both tasty and filling.
Stuffed cabbage is a classic, the stuffing made of minced meat and rice. It is a delicious comfort food, often eaten in winter.
Roast duck in Hungary is crispy and delicious, so well cooked it falls off the bone. It is usually served with sautéed red cabbage and onion potatoes.
Here are some of my favorite Budapest restaurants that offer great food at reasonable prices:
Kor near the Bazilika
Trofea Grill in Buda
Bistro Deryne is also on the Buda side near the Chain Bridge
Menza on Liszt Ferenc Square.
Check out the New York Café at the Boscolo Hotel for coffee and dessert. It has a stunning interior and is often called one of the most beautiful cafés in the world.
If you get a little hungry when you're out and about, but you don't want a big meal, make your way to a bakery. Hungarian bakeries have a delicious selection of exquisite pastries, both sweet and savory.
And please – don't forget your travel insurance before you go! I recommend SafetyWing if you're 69 and under. If that birthday has come and gone, click here for travel insurance that covers you at any age.
This article was originally written by Barbara Wagner, publisher of Jet Settera, a London-based luxury travel and lifestyle blog. It has since been updated and expanded.
FAQ: Things to do in Budapest
What currency is used in Budapest?
Hungary and its capital Budapest are part of the European Union, but not a part of the Eurozone. The local currency is the Forint, abbreviated to HUF or Ft, and you can exchange money in any exchange office.
What language is spoken in Hungary?
The official language of the country is Hungarian. The language is unique, only comparable to its distant relatives, Finnish and Estonian.
What is Budapest best known for?
Budapest's location along the Danube River made it a natural crossroads for trade and cultural exchange between Eastern and Western Europe, facilitating the city's growth over the centuries. Serving as an ancient military and trade center, Romans called the place Aquincum. It was also the capital of the Austro-Hungarian Empire from 1867.
How long should I spend in Budapest? Is 3 days in Budapest too much?
Budapest is not huge, but it is filled with interesting sights and memorable architecture. Three days in Budapest can provide you with a well-rounded experience, during which you can cover most of the city's key sights without feeling too rushed. Make sure to allocate some time for a Budapest thermal bath experience!
What are the best places to visit in Budapest? Things to do in Budapest, Hungary
If you have very limited time in Budapest, make sure to at least visit the Buda district and its castles. Set along the Danube, the area can easily make you feel like you've traveled back in time.
Is Budapest good for solo travel?
Yes it is! Budapest is safe, and the city us full of friendly people, great food, and many tourist attractions. All Hungary solo trips should include Budapest on the itinerary!
Is Budapest safe for female travelers? Is Budapest safe for women?
Yes, there's no reason to worry. As a solo woman over 50 in Budapest, safety should not be a major worry. You are unlikely to feel threatened but do keep your eyes open because scams and pickpockets exist in every big city.
Solo travel in Budapest on a budget
You don't need to spend a fortune to have a good time: there are plenty of things to do in Budapest for free. Budapest is a city dotted with impressive architecture, historic sights, and green spaces perfect for leisurely strolls.
Here are a few more things to do in Budapest alone that are completely free of charge:
The Money Museum is part of Hungary's central bank. It's always free to visit but you must book in advance.
If you're fortunate enough to spend the Hungarian national holidays (15 March, 20 August, and 23 October) in Budapest, many national galleries and museums (like the Hungarian National Gallery) are free on those days.
Much of the Fisherman's Bastion, a huge neo-romanesque castle complex, offers incredible views. You can access many of its passageways and terraces for free.
Gellert Hill is covered with greenery and free attractions, including a Cave Church built into the rocky hill, the famous Citadel, many statues, and ancient walls.
Visiting churches is one of the popular things to do alone in Budapest, but most major churches in Budapest charge for entrance. A notable exception is the Church of St. Anne in Buda (Szent Anna Templom). It's a small church, but it's richly decorated and filled with many works of religious art.
There are many free things to do in Budapest at Christmas, and enjoying the atmosphere of the city's yearly Christmas Fair and Winter Festival on Vörösmarty Square is one of them.
If you happen to be over 65 and a citizen of the European Union or Switzerland, public transport in Budapest is free.
More Budapest travel tips
These Budapest solo trip tips will help you get the most out of your trip.
The best things to do in Budapest for solo travelers
Anyone who likes traveling around European cities will enjoy Budapest immensely: – the city balances classic Europan beauty with its own unique charm.
From its many Roman Catholic churches and spacious castles to the underground culture of ruin bars, Budapest cultivates a wide array of historical, cultural, and spiritual attractions for all solo visitors.
* * * * *
Guest Contribution by Barbara Wagner. Barbara is a London based luxury travel and lifestyle blogger at Jet Settera. She left her country, Hungary, when she was 17 to become a model and has since visited 68 countries. She blogs such prestigious events and places as the Venice or Cannes Film Festivals or Fashion Weeks in Milan or Paris.