Walking through Schönbrunn gardens, having Sunday lunch at a winery, floating in a Zille flat-bottomed boat on the Danube or hike across Alpine meadows…
Grow up in Austria and all this is perfectly normal.
I left my home country but returned often as a frequent traveler, so I hover between the uniqueness and the familiarity of Austria.
Let me show you some of my favorite Austria attractions and sights, along with my insider tips on how to see them without the jostling crowds.
Vienna, Solo Travel Delight
No Austria vacation could be complete without a visit to the capital, which has been luring culture lovers and hedonists for centuries and stands as one of the most august capitals of 'Old Europe'.
It certainly has seen historical turmoil. Vienna was an imperial city from the mid-16th century until the end of World War I, first as the seat of the Holy Roman Empire and then as the capital of the Austro-Hungarian Empire. In World War II, it was annexed to become part of Hitler's Greater Germany, was occupied by Allied forces after the war until, finally, in 1955 it regained its position as the capital of an independent Austria.
Many Vienna attractions reflect this rich history, but that doesn't mean you have to fight thick crowds to see everything.
The glorious 1441-room Schönbrunn Palace was once the summer residence of the reigning Habsburgs. Now, it is the city's premier tourist attraction and has the crowds to prove it, with waits that can last several hours.
One way to beat those crowds is by visiting the castle in an anti-clockwise direction: while the crowds pack the palace's rooms during the day, visit the spectacular baroque garden. And when buses leave in the late afternoon, take the last slot to visit the palace. Another way to cut down on waits is to get a skip-the-line ticket beforehand.
Insider tip: Climb the hill to the Gloriette belvedere for a visit and a magnificent view, but consider lunch at the tucked away Landtmann's Jausenstation (sadly, it only works during the warm months of the year) or the neighbourhood eatery, Plachutta Hietzing.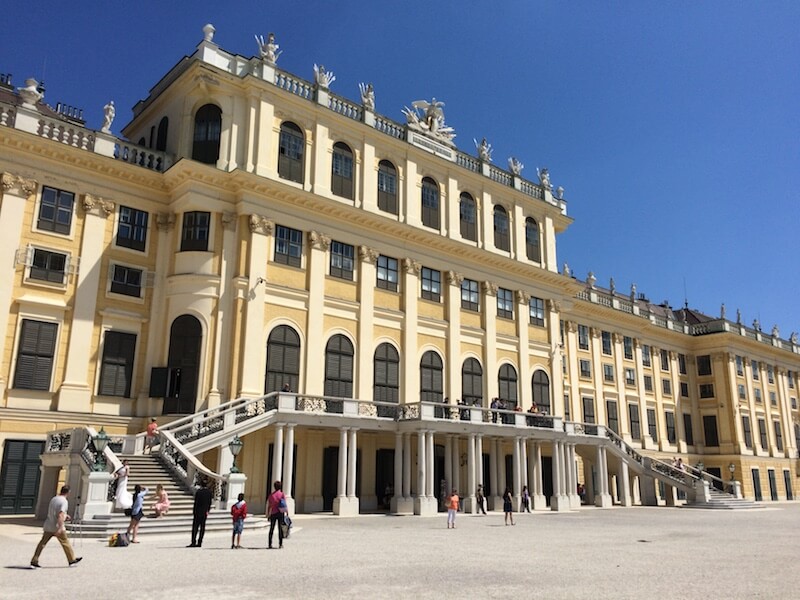 But Vienna isn't only Schönbrunn.
It is also Hofburg, the former main imperial residence. Meander over to Strauss's Golden Statue in Stadtpark and discover the city's quaint courtyards, known as Pawlatschen. Stroll along tiny romantic squares and alleys like Schulhof and Schönlaterngasse, and stop by traditional shops like R. Horn's leather goods.
And why not enjoy some of the lesser-known sightseeing spots with walks through such neighborhoods as Josefstadt and Alsergrund?
And what is Vienna without music? Some quick thinking might just get you front-row seats.
In fact, attending a concert is one of the top things to do in Vienna, so essential to the Viennese experience that I might consider securing top opera or concert tickets first, and only then booking my flight and hotel. If that fails, you'll always be able to catch a Mozart quartet playing somewhere nearby – just look for signs.
If you're keen on palaces and museums, find out which city pass saves you the most money and offers fast-track access. Some city passes also include discounts to restaurants and cafés, though these tend to be the most touristy ones.
Instead, head for eateries off the guidebook menu, try private dining, grandmas' homemade cakes, or even an evening gourmet market tour. You'll end up venturing far beyond Sacher Torte and Wiener Schnitzel!
Click here to book a hotel in Vienna
Altaussee, One of the Less Touristy but Beautiful Places in Austria
For a good 150 years, this lake and its eponymous village in central Salzkammergut have benefitted from the Viennese's love of the countryside. Whether dirndl dresses and lederhosen, a Brettljaus'n snack of cold meat and cheese or a refreshing hike in the mountains, a touch of nature has inspired countless Austrian writers, musicians and ordinary townsfolk.
So has the frequent persistent drizzle – or Schnürlregen – that moisturises Alpine pastures (and local faces).
If you happen to be following a Sound of Music route to Mondsee (whose abbey was the site of the film's wedding ceremony) or making a pilgrimage to overtouristed Hallstatt, why not leave the hordes behind? A mere half-hour away, you can drift off in a rowboat on Lake Altaussee, explore the mystical Lake Toplitz (which some believe may have a hidden treasure), climb up Loser Mountain for some Alpine bliss or try the modern Mayr medicine at the exclusive health and wellness Vivamayr Center.
Best time to visit: during the annual daffodils festival in mid-May.
Click here to book a hotel in Altaussee
Salzburg, One of the Premier Austria Tourist Attractions
It is difficult to avoid Salzburg when traveling through Austria. It is a tourist magnet, and you'll have to choose a quieter season – like late winter or late autumn – if you plan to outsmart the crowds.
This baroque city, whose historic center is a UNESCO World Heritage Site, was the birthplace of Mozart; this free self-guided walking tour will enlighten you about this musical genius. The city is also the setting for the Sound of Music, should you wish to follow in these (commercial and touristy) footsteps…
But back to Mozart. To get a better sense of the main street Getreidegasse, Mozart's birthplace, visit just before the shops open at 10am. By then, you would have already emptied the cake trays of Café Tomaselli during your smart early-bird breakfast.
For a baroque and renaissance treat, visit Salzburg Cathedral and the paintings of the Residenz Gallery. If you're visiting Salzburg for the first time, you must visit its stunning fortress Hohensalzburg – not just because of its impressive and elaborate wood-panelled rooms and richly decorated tiled stoves, but to understand the city's history.
For some great local restaurants, retreat to quieter Neustadt just across the Salzach River. A popular favourite is the traditional tavern Zum Fidelen Affen, a few minutes' walk from Mirabell Palace. In the same area you'll also find the elegant riverside Café Bazar.
Click here to book a hotel in Salzburg
Carinthia, One of the Top Places in Austria for Festivals
Austria is a landlocked country, so many people head out to Croatia, Italy, or Greece to spend their summer days in the salty water of a sea. For a true summer holiday, most Austrians on a staycation head for the southern region of Carinthia, whose warm climate lets you swim in local lakes without getting goose bumps. The warmest and largest lake is Wörthersee, which borders Carinthia's capital Klagenfurt. Other smaller and equally beautiful lakes include Millstätter See and Ossiacher See.
But what ultimately makes Carinthia so appealing throughout the year is that mix of mountains, lakes, quaint villages, castles, great food and fun events.
With almost 80 castles in the area, Carinthia is definitely worth a visit if you enjoy historic sites and climbing stairs – but make sure to wear comfy shoes!
Because Carinthians are known to love singing and dancing, there are many folkloric festivals throughout the year, one of the best-known being the Villacher Fasching (the Saturday before Shrove Tuesday each year). Fasching, the Austrian form of the Carnival is celebrated everywhere, but Villacher residents make a real party out of it, complete with a TV show and an election of the year's prince and princess. If you visit in September, you will have plenty of opportunities to enjoy colourful harvest festivals across Carinthia's towns and villages.
Hochosterwitz Castle, a Must-See on Your Trip to Carinthia, Austria
One of the most fun things to do in Austria is to visit one of the country's innumerable castles (no one seems willing to guess how many there are). Given their number, making an informed choice would seem a better option than simply tossing a coin.
One that should be on your Austria travel shortlist is the medieval Burg Hochosterwitz, among Europe's most spectacular. Perched high on an impregnable rocky hill in Carinthia in southern Austria, its 14 clever and heavily guarded gates kept invaders out for centuries until Napoleon succeeded in capturing the castle.
These days, rather than battle with gates, you can roam through courtyards, galleries, the royal Khevenhüller family's state rooms (the castle has been in their family for some 500 years), chapel and armory. In summer, local artisans display medieval-style arts and crafts at stalls along the long path to the castle. If that doesn't compensate for the uphill walk, choose the inclined railway, a masterpiece of engineering.
The castle is usually open for visitors from early May until November, but if you visit in December, you may be able to catch the lively Advent market.
Graz, One of the Best Cities to Visit in Austria
Ignored by many for years, Styria's capital came into its own when it was named European Capital of Culture in 2003. While it has polished its treasures and built bold attractions, the medieval and renaissance city remains uncrowded.
Like Salzburg, Graz's charms essentially stem from a river, a mountain in town, and a quaint historic center. But here the similarity ends. Just for fun, allow yourself to be confused by the two-handed clock at Schlossberg Mountain (the short hand denotes minutes whereas the long one the hours – like at Petrovaradin fortress in Serbia!) Walk up for a workout, or feel free to take the funicular cable railway.
In town, start your exploration from the main square through Herrengasse and Landhausgasse and head for the main square and its ornately decorated Luegg houses.
Best indoor visit: the Gothic, Renaissance and Biedermeier 'Burg' (that is – the Graz Castle near the Cathedral, east of the Old Town), where the regional government is located, and its double spiral stair case. In the evening, hang out in one of the tiny squares in the pedestrian area, like Färberplatz, Mehlplatz and Glockenspielplatz.
Click here to book a hotel in Graz
Add Wachau Valley to Your Austria Travel Itinerary
Cutting through this vast valley west of Vienna, the Danube has invited half of Central Europe to put its stamp on Wachau Valley, from Romans and Celts to German tribes and medieval monks (remember young 'Adson of Melk' in Umberto Eco's The Name of the Rose?)
Boasting picturesque villages, rolling vineyards, hilltop abbeys and apricot orchards, the UNESCO World Heritage Site blends countryside with culture. By far its most prominent attraction is baroque Melk Abbey, with its splendid library, followed by the ruin of Dürnstein Castle, which once imprisoned crusader king Richard the Lionheart. Of the many villages, the most charming are Dürnstein on the shores of the Danube and the hilltop Spitz.
Depending on your fitness level, you can cycle along Wachau's famous bike paths, walk along the Welterbesteig or simply take a boat ride from Krems/Dürnstein to Spitz/Melk. To avoid the crowds, rent a traditional wooden boat (Zille) at Ahoi Wachau.
Best time to visit: At the summer solstice festival in June, when thousands of lights float down the Danube and fireworks light the terraced vineyards.
Reichenau an der Rax
The Austrian Alps trace a gentle arch south of Austria's capital. When Emperor Franz Joseph and Empress Sissi established one of their summer villas in the village of Reichenau, numerous noble families, affluent Viennese and celebrities − from Sigmund Freud to Adolf Loos and the Rothschilds − followed.
Today, the area is crowded with elegant fin-de-siècle villas and a stunning music pavilion in the park. In summer, the Reichenau Festival attracts thousands of music and theatre lovers. A few kilometers away, you can ride the funicular to the peak of the 2000-meter Rax Alp. There you'll find numerous (nearly flat) hiking paths which lead to Alpine huts and restaurants, lakes and the Rax's amazing Alpine Garden.
Insider tip: Spend a weekend at the Loos Haus am Kreuzberg in Payerbach near Reichenau, an Alpine farmhouse built by the modernist Viennese architect Adolf Loos in the early 20th century.
Click here to book a hotel in Reichenau
And please – don't forget your travel insurance before you go! I recommend SafetyWing if you're 69 and under. If that birthday has come and gone, click here for travel insurance that covers you at any age.
Practical Tips, Do's and Don'ts and Austria Travel Advice
If your idea of heaven is to explore quaint villages in lovely landscapes (check here for deeply discounted car rentals), visit sumptuous historic buildings, indulge in cakes and desserts and experience fine classical music, then you must visit Austria.
The country's low crime rate and safety statistics are attractive, ensuring you don't face catcalls or other forms of sexual harassment.
What to pack for Austria
When you pack for the countryside, practical and casual gear will do. Even when you visit abbeys and churches, casual will be fine as long as you don't wear shorts or deep plunging tops and dresses. In larger cities such as Salzburg and Vienna, people like to dress smarter. Most concert venues and opera houses have no dress code, so simple trousers, or a skirt with a blouse and nice top would be most suitable.
What to buy in Austria
When buying gifts or things for yourself, go for local traditions and tastes. Here are some suggestions:
Gugelhupf baking tin
Gmundner stoneware
Augarten porcelain
Natural horn jewellery
Austrian branded jewellery from Swarovski or Frey-Wille
Joppe (boiled wool jacket)
Boiled wool slippers (for example from Giesswein)
Original 'Murmeltiersalbe' (groundhog ointment for joints and muscles)
Franzbranntwein (herbal tincture against muscle aches)
Dumpling mixture (ready-made mixture to make Knödel)
Soup pearls (popular crispy soup inlays, aka Backerbsen)
Zotter chocolate
Meinl coffee and coffee cups
Dining and tipping in Austria
When you enter and leave a shop, say Grüss Gott and Auf Wiedersehen.
Unless you dine in a formal restaurant it is fine for you to choose a seat. As for tipping, leave 10% in restaurants, coffeehouses and wine taverns, though you are not obliged to pay them. Taxi drivers and hotel maids would expect a few Euros as a thank you for good service.
Some cultural do's and don'ts
When you meet someone, shake hands. Cheek-to-cheek kissing is only common among friends (once on each cheek).
When you enter someone's house, ask if you should take off your shoes, unless you are at a party or elegant mansion.
Try to be punctual at all times, which is regarded as a form of politeness.
Guest Contribution by Barbara Cação. Barbara is a native Austrian who publishes the destination site Vienna Unwrapped. After living in Austria for 30 years, she frequently returns to share her homeland with her British-Portuguese family. Her Austria travel guide lists 21 of her favorite Austrian spots to visit from Vienna.
SHOP THIS POST ON AMAZON
PIN THESE PICTURES AND SAVE FOR LATER!