By Naddya Wagner
Bulgaria is still one of the few European countries where prices are affordable, infrastructure is good enough for independent travelers and it is safe to visit on your own. This Bulgaria travel guide for solo women will show you how to experience the best of Bulgaria.
The East European country is easily accessible. It is relatively compact but offers a large diversity of sights and activities, making it fairly easy to explore from border to border. The land's rich history has yielded ruins and temples that date back to the 4th century BCE, villages and little towns where time stopped at least 200 years ago, beautiful nature, interesting traditions, and delicious food.
The main highlights of the capital city Sofia are easy to reach on foot and transportation is reliable and cheap.
If you get tired of exploring, you can always relax at the spa, and learn about wine production and vine growing during a wine tour.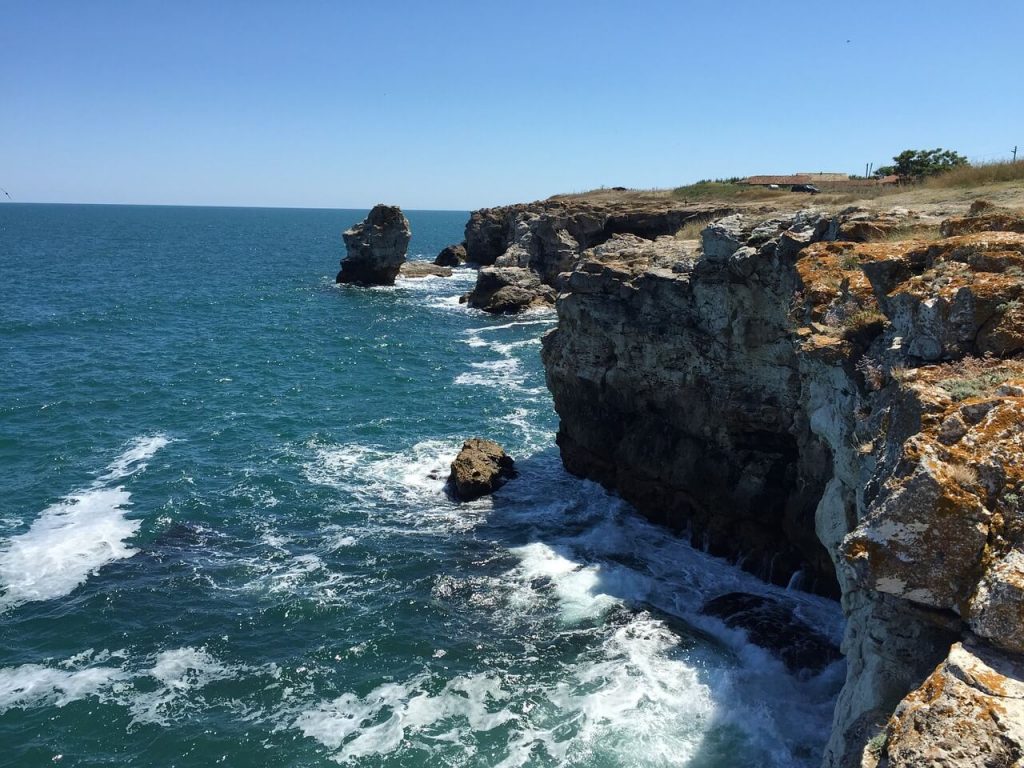 What to see in Bulgaria: Landmarks and offbeat destinations
Bulgaria's big cities are quite different from its small towns and villages, but both are worth seeing.
Sofia: So much to enjoy!
In Bulgaria's capital city, Sofia, most landmarks are within reach of one another on foot. Still, plan at least a full day of exploration, as the city center, even though small, is packed with sights from several different eras.
Try to get to the main building of Sofia University, founded in 1888. Right next to it, in the "St. Kliment Ohridski" underpass. you'll find the Tourist Information Center. Grab a map and start exploring.
The Parliament building, with the bronze statue of the Tsar Liberator on horseback
Alexander Nevsky Cathedral, with its golden domes and marble pillars
St. Sofia Church and its underground necropolis, which dates back to the sixth century
The archaeological excavations of the ancient Serdica city walls, also dating back to the sixth century.
Serdica was Sofia's name in Roman times, whose history emerged when the subway was built in 2010. Bulldozers clearing earth for the metro found staggering remains 2000 years old beneath the ground.
At the Serdica ruins, you'll see examples of great religious diversity, with houses of worship of several religions. The Eastern Orthodox St. Nedelya Cathedral is at one end of the excavation site and the Banya Bashi Mosque at the other. The Sofia Synagogue and the modern building of the St. Joseph Catholic Church are a block away.
You'll also find what is left of an amphitheater inside the Arena di Serdica hotel; the Sveti Georgi Rotunda, believed to be the oldest structure in Sofia; and the Sveta Sofia church, with some 50 ancient underground tombs.
Nearby, you'll also find the colorful building of the Central Mineral Bath. It now hosts the History Museum of Sofia. The collection is impressive, but the building's interior even more so. When was the last time you saw an exhibition of icons displayed in what used to be a therapeutic pool?
Don't miss the opportunity to fill a bottle with hot mineral water at one of the fountains outside – they're specially made for this purpose.
If you're tired of sightseeing and want some shopping that is good value for money, you'll find clothes, shoes, and souvenirs on Pirotska Street, starting just across from the mosque. For a stroll and a coffee break or lunch, head to the pedestrian section of Vitosha Boulevard. Just skip the shops there, as prices are inflated.
For an intriguing look at Sofia's recent past, try this walking tour of Communist Sofia.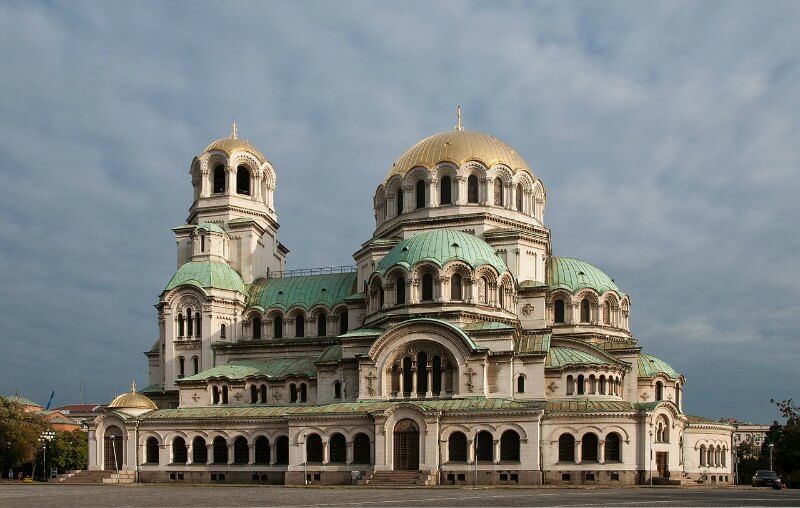 Bulgaria's other cities
Enough about Sofia! While you might not want to leave after such an intense visit, there's much more to Bulgaria than its capital.
The second largest city, Plovdiv, has one of the best-preserved ancient theatres in the world – the Plovdiv Roman Theatre. Stroll along the streets of its Old Town, and visit one of the Bulgarian Revival-style houses, which host different galleries and museums. You can also visit Plovdiv on a one-day tour from Sofia.
For a totally different vibe and a flashback to another historical period, visit Veliko Tarnovo. It is Bulgaria's old capital and is known as the city of the Czars. Tsarevets Castle sits on a hill above the city. Stay the night and if you're lucky, at dusk there will be a magnificent light and sound spectacle at the fortress walls.
Tired of exploring? You can spoil yourself a little bit in Velingrad, the spa capital of the Balkans. The city's many hotels offer a huge variety of wellness and beauty therapies for any budget. Surrounded by the beautiful Rhodope Mountains, the mineral water oases will make you want to stay for a long time.
Nature, history and culture
There's plenty to do in Bulgaria, every season.
Mountain lovers can explore easily accessible trails for every physical level. All the mountains also offer ski slopes of different difficulty levels, mountain biking trails, and rafting tours.
The Rhodope Mountains offer easier trails and breathtaking views of caves, rock formations, and lovely villages, tucked between the hills. For more extreme trails, head to Rila or Pirin National Park.
Rila Mountain is the home of the largest East Orthodox monastery – Rila Monastery, Built in the 10th century, Rila was listed as a UNESCO World Heritage Site back in 1983. If your itinerary allows it, try to spend a night in one of the cells. (Staying in any monastery is always an experience and probably the safest place imaginable for any solo female traveler.) If you can't spend the night, take a day trip to Rila Monastery from Sofia.
For history and archaeology buffs there is much left of Ancient Bulgaria – temples, burial sites, fortress ruins, and rock formations. The Thracian Tombs of Kazanlak, Perperikon, and Belogradchik Rocks are only a few. Or if you prefer the atmosphere of an old town with colorful Bulgarian houses, head to Koprivshtitsa, Melnik, or Tryavna. Sit in one of the countless cafés and enjoy life's slow pace, so typical of the countryside.
Then visit the open-air museum Etara near Gabrovo to learn about traditions and handicrafts and buy the most authentic souvenirs you'll find in the country.
Don't miss a visit to a typical Bulgarian restaurant while you're somewhere in the beautiful mountain ranges for some atmosphere and maybe even some traditional Bulgarian dances.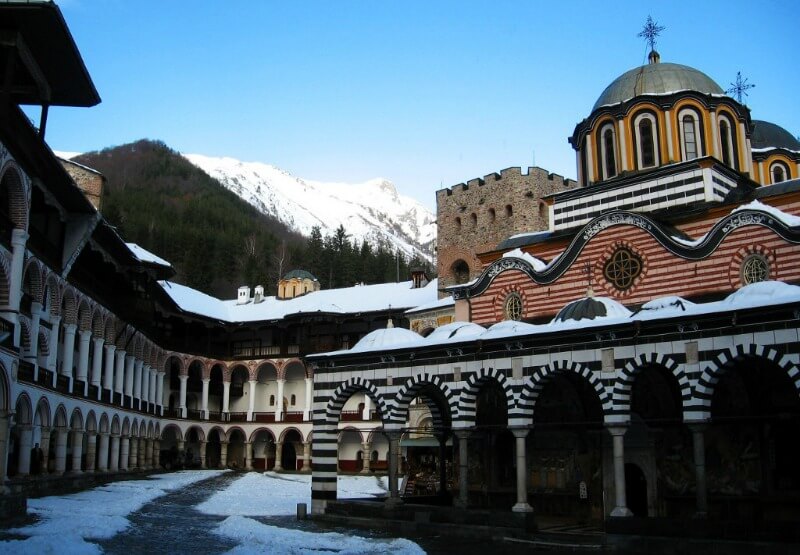 Essential Bulgarian food and drinks
Bulgarian cuisine is an experience for all the senses. Don't try to count calories, just enjoy every single meal – I'm sure all the sightseeing has made you hungry.
Start your day with a big breakfast to give you enough energy to explore. You can find little bakery shops in every neighbourhood with typical pastries, such as banitsa, kifla or milinka.
For lunch try tarator (a yoghurt soup) in summer or teleshko vareno (veal stew) in winter and a salad (shopska salad is the best if you love cheese).
For dinner, order a kebapche or three! And if you prefer to skip the meat, then kashkaval pane (breaded and pan-fried with Bulgarian yellow cheese) is the right choice for you.
Bulgarian wines are world-renowned and a great accompaniment to any meal. If you can't finish an entire bottle by yourself, just order a glass or two. White wine lovers shouldn't miss Dimiat, which is indigenous to Bulgaria, and red wine lovers should at least try Mavrud and Shiroka Melnishka loza (broadleaf Melnik vine).
Whether you're drinking wine or not, order mineral water. Bulgaria is rich in mineral waters and beyond enjoying them in the pool, you should also bring them to the table.
A Bulgaria guide to traditions and customs
While many things might appear the same as in the Western world, there are several local customs that might surprise you, so be prepared.
For example, Bulgarians shake their heads left and right for "Yes", and nod for "No". If unsure, ask for a verbal confirmation of the answer. A "yes" may sound like "da"!
In many typical Bulgarian restaurants, the horo Bulgarian dances are performed after dinner and as a solo traveler, you might just be pulled in to dance with them. Don't be afraid, they're not trying to make fun of you, but rather include you in the fun.
The Bulgarian alphabet is Cyrillic and signs are not always translated into English. More often the names are simply transliterated into the Latin alphabet and the end result can be confusing at best, if not totally meaningless.
While in many religious temples and sites visitors are expected to cover their heads, when entering a Bulgarian church you have to take off your hat or cap. Anything else you do wrong will be ignored, but this is one custom you shouldn't forget.
Is Bulgaria safe? Women's safety tips for Bulgaria
As in most destinations, the same common sense safety tips and Bulgaria travel advice apply to solo female travelers.
You should of course avoid dark alleys when coming back to your accommodation at night, as you would anywhere. Also, streets and sidewalks are often in poor condition, so it's much wiser to catch a taxi.
Beware of pickpockets, especially at tourist attractions, markets or on public transportation, and keep your valuables in a cross-body purse or a money belt. Always be careful when crossing streets, as drunk or reckless drivers are a huge problem.
Avoid contact with stray dogs and other stray animals. They might seem harmless and cute to you, but can get aggressive or carry diseases.
A common and unpleasant occurrence is people going through the trash on horse-pulled carts full of garbage driving through the city. They're harmless, although not a pretty sight. The same goes for beggars: don't make the mistake of feeling pity and giving them money, especially if they are child beggars. They're organised, and it's quite possible that they earn more money than you.
When exchanging cash, only use a bank, not an exchange kiosk, some of which are known to scam tourists by sneaking in erroneous exchange rates. Make sure to bring your passport when you go to the bank, though – you'll likely need it, unlike exchange kiosks. By the way, the Bulgarian currency is the lev, abbreviated to BGN.
Paying with a card or withdrawing cash from an ATM is safe, but always check that the card slot of the machine wasn't tampered with, and have an emergency number at hand to call and block your card if needed.
Tips for hassle-free travel in Bulgaria
There are four seasons in Bulgaria, so check the weather forecast and dress accordingly. If you're headed to the mountains, be aware that temperatures drop at high altitude in summer, but often you can get a sunburn in winter.
If there's one thing you shouldn't forget about Bulgaria, it's to bring a travel AC adaptor. In Bulgaria electricity is 220V / 50 Hz and the plug has the same prongs as most of Europe. But I've never seen adaptors being sold, so bring your own if your home country uses a different plug.
And please – don't forget your travel insurance before you go! I recommend SafetyWing if you're 69 and under. If that birthday has come and gone, click here for travel insurance that covers you at any age.
Bulgaria travel resources
Accommodations in Bulgaria
Places to eat in Sofia
Pub Dondukov: a great place to meet people and make new friends over a few beers
Made In Blue: a modern twist to traditional Bulgarian and international dishes in a cosy house
Chevermeto: traditional Bulgarian cuisine, accompanied by a show of traditional dances
Outside the capital, just follow the crowd and eat in places that are full of people, or which at least have a few occupied tables. Keep in mind that life occurs at a different pace in the countryside and that your food might quite a long time to be prepared and served. On the bright side, it'll always be fresh.
Transportation in Bulgaria
Bulgaria at a glance
Top 5 Bulgarian must-sees
Alexander Nevski Cathedral, Sofia
The city walls of the ancient city of Serdica, Sofia
Countless Thracian tombs scattered throughout the country
Rila Monastery in the Rila Mountains
The Ancient Roman Theatre and Plovdiv's Old Town
Top 3 off-the-beaten track
St. Sophia Church and the necropolis under it, Sofia
The spa capital of the Balkans, Velingrad
The high-rising cliffs of the rugged Northern Black Sea coast, dotted with ancient dwellings
Women need to be aware that…
While Bulgaria is a safe country, you should take certain precautions: change money only at the bank, don't walk down dark alleys, beware of stray animals and dress relatively conservatively.
You can't leave Bulgaria without buying…
Rose oil cosmetic products: Bulgaria is the leading producer of rose oil in the world.
You can't leave without trying these 3 foods
Shopska Salata (the signature salad of Bulgaria in the colours of the national flag – white, green and red)
Tarator (cold yoghurt-based soup)
Banitsa (white brine cheese and egg-filled pastry)
For even more information
Try these excellent sites: Svet's Bulgaria travel tips and the Magic of Traveling, by Bulgarian couple Bistra and Nace.
---
This is a guest post by Naddya Wagner of NTripping | Trips & Stuff, where you can find inspiration, travel ideas, tips and tricks to make the most out of your trips. Download your copy of Traveller's FREE Phrasebook of the 3 Most Necessary Words Every Respectful Traveller Must Know in 36 Languages. Connect with Naddya on Facebook, Twitter and Pinterest.
— Originally published on 09 December 2016
Pin these pictures and save for later!