Can you stay in a monastery? Maybe you've never thought of it but it might be just the change of pace you need – and from a woman's point of view, the safety factor is high.
Monasteries come in all sizes and shapes, from the cosmopolitan and modern monastery to the stern and downright severe. There's definitely a monastery you can stay at that is perfect for you!
Every monastery stay is different.
I was once staying at a monastery in Thessaloniki in Greece, where the evening meal – prepared lovingly by the resident nuns – consisted of fresh fruit and vegetables from the garden, hot home-baked bread, homemade cheese and wine from the monastery's own vineyards.
The downside was compulsory attendance at a three-hour religious service starting an hour before dawn… (This monastery, by the way, no longer provides accommodation). The seats were quite ingenious: they worked by pressure. When the armrests were pressed, they stayed down. When you let go or drifted off to sleep, they snapped up, trapping you with a great banging noise that echoed embarrassingly throughout the chapel.
15 Things about monastery lodging that may surprise you
There are plenty of assumptions about staying in a convent or monastery, from price to comfort to spirituality. Let's set some of these straight, shall we?
Here are 15 things you should know about any stay at a monastery.
1. Many monasteries accept women.
It's a common belief that only men can stay in monasteries, especially those run by monks. That is not the case and even if it's not a women's monastery, you might be able to stay. Do check before writing one off.
2. Many are a little traditional.
By traditional I mean "not quite modern". In other words, many don't have email. To contact them you'll have to use the old-fashioned telephone, or even snail mail. And because communications are so slow, you may have to reserve your convent guest house well in advance.
3. You may save money.
They are usually cheaper than hotels and sometimes even cheaper than a hostel dorm room. (This isn't the case of former monasteries that have been refurbished into luxury hotels, of course.) Free monastery stays, however, are rare, unless your purpose is spiritual. That said, some monastery rooms for rent charge by donation only and if you're not financially flush, it can cost you very little. To rent a room in a convent or monastery might just be a great budget option!
4. Monastery rooms will usually be simple.
Simple, or even spartan at times. Most monasteries you can stay at will be furnished with single beds, unless they belong to that class of hotel monasteries that have been converted from their original purpose.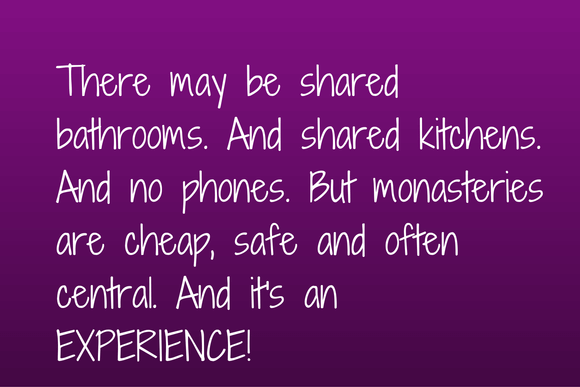 5. There may be shared bathrooms.
For some women, this is a deal breaker. Plenty of travelers would rather downgrade their room just to have a private bathroom, so make sure you find out before you book, and if this is the case, that it's something you can live with.
6. They may thrive on peace and quiet.
Serenity is often needed by residents. As a result, many monasteries are far from the crowds, in rural or remote areas. Even if they are in town, they are usually designed to keep out the sounds of the city.
Some may even offer their own monastery retreats, many of which focus on quiet and meditation.
7. There may be rules.
Monasteries are usually communities, and communities have rules. One of those rules may be about silence, which may be mandatory at some times of the day.
Whether you want to live with monks for a month or just for a short weekend, you'll still have to abide by their rules.
8. There probably won't be a television.
I mentioned email earlier, but other modern items may also be absent, like television and even phones in some cases (and keep your cellphone turned off!)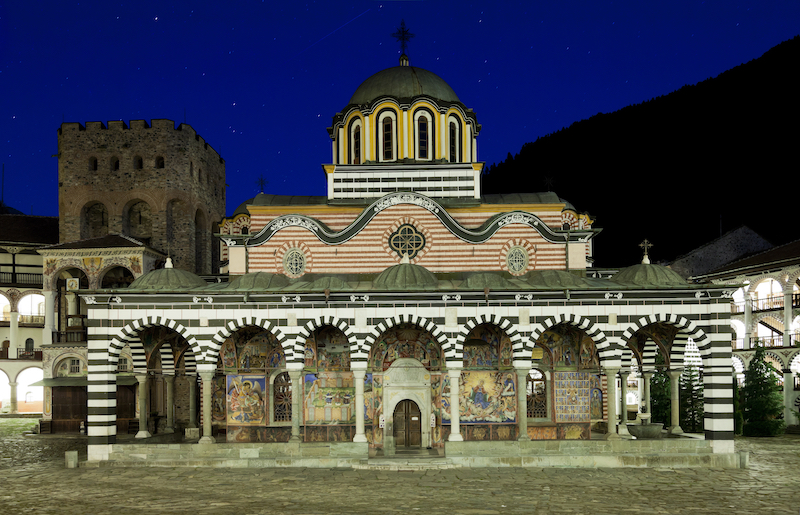 9. There may be a curfew.
Yes, even in this day and age, your monastery or convent of choice may have you coming in before a certain time, just like when you were younger. Miss curfew and it may a park bench for you because once the main doors are locked, everyone will go to bed and there will be no one to let you in.
10. Many don't take credit cards.
Check first, and bring cash.
11. Some communities grow their own food.
Some even make their own wine and cheese, so it's worth asking when you call. Any homemade meals will probably be organic and plentiful.
12. You may find a communal kitchen.
Many monasteries have a kitchen for guests, so if you don't like the food you can cook your own.
13. Monasteries are usually old.
Most are medieval monasteries, built at a time when clergy was plentiful, religion was pivotal to life and a noble calling for many monks and nuns. Some are so protected you may end up staying inside a historical monument.
14. Monasteries are often working, active religious communities.
If that is the case, these will continue to function whether there are guests or not, so expect your experience to be unique if you stay in one of these.
15. Religion doesn't necessarily have to be part of your experience.
Whether you choose to stay at a Buddhist monastery in Asia or find free monastery stays in Europe in the Catholic faith, they will usually be religious in nature.
While religion is typically the main focus of these monasteries, many have also added guest accommodations to earn additional income but will not expect guests to take part in any religious activities. It depends on the monastery but do ask, or you may end up being shaken awake in the middle of the night for a three-hour service…
While you won't usually have to undertake any religious activities, you'll be expected to respect the faith of the monastery, whatever yours might be.
Remember, these are religious communities and even if they do provide monastery accommodation, you are not in a normal commercial environment. You are ultimately choosing to become a part of their community, whether to "live" in a Buddhist monastery or Christian one or any other faith.
And while convent stays can be a wonderful experience, that's not always the case!
Not All Monasteries are Created Equal – by Claudine (Canada)
My mother and I were thrilled to have the opportunity to stay in monasteries for different reasons. One of them was quiet surroundings with a clean room. Well, we slept in 5 different monasteries and 2 of them had bed bugs!

The sisters did not want to know about our experience. They denied that the bites all over our body, multiple linear bites on back, arms and faces were bed bugs. After our arrival at home, we googled bed bites and our stressful thoughts were confirmed. We emailed both monasteries. They either said the bites were mosquitoes, (not true) or they didn't answer our emails at all. So, If I were you, I would double check the beds and linens before paying.
Monastic guest rooms have a long history
For more than 1500 years, monasteries have been providing hospitality to travelers and pilgrims, most of them male. Today's institutions – especially those in Europe – have evolved. They are more like a monastery bed and breakfast than a place of prayer and retirement. They tend to welcome women too, of any faith, race or world view.
Equally, some monastery stays require meditation or prayer as a condition of residence.
In one stay at a monastery on the Brazilian coast – at that time the only Zen mountain monastery in South America – I was asked to take part in silent meditation. It was not only silent, but immobile, and all guests were expected to sit still for hours on a small pillow. I'm not good at sitting still at the best of times but for those so inclined, it was heaven.
I, on the other hand, had to be hauled to my feet at the end of the session.
If you don't want to plan ahead, find a large monastery or two when you get into town and phone. Each one is managed differently and while some will welcome you, others will send you on your way.
Just don't confuse a stay in a monastery with a former monastery that's turned into a hotel – or you'll be surprised when the bill comes!
What about staying in a convent? Is a monastery or convent the same thing?
Can I stay in a monastery if I'm not a man? Possibly.
This is actually more complicated than it seems, because while most people agree there are differences between monasteries and convents, not everyone agrees on what they are. For example…
According to Monsignor Charles Pope in Our Sunday Visitor, "The term 'monastery' is meant to signify that residents live there apart from the everyday world." The Benedictine Sisters seem to concur: "A monastery is where a monastic community resides and practices its common life of work and prayer."
And our friend Wikipedia says this: "In English usage since about the 19th century the term "convent" almost invariably refers to a community of women, while "monastery" and "friary" are used for men. In historical usage they are often interchangeable, with "convent" especially likely to be used for a friary." Often, though, a convent refers to a female monastery.
However, when it comes to a stay in a convent and monastery accommodation in Europe, both terms are almost interchangeable – with most monasteries located in rural areas, and most convents located in more central areas which pilgrims can reach more easily. Don't be fooled though – there's no hard and fast rule when it comes to convent stays.
The monastery hotel trend and how this differs from monastery accommodation
Hoteliers are smart people and know what travelers want: something different, something old, something mysterious. Enter: monastery hotels!
Many unused churches, convents and monasteries have been converted into paying accommodation, often luxurious and expensive, to give you the surroundings of serenity but without actually staying in a monastery.
There are great hotels that have taken over and refurbished old monasteries (click here and Search for 'monastery' if you want to get a bigger picture). However, staying in a monastery that's still active as a community is a different experience and one that can be empowering, enlightening and a lot of fun.
Resources to help you stay in a monastery
What follows are examples of the type of accommodation you can find in monasteries, along with useful resources that will help you organize your stay. This list isn't exhaustive in the least, because there are hundreds (and probably thousands) of monasteries that welcome guests. This is just a taste of what's available in monastery stays, with a specific focus on Europe and Asia.
Monasteries with guest rooms or accommodations
Europe
Asia
Suan Mokkh in southern Thailand welcomes people who want a silent retreat monastery or to practice meditation, but it's not just for accommodation.
If you're headed to South Korea you could look into their Templestay program – you'll find it written up here.
For a retreat and meditation, Kopan Monastery in Nepal, of the Mahayana Buddhist tradition, has both private stays and a variety of retreats.
Monasteries that are now hotels
Fontevraud l'Hotel is set in one of the priories of the 1000-year-old Fontevraud Abbey, not too far from the chateaux of the Loire Valley. Experience history – and a one-star Michelin restaurant.
Not quite a hotel, the Santuario di Oropa in Biella, Italy, has a range of rooms and is in the middle of a Unesco World Heritage site, in a stunning Alpine setting.
Hotel Saint Louis Beaulieu is in the heart of Bordeaux, a haven of calm in the bustle of the city.
The Augustine in Prague is a former monastery that is now a luxury hotel, right in the heart of the Old Town.
Books about monasteries
Websites for monastery stays
So, can you stay at a monastery or convent? YES!
You may have to search a bit harder than a standard booking site and yes, you'll have to abide by their rules, but it is a unique experience you'll remember far after you've left.
PIN THESE PICTURES AND SAVE FOR LATER!