Planning a Chiang Mai solo trip? Here's all the information you need!
I recently spent two months solo traveling all around Thailand and loved it so much that I came back! I spent three months living in Chiang Mai as a digital nomad, ensconced in the city's rhythms and routines, exploring the nooks and crannies that make this city a gem in the heart of Thailand.
As a seasoned solo female traveler who has journeyed around the world, traveling full-time for more than two years now, I understand the unique challenges and experiences that come with exploring new places independently.
Young backpackers love to come to Thailand during their gap years to party at the legendary Full Moon party, but Chiang Mai isn't just a young person's paradise – it's also an excellent destination for wisened solo travelers like us.
From temple visits to Thai cooking classes, from buzzing night markets to serene Doi Inthanon National Park, my list of 12 things to see and do in Chiang Mai for first-time solo visitors will help you navigate, appreciate, and delve into all that Chiang Mai has to offer.
Chiang Mai's charm, warmth, and vibrant culture will captivate you, just as it did me. And, it happens to be my favorite place in Thailand!
12 Things to do in Chiang Mai alone on your first visit
This is one city in which being a solo traveler will in no way single you out. There are plenty of solo women digital nomads who have settled in Chiang Mai, and it's heaven for solo women because of its cultural attractions and its high level of safety.
We'll get to those shortly but first, here's what not to miss in Chiang Mai.
1. Tour the Old City
At the heart of Chiang Mai is the Old City, an area rich in history and culture. Enclosed by ancient walls and a moat, it's where you can find many of Chiang Mai's temples, quaint cafés, and boutique hotels. Take a leisurely stroll to soak up its tranquil atmosphere and charming architecture.
Remember, when you travel to Chiang Mai, you're not just visiting a city, but immersing yourself in a rich tapestry of culture, history, culinary delights, and natural beauty. Enjoy every moment of it!
2. Explore the ancient temples
Chiang Mai is home to over 300 awe-inspiring Buddhist temples, each with its own unique history and architectural style.
A visit to Wat Phra That Doi Suthep, arguably the most famous temple in Chiang Mai, is a must. Located atop a mountain, it offers breathtaking views of the city.
Don't miss Wat Chedi Luang, with its massive chedi (pagoda) that dates back to the 15th century.
3. Hike the Monk's Trail to Wat Pha Lat
The Monk's Trail is a popular and picturesque hike through lush jungles, waterfalls, and rice paddies. The first half of the trail ends at Wat Pha Lat, a stunning temple built into the side of a hill surrounded by tall trees.
This part of the trail has a slight incline and uneven ground, but isn't too strenuous for most hikers. Free walking sticks are available at the entrance to the hike. The ground can be slippery during the rainy season, and shoes with good tread is recommended. Don't forget to bring plenty of water, bug spray, and wear temple-appropriate clothing.
The second half of the trail ending at Doi Suthep is a challenging hike with a steep incline.
4. Cool off at your hotel pool
Many hotels in Chiang Mai have swimming pools where you can relax after a long day of sightseeing. Remember, this is Thailand and the weather is hot in nearly every season.
You can also buy a day pass to some pools like Buristro Bar & Café.
5. Visit the Chiang Mai Night Bazaar
Among the many Chiang Mai attractions, the Night Bazaar is a paradise for shoppers and food lovers. In addition to Thai street foods like Pad Thai and mango sticky rice, you'll find plenty of Northern specialties like Khao Soi (a delicious coconut curry noodle soup), Sai Oua (a pork sausage) and Larb (a spicy mincemeat dish).
Besides food, you can also find handcrafted souvenirs, Thai silk, and locally made jewelry. It's an excellent place to experience the local culture and practice your bargaining skills.
6. Sunday Walking Street Night Market
The Sunday Walking Street Night Market is a must-see for all Chiang Mai visitors. Every Sunday, the historic center of the city transforms itself into one giant night market with more than 300 stalls selling arts and crafts, jewelry, clothes, housewares, souvenirs, and much more.
Don't miss sampling some delicious street food while you're there.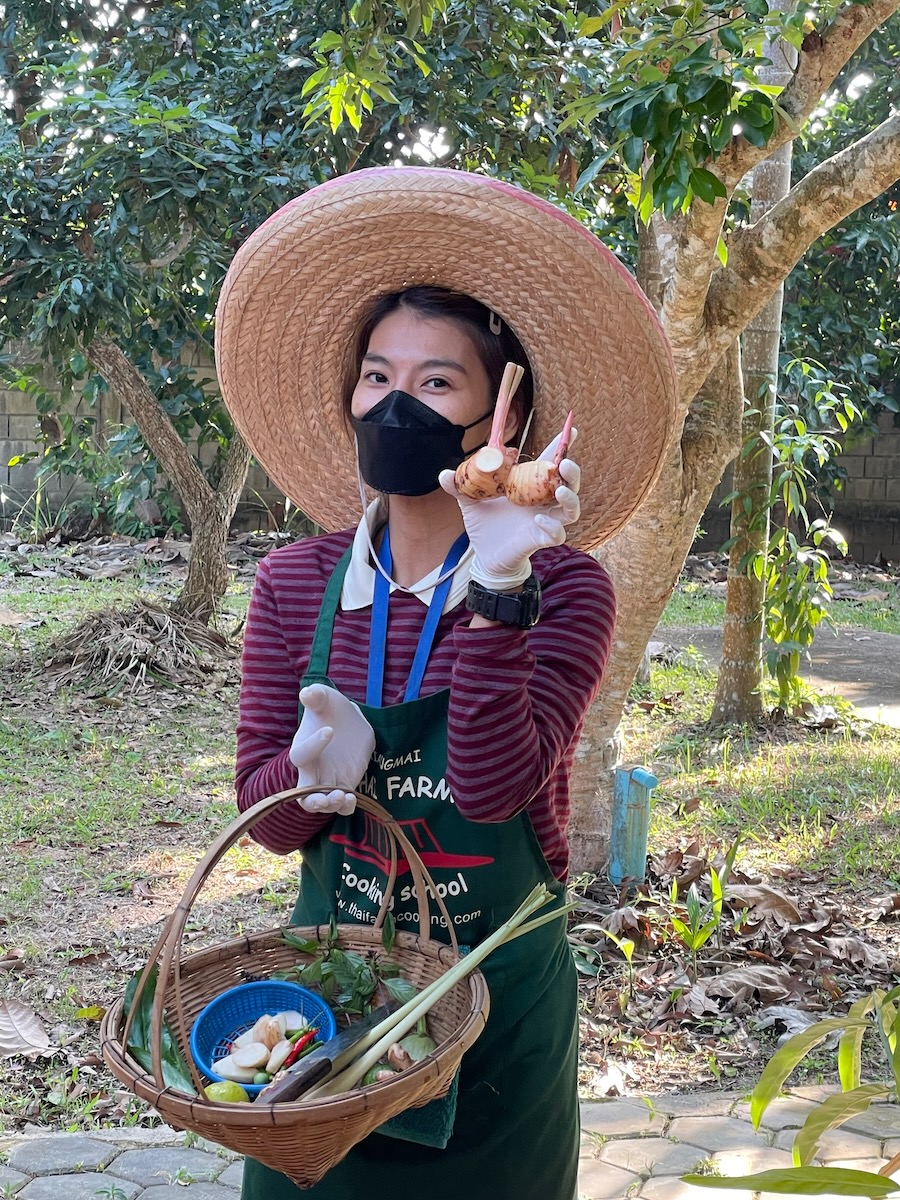 7. Relax with a Thai massage
Nothing beats a relaxing traditional Thai massage after hours of exploring the city. There are plenty of massage parlors in Chiang Mai but if you don't like intense massages (and Thai massages really are!) try a foot massage instead.
8. Take a Thai cooking class
If you love Thai food, why not learn to make it yourself? Chiang Mai has numerous cooking schools that offer classes tailored for visitors. This cooking class includes a farm visit, while this one takes you to a local market.
Many schools include a visit to a local market where you can learn about Thai ingredients. It's a fun and immersive way to understand Thai cuisine and culture. The best Tom Yum soup I ever had was the one I made at my Chiang Mai cooking class…
9. Visit the Elephant Nature Park
Situated in the lush countryside just outside Chiang Mai, the Elephant Nature Park is a must-visit for wildlife enthusiasts.
Elephant Nature Park, the most ethical sanctuary in Thailand, goes beyond just rescuing and rehabilitating elephants. With unwavering dedication, they provide a safe haven for elephants from all over Thailand, ensuring their well-being and enabling them to live a life free from exploitation.
That means there is no physical contact with these elephants. Visitors are encouraged to observe the elephants in their natural environment as they roam freely. By visiting, you can learn more about Thailand's wildlife conservation efforts and how you can help protect these gentle giants for future generations.
With hundreds of dogs and cats at the sanctuary, you will still get your cuddle-fix in.
10. Take a day trip to Doi Inthanon National Park
Located about 100km south of Chiang Mai, Doi Inthanon National Park is well worth a day trip from the city.
It's home to Thailand's highest mountain, Doi Inthanon, as well as stunning waterfalls and lush tropical rainforests.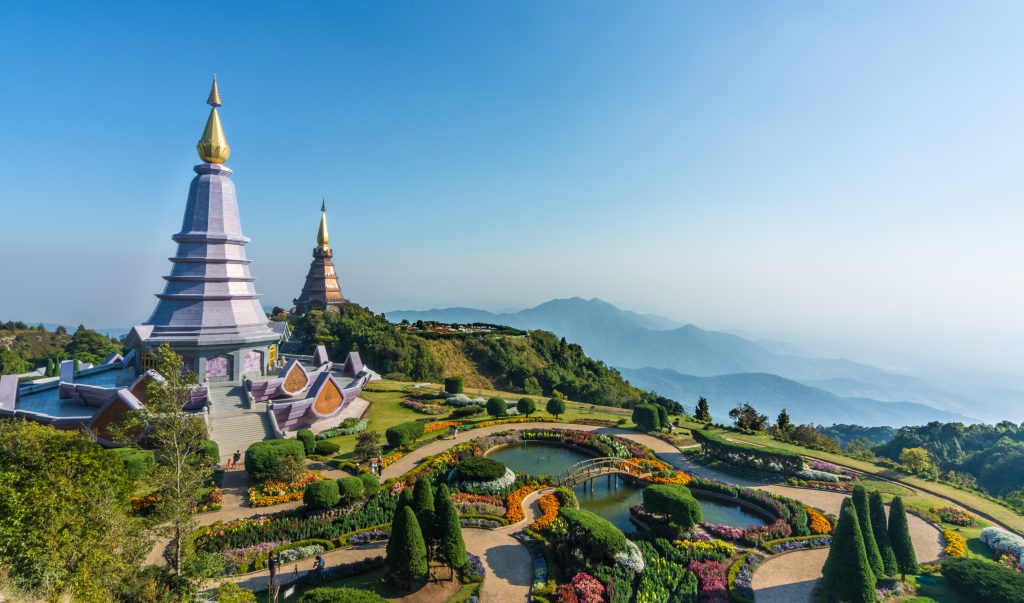 A great way to explore the park is by taking a guided nature walk along the well-maintained pathways. You'll get to enjoy breathtaking views of the surrounding landscape and observe its abundant wildlife. While there is some incline, the hike is not very challenging overall and takes about two hours, with time for breaks.
So don't forget to pack your hiking shoes and a sweatshirt − it can get cold up in the mountains if you go early.
11. Weekly women's lunch at Free Bird Café
If you're looking to make some friends while you're in town, stop by Free Bird Café for a weekly gathering of women every Wednesday at noon.
Enjoy great vegan food and make new friends from all walks of life − even if you're just passing through Chiang Mai.
They also have a nice thrift store on site. And the best part? All profits from the café and shop go towards supporting Burmese refugees.
12. Listen to music at the North Gate Jazz Co-Op
If you're a jazz fan, make sure to check out The North Gate Jazz Co-Op.
It's the premier jazz venue in Chiang Mai and offers live music from both local and international artists several nights a week.
Even if you're not an avid jazz fan, it's still worth checking out for the vibrant atmosphere and soulful sound. The Tuesday night band is fabulous, playing all different types of music – I love their ABBA covers!
The venue is small and fills up pretty fast, so the crowd spills out into the street where you can sip a drink and dance. This local venue attracts people in all stages of life so don't be afraid to check it out.
Chiang Mai highlights and background
Chiang Mai is known as the cultural heart of Thailand, and it wears its history with pride.
A bit of Chiang Mai history
One of the main attractions in Chiang Mai is the Old City, an area enclosed by ancient walls and moats that tell tales of the Lanna Kingdom.
Here, you can stroll down historical lanes, visit centuries-old temples or simply enjoy a coffee while soaking up the local atmosphere.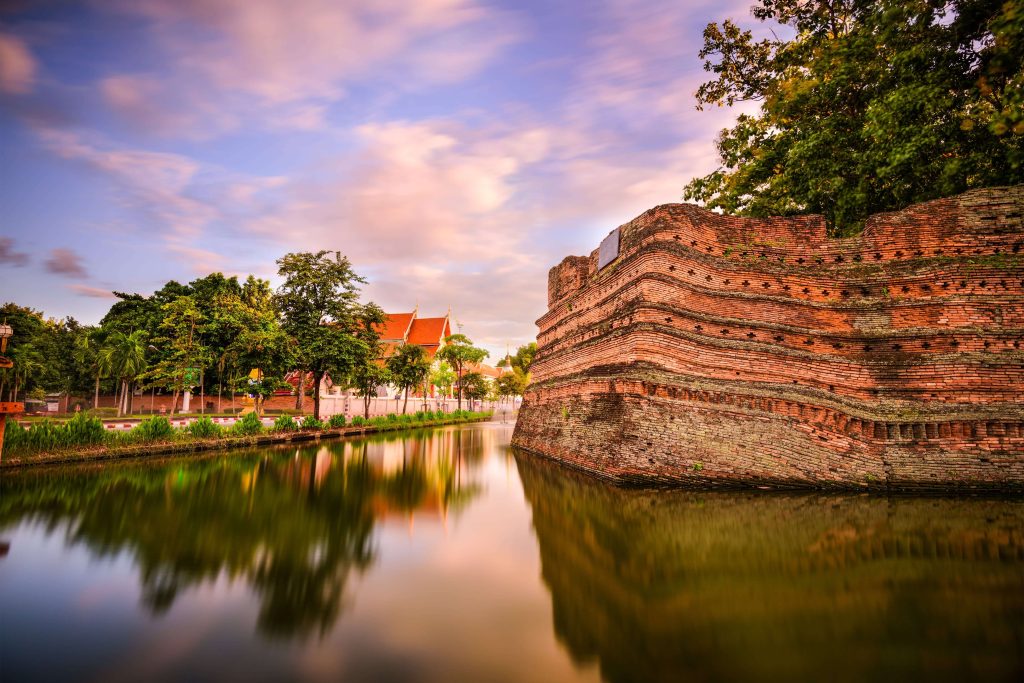 Remember, as a sign of respect, always dress modestly when visiting temples, covering your shoulders and knees.
Pro tip: I usually keep a sarong in my day pack that I can easily throw over my shoulders or tie around my waist for an impromptu temple visit.
Northern Thai cuisine
While you're in Chiang Mai, be sure to try the local cuisine. You'll find plenty of familiar Thai favorites but make sure you taste some of the dishes that are unique to Northern Thailand.
Here are some typical Northern Thai specialties:
Khao Soi, a coconut and curry-flavored soup served with egg noodles and pickled cabbage (Khao Soi Gai if you add chicken)
Sai Oua, an herb-infused sausage made from pork or beef
Nam Prik Noom Kab Moo are pork cracklings and green chilli dip (in fact, Nam Prik Noom chilli dip is a go-to for almost any dish in the North)
Khao Lam, a dessert of sticky rice served in a hollow bamboo shoot, eaten while still warm (and a delight!)
Chiang Mai has some of the best night markets in Thailand, where you can sample all these local favorites.
Handicrafts
Chiang Mai is also renowned for its traditional handicrafts. Visit the bustling San Kamphaeng district a short drive out of the city center, home to skilled artisans who create beautiful silk garments, silverware, and handmade paper umbrellas.
It's a fantastic opportunity to pick up unique souvenirs while supporting local craftspersons. And you can often watch the artisans at work.
Cultural etiquette
When it comes to cultural etiquette, it's important to recognize that Thai culture places a high value on respect and politeness. Here are a few key points to remember on your solo trip to Chiang Mai:
Wai greeting: The traditional Thai greeting, called the 'wai', involves placing your hands together at chest level and slightly bowing your head as you say "sawadee ka," which means hello. It's a sign of respect, and while you're not expected to initiate the wai as a foreigner, it's a good idea to return it if given. This is still common in the North but far less so in, say, Bangkok.
Buddhist temples: Temples, or 'wats', are considered sacred in Thailand. When visiting, dress modestly, covering your shoulders and knees. Remove your shoes before entering the main temple buildings, and never point your feet at a Buddha statue, as feet are considered the lowest and dirtiest part of the body. You should also refrain from touching the monks.
Royal family: The Thai Royal Family is deeply revered, and it's crucial to show respect. Disrespecting the Royal Family is a criminal offence, and this extends to images of the king on currency – so don't step on a dropped coin to stop it from rolling!
Head touching: In Thai culture, the head is considered the most sacred part of the body. Don't touch anyone's head, even in a friendly manner.
Eating etiquette: When dining, use a fork to push food onto a spoon, which you then bring to your mouth. It's considered impolite to put a fork directly into your mouth.
No shoes inside: It's customary to remove shoes when entering someone's home, a temple, or a massage parlor. Additionally, you should never step over somebody – even if they are seated on the floor.
Bargaining: When shopping, it's polite to haggle for items – just don't be pushy or aggressive.
Tipping: Tipping isn't common in Thailand, but it's appreciated. Many restaurants include a service charge on the bill, which should be sufficient.
Remember, these are just guidelines, and Thai people understand that foreign visitors may not know all their customs. A smile and a friendly attitude can go a long way.
Best time to visit Chiang Mai: November to February
The ideal time to visit Chiang Mai is during the cooler months between November and February, when this charming city is in its full glory with pleasant weather and vibrant festivals.
It's the perfect time to explore the ancient temples, bustling markets, and verdant natural landscapes that Chiang Mai is renowned for. But it's also the most popular time to visit, so keep that in mind!
However, it's advisable to avoid the months of March and April, often referred to as the 'burning season'. During this period, local farmers burn their fields to prepare for the next crop, leading to a haze that can obscure the scenic beauty and affect air quality.
Must-pack items for women traveling to Chiang Mai
Lightweight clothing: Given Chiang Mai's tropical climate, pack breathable, lightweight clothing. Cotton or linen are ideal options. However, keep in mind the need to respect Thai customs. Since you'll likely be visiting temples, ensure you pack clothes (or a sarong) that cover your shoulders and knees.
Comfortable footwear: Walking is the best way to explore Chiang Mai's old town. Comfortable shoes or sandals are therefore essential. I mostly wear my sports sandals everywhere unless I'm doing a hike, then I switch to sturdier shoes.
Sun protection: The Thai sun can be intense. Don't forget your sun hat, sunglasses, and high-factor sunscreen to protect your skin. If you buy sunscreen at 7-11, double-check the ingredients because in Thailand, it's common to find products with skin whitening in them.
Raincoat or umbrella: Chiang Mai can experience sudden showers, especially if you're visiting during the rainy season. An easily portable raincoat or small umbrella could prove very useful. Plastic ponchos can be bought cheaply on every corner.
Insect repellent: Tropical climates often mean mosquitoes. Pack a good insect repellent to keep the bites at bay. If you're planning on sleeping outdoors, consider taking along a mosquito net or at the very least, have a few items of insect-repellent clothing.
Chafe stick: With all the walking, preparation is key! A good chafe stick can save your inner thighs from becoming irritated. I personally use Body Glide for running and hiking. It's great to stop things from rubbing in those areas that don't usually get air circulation.
Filter water bottle: The water in Chiang Mai is not safe to drink. Investing in a good filter water bottle helps you stay hydrated without having to buy plastic bottles all the time.
Pro tip: Chiang Mai has well-stocked convenience stores on every corner and huge Western-style shopping malls, so if you forget something, it's no big deal! Plus, it's very cheap to get your clothes washed – you can drop off your laundry and have it back within a few hours.
Things not to pack
Heels: The streets in Chiang Mai are often uneven and not suitable for heels. Swap these for comfortable shoes to avoid discomfort or nasty falls.
Jeans: Jeans are not recommended if you're traveling to Thailand. Instead, opt for lightweight and airy fabrics like cotton or linen to keep cool.
Lots of makeup: Makeup tends to melt in the heat, so it's best to keep it minimal. Invest in a good sunscreen instead and look after your skin – you can even bring a tinted sunscreen!
Take a Chiang Mai day trip
However enticing the city, there's plenty to see beyond it. While you're here, why not take a Chiang Mai day trip and visit a few of the out-of-town sights? Here are a few of the most highly rated ones:
Getting to Chiang Mai
By Air: The quickest and most convenient way to reach Chiang Mai is by air. Chiang Mai airport (CNX) is well-connected with many major cities around the globe. Several airlines operate flights to Chiang Mai from Bangkok, Singapore, Kuala Lumpur, and more. The airport is situated about 3 km southwest of the city center, making it easy to get to your accommodation once you land.
By Train: For those who enjoy scenic travels, taking a train to Chiang Mai can be an exciting option. The journey from Bangkok to Chiang Mai by train is about 12-15 hours. It's a relaxing and picturesque trip, especially if you choose a sleeper train. You can make your booking online or at the train station in Bangkok.
By Bus: Buses to Chiang Mai run regularly from many parts of Thailand. This is a cost-effective way to travel, especially if you are on a budget. The journey from Bangkok to Chiang Mai by bus takes approximately 10-12 hours.
By Car: If you enjoy driving, you can rent a car for a Chiang Mai road trip. The drive from Bangkok to Chiang Mai is around 700 km and takes about 8-10 hours. Ensure you have a valid international driving license and be prepared to drive on the left, like the United Kingdom.
Is Chiang Mai worth visiting for solo women over 50?
Chiang Mai, a city known for its rich history, vibrant culture, and warm hospitality, is an ideal destination for solo female travelers over 50. Its distinctive charm resonates with the mature adventurer, offering a perfect blend of tranquillity, excitement, and comfort.
Affordability
Chiang Mai is one of the most affordable places in Asia, even though it is a highly popular destination.
You can find good quality hotels and hostels at reasonable prices.
Food is generally cheap as well; a local meal usually costs around $3-$5.
Vibrant culture and historical richness
Chiang Mai overflows with cultural experiences.
From visiting the ornate temples to participating in a traditional Thai cooking class, the city offers endless opportunities to immerse yourself in Thai culture and history.
Older adults are also revered in Thai culture, so expect to be treated with respect.
Wellness and relaxation
For those seeking relaxation and rejuvenation, Chiang Mai is a wellness haven. The city is dotted with numerous spas offering traditional Thai massages, meditation centers, and yoga retreats.
Additionally, Chiang Mai's cool(er) and (more) temperate climate, compared to the rest of Thailand, provides a comfortable environment for outdoor activities and exploration.
Healthcare and beauty treatments are also readily available and tend to be much cheaper than back home.
Engaging community
Travelers over 50 will find a welcoming community in Chiang Mai. The city hosts several groups and clubs where you can meet like-minded individuals, making it easy to make new friends and connections. There's also an active expat community that often holds events and get-togethers.
Comforts of home
However much you love immersing yourself in a new culture, sometimes you get a craving for something familiar. Thankfully, Chiang Mai has plenty of places to get the comforts of home – from Western-style grocery stores and bakeries offering delicious pastries to lively bars and pubs.
You can even catch a movie (in English, with Thai subtitles) at one of Chiang Mai's several theaters, some of which offer discounted tickets for seniors.
How safe is Chiang Mai?
Chiang Mai solo travel is smooth and easy, and the city is widely recognized as a safe destination, one of the safest destinations for solo female travelers, in Southeast Asia and beyond. Many women feel safer in Chiang Mai than they do back home, with safety a top priority.
The city is also easy to navigate − be sure to download the Grab app (Thailand's version of Uber) before you go.
Many signs and menus are in English, making it easier for non-Thai speakers to communicate and understand.
You'll be pleased to discover that Chiang Mai locals are friendly and welcoming, always willing to lend a hand or share a smile. Incidents of crime against tourists are relatively low, but like anywhere else in the world, it's essential to remain vigilant and take common-sense precautions.
One of the most dangerous things you can do in Chiang Mai is ride a scooter, so make sure you always wear a full-face helmet and drive slowly.
To keep your visit to Chiang Mai as safe as possible, remember to:
Always keep your belongings close (you can use one of these anti-theft travel bags) and never leave them unattended.
Avoid isolated areas, especially at night.
Use trusted transportation services. Grab is a popular and reliable choice in Chiang Mai.
Be mindful of your alcohol consumption, especially if you're out alone at night.
The downsides of Chiang Mai
Like any travel destination, Chiang Mai is not without its downsides. While its charm and warmth may captivate you, it's essential to be aware of the potential challenges you might face on your visit to Chiang Mai to ensure your experience is as enjoyable as possible.
The heat and smoky season
First and foremost, the Thai heat can be intense, especially for those not accustomed to tropical climates.
Chiang Mai, while in the mountain region, can reach extreme temperatures during the hot season.
Furthermore, between February and April, Chiang Mai experiences the 'smoky season,' where agricultural burning can result in poor air quality, is not ideal for travelers with respiratory conditions, and is generally unpleasant.
Language barriers
While many of the locals in tourist areas speak English, venturing outside these areas may pose some communication barriers. Although this can be part of the adventure of exploring a new culture, it could also present some difficulties when trying to navigate or ask for assistance. Download Google Translate!
Overtourism
Chiang Mai has become increasingly popular with visitors. While this has led to improved amenities for tourists, it has also resulted in some areas becoming overcrowded. This 'over-tourism' can detract from the authentic Thai experience that many seek when visiting Chiang Mai.
Still, Chiang Mai is less-visited than other parts of Thailand like Phuket and Bangkok.
Where to stay in Chiang Mai
For solo travelers visiting Chiang Mai for the first time, there are two Chiang Mai neighborhoods I recommend: Old City and Nimman.
The Old City is the historic heart of Chiang Mai, surrounded by ancient walls and moats. It's safe to walk around here, even at night, but it is always wise to stay in well-lit areas and avoid empty streets (like you would do anywhere). The Nimman area, on the other hand, is a hub of modernity and vibrant Chiang Mai nightlife. It's trendy, safe, and full of cafés, restaurants, and shops.
Here are several highly-rated hotels in Chiang Mai, Thailand.
Luxury: The Inside House
Mid-range: POR Tha Pae Gate
Budget: Little Guest House Hotel
FAQ Chiang Mai solo trip
What's the local currency in Chiang Mai, and where can I exchange money?
The Thai Baht (THB) is the currency you'll be using in Chiang Mai. You can exchange money at the airport, banks, or currency exchange kiosks. 
Is street food safe in Chiang Mai to eat?
Street food in Chiang Mai is a culinary adventure! Generally, it's safe, but look for stalls frequented by locals. If they're eating there, it's probably delicious and safe. 
How do I get around the city in Chiang Mai?
The easiest is to use  Grab, the local version of Uber.
What's the etiquette for visiting temples in Chiang Mai?
Remember to dress modestly (cover your shoulders and knees), remove your shoes, and show respect to the monks. And don't forget to soak in the serenity of these sacred spaces.
Can I volunteer with elephants?
Yes, but choose ethical sanctuaries like Elephant Nature Park. No riding or touching, just observing these gentle giants in their natural habitat. 
Is there a local SIM card in Chiang Mai for internet access?
Local SIM cards are available at the airport and convenience stores and are easy to purchase.
What is healthcare like in case of emergencies?
Chiang Mai has modern hospitals with English-speaking staff, so make sure you have travel insurance. 
Are there cooking classes in Chiang Mai?
Yes, there are several. Thai cooking classes are a delicious way to immerse yourself in local culture. 
Enjoying your firs solo trip to Chiang Mai
Traveling alone to Thailand is a wonderful experience and you'll discover a rich culture that is welcoming and warm. Chiang Mai is smaller than Bangkok and has that more intimate feel, which makes it a great place for a solo travel experience, whether it's your first time or you're a seasoned traveler.
Chiang Mai is filled with ancient temples, delicious food and vibrant local markets, and it manages to marry energy with the serenity of contemplation, making it an ideal destination for the solo traveler over 50, in a country that respects the wisdom of years.
Guest contribution by Cat Roberts, a very hungry solo female traveler, who left a six-figure job in NYC to travel (and taste!) the world.