by Ingrid Kirita*
If you're a woman over 50, you'll enjoy Hong Kong solo travel: it's safe, the food is amazing, and the city is as diverse as you could wish for.
Hong Kong is a vibrant destination – it is both an electrifying city and a haven if you love nature, not to mention one of the most popular destinations in Southeast Asia.
It's the perfect place to visit, whether you're partial to afternoon tea with a breathtaking view, cocktails on top of skyscrapers, or hiking to a stunning beach.
I know Hong Kong well, having lived here for a year. It brings to my mind great coffee, delicious local food, authentic neighborhoods, and shopping for luxury brands at great prices.
The city is made up of the main island (Hong Kong Island), the New Territories (part of mainland), Lantau Island, and a number number of the smaller of Hong Kong's islands (inhabited or not).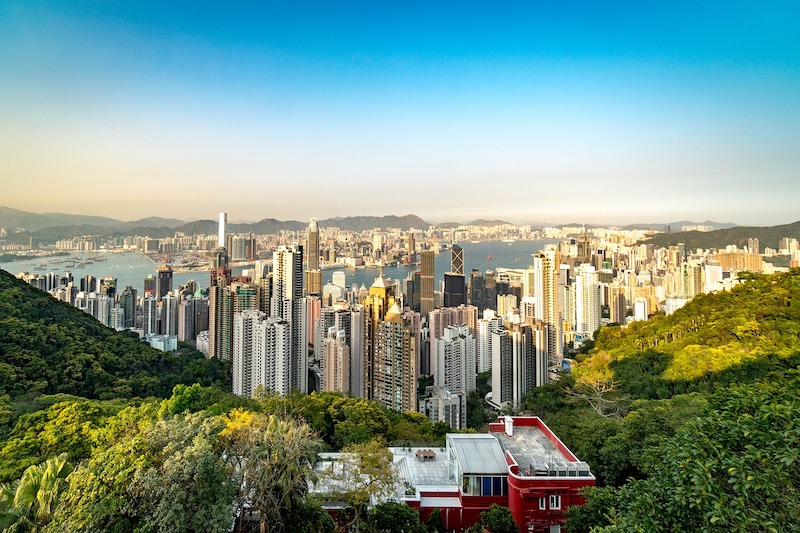 Hong Kong is divided into 18 districts and 3 regions, with Central and Western, Wan Chai, and Kowloon City the most popular with tourists, and the best way to see it is from above.
I can best describe the city by sharing a story.
I had just moved to Hong Kong when a friend from Europe visited on a business trip. After a delicious Taiwanese dinner and a couple of drinks, I asked our guest what she would like to do next. She said, "Let's go to my room and just gaze out the window for a while."
The towering skyscrapers on the opposite shore flashed in myriad colors against the dark night sky and the shapes of distant mountains, with massive ocean-going vessels and traditional junk boats hovering left and right on the busy sea lane below our feet.
That's Hong Kong for you: a spectacular urban landscape with bustling streets that could easily be the backdrop of a futuristic movie, combined with the millennia-long traditions of its very diverse inhabitants.
Hong Kong is as much about skyscrapers as it is about forests and mountains, something that might surprise you. I hiked more often in a year in Hong Kong than in decades in the Carpathian mountains in my home country. And it also happens to have amazing beaches.
Hong Kong is one of the few places in the world where you can dine in a posh restaurant on the 108th floor while looking down on a sci-fi landscape of countless skyscrapers – and just 20 minutes later, you'll be lazing on a palm-lined beach staring up at majestic mountain peaks.
16 Things to see and do in Hong Kong
There's plenty to do here as a solo woman, both during the day and in the evening. Here are some of my favorite top attractions:
1. Ride the tram to the Peak, Hong Kong's highest mountain
The scenic tram will sweep you up 552 meters from the city center up to The Peak, or Victoria Peak, in a matter of minutes.
The Peak Tram is a historical gem that has been running since 1888 and is a unique experience. Catch a seat by the window going uphill if you can and experience a strange illusion – that the buildings next to you are extremely tilted. Making its way between skyscrapers and lush vegetation, the last minute on the tram offers one of the best views over the city.
Once you get to the top of the mountain, admire Hong Kong's stunning city skyline, go for a walk on Lugard Road, and have a bite at one of the many restaurants with a view.
2. Cross the harbor at sunset with the Star Ferry and stay for "A Symphony of Lights"
The Hong Kong Star Ferry is the most scenic option for crossing Victoria Harbor either from Central or Wan Chai to TST (Tsim Sha Tsui). The first ferry ride dates back to 1888, and the ferry remains as popular today as it was then, both among locals and tourists.
You can get off at TST and make your way to the Avenue of Stars to enjoy the famous Symphony of Lights show (a multi-media show that illuminates the Hong Kong skyline with the Hong Kong Philharmonic Orchestra as a background), or take the special Star Ferry that will circle the harbor while you relax on the open deck and admire the lights.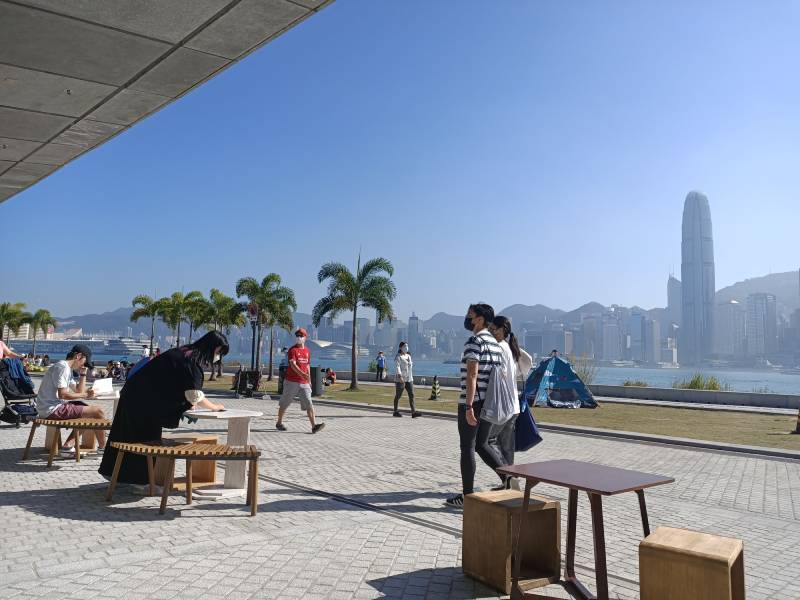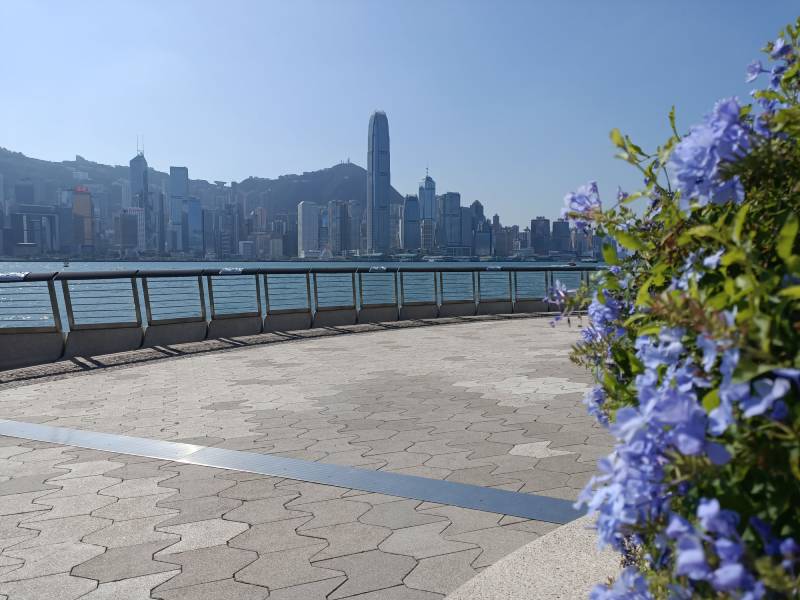 3. Take the cable car to the Big Buddha on Lantau Island
Make your way to Lantau Island by subway. The largest island in Hong Kong, part of the New Territories, Lantau hosts the airport and plenty of things to see.
If you don't suffer from vertigo, ride the crystal-bottom cable car to the top of Lantau for a stunning view both over the island's natural habitat and the Hong Kong – Zuhai – Macao bridge.
When you get off the cable car, take a short hike to one of the most iconic landmarks in Hong Kong: the large bronze seated Big Buddha, located at Ngong Ping, where you'll also find a small "shopping village".
Don't leave without taking a walk around Po Lin Monastery, a large Buddhist complex with six temples.
From there, you can either walk the Wisdom Path, or take the bus and head to Tai O, a traditional fishermen village. With so many attractions on the island, you can easily plan to spend a whole day exploring.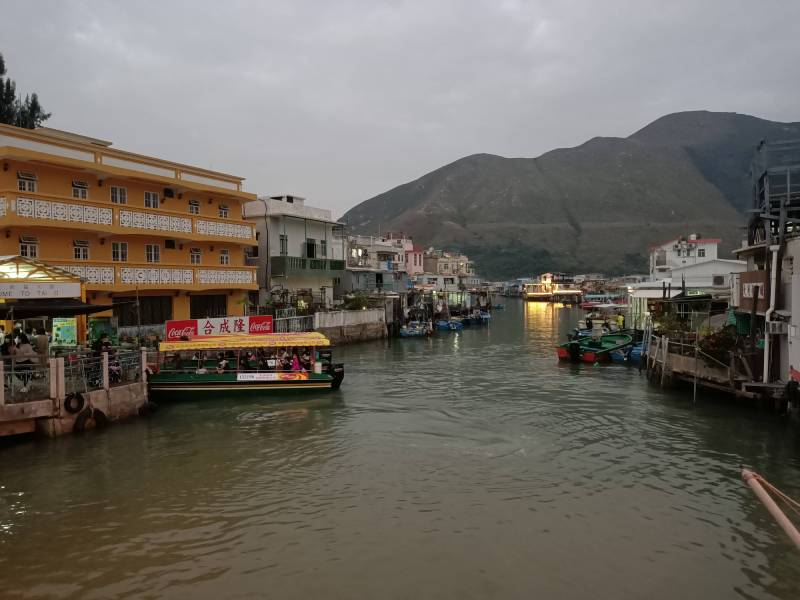 4. Taste local seafood cooked in a traditional manner at Rainbow Restaurant on Lamma Island
One of my favorite places to eat at, the Rainbow restaurant on Lamma Island, is just minutes away from the ferry stop. Included in the price of your meal is a one-way boat ticket to Central on Hong Kong Island.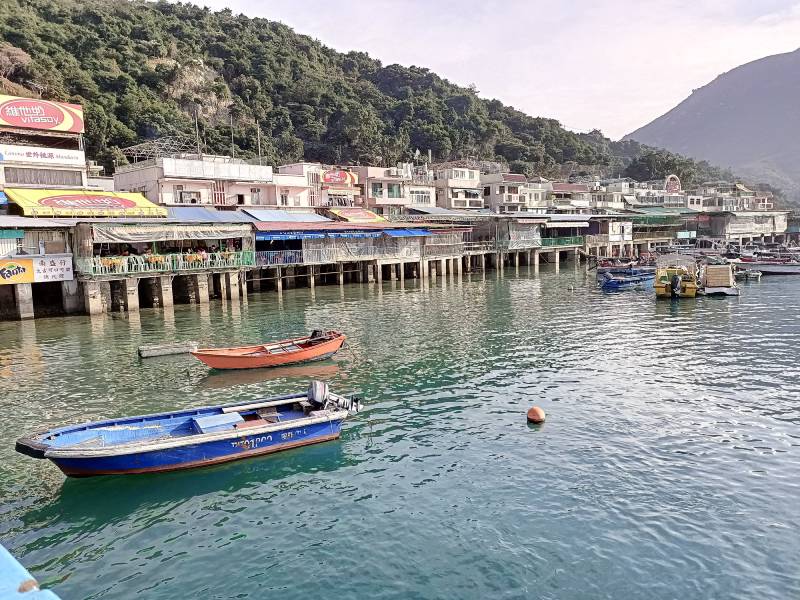 The fish are still swimming in the aquarium and you choose what you want. They'll cook it for you right away – it doesn't get fresher than that.
5. Shop till you drop at one of the many outlets
You don't need to be a shopaholic to enjoy Hong Kong's outlets, and you just might leave with a designer item or two, at a great discount.
Here are some great outlets:
Prada factory outlet at the Horizon Plaza, right next to the South Horizons MTR subway station.
Citygate Outlets, 10 minutes from the airport by MTR at the Tung Chung Station
Horizon Plaza on Hong Kong Island
6. Buy dried seafood and play with the shop cats in Sai Ying Pun
Dried seafood plays such an important part in Chinese cuisine that in Sai Ying Pun, you'll find a whole street lined with small shops selling various types of dried fish and other things from the seas.
Dried fish can have a pungent smell which many dislike, but I didn't mind walking around, especially since most shops have cats with which you can play.
7. Shop for antiques in Sheung Wan at the Cat Street Flea Market
Whether you're looking for souvenirs or expensive Chinese antiques, this is the place. Even though the flea market is modest and most stalls have pretty much the same things, you'll probably still find something to take home.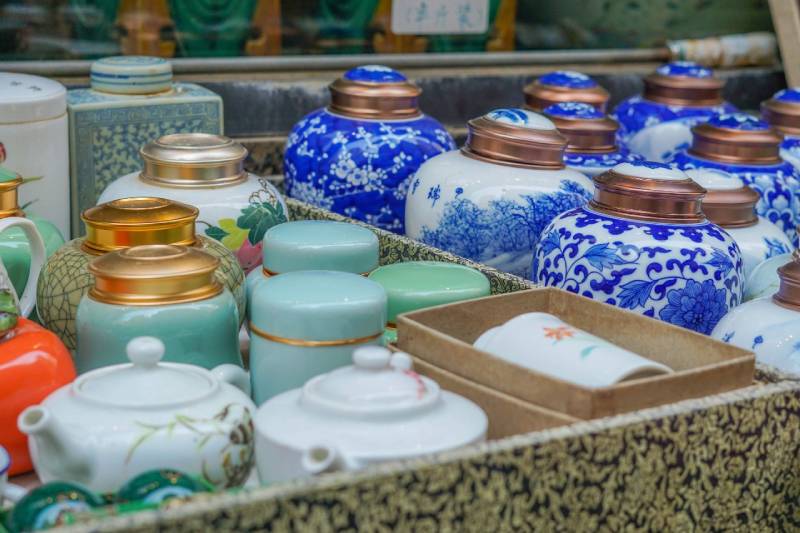 8. Sail on a junk boat with Aqua Luna
A junk boat is a traditional Chinese sailing vessel used for centuries. The boats have a distinctive design, with flat bottoms and high prows that allow them to navigate shallow waters.
You can see Aqua Luna with its red vales sailing along the Victoria Harbor throughout the day and night. Sailing on this boat at sunset is an experience worth having at least once while you're in Hong Kong.
9. Visit Man Mo Temple
Man Mo Temple is one of the oldest religious sites in Hong Kong and has been a popular place of worship for over 170 years. Located in the heart of the Central district, minutes away from the Cat Street Flea Market, it would be a pity not to go inside for a look at one of the most popular temples in the city.
10. Have dinner at the rotating restaurant
Or simply enjoy the free view from the elevator that will take you there.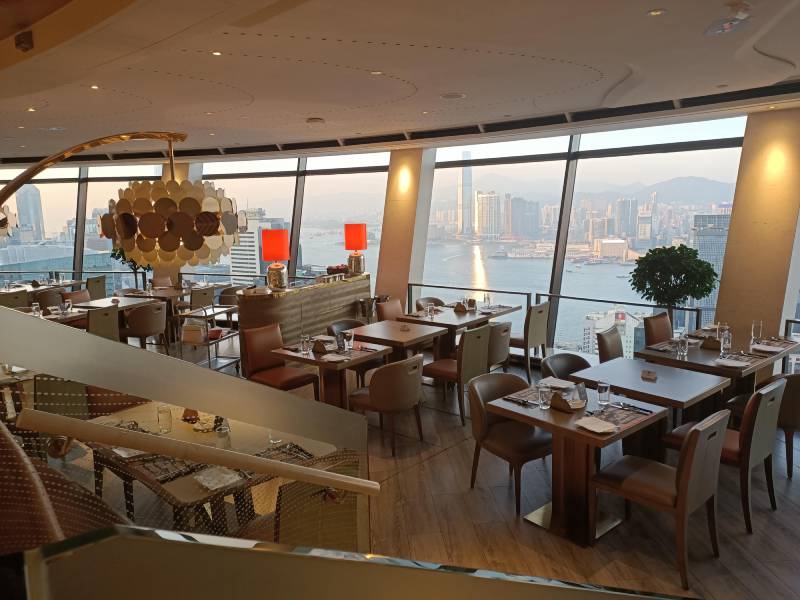 The Grand Buffet is located in Hopewell Center and is the only 360-degree rotating restaurant in Hong Kong, offering the best view over the city.
11. Eat at a local wet market
I am not exaggerating when I say the food at the wet market might be the best you will ever eat in Hong Kong. And the most affordable. Sure, the menu is not in English, but usually you can manage to order based on the pictures.
It might not be the most hygienic location, but it is an experience worth having. Try the Wan Chai wet market, blend in with the locals and try the local traditional spicy beef, garlic aubergine, fried squid, fried noodles, or crab.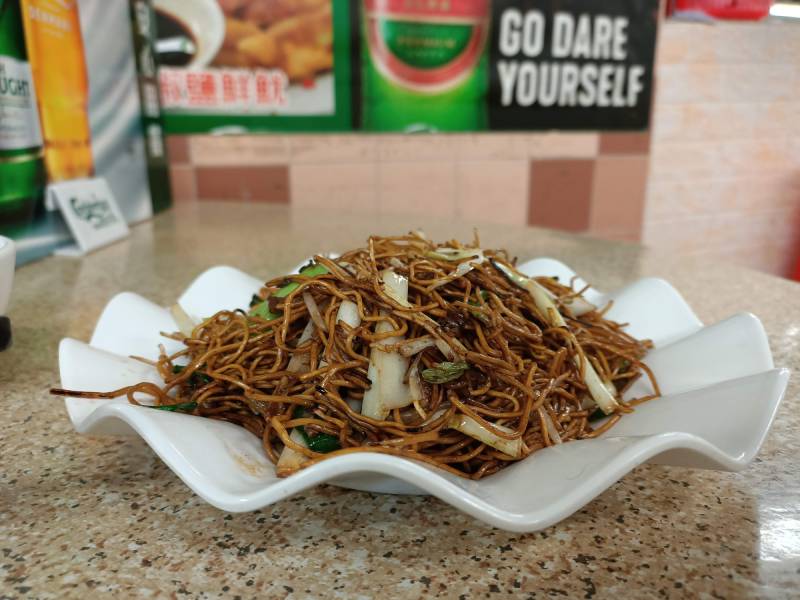 12. Start your day with a coffee at Repulse Bay
Repulse Bay has a low-key, relaxed vibe, especially during the week – a great way to start your day is with a good coffee on the beach, at The Coffee Academics.
13. Shop for souvenirs at Stanley Market
While many people and guides will recommend shopping for souvenirs at the Ladies Night Market in Kowloon side, I would advise you to skip the crowds and try Stanley Market.
You will find pretty much the same things, in a much more picturesque area.
Apart from the classic souvenirs such as keychains or good luck charms, at Stanley Market you can shop for bamboo home decorations, linen with Chinese embroidery, or local traditional clothing.
14. Swim at Clearwater Bay or take the boat to Sai Kung's Ham Tim or Tai Wan Beaches
As the name suggests, Clearwater Bay has some of the most turquoise waters in Hong Kong, and it is easily reachable from Central.
However, if you really want to go on an adventure, and want to feel like you are on a tropical island, hop on the subway, bus, and boat, and head to Sai Kung. Of course, you can also skip the boat and go for a hike there.
15. Admire the flowers at the Prince Edward flower market
If you love flowers as much as I do, a stroll at the flower market will brighten your day. You can also shop for traditional vases, perfect to bring home as gifts.
16. Take a picture with the murals in Central
Hong Kong is known for its color, streets, and murals. And the good news is you won't have to go far to find some of the most popular and artistic ones, since they are right in the city center.
Even more things to see!
Hong Kong highlights and background
Hong Kong has been Asia's gateway for a long time and is an amazing cultural melting pot, evidenced in the mind-blowing diversity of the local cuisine. Forget the usual food classifications, and prepare yourself for a culinary experience you'll never forget.
Have you ever tried a Vietnamese-Canadian recipe? I can assure you that at Fuhn, you'll get one of the best bone marrow pho soups I have ever tasted.
What about Egyptian-Hong Kongese shawarma? I bet you never thought such a thing existed.
Or, if you thought that you knew your hot pots, you'll soon realize the error of your ways. There are Taiwanese, Cantonese, and a myriad of different mainland Chinese variations.
But if you prefer good old Italian cuisine, don't worry; Hong Kong excels at this as well, with Italian chefs preparing authentic meals in several different restaurants.
However, there's no better place to try the local traditional Cantonese cuisine than at a Cha chaan teng, or Hong Kong-style diner.
Best time to visit Hong Kong
Hong Kong has a humid subtropical climate, with extremely hot and humid summers, and relatively warm winters. However, winter months can see temperatures drop down to 10℃ / 50℉, which may feel even colder because of the high humidity.
Summer is typhoon season, with many rainy and moody days, not an ideal time to visit.
The best time to visit Hong Kong is during the spring or fall months, when temperatures are milder and you can enjoy walking around. March and November would be the perfect months for a visit.
Things to pack for Hong Kong
No matter when you choose to visit Hong Kong, always pack a jacket or at least something to put over you shoulders. That's because every time you step inside, the air conditioning will be extremely strong. Even if you are only taking the subway, eating at a local restaurant, or strolling through a shopping mall, the temperature difference between the inside and outside is insane.
One thing I couldn't find was good strong deodorant, so make sure you have that in your luggage if you use it.
Day trips from Hong Kong
A simple link to highly rated tours on Viator or GetYourGuide would be fine
Getting to Hong Kong
Hong Kong international airport is well linked to the world's most important destinations, providing easy access.
From the airport, you can get to the city center in 30-60 minutes, depending on how you travel.
Taking the Airport Express Train is the fastest way to get from the airport to Central and the best for solo travelers, a cab is best if you're accompanied, and taking the bus is the cheapest (and longest) option.
Getting around Hong Kong is a breeze, and the best way to see it is by using its sophisticated network of trams, buses, MTR (subway), and ferries. Rather than fumbling with cash, get a Tourist Octopus Card, which you just tap before getting on board.
Why Hong Kong is a great destination for the solo female traveler over 50
If you're contemplating a solo trip, Hong Kong is a fabulous destination for solo women over 50.
It's one of the safest cities in the world, with low crime rates, especially when it comes to violent crime. It also has an efficient and affordable public transportation system, where women can feel at ease exploring the city on their own. This eliminates the need for renting a car or relying on tour groups, giving a solo traveller the freedom to explore at their own pace.
Hong Kong is relatively compact, which makes it easy to visit, while at the same time offers a diverse range of experiences. Whether you enjoy shopping, sightseeing, or trying new foods, there is something for everyone in this bustling city. You'll also enjoy diving into the local culture, which is rich and varied.
Hong Kong's welcoming and inclusive atmosphere makes it an ideal destination for solo travelers. Local people are friendly and helpful, which makes a difference when you're traveling solo.
While no part of Hong Kong is really off-limits, even at night, if you're concerned, stick to the most popular areas such as Central, TST, Wan Chai or Causeway Bay.
How safe is Hong Kong?
In almost two years of living in Hong Kong, I never felt unsafe, even when walking alone at night.
Of course, one should always be aware of its surroundings and use common sense when traveling to a new place. While Hong Kong doesn't have a violent crime problem, there is petty crime, so hang onto your belongings, especially in crowded places.
To keep your belongings safe, use one of these cross-body anti-theft bags, or if you're traveling really light, an infinity scarf with a pocket will do the trick.
Also, in some party neighborhoods, there might be excessive drinking but nothing to be seriously worried about.
There are also political concerns in Hong Kong. Given the upheavals faced by the former British colony since its takeover by China, there are often questions about safety.
The recent National Security Law provides for harsh punishments for any form of political and social dissent, including by foreigners, so if you hear of a public protest, head the other way. It might also be a good idea to steer away from heavy political discussions as well.
The downsides of visiting Hong Kong
Whatever Hong Kong's attractions, there are downsides to every destination and Hong Kong is no exception. Its main downside is that the city can get impossibly crowded at times, making it difficult to even walk. Places like Causeway Bay, Wan Chai, or even Central and TST can get incredibly crowded with locals and tourists.
Try to avoid traveling on a Sunday as much as possible, when streets and parks are even more packed with people.
Where to stay
Hong Kong is a compact city with a great public transportation system that will get you anywhere in less than one hour. However, choosing to stay on the main island when you visit for the first time is best, with Central, Wan Chai, or Causeway Bay as your main areas to look into. Another great option is TST, which is perfectly linked to both the airport and Hong Kong Island.
Here are the Hong Kong hotels I recommend:
Affordable: Ovolo Southside
Boutique: YING'nFLO, Wan Chai
Luxury: The Hari Hong Kong
If you'd rather keep looking, here's what's available in Hong Kong, with the latest prices:
Hong Kong FAQ
How many days should I spend in Hong Kong?
There's so much to see that you'll need at least several days. Here's a 4-day itinerary for Hong Kong to give you an idea of how much you can see in that time.
Is Hong Kong easy to get around?
It IS. There's an excellent system of public transportation. Just make sure you have a map or a transit app to help you get around until you get your bearings.
Is Hong Kong good for solo travel?
It is the perfect city for solo travel, because it is quite safe, compact, with great public transportation, so you can get everywhere easily and safely.
Do they speak English in Hong Kong?
Yes they do, and you won't face a language barrier here. English is still one of Hong Kong's two official languages, the other being Cantonese, a form of Chinese.
Is Hong Kong an expensive city?
Hong Kong is relatively expensive, especially when compared to many other parts of Southeast Asia. Use this cost of living calculator if you'd like a clearer notion of what things cost.
Before you go…
Traveling solo, especially when you're a bit older, means you often have to have eyes behind your head when you're visiting a crowded city. But Hong Kong is quite safe, and it's a pleasure to amble through such a high-energy and busy destination without having to hide away at nightfall.
If you love visiting large cities and don't want to worry about safety, other great cities to visit include Singapore and Seoul, South Korea.
*Bio
Ingrid of Zenmomentsinkorea.com lived for three years in Hong Kong and Seoul, South Korea, and had ample opportunity to explore the city-state's furthest corners.