Imagine someone giving up their subway seat so two friends can sit together. Or leaving your room unlocked or your luggage out of sight on a train – without worrying it might disappear. Or a bus driver bowing before driving off – and he might even be wearing white gloves.
You'd be in South Korea, of course, and what follows are the highlights of my Korea itinerary during a two-week solo trip to Korea, a land of near-unbelievable contrast.
Built on the rubble that was once Seoul, the capital is now a world-class metropolis. Much of South Korea's success today – Samsung, Hyundai, LG, Daewoo – dates to the aftermath of the Korean War, which killed millions and destroyed the country's infrastructure, leaving it one of the world's poorest countries. It's hard to conceive of Seoul as a flattened city, from which 90% of the population fled and whose remaining 10% often scavenged for food.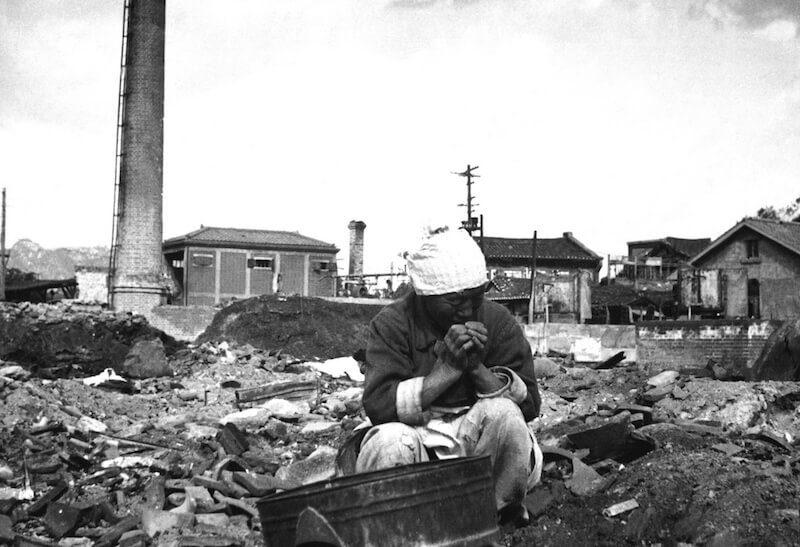 Is it safe to travel to South Korea? If it weren't for the unpredictability of North Korea-US relations, this would easily qualify as one of the safest destinations for women – anywhere. South Korean solo female travel is not to be feared but on the contrary, to be embraced.
Despite the country's low crime rate and the absence of major incidents recently, it is difficult to forget that South Korea's (until now) sworn enemy, North Korea, lies armed to the teeth just half an hour away and to the South, even more heavily armed, is South Korea and a strong US military presence.
My first brush with the modern miracle that is today's Korea was at Incheon Airport. Huge lines advance smoothly, everyone stepping up in an orderly fashion. When I visited a few years ago, you could fit, your soles onto the footprints thoughtfully painted on the floor for you (in case you might be tempted to jump the queue into the arms of the border police). I don't know if the footprints are still there…
I arrived solo in Seoul towards the end of March, possibly the best time to visit Korea, during cherry blossom season. I planned a two-week South Korea solo travel itinerary and I'd decided to split it between the capital and the rest of the country. That isn't as far-fetched as it seems: South Korea is the size of England, or of Kentucky, whichever means more to you, so you can see much of it quickly. I had one goal in mind: hunting down cherry blossoms because it's a season I've never experienced.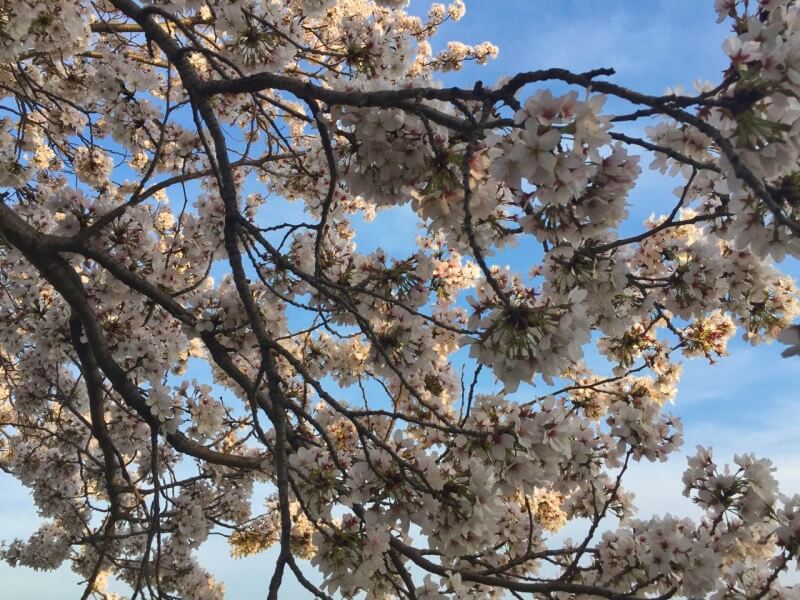 Places to visit in Seoul
For some reason, people recommended two or three days for a Seoul solo trip. It depends. If you're planning a short South Korea itinerary, 7 days perhaps, then a short visit to Seoul would be fine. But I was in Seoul for six days and felt I had barely scratched its surface. The crowds, traffic and skyscrapers are easily counterbalanced by the high energy, contrast and headiness of the city. Plus, there are plenty of things to do in Seoul alone.
Physically, the city sits in a bowl surrounded by eight mountains and bisected by the Han River. Most walking takes place on hills and my apartment in Seoul required me to walk up a steep hill, climb 50 or so steps, walk up a smaller hill and gasp my way through another three flights of stairs. Calf muscle issues? Visit Seoul. You'll be Wonder Woman in no time.
I roamed, hopping on and off buses, exploring distant subway stations and discovering neighborhoods.
If you need more of Seoul itinerary, here are just a few of the things to do in Seoul on your own (this list is anything but exhaustive):
Myeongdong Market (located in the Myeongdong shopping district) is my idea of the perfect street market, clothes and shops in daytime and foodie fair as soon as the sun begins to set. The market is known for its cosmetics shops (Korean cosmetics have a worldwide reputation and draw local and foreign shoppers.

Namsan Seoul Tower, also known as the N Tower, is the highest point in the city and is best visited at night, after a quick cable car ride. The mountain it caps has been ringed with walking trails and during the day the hike is well worth it. Partway up is a wonderful traditional restaurant which serves magnificent scallion and squid pancakes.

The House of Sharing is part-museum and part-retirement home for "comfort women", kidnapped or forced by the Japanese into military brothels during World War II. Now elderly, the handful who remain keep the memory of their tragedy alive, waiting for a proper apology from Japan.

A tour to the DMZ, or demilitarized zone, is the one adventure I hugely regret not having experienced. The DMZ splits Korea into North and South and has been called the world's most dangerous border. I had reserved well ahead of time, but it was at the height of the war of words between Washington and Pyongyang, so the military administration cancelled all visits at the last minute that day. I was refunded, but hugely disappointed.

Noryangjin Fish Market is one of Seoul's signature sights, with fish so fresh it is still – alive. Go around lunchtime or you'll be in the same boat I was: eyeing raw fish for breakfast. I love it but even I couldn't face it pre-coffee… If you're an early riser (3 a.m.!) you'll catch the famous fish auctions. Just wear good walking shoes because the floors are wet and slippery.

Itaewon is an expat enclave so international you feel you're crossing a border each time you cross a street. Its Muslim Quarter's halal eateries and pilgrimage tour agencies "approved by the Kingdom of Saudi Arabia" give it a powerful oriental atmosphere but down the hill, other familiar smells fight for attention – pizza, burgers and fried chicken.

Korea Food Tours is a small company with several tours – I ate an extraordinary BBQ (and a few other delicious things).
by Rebecca Binge
One of the unique things to do in Seoul is tucked away in the Samcheong-dong neighborhood: Bukchon Hanok Village (hanoks are Korean traditional-style houses). The village dates back more than 600 years when high-ranking officials of the Joseon Dynasty settled here.
Hanok architecture consists of smoky gray tiled roofs, slightly curving upward at the outer corners. Many of the homes are painted a bright white, decorated by wooden beams or layers of brick along with the bottom halves.
Bukchon is located uphill so the legs definitely get a workout, but one that's much better than the gym. There are numerous alleyways to get lost in. (Besides, the added bonus of getting lost is that one usually stumbles upon a good photo opportunity!)
Bukchon Hanok Village can easily be found by taking subway line 3 and getting off at Anguk Station. Look for exit 2 as you make your way out of the station. When you reach the top of the stairs walks straight for several minutes. There are also signs that will direct you towards the village.
In a metropolis filled with neon lights, lofty office buildings, and haggard workers, wandering through an area like Bukchon reminds me of simpler days in Korea's past.
Getting around Seoul is easy, but time consuming – it's not a small town. A rechargeable T-money card, which you can purchase at any convenience store or station, whisks you into subways and buses. Stops are (usually) announced in English and, bless them, subway stations have toilets, cleaner than those of most Western department stores.
The transport networks are extensive and rarely will you be beyond public transit's reach. Just be forewarned: you'll be doing a lot of walking. Seoul is built on hills and while there are plenty of subway and bus stops, you may still be blocks away. I walked an average of 12km a day in Seoul, without trying.
Communication is as important as transportation and without speaking a word of Korean, you'll need all the help you can get. My help came in the form of the Google Translate app, without which I would have been sealed in a bubble throughout my solo trip to South Korea. I either spoke into my phone or typed my questions but the Korean output was perfect – at least I got what I needed and no one looked insulted by what appeared on the screen.
Here's a tip: whenever you leave a place, get someone to write your next destination in Korean on a piece of paper you can hand to a cab driver (taxis are inexpensive, I took many of them) or a person on the street – simple things like "intercity bus station" or "where is the restaurant" …
And no, I didn't see any cherry blossoms in Seoul – I was perhaps a week early, and the weather had suddenly turned cold.
Beyond Seoul: Places to visit in Korea
Planning an itinerary in South Korea can be a challenge for those of us not familiar with Asian languages. Korean names can sound remarkably similar and were it not for a common English spelling of place names, I would probably have ended up on the wrong train often.
In addition to six days in Seoul, my itinerary for Korea took me to three cities in eight days, as I prefer to see fewer places but see them in greater depth. I kept noticing the mountainous nature of the country and the resulting population density in the lowlands. Korea is crowded!
Heading south from Seoul on the bullet train to the coastal city of Busan, highrises appeared to leap out of the fog, there one minute, gone the next. The train ride, by the way, is far smoother than those of its European counterparts. It's also better protected, with safety barriers along the route: worse view, but better security.
Busan is South Korea's second-largest city, stunning in its beachside setting and the subject of glorious photographs. I was there in the rain, which in no way altered my enjoyment. I just visited it differently: I walked in the rain (and searched in vain for cherry blossoms). I visited the world's largest department store, Shinsegae Centum City, and spent the afternoon lazing in Spa Land: 22 spring-fed pools of different temperatures and 13 types of sauna. I sampled them all – naked, as one does in Korea (but beware – the sign says no tattoos allowed!)
Next stop, the historical city of Gyeongju, nominated by Lonely Planet as one of the top 10 cities in the world to visit in 2022. It is also known as the "museum without walls" and famous for its unusual tumuli, or tombs shaped like grass mounds. These are disconcertingly spread throughout town, with streets winding around them. I enjoy temples and spent time at the fabulous Bulguksa, climbing its many stairs. One evening I walked to nearby Anapji Pond. I'd heard it was 'pretty' but nothing prepared me for the slow settling of dusk mirrored against the bright pink of the spring cherry blossoms – yes, bountiful blossoms at last. Clearly, this was a famous sight, as romantic couples and entire families jostled one another for selfies against the flickering lights. (Here's a three-day Gyeongju itinerary if you'd like to spend more time.)
My final stop was the city of Jeonju, a UNESCO gastronomic city so of course, I spent several days there, 'sampling'. Its centerpiece is a traditional hanok village but unlike Bukchon, where people still live, Jeonju's have become guest houses and restaurants. I enjoyed staying in one – the room was smaller than my closet at home and I slept on a mat on the heated floor. Falling asleep was wretchedly painful (I found beds generally uncomfortable everywhere) BUT I woke up more refreshed than ever after the mat episodes. I have no idea what magic occurs down on that floor, but it works.
Jeonju's food kept its promises except for a single plate of overly doughy fried squid. As for the rest, I leapt from dumpling to dumpling, noodle soup to noodle soup, and skewer to skewer. Time flew.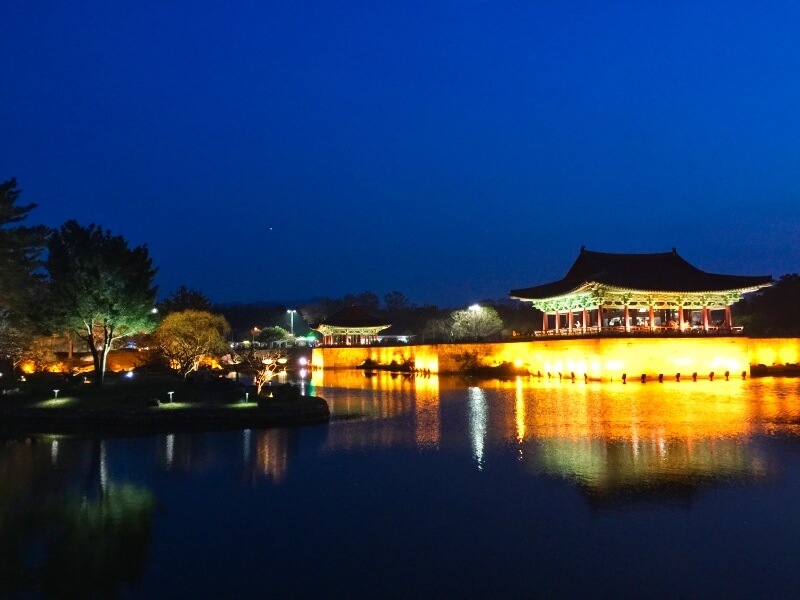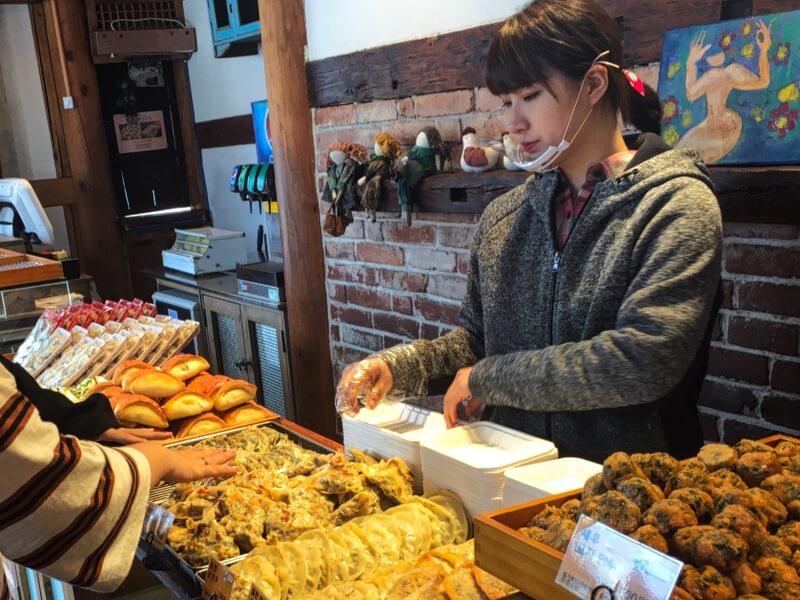 6 Things to Know While Traveling in South Korea
by Rebecca Binge
1. Mirror, Mirror on the Wall
The outer appearance is a high priority to Koreans. According to the International Society of Aesthetic Plastic Surgery, South Korea is the country with the world's highest per capita rate of cosmetic plastic surgery. In fact, it's become common for parents to offer plastic surgery to their daughters as a graduation gift. As a result, mirrors are abundant: near restaurant entrances, inside elevators, and on the phone in the subway.
2. Shoppers' Paradise in Seoul
For those in need of some retail therapy, Seoul is the shopping mecca in South Korea. Various neighborhoods offer a wide range of items to those in search of the perfect Korean memorabilia. For a truly unique shopping experience, Namdaemun Market is the perfect shopping adventure. Stalls and stores sell practically everything: clothing, jewelry, home furnishings, toys….the list is endless!
3. Apartment Eyesore
In both cities and suburbs, you will notice clusters of high-rise apartment complexes dating from the Korean War. Most are unsightly, about 20 stories high, usually off-white, with tan or grey added for a splash of color. Still, they have become popular with families because of all the nearby conveniences, like shops or schools.
4. The Spirit of Soju
The national alcoholic beverage that accompanies any Korean barbecue is soju, traditionally made from rice. It also can play a bonding role in forming a business and social relationships. Also, Korean drinking etiquette consists of pouring drinks for others (particularly seniors at the table) before refilling your own cup. Remembering this polite gesture makes for an enjoyable dining atmosphere for all.
5. Bathroom Basics
Even though there are Western-style toilets, in many public restrooms you will stumble upon the squat toilet. Upon squatting, make sure the tips of your shoes line up with the front of the porcelain. Also, it helps to have a good balance when using one! In older buildings, you will find the toilet paper dispenser located just outside of the restroom entrance. Grab enough before entering a stall.
6. Perplexing Politeness
Be prepared for a bewildering mix of both polite and pushy behavior among Koreans. When browsing in a department store, be prepared for the numerous sales assistants. However, if you're boarding a subway or a bus watch out for the ajummas, or older Korean women, known for being pushy when trying to grab a seat on subways or buses.
Street food in Korea (Must-try in Seoul)
There's such variety in the street food that after two weeks of visiting South Korea, I still hadn't tested everything (though I did try!) Koreans do plenty of socializing around food, much as Europeans would meet for a cup of coffee, so it's no surprising there are so many eateries of every kind.
Walking the streets of Myeongdong Market was an education in Korean street food.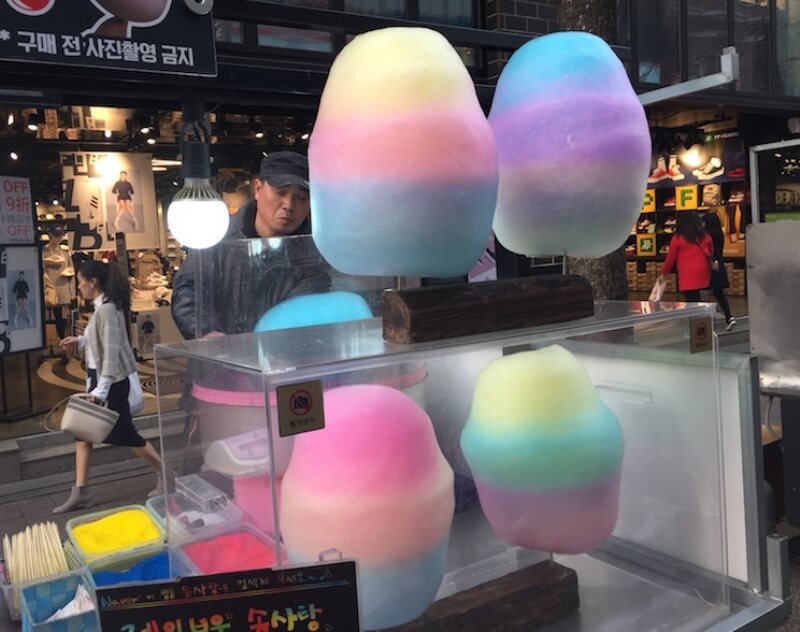 Koreans love sugar, which manages to find its way into everything, including unusual dishes like pasta or egg salad. Allegedly, the sugary kick enhances the savory and umami flavors of other ingredients, so a pinch of sugar is added to meat roasts, sandwiches, stir-fries, hot pots, and the alike.
Most noticeably, Koreans love spicy food. From supermarket cup noodles to kimchi, their traditional fermented veggie dish, hot food is everywhere you look. Koreans do pride themselves on having the spiciest food, but Indian food beats Korean when it comes to calling the fire engine!
Cheese, too, is hugely popular and goes on everything from lobster tails to…
Much as I love street food, I also enjoyed sit-down meals. One of my favorites was bulgogi, a pork hot plate with hot spice and vegetables – and a bit of sweetness. Seafood is plentiful, as you'd expect in a country bordered on three sides by water. Gwangjang Market in Seoul is known for its silk goods and vintage clothes during the day, but in the evening it turns into a seafood city, with raucous communal tables filled with laughter and conviviality.
I was relieved to discover coffee is a local addiction with a café on every street corner. I was less relieved to get the bill: between $4-$11 for a cappuccino, depending on whether I was desperate for that extra espresso shot or not.
Korea lacks a tipping culture and you're often asked to pay beforehand, which can be disconcerting when you sit down for a meal and the bill comes before the food. It also means you don't have to chase the miraculously disappearing staff for your bill after you've eaten.
A few more facts about South Korea – Culture and traditions
Understanding any aspect of Korean culture was sadly a superficial exercise: I don't speak the language, and I had no local Korean friends to put things into context for me. Still, there was plenty to observe and some obvious traits that required little translation or explanation:
I found Koreans to be considerate, always thinking of others. All I had to do was stand around with a map looking a little lost and someone would inevitably stop to help. People gave me their seats on public transport, possibly because they sensed I was older, and they appeared to be constantly scanning the crowd to understand everyone's place in it. It's as though people want to take care of you and make sure nothing goes wrong. At a table, it's not unusual for a neighbor to lean over and offer you a piece of food or a glass of rice wine.

Koreans' traditional Confucian respect for older people (see above) manifested itself in many ways. The most striking was during a demonstration, when an older man began yelling at an armed policeman who strode over firmly, making me cringe. I expected at least a truncheon but no: the younger officer gently took the man by the arm, smiled at him and began talking in a soothing voice. He slowly directed him away from the crowd, calmed him down, and eventually steered him towards a subway entrance. I was amazed and elated at this absence of force.

Koreans give a strong impression of being perfectionists and that may prevent them from admitting they speak English unless they speak it perfectly. Over and over I met people who claimed not to speak it or very little – yet they were nearly fluent. A bit shy about their language abilities, when approached in English their initial reaction appeared abrupt yet once we established contact, words flowed.
If there's one cultural quirk that really turned my head was the addiction to anything 'cute'. Dogs were dressed in frills, large stuffed toys sat on the serious bank or legal desks, couples wore matching shoes or T-shirts, and pink was greatly in favor, all part of an extremely lucrative 'Kidult' culture. However, I'm told by Korean friends that styles have simplified in recent years, with a preference for more muted colors and less bling…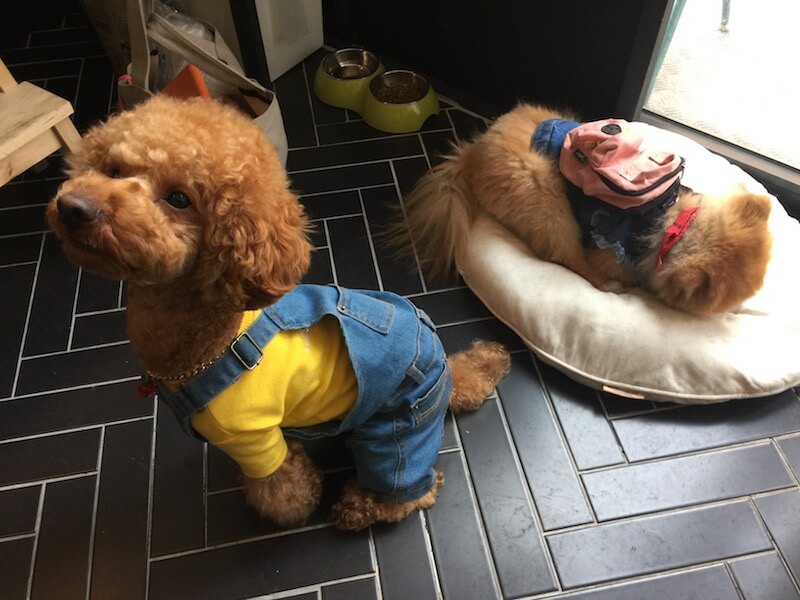 A disconcerting trait is the emphasis on physical beauty – and not just women. There is plenty of mirror-checking and iPhone camera gazing (with the camera turned around to face you, of course). It's no surprise Seoul is the world's plastic surgery capital, and as many as half of women in their twenties having had something done to their faces. This phenomenon might explain why there are so many face masks around – for health and pollution, certainly, but convenient for hiding those telltale bruises. About 15% of surgery patients are men, who also make up a large proportion of those who buy beauty products.

It's also apparently acceptable – or at least tolerated – for men to visit high-end 'hostesses'. A hotel parking lot near my room in Seoul was filled with expensive cars at lunchtime. More telling, their spa was closed to female guests, who visited another one next door…

I noticed students rushing to class at all hours, from dawn until well past what should have been their bedtime. Emphasis on education is immense and parents will do almost anything to make sure their offspring get into the right schools, which lead to the right jobs and spouses. The poverty of the past is very much present in people's minds and getting ahead is the answer to leaving all that behind. Some believe the country's suicide rate – one of the world's highest – may be due to this pressure to excel intellectually and socially, and to physically conform to norms of beauty.
What to wear in Korea
Women in South Korea dress conservatively on top, with not a bit of cleavage to be seen. That said, you can wear the shortest micro mini-skirt and no one will bat an eyelash.
City dwellers sport an urban look, like that of any city but perhaps fluffier and frillier than in Europe or North America. More girly.
Designer clothes are common, as you might expect in a wealthy country that values appearance. Watching a group of mature Koreans head out for a Sunday of hiking is an exercise in logo-spotting.
To give you an idea of the country's wealth, South Korea places #18 on the Human Development Index for 2022 – ahead of France, USA, and Austria. It's come a long way from its deep poverty just six decades ago.
Some final travel tips when traveling to South Korea
The country is changing rapidly but is intertwined with its traditions. Women, for example, have more rights than they could have imagined a generation ago yet respect for families, especially older male relatives, still governs many interactions. While traditions are strong, Korea is more modern every day – its connectivity and recycling policies could put many countries to shame.
Yet the one constant that permeates Korean life is history. Old people still talk with anger about the Japanese occupation a century ago, yet few pay much attention to the nasty words bandied about between North Korea and the US, even though Seoul is right in the line of fire.
They've heard it all before.
What to Do in South Korea: Things every woman on the road should know
Seoul travel is straightforward. The Discover Seoul Pass gives you access to some 35 museums and historical sites completely free (and a discount for more), relaxation and entertainment facilities, free passes for various transportation options, and even shopping discounts. You'll definitely save money on individual sights. Given the distance between some of the sights, you'd need at least two days to see them.

The city offers some free walking tours – and they were brilliant. Volunteer guides really know their stuff, and often, because of their language capabilities, they may present your only opportunity for in-depth conversation with Koreans.

Like most cities these days, a hop-on hop-off bus will take you to most places to visit in Seoul. I took the tour but wasn't particularly impressed. Traffic doesn't always make it easy to get around, the commentary isn't particularly informative. If you're only in Seoul for a day or two, it might be worthwhile for a quick overview. Otherwise, get a guidebook and a T-money card for the bus and subway.

Speaking of which, I used the Lonely Planet guides to Korea and Seoul and they were both useful for most South Korea tourist attractions. I usually don't follow guidebooks, though, so I used them mostly for quick background.

Several books which will help you understand Korea include To Kill a Tiger, Dear Leader and Korea: The Impossible Country.

Download the Google Translate app: it's indispensable. There are probably others just as good but this one worked for me.

Korea food tours provides a great introduction to local Seoul foods and eateries, and the stories behind the food. Take at least one during your visit.

I bought a SIM card at the airport as soon as I landed. There are stalls all over the place. I paid for unlimited data for $75 for a month but there are far cheaper options. Data speed is high so the investment was well worth it.

I found prices in Korea to be moderate – not as cheap as Southeast Asia but vastly cheaper than Japan (you'll find reasonable hotel prices on booking.com). I stayed in an Airbnb in Seoul, a backpacker hostel in Busan, a guest house in Gyeongju, a hanok in Jeonju (the Happiness Full) and a cheap hotel near the airport. The hanok was by far the smallest – and the best – of the accommodations.
South Korea solo travel at a glance
TOP 5 South Korea attractions
Gyeongbokgung Palace, first Joseon Palace in Seoul
A museum without walls in Gyeongju
Jeju Island, the Hawaii of Korea
Traditional Korean hanok villages from the Joseon Dynasty
Eating seafood in Jagalchi Market, Busan
Top 3 off-the-beaten-track
Walking tour of Euljiro, Seoul (learn about the rapid industrialization of Korea)
Jinhae Cherry Blossom Festival, early April
Andong Hanok Village, one of the oldest traditional villages in Korea
Women need to be aware that…
In Korea, women can wear the shortest of skirts but showing shoulders or cleavage is a big no-no.
You can't leave South Korea without buying…
Make-up and face creams – Korean brands are excellent. Go to Myeongdong shopping district and you'll find some of the finest make up brands.
Green tea goods. From refreshing beverages to cookie flavoring, green tea is adored in many forms.
You must try these amazing Korean foods!
Korean BBQ – you'll find it all over the country
Gyeongju bread, only available in Gyeongju – a pastry with bean paste inside Sundae, Korean blood sausage. You'll find the best in Gwangjang market in Seoul
And for more information
Contributed by Marie of Be Marie Korea— Originally published on 21 April 2017; Last updated in March 2023
PIN THESE PICTURES AND SAVE FOR LATER!