Three things strike me immediately in Kuala Lumpur: size, money and food.
First, size.
It matters.
If you want to see Malaysia's capital city in all its glory, keep looking upward. Just be careful or you'll land on your face – the sidewalks are a bit uneven.
I arrived in KL, as it's commonly called, at the beginning of July. I went to Sabah to explore the Kinabatangan River and returned to KL a couple of weeks later. In that short time, the glass was up on a skyscraper next door, and an entire shopping mall had been demolished to make way for an even larger one.
The second thing that grabbed my attention was shopping… brand names… shiny gold storefronts… I'm not quite sure what to call this: unbridled consumerism? Whatever you label it, shopping is one of the leading things to do in KL.
Everywhere I looked in KLCC – Kuala Lumpur City Center – I saw easy opportunities to be parted from my cash: an overwhelming selection of eateries (being cash-parted in this way is always a pleasure); more designer shops in a single mall than in all of Zurich or Geneva; and more malls in a single city square block than I have within a two-hour radius of my house in France.
Clearly, malls are among the most popular places to visit in KL!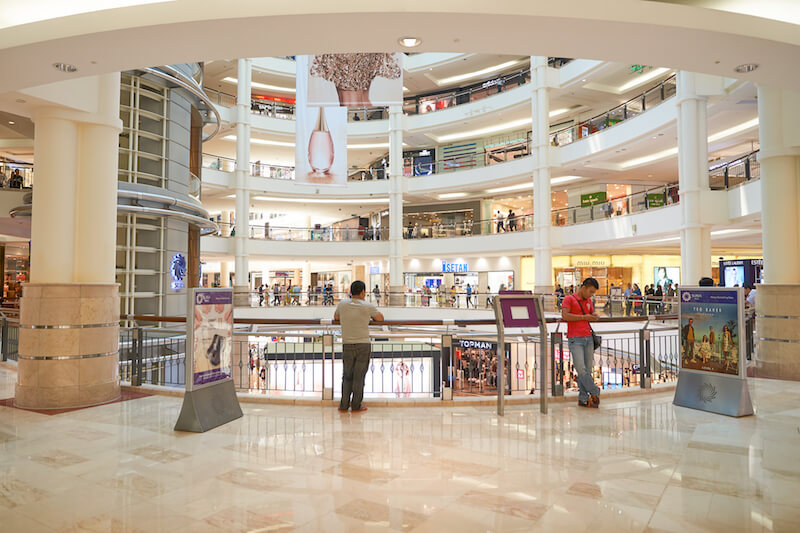 And finally, the food. It's beyond delicious, and as diverse as you could hope for, with its Chinese, Indian and Malay heritage. But more on that shortly.
WHAT TO DO IN KUALA LUMPUR
Kuala Lumpur, or KL as it's often called, is a large city so you may not be exploring every corner.
There's enough to keep you busy for days if you'd like, or just a day or two if you're simply stopping over on your way to Penang, one of the tropical islands Malaysia is so well-known for or any of the other incredible places to visit in Malaysia.
Here are some of the most popular must-sees, whether you have 3 days in Kuala Lumpur or 3 weeks.
The Petronas Towers
KL is proud of its size. Let's not forget that until 2003 the Petronas Towers were the tallest buildings in the world, and the tallest in Malaysia until 2019.
The Towers still stand impressively tall and majestic but these days they're only the tallest twin towers in the world. Surely, though, they're the most stunning.

They were put on the map (at least for me) by Sean Connery and Catherine Zeta-Jones's heart-stopping skywalk aerobatics in the action movie Entrapment.
If getting great views is high (excuse the pun) on your list of Kuala Lumpur things to do, head up to the observation deck and view the city from above. Get yourself a skip the line ticket because the lines can be quite long.
Merdeka Square
While we're on the topic of size, no vacation in Kuala Lumpur would be complete without swinging by the 8.2 hectare Merdeka Square and its giant flagpole. At 95m it may not be the tallest in the world (that distinction now goes to Saudi Arabia's Jeddah flagpole at 171m, replacing Azerbaijan's 165m Palace of Nations flagpole and a few others close behind) but it is strikingly high.
Dataran Merdeka (Independence square in Malay), as the square is called, occupies a major place in Malaysia's history: this is where the British colony of Malaya became independent in 1957 and where the Union Jack came down for the last time, to be replaced by the new country's flag. Each year, Malaysians converge here on 31 August to celebrate the event.
Sri Mahamariamman Temple
Sri Mahamariamman Temple is the oldest temple in Kuala Lumpur. Built in 1873, it is culturally significant as a place of worship for some of the city's earliest Indian immigrants.
While the building that stands today isn't the original structure – it was replaced by the current building in 1968 – it still contains components of the original temple. The combination of its many sculptures and unusual architecture make this site worthy of a visit. It's free of charge, although a few ringgit are charged to keep your shoes while you're inside (no shoes allowed in the temple).
Kuala Lumpur Train Station
Who doesn't love a gorgeous nearly disaffected train station that was transformed into a museum for a while? I say for a while because it seems the station is in transition, still operational for some trains but with the museum slowly giving way to more commercial properties.
This used to be Kuala Lumpur's main train station but still tells the story of the city and the country's railway history: the building was completed in 1868 and is a classic example of British- Asian architecture from the British colonial era.
Kuala Lumpur tourism: shopping at its best
A shopping spree is one of the key activities in Kuala Lumpur. In fact, shopping lies at the heart of the city – it really is hard to resist the combination of sales, variety and welcoming staff.
The most luxurious shops are to be found in Suria Shopping Mall, right next to the Petronas Towers. It is a feast for the eyes, and when in search of air-conditioned places to go in Kuala Lumpur, theair conditioning of a mall provides a welcome respite from the tropical heat.
To stay cool and still shop, follow the intriguing underground path that leads from Suria's basement, past the KL Convention Center and the Aquarium, up the escalator, into an aerial tunnel and through to the Pavilion Mall, which has (only slightly) fewer designer goods than Suria and some great eating.
Instead of using the foot tunnel, you can walk through KLCC park to the KL Convention Centre, a really nice if sweaty 10-minute walk. You get great views of the Petronas Towers and of the attractive As Syakirin Mosque (refurbished in 2009 to fit as many as 12,000 people.
Don't feel like walking from KLCC to the Pavilion? Take one of the free buses parked outside KLCC: just ask one of the valets strategically positioned at the KLCC street entrance.
Central Market
Not all shopping is on this massive luxury scale, however.
Take the lovely Central Market, an interesting Art Deco building filled with small shops and souvenirs and an acceptable Thai restaurant on the top floor. After a few hours of Kuala Lumpur sightseeing in the heat and humidity – KL's temperature is hot all year-round – you'll welcome the air conditioning. (Much of my sightseeing in KL was dictated by a mixture of cool air proximity and guilt at the energy waste of air conditioning).
The building itself is interesting and was originally built as a market in the 1880s by the then British administration. It is a protected Heritage site now, a status that has already saved it from destruction. For some reason it reminded me of Istanbul's Grand Bazaar – just a feeling, because they don't look anything alike and the bazaar is huge by comparison. But the bustle was there.
You can hope on the GOKL free city bus service from various parts of the city – there's a stop just outside Central Market. It's on the purple line (KLCC is on the green line).
Kuala Lumpur's Chinatown
Eating is one of the best things to do in Kuala Lumpur, and Chinatown is where you'll head if you're hungry – unless you dislike extraordinary Chinese food. Start on Petaling Street and search for the narrow alleys that lead off it. Here are a few Chinatown food recommendations by someone who knows. (And if you're celiac, there are plenty of gluten-free food options in to try during your Kuala Lumpur trip).
It's busy and packed with tourists and locals and people who look so bewildered they might have wandered in by mistake. Once inside, though, it's difficult to tear yourself away from this busy place.
It's a pretty heady scene and not great if you hate crowds or are in any way squeamish, but it is certainly one of the more authentic places to see in Kuala Lumpur.
If this isn't quite your scene, or you don't have enough time to wander all over town or if you'd rather have the best morsels selected for you, try this half-day walking food tour with a Kuala Lumpur guide − these guides love what they do and all you have to bring is your appetite.
You can also get some serious (though questionable) shopping done in Chinatown, like one of these "absolutely authentic" $3 ICE watches.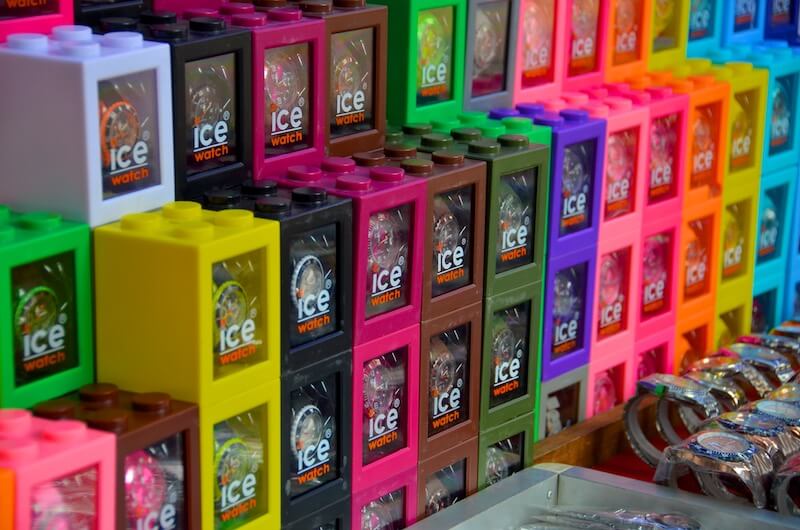 Little India
"Little" is the key word here – adjoining Chinatown is Little India, a handkerchief-sized neighborhood in which you'll forget you're not in India, at least for a few minutes. You'll find plenty of cheap goods, saris, cloth and food. Walk around and enjoy but don't blink or you might miss it.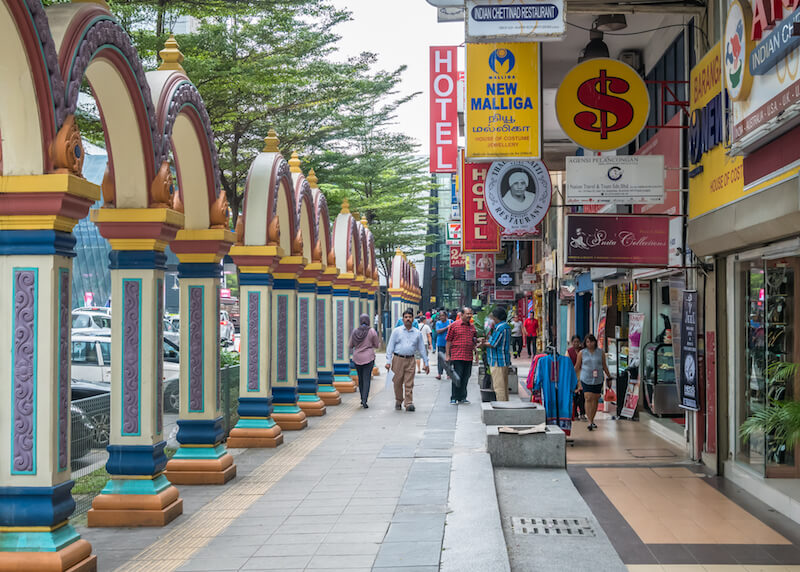 Street art
As is happening in Georgetown, Penang, there's some very cool street art popping up around central KL. Once dull buildings on Jalan Tong Shin, Tengkat Tong Shin, Changkat Bukit Bintang and Jalan Alor are now painted with stunning murals depicting vibrant Malaysian jungle and wildlife scenes.
And so many more cool KL things to do…
With these Kuala Lumpur attractions you will have seen the "main" sights but if you have a bit more time, here are some more top things to do in Kuala Lumpur.
Lake Gardens (also known as Tun Abdul Razak Heritage Park) are right in the center of town, a huge and glorious park that includes a Bird Park, a Butterfly Park, an orchid garden, the planetarium and much more (ideal if you want a break from the city's urban vibe and quite safe, filled mostly with families) – one of the fun things to do in KL for nature lovers.

At the southern end of Lake Gardens you'll find both the National Art Gallery and the National Museum, both worth seeing when you visit Kuala Lumpur.

Just a kilometer away is the National Mosque – you don't have to be Muslim to visit (as long as no prayer services are taking place)

If you love heights (gulp) and want a sweeping view of the city, head for KL Tower (and for the more extreme among you, there's a Sky Box with a glass floor. Some people might consider this one of the most fun things to do in Kuala Lumpur. But me? Not for a million dollars.

Batu Caves are often considered to be a Kuala Lumpur must see (you might want to take a tour to get out there)
If your time is really limited and you simply cannot organize things on your own (it happens to me often when I'm just passing through a city), consider taking a Kuala Lumpur city tour or a small private or group tour to see some of the sights.
Kuala Lumpur may be tall and just a bit bombastic but it is energetic and friendly, the food is divine and the people who live here are rightly proud of their city. There's something human about its gigantic size, more so than Bangkok or Hong Kong in my personal opinion; perhaps it's the distinctive neighborhoods and the diversity of the city's population. 
The city stands apart from the rest of the country, vastly different from, say, Penang or Borneo or the islands. But there's no denying its modern fast pace, a true Asian city. It's not to everyone's liking, but to me it's one of the more welcoming cities in the region.
Is Kuala Lumpur safe for solo female travel? Yes, with one exception: petty theft. Don't let your belongings become a target because snatch and run is all too common.
Whatever the reason, KL is a city worth visiting – at least once, if you've never been, and probably again simply because you'll like the city.
---
KUALA LUMPUR AT A GLANCE
This section updated by Kirsty Perret of World for a Girl Family Travel Blog
Top 5 Kuala Lumpur attractions
Experience living Hindu culture at vibrant Batu Caves and pose for pictures on the magnificent rainbow staircase. 

What to do in KL if you need a nature boost? Traverse wooden canopy walkways over lush tropical rainforest in the heart of the city at KL Eco Park in the shadow of the iconic Menara Tower.

One of the most fun things to do in KL at night is to sample the very best of Malaysian street food at one of the traditional Pasar Malams (night markets) held nightly in various locations throughout the city.

Explore the flora and fauna of tropical Malaysia in Tun Abdul Razak Heritage Park (also known as Lake Gardens) with a visit to either the fabulous KL Bird Park or Perdana Botanical Garden.

Discover the spiritual soul of multicultural KL with a short self-guided stroll downtown taking in a mosque, a cathedral, a Hindu temple and Chinese temples, all within 60 minutes.
Top 3 off-the-beaten-track places to visit in Kuala Lumpur
Experience the opulence of colonial era Malaya with a luxurious afternoon tea in the Orchid Conservatory at the Majestic Hotel, an eclectic mix of tropical flowers, curry puffs and bellboys wearing pith helmets!

For something a little different, have breakfast at the superb artisan German Bakery Der Backmeister in the leafy suburb of Taman Tun Dr Ismail (TTDI). Then join the urban hikers, macaque monkeys and monitor lizards on over 5 km of trails through lush rainforest at TTDI Park/Bukit Kiara.

Learn the fascinating craft of pewtering at the Royal Selangor Visitor Center. Tour the world's largest pewter factory and create your own pewter dish or jewelry.
Women need to be aware that…
Despite Malaysia being a Muslim country, you don't need to fully cover up except when entering a place of worship. Non-Muslim women (mainly Chinese Malaysian) wear Western-style clothing everywhere so it's perfectly acceptable (just remember this remains a conservative society so dress accordingly, especially women traveling alone).
You can't leave Kuala Lumpur without buying…
A handmade item crafted from a classic Malaysian fabric such as batik, a great reminder of your Malaysia travel adventure. You'll find some great buys in Central Market. If you'd like to spend more, the handmade woven bags available at Kaleidoscope in Publika Mall, Mont Kiara are fabulous.
If you're a zero waste traveler, female entrepreneurs are rocking the sustainable lifestyle market in KL. If you need to refill your essentials, check out the UN award-winning The Hive in Bangsar.
You can't leave KL without trying these three foods
Nasi lemak, the quintessential Malaysian breakfast dish of spicy coconut rice, boiled egg, peanuts and sambal. Don't be put off by the obligatory side of ikan bilis (fried crunchy anchovies) – by the end of your Malaysia trip you may be addicted to them!

Cendol, a sweet and gooey dessert of shaved ice, green strands of dough called 'cendol', coconut milk and lashings of syrup.

Hawker-stall staple mee goreng, stir-fried noodles, meat, seafood, vegetables and lots of sambal.
(Ed. Note: Speaking of food… I highly recommend the dumplings at Suria's sixth-floor Din Tai Fung, which has branches all over Asia; not recommended: the Spice of India, surly young waiter included.)
For Malaysian favorites, try Little Penang Cafe and Madam Kwan's chains, good value for your money. There are branches of both in Suria and Madam Kwan's is also in Pavilion.
Where to stay in KL
Here are some of the best hotels in Kuala Lumpur for every budget:
If you travel alone in Malaysia, you might consider a hostel. The Bed KLCC is a welcoming hostel with a little bit of class. It's located in the heart of KLCC and has a huge selection of different room types from individual pods to family rooms.
Big M Hotel is a good bet if you're looking for cheap accommodation within walking distance of Merdeka Square and Chinatown. Just be aware that some rooms don't have windows.
Tian Jing Hotel is hidden away from the crowds in Chinatown. Beautiful dark wooden furniture gives the hotel a classy post-colonial feel.
Regalia Suites in Chow Kit is a huge apartment complex with 1-bed studio apartments. There's a (busy) rooftop pool with amazing views over the KL skyline.
**Personal recommendation** The Kuala Lumpur Journal Hotel in Bukit Bintang. Views, location, amazing breakfast and a retro rooftop swimming pool. 
Traders Hotel Kuala Lumpur comes with the best views of the Petronas Towers from anywhere in the city. This is a sleek, five-star hotel is just moments from most major sights.
KL transportation options
Public transport is pretty confusing and new lines are opening all the time.
You can no longer pay cash on buses – an inconvenience for short-stay tourists. You need to purchase a My Rapid Touch 'n Go card and put credit on it.
Grab is Southeast Asia's Uber equivalent. It is huge in Malaysia and most locals and tourists use it to get around. If you download the app, you can book and pay cash to the driver, which is useful for tourists (or you can add your credit/debit card details). It's cheap and well-regarded, a great way to get around to all the things to see in Kuala Lumpur.
If you're looking for things to do near Kuala Lumpur, you might consider a private car and driver to take you on a day trip from KL.
For more great information about what to see in Kuala Lumpur, check out these great sites
Updated on 21 February 2023
SHOP THIS POST ON AMAZON
PIN THESE PICTURES AND SAVE FOR LATER!