When we think "French coast" the Riviera tends to come to mind, or perhaps Brittany.
Rarely do we think of the France Basque country.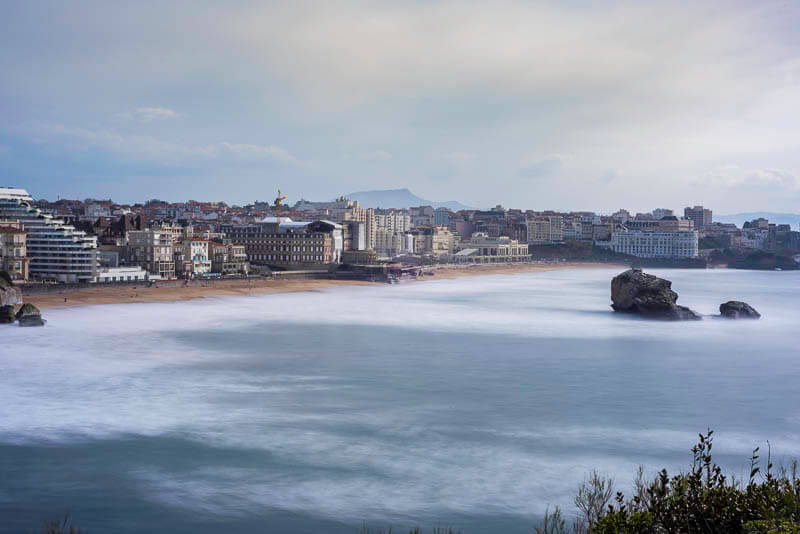 The words "Basque country" usually shoot me straight to northern Spain, to places like Bilbao and its Guggenheim Museum or to the coastal city of San Sebastian and its innumerable Michelin stars (16 at last count in this city alone).
Those same words also catapult me into contemporary Spanish history, with its Basque bombs and separatist movements which made much of the Basque region in Spain a no-go zone in the latter part of the 20th century.
YET THERE IS A GLORIOUS BASQUE COAST IN SOUTHWEST FRANCE
To some, the mere existence of a French Basque region might come as a bit of a surprise: yet it has around 15% of the Basque population (the rest is in Spain) and is home to three of the seven Basque provinces (the other four are in Spain).
The Pays Basque is also home to some of France's most stunning coastline, a mixture of craggy cliffs and long, sandy beaches, punctuated by promontories with astounding views of the Atlantic Ocean, and of the sunset.
There are interpretations about where the Basque coast starts and ends but generally, it is considered to begin in Bayonne and carry through to Hendaye, at the Spanish border.
This southwest France map will provide you with a simple coastal Basque country itinerary.
BIARRITZ: BLUE RINSE PEARLS WITH A MODERN TWIST
To most French, the name Biarritz evokes luxury, grandeur, elegance… and rightly so.
It has long been a cosmopolitan resort, given it's superb beaches and mild climate.
Take the British, who always uncover a perfect holiday spot before anyone else. After some fighting in the region in the early 19th century, they liked the area so much they began to visit regularly. As is the case in other French destinations favored by the British, like Aix-les-Bains for example, an Anglican church was built and part of the cemetery set aside for British residents.
The British weren't the only foreign visitors, and one would eventually make an indelible impression on the small town. The Andalusian Countess of Montijo was fond of Biarritz and brought her daughter Eugénie to vacation here, visits little Eugénie would not forget when she eventually married Napoleon III and became Empress of France.
He built her the Villa Eugénie, now the Hotel du Palais, and Europe's royalty converged. Eventually, Biarritz would be adopted by movie stars, musicians, artists, and everyone who was anybody. As their numbers swelled, they built homes for themselves and the luxurious mansions still dot the craggy hills that line the sea. These days, they have been converted to apartments or co-ops but they remain preserved.
But then Biarritz took a bit of an unexpected turn.
While filming The Sun Also Rises, the film's scriptwriter (Peter Viertel, actress Deborah Kerr's husband) decided to try out his California surfboard. Locals were at first curious and eventually enthralled, so much so that Biarritz became Europe's surfing capital.
Today, it has no fewer than 18 surfing schools, plenty of surf hostels and surf shops throughout town.
As you amble through some of the town's more sophisticated shops and neighborhoods, elegant ladies with a blue rinse and pearls will nod a polite Bonjour to a barefooted youngster toting tattoos and a surfboard. The fact that (unlike many French resorts) there are no private beaches here means everyone mixes.
And that's part of Biarritz's paradox, its contemporary charm.
Things to do in Biarritz
One of the most pleasant things to do in Biarritz is simply to walk - along the 6km of beachfront, the promenade that swings around the coast, or up and down the hills, catching a glimpse of empire, Art Nouveau or Art Deco mansions.
My favorite beach is the Grande Plage, and I don't tire of admiring the Art Deco casino that stands at the top of the beach. Just sit and sip a drink or coffee and wait for the sunset, watching the waves, a paradise for surfers but less welcoming for the average swimmer.
And then there's food.
Let's not forget Biarritz is part of the Basque country of France and you'll find gastronomic wonders scattered throughout the city.
On Saturday morning, go to Les Halles, the main market, and grab some finger food for a fabulous picnic. Head to the promenade by the sea, where you'll always find an empty bench. Settle down and gaze out to sea as you munch on lunch.
If you're in love with Basque tapas (known as the pintxo, it is a tapa mounted on a piece of bread and usually held together with a toothpick) then you'll find half a dozen cafés bordering the market where you can order a few of these. They tend to be large and half a dozen will fill you up as much as a light meal. Some are quite innovative and will mix four or five ingredients unexpectedly - chorizo, mayonnaise, anchovy, peppers and olive, for example.
And while I'm at it, here's my favorite of the bunch: Puig & Daro, half-pintxo half-wine bar, with the absolute best pan-seared chipirons, or baby squid. This place is so good you may have to stand in line for a seat, especially on weekends - but it's worth it.
Top it all off with ice cream from Dezamy…
You'll also find branches of the best Basque pastry shops and chocolateries here. Drop by Henriet for some originally designed chocolates or my favorite, marzipan. If you're not going further inland into the Basque country (I do hope you find the time!) then at least try some of the regional specialties - Espelette peppers, cured Basque ham, or foie gras if you're so inclined.
RECOMMENDED BIARRITZ HOTELS
Upmarket: Hotel du Palais, for unbridled luxury – Empress Eugenie's former home
Mid-level: Café de Paris, right at the top of the Grande Plage – can't beat the views
Budget: Karitza, modern, 10m walk to market, amazing breakfast and parking
There are plenty of sights in Biarritz. A look at the Biarritz Tourist office site will give you a good idea of things to do: golfing, spas, various museums, but to me, roaming is the best entertainment. Just hop on one of the free shuttle buses and wander into little-known parts of town (hopping on buses remains one of my preferred ways of seeing a place).
The shuttle bus was one of my most rewarding experiences in Biarritz.
I'd already noticed the friendliness of people here. If I was speaking English on a street, someone would inevitably stop to chat or help. I'd barely set foot on the shuttle and there I was, in a full-blown conversation within minutes with five women I'd never met.
They were incredibly willing to share part of their fascinating stories.
You may be aware that the Spanish Civil War ended in April 1939. The war killed hundreds of thousands and many people fled Spain on the losing Republican side (the ones fighting against Francisco Franco, who would eventually become dictator of Spain). They came to France, some with nothing more than the clothes on their backs, leaving homes and land behind.
One lady on the bus was carried across the mountains in a backpack by her mother. Another was spirited here by alert grandparents.
These ladies all shared a Basque past. As children, they lost their language as they tried to integrate into France and leave a painful past behind. Today, their own children and grandchildren are finding renewed pride in their heritage and helping revive an ancient culture.
The Basque language, in case you're wondering, is unique and has no equivalent on earth. In fact, no one knows its origins - it's a mystery shrouded in time, one of the oldest living languages: Basques have been around at least 5000 years. It's a bit disconcerting to see bilingual signs along the roads, especially in the interior - in French and in Basque.
A SIDE TRIP TO ANGLET
Anglet is all of a ten-minute drive (or bus ride) from Biarritz. It is delightfully different, a bit of a green paradise, with its 11 beaches and cool pine groves, ideal for walking or biking.
I went to Anglet for two specific reasons: art, and wellness.
Art first.
Have you ever wanted to go into an art gallery but felt intimidated? Under-dressed? Under-financed? Or uninitiated?
I certainly have, yet I love art. Mostly, I have to see it in museums because I often don't feel at ease in an uber-expensive gallery, where even looking at the price will make me swoon.
Well, I inadvertently discovered the perfect place for me: Art-Traffik, a delightful gallery that's more like the owner's living room than a snobbish venue.
The owner, Laurent Jeanniard, is a former marketing strategist turned "art traffiker". He is full of innovative ideas and his idea is to turn art into a community event. He wants us to shed our preconceived notions about the art world and reinvent our relationship to art.
Yes, he has a gallery and yes, the art is for sale, but at reasonable prices (he takes a smaller commission than traditional art sellers). He exhibits known artists, but also up-and-coming ones. You'll never be pressured to buy anything but you will feel welcome (I was a bit cheeky - I spotted a coffee machine behind the bar and couldn't resist asking for a cup!)
Laurent's dream is to remove our reservations and complexes about the art world - and I love his credo: art is beautiful, and beauty will save the world.
"Art is like wine: you like it or you don't like it. If you educate your nose, your experience will become more intense. Art is the same thing. You need to see it constantly, to educate yourself, and listen to your emotions."
Some people simply love art. When Laurent was a young business student, his fridge was often empty as he spent every penny scouring the studios of yet unknown artists and building his own - now substantial - collection.
It did take me a few minutes to find Art-Traffik because it's in a warehouse behind a warehouse with a fallen sign… so do yourself a favor and get in touch with Laurent and his team - they'll pick you up in their shuttle, a whole lot easier than finding it yourself. And please say Hi from me! (His website is still in French but click on Contact and write in English - it'll do the trick.)
Once you've spent an hour or so admiring art and having a passionate discussion with Laurent, it'll be time to nourish the body…
Le spa…
A welcome change of pace was the Atlanthal spa in Anglet, near Biarritz, where I was a guest for the afternoon and sampled several different relaxing treatments.
This particular experience involved a whirlpool bath with two different essential oils, a 50-minute muscle-loosening massage and a shea butter wrap (I was slathered with the butter, then wrapped in plastic and covered in a heated blanket!)
Total cocooning! Everything is provided (I was empty-handed when I appeared): a bathrobe, a towel and plastic sandals. You're given a card with a list of all your treatments. Each treatment takes place in a different part of the spa, so you move among sections, place your card in a slot, and wait for someone to fetch you when it's your turn. It's easy even if you don't speak a word of French, because your card has all the necessary information.
I don't know if you've ever been to a spa in France – and I can't compare because I've never been to one OUTSIDE France but here, you usually go for a short week. Each day, you have 4-5 "soins" or treatments – a massage, drip shower, mud wrap and many more to choose from. I couldn't stay a week but even an afternoon left me feeling light and energized.
ST JEAN DE LUZ, STILL AN ACTIVE FISHING PORT
One of the striking things about the coastal French Basque country is how close everything is. Going on a "day trip" basically means driving 15 minutes to another delightful - but altogether different - town.
Here in St. Jean de Luz (also written out as Saint Jean de Luz), about half the size of Biarritz, life is very different. The town is less of a resort and more of a 'working town'; sardines, anchovies, tuna - all these make this little village France's sixth fishing port in terms of income. In fact, the town has earned a coveted label for its line-fished hake, a type of cod. Walking along its compact port, just follow your nose to the boats, the restaurants or the lovely market a block away.
Many tourists do come because it happens to be right on the Paris-Spain train line, the perfect place to find Basque coastal authenticity without the crowds. Watching the fishing boats come and go, you'll almost forget that a few meters away, stylish shops and cafés are brimming with visitors.
An interesting building is the Maison Louis XIV, which dates back to 1643 - this is where the Sun King stayed during his wedding celebration with the Infanta of Spain, Marie Therese. Unusually, the building still belongs to the same family that built it so long ago.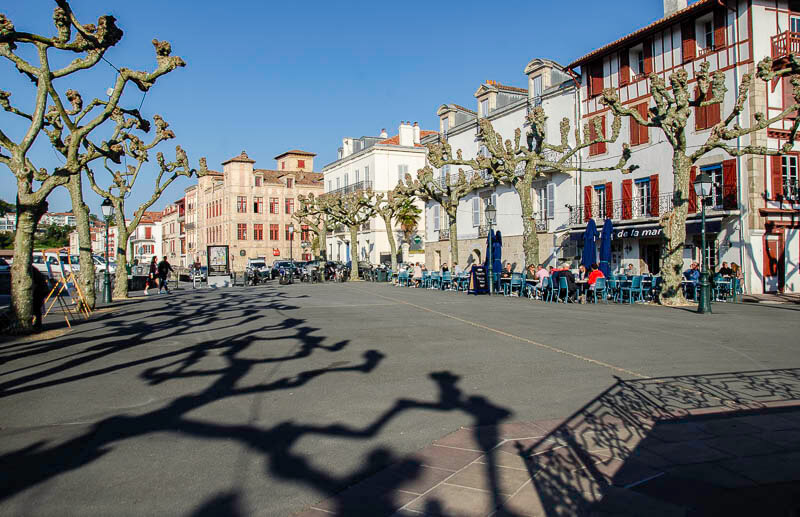 Napoleon III (nephew of the first of the name) also left his mark on this small town, as did his wife Eugénie.
On a particularly tempestuous sailing, her life was apparently saved by local fishermen so she gave the church a small model ship (which still hangs from the ceiling). Perhaps more significantly, her husband built three earthfilled dams across the bay of St Jean de Luz to protect it from storms and keep crashing waves out.
The church is well worth a visit, built as it is to look like a ship's hull, chestnut galleries and all. It is also where Louis XIV and the Infanta (the princess) Maria Teresa were married, although the door through which the royal couple entered no longer exists.
St Jean de Luz is also home to many artesanal enterprises, with shops that have been in the same family for generations. Take Pariès, a fifth-generation pastry shop which started in Bayonne but which has greeted patrons on the main street of St Jean de Luz for more than a century.
A stop here means lining up at the counter because it is always busy - people come long distances to buy their specialties, some of which are world-renowned. One of the more famous creations is the muxu (pronounced moo-shoe), which looks just like a French macaron – but isn't. It is less crumbly and comes in five flavors - sweet almonds, chocolate, hazelnut, pistachio, and coffee (my favorite).
Another specialty is the kanouga, a delicious melting caramel (it's hard to eat just one). Finally, and perhaps most typical of the region is the Basque cake, with a crunchy exterior filled with an almond paste and black cherry jam. A bit sweet for some, it's a must-try if you're culturally inclined.
DOWN THE CORNICHE BASQUE
The coast after St Jean de Luz, as you head towards Spain, becomes wild and winding. You can easily drive it but if you'd like to see it more closely, this electric bike trip will allow you to savor and breathe in the sea air while engaging in a (light) workout. 
The Splurge: Once-in-a-lifetime Basque country experiences
Before you reach the France Spain border you can make one more stop - Hendaye, with its beautiful bay and its well-preserved Basque houses that line the seafront. Don't miss the quirky neo-gothic Chateau d'Abbadia, built by an explorer and scientist, themes carried through its architecture and furnishings. Sadly, the tour is only in French.
RESOURCES FOR YOUR HOLIDAYS IN SOUTH WEST FRANCE
The coastal region is perfectly safe for solo female travelers. Many retirees live here, often older women with reduced mobility. However, as is the case anywhere in Europe (especially where there's some money), do keep your wits about you, avoid dark streets at night, and leave the bling behind.
If you walk with difficulty, beware the hills - especially in Biarritz proper. Streets can be steep, but you'll also find quite a few steps that make climbing easier.
If you're visiting off-season (not in summer) the ideal way to visit the region is by renting a car and taking a road trip. If you don't drive, there's an extensive shuttle bus system that links the various cities in the Basque region (sadly the website is still in French only).
Check out the best hotel deals in the basque region with booking.com (they price match).
As always, make sure you get your travel insurance before traveling to France (check out World Nomads or if you're older than 66, have a look at these attractive alternatives).
The Basque Tourist Office provided Women on the Road with three nights' hotel accommodation in Biarritz, walking tours in Biarritz and St Jean de Luz, and treatment at the Atlantal spa in Anglet.
SHOP THIS POST ON AMAZON
PIN THESE PICTURES AND SAVE FOR LATER!