Can't decide which things to do in Bangkok in three days? Overwhelmed with choice?
If you're planning a trip to Thailand for the first time and planning to spend 3 days in Bangkok, using the Chao Phraya River as your map will cover most of the things you want to see in Bangkok in two days – with the third day left for those attractions that are further away.
TWO DAYS IN BANGKOK ALONG THE CHAO PHRAYA RIVER
I suggest plying the shores of the Chao Phraya on a Bangkok riverboat because once you've seen all the attractions along the river, you will have seen much of what Bangkok has to offer, at least for a first-timer.
The transliteration of the river's name in English is usually Chao Phraya – but you'll also see it spelled Chao Pra Ya, Chao Praya or Chao Phya. Don't worry, it's the same river.
First thing to know is where to catch the boat…
Ride the BTS Skytrain to the station called Saphan Taksin on the Silom Line. Get off and follow the crowds' general direction towards the river. It might seem a bit confusing at first, so hang back and look around.
To your far left you'll find the free boats to Iconsiam (more on this below) Mall during the day and Asiatique mall in the evening.
Next to that, also to your left, are the tourist express boats, also known as Blue Flag boats. They're a bit like the hop-on hop-off buses, only on the water. They zigzag across the nearest piers, stopping at those with major tourist attractions. If this is your first boat ride, this boat is the easiest and will help you get your bearings.
Next to the Blue Flag boats are the orange flag ones (yes, you can tell by the flag colors), which are more like local ferries and far cheaper but also far more crowded. If you know your way around the river, go for it!
If you happen to be staying at one of the Bangkok hotels on the river, check if they have a free shuttle – many of them do.
You could also take a longboat, but only if you're keen to explore the khlongs, or canals, that lead off from the main river. They're quite expensive but can be a good deal if there's a small group of you. Not recommended for the solo traveler, however.
So go up the river on your first day, stop where you want, and come back the second to see what you didn't have time to see…
ICONSIAM, THAILAND'S LARGEST MALL
Few things exemplify modern Bangkok more than the giant shopping mall – and none in Thailand is larger than Iconsiam.
And if I've started this list with a mall, it's not because I advocate shopping (even if this mall does have Thailand's first ever Apple store) but because it's the first stop as you head North on the Chao Phraya River, just across from the main Sathorn Pier (located at the Saphan Taksin BTS station). Bonus: Iconsiam has a free ferry that runs every few minutes to and from the central pier.
If you're cultured out and in need of a break from the heat or from religious buildings, welcome to the blast of air conditioning, mountains of food of every possible kind, a Japanese department store and so much more.
And if you happen to be a sushi enthusiast, head through the food court and into Takahashi department store. Walk to the back where they sell fish – and you'll find amazing sushi at even more amazing prices.
RATCHAWONGSE: GATEWAY TO CHINATOWN
One of the oldest and most interesting neighborhoods along the river is Chinatown, where food is king. Get off at Ratchawongse (stop N5) and head for Yaowarat Road, Chinatown's main street.
Wander around for an hour on your own, sampling food or shopping for gold, or, as suggested by Claudia of My Adventures Across The World, take advantage of one of the many food walking tours in this part of town. It's a great way to discover what the city has to offer and to get a better understanding of the local way of life, and of Thai history and culture.
Food tours typically go to Chinatown, visiting the Flower Market, which is open 24/7, a few small temples, and finally stopping off at street food stalls to try a few local specialties, including egg and glass noodles with shrimps, chicken and eggs, seafood dishes such as grilled squid and scallops, and Thai-style dumplings.
If you're headed to the Flower Market on your own, catch the boat upriver – it's the next stop after Chinatown.
WAT ARUN, TEMPLE OF THE DAWN
Of all the Bangkok temples, Wat Arun (Temple of Dawn) is perhaps the most iconic and is best approached from the water.
The Wat is known for its magnificent bright white þrahng (Khmer-style tower), decorated with intricate mosaics and statues that start at the base and go all the way to the top. Even for someone with temple fatigue, Wat Arun is breathtaking.
As is the case when visiting temples in Thailand, cover your knees and shoulders.
Cat from Walk My World says to go early in the morning, at dawn if you can, to avoid the crowds (another good time to visit is in the evening, at sunset, with reflections dancing on the water). People do climb partway up, but the stairs are quite steep so if you have vertigo, beware.
WAT PHO AND THE RECLINING BUDDHA
Just across the river from Wat Arun (and next to the Grand Palace) sits Wat Pho, one of the most important temples in Bangkok.
Founded about 250 years ago, it is more than a simple building – it is a whole complex of structures that represent some of the best of Thai religious art. The highlight of Wat Pho is the gold-plated reclining Buddha, at 43 metres long one of the largest in the world. There are 108 metal bowls around the statue where people drop 108 coins.
My friend Michael from Time Travel Turtle says to make sure to take note of the soles of the feet, inlaid with mother-of-pearl. There are also some magnificent stupas decorated with colourful tile designs. Even the rooftops of the main buildings are delightfully colorful and detailed.
CHETAWAN TRADITIONAL MEDICAL AND MASSAGE SCHOOL
The art of massage therapy in Thailand dates back 2,500 years and the oldest Thai massage school happens to be located within Wat Pho's walls. Not only does the school teach the art of Thai massage, but it also offers massages to the general public, possibly a welcome thought after all that walking.

Traditional Thai massage is quite different from other massages you may have experienced. You'll be fully clothed during the massage, and no oils are used on the skin. The massage therapist applies a great deal of pressure (trust me, this can hurt!) and uses compression and stretching techniques.
Sabrina of Moon & Honey Travel tells us that the massage takes place on a floor mat in a large pavilion next to other recipients but this sounds weirder than it actually is. Just make sure you're there at least 90 minutes before closing time.
And a word of warning: Several websites that use "Wat Pho" in their business and domain name, but have no affiliation with the real school. Make sure to double-check the official Wat Pho website for their massage school locations.
GRAND PALACE, THE HOME OF KINGS
Right next to Wat Pho is the Grand Palace, built in 1782 and home to the Thai King and his government for 150 years.
Now open to the public, it is a complex of ornate temples, throne halls and government residences, many covered in gold or painted in bright colours. Although this popular attraction can become very busy, it is well worth a visit for a fascinating insight into Thai culture and creativity.
Tha Chang (N9) ferry stop is about a five-minute walk from the entrance of the Grand Palace. Travel Blogger Emily Luxton warns us there is a very strict dress code at the palace. No vest tops, short skirts, or see-through clothing. A booth at the entrance will lend you appropriate clothes (a deposit is required), but they tend to be quite thick and heavy. It's better to dress in long, light clothing of your own if you can.
If the Chao Phraya isn't enough water for you, why not visit the Floating Market on a private boat tour?
AND THIS IS WHERE YOU GET YOUR AMULETS
Located close to the Royal Palace, between the Chao Phraya River and Maharat Road is the Amulet Market, or Phra Chan Market. This hundred-year-old market specializes in Buddhist and Hindu amulets, little statues, and unusual trinkets.
Despite its central location, the Amulet Market does not see many tourists so it is a good chance to enjoy a little bit of local life.
According to Elisa from World in Paris, you'll find amulets against evil spirits, for levitation or even to ward off bullets. Amulets are popular in Thailand, especially those that bring good luck and money.
You'll see these amulets everywhere – around people's necks or hanging on rear-view mirrors or in houses. They can be extremely cheap or impossibly expensive, depending on how rare it is and on the vendor's storytelling abilities. Of course, this is a good place to practice your haggling skills.
KHAO SAN ROAD: BACKPACKER HEAVEN
The blue express tourist boat ends at Phra Arthit, jumping off point for Khao San Road.
If your first trip to Bangkok was as a backpacker, there's a good chance you may have been here. I visited more out of nostalgia and in the morning, things are calm. This place begins hopping when the lights come on, the market stalls come out and the beer begins to flow.
When I first arrived in Bangkok as a starry-eyed student in the 70s, this street seemed exotic and seedy and exciting, part of a world of hippies who had journeyed across Asia, and this was their promised land.
Visit the National Gallery while you're in the neighborhood. And if it happens to be breakfast time, stop off at Jaywalk for some absolutely amazing pancakes and espresso.
When you get off the ferry, you'll walk through a narrow indoor market passage. Turn right at the end and cross the street – Jaywalk isn't far (and probably gets its name from the fact that you have to cross in the middle of the street!)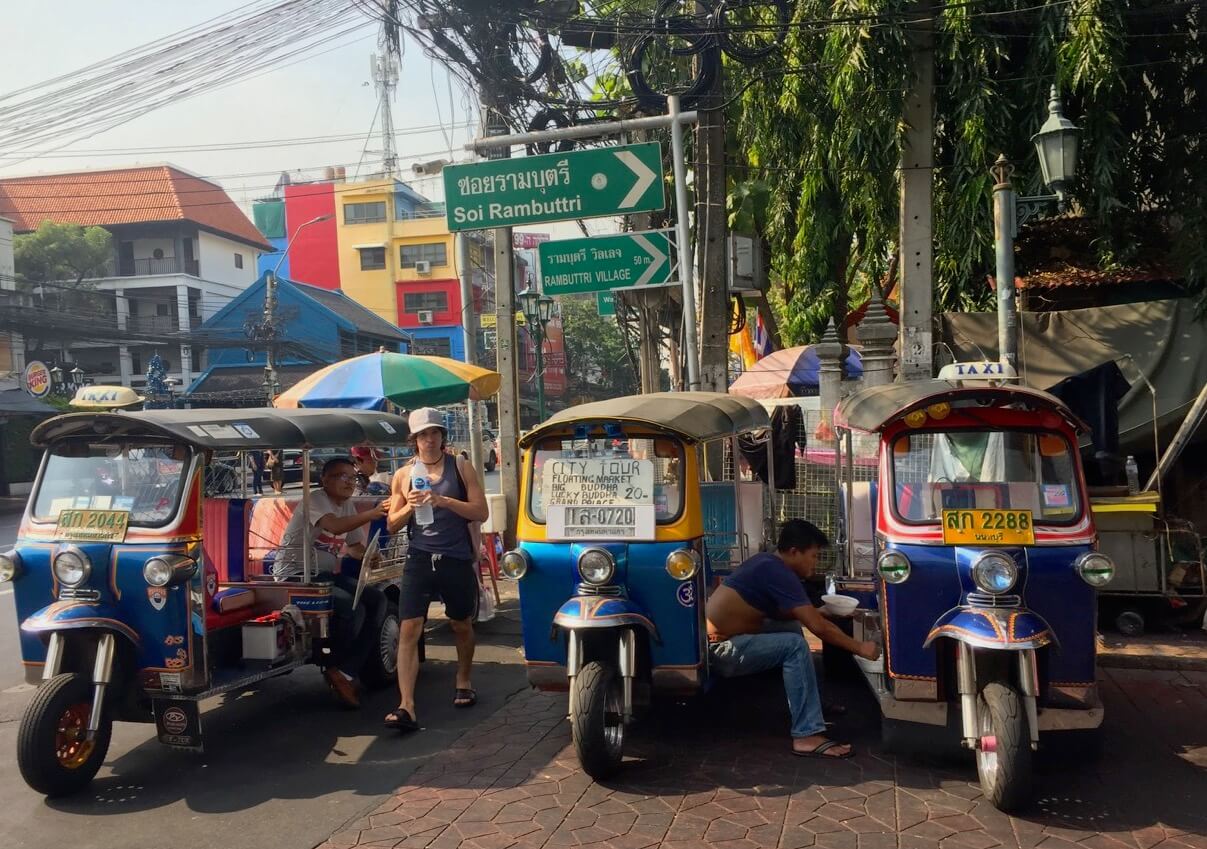 EVEN FURTHER NORTH: PAYAP PIER AND FLORAL CULTURE
The tourist boat doesn't go this far but you can easily take an orange flag ferry to Payap Pier (N18) and see something few tourists get to: the Museum of Floral Culture, one of Bangkok's newest, and more serene, museums (you'll find it at 315 Samsen Road Soi 28).
Katie of The Accidental Australian suggests a stroll through the peaceful zen garden after your museum visit, and perhaps a taste of delectable Thai sweets at the on-site cafe. Throughout the museum, elaborate floral arrangements and displays are combined with historic exhibits, and the museum is a delight to the senses.
If you still want to see more of the river, you could head all the way north on the green flag boat, which goes to the last pier, N33.
But there's plenty to see before and with only 3 days in Bangkok, I'd suggest an overview with the blue flag express boats on Day 1 and a more in-depth exploration on the orange flag boat for Day 2. The final day can be spent exploring venues that don't happen to be along the river.
You could also go the other way: South. The main destination south of Sathorn Pier is Asiatique, which has a free shuttle in the late afternoon and evening. I haven't been but I'm told it's both fun and a bit touristy: what do you expect, with 1500 boutiques and 40 restaurants?
3 DAYS IN BANGKOK: THINGS TO DO IN BANGKOK ON THAT THIRD DAY
After two days visiting attractions along the Chao Phraya, you'll have one day left for everything you haven't seen. Here are a few suggestions of quirky or fun things to do in Bangkok that are NOT on the river…
Visit Jim Thompson's house
When you think of Bangkok, you invariably think of beautiful temples and buzzing nightlife, which is why finding Jim Thompson's house in the middle of the busy city feels like such a respite.
If you've ever admired the silk shops at Suvarnabhumi Airport and elsewhere in Thailand, you can thank Jim Thompson. The American expat is credited with single-handedly revitalizing Thailand's then-moribund silk industry. An architect, he loved Thai art and culture and his house was built to show off his many Thai artworks.
One day in 1967, Thompson disappeared while on holiday in Malaysia, sparking Southeast Asia's largest manhunt.
The mystery remains unsolved.
There are guided 40-minute tours that give more information and silk is woven using traditional methods in the open courtyard. Priyanko from Constant Traveller says it's a great place to learn about Thai silk and purchase them at non-airport prices (read exorbitant).
More than anything, Thompson's house is a welcome retreat from the chaos that is otherwise commonplace throughout Bangkok. You can reach it easily from BTS station National Stadium (exit 1).
Explore Chatuchak weekend market
If you happen to be in Bangkok on a weekend, make the effort to get yourself up to Chatuchak Market. Beware of getting there though – there's a station called Chatuchak – don't get off there. Go to Kamphaeng Phet instead. Follow everyone else and you'll see the stalls. With its 8000 stands, expect to get lost – but it's fun.
I didn't visit the pet section but I've been told it's full of animals in captivity, of all sorts.
Enough said!
One way to look at the beauty of Thailand's capital at night is by taking a Bangkok river boat dinner cruise – there's the food, of course, but I'd be hanging over the edge taking pictures the entire time…
And now for something completely different: a couple of hours at the Art of Paradise, or 3D museum, as it is known locally, will fill you with fun and wonder – at least it did Nisha and Vasu!
Located at Esplanade Shopping Mall on Ratchada Road, the museum has several large rooms, each with irresistible artwork. Watch others trying to pose on a surfboard or inside a bottle – if you can twist your eyes and your mind to comprehend fictional waterfalls, waves, and an abyss at your feet.
Markers with arrows line the floor to provide visitors with the best angle, and if you look in a few hidden corners, you'll find photos taken by previous visitors that will help you understand which pose works best with each scene. The Esplanade Mall is located on the outskirts of Bangkok – just get off the MRT at Thailand Cultural Center.
Watch the sunset from sky bars in Bangkok
At the end of the day, when evening comes and the sun goes down, the views across Bangkok can be amazing – and a sky bar in Bangkok is the perfect spot to watch it all.
Don't let the word "bar" fool you – you are welcome to visit any of the sky bars in Bangkok and grab a coffee or a non-alcoholic beverage. Get to your sky bar of choice at least 45 minutes before sunset. Any later and it gets crowded, making it harder to find a good seat.
Nina of Where in the World is Nina recommends two bars, Vertigo and The Lebua (the sky bar where Hangover II was filmed). There are plenty of others and with 3 days in Bangkok, you're bound to catch at least one glorious sunset.
Do note that dress codes exist for most sky bars in Bangkok and your tank top and flip flops won't fly here.
A FEW BANGKOK TRAVEL TIPS FOR SOLO WOMEN
If this is your first time, Bangkok can be overwhelming. Stop, take a deep breath, and choose a single destination or attraction. Then focus on just the one. I suggest you choose Sathorn Pier. Getting there will familiarize you with the city's public transportation system, and navigating the river will show you Bangkok's sights in a slightly more serene manner.

Bangkok is a relatively safe city for solo female travelers, certainly during the day and until late evening in shopping areas or public transport. Like any city, it's wise to stay clear of darker alleys and deserted streets – but then you would, right?

Carry around some a small water mist spray bottle when you're sightseeing during the day. It more or less saved my life and kept me going in the heat. If you don't like those, at least carry a bandanna and keep it wet with your water bottle. But it won't keep you as cool… conversely, keep a light wrap in your bag because the second you step into the subway or a mall, you'll freeze.

Being on your own in Bangkok is easy because service is topnotch and you won't get shunted behind any potted palm. On the contrary, even the best eateries will treat you well when you show up by yourself.

I recommend you get a street map and to my mind, there's only one worth buying: Nancy Chandler's hand-drawn and illustrated map. Yes, there are plenty of more formal city maps but this one is personal, educational and fun!

Even for 3 days in Bangkok, it's good to get to know your public transit because there are many different kinds. The most common and the ones you'll probably use are taxis (they're mostly metered these days so your chances of being ripped off are much lower than in, say, Hanoi). Sometimes, taking a cab costs less than taking the subway, or MRT, the next most convenient form of transportation. And finally, you have the BTS, or the Skytrain, with connects (sort of) with the MRT at several stations across town. (Here's a map.) Tuk-tuks are for tourists, with prices to match.
— Originally published on 03 December 2018
SHOP THIS POST ON AMAZON
PIN THESE PICTURES AND SAVE FOR LATER!