It's impossible to think of the Loire River Valley without instant pictures of the best French castles popping into mind. Yes, there are plenty of beautiful fortresses and structures elsewhere in the country, but the Loire Valley is particularly blessed with the fairy tale castles we dreamed of as children.
Called chateaux in French (pronounced chat-OHH), these magnificent buildings have fascinated visitors for centuries and helped earn the region's World Heritage Site status.
From medieval to Renaissance, 300 chateaux (the plural of the chateau) vie for our attention, although a few do stand out by their size, beauty, or whimsy.
What follows are my own 10 top castles on the Loire – and where they exist, the women's stories behind them.
THE BEST CHATEAUX IN LOIRE VALLEY AT A GLANCE
You'll find details of my choices for best castles of the Loire below but first, here's the list:
Blois: diversity in architecture and murder and mayhem
Chaumont: international garden competition and impressive modern art
Chambord: the largest chateau with an impressive silhouette
Cheverny: hunting hounds (140!) and the inspiration for Tintin's Chateau de Moulinsart
Amboise: fortified chateau and resting place of Leonardo da Vinci
Clos Lucé: Leonardo da Vinci's studio and a garden with replicas of his inventions
Azay-le-Rideau: superb architecture and partly built over water
Loches: its history, linked to famous women, including Joan of Arc
Langeais: superb late medieval architecture to keep an eye on the town below
Chenonceau: known as the 'Ladies' Castle' and one of the loveliest
ARE THESE THE BEST CHATEAUX IN FRANCE?
Let's be honest. However extraordinary the castles of the Loire Valley, they're not the only famous French castles. You'll find equally extraordinary structures in the Pyrenees, in Brittany, and throughout the country, where it seems every town has its castle.
But what sets the chateaux of the Loire apart from the rest is their location: the entire Loire Valley, which goes well beyond these chateaux, is on UNESCO's World Heritage List.
"The Loire Valley is an outstanding cultural landscape of great beauty, containing historic towns and villages, great architectural monuments (the châteaux), and cultivated lands formed by many centuries of interaction between their population and the physical environment, primarily the river Loire itself."
–UNESCO

I've only visited ten but I've listed these from East to West, starting in the city of Blois and finishing off in Tours. The valley itself, of course, extends far beyond, but its heart is in this strip, perfect for a first trip and easy to reach if you only have a few days to visit the region.
BLOIS – MURDER AND MAYHEM
For centuries the Chateau de Blois was the seat of French royalty, and two things stand out.
The first has to do with architecture: its four wings are of different styles, the result of fashion and taste, and the desires of some kings to outdo what others had done before them.
a small corner is left of the medieval fortress between the 9th and 13th centuries
the Louis XII Gothic wing, including an arcade and a dwelling for the royals, with the beginnings of Italian influence and now home to a Fine Arts Museum
the François I Renaissance wing, including the staircase, fully inspired by the Italian Renaissance
the Gaston d'Orleans classical wing – the duke had planned on destroying the other wings and building an entirely new structure (he thought he was going to be king but the birth of a royal heir quashed that plan, he lost his financing and the destruction never took place)
The second reason to visit Blois is to explore its somewhat bloody history.
All French schoolchildren study the assassination of the Duc de Guise (a descendant of the infamous Lucretia Borgia). The duke was the head of the Catholic League, an extremist group active at a time of Protestant rebellion – and he hated the Protestants, who had killed his father. One day, he was summoned to King Henry III's bedroom and as he entered, he was ambushed and murdered by the king's guards (while the king hid bravely next door).
The mayhem didn't stop there. The king's mother, Catherine of Medici, is said to have died suspiciously the following year in another room on the floor below…
The chateau is fascinating to visit and hosts an incredible light show in summer.
CHAUMONT, THE SHOWCASE CASTLE
Chaumont was an unexpected delight. I'm not sure what I thought I'd see, but it was less familiar to me than the more famous ones.
When I arrived, renovations were underway and partially hid the facade. But there was no hiding the grace of the building.
The first castle was built on this site in the 10th century but was eventually confiscated and taken apart to punish its owner for rebelling against King Louis XI. It was rebuilt in the 15th century, with Renaissance flourishes added to the medieval structure, and eventually fell into the hands of Catherine of Medici. She turned it into a cultural salon and received the glitterati of the day, including the astrologer Nostradamus.
In an interesting twist, when Catherine's husband Henry II died, his mistress Diane de Poitiers was living in the lovely Chenonceau (I talk about it below). But Catherine had wanted Chenonceau for herself and "forced" Diane to trade it in for Chaumont. It turned out to be a good deal for Diane because Chaumont was by far the more lucrative property.
But Chaumont is so much more than a chateau and that's what makes it so interesting.
It is an international garden festival. Each year, aspiring gardeners submit their drawings, and the chosen ones are invited to create their gardens on the chateau grounds, where they remain for the season. The gardens help revive interest not only in flowers but in new materials and approaches. The festival is internationally renowned and showcases new generations of landscape artists.
It is a center for contemporary art. The chateau hosts a series of extraordinary artists each year, its walls graced by painters and photographers whose works are somehow connected to nature. Around the grounds, monumental sculptures dot the land, a sharp but intriguing contrast with the medieval and Renaissance buildings. A bit like the Louvre, the modern and traditional just work.
Find out more about the Domaine de Chaumont here.
CHAMBORD – BIG, BARE, BEAUTIFUL
Chambord is one of those incontournables, as they say in French – a must-see. First, this is because of its size, the largest castle in France's Loire Valley. Built as a hunting lodge by François I, Chambord had to wait nearly 150 years until Louis XIV for near completion – and only under the Sun King were the kitchens built. There was little need for them, given the short stays of the itinerant royal household. That said, it took nearly 2000 men nearly 15 years to build.
Chambord has approximately – because it depends on the source – 440 rooms, at least 282 fireplaces, and between 77 and 84 staircases, it's land protected by the longest wall in France.
Three things are supremely striking at Chambord.
The first is the chateau's eclectic roof, strewn with cupolas and bell towers and chimneys and turrets – you won't know where to look. Once you've seen it, you'll always recognize it, even years later.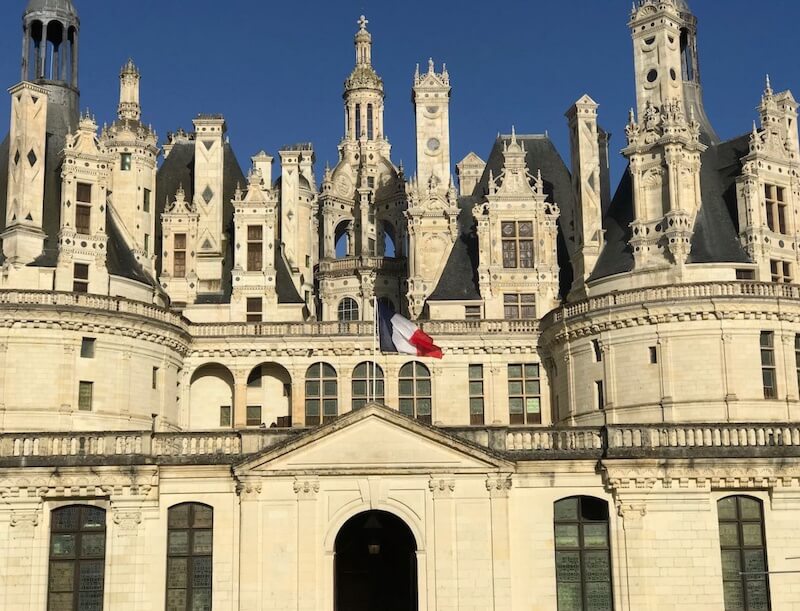 The second is the renowned double helix stairway, whose origin is still disputed although most writers attribute it to Leonardo da Vinci.
The third striking feature of Chambord is its cavernous interior, built for anything but comfort (it would take several generations for furniture and decoration to be introduced). But remember, this was a hunting lodge, a country home, a brief stop for royals on their way to somewhere else.
During the 16th century, French courts were itinerant – they often moved every few weeks. In Chambord, freezing and inhospitable, most rooms were dismantled and everything packed after a few weeks, hence the lack of furniture. Just try to imagine what that was like when your entourage had hundreds of courtiers. Later, under Louis XIV, those hundreds would balloon to 1200…
It gives you an idea of the expense and luxury of those times that such a gigantic chateau should be built on a marsh, so distant from any city and used by the king for only a few weeks during his lifetime.
There is no question, Chambord is huge and the rooms are bare today, having been sacked during the French Revolution and the furniture not replaced. Below is one of the few reconstituted rooms which will give you an idea of what the inhabited castle might have been like. Below that is what the interior was mostly like.
When visited in winter, dress warmly. Chambord is freezing, its giant square rooms with incredibly high ceilings each heated with a single small chimney.
Fascinated by this castle? Here's an in-depth look at Chambord.
Click here to buy your Skip the Line entrance ticket to Chambord.
CHEVERNY: HOME SWEET HOME
Cheverny, one of the best-known of the Loire Valley chateaux, is famous among many for inspiring the Belgian author Hergé to create Moulinsart, or Marlinspike, the castle depicted in the popular cartoon strip Tintin. In fact, one of Cheverny's attractions is the small Tintin museum on its premises. But there's so much more to this family home.
Because that's what it is – still lived in, still owned by the same family after six centuries (although it slipped from their hands twice, they always got it back).
Cheverny is beautifully restored, as you might expect from a home that is actually lived in (the family lives in the right wing of the castle). Centuries of tapestries, lacquers, furniture, moldings, glassware, arms, mythology, embroidery, musical instruments, woodwork… every corner is worth a stop and an exploration.
Click here to find out more about Cheverny Castle.
AMBOISE, DELIGHTFUL BUT DEADLY
Located right in the middle of the delightful town of Amboise, the chateau, initially small and relatively decrepit, was taken over by Charles VIII when he married Anne of Brittany (she brought Brittany along as dowry, making it French for the first time).
The king enlarged Amboise significantly and it became a joyful hub of arts and literature for the newlyweds (and a sort of zoo, monkeys and lions included).
Life wasn't always carefree here… Anne of Brittany gave Charles VIII several children, but they all died or were stillborn (he may have seen this as some kind of punishment from God, in these highly religious times).
One day, after returning home from hunting (he had a lunch date with Anne), Charles went off to a tennis game (or jeu de paume, the precursor of tennis). He cut through a stairway leading to the washrooms and on his way hit his head on a low stone lintel. Slightly dizzy, he fainted during the game. Taken back to his quarters, he died that night, aged 28.
The location of the lintel is uncertain…
Click here to find out more about the Chateau d'Amboise.
CLOS LUCÉ – DEDICATED TO LEONARDO'S GENIUS
No one disputes the genius of Leonardo da Vinci: artist, engineer, botanist, architect, he enhanced everything he touched, birthing ideas not years but centuries before they became mainstream.
Towards the end of Leonardo's life, King Francis I so enjoyed his company (and all things Italian) that he invited him to stay at the Chateau Clos-Lucé. Here, the two would meet daily when the king was in residence at the nearby Chateau d'Amboise (a mere ten minutes on foot, certainly less on horseback or carried on a palanquin).
Today, at Clos-Lucé, we can see Leonardo's apartment and studio but also reconstructions of many of his sketches – from tanks to canons to a helicopter and plenty of other interactive contraptions. Throughout the castle gardens, life-sized replicas can be examined and used, such as a temporary military bridge and a sluice.
Leonardo spent the last three years of his life here, dying (of old age!) at 67.
Click here to get your Skip the Line ticket to the Clos Lucé and Leonardo da Vinci's gardens.
AZAY-LE-RIDEAU, THE UNFINISHED GEM
Azay-le-Rideau is indisputably one of the most beautiful castles in the Loire Valley (but NOT on the Loire River – it's actually on the Indre).
Perhaps its most interesting owners were Gilles Berthelot and his wife, Philippa Lesbahy. Berthelot wanted a home reflecting his high stature as King Louis XII's treasurer, and so he set about building something delightful and prestigious. But his duties often called him away so his wife oversaw the building work, which involved everything from laying foundations in mud to raising the building on stilts.
Meantime, Francis, I became king and decided to clean house financially. He uncovered several instances of embezzlement. One of his advisors, Berthelot's cousin, was found guilty and put to death, and Gilles himself was dismissed from his post. Seeing the writing on the wall, he and his wife fled, abandoning their little jewel, sadly unfinished.
LANGEAIS AND ITS MEDIEVAL POWER
For some reason, I expected little from Langeais, possibly because I hadn't really heard of it (my fault entirely). I was so wrong! It is a handsome edifice, although I couldn't capture the best view of it towering over the town – THAT view could only be seen from the middle of a busy road.
Its authentic drawbridge is irresistible, bringing to mind visions of cavalry and armor. The castle was renovated a couple of centuries ago but as I clomped across, I could easily imagine sitting in a carriage or on horseback entering my domain.
Inside, a series of tapestries (some with violent hunting themes) have been beautifully preserved – they look fresh off the loom!
Most importantly, this is where Anne of Brittany married Charles VIII, and there's an interesting lifelike recreation of their wedding ceremony in one of the rooms.
This marriage was incredibly strategic and brought the long-desired duchy of Brittany into France. But it is also a striking example of how women were exploited as political pawns, with daughters and sisters used to cement alliances and acquire territories.
In fact, by the age of 12, Anne of Brittany had already been engaged seven times and as the only heiress to the duchy of Brittany, she has much sought after.
Initially, she was married off by proxy to Maximilian of Austria. But Charles VIII wanted Brittany badly and succeeded in having her marriage annulled, marrying her himself.
Her marriage contract was highly unusual: it stipulated that if her husband died, she would have to marry his successor – and that's exactly what happened. As we already saw, Charles VIII died when he hit his head on a stone lintel at the Chateau d'Amboise. His cousin, Louis XII, then became king – and married Anne, now widowed.
French royal families are nothing if not complicated…
CHENONCEAU, JEWEL OF THE RIVER
Chenonceau may well be the most photographed chateau in the Loire, and with reason.
Its graceful arches over the water draw the eye – and it is hard to pull away.
Chenonceau is known as the Ladies' Castle: It was built by a woman (Catherine Briçonnet, wife of a royal financial superintendent), expanded by another (Henry II's mistress Diane de Poitiers, to whom he gave the chateau coveted by his wife) and eventually reclaimed by yet another, Catherine of Medici (Henry II's wife). Plenty of intrigues, as you can imagine!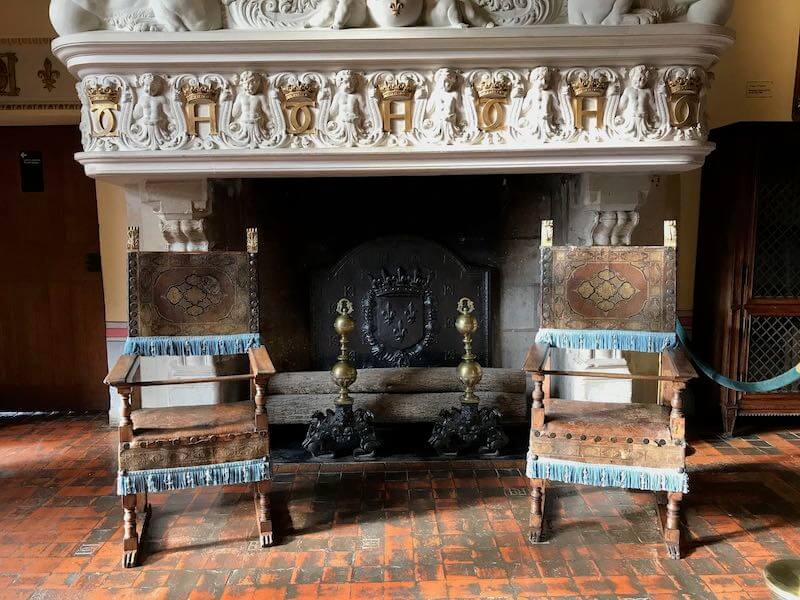 Chenonceau is a haven for art lovers, with great masters covering many of its walls, and also specializes in floral arrangements, scattered throughout the building.
Some of its rooms are world-famous, like the Great Gallery, which spans the Cher River (yes, it's confusing, it is part of the Loire Valley but NOT over the Loire River…).
What fewer people know is that a few years later, part of the attic became home to a congregation of Capucin nuns. The very religious Louise of Lorraine (wife of Henry III, who valiantly hid as his bodyguards assassinated the Duc de Guise, remember?) wanted a convent in a nearby town but once her husband was murdered in turn, she could no longer afford the chateau. Eventually, her sister-in-law Marie of Luxembourg brought in the nuns temporarily before they relocated to the city of Tours. Unfortunately, this part of the chateau is not open to visitors.
Click here to get your Skip the Line entrance ticket to Chenonceau.
LOCHES, SO MUCH MORE THAN A CASTLE
My final chateau was Loches… it's not a chateau, but an entire TOWN, a massive defensive fortress on the River Indre.
The royal town of Loches was built around a monastery that dates back more than 1500 years and, as is the case with most chateaux, it went from family to family and was even a backdrop for a meeting between Joan of Arc and King Charles VII after her victorious battle of Orleans. Anne of Brittany (remember her?) stayed here several times…
Joan of Arc famously met the future King Charles VII several times here, convincing him she should fight the English – which she did, liberating Orleans and repelling the English. Unfortunately, she was eventually captured and burned at the stake.
Then, a few years later, there was Agnes Sorel, the royal favorite (read mistress) at a time this was uncommon, at least publicly. At Loches, she was treated as a member of the royal household, living the good life, wearing flashy clothes, and spending plenty of money. The king, Charles VII, had scandalously left his wife in another chateau, and she proceeded to have 14 children.
Towards the end of the 15th century, Anne of Brittany stayed here with her husband Charles VIII, supervising the chateau's expansion and adding a Gothic oratory.
Like many of the Loire Valley chateaux, the history of Loches is intertwined with that of the women who reigned at the time, improving buildings, decorating interiors, and, often, helping guide the politics of the day.
LOIRE CASTLES FAQ
How can I get to the Loire Valley?
You can reach many of these castles on a day trip to the Loire from Paris but if you have more time (and I hope you do!) then do make it part of an unforgettable France road trip!
How many days should I spend in the Loire Valley?
Ideally, five days will take you to the best chateaux, and give you a chance to explore some of the towns and cities in the region. If you have less time, you can still see plenty but you'll have to be brutal and eliminate a few chateaux.
How many chateaux should I visit in one day?
Two. Anything more is exceedingly tiring unless you're with a group that can take you from one to the other easily.
When is the best time to visit the Loire Valley?
September is the best month. The gardens are still glorious, but the crowds have gone home. April and May are next best, although many French families have holidays in May so it can be crowded. Summers are hot and full of visitors, but many chateaux have lovely parks where you can cool off under the trees – and the chateaux themselves stay cool because of their thick walls.
Which are the best gardens of the Loire Valley?
Some of the Loire Valley castles have extraordinary gardens. The most famous may well be Villandry, with its formal design; the two ladies' gardens at Chenonceau (the rivals, mistress and queen, each had their own gardens); or any one of Chambord, Chaumont or Azay-le-Rideau, to name just a few. Gardens were often part of a castle's design and many were the pride of their owners.
SHOP THIS POST ON AMAZON
PIN THESE PICTURES AND SAVE FOR LATER!