by Cat Roberts
El Salvador travel is still a pretty well-kept secret, but it may not be for much longer – so going soon is a good idea, and this El Salvador Travel Guide will help you plan that first trip.
This vibrant Central American nation, the smallest in Central America, is filled with lush rainforests, delicious food, and rich cultural traditions. With its welcoming people and exciting opportunities for adventure, it's no wonder that more women are choosing to travel here every year.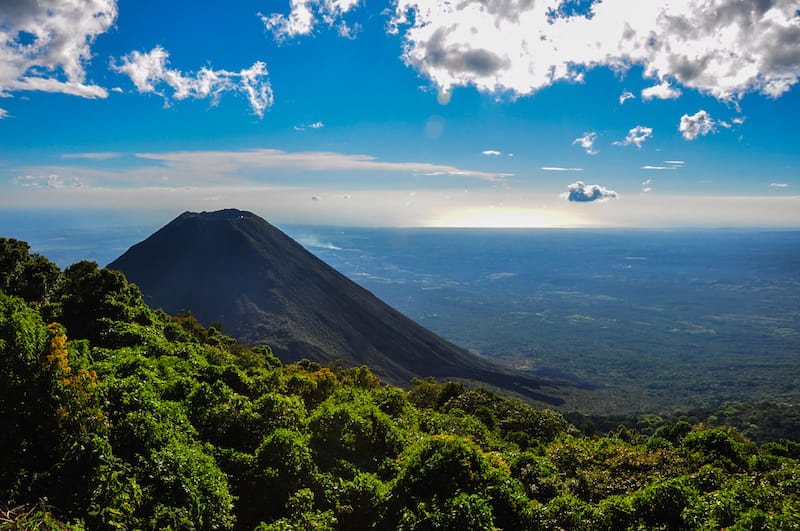 Before you travel to El Salvador, you'll need to know the must-see spots, like the Santa Ana Volcano, and the best time to see the beautiful Ruta de las Flores (Route of Flowers) during its peak. You'll need to have tips on staying safe while traveling solo.
Whether you're seeking an adventurous getaway or a relaxing escape from everyday life, El Salvador could be an incredible and unexpected destination for your next trip.
El Salvador travel guide: Why visit El Salvador
If you are looking to explore a unique corner of Central America, then traveling to El Salvador should be high on your list.
With its small size and relatively low tourism rates compared to other countries in the region, it's still a relatively off-the-beaten-path destination, making it ideal for those seeking a more intimate travel experience.
This El Salvador travel guide will alert you to its more than 100 volcanoes (20 of which are still active), stunning waterfalls, colorful pueblos, and beautiful lakes.
Is El Salvador safe for solo female travelers?
The country has a reputation for being dangerous. But just how dangerous is El Salvador?
El Salvador is a safe destination for solo female travelers, but it's important to exercise caution and familiarize yourself with the current political climate (which is fast-changing) prior to arriving.
El Salvador's recent history has been riddled with violence, with a devastating civil war in the 1980s and active gang warfare for decades. Despite this, El Salvador has managed to experience a significant turnaround in its security situation over the past few years.
Crime and homicide rates have plummeted since 2017, mainly because the president has arrested and jailed more than 100,000 gang members. Although gangs still control certain areas, tourists are rarely targeted.
Some residents say that a couple of years ago, they couldn't leave their homes without paying off the local gang for protection, whereas now, they enjoy walking around in peace both day and night.
There are many ways you can reduce safety risks when traveling in El Salvador. Use the same precautions you would use in any other unfamiliar place:
Travel during the day when possible, and avoid walking alone at night
Ask your accommodation about any local crimes or scams you should be aware of.
Don't flash your wealth, and leave your designer clothes and expensive jewelry at home.
Don't carry all your money and credit/debit on you. Use an anti-theft purse or money belt.
Always be aware of your surroundings and your belongings – most crimes are crimes of opportunity, so don't create that opportunity.
Planning your visit: When to visit El Salvador and how long to stay
November through April is the dry season in El Salvador and a great time to visit El Salvador. November is especially good because it's not too rainy, but the landscapes are still green from the recent rainy season, and the flowers are blooming.
Peak times such as New Year, Holy Week, and the first week of August are more crowded and expensive than other months.
If you want to experience the Ruta de las Flores in full bloom, visiting El Salvador between November and February is ideal.
You should plan to spend at least one week in El Salvador, but ideally two or more so that you don't have to rush. El Salvador may be a small country, but it has plenty to keep you busy for two weeks or more.
Getting around El Salvador
As is the case in much of Central America, getting around El Salvador is an adventure.
You can visit most destinations on your own, because buses in El Salvador go just about anywhere – they are the main form of transportation in the country, and are cheap and frequent.
"Chicken buses" (so named because it's not unheard of for live chickens to be transported on them) are the cheapest and most common form of transportation; they make local stops and can be very time-consuming. And they're a lot of fun.
However, they do tend to be older and not always in pristine shape, and accidents are not uncommon. They can also be crowded, but in this part of the world, that may well be part of immersing yourself in local culture.
For longer routes, there are nicer coach buses available, for just a couple of bucks. Some of these buses have air conditioning and are direct, making fewer stops along the route.
Renting a car in El Salvador is also an option, especially if you can find a few others to share the cost. If you'd like the freedom of driving but don't want to do the driving yourself, hiring a driver is also an option that's still affordable if you negotiate well. Uber is also readily available in bigger cities and is very cheap. Ask your hotel for a recommendation.
Also, always assume it's going to take longer to get somewhere than Google Maps tells you. Landslides are common and cause traffic delays frequently, and buses make a lot of stops.
If you'd rather have something a little more organized or if your time is limited, one of these full- or half-day tours will show you the best El Salvador sights:
Best things to do and places to visit in El Salvador
Explore the historic colonial city of San Salvador home to many unique churches, monuments, and museums.
Take a road trip through the picturesque Ruta de Las Flores, a stunning mountain pass filled with vibrant flowers and colorful towns.
While you're on the Ruta de las Flores, check out the weekend food festival in Juayua and take a tour of a coffee plantation.
Visit one of the many stunning waterfalls surrounded by lush forests, one even with a hot waterfall to swim in.
Watch the surfers in El Tunco, one of the best surf beaches in Central America.
Climb the Santa Ana volcano, an active volcano with an impressive view of the surrounding area.
Take a boat tour of Lake Coatepeque, near Santa Ana and known for its secluded beauty.
Explore Joya de Cerén Archaeological Site, a UNESCO World Heritage site that offers insight into ancient Mayan civilization.
Visit Ilobasco Pottery Village and witness artisanal potters at work as they craft traditional ceramics using age-old techniques.
Taste local delicacies at the local markets or fill up with mouthwatering street food.
Adventure around Lago de Ilopango, exploring hiking trails or kayaking across this gorgeous lake surrounded by volcanoes.
Explore the colonial town of Suchitoto and the nearby Lago Suchitlán.
What to eat in El Salvador
You'll eat well in El Salvador, especially if you're a little adventurous and sample all the local foods. Like the rest of the region, Salvadoran cuisine mostly uses simple ingredients like beans, plantains, corn, and cheese – and the meals are filling.
At the local markets in El Salvador, you can find an array of tropical fruits that are unique to the region, like sapotes, sweet and smooth tropical fruit with a creamy texture. And the nisperos, a tart and juicy fruit that tastes like a cross between apple and mango.
Street food is common in El Salvador so you can find everything from tortas (sandwiches) to Elote Loco (grilled Mexican-style street corn).
The best traditional street food is bound to be pupusas, thick corn tortillas filled with cheese or beans, pork, or veggies. They are delicious, can be found on any street corner, and are very cheap.
For a heartier meal, carne asada is marinated beef or pork that is grilled.
El Salvador travel guide: Places to visit and where to stay
Santa Ana is the perfect base from which to explore the rest of the country, with plenty of day trips nearby, including the Ruta de las Flores and Lake Coatepeque. You won't have to change accommodations every other day, a real plus.
An alternative is to spend a night or two in one of the villages along the Ruta de las Flores, to make it easier to explore the route during the day. Juayua and Ataco are the most popular towns and provide a nice base to explore the area.
San Salvador is fine for a night or two, and there are a few museums to visit, but your time will probably be better spent elsewhere.
For those who prefer beaches, Playa San Diego is one of the nicest beaches in El Salvador, and is good for swimming (as opposed to surfing, like many of the beaches).
To escape city life, Ilobasco Pottery Village or Lago Suchitlán offer stunning views amidst lush nature reserves. You'll also find plenty of animals in El Salvador – more than 800 species can be found here.
Luxury Hotels in El Salvador
Equinoccio Hotel (Lake Coatepeque) – a 4-star hotel by Salvadoran standards, this hotel is right on the lake, and also has a pool.
Hyatt Centric San Salvador (San Salvador) – a brand-new, comfortable hotel that opened in 2022 with a great open-air swimming pool and gym.
Boca Olas Resort (El Tunco) – Nice swimming pools, breakfast with a view, and steps to the beach.
Mid-level and Boutique Hotels in El Salvador
Budget or Cheap Hotels in El Salvador
El Salvador travel tips
El Salvador's currency is the US Dollar, and there are plenty of ATMs.
Credit cards are not commonly accepted outside of the big cities (and even there), so always have cash on hand.
Be aware of any potential crimes or scams targeting tourists – your accommodation will know if there are any to be aware of in the area.
Local people are welcoming, but most don't speak English. Learn some basic Spanish phrases and download Spanish on your Google Translate app, so you can translate even when you're offline. Or get a decent phrasebook.
Invest in travel insurance for added peace of mind.
Tipping 10% in sit-down restaurants is expected, but always check your bill first because "servicio" is often already included.
Don't drink tap water. Most hotels will have filtered water available, or you can buy bottled.
San Salvador is safe to visit, and tourists are rarely targets of gang violence, but some neighborhoods are best avoided. Check with your hotel, as they'll have the most current information.
Stay alert when out walking – don't walk alone late at night, avoid deserted areas, and stick to busy streets with other people around. Use Uber in the cities.
Wrap-up: Is El Salvador worth visiting?
Absolutely! El Salvador is an amazing country filled with breathtaking natural wonders, rich culture, and vibrant urban areas.
From exploring ancient Mayan ruins to lounging on a beach all day, El Salvador can be your resort, your cultural experience, or your adventure.
And please – don't forget your travel insurance before you go! I recommend SafetyWing if you're 69 and under. If that birthday has come and gone, click here for travel insurance that covers you at any age.
Cat is a very hungry solo female traveler in her 30s, who left a six-figure job in NYC to travel (and taste!) the world. She is determined to prove there are ways to backpack the world on a budget without fully sacrificing the "grown-up" lifestyle you love. You'll find her at Cat is Out of the Office.