by Lisa Garrett
The genius of Leonardo da Vinci is known to all. Perhaps less known is the fact that he spent his final years in France, at the Chateau du Clos Lucé in Amboise, in the Loire Valley, home of kings and queens of France. The region is so unique it has been placed on the UNESCO World Heritage List.
You've certainly heard of the best French castles along the Loire Valley, and touring these iconic châteaux is a highlight of any trip to the area.
But Leonardo's stay may be less familiar to you: the Château du Clos Lucé was his home and workshop from his arrival in 1516 until his death three years later.
It has now been turned into a Leonardo da Vinci museum, with his inventions and famous notes displayed both indoors and in the park outside, available for close examination (and touch!)
Leonardo is buried in the tiny Chapel of Saint-Hubert, on the grounds of the Château Royal d'Amboise, only 500 meters away.
NOTE: If you're searching online for information about this castle, make sure you look for its alternative spellings: Chateau Clos Lucé, of course, but also Clos Luce, or the Chateau du Clos Lucet. In the same vein, you'll see the word castle spelled chateau or château, with an "x" at the end to make it plural.
A history of Château du Clos Lucé
Stories about the origins of the Clos Lucé vary, but most indicate that the property was given by King Louis XI to Étienne le Loup, a one-time kitchen boy who became a favorite of the king and was ennobled.
The castle was built in 1471, upon earlier foundations dating to the 12th century. Its pinkish bricks are edged with white stones, and it was originally called the Manoir du Cloux or the Château de Cloux.
A massive dovecote was also built on the property. This clever structure was laid out with a square exterior and an octagonal interior, as well as many other features to nurture the birds and foil predators. It still stands on the castle grounds.
In 1490, the castle was bought by King Charles VIII and was made more comfortable – and more suitable as a summer residence for royalty. He had a stunning Gothic oratory built for his queen, Anne of Bretagne. Its walls would later feature murals, including The Annunciation, painted by Leonardo da Vinci's disciples.
A few years later, King François I (Francis I) would wage war in Italy and meet the famed Leonardo, becoming such a fan he would invite him to come to France. Da Vinci's fortunes at the time were anything but stellar so the artist accepted. He spent the winter months crossing the Alps with a tiny retinue and a few mules to carry him and pull a cart with his paints and canvases – including one of a young smiling woman who would become world-famous as the Mona Lisa.
François I provided Da Vinci with a pension and granted him the title "First Painter, Engineer, and Architect to the King". In addition to being his patron, the king became the artist's close friend.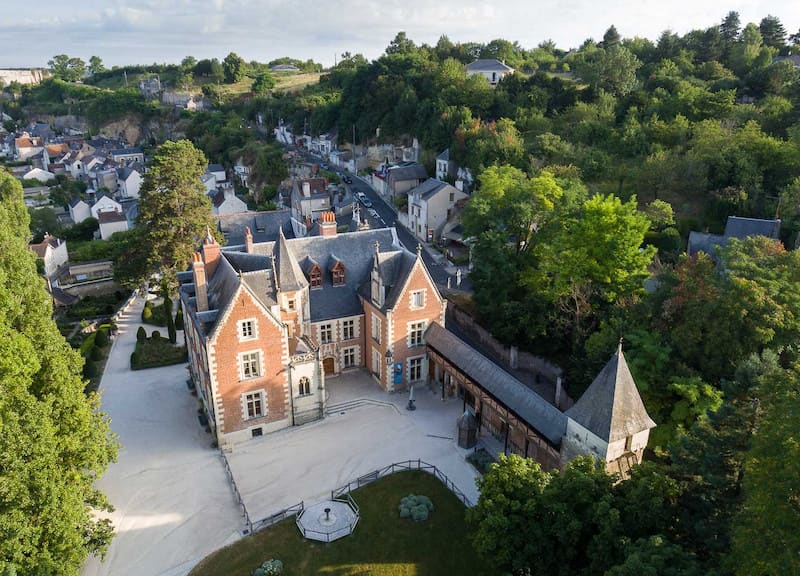 Da Vinci lived and worked in the chateau Clos Lucé for the last three years of his life, probably contributing to the design of the double-helix staircase at nearby Chambord. While there is no evidence that he was directly involved in its building, his influence is all over it.
It was also while in Amboise that he put the finishing touches on the Mona Lisa, which he had brought over the Alps with him.
Leonardo da Vinci, the ultimate Renaissance man
Leonardo da Vinci was one of the most brilliant men of his era, or of any era, with inventions far ahead of their time.
He was a rare polymath, a person with wide-ranging knowledge across many fields. Artist, sculptor, scientist, engineer, inventor, architect, and more, Da Vinci left an indelible mark on history, and his genius shone through everything he touched.
But he is perhaps best known as an artist, with world-famous masterpieces such as the Mona Lisa (displayed in the Louvre) and The Last Supper, which you can see in Santa Maria delle Grazie in Milan. You'll also recognize his iconic drawing, Vitruvian Man, which reflects his fascination with proportions and nature.
In his journals and sketchbooks, Leonardo da Vinci conceptualized many inventions that would not be built for centuries, including the parachute, the armored car, scuba gear, a revolving bridge, and the aerial screw (a precursor to the helicopter). You can see these and more when you visit le Clos Lucé.
FUN FACTS ABOUT LEONARDO DA VINCI
He was left-handed but could write and paint with both.
He wrote many of his journals in reverse: they could only be read in a mirror. He may have been afraid he would smudge the ink if he wrote like everyone, from left to right.
He may have been brilliant, but he lacked formal education. He could read, write and count, but nothing more complicated.
He was an illegitimate son, his father a wealthy (married) notary and his mother a local peasant woman.
One of Leonardo's notebooks, the Codex Leicester, was sold for more than $30 million. To Bill Gates.
Leonardo was also a musician. He composed original music, played the lyre and flute, and sang.
Visiting the Château du Clos Lucé
Nowadays, the castle and grounds of the Château du Clos Lucé are a museum. Take this opportunity to step back in time and imagine the castle as it was in Leonardo da Vinci's time.
Start upstairs. Visit da Vinci's bedchamber, which looks out upon the Château Royal d'Amboise. This is the room in which he would write his will and the room in which he would die on 2 May 1519. Legend has it that he died in the king's arms, but that has been debunked: François I wasn't even in Amboise when Leonardo died.
The bedchambers of Marguerite de Navarre, François' older sister, have been restored and decorated with period furnishings from the 16th century. And don't miss Anne de Bretagne's oratory.
On the ground floor, you'll find Leonardo da Vinci's workshops, where his creativity and problem-solving skills were put to use. It was here where he came up with ideas such as a series of locks and canals to provide faster transportation to Italy, fantastical automatons for the entertainment of the court, and other inventions to address the royal requests of the king. The 3D models and animations provide a deeper appreciation of Da Vinci's genius and are fascinating to examine.
The best part of visiting the Château du Clos Lucé is exploring the grounds. Wander through Leonardo's gardens and enjoy the tranquility of the flowers, trees, and water features – and better understand how nature influenced his work.
The Da Vinci park surrounding the château is a one-of-a-kind open-air museum, dotted with life-sized versions of Da Vinci's inventions and conceptions, including the mobile bridge, the aerial screw, the machine gun, the paddle wheel, and the assault chariot.
More things to see in Amboise
Beyond the château du Clos Luce, you'll find Amboise is one of the fascinating highlights of the Loire Valley. Here are just a few of the things you can do in Amboise, or by using the town as your base:
Visit the Château d'Amboise
Go hot air ballooning above the Loire castles
Enjoy wine-tasting in the Loire
Rent a bicycle and ride along the Loire
Just drop by the tourist office for maps and information on what's happening in Amboise.
Château du Clos Lucé practicalities
The castle and park are open throughout the year (except on Christmas Day and New Year's Day). Hours vary through the year, with longer hours during the seasons with more hours of daylight. You can click here to get your entry tickets to the chateau and musée du Clos Lucé ahead of time.
The Clos Lucé is just a short walk from the center of Amboise so you can park anywhere in the center.
If you're coming by train, there are a few direct trains from the Gare d'Austerlitz in Paris, which take under two hours. There are plenty of other trains but you'll have to connect. When you arrive in Amboise, walk down to the river, cross the bridge, and walk up the Rue Victor Hugo, keeping the Château Royal d'Amboise on your left.
If you're hungry, there are some café options at the Château, including a creperie and a snack bar (open seasonally).
TIP: Be sure to carry some money in France for smaller purchases. Locally owned shops (like bakeries) may only accept cash, especially in smaller towns in France.
Where to stay in Amboise
If you're spending the weekend in Amboise, here are some great hotel options located on the banks of the Loire River, backing up to the Château Royal d'Amboise.
On the budget side, stay at the Logis Hôtel Bellevue, basic but comfortable. You can book a slightly better room for very little more, and get a room with a view of the river or the castle.
If you want to splurge a little during your stay in Amboise, book a room at the Hôtel Le Manoir Les Minimes. Built on the location of a former medieval monastery, this is the only five-star hotel in Amboise – and it is surprisingly affordable.
Breakfast is available at both hotels, for an additional fee. But a better idea is to visit a local bakery to start your day. You'll enjoy a wider selection of pastries and breads and a proper French boulangerie experience. Head for La Viennoise, less than a 10-minute walk from either hotel.
The Château du Clos Lucé is without a doubt one of the more unusual châteaux in the Loire Valley. Where else will you find a mix of Renaissance architecture and the genius of Leonardo da Vinci?
And please – don't forget your travel insurance before you go! I recommend SafetyWing if you're 69 and under. If that birthday has come and gone, click here for travel insurance that covers you at any age.
* * * *
Author bio: Although Lisa Garrett works full-time in the semiconductor industry, she fits in as much travel as possible throughout the year. Her travel blog, Waves and Cobblestones, is chock-full of city guides and destination tips to help you make the most of your vacation time. Lace up your shoes and let's go!