In 2016, Colombia signed a peace pact with its largest guerrilla group and for the first time in decades, the country stopped being one of the scariest places on earth.
Today, visitors flock to its beaches and rainforests and street art and Botero but… the real reason that drives thousands to brave tiny planes and huge mountains is a little red or brown bean: Colombian coffee.
Is Colombian coffee the best coffee in the world?
Coffee is an enormous global industry: we drink 2.25 billion cups of it each day worldwide, and consumption is rising.
I've been a lifelong coffee drinker. My father was Turkish and I was barely a few years old when he started dripping some super-sweet Turkish coffee onto a saucer for me to taste (they did things differently then!)
I graduated (not surprisingly) to outright coffee addiction. Until recently I drank up to ten cups a day (I've cut back to four) and I drink coffee in a variety of ways, from espresso to French press to filter and even capsules – pretty much anything but instant. It's what ensures a gourmet meal goes down perfectly or turns a sleepy afternoon moment into energy.
So yes, I love a cup of great coffee.
And I'm not the only one.
Funny thing is, in many coffee-exporting countries, what is sold abroad often tastes better than what you drink within the country itself.
In Nairobi recently, my hotels contained sophisticated coffee-makers and great Kenyan coffee. In Colombian hotels, with a few notable exceptions – instant coffee and boiling water.
CAN'T TRAVEL TO COLOMBIA RIGHT NOW? HAVE SOME COLOMBIA COFFEE BRANDS AT HOME!
☕️ Colombian Santa Marta organic whole bean
☕️ Sello Rojo premium Colombian coffee
☕️ or anything by Volcanica, if/when they're in stock
Until recently, you could taste better Colombian coffee in New York than in Bogotá or Medellín.
But all this is changing.
There's a move afoot to involve Colombians more in their nation's coffee. They certainly drink plenty of it, including the rough "tinto", a sour, boiled concoction I try to avoid. Colombians need to love their coffee so much they keep more of it at home.
Innovative cafés are popping up throughout Bogotá, Medellín, and other cities, teaching consumers about the best Colombian coffee, how to savor it, how it is farmed, and where it actually comes from.
In the countryside, coffee fincas are sprucing up their bright wooden frames.
And in the country's remotest corners, farmers are beginning to explore Colombia coffee exports to pull themselves out of poverty and forget five decades of conflict. More and more, Colombia coffee farms are opening to visitors.
But back to the brew.
What makes coffee from Colombia so exquisite?
Many experts say Colombia comes close to having the world's best coffee, surpassed only by Ethiopia and Kenya. To Colombians, of course, their country ranks at #1.
But what specifically makes coffee from Colombia so special?
According to Karen Attman, a local coffee expert and author of Permission to Slurp: The Insider's Guide to Tasting Specialty Coffee in Colombia, here are some of the reasons:
altitude, which at 3,000 – 7,000 feet (between 920 and 2133 meters) is ideal for Arabica, the most widespread Colombia coffee beans
the well-drained organic soil
just the right amount of rain and sun
a second growing season (in some microclimates even a third), giving it an edge over other coffee-producing countries, especially among South American coffee growers.
Where coffee is grown – often on steep hillsides – is both an advantage and a disadvantage.
On the plus side, it means much of the coffee industry is artisanal, with beans picked by hand because machines can't tackle the mountains. This also provides a purer crop. Because machines pull in everything along with the beans – like leaves and branches – sorting takes place afterward (and sometimes the sorters don't get it all!) The downside, if you can call it that, is quantity. Colombia often can't compete with the mega-farms of countries like Brazil, where giant machines can scrape every last bean off the flat land.
For SeriousEats.com, "Colombian coffees are most often what folks think of from South America, and rightfully so: The country is routinely listed among the top three coffee-producing countries in the world. The classic Colombian profile… brings together a mellow acidity and a strong caramel sweetness, perhaps with a nutty undertone."
If it sounds as complicated as wine-tasting, that's because it is.
Who knew there was so much to experience when drinking coffee?
As Karen Attman explains in her book, the fragrance and aroma will hit you first, before the slurp, which extracts the flavor. You'll then move on to the body – or how it feels in your mouth, the acidity, the sweetness, the aftertaste, the balance… And each of these can be broken down into various elements.
In fact, I've been told that coffee has 800 characteristics, whereas wine has only 400. Did I say complicated?
Colombia's niche: specialty coffee
Like wine, the Colombian coffee regions matter. You can trust a wine from Burgundy or Bordeaux, just like you can trust coffee from Tolima or Quindío or Antioquia. Again like wine, the specific farm makes a difference.
I visited El Placer, a small coffee finca that only picks the perfect shade of its mature red berries for its specialty coffee (the greener beans go into the more commercial blends). Here's a quick Facebook Live I made while I was there.
Its manager, Juan Carlos Ortega, is a fourth-generation coffee farmer who applies the strictest environmental and human rights standards to his coffee farm, especially since picking coffee is a backbreaking job that requires fighting through thick plants and reaching high up for the coveted beans.
"Some 80% of the world is in a hurry! The difficulty I have is explaining to someone who drinks convenient coffee from a pod or instant powder how much work actually goes into picking and preparing the beans, how it is a family affair," Juan Carlos said.
What's fascinating about visiting a coffee farm – in addition to finding out how coffee is grown, of course – is discovering how the actual farmers think we should be drinking it.
I learned plenty:
that cooling down the beans after roasting reduces their bitterness
that water should be kept in a ceramic jug before use – it helps rid it of chemicals used to purify water
that when using a filter you should make sure to drip the water directly onto the coffee, not on the filter
and of course – to my dismay – that sugar is a no-no.
TIP: Make iced coffee by freezing coffee in an ice tray so that when it melts, no extra water seeps into the coffee or, use less water to make the coffee stronger so that when you add ice cubes, the taste isn't diluted.
Places to visit in the Colombian Coffee Region, or Eje Cafetero
Most of the Colombia coffee farms that allow visitors are located relatively near one another, in the coffee-growing region known as the Eje Cafetero, or Colombian coffee-growing axis.
Safety in the Colombia coffee region
Travelers do ask about safety. Is Colombia safe in 2023? Just how safe is the Colombia coffee region?
Colombia is probably safer now than it ever has been, although you may run into petty crime, like pickpocketing. I wouldn't leave my things unguarded, but that's a far cry from what you could expect a few decades ago.
What guerrilla violence there is, which is minimal, is isolated and far from areas where visitors might go. Just one thing: stay away from political demonstrations should you come across one, but then, that's just common sense.
As is the case whenever you travel solo, stay away from bad neighborhoods, keep your valuables close at hand, and use the same safety tactics you would back home. I admit I was more concerned about the winding roads than I was about any kind of violence.
And without further ado, here are some of the best destinations in the Colombia coffee region.
Salento
A great place to base Colombian coffee triangle vacations is Salento, probably the most popular town around, with its bright houses and typical colonial feel. It is located in Quindío Province and is popular because of its stunning architecture and many coffee farms.
Most of the buildings have been turned into cafés, restaurants, souvenir shops, and artisan workshops. It's pretty, almost too pretty, although there are plenty of areas which remain impeccably authentic.
RECOMMENDED HOTELS IN SALENTO
Down a picturesque winding road through plantations and fields sits the mystical Cocora Valley. Cocora is home to the wax palm, which can rise to 70m (200ft) and exists nowhere else. If you're feeling adventurous you can ride horseback or amble down the hill to a nearby river (make sure you're ready for lots of mud). If you're more athletic, a four-hour hike around the mountain will take you up 3000m and back down again.
A quick word of warning here: if you're not used to these altitudes, take it easy. By now I'd been in Colombia for nearly a week and I was still breathing hard. Time for another coffee.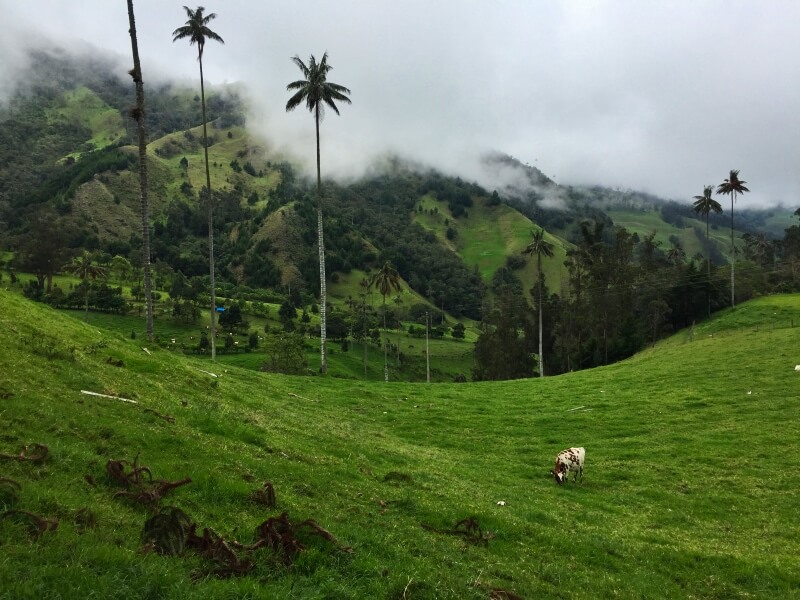 Filandia
About half an hour away from Salento (with erratic public transportation) Filandia is another lovely colonial town that doesn't see as many tourists and which is, as a result, more authentic. It has the same bright houses, many of them still being painted up. But certain slices of life have been maintained – an electrician's shop, a hardware store, the kinds of services that tend to disappear once a town is taken over by tourists. And of course, plenty of cafés.
If you only have time for one of the two towns, I'd be a rebel and pick Filandia, although they're both lovely. I just wish a ray of sunshine would have poked through during my visit to both.
Other great places to see in the Colombian coffee region
Manizales
Manizales is the capital of the Caldas department and another great destination for coffee lovers. The city is surrounded by beautiful coffee farms and is near Ruiz Mountain, whose peak is snow-capped year round.
Sample the hot springs, or (for those with a craving for adrenaline) walk out – safely harnessed – to the edge of the Sky Walk. Note that the view is every bit as stunning from behind the glassed-in terrace…
Armenia
The capital of Quindio, Armenia is more of an entry point into the Colombia coffee region. It is well on its way to recovery from the 1999 earthquake which killed nearly 2000 people, but many of the brightly colored buildings are gone and have not been rebuilt.
Pereira
Pereira, the capital of Risaralda department, is also an entry point into the Colombia coffee axis. I found it pleasant and filled with useful shops (when I had to buy a SIM card, for example) but it's more of a bustling town or city than a picturesque village. Its strong point is its proximity to some of the best coffee farms in the region.
Jardin
Jardin is in Antioquia, not too far from Medellin, and is the perfect spot for some slow travel and an authentic vibe, without sacrificing the charm of colored buildings and lazy streets.
You can get a great view of the surrounding hills by riding the cable car, but the beauty of the town is down below.
Highly rated Colombia coffee tours
Learning about coffee in Bogota
Once you've toured the Colombian coffee region, the coffee trail will inevitably take you back to Bogotá, ready to learn all about the fine art of coffee tasting (or cupping, as it's called).
Karen Attman's Bogotá Specialty Coffee Tour will lead you to some of the capital's great cafés and their workshops, where "cuppers" are trained (they become the coffee equivalent of the sommelier). You'll also learn about Colombia's coffee history and why coffee is so important to Colombian families.
And you'll be able to buy coffee beans to take home, a highlight of any coffee trip to Colombia.
Colombia's coffee farmers: Earning a livelihood from coffee
Somewhere up in the mountains of the province of Tolima – where many swear the best-tasting coffee comes from – lies the small town of El Chaparral, quaint and compact at the end of a muddy dirt road.
An even muddier trail leads out of town, narrowing until only a single vehicle can pass.
The valley far below adds unnecessary excitement to what by now no longer deserves to be called a road. Donkeys, horses, and the occasional car or bus creep along, the only links between distant towns and the coffee farms clinging to the mountainsides.
After what feels like days but is only a terrifying hour or two, the hamlet of Las Hermosas comes into view.
Brightly painted houses mirror the joy Colombians seem to be able to exhibit whatever the circumstances. Behind the colorful walls lie modest homes, often occupied by extended families sharing a single bathroom and an open kitchen. They aren't destitute by any means, but they are poor. Their children often don't make it past primary school and any illness had better not be serious.
Until the 2016 peace deal, this area was dominated by the Revolutionary Armed Forces of Colombia, the FARC, a presence the coffee farmers had become accustomed to.
Regular confrontations pitted the FARC and the military against one another. Weapons decided what entered and left the valley, and all products – like coffee – were taxed. Now that many of the FARC have been demobilized under the peace agreement and have returned to civilian life, the coffee farmers, many of them women, see a window of opportunity.
At present, most of their coffee earnings go to middlemen and they're left with barely 10% of their coffee income. By eliminating intermediaries and selling directly to the consumer, farmers hope to increase their income by up to 700%.
It's not a done deal but they're getting help from several charities and international agencies that are connecting them directly with those of us who want to buy Colombian coffee right from the producer.
Juan Carlos of El Placer faces the same dilemma – finding a way to get around the middleman and go straight to the consumer, a new approach in Colombia and still a work in progress.
As I head back down the mountain after visiting a few farms, several people block the way.
A bus is stuck, I'm told.
It broke an axle and can no longer move forward, or backward.
With no other way off the mountain, I – and everyone trying to get down – will have to turn back to one of the coffee planters' houses and ask for overnight hospitality (which is given instantly, by the way).
A group of us is taken in by a coffee-farming family. The rains have washed out the electricity, and our cell phones are soon dead (not that it matters since signals can't get through the mountains).
We have no choice but to talk to one another, strangers thrown together by circumstance.
As evening passes, we enjoy word and guessing games together – writers, drivers, and farmers. I can easily take part since I was brought up in Madrid and speak Spanish. As the stars play hide-and-seek with the clouds, we share snippets of our lives. I'm reminded that our host family is poor and that hours of backbreaking work will only yield a few dollars.
Their generosity is all the more precious.
A few of the younger men in our party trek up a hill in the night to fetch some rice and plantain, our forthcoming supper.
When it's bedtime, the family makes room for us by shooing away teenagers and children, over our protests. I end up in a room usually occupied by a young girl, the walls plastered with fashion photos and musical posters. I fall asleep with their pet chihuaha perched on my stomach.
Travel resources for the Colombia coffee belt
Getting to the coffee triangle, Colombia
Realistically, there's only one way to come to the Colombia coffee triangle and that is to fly from Bogota or Medellin. Several airlines connect big cities with Pereira, Armenia, and Manizales, the main jumping-off points for coffee triangle holidays.
How to visit the Colombian coffee region
You can piece it together independently by making hotel reservations in the Colombian coffee zone and signing up locally for guides. For example, in Salento, where tourists are plentiful, everyone will offer you coffee tours or hikes.
Where to eat and stay in Colombia's coffee belt
Before visiting El Placer, Adriana took me to Santa Rosa de Cabal (where you can try the thermal baths before eating). I tried a traditional sancocho soup at La Pasteleria, an intriguing restaurant located in what used to be the town's original church
In Salento, you must try the trout with giant patacón (plantain) at Donde Laurita.
In Filandia, try Donde Helena if you'd like a change from Colombian fare – it's fusion and it's delightful.
For the best deals on hotels, compare prices on Booking.com.
Colombia's coffee has always been well known but the country is trying to elevate its little beans into an art form.
Now that peace is taking hold and a visit to Colombia is no longer a daredevil act, a lot of good can come from this renewed attention to coffee.
And please – don't forget your travel insurance before you go! I recommend SafetyWing if you're 69 and under. If that birthday has come and gone, click here for travel insurance that covers you at any age.
Pin these pictures and save for later!