Whether you are a lover of art and music, a classic car buff, or a novice to the seductive rum libations and cigars of Cuba, you are in for a treat with this Cuba solo travel guide.
Ed note: Travel rules to Cuba for US citizens change with the political wind, so do check the latest rules because they change often.
Cuba is an experience for all your senses and this Cuba guide will show you the way.
From the beautiful, vibrant colors in contrast with old, dilapidated structures to classical ballet mixed with sexy salsa and aromas of traditional mojitos, pork, and moros (beans and rice) along side ooey gooey Cuban street pizza, Cuba is amazing. Now is the time to visit as Cuba is in a special time of transformation.
TOP PLACES TO SEE IN CUBA: TOURISM GUIDE
Over the last five years and two dozen trips to Cuba, I have witnessed changes poco a poco, little by little. In the coming year, expect increased cruise traffic and more travelers from around the world, including the United States. It's the perfect time for you to go.
Habana / Havana Cuba solo travel guide
Most likely your travels to Cuba will take you through Havana, a beautiful blend of old colonial charm, brilliant colors, and remnants of the early 1900s opalescence. With two million inhabitants, you will note the energy in its streets as well as its world-renowned malecón, the Seawall Boulevard, which stretches nearly eight kilometers. From the malecón, also known as the world's largest sofa, you will witness every mode of transportation at once: classic American convertibles to big buses (camellos) and Russian Ladas and Mosoviches.
In Havana, you must take advantage of walking in Old Havana and its four principal squares, each with a different purpose as well as allure.
If you tire easily, remember that a good, strong café cubano or cold Cristal beer is at the next sidewalk café. And, if you decide you want to ride the streets of Old Havana, one of the most common ways to get around is by bici-taxi. For as little as 5 CUC (USD 5.75), you can get from one square to the next and see Old Havana from a new perspective by bicycle rickshaw.
Viñales
If you are a nature lover, Viñales is another must visit stop in Cuba.
Located about an hour and half outside of Havana, you can take Viazul public buses or hire a private car to go to Cuba's mini-Yosemite. Nature mixes with tobacco fields as far as the eye can see, with large stone outcrops called mojotes, which create the effect of Yosemite's Valley.
Viñales is famous for hiking and caving, but also for kicking back with a good cigar and the freshest organic produce
Trinidad
Most would say that travel to Cuba is like traveling back in time, but not all areas have remained as preserved and beautiful as Trinidad.
If you're a shutterbug, Trinidad is your spot. Most of those colorful shots of cobblestoned streets and brightly painted buildings from Cuba are from this UNESCO Heritage site nicknamed the Sleeping Beauty of Cuba. The narrow streets running to and around the Plaza Mayor are primarily pedestrian with many horse carts and few cars.
To get a bird's eye view of the beautiful city, enter the Palacio Cantero, a sugar baron's former house converted into museum, and climb the stairs to the top of the tower.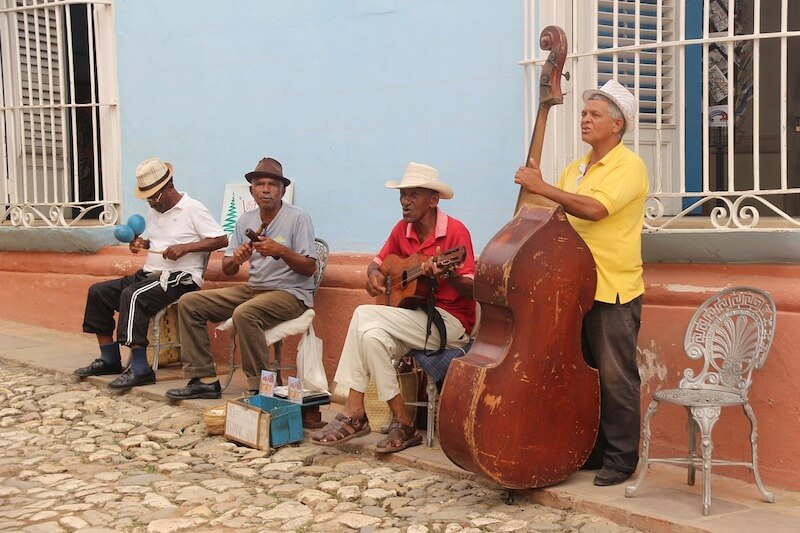 Cienfuegos
Cienfuegos is one of the lesser-known Cuban cities, but is one of my favorites.
Located on the South-central coast of Cuba, Cienfuegos has been nicknamed Pearl of the Sea because of its beautiful bay and natural harbor as well as its charm.
Unlike other cities in Cuba, Cienfuegos has neoclassical architecture and French influence. It is one of the cleanest cities and easy to get around.
While enjoying the historic town center and José Martí Square or the beaches outside of town at Rancho Luna, you will notice reference to one important Cienfueguero (someone from Cienfuegos), Benny Moré, the famous bandleader and musician. His music is world-renowned, but his song Cienfuegos and its lyrics "Cienfuegos es la ciudad que más me gusta a mí" – Cienfuegos is the city I like the most – is on a billboard greeting the city's visitors along side the bay and the malecón.
HOW TO NAVIGATE TWO CURRENCIES IN CUBA: CUC VS. CUP?
All travelers to Cuba use one of the two currencies available on the island. For Americans, because of the embargo, all items must be purchased in cash only as American credit cards and debit cards do not work in Cuba. That said, cash is king in Cuba. There is little infrastructure for stores to have credit card machines.
My recommendation is to have roughly USD 100 per person per day for your trip to Cuba.
You will exchange your USD or other currency in your hotel, at the airport, or at a cadeca (money exchange). All currencies have a 3% surcharge, but there is an extra 10% surcharge for US dollars.
The exchange rate across the country in early 2021 is 1 USD to 1 CUC (Cuban Convertible Pesos). The CUC was introduced in the 1990s for travelers to eliminate the use of the American dollar.
Cuba's other currency is the Cuban Peso (CUP) or Moneda Nacional (MN). Citizens who work for the Cuban government in education, medicine, economics, and other receive a salary in Cuban Pesos. There are roughly 25 Cuban Pesos to 1 CUC. To put Cuban salaries in perspective, an average monthly salary from a governmental job would be 300-500 CUP, which works out to 12-20 CUC. (You can see why many Cubans have chosen to work in the tourism sector and earn tips in CUCs).
PACKING FOR INDEPENDENT CUBA TRAVEL
My advice is you need to bring five items with you to Cuba to enjoy your trip to the fullest.
Toilet tissue and hand sanitizer
Although you may be well traveled and have seen many different types of toilets, Cuban baños are rustic.
At most hotels and higher end private restaurants, you may have toilet seats, soap, and tissue, but not in other places. Most will have an attendant who expects twenty-five centavos to enter. You will get a few squares of tissue. There may be an old bar of soap or nothing at all.
Bring your own tissue to supplement, but remember not to put the tissue in the toilet. The plumbing is weak on even a good day. Place all paper products in a small basket by the toilet. If your toilet doesn't flush, don't be alarmed. Some bathrooms are not hooked up to water. The attendant then enters the bathroom to fill the tank to flush everything down.
Over-the-counter (OTC) medications
Although the medical system in Cuba has won praises around the world, common over-the-counter drugs like pain relievers, anti-diarrheals, bandages, antibiotic ointment and cold medicine are hard to come by and expensive. Do yourself a big favor by bringing an assortment of OTC and a first aid kit.
Comfortable walking shoes
The streets, sidewalks, and stairs in Cuba are precarious. Some of the streets are cobblestoned other in disrepair. Sidewalks and stairs typically don't have railings. Watch your step in Cuba and wear good shoes. Most Cuban life takes place out of the house in the streets and plazas, along seawalls and in cafeterias. Exploring on foot and at different times of day is my favorite activity.
Bring light clothing that dries easily and a hat
Regardless of the time of year you travel to Cuba, you are in the Caribbean where temperatures are 70-80℉/21-27℃ October-April and then 80-90℉/27-32℃ degrees in the summer with very high humidity. I would recommend light clothing that breathes well and dries fast, and a good travel hat. With air conditioning not as common in Cuba, I advise purchasing an abanico or fan to keep you cool while you are out and about. Most hotels and casas particulares guest houses have room air conditioners.
Pack your patience
Regardless of where you travel, patience is an essential packing item, but especially in Cuba. You have probably heard of island time, very slow, laid back and absolutely no rushing. In Cuba, that is taken to a whole other level. There is no such thing as a New York minute in Cuba. Take a chill pill (a.k.a. a mojito). You will need to adapt to the slower service and wait patiently for entrance to museums, activities and the like as an increasing number of cruise ships and tourists make their way to Cuba.
WHERE TO STAY IN CUBA
If you are looking for accommodations in Cuba, you are not alone.
With not nearly enough hotel rooms for the number of tourists, Cuba's private sector has grown with casa particulares. These are typically part of the owner's home, perhaps an extra room or an additional floor or wing. Prices depend on the location of the casa, amenities, and time of year. A standard room with bathroom and breakfast is 25-35 CUC per night.
To find B&Bs in Cuba, I advise checking out AirBnB. Of course, costs will vary depending on location, with Havana more expensive than Cienfuegos, just like South Beach would be more expensive than Madison, Wisconsin.
If you want to stay in a hotel like the famous Nacional in Havana or an all-inclusive beach resort in Varadero, be prepared for high prices. In high season, a standard room at the Nacional goes for 400 CUC. The limited hotel space in Cuba has driven up prices significantly in the past few years.
FOOD, DRINK AND CIGARS (WHY NOT?)
Comida cubana
Cuban traditional cuisine is all about the slow roasted pork, succulent and delicious.
Typically, every meal – whether pork, chicken, or fish – will be served with moros (short for Moros y Cristianos which means Moors and the Christians, symbolized by the black and white of the beans and rice mixture).
In addition to rice and beans, you will have many roasted vegetables such as malanga (taro), boniato (sweet potato), yucca, and calabaza (squash/pumpkin). AND, don't let me forget the best part for many, the desserts. Ice cream in Cuba is wonderful, whether you wait in line at Coppelia in Vedado or at your paladar (private restaurant); it's creamy and delish. However, don't forget to try a Cuban flan, arroz con leche (rice pudding), as well as natilla, a light custard or pudding.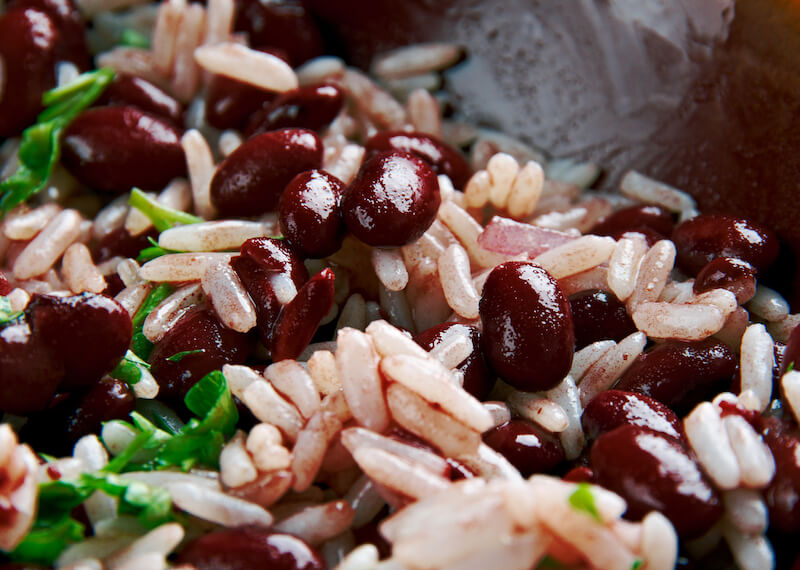 Cócteles cubanos
No trip to Cuba is complete without rum.
There are many Cuban cocktails you will want to try and perhaps repeat. Probably the most famous is the mojito, made with rum, sugar, mint, sparklingly water, and lime.
A lesser-known libation is the canchánchara, which is the typical drink of Trinidad. It is also made with rum, lime, and sparkling water, but instead of sugar, it calls for honey.
If you're not into cocktails, there are non-alcoholic options like Tu Kola (Cuba's version of Coke) as well as Malta (a malted non-alcoholic beverage).
Tabaco cubano
Probably the most famous of all Cuba's products is not the rum, but its cigars. Even if you have never smoked, you may want to visit a tobacco shop, cigar factory, or tobacco farm in Viñales. Whether you try one yourself or purchase some as souvenirs, a shop is worth a visit.
Which cigar do you buy and how many?
Cigars are like wine or scotch. Each person prefers a different flavor, smoothness, and price point. My recommendation is to buy at least one of the crème de la crème and Fidel's preferred cigar, a Cohiba for 12-20 CUC. Other well-known and high-quality brands for yourself and as gifts are Montecristo (preferred by Che Guevara) and Romeo y Julieta.
I suggest you buy your cigars only at a tobacco shop, factory or farm. Those you will be offered on the street may be old or under par.
CUBA SOLO FEMALE TRAVEL
Solo travel to Cuba is common and this is one of the safest countries for solo women.
Is it safe to travel to Cuba? From my first trip to my most recent, I have felt very safe everywhere in the country, from Havana's malecón morning or night to every other city.
Violent crime in Cuba is very low and Cubans are not allowed to carry guns. However, the most common crime is petty theft.
While it's perfectly safe to travel to Cuba alone, do what you would do in any city: be aware of your surroundings, lock up your belonging in a safe, lock your suitcase, and carry only a portion of your money with you when out exploring.
Probably the most uncomfortable thing for many women are the constant piropos, or flirtatious catcalls. There is no way around them. Cuban men will whistle, honk horns, flash their headlights, and call out baby, bonita, guapa, and everything else they can think of. The best way to deal with this is to confidently continue on. If a man walks with you, smile and say no gracias. Most likely he will move on to another bonita or guapa to improve his odds.
HOW CAN YOU TRAVEL TO CUBA?
For global citizens, Cuba has been a playground for tourism for decades. In the 1990s, Cuba's tourism growth was tremendous. However, because of the US embargo, pure tourism remains illegal for Americans and to visit, you must belong to one of 11 categories, which you can find here.
Beginning in June 2019, Americans were allowed to visit Cuba in a small group or independently under the Support of the Cuban People category. This option requires that you undertake full-time activities supporting private enterprise such as artist communities, paladares (private restaurants), private drivers and casas particulares (B&Bs).
Getting to Cuba, however, is a different story. Since 10 December 2019, the only commercial flights you can book from the US are to Havana; previously, there were commercial flights to other Cuban cities but now only charter flights ply those routes. In either case, you will receive your tourist visa from your airline, which is valid for thirty days.
What are you waiting for? Start planning your Cuban adventure now.
Until our paths cross in Cuba!
This guest post is by Heidi Siefkas – author, speaker and adventurer. Originally from small-town Wisconsin, Heidi now hangs her hat in South Florida. However, as an adventurer, she's rarely home for long. She is the author of three books, including her latest, Cubicle to Cuba. Connect with her at heidisiefkas.com and on Facebook and Twitter, or book a tour and visit Cuba with her.
TRAVEL TIPS FOR CUBA
Please don't forget your travel insurance! Women on the Road recommends World Nomads if you're under 66 (70 in some countries). If that birthday has come and gone, click here for travel insurance recommendations that cover you at any age.
---
CUBA AT A GLANCE
Top 5 Cuban must-sees
Havana's Malecón, the largest sofa in the world, where Havana comes alive
Viñales, mini-Yosemite of Cuba
Trinidad, the Sleeping Beauty of Cuba
Los Cayos, Cuba's Keys on the North Coast
Baracoa, Columbus said it was the most beautiful place on earth
Top 3 off-the-beaten track
FAC (Fábrica de Arte Cubano)
Playas del Este
Rooftop terraces of one of these hotels: Inglaterra, Gran Manzana, or Ambos Mundos
Women need to be aware that…
Cuba is a very safe country. That said, be prepared for plenty of attention. These could include wolf whistles, kisses, and invitations to go out dancing.
You can't leave Cuba without buying…
an authentic Cuban hat
a pair of claves (rhythm sticks)
You can't leave without trying these 3 foods
Ropa vieja (stewed beef dish)
Guarapo (fresh sugarcane juice)
Malanga fitters with honey (taro root fritters)
For even more information
Try these excellent sites: Daiquiri USA and Cuba Unbound
Guest Contribution by Heidi Sifkas
---
SHOP THIS POST ON AMAZON
PIN THESE PICTURES AND SAVE FOR LATER!