Historically one of the most important cities in the South Caucasus region, Tbilisi has always been a melting pot of cultures and religions thanks to its position on the Old Silk Road. Georgia's capital has many familiar elements, but in truth, there's no other place on earth quite like Tbilisi.
This is a city of stately buildings, ornate balconies and chaotic courtyards juxtaposed with hip bars and cafes. A place where synagogues, Apostolic churches and a Zoroastrian fire temple brush shoulders with Persian-style bathhouses and Soviet-era apartment blocks.
Add to that a distinct language and cultural traditions, a strong Orthodox influence, a decadent national cuisine and a UNESCO-listed winemaking tradition, and you start to get an idea of what makes Tbilisi so special.
There are plenty of things to do in Tbilisi for any interest, be it history, architecture, textiles, art, food or wine. Two or three full days is the ideal amount of time for a good overview. Slow travellers could easily spend a week or more getting to know Tbilisi.
A FEW FACTS ABOUT GEORGIA
Georgia was once part of the Soviet Union and is considered to be either in Asia or in Europe, depending on whom you ask; it is in the region of Trans-Caucasia
It shares borders with Russia, Azerbaijan, Armenia and Turkey
Georgia also includes the unrecognized countries or enclaves of Abkhazia and South Ossetia
The capital, Tbilisi, is in eastern Georgia along the Kura River. Other centers include Kutaisi, Rustavi, Sokhumi and Batumi.
Georgia is one of the oldest Christian countries, adopting Christianity in 326 CE
IS TBILISI SAFE FOR SOLO FEMALE TRAVELLERS?
Tbilisi is an extremely safe city for tourists by global standards, with foreigners very rarely targeted by petty crime. Pickpocketing and scams do occur, but they are far less common than in other European capitals.
Having said that, solo female travellers need to exercise the same level of common-sense caution as in any other big city. Be mindful of your possessions, avoid walking or hiking in remote parts of the city alone, and take care to stay in well-lit areas after dark. A good money belt or anti-theft purse should help keep your valuables safe.
Tbilisi has a large cohort of street dogs (50,000 according to some estimates). The majority are vaccinated and cared for by the public, so you'll find they are very friendly. When venturing out of the city centre, be wary of shepherd's dogs, who are far more aggressive.
Road safety is by far the biggest concern for travellers in Georgia and should be something you're mindful of at all times. Never get into a car with a driver who has been drinking, and avoid travelling on the roads after dark. When walking in Tbilisi, be cautious of traffic and use the marked underpasses to cross major roads.
HOW TO GET AROUND TBILISI, GEORGIA
The central part of Tbilisi is fairly walkable – just note that there are a lot of hills and some cobbled and uneven streets, so good walking shoes are essential. If you have mobility issues, you might want to avoid walking in some parts of the Old Town.
Tbilisi has an underground metro system and a great city bus network, which makes travelling longer distances on public transport a breeze.
When you arrive, it's a good idea to buy a SIM card (Magti is the recommended provider) so that you can use an app for ordering taxis. Bolt is the most user-friendly app for English speakers.
THINGS TO DO IN TBILISI
Soak in the sulphur baths
The domed brick roofs of the Abanotubani sulfur baths are a Tbilisi icon and an image many people associate with the city.
The naturally hot thermal waters that course under the Old Town are closely tied to the legend of the city's founding: As the story goes, King Vakhtang Gorgasali was out hunting with his falcon when it fell into a hot pool and perished, thus designating the site of his new capital and giving the city its name, Tbilisi, meaning 'warm place'.
Bath house culture is still very much alive, with a dozen or so establishments in Abanotubani. Some offer public (sex-segregated) wash rooms, while the more luxe option is to take a private room with its own hot sulfur bath and cold plunge pool. Don't miss the Kisi exfoliating scrub, which is comparable to a Turkish hammam treatment.
While it's fun getting lost down the winding streets of the Old Town, you'll find that exploring Tbilisi with a guide is a much more rewarding experience, especially if you're on a tight timeline.
There are dozens of walking tour companies, but if you have to pick just one, try the Hidden Tbilisi Tour. As the name suggests, this itinerary focuses on lesser-seen corners of the city including historic facades, painted entryways and courtyards that aren't normally open to the public.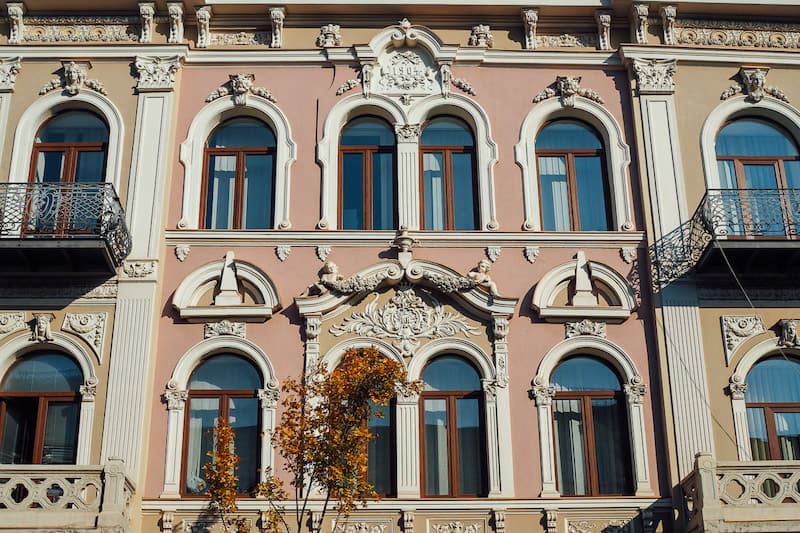 Go wine-tasting at 8000 Vintages
Georgia is widely considered to be the 'cradle of wine', with some of the world's oldest evidence of viticulture uncovered in archaeological sites in the country's south. Wine is a way of life and a huge part of the culture.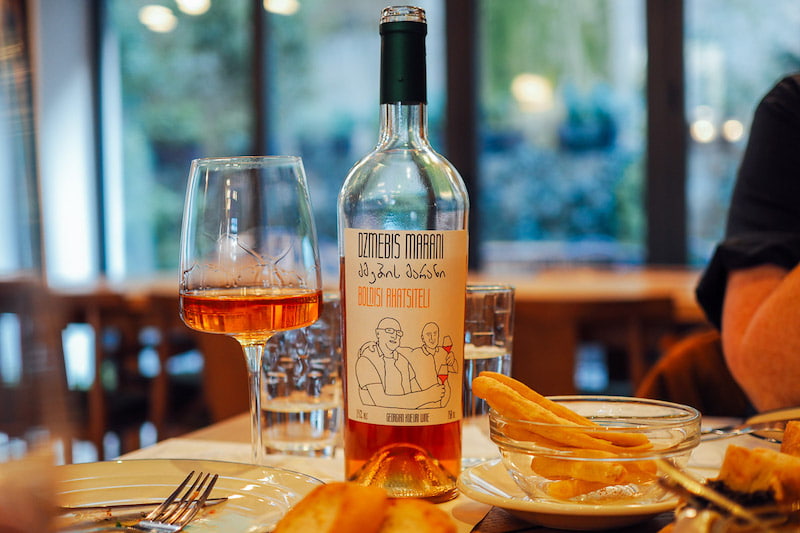 Wine bars are a dime a dozen in Tbilisi. If you know your wine or have more than a casual interest, it pays to do a proper sit-down degustation. 8000 Vintages has a house sommelier to lead you through a tasting of four local wines. It's very accessible and down-to-earth, and even if you're no wine connoisseur, it's an insightful experience. The accompanying tasting board of Georgian cheeses and dried fruits is also a highlight.
Sign up for a Georgian cooking class
As delicious as they are, there is so much more to Georgian food than just Khinkali 'soup dumplings' and Khachapuri 'cheese bread'. Like Tbilisi itself, the city's food scene is a melting pot of flavours, spices, produce and techniques from all four corners.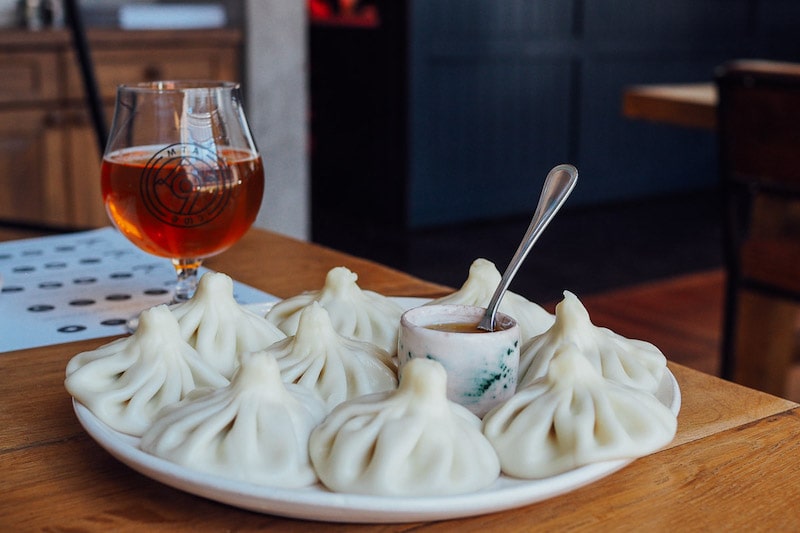 Gastronomes interested in discovering the wonderful world of Georgian cuisine should sign up for a culinary masterclass with Georgian Flavors, a women-led boutique company. Their sunny garden kitchen in Avchala district is the perfect setting for cooking with seasonal and fresh ingredients.
Chef Irma will teach you everything you need to know about regional cuisine and guide you in preparing four dishes, enjoyed under the grape vines with a bottle of wine at the end.
Visit a museum
Tbilisi has dozens of excellent museums that span every interest, from folk music to Soviet history. The State Silk Museum, Folk Art Museum and the newly opened Wine Museum are all top-notch.
The Georgian National Museum and National Gallery, both on Rustaveli Avenue, house beautiful collections. The basement treasury at the museum is particularly impressive, with its exhibition of Colchian gold (a fantastic intro to Georgia's connection with the Greek myth of Jason and the Argonauts).
For something different, the lesser-visited Art Palace Museum in Chugureti district houses a private collection of theatre costumes, sheet music, antiques and paintings.
Browse the Dry Bridge Market
Tbilisi's daily flea market is a treasure trove of antiques, Soviet memorabilia and hand-made items. Things get going at around 11am, and for the biggest variety, it's best to visit on the weekend.
Even if you're not here to buy, rummaging through the vendors' collections and seeing what you can turn up is half the fun. Souvenir-appropriate items include Soviet film cameras, vinyl records, books, old maps, antique carpets and other small trinkets.
Shop for Lurji Supra
Georgia's signature handicraft is the Lurji Supra or 'blue tablecloth', a magnificent cotton textile decorated with kitchen-inspired ornaments and buta symbols. It's closely associated with the Supra, a traditional Georgian feast, and you'll often see the colourful tablecloths laid out in preparation for a big meal.
Lurji supra are the perfect souvenir, especially if you can get your hands on a cotton version that's been block- or screen-printed by hand. Many studios now make modern versions in a rainbow of colours.
EthnoDesign and Gallery 27 both stock a nice range of tablecloths and other home textiles with similar prints alongside Georgian ceramics, jewellery and other handicrafts.
Take a side trip to the old capital, Mtskheta
Less than 30 minutes from Tbilisi, Georgia's old capital, Mtskheta, is sometimes referred to as 'the second Jerusalem' because of the prolific number of relics and artifacts housed in its churches. One of Georgia's four UNESCO World Heritage Sites, it's a must-see when visiting Tbilisi.
Jvari Monastery and Svetitskhoveli Cathedral are Mtskheta's two main landmarks. There are dozens more convents, archaeological sites and hilltop monasteries to see in the surrounding hills.
It's quite spread out and most sites lack English signage, thus it's highly recommended to visit with a professional guide. This private half-day tour of Mtskheta from Tbilisi covers all the highlights.
Please don't forget your travel insurance! Women on the Road recommends World Nomads if you're under 66 (70 in some countries). If that birthday has come and gone, click here for travel insurance recommendations that cover you at any age.
BEST PLACES TO EAT IN TBILISI
When you travel to Tbilisi, one of the main attractions is bound to be Georgian food.
Puri Guliani: Located on the river near the Dry Bridge Market, Puri Guliani opens earlier than most other cafes and best restaurants in Tbilisi, making it a great breakfast spot. Try the Kikliko, eggy bread with cheese and tomato.
Culinarium Khasheria: Serving traditional Georgian recipes with an Asian twist, Culinarium is run by the country's most famous female chef, Tekuna Gachechiladze. The location near the sulfur baths makes it a convenient lunch spot when exploring the city. Be sure to order their signature dish, Khashi, a traditional hangover remedy.
Cafe Littera: A strong contender for the title of 'Most beautiful restaurant in Tbilisi', Cafe Littera is set in the outdoor courtyard of the Writer's House of Georgia. You'll often see other lone diners here with a glass of wine in one hand and their head buried in a book.
Cafe Daphna: This beautifully designed restaurant off historic Atoneli Street is known for its plump, juicy Khinkali dumplings – which many say are the best in the city.
BEST PLACES TO STAY IN TBILISI
Budget: Located in a refurbished Soviet factory, Fabrika Hostel & Suites offers sex-segregated dorms and private rooms. Even if you opt for your own room with an ensuite, the communal area is a great place to meet locals and other travellers. Definitely one of the best hostels in Tbilisi.
Mid-range: Communal Hotel Plekhanovi is an exquisitely designed boutique hotel in Tbilisi with an onsite restaurant, cafe and gift shop.
High-end: Stamba Hotel is one of the best hotels in Tbilisi and perfectly positioned for exploring both Old Tbilisi and the hip neighbourhoods of Vera and Vake. Rooms are spacious and beautifully decorated, and there are plenty of restaurants and bars within walking distance.
If you're after something with a more local vibe, there are plenty of Airbnbs in Old Tbilisi to choose from. You might be tempted to stay at a place with a charming courtyard, but for solo females, it's a good idea to avoid apartments with shared areas as you don't get much privacy from the neighbours.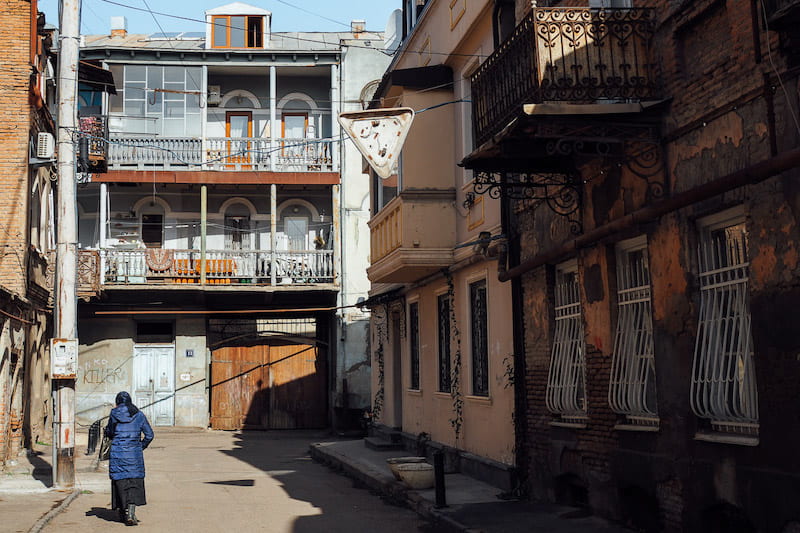 In traveller's terms, Tbilisi is the ideal destination. Compact and easy to navigate, overwhelmingly safe and exceedingly budget friendly, it's especially suitable for solo females.
Experienced travellers in particular will enjoy unravelling the city's secrets and basking in the east-meets-west vibe.
Guest Contribution by Emily Lush. Emily is the founder of Wander-Lush, a culture-focused travel blog and the internet's most comprehensive resource for travel in Georgia. She is currently based in Kutaisi. Follow her on Facebook and Instagram for more. All photos by Emily Lush.
SHOP THIS POST ON AMAZON
PIN THESE PICTURES AND SAVE FOR LATER!