Updated 25 September 2019 – Western women travelling in Morocco are often perplexed: they don't quite know whether it's safe or not.
So they're more cautious than they would be for a trip to, say, Europe or Southeast Asia.
Part of this comes from the lack of familiarity with Islamic countries, compounded by news cycles that equate Islam with danger and warn vaguely of terrorism "out there somewhere." And, in truth, there are occasional incidents involving women and these are highly publicized, especially when they involve Westerners.
WANT SOME QUICK MOROCCO TRAVEL IDEAS? HERE'S A 2-MINUTE GLIMPSE – PLEASE WATCH, AND SHARE!
The following Morocco travel tips for women will open your eyes, make you marvel, and possibly irrevocably ensnare you.
What they shouldn't do is scare you. Yes, terrorism can rear its ugly head, as can sexual harassment or assault, but the truth is, they can do so anywhere.
ATTITUDES TOWARDS WOMEN IN MOROCCO
This is a Muslim country.
Let's get that out of the way.
All that means is that people have a religion that may be a bit different from yours.
And depending on where you're from, people are probably a bit more conservative too.
That conservatism means you should consider maintaining a greater distance from men than you might at home. Say a man grasps your hand for a 'prolonged' handshake or grabs your shoulder or elbow. Where you're from, that might be borderline acceptable, but here, it's completely out of line.
This level of familiarity is NOT the norm.
So beware the messages you send. Cultural differences are very real and your openness and friendliness may mean something completely different In Morocco.
While women are making great social and economic strides, this remains a male-dominated society. The country finally made violence toward women illegal in 2018, outlawing forced marriages along with harassment and sexual exploitation. The law is definitely a step in the right direction.
Many other forces are at work trying to raise the bar for women and girls. In Marrakech, for example, the UN is working hard to educate people about sexual harassment by training bus drivers, city officials and others to watch for and combat inappropriate behavior in public spaces.
Despite the good intentions, harassment happens often, as do sexually explicit comments and lewd hissing. You'll need a thick skin; ignore the comments and keep walking, and if you find avoiding eye contact difficult, slide on a pair of sunglasses, at least during the day. Remember, stereotypes are common, so be aware of those that surround western women.
Of course there are reports of women being physically harassed and assaulted, but I'd like to put Morocco travel safety into perspective. Women are also harassed and attacked in Paris, Rome and Montreal, but according to the World Population Review, Morocco has a murder rate of 1.24 per 100,000 population, a rate similar to that of Germany. The US, on the other hand, has more than four times that, at 5.35 murders per 100,000 inhabitants.
Rape, another crime that concerns us closely, is far lower in Morocco than in the US. Morocco has 4.8 rapes per 100,000, while the US has a whopping 27.3 for the same number of people.
So while you can never guarantee anything, the safety of travel to Morocco is backed by its figures.
Two Scandinavian students lost their lives in a terrorist attack in Morocco in December 2018. Before that, 17 people were killed by a bomb in Djemaa el Fna in Marrakesh. So yes, incidents to occur and it's important to be alert – but not afraid. Here's what the US State Department has to say about Morocco: "Terrorist groups continue plotting possible attacks in Morocco. Terrorists may attack with little or no warning, targeting tourist locations, transportation hubs, markets/shopping malls, and local government facilities."
Very true. There is a risk. But I take a bigger one each day just by driving on French roads after lunch…
A good measure of your welcome and safety is the presence of other women.
In Tangier I was starving one night and walked through the old crooked streets desperate for a meal – every restaurant had only men but I eventually found a pastry shop filled with families. I wouldn't normally walk around the medina solo at night, but in truth I have felt more threatened by drunken Friday night drivers in France than by men sitting in a café having a smoke.
Café Clock – or, the man who couldn't stop laughing
Like a firecracker threatening to explode, Mike Richardson flits from customer to customer until he has greeted them all. He doesn't miss a millisecond of what goes on behind him at the bar of Café Clock in Marrakech, of which he is official puppetmeister. Or owner, if you prefer.
To run one of urban Morocco's most offbeat eateries takes a slice of panache, a pinch of exuberance, and magisterial management skills. This is more of a cultural café, a meeting place where Moroccans and foreigners can sit together and remake the world, an oasis in the maelstrom that can be Marrakech.
With its fusion cuisine, expressive wall art, and afternoon cooking and exercise classes, Café Clock might seem an odd place for the preservation of oral history, yet the mixture seems to work; there are often storytellers on stage enthralling patrons with their enchanting tales.
With its fusion cuisine, expressive wall art, and afternoon cooking and exercise classes, Café Clock might seem an odd place for the preservation of oral history, yet the mixture seems to work; there are often storytellers on stage enthralling patrons with their enchanting tales.
"We all help each other here," said Tariq Hadine, Café Clock's chef, "It's not like other places. All these activities bring people together, all kinds of people. They come to eat camel burger."
Whoa. Camel burger?
"Why not?" asks Mike. "You eat cow, and traditionally eating camel makes you healthier in Moroccan culture. It's the perfect burger."
I thought back to my night under the stars of the Sahara and to my camel Hammadi and in a fit of cowardice ordered a fusion couscous.
Looking around the rooftop terrace, I see Moroccan women in headscarves chatting on a sofa in a corner, a gay couple conspiring at a small table, a young girl reading by herself, and a middle-aged American couple whispering about the menu. "Camel? Really?"
Moroccan, yet not.
Café Clock is Mike's brainchild. Little had prepared the 41-year-old Yorkshireman for a career as a restaurateur in North Africa – although his career and life experiences would feed into his vision of restaurant meets theater and art gallery.
The café is wildly popular, quirky enough to remain undefinable, having been labeled everything from ice cream bar to backpacker eatery to expat hub to cross-cultural café. It is all of those, and whatever else you want to make it. It is a home away from home because Café Clock is, after all, where Mike spends most of his time – he of the zippy laughter, the firecracker about to go off.
MOROCCO TRAVEL TIPS AND OTHER TRAVEL TO MOROCCO ADVICE
What should female tourists wear in Morocco? The good news is that in Morocco, travel clothing is pretty much whatever you want it to be. Still, here's some general travel advice regarding dress.
In the more urban or touristy cities or resorts, you can dress like you would at home. I'd warn against overly suggestive clothing because accustomed as Moroccans are to tourists, the conservative attitudes most grew up with are still close to the surface.
In the countryside or in small villages, especially isolated ones, mores are even more traditional. You won't go wrong anywhere if you cover your knees and shoulders, even in the most conservative areas.
I think the right word would be 'appropriateness': be comfortable but don't push social boundaries too far. I've been to Morocco many times and simply followed that rule, everywhere. If you want specifics, think loose skirts (here are some travel skirts I recommend) or pants and a top that isn't skin-tight or that reveals plenty of skin.
In terms of what counts as "Moroccan clothing," women, especially younger ones, are indistinguishable from their Western counterparts – this isn't Saudi Arabia. Women who work look like women in Europe or elsewhere, wearing dresses or suits that reflect the jobs they do. Some women do wear the traditional headscarf or hijab as well as a flowing djellaba, but these tend to be the more traditional.
Where there are tourists, there are police, especially since terrorists blew up a cafe in Marrakech in 2011, and just recently a law passed requiring policemen to carry firearms. Many police are in plainclothes and even if you don't see them, they are watching you. Tourism is a major industry in Morocco and the last thing authorities want is bad publicity.
In the same vein, where there are tourists, there will be conmen (this is true the world over), from pickpockets to deft artists who grab your hand and apply some henna – and then insist on payment. Keeping your normal wits about you should help you avoid most of these situations.
Scams abound, so avoid talking to men who simply approach you out of the blue. Remember, Morocco is also a relatively poor country and there is high unemployment, which does affect attitudes (and prices, which are lower than Europe's). You'll want those sunglasses so you can avoid the unwelcome advances of fake guides and hustlers, who will offer you tours (usually posing as students) and convince you to enter a shop where you'll almost be forced to buy something.
Morocco is also a destination for female sex tourism, with women visiting in order to find male companionship. Bear this in mind if you're approached by a younger man… he may be trying to sell you a whole lot more than a carpet.
Here's a tip. If you buy something in a tourist market, keep it within your sight. I bought a sheepskin which was taken to the back for wrapping, and when I got home it definitely wasn't the lovely white one I'd bought.
Just say you'll wrap it yourself later.
And you'll find Moroccans extremely hospitable. An invitation to a family home should be treasured. In fact if you meet people who do invite you over, run, don't walk. I have memories of family meals that will stay with me forever.
HOW TO TRAVEL TO MOROCCO
A solo trip to Morocco is easy to organize if you're coming from Europe – there are plenty of daily flights from most cities and travelling to Morocco is extremely popular among Europeans.
If you're coming from North America, you can still fly direct with Royal Air Maroc to Casablanca or connect easily in Europe.
If you're in Spain or France, you could also take the ferry, which I've done and enjoyed for the experience (but which is significantly more expensive than a low-cost airline).
The Splurge: Once-in-a-lifetime Morocco experiences
HOW TO TRAVEL AROUND MOROCCO
Getting around in Morocco is a pleasure, and a simple one.
I have taken pretty much every mode of transport here, from buses to planes to camels, and Morocco train travel can put many North American trains to shame. You can also rent a car and drive yourself around if you wish to – it's not too difficult to do but the region is mountainous and good driving is a must (not to mention the ability to drive a stick shift and negotiate tight mountain roads).
The transport network is excellent and the roads are much better than during my first visit in 1980s, when crossing the Atlas was an adventure along strips so narrow and winding that in some places you had to stop to let oncoming traffic pass.
These days you can hop a train in a world-class train station, sit in air-conditioned comfort and let someone else do the worrying.
Wherever you go, beware of touts at the station though – they'll try to carry your luggage (don't lose sight of it!) and sell you onward tickets you don't need, since you can buy them legally and easily from the ticket counter. For trains, especially on popular routes, I'd go buy my ticket the day before because trains fill up fast.
If you do drive (Can women drive in Morocco? Yes, of course they can!) you'll be able to go touring on your own to most places, although I'd look at the map very carefully: some roads wind through mountains for many miles without crossing a village and getting stranded solo in the middle of nowhere is not a recipe for successful travel, even if you do speak the language. The exception is the desert – not the place you want to be stranded by yourself.
Distances may look short on a map – Morocco is the size of California – but once you're driving, some roads feel as though they'll never end. In winter, many are impassable.
While Morocco solo travel is my preferred way to go, all that planning in a country far away can be daunting, especially when plenty of companies do offer excellent Morocco travel packages. The one time I took a tour was with Desert Majesty, which was reasonably priced. Felicity in their Ouarzazate office knows what it takes to provide a service for women, and I had a private guide all the way but the agency organized all the details. (My favorite Morocco travel guide was Mohammed (see box below), who was full of history and humor.)
This was the best of both worlds, a group tour without the group.
Meet Mr Mohammed from Mhamid, Morocco
The dust sprinkling the streets of M'hamid Elghizlan comes from the desert's edge a few minutes away, where the Saharan wind and sand eat into what was once a thriving crossroads along the salt caravan routes to Timbuktu.
"My father's shop was down there, on the corner," pointed my guide Mohammed El Aamrani, who grew up in this town. "We moved here when I was a boy, after the hydroelectric dam was built and all the water dried up."
When Mohammed was a child, he ran freely across the dunes. Like other children, he was given a baby camel to tend, a spirited redhead called Lhaymar.
"I walked with her, slept with her during the day. Camels are almost like people," insists Mohammed, "They never forget, and they have feelings. So never upset a camel or he'll make you suffer, if not right away, someday in the future."
The transient lifestyle of Mohammed's nomadic Sahrawi people didn't end overnight. Like the advancing desert, it changed inch by inch, the water receding drop by drop, slowly shifting in almost indiscernible increments.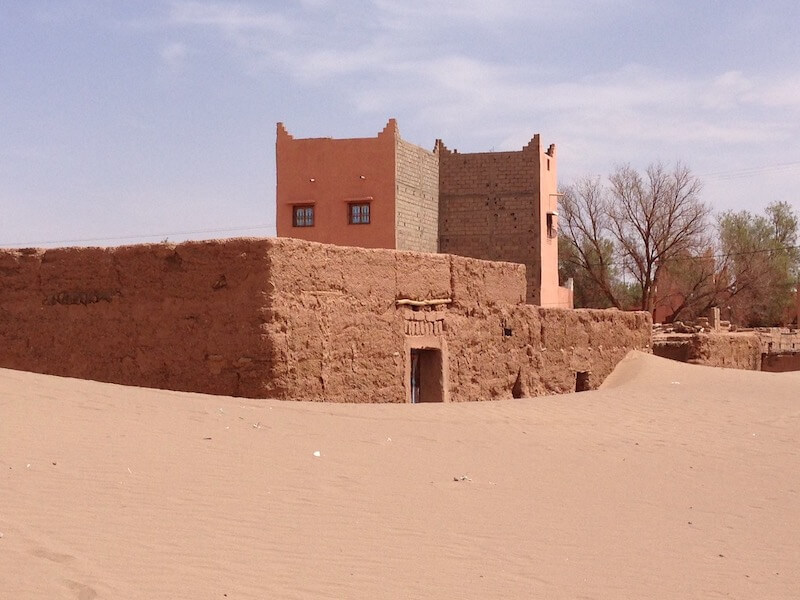 As desertification spread, vegetation on which camels fed disappeared.
"My family had to sell its camels to buy food and then to buy a house, since we couldn't live as nomads anymore," recalls Mohammed. "We used to grow things but that all ended. Even the trees stopped giving dates."
The desert was never a welcoming habitat, but the hydroelectric dam accelerated its demise.
All that remains of the lake in Mhamid is a stony bed; once in a while, the floods come, but the water evaporates just as quickly.
I looked around the desolation and tried to imagine Lake Iriki and the surrounding Erg Chigaga as a leafy field, moist and alive. I could not.
There were few signs of life along the faded track we followed across Erg Chigaga to Mhamid, one of Morocco's two entrances to the Sahara.
Mhamid is Southern Morocco's end of the road, where the crumbling asphalt of the N9 Nationale ends abruptly and turns into sand. The town is bordered a kilometer or two to the South by a Kasbah, or traditional fortress, whose inhabitants are descendants of freed slaves from Mali.
Beyond the Kasbah are a few farms, still far enough from the desert to yield crops, especially during the floods of the rainy season.
These days, the region is quiet. As for the town of Mhamid, it stands proudly. It may be the last town at the edge of the country but it is tough, resilient and capable of taking care of itself – dust, sand and all.
THE BEST OF MOROCCO SHOPPING
Walking through a city souk or market may be a feast for the eyes but it will also be a tug on the wallet.
Colors, colors everywhere, scents that will carry you back centuries – from enticing (street kebabs) to disgusting (leather tanneries) – and sights that you'll cherish or detest, like the fine mosaics or monkeys on a leash.
Morocco is made for shopping: handmade Berber carpets and cloths, leather bags and jackets, foods and spices, metalwork and woodwork. You'll only be saved by size, with many of your ideal purchases too large to carry home. If you go slightly upmarket and visit a reputable shop, you'll be able to get things shipped home and trust that it might actually get there.
When you're in a market, know that quoted prices will be far higher than you need to pay and a Moroccan souk is one place where you must actively engage in the art of haggling. Do not accept the first price – merchants are just fishing, and they've honed their skills over generations . Don't expect to get off lightly.
Djemaa El Fna, Marrakech: The Souk of Souks
As morning light glides across the square, a bit like honey over bread, stalls spruce up for a day of business. Soft beiges and vivid turquoises of slippers, the symmetry of multi-hued carpets from the desert or the mountains, supple bags, and enormous, bright blue pottery urns, all thrust forth so irresistibly only a stone could remain unaffected.
The temptation to stop, touch and buy is stronger in Morocco than anywhere I've experienced, save perhaps the Grand Bazaar in Istanbul. I can't resist, eventually becoming ensnared by sales techniques as ancient as the sand dunes from which they come.
Inside the square proper lies the true heart of Djemaa el Fna. Beating today as it has for centuries, it attracts the curious who know they should look away in disgust but still feel compelled to partake.
Like posing with a monkey on a leash or watching in awe as a man with a flute performs for his snake, jarred from its sleep and inevitably harmless – as you too would be if your jaw had been sewn shut and your venom removed.
In the growing midday heat, the elderly seek out patches of shade. Only foreigners brave the temperature.
As the day slinks by, shadows lengthen and a slight breeze picks up. Cafés fill, foreign patrons jostling one another for position along the parapet at sunset in search of that elusive photograph.
Food carts are wheeled into their spots, fires are lit, meats set on grills, and the familiar smell of sizzling fat drifts up to the balconies. The assaulting enormity of Djemaa el Fna at night is smoke rising from the dozens of food stalls, thick and clinging in my throat. It is men in white aprons waving long menus, begging you to sit at their bench.
The crowds are thicker now. Here and there, hurried whispers carry a sense of urgency: "Come my store! Please, see only!"
After a long and convivial evening, the circle closes. Streets are swept, shutters pulled down, and carts covered and wheeled away.
Djemaa el Fna isn't a place to see, but to feel, an event worthy of its 24-hour cycle, after which you may leave, having finally earned the right to reclaim your peace.
Many goods will be made by hand, and made right there, something you can't often say anymore when you shop. Even so, just know that the Chinese have set up huge manufacturing plants in Morocco and many of the counterfeit items you'll find in the market – like those nice $5 ICE watches – may not be made in China but certainly by China.
Several travelers mentioned to me that they had been shooed away when trying to take photos in some of the souks.
It happens. Merchants are there to sell, not to be a backdrop in our pictures.
I found that engaging people before sticking my camera into their face made a world of difference. Even if you don't speak Arabic or French (unless you want to take a course), most businesses in tourist areas will have someone who speaks a few words of English, at least enough to say hello and wave vaguely about the weather. A bit of conversation upped my photographic rate by about 500% and in some cases enriched me far more than a picture or two would have.
Sensitivity and courtesy. Works (almost) every time.
And speaking of the weather, when is the best time to visit Morocco?
In my opinion, the best time to go to Morocco is April-May and September-October.
Don't even think of summer – you'll roast. Winter, on the other hand, is feasible, although some mountain roads aren't passable.
WHAT TO EAT IN MOROCCO
Moroccan food is extraordinary, from Moroccan olives to chicken with preserved lemons to Moroccan tajine, that wonderful stew braised for hours in a cone-shaped pot. This recipe explains it all. And if you're vegetarian, try making this amazing Harissa Hummus recipe if you want to hold on to some of that 'Morocco feeling' once you're back home.
Heather Sinclair of The Travel Type describes part of a cooking class she took in Marrakech:
"While I was busy stir-frying the vegetables with a wooden spoon, Latifa (the teacher) took out a sheet of thin pastry and unfolded it onto the counter. She took the pan off the stove and poured some vegetables onto the pastry. Then she rolled the vegetables up and folded the ends so it looked like a big vegetable cigar. She stepped aside and I knew it was my turn. I tried to imitate exactly what she had done, but somehow mine didn't turn out as nice-looking. I consoled myself, thinking it would all look the same in my stomach. We tossed the two rolls into the pan to fry.
While the rolls fried, Latifa's had me prepare a bed of salad and a sauce for my meal. Then it was back to the rolls. Latifa reached into the pan and flipped one with her fingers. I flipped the second roll: it was golden on one side and looked (and smelled) delicious.
I sat down in front of my plate, silently declaring the cooking class to be a success: I hadn't set the kitchen on fire or sustained any injuries whatsoever. My first ever made-by-me Moroccan dish was ready to eat." Click here for a selection of Morocco cooking classes.
BEST PLACES TO TRAVEL IN MOROCCO: CITIES TO VISIT YOU CAN'T MISS
As far as an ideal Morocco travel itinerary, I'd suggest you try to include the following: Casablanca, Chefchaouen, Fez, Marrakech, Essaouira – and the Sahara. Go as far South as you can.
The following list highlights my most recent visit – and leaves out places I haven't been to or visited many years ago.
For a comprehensive look at the best Morocco tourist attractions, just consult any good travel guidebook (I usually use the Morocco Lonely Planet).
Fez
The Fez (or Fes) medina, the old quarter, is spectacular and remains much as it has for centuries. With good fortune this will continue, because it is protected by UNESCO as a World Heritage Site.
Fez is where my heart lies, an older, less touristy town where you can lose yourself in the labyrinth of alleys, strutting along like others have done for centuries before you. It is unlikely that you'll be bothered, and if you peer into the dark recessed openings that dot the medina, you may glimpse a bread maker or a bowl carver or a cloth dyer or many other traditional crafts that Fez doesn't seem to have forgotten.
The Scents of the Fez Medina
How can you even begin to understand the Fez medina, a walled city that has 9000 narrow streets, 10,000 shops, a million people and is a millennium old?
Confusion sets in with an early-morning walk through the twisted streets of Fes el Bali, the largest of the city's two medinas,.
Around a corner, my nostrils flare with delight as they approach mounds of dates and nuts and apricots and olives. I then almost choke as this fades and I enter the chemical mist hanging over the city's ancient tanneries, an eye-watering mixture of pigeon excrement, dyes and cow urine.
Only the din of the medina might be more powerful than its smells.
Everywhere, craftsmen bang and pummel and pull at metal and stone. The hammering bounces off walls, somersaulting down each minuscule street like a fireball seeking escape.
Occasionally, the camaraderie shatters as an argument breaks out, about price, perhaps. Tempers flare until the limit of civility is reached. The men back down, each convinced of his victory, and peace returns.
The colors and shapes of the Fez medina are almost as violent as its sounds, deep green olives fighting with crimson chilies, tiled mosaic fountains battling twisted earthen roads, bright white houses against blue skies.
Fez is as ancient as it is new, its food delivered by donkey and ordered by cellphone, its entertainment an old man's vaguely remembered story, beamed across the medina and the world by satellite.
Faced with a city that has survived longer than any other like it, I wonder whether I have made any sense of Fez, which I love and despise in equal measure, whose overburdened donkeys haunt me, whose smells offend me, and whose beauty turns me into a giddy girl.
I often travel independently and when I do, I love staying in riads, traditional Moroccan houses with inner courtyards and even fountains, many of which are being renovated and converted into hotels.
For a wonderful account of what it takes to renovate a riad – trendy among foreigners these days – you must read Suzanna Clarke's A House in Fez, although she actually lives in her house and it's NOT a hotel.
My recommended hotel in Fez: Riad Laaroussa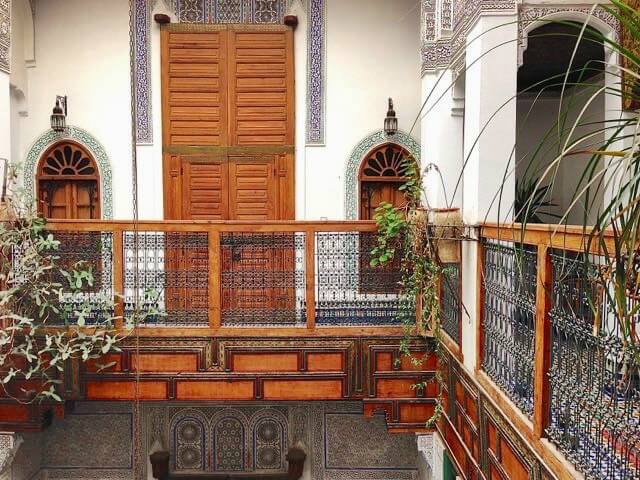 Moulay Idriss Zerhoun
If you're near Fez (and you should try to be at some point) take a side trip to Moulay Idriss el Zerhoun. From Moulay Idriss it's a half-hour walk downhill to Volubilis, a collection of dreamy Roman ruins around which you can build an entire day. (You can easily do this on a day-trip from Fez.)
My recommended hotels in Moulay Idriss are La Colombe Blanche and Dar Zerhoune
Fast Forward in Moulay Idriss Zerhoun
I sit in one of Moulay Idriss Zerhoun's numerous French-style cafés, savoring a glass of mint tea.
It's high noon, and the stone plaza is bustling with people on their way to lunch.
On my left, arcades with facades as bright as the summer are dented by domed entrances, dark and dim, which hide the wares of an entire town. Once, these goods were mostly foodstuffs and traditional Moroccan aitems. Today, they sit next to gas bottles for cooking, stoves, and recycled plastic bottles that are used to carry water or oil.
Behind me, the mosque is blocked by a wooden barrier above which a sign proclaims, "No entry for non-Muslims." This is, after all, Morocco's holiest town, the one which supposedly introduced Islam to the country late in the 8th century.
Teepee-shaped tajine pots bubble over, and fresh sides of beef hang from entranceways, confirming that while vegetarian dishes may be available here, this is a culture of meat.
Many old men fill the square, in brown or striped wool djellabas, white beards matching their caps. One approaches me.
"Where are you from, Madame? Etes-vous française?" His French is impeccable, belying his decrepit clothing.
He pulls out a fossil, which he insists is real. I decline, knowing how huge the fossil industry is in Morocco.
A few minutes later, I spot him bargaining with a group of Germans. They don't buy and he glides away. How can I possibly abandon my 'compatriot'? I wander over and am now the proud owner of my own fossil, vastly overpriced.
The dullness of earth colors worn by the men contrasts with the bright purples and blues of the older women's djellabas. The djellabas unexpectedly end just above striped sports socks stuffed into old plastic sandals.
A few of the younger women are slightly more fashionable, but still incongruous in their warm-up pants and light fleeces. Some cover their heads, others seem as free as the wind sailing through their hair.
This ebb and flow is shattered by Western laughter, a relatively new sound here. It emanates from two women clad in tight leggings that mold two clearly visible behinds. Dressed as they would be back home, the women seem almost embarrassingly naked here, where only heads and hands peek out.
Suddenly the air bursts into Dhuhr, the noon prayer. Shops become still, and the pace of the piazza slows.
Moulay Idriss Zerhoun is caught in a vise of time. Many of its traditions remain intact but it has touched the 21st century and has no intention of ignoring it. Every home strives for that most modern of centerpieces, the television set, and there's no ignoring what is happening in other parts of the world.
But here at noon, in the café on the main square, that future might as well be a thousand years away.
Marrakech
Marrakech is a trading center and has been for centuries, at the crossroads of Europe, Africa and the Arab world. Its energy can be jarring and if you're looking for a peaceful place, you'll be hard-pressed to find it here.
In Marrakech, you can take your pick: visit a Berber rug-making family factory; stop by a women's argan oil cooperative (beware – not all coops are legit) ; get steamed and pounded in a hammam or Turkish bath; take a food tour or a fusion cooking class from my friends at the Cafe Clock… or visit the glorious Majorelle Garden.
RETHINKING MARRAKECH
Nearly 30 years ago, I visited Marrakech (often spelled Marrakesh, by the way), and I remember a pushy, leering place, with men almost grabbing at me to get me into their shops. The only two times I'd ever been tricked in travel happened there.
I also remember Moroccan salesmen as being extremely aggressive. They would try to drag me physically into shops, often locking their fingers around my arm for emphasis. The verbal assault was constant. For someone who likes her own company and shuns crowds, I felt under constant pressure. The experience was not a good one.
Recently, I returned to the scene of these memories, mentally armed to ward off the hard-sell and primed to check each purchase with minute precision.
While I was still approached by every stall-owner, the tone had changed. I was asked gently if I'd like to have a look, and surprisingly, allowed to leave with a smile when I said no.
I wasn't shortchanged in the three weeks I spent in the country, and found people to be generally honest. I met hope and goodwill, artistry and history, huge pride, and an unwillingness to be considered second-class in any way.
So what happened? There are still scammers, as there are in any country, and men still lust after foreign women, especially those who look vastly different fromthan the local women they know. But the come-ons seemed lighter and more polite.
I'm told that strong economic growth has helped. So has a concentration of tourist police. Urban Morocco has significantly modernized, and television has brought other cultures into everyone's home.
Morocco evolved – but I had not, bringing with me old attitudes. I failed to arrive with an open mind – instead, dragging my prejudices with me across decades.
Places do change.
But sometimes, the hardest thing to pack is an open mind.
The Sahara Desert
Another area that nibbled at my heart was the Erg Chagaga area of the Sahara Desert, far enough to avoid the busloads but close enough to the rest of the country to be, well, close.
The Sahara isn't nearby if you're in Marrakech or northern Morocco, so make sure you factor in the travel time to your final destination. This is one place where I wouldn't recommend you driving, especially alone. The roads are narrow and winding, and some simply disappear into tracks and I could see how getting lost might be a possibility. A woman on her own in this kind of desolation would be unwise, so if there's one place I recommend taking a tour, it's to the Sahara. I went (and was super happy) with Desert Majesty, but there are plenty of reputable agencies – just make sure you read the reviews and don't book a tour from someone on the street, "just because it's cheap".
I spent several nights in the desert, one of them even more memorable than the rest.
A Sahara Night
In the Sahara desert at night, the stars hang like an unfinished choreography, dancers suspended in mid-air.
We are three: myself, Anne, who is capturing this beauty with her photographs, and Mbarak, who silently guides our camels through the dunes.
We are in Morocco's South, two dozen kilometers from where the road ends, and Algeria begins.
Despite the proximity, we couldn't be safer. The Moroccan military makes sure the thousands of visitors to the dunes stay protected, and as one Moroccan friend jokes, not even a stray camel could cross the border without being spotted.
The jumping-off point for treks in this area is Merzouga.
My camel is named Hammadi; his broad hooves sink lightly into the sand and create mini-hills with each step as we near our destination.
Rounding a dune, a small camp comes into view, a motley assortment of seven tents made of old wool blankets and scattered berber rugs.
Tonight, we are told, the camp will be empty and the three of us will be alone.
After the sun dips below the horizon, the dunes themselves change color, transformed from rust to deep orange to ochre.
It is so quiet we can hear Mbarak strike a match. He needs candles to see the small gas stove on which he'll be cooking the beef and vegetable tajine we'll eat tonight.
Once the three of us sit and eat, even polite conversation is difficult. Mbarak is fluent in Arabic and Berber but doesn't know more than a dozen words in any other language.
As we finish our meal, a distant cricket breaks into my thoughts, reminding me that indeed, the desert is inhabited with scarabs, scorpions, snakes and birds, whose fresh tracks will be all over the sand by morning.
Later, the three of us lie next to the fire, covered in blankets, mattresses aligned in a circle. We talk, or try to, and eventually fight to keep our eyes open, desperately wanting to watch the sky forever.
In the middle of the night, I look up at infinite specks of light, wishing I could just stay there, on the ground, watching the universe unfold above my head.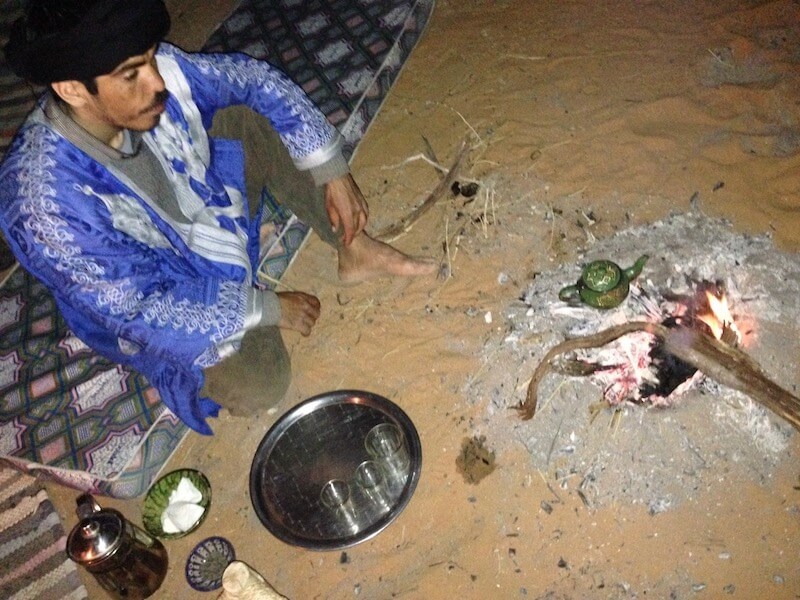 A Sahara Night Ends
My eyes fly open as the first rays appear, jarred awake by the unexpected crowing of a rooster, undoubtedly owned by one of the nearby nomad camps.
The heat arrives quickly, and we must return before the sun is high in the sky.
The way back is loaded with blissful silence. It is a silence of gentle oppression, an absence of sound, where only the squishing of Hammadi's hooves breaks the monotony of centuries.
Tonight, after I'm long gone from here, a trillion stars will reappear in the Sahara night, catching the gaze of someone else's eyes.
The Atlas Mountains
The drive across the Atlas Mountains is a cross between harrowing and stunning. Some of the curves and drops are dizzying, but the scenery is one you won't forget soon.
Feeling adventurous? Go hiking – or even climbing! – in the Todra Gorge to appreciate in the breathtaking scenery.
Or see monkeys where they ought to be, in the wild, at the Ouzoud Falls, where you can also go for a swim.
Or marvel at Aït Benhaddou, a small mountain village that's a UNESCO World Heritage Site and lovely to behold.
Or visit cave-dwelling nomads.
Modern-Day Nomads in Morocco: From Tent to Cave
The ceiling is so low that I must crouch to enter. The walls are rock; the ground packed earth, covered with a homemade throw rug. A few plastic bags carry the family's possessions, bunched in the corner of what turns out to be their 'living' room.
Mohammed Ouhmou kneels as he pours thick mint tea. In the corner, his daughter Touda dampens the fire, her job done.
The Ouhmous are traditional nomads with a twist. A few decades ago, they lived in tents, moving with their home each season. Here along the Boutaghar desert track, in South-Central Morocco between the Dades Valley and the Valley of Roses, these modern-day nomads have traded their tents for desert caves.
Their dwellings aren't permanent, so when food and water are exhausted, they move to the next set of caves.
It's not an easy life.
Roads leading here are barely tracks, at times so narrow a single vehicle can barely pass. When it rains, the track washes out and sometimes the rocks come tumbling down, cutting people off from even the nearest villages.
Life revolves around survival: like many nomads in Morocco, the Ouhmous have goats, whose milk they sell in exchange for supplies. What little there is for extras comes from the few coins left by the occasional visitor.
The Ouhmou cave is part of a complex, with a separate room for the parents, as well as a small kitchen and yard; in summer, everyone sleeps outdoors.
Each Wednesday, Mohammed walks the 15 kilometers to town. His school-age children make the same trek to school on Mondays, returning home only on weekends or holidays.
These days, because of new laws, both girls and boys go to school. The youngest daughter, Marianna, is the first girl in the family to benefit from these changes.
Across the stony desert, a harsh wind blows, spinning dust into the sharp, clear air just as it has for a thousand years.
If you stop for a moment, you might hear the rare sound of a motor, a local truck or an adventurous motorcycle taking advantage of the windswept solitude.
Drive another minute and you'll hear nothing beyond the crunch of stones and sand beneath your tires.
And the barking of dogs, of course, once guarding a tent but today, a warning that someone is coming to visit the cave.
Casablanca
This unique city in Morocco is found south of Rabat, along the Atlantic coast. There's plenty of culture within the city; as you stroll along you'll find lots of lively local markets. The olives are exquisite in this part of the world, and the smell of spices is heavy in the air.
You can't leave Casablanca without visiting the enormous Hassan II mosque and its breathtaking features. Built using a mix of modern and traditional construction methods, the mosque is a grand example of what can be done when old and new come together.
The tours of the mosque are highly informative and available in several languages. Remember to bring along a scarf to wrap around yourself while you're in the mosque!
Tangier
Tangier is a small port city in northern Morocco. There are regular ferries to and from Spain, and further afield into Europe as well. Thanks to its strategic geographical location, it has been a popular trading center for centuries.
The most popular attractions in the city are within Tangier's old town (known as the medina). Make sure you visit the elegant Dar el Makhzen, which once housed the Moroccan sultans and is now a museum with stunning historical artifacts. While you're in the neighborhood, stroll over to the Great Mosque.
Other than trading and fishing, the city is also known for its vibrant textiles and carpets. There's nothing lovelier than fine quality silk, and an authentic, hand-woven rug. You might want to leave some extra space in your luggage to bring some home…
Essaouira
The city´s name is possibly the hardest to pronounce of all the cities in Morocco. Essaouira is a popular tourist destination for all kinds of travelers, who are drawn here by its charm and simplistic beauty.
Some cities are for doing, and others are for being. Essaouira falls into the latter category. The most fulfilling way to spend your time here is strolling along the old dock, watching the fishermen hard at work pulling in their nets (accompanied by the smell of fish) and drinking sweet mint tea in a small local café.
The city center is small, charming, and lively. There are plenty of little shops selling affordable souvenirs and handmade leather bags, a feast for the e. Essaouira is easy to love.
Rabat
You can't leave Morocco without visiting its capital city. While it is not as big and busy as Marrakech, it has a fascinating set of landmarks that highlight its Islamic and French colonial heritage. Reflecting this rich history, the city is dotted with UNESCO World Heritage Sites.
One site that needs to be at the top of your must-see list is the Kasbah of the Udayas. This old fortress district was built in the 12th century and was the city's first settlement. The beautiful gardens and typical white-and-blue houses are full of charm.
WHAT DOES MOROCCO LOOK LIKE?
Morocco is a feast to look at and you'll never be bored.
The souks are overflowing with bright colors and textures from foods, leather or textiles. The landscape is varied, from majestic desert to rugged mountainscape to fine granular beach. The weather can also be extreme, from cold in the High Atlas in winter or the desert at night to suffocating in summer almost everywhere.
Nature has blessed Morocco with variety, from rippled sand dunes and blue skies and quirky sights like goats hanging out in argan trees. The first time I saw these I made the driver reverse – I wasn't sure my eyes were telling me the truth.
The topography is also diversified, from rugged mountains to desert to low-lying beaches. The High Atlas can be very cold in winter, and the beach can scorch you at the height of summer.
And you can even ski in Morocco in the Atlas mountain resorts.
MOROCCO TRAVEL COST EXPECTATIONS
When planning your Morocco travel budget, make sure you understand this is not an inexpensive destination. Prices were once similar to those of Southeast Asia but those days are long gone. Time and popularity made sure of that.
Luxury Morocco travel compares with five-star travel everywhere, but budget travel might come as a surprise, with prices similar to those you'll find in Europe.
You can compare the cost of living in Morocco to your own city here. This handy calculator will give you a rough idea of how much you'll need to save based on how long you'll be in each city. Here's a quick overview of prices from Budget Your Trip, but for a more in-depth price breakdown from someone who lives in Marrakech, check out this guide.
WHAT NOT TO DO IN MOROCCO
Smoke weed (hashish). Even though it's plentiful, it's illegal, and foreigners smoking it during their Morocco trip carelessly can end up in jail.
Drink tap water. While it may be safe in many areas, I wouldn't risk upsetting your stomach and missing out on the delicious food. Either drink bottled water, if if you'd like to avoid plastic, use a water purifier.
Leave your stuff unattended. Invest in an anti-theft bag and keep it on you at all times, and stay hyper aware of your belongings in crowded markets.
Ask a man for directions, if you can help it. Women should be your travel guides in Morocco.
Get just any henna tattoo. Natural henna is a dark green or orange color and has a strong odor, while black henna is an odorless chemical that can cause burns and allergic reactions. Investigate before you let anyone apply it to your body!
Wear skimpy clothes away from the beach. If you do, be ready for harassment.
Walk alone at night. Nuff said.
Look lost and scared. In Morocco and most anywhere, bullies go for the weaker link. You'll feel better too.
Leave your numbers behind. Make sure you know who to call in an emergency.
Be too friendly. Be aware of your body language – it often changes with culture. If you act in an open and friendly manner towards a man, this might be misconstrued. So will such things as smiles, winks or grabbing someone's arm while talking.
Drive madly. Roads have been significantly upgraded but driving leaves a lot to be desired. Drive slowly especially on winding mountain roads. Some are only dirt, no parapet, and you may instinctively want to close your eyes, not a good idea when you're at the wheel.
Snap animals. If you do, assume you have to pay. Better yet, don't take those pictures, period. If everyone stopped posing with captive monkeys, there might no longer be a need to keep monkeys as pets.
And don't forget, this is still very much a patriarchal society.
One thing few Moroccan women do is drink alcohol in public so if you want to travel Morocco and drink, best to grab your libation indoors, where you're staying, or in a restaurant. Downing a beer in street café on your own might get you more attention than you want, unless you're in the heart of the tourist areas.
A few more observations, in no particular order:
Things work, and I had one of the best phone connections ever by buying a local SIM card at a ridiculously low price.
You'll definitely feel you're in a foreign land but you'll have many familiar comforts and conveniences.
You'll probably get lost in the warren of streets that make up a city's medina, or old quarter. Eventually you'll reach some kind of wall or door that will give you your bearings but in the meantime, walk around, get lost and enjoy.
So is travelling to Morocco safe? In short, yes.
For solo travel, Morocco is as safe as most western countries but ONLY if you use caution; that said, if you're visiting Morocco for the first time, I wouldn't recommend you travel alone unless you're a seasoned traveler and have been to Africa or the Middle East enough to understand the local culture.
I love Morocco, even though I wish attitudes to women were a bit different. Still, I've been often – half a dozen times on my own – and I'll go again. It's a stunning destination, by any measure and yes, I'll be going again.
(With contributions from Amanda Mouttaki of the Morocco travel blog MarocMama in Marrakech.)
TRAVEL TO MOROCCO ADVICE AND RESOURCES
— Originally published on 27 February 2015
Travel insurance: Morocco. Please don't forget to buy some before you go! I use World Nomads whenever I travel and recommend it if you're under 66 (70 in some countries). If that birthday has come and gone, click here for travel insurance recommendations that cover you at any age.
SHOP THIS POST ON AMAZON
PIN THESE PICTURES AND SAVE FOR LATER!