"Why would you ever think Irish food is bland?" my friend Úna asked in disbelief.
I have no idea, but this was just one of many misconceptions that I thought were facts about Dublin.
Perhaps it's because unlike many of my fellow Canadians (I'm part French, part Canadian), I don't have a single Doyle or Kennedy or O'Connell in my ancestry – so I had no tall tales to shape my understanding of this land. Or maybe my opinion was colored by a recent history of violence in Northern Ireland and my ignorance too broad to tell the difference between countries. Or perhaps I just got it confused with England, a land of polite understatement (where, until the 1990s, everyday food was bland).
Whatever my ignorance and the reasons behind it, a week is not enough to set things right.
Some of these facts about Dublin turned out to be true after all. But not all of them. Because, Dublin, you surprised me.
1. Irish food is bland
This was definitely not true.
Every Dublin restaurant I visited used the freshest ingredients, as befits an agricultural country. The eggs tasted of dairy, the vegetables were crunchy and green, the meats plump, marbled and meltingly tender.
Living in France you wouldn't think I'd salivate at the bread – but there is a rich, dark Irish brown bread with a hint of molasses whose density and sweetness were at war with my waistline.
So did the hearty Irish breakfasts I tried so hard to avoid – like an English breakfast, but… more. Ireland is an island so seafood chowder is delicious, with some innovative ingredients, like smoked salmon.
Also try the Dublin coddle, a rich meat stew perfect for those cold rainy days!
This delicious Dublin food tour should put any rumors about Irish food to rest.
2. It rains all the time in Dublin
It's not called "rainy Ireland" for nothing. Apparently, this is no misconception at all and I landed in a soup of fog and rain and mist that made the runway disappear as though a magician had waved a wand. Rain is one of those facts about Dublin, whose highlights do include constant rain – except the week I was there. The sun shone brightly, alternating with wet splashes that left me indifferent since I'd heeded good advice and carried an umbrella with me, always.
I mean, does THIS look like constant rain?
3. The accent is incomprehensible
English is not my mother tongue. I speak it fluently but when a new accent wriggles by (I can say the same about Australia, NZ, South Africa and Scotland) I can become fainthearted with incomprehension – I strain and stretch, weighing every syllable for familiarity, trying to shape obvious sounds from foreign ones.
I didn't find Dubliners incomprehensible at all. At least not until they got to the pub.
4. Everybody is drunk all the time
Absolutely not. At least not all of the time. Perhaps in the evening, and on weekends, and on visits to breweries, and at meals and the like.
I wouldn't say drunk – I'd say people here enjoy their drink. (As someone who doesn't drink, my assessment may be slightly warped.)
You can't walk a block without spotting the stencil-type white on black Guinness sign. A quick ride into Dublin's western suburbs will confront you with the pungent smell of roasting barley, well before you ever see the brewery. It's not unpleasant, just unfamiliar to someone who can count the number of beers she's ever had on a single hand. (Úna likes it – she says it's typical of Dublin.)
That said, drinking in Ireland is dropping following government price hikes and separation of alcohol from other goods in shops.
Speaking of beer, consider trying an Irish Beef and Guiness Pie – yet another perfect winter food. I'm told that leftover gravy is served on the size for drizzling…
Alcohol is one of the fun facts about Dublin. Throw yourself into the spirit and get some tickets for the Irish Whiskey Museum or if you'd rather taste than observe, head for the Teeling Whiskey Distillery or the Jameson Distillery. Fancy blending your own? Yes, you can do that too.
5. Dublin is all about music
Absolutely true. One of the best things to do in Dublin is hunt for music. And you won't have to hunt long.
Wikipedia lists 200 pages for 'musicians from Dublin' dead or alive who are famous enough to have their own Wikipedia listing. Glance over here, a music hall with a Sinead O'Connor performance. Over there, a hotel renovated by Bono. And yonder you'll see some U2 street art.
So many music shops and musical references dot Dublin city that it defines itself at least as much by notes as by words. The sounds compete – buskers, rehearsals, private houses.
And the music is good, very good. Both street groups I listened to on a bright sunny Saturday were ready for the big time.
The tradition isn't new. After all, Handel's Messiah was first performed publicly in Dublin. Soak up some music at Dublin's Rock 'n Roll Museum Experience!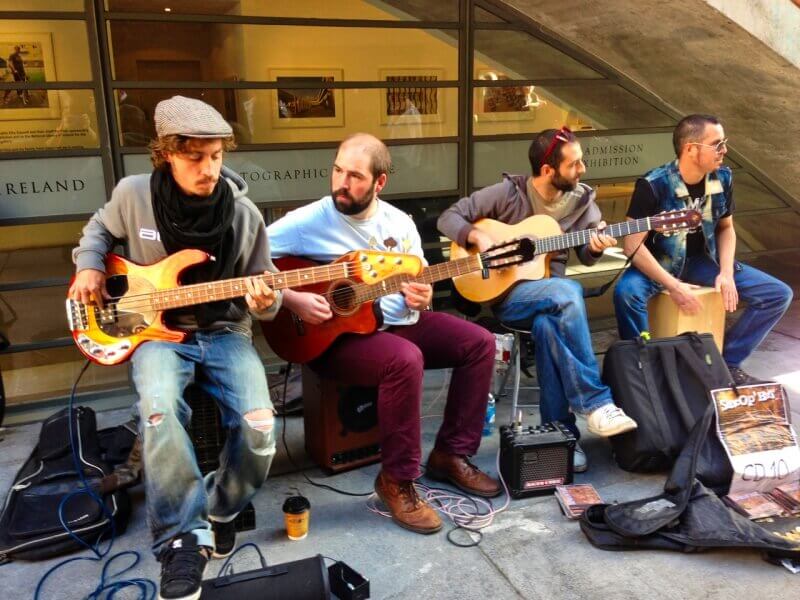 6. Why visit Dublin? Because everybody tells great stories
Dublin is also about words, spoken and written. Dubliners respect oratory and hone it to perfection. From the part-time actor on the Ghost Bus Tour (this is one of the fun things to do in Dublin) who relished the little shivers he sent down our spines to the barman who tartly filled the gaps in my Irish historical knowledge (a thankless task), a story told by a Dubliner is an irresistible story, one you don't want to end.
And look at this biased and partial list of Dublin authors: Maeve Binchy, Samuel Beckett, James Joyce, George Bernard Shaw, Bram Stoker, Jonathan Swift, William Butler Yeats… and those are just the ones I've personally heard of.
There's plenty in Dublin to feed your inner author:
Take yourself on a stroll to acquaint yourself with the writers of this UNESCO City of Literature
Visit the three recent bridges named after James Joyce, Seán O'Casey and Samuel Beckett
Visit the Oscar Wilde statue on Merrion Square, near his family home
The world's best-endowed literary prize is based in Dublin – the International Dublin Literary Award, with titles chosen by public libraries around the world rather than a jury (the annual prize is €100,000 for a fiction book)
7. This is a closed traditional Catholic society
It may well be and although Ireland is changing, one week is not quite enough to understand social, cultural and historical intricacies.
But I did find Dublin to be surprisingly diverse. I expected it to be, well, more Irish. Instead, I overheard waitresses from Serbia taking sandwich orders from Madrid au pairs and in the streets a mix of every language under the sun — 17% of Dublin's population is non-Irish.
I was reminded that the city (due to Ireland's controversially low corporate taxes) is home to the European headquarters of such companies as Google, eBay, LinkedIn, Facebook… and today, Europe alone means at least 27 nationalities. Sadly, though, in Ireland – as in most of Europe – negativity towards migrants is increasing.
8. Dublin is haunted
Yes, it is. Nuff said. And people here believe in leprechauns. (The Tourist Office told me so.) Taking a walking tour of the haunted sights is one of the top 10 things to do in Dublin at night.
9. Dublin is friendly (this may be the truest of my Dublin facts!)
No, not friendly — extraordinarily friendly — it often comes up in the top listings. I almost found pleasure in losing my way if only to stop people on the street and ask for directions. Each exchange led to a short walk together or a bit of conversation, the standard expression being an animated smile.
10. Dublin is in northern Europe so it's a bit reserved and ordered
Mwaah! Forgive the expression but I-don't-think-so.
Reserved? I think I just dealt with that.
Ordered? Nothing further from the truth. I think Ireland has more in common with southern Mediterranean societies than its more composed neighbors.
Take the streets, disconcerting in their confusion. They can change names every few meters – like Stillorgan Road which becomes Donnybrook Road which becomes Morehampton Road which becomes Upper Leeson Street which becomes… Then, in a perverse practical joke, both even and odd numbers sit side by side on some streets while on others, evens and odds are on opposite sides.
Oh, and did I mention a certain aversion to discipline? Pedestrian lights are 'indicative' and time is elastic; even the Millennium Spire wasn't finished until 2003.
11. Dublin has great architecture
Add architecture to your Dublin sightseeing plans. The city's doors are apparently famous worldwide, as are its (few remaining) rows of Georgian houses. Some of its public buildings, carved from stone and granite and marble, exude a certain grandeur, probably much needed during the country's nearly constant history of political upheaval.
Such buildings provided a veneer of stability, but also acted as symbols of a strong and cohesive Ireland at a time it was anything but.
There is plenty to keep your eyes roaming and it is definitely a walking city, albeit one with slightly uneven pavements.
So yes, Dublin, you surprised me, and I like surprises.
I didn't know enough about you before I came, and now, I'd like to know more.
Dublin facts and travel tips
The super-low cost airline Ryanair is based in Dublin, so you're bound to find cheap fares for your Dublin vacation if you're coming from within Europe. (I don't fly with them because I don't like their management ethics, but they will save you money.) Once here, consider renting a car, especially if you plan to roam beyond the city.
Where to stay in Dublin, Ireland: I stayed at Donnybrook Hall, a small family bed and breakfast that was charming and friendly – couldn't ask for better. Or check out all these other great hotels on Booking.com.
A great way to see the city if you don't have much time is with a Hop-on-Hop-off bus. If you're staying several days, the Dublin Pass (which includes the Hop-on-Hop-off bus) is worth getting and will save you money if you're up for some robust sightseeing.
If you love the outdoors, there are plenty of day trips you can take out of the city. Or why not take a trip throughout the country? Here's your 10-day Ireland itinerary.
The Dublin currency is the Euro. There is no such thing as Dublin money.
Is Dublin safe? Quite safe, as European cities go, but there are plenty of neighborhoods I'd stay away from at night. Stick to the downtown core. Even here, some streets are dark so make sure you walk where you can easily be seen and where there are plenty of people. One more thing: don't hail a cab at night on the street – use an app or phone to call a registered lift.
Want even more interesting facts about Dublin? Here you go!
— Updated 26 November 2022
SHOP THIS POST ON AMAZON
PIN THESE PICTURES AND SAVE FOR LATER!