It's perfectly feasible to spend one day in Madrid and see plenty – or at least, in my humble opinion, the parts that matter, the sweeping plazas and winding streets, the centuries-old tapas bars and extraordinary food markets.
You won't see all of Madrid in a day, of course, but you'll see the high points which – fortunately for visitors – happen to be quite close to one another.
Whenever I travel between Europe and Latin America, I try to use Iberia and aim for a layover in Madrid that can last anywhere from 6-36 hours – because I love Madrid: I grew up in this city and can never get enough of it!
If you're not on a layover, Madrid is easily accessible across Europe and you might consider a 24-hour day trip to Madrid. Challenging, but it CAN be done!
And if you're on the fence between Madrid or Barcelona…
Allow me to convince you.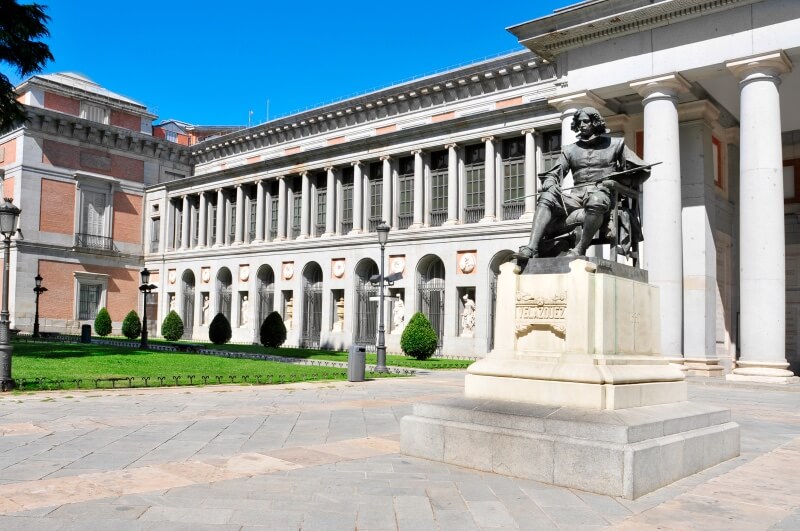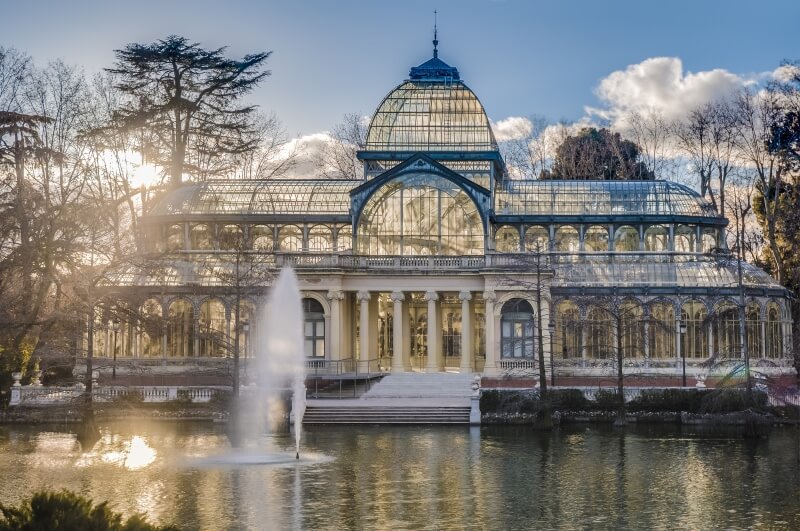 The city center: 24 hours in Madrid
The beauty of this central part of the city is its walkability, with most major sights within reach.
But let's be realistic. This Madrid one-day itinerary is extremely packed! You can easily eliminate parts of it and focus on others.
The Retiro park, for example, can be scratched off the list in favor of time in a museum. Or you could hang around Old Madrid all day.
The choice is yours.
This Madrid itinerary IS doable in a day – but you'll need determination if you want to see it all (not to mention a great pair of walking shoes). It's not exactly the ideal type of travel but we're not always masters of our time, and if Madrid in a day is all we have, one day it will be…
Eating in Madrid
Before we go any further, let's talk about food for a moment, because as you'll see below, almost every street and plaza leads you to food.
The great thing about eating out in Madrid is that you can easily do it on your own, so if you're traveling solo, you'll feel perfectly at ease. Hopping around from bar to bar eating tapas is something you can do without any company whatsoever – look around and you'll see plenty of other solo travelers.
Speaking of eating, here are my favorite tapas to eat in Madrid:
tortilla española, or Spanish omelet, made with potato and usually onions (although there's an entire school of thought that believes onions are sacrilegious) – just make sure the tortilla is homemade (just ask, es casera?)
croquetas, deep-fried croquettes made with ham, chicken, cod, or tuna
ensaladilla rusa, which means Russian salad for some obscure reason: it's a mayonnaise-based potato salad with a few diced vegetables, hard-boiled egg, and tuna (divine if it's made properly, and downright awful if not)
boquerones, or anchovy fillets in brine or vinegar (don't wrinkle your nose and promise me that even if you hate anchovies, you'll nibble a corner of one of these – then come back and tell me you still don't like anchovies)
jamón, Spanish ham of course
and finally, patatas bravas (potatoes again), in a spicy garlicky tomato sauce.
There are probably as many tapas as there are bars in Madrid, probably more. But these are among the most typical and best-loved, the ones you'll find pretty much everywhere because they are so traditional. Try each one and compare!
If you don't have the time or the energy to suss out the best tapas – you only have 1 day in Madrid, after all – I suggest one of the fabulous Madrid evening food tours, which include the city's history and will introduce you to tastes you might not discover on your own.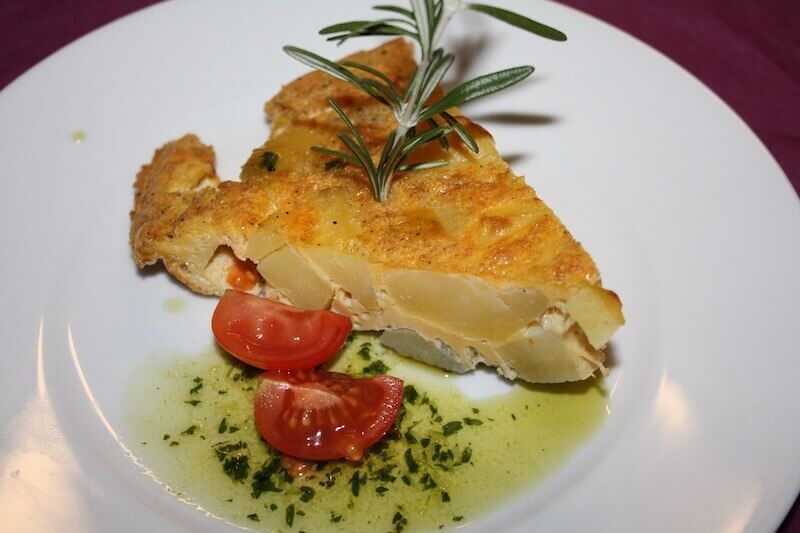 And now, for the 10 best places to visit in Madrid, Spain
The following ten are the sights in Madrid you should not miss. They are also the only ones you'll have time for if you're staying for one day in Madrid, Spain.
Just beware – this is a Madrid walking itinerary – in addition to your good shoes, you'll need an early start and plenty of stamina. If you have none of those, just pick a spot or two, and enjoy. You can easily spend several hours at any of the points on the map.
Also know that spending only a day in town means your museum time will be severely limited. You can nip in for an hour but don't expect to spend half a day in admiration of Murillo or Velazquez or Picasso – you'll have to add a day or come back for that.
So – let's go for your one day in Madrid recommended itinerary by following this One Day in Madrid map!
1. Puerta del Sol
This large square is the throbbing heart of Madrid. On New Year's Eve, crowds gather here to eat 12 grapes – one for each ringing of the bell – and celebrate. Look for Kilometer Zero, the start of every major road in Spain, and for the Bear and Strawberry Tree statue, Madrid's coat of arms. Whenever there's a march or demonstration in Madrid, this is where you can expect it to start or end.
Lining the south of the square is the post office, which also houses Madrid's regional government – and once held one of the city's more notorious prisons in its cellars.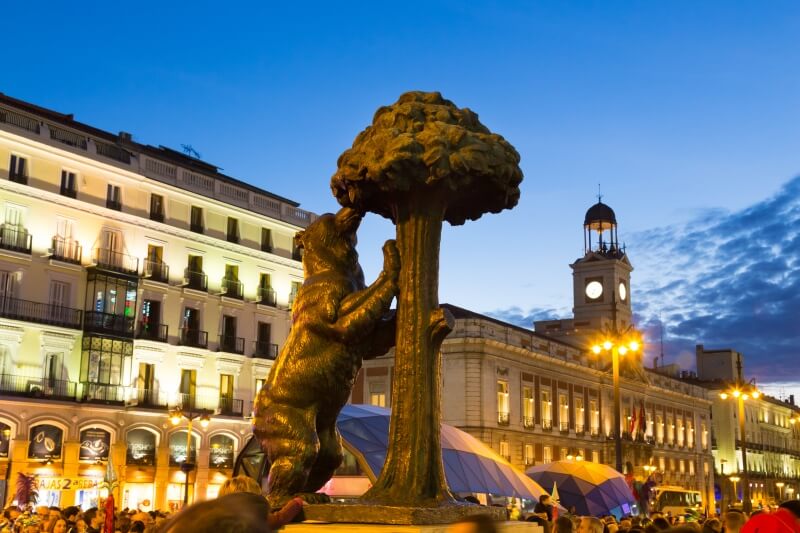 Once you leave the Puerta del Sol – early in the morning I hope – head for Madrid's favorite breakfast: chocolate con churros. Churros are long, ridged donut-ey pieces that are crunchy on the outside and lightly powdered with sugar. You'll get anywhere from 3-6 in a portion – pick one up and dip it into the kind of hot chocolate you'll find only in Spain, so thick you can stand your churro in it. Repeat until plate is empty or stomach full.
The good news is that one of the best churrerias, or churro shops, is nearby: the legendary Chocolatería San Ginés. It used to close for a few hours early in the morning but it has seen the light and is now open 24/7.
Step up to the cash register, place your order and pay. Your churros will magically appear at your table.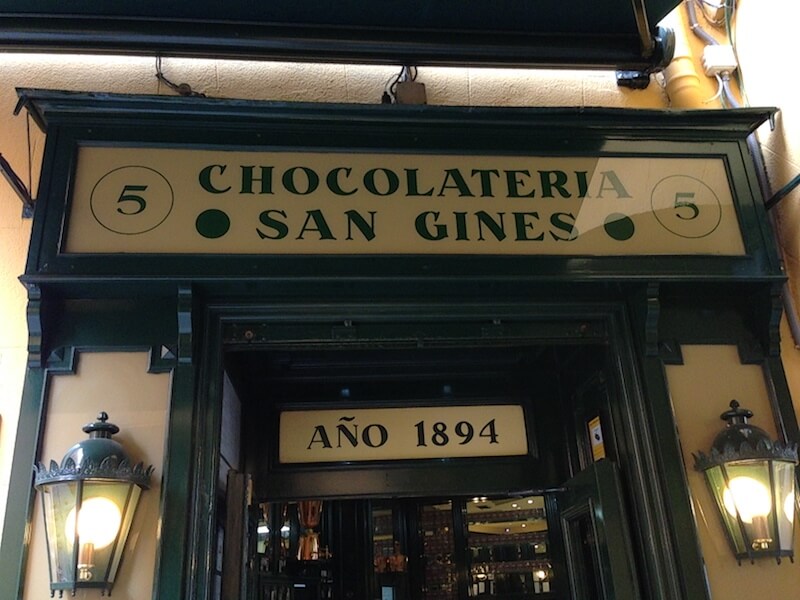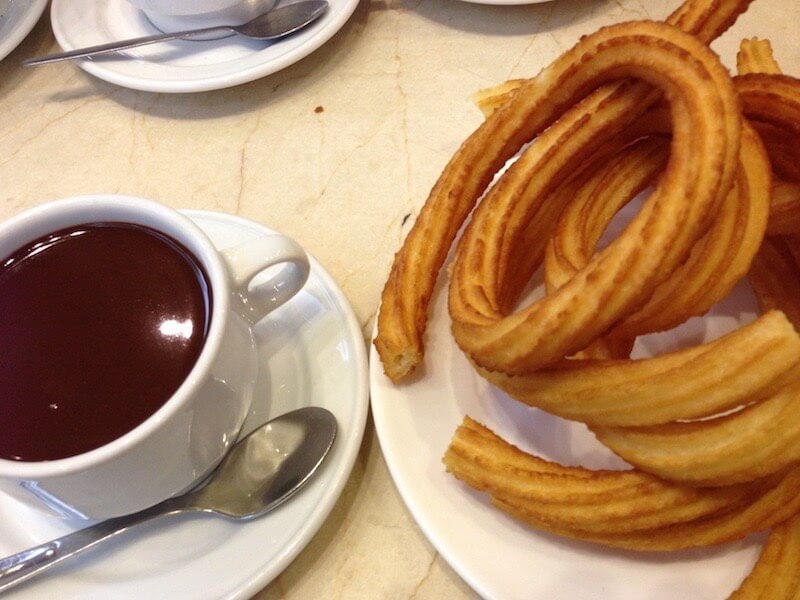 A Taste of Old Madrid
Dropping by San Ginés is an old Madrid tradition. This lovely cafe is billed as the most famous of its kind in town and dates back to 1894. It has always served churros, those long, crispy donuts you dip into thick, creamy hot chocolate.
I found the chocolate piping hot and the churros crunchy and steaming.
Eating churros reminds me of my childhood in this city, when my father would walk me up to the Plaza Castilla from our nearby home for a special Sunday morning treat. In those days, our churros would be wrapped in thick brown paper and sold from a wooden stall.
The stall is gone now, replaced by skyscrapers, and those churros are just a memory, one I keep alive by dropping by a chocolatería whenever I visit Madrid.
2. Teatro Real and Palacio Real
An opera at the Teatro Real (El Real) is pretty much the only thing that could keep me away from an evening of flamenco when I'm in Madrid. But check to see what's playing when you're making your plans. Ballet, classical music, any and all cultural events center on this magnificent theater.
Madrid wasn't always called Madrid, by the way. Its original name was Magerid, "rich in water", not surprising given its location between mountain and river. It's not a particularly old city and is first mentioned in 865 AD when the emir Muhammed I built a palace there.
Not much is left of this period and transformation into the city we know today began in 1701, with the arrival of Philip V, the first Bourbon king. He was shocked by the city's insularity and darkness and set out to overhaul it, building fountains, gardens and the new Royal Palace, not to mention a series of the city's most magnificent churches.
This architectural bonanza opened the way for the Madrid we know and love today (and if you happen to be a history buff, here's a great overview of the Medieval, Habsburg, Bourbon, and modern periods.)
The Royal Palace a few minutes away is the largest royal palace in Europe, built in the mid-18th century on the site of an earlier palace, damaged by fire. You can take a guided tour or make a reservation before you go (the tour is about 1.5 hours).
But beware that spending time here may mean not spending it somewhere else, so weigh your decision. The Palace is used for official functions so make sure it's open on that day.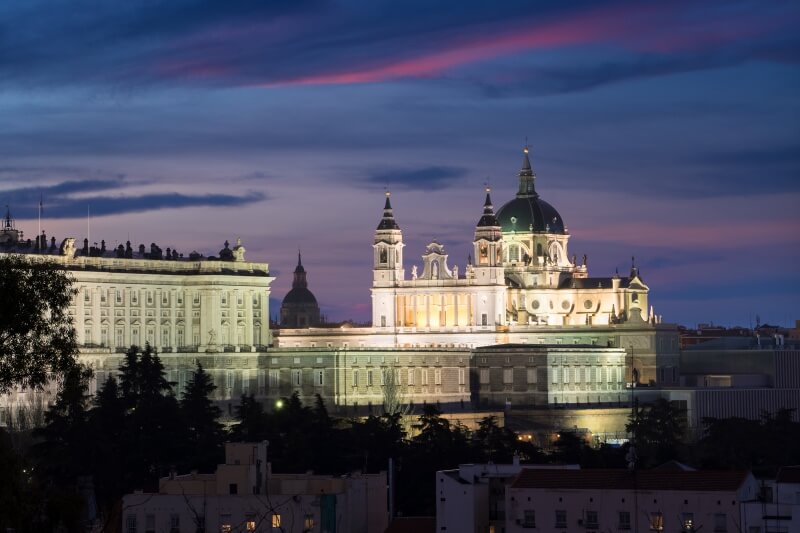 By the time you finish at the palace – if you decide you can squeeze it in – it should be moving towards noon and even though you stuffed yourself with churros for breakfast, you'll be doing what everyone else does in Madrid: eat, eat and eat some more. Having satiated yourself with culture and history, you might be in the mood for another nibble.
3. Mercado San Miguel
This is by far my favorite Madrid food market, although not everyone necessarily agrees. It has plenty of tapas, but you'll find better ones in the crooked streets of Old Madrid. If I come here, it's for one thing and one thing only: jamón, or Spanish ham. So if you're a vegetarian or don't eat pork, don't read the rest of this section and jump straight to the Plaza Mayor. Or go to the market, lower your eyes as you walk past the ham stall, and head for the back.
On my latest visit to the Mercado, there was nothing moderate about my mad dash through culinary temptation as I peeled, stripped, sliced, shucked, sucked, dipped, and tore my way through seafood, ham, potatoes, skewers, pastries, and those lovely little deep-fried croquettes that I've somehow become addicted to.
Now back to the ham for a moment. Near the market's entrance on your right is a row of hams – you can't miss them. Grab 100 grams of jamón ibérico, stand at the window, and get ready for culinary heaven. Don't expect anything thick or pink. This ham is a deep burgundy, streaked with fat, and chewier than its cooked counterpart.
Most people familiar with Spanish ham may know the jamón serrano, delicious but not comparable to the jamón ibérico (at least not for me). Curious about the differences? This article explains it all. Your wallet will feel significantly lighter after your snack, by the way.
Another ham-munching destination (and just oozing with photogenic walls) is the Museo del Jamón (Museum of Ham), which you'll see on your way to the Plaza Mayor. But by now you may be all hammed out… and in any event, you're heading for tapas and lunch (yes, more eating).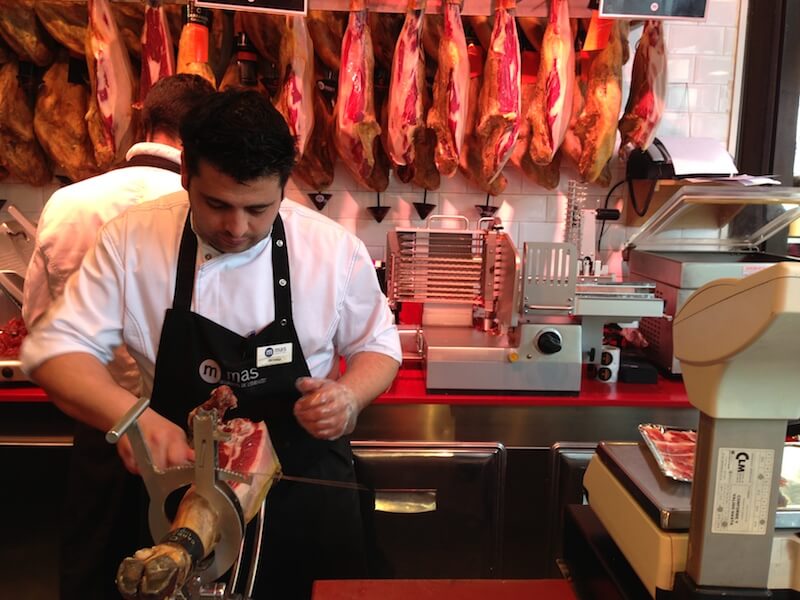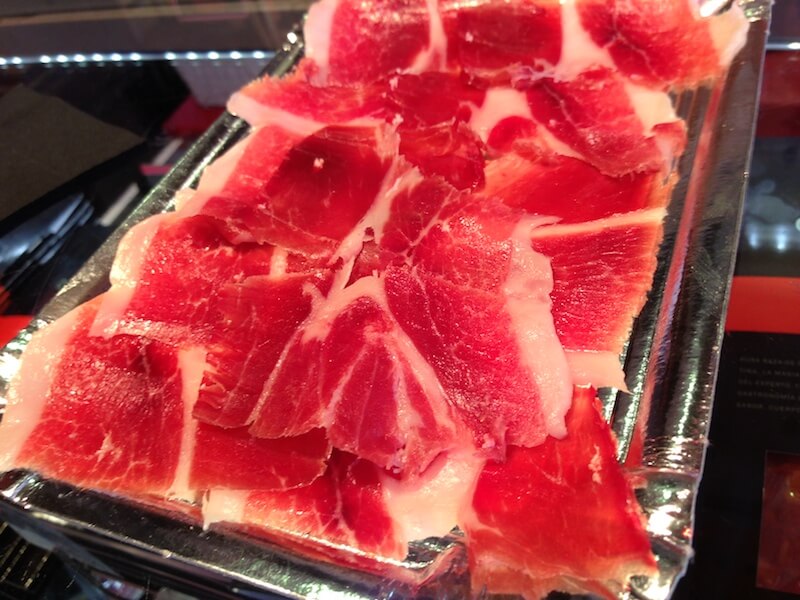 Which of These Two is the Best Food Market in Madrid?
Choosing the best food market in Madrid is difficult. Madrid is, after all, a city of interminable tapas, taverns, restaurants, and bars.
In medieval times, the Mercado San Miguel was a large open square, flanked by stalls with fresh produce. By the mid-1800s, it hosted some 200 merchants.
Hygiene was poor, traffic increased, and the city fathers began thinking of covering it with a permanent overhead structure. This one was inaugurated in 1916 and after decades of use was refurbished in 1999 – just in time for it to fall into disuse and abandon.
Taking Barcelona's Boquería market as a model, a group of historians and food lovers took over San Miguel and decided to save it. The result: a gastronomic superstore where eating on the spot is far more important than buying to take home.
A quick glance at the lunchtime – anytime, actually – crowds will tell you the wager has paid off. The market is full to bursting, and I wouldn't visit Madrid without stopping here for some jamón. Or some pimientos de Padrón (sweet green peppers, roasted with salt). Or some navajas (razor clams).
I visited Madrid's 'other' best market, San Antón, on a Sunday afternoon, so the grocery stalls weren't open but helpfully housed behind light grills and easy to see. A fishmonger, a butcher, a dairy, all delicacies behind bars, the chorizo and hams and Manchego cheese tauntingly beyond my reach.
On the second floor, my world began to rock as I wandered among the various 'food stalls.' While San Miguel specializes in more Spanish fare, San Antón is a little more out there, its clutch of international fusion food and foreign stands appealing in a different way.
Let me put it this way: if you're a foodie visiting Madrid, both markets are a must.
4. Plaza Mayor
Madrid's ancient center is so compact you'll barely finish seeing one thing before you've reached the next.
But rather than head into the Plaza Mayor through the most frequented entrance on the Calle Mayor, detour down the Calle Cava de San Miguel and enter the massive square through the Arco de Cuchilleros: go up the steps and through the archway, for no other reason than it's pleasant and makes for a lovely photograph.
Warning though: if you're not able to walk up the steps, just use the usual entrance on the Calle Mayor – it's relatively flat.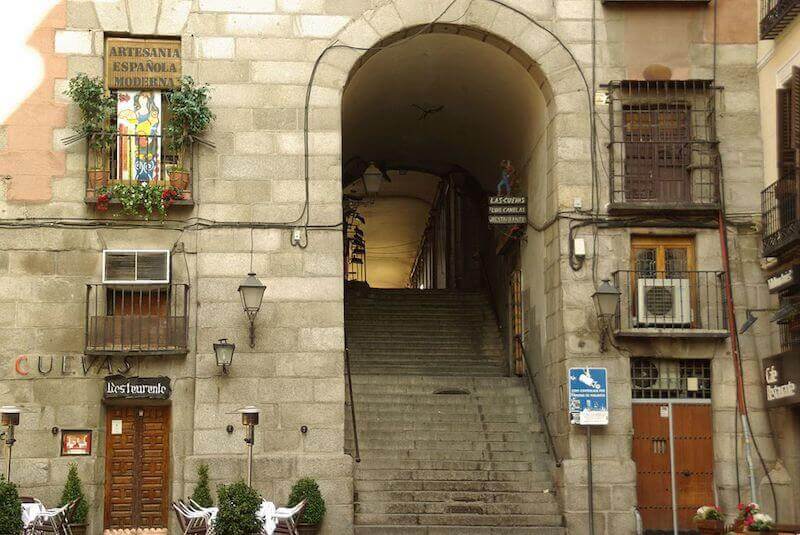 There's always something happening on the Plaza Mayor.
My early memories of the plaza aren't all food-related, and I was happy to see that Sundays haven't changed too much: families still stroll around the Plaza, and entertainers continue to amuse children and their parents with mime, acting, or music.
The center of the square is always filled with activity – a soapbox, concert, clowns, acrobats, live flamenco, and mimes, at times right next to one another. Along the perimeter people are busy with meals and drinks, lazing in one of the many (expensive) cafés or downing tapas with beer or wine chasers. You could spend the day in Plaza Mayor without going anywhere else and see it all – tourists, students, performers, lovers, strollers, sellers… it's a microcosm of Madrid.
I remember spending Sunday mornings here with my father, browsing through the stamp and coin and cigar ring collections laid out under the arcades. There were jumbles of old postcards for sale, coats of arms, and all sorts of collectors' items.
The gigantic 17th-century Plaza Mayor has been used for everything from football to bullfighting to executions of heretics during the Inquisition. It was destroyed by fire three times before its present incarnation.
Nowadays, the Plaza is ringed by bars, cafés, and restaurants. Not all are quality, but there are some gems dotting the square, like the Casa Botín just outside the walls, supposedly the oldest restaurant in the world (although recently there have been complaints about quality and service – but I take these with a grain of salt unless I experience it myself).
Look for the frescoes on the Casa de la Panadería, a bit fresher than the originals but fun to look at nonetheless.
In case your stomach is grumbling again and you're wondering where to eat in Madrid, the Plaza Mayor is stuffed with eateries, but they can sometimes cater more to the tourist than to the local palate. If you leave the Plaza the way you came in, roam around some of Madrid's warren of ancient streets and find more food, whether tapas or a more sit-down fare. For some authentic tapas, head for the Taberna del Chato on the Calle de la Cruz or the Casa Labra near Puerta del Sol.
5. El Prado, Reina Sofia Museum or Thyssen museum
By now you're full (again) and ready for some early afternoon art.
Known as the Golden Triangle of Art, there are three amazing art museums within walking distance of one another but in a day, you won't make it to all three. Even visiting just one will be hard work, but it can be done – at least for an hour or two. (Check the opening hours and days, and holiday closures).
Any one of these will be a thrilling experience:
The Prado is Spain's national art museum and has the world's best collection of Spanish art (and one of the best European art collections as well) so if you're a fan of Goya, Velazquez (Las Meninas is here), or El Greco, this is the museum for you. (You can also download itineraries for 1-, 2- or 3-hour visits.)
If you're a lover of contemporary art and the likes of Picasso and Dalí, rush to the Reina Sofía.
The Thyssen-Bornemisza Museum houses the world's second-largest private art collection and covers ground the other two don't – English and Dutch artists, for example, the pre-modern Impressionists and Expressionists, and great European and American 20th-century artists.
The city of Madrid has an English-language app – Essential Art Walk Guide, which leads you through eight masterpieces in each of the three museums for a total of 24. You can download the app or the guide here.
6. El Retiro
Exhausted by the museum or searching for a bit of shade from the hot city sun? Madrid's spectacular El Retiro park (its real name is El Buen Retiro but no one calls it that), is in the neighborhood.
The park's modest beginnings date back to the early 1500s and over the centuries, bits and pieces were added, including a large pond (more of a lake, actually) French-style gardens, and historical monuments. Exhibitions have been held here and there are summer concerts, street performers, and puppet shows.
Like most large public areas in Spain, exciting things happen. Rent a rowboat and get yourself out on the water for half an hour to calm those frayed city nerves. Or for something different, take a Segway tour of the park.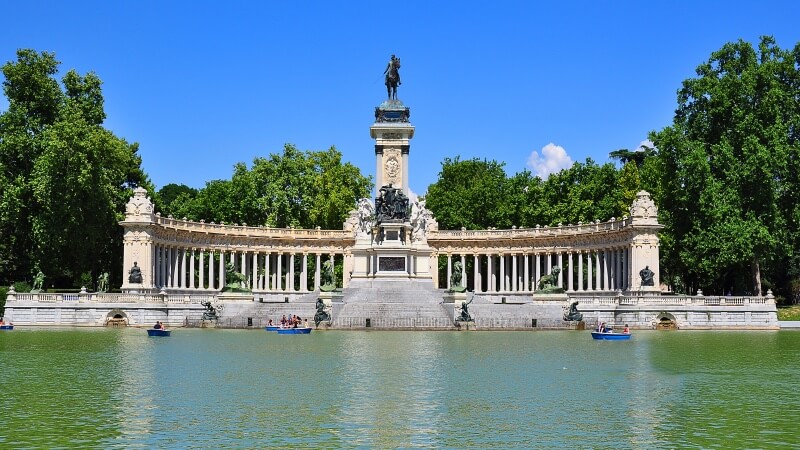 7. Puerta de Alcalá and Plaza Cibeles
The Puerta de Alcalá is a massive triumphal arch, the kind that looks so good in photographs you can't resist snapping away. It sits on the northwestern corner of Retiro park so you can exit the park right here if you've dropped in for a visit.
The Puerta (or gate) used to be part of Madrid's original city walls and has quite a history – it has been hit by a cannonball, a Spanish prime minister was assassinated here, and it has been used as a migration path for sheep! It's also a popular venue to broadcast world-class live concerts.
Plaza Cibeles is a busy square (it's actually round, not square), anchored by an imposing fountain representing the goddess Cybele. I like the harmony of the buildings that flank it.
If you want a brilliant view of downtown Madrid, go up to the sixth-floor restaurant in the Palacio Cibeles or even better, to the eighth floor where the mirador is located. Be prepared to be stunned. Just stay away if the Real Madrid football club happens to win a game – you might be engulfed by all the fans who celebrate here.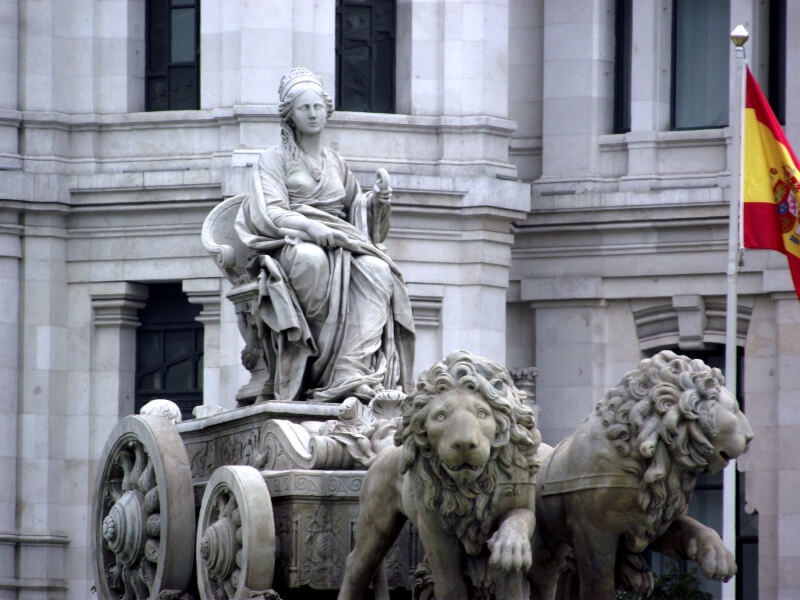 8. La Gran Vía
The Gran Via is a Madrid must see. It isn't a particularly long street and a non-stop walk should take about 20 minutes.
Except that's not how to walk this street, not at all.
This is a street from which to look UP – it's an architectural marvel covering pretty much every historical period of the city. This part of Madrid is guaranteed to be crowded any time of the day or night, except perhaps Sunday mornings. It's where people walk and shop and eat. It's the thing the people of Madrid do…
Start walking from the striking Metropolis building, the one with an angel sitting on top of a dome.
Halfway down the Gran Via, get ready for another view, from the 9th floor of the Corte Inglés department store on the Plaza de Callao. If you're peckish, it's a good place for a coffee and a nibble. And a quick bit of air-conditioned shopping on a hot day. Keep walking until you reach the Plaza de España at the bottom.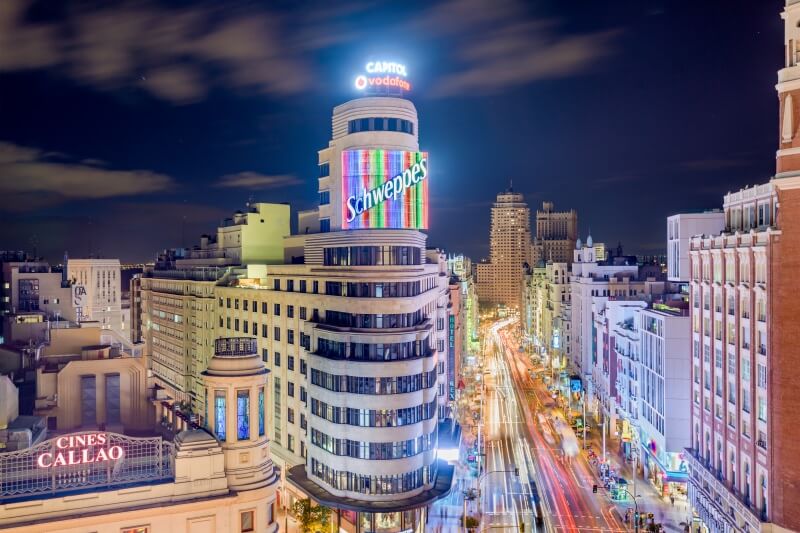 9. Plaza de España
I love a city that considers these to be tall skyscrapers (there are taller ones but on the outskirts of town). This silhouette of downtown Madrid hasn't changed since I first lived here more than 50 years ago…
By now, daylight is probably waning so you should quickly drop by the statue of Cervantes (who wrote Don Quixote) and then hurry on to the Temple of Debod.
10. Temple of Debod
Sunset is the perfect time to catch this beauty. The Temple is an intriguing monument, donated by Egypt and transported stone by stone to thank Spain for helping relocate ancient historical monuments threatened by the building of the Aswan Dam.
The structure dates back to the second century BC and is one of the few original Egyptian architectural remnants that can be seen outside Egypt (the others are in New York, Leiden, and Turin). It's free to visit but only a few people are allowed in at a time so you might have to wait – especially during the popular sunset hours. Walk around and admire the gardens while you're there.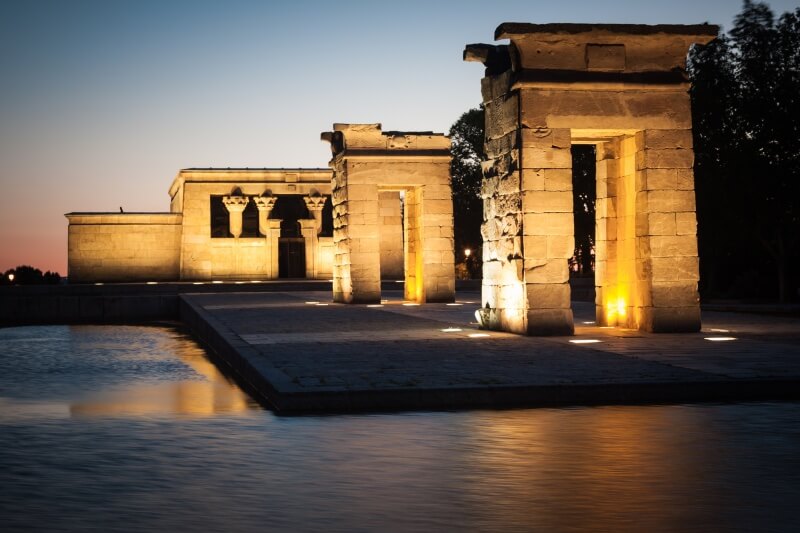 And this, my friends, is the end of the one-day itinerary, but not of your fun in Madrid, not by a long shot. At this point, you could pop into a bar for some more tapas, go back to your hotel for a rest, or get ready for your evening food tour.
Things to do in Madrid at night
By now you've been eating so many tapas all day that you could almost be Spanish. And strolling around Madrid is also a favorite way Madrileños spend the hours between the end of the work day and the beginning of the evening.
Remember that in this part of the world, dinner might not start until around 10 pm or later so your evenings can be quite long.
Since time immemorial, "see and be seen" has been a Spanish motto and throughout the country, people walk around in the cool evening air, whether around one of the plazas or down the Gran Vía or along one of the many newer pedestrian areas.
Of Discos and Serenos in Madrid
Years ago, under the Franco era, night watchmen − called serenos − patrolled the streets. Our neighborhood sereno carried the keys to every building's front door. Our own keys were too large to carry, so like millions of other city dwellers, I would clap my hands to summon the sereno to unlock the door if I came home anytime between 11 pm and 6 in the morning.
The sereno was a guardian angel of sorts, available to run for the doctor or fetch medicine from the single open pharmacy. He was also our neighborhood public clock, chanting the hours to the dismay of early-to-bed foreigners.
This absolutely male profession emerged during the 18th century to light urban gas lamps and only later took on vigilance and security duties.
The sereno, wrapped in his dark woolen uniform against the chilly autumn night, always recognized my face among the thousands he saw each evening, knowing exactly where I lived and whether I belonged.
He unlocked the door, stuck out his palm for a few pesetas of propina, and locked up again behind me.
"Son las doooooos," he would chant. It's two a.m. and all is well.
If you've only got one night in Madrid, the one thing you must do is see a live tablao flamenco, a performance whose soul is as old as the spirits that seem to inhabit this music. It's not to everyone's taste –Portuguese fado suffers the same fate, as does much Arabic music, but if you forget for a moment whether you like it or not and simply allow yourself to be transported by its twangs of pain, you will have lived an experience you'll long remember. (Jason Webster's book Duende: A Journey Into the Heart of Flamenco will help you understand and appreciate the genre so much more.)
The most famous tablao is of course the Corral de la Morería, which was in full swing when I was a child and which continues strong. It can be a bit touristy but if this is your first time seeing and hearing flamenco, it might be less of an assault on the senses.
You can graduate to the more intensive but if you're going for quality and the most authentic flamenco, you'll head for Cardamomo.
I hesitate to suggest you watch a video to prepare yourself because what you'll see live is so much more poignant and exhilarating than anything you could possibly see in a video. That said, if you MUST, or if you can't get to Madrid at this moment, the video below will give you an idea of what a live flamenco dance is like. But I'd still wait for the in-person experience first.

One thing I recommend is that you order some food at your table (you can order it once you're there). You know Spaniards eat impossibly late and waiting for the tablao to be over to get some food may tax even the most patient.
Where to stay in Madrid
There are plenty of great neighborhoods to stay in in Madrid, but since we're talking about a single night, I can only recommend two: the downtown core or the airport. If you're flying out in the early morning, by all means, stay near the airport, and any hotel near the airport will do (click here for a selection). But if not, treat yourself: downtown is the best place to stay in Madrid with great options for all budgets.
In the luxury range, I can recommend three Madrid hotels, the Hotel Urban Madrid for pure style (Papuan Art Deco, anyone?) and the Hotel Wellington, for sheer history and elegance. There's also the Ritz, a longtime Madrid landmark that has been here for as long as I can remember.
In the good value mid-range, you could try the Hostal Oriente, near the Opera metro station or the Carlton Hotel, not far from Madrid's magnificent museums.
Finally, in the rock-bottom hostel range, The Hat is near the Plaza Mayor and Old Madrid, a bit more upmarket than your regular dorm, or if you'd rather be in the heart of Chueca, Madrid's gay neighborhood (and stuffed with tapas bars) the 007 Chueca will put you in the heart of the action.
Madrid: Solo travel for women traveling alone
Traveling to Spain alone is perfectly feasible – you'll face no greater danger than traveling in most other European countries, with one exception – Madrid, like Paris, has seen several terrorist attacks. Both the UK and the US governments suggest you be extra cautious and be watchful while you're there. In other words, be attentive in crowded places and don't hesitate to walk away if something feels wrong. But as far as I'm concerned, Spain is one of the best places to travel alone female.
That said, your eyes should always be open, precisely because there are many tourists. Crowds mean pickpockets and plenty of petty thieves – the kind who will grab your bag from a chair and run, or who will zip by on a scooter to tear it off your shoulder. These things happen, and solo travel in Spain means being watchful. (That said, I've never personally witnessed pickpockets in Madrid, although I know they are there, but in Barcelona, I personally saw SIX instances of theft over a series of visits…)
Spain has always had a bit of a "macho" vibe although things have toned down significantly in recent years. If someone says something to you on the street, ignore it and walk off. There's virtually no chance someone will actually be trying to make conversation with you so it's safe to assume it's a come-on. Walk away. Violence is extremely rare so your risks of upsetting someone are minimal.
A word about nighttime in Madrid: some areas will probably be crowded, even at 2 am. But do yourself a favor and unless your hotel happens to be in the very heart of the action and you're a few feet away, take a taxi. They're plentiful, inexpensive, and safer than walking down a side street on your own (and they don't mind going short distances).
A day certainly isn't enough to do this city justice, but you can absolutely see a lot of Madrid in one day!
Madrid city resources and suggestions
Please don't forget your travel insurance! Women on the Road recommends World Nomads if you're under 66 (70 in some countries). If that birthday has come and gone, click here for travel insurance recommendations that cover you at any age.
FAQ: Madrid for a day
Is Madrid expensive to visit?
Madrid is one of the less costly capitals of Western Europe. It's not as cheap as Eastern Europe but you won't go broke – food prices are reasonable and you can find cheap accommodation.
What is the best month to visit Madrid, Spain?
The best time to visit Madrid is during the shoulder season, in September-October and in April-May. Winter can be rainy, cold, and gloomy – but hotel prices will be cheaper. Summer is unbearably hot and most Madrileños know enough to leave town.
Is Madrid worth visiting?
It's one of the most exciting and varied cities in Spain, bursting with history, picturesque neighborhoods, and outstanding food. You can see as much or as little as you like, but YES.
Is Madrid Spain safe for tourists?
Madrid is quite safe for a city its size. Of course, it has its share of pickpockets but even as a solo woman, you'll be able to walk around at night without much worry. Yes, there have been terrorist attacks in the city but the same can be said of Paris or London…
What is Madrid best known for?
Madrid is known for many things – but possibly its most global claim to fame is the El Prado Museum.
SHOP THIS POST ON AMAZON
PIN THESE PICTURES AND SAVE FOR LATER!