For someone who dislikes heights and is averse to mountains, this might seem an odd choice for a three-week visit. But as I planned my trip to Kyrgyzstan, I was mesmerized by this country, and something about its strong nomadic links called to me (my own ancestors were from this part of the world).
So I conveniently 'forgot' about the dizzying 7000m+ Kyrgyzstan mountains and the scarily narrow dirt roads, somehow imagining everything would be… lower, safer. Or that perhaps I might not notice.
I was so, so wrong.
Despite my vertigo, I somehow end up on mountains – Moroccan Atlas, Albanian Alps, Philippines Cordillera… Kyrgyzstan is on a par, with thin ribbons of red clay road that cut into mountain faces, threatening to propel a car into the abyss at first rain.
The good news is – I'll probably never be this afraid again.
WHERE IS KYRGYZSTAN, ANYWAY?
A Kyrgyzstan trip was a dream come true, but I knew little about Central Asia when I set out.
To me, the 'Stans' were a bit of a mystery, part Genghis Khan, part Lenin statuary. I'd have been hard-pressed to distinguish one Stan from the next.
No more. I could now draw Kyrgyzstan with my eyes closed and recite its peaks from memory.
It is a relatively small country of just over six million people, its population similar to that of El Salvador or Lebanon but much larger in area.
Kyrgyzstan has the dubious distinction of being further from the sea than any other country in the world. That said, it has its own inland near-sea, Lake Issy-Kul, the world's second largest salt-water lake after the Caspian Sea. The country is crowded with mountain ranges but often feels strangely flat as you race across the plains which the mountains surround in a protective circle.
Kyrgyzstan has an amazingly bumpy history, having been fought over by clans and nations for centuries. It sits astride the Silk Road, along which East-West trade long traveled. Its people are in large part descended from the tribes of Siberia but their faces reflect the great migrations of Asia, the Slavic countries and Europe.
Roughed up by the Mongols, the Manchu and the Uzbeks, Kyrgyzstan fell under Russian domination in the late 1800s, an uneasy relationship that spawned rebellions and migrations. Through much of the 20th century Kyrgyzstan was part of the then-Soviet Union, an arrangement that ended only with the country's independence in 1991. Not everyone in Kyrgyzstan thought independence was a good thing and many older people remember the Soviet era with nostalgia. If you're a fan of Soviet memorabilia, you'll be well-served here.
Since independence things haven't exactly been calm: a popular uprising, economic hardship, vanishing social services, ethnic clashes in the South, growing Islamic fundamentalism, all these have contributed to making people feel insecure. And it isn't a wealthy country, with poverty quite visible once you leave the expat enclaves of the Kyrgyzstan capital Bishkek.
Despite this, Kyrgyzstan remains a regional bastion of diversity and tolerance, at least for now. But Russia isn't far, and stands by waiting to 'help' if it is ever needed. And many foreign countries are rushing to build shiny new mosques in many villages, to the happiness of some but the concern of others.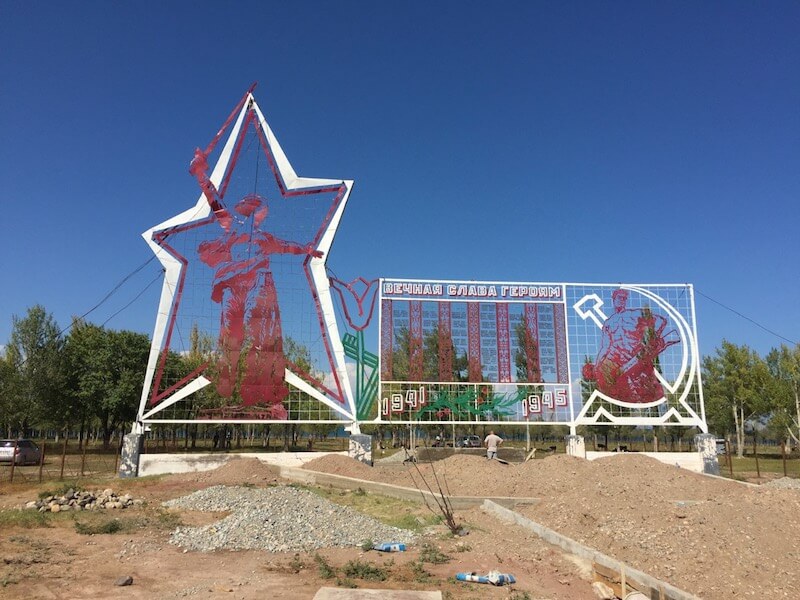 GETTING AROUND KYRGYZSTAN: SAFETY TRAVEL TIPS AND MORE
Traveling in Kyrgyzstan is relatively safe and straightforward for women, but not easy and not for the faint-hearted. It's a wonderful place to push your boundaries but if I were a new traveler, this would probably not be the first country I'd visit – the mountains are high, the roads not as safe as you'd like, bathrooms often rudimentary and health care not always accessible. But if you're a bit adventurous, a Kyrgyzstan vacation will be a wonderful experience.
When it comes to Kyrgyzstan tourism, the country has thrown its doors wide open.
The Kyrgyzstan currency is the som (KGS) but the easiest currencies to exchange are the US dollar and the Euro. Many nationalities can obtain a visa on arrival and much is being invested in tourism by opening hiking trails, putting up signs to the key sights or simply making it easier to travel.
You can see the country in a number of ways:
you can take a tour with any of the excellent companies who handle such things
get the Community-Based Tourism (CBT) association to organize a tour with a Kyrgyzstan travel guide, or your transport, or accommodation – they specialize in arrangements to even the hardest-to-reach places
find a car and driver through one of the travel forums or on Tripadvisor (I did this through CBT)
use public transport (if you have enough time) – mostly you would take shared taxis (usually with 4-5 passengers) or marshrutkas, slightly larger minivans
Note: If you're using public transport you won't be particularly comfortable, you may bump around a lot and you'll probably be either hot or cold (I only tried this once). If you're traveling when the Kyrgyzstan weather isn't perfect, check your vehicle, especially the tires. Kyrgyzstan safety standards can at times be questionable and while most main roads are asphalted, many mountain roads are not – and narrow dirt roads on mountainsides are 'interesting' enough without rain, snow or bald tires. (Don't forget to grab some travel insurance here before you go if you're under 66, or here if you're over 66.)
PLACES TO VISIT IN KYRGYZSTAN
Kyrgyzstan is not stuffed with cultural high points or monuments, but it does have a fascinating history and several interesting sights – some I visited, some I didn't. I didn't visit the petroglyphs or the Burana Tower or Ala-Archa Gorge, even though they're near Bishkek. What I did visit were the markets, artisans of all kinds and mountains of every size and shape.
With those endless mountains and vast, captivating areas of wildness, Kyrgyzstan hiking is an excellent option for those of you who are more intrepid, but I'd hesitate to walk around the mountains on my own, so consider doing this with a guide.
That said, holidays in Kyrgyzstan don't have to be physically demanding: this is a country you visit for its physical beauty, traditions and people.
Kyrgyzstan places to visit
During my visit I criss-crossed the country and visited most regions, except a few of the ones too far to reach in the time I had. Here are some of my top things to do in Kyrgyzstan:
The capital city of of Kyrgyzstan, Bishkek, with its Soviet vibe, major monumentalia, utilitarian avenues – combined with a certain energy and friendliness; not a place to spend more than a couple of days but interesting if you do.

Lake Issy-Kul, whose northern shore is the country's most popular (with former Soviet citizens) resort, a bit worn and spreading outward rapidly. An intriguing stop would be Ruh-Ordo in Cholpon-Ata, an outdoor celebration of Kyrgyzstan culture. The lake itself is enormous and ringed with mountains and the drive around it incredibly pleasant. If you don't have the time, you can drive to its western tip from Bishkek in around four hours and stay at the Bel-Tam Yurt Camp, a lovely introduction to yurt-sleeping. (This camp has sit-down toilets – most don't, so get used to the thought of squatting).
Karakol and Kochkor both have frontier feels to them. Karakol is culturally diverse, with a Chinese mosque and Russian Orthodox church not far from one another, whereas Kochkor is the jumping off point for the mountains around Lake Song-Kul, one of the best places to visit in Kyrgyzstan.
Jeti-Ögüz is an ochre hill formation near Karakol, quite pretty but more interesting (to me) is the nearby Soviet-era sanatorium, which probably hasn't changed much since the 1930s. Beautiful views all around.
Lake Song-Kul, one of the most magical spots on earth (see box below).
Kyzil-Oy, which means 'red bowl', is a tiny village in a deep canyon, attractively set among the greenery. You can easily find a homestay for the night in this picturesque Kyrgyzstan landscape.
The city of Osh, which many visitors don't get to because it isn't on the way to anywhere (except overland to Uzbekistan), is one of Central Asia's oldest cities. It is a harrowing 8-12 hour drive from Bishkek, or you can take a short flight. Osh has a distinct Mediterranean feel to it, it's louder and brasher than Bishkek, a friendly city that has a bustling openness about it. That said, this is where the worst of the ethnic clashes took place a few years ago, pitting the city's two ethnic groups – Kyrgyz and Uzbek – against one another in a bloody conflict no one wants to talk about or even remember. Climb the holy Mt Sulaiman-Too for a view of the city and visit the market.
The Magic of Lake Song Kul, Kyrgyzstan
Lake Song-Kul is the world's second-largest alpine lake and a magical stretch of water high above the country. It is ringed by high snow-capped mountains, and far enough away from 'civilization' to not even get a mobile phone signal.
Beware of the road there and back if you suffer from vertigo, you'll spend a lot of time staring at your feet.
The small town of Kochkor is the jumping-off point for the region, with the occasional vehicle ferrying visitors up the 1300 meters (4300ft) from the valley below.
As I arrive at my charming Kyrgyzstan yurt stay, my hostess, Asel, prepares my bedding. The yurt is heated, a luxury which is in slight contrast to the upright turquoise metal box that serves as my outhouse.
At night, I listen to the lake lapping the shore and fires crackling. I crawl out for a last look at the sky. The earlier rain has washed away the clouds and I'm left with a trillion stars, unblemished by electricity.
The next morning, people are beginning to pack – it's the end of the season. Women disassemble their yurts and fold them up for next winter, waving their children off for the ride down the mountain and a new school term.
Soon, we leave the yurt camps and the lake behind and follow a faint track, which becomes fainter as we advance.
My driver, Bushbek, waves vaguely towards some distant mountains and sets off cross-country towards them.
Occasionally, we stop at a yurt to ask for directions. As always, we are invited in for tea and snacks, and an arm points in one direction or another.
After an hour or two, we shriek joyfully when a 'real' road makes an appearance. We finally know where we are: at the top, heading down.
From the pristine shores of the lake, we are now coughing in the swirling dust of coal trucks from a local mine.
This is why Kyrgyzstan holidays are so intoxicating, after all: there's a surprise around each corner, and no two corners alike.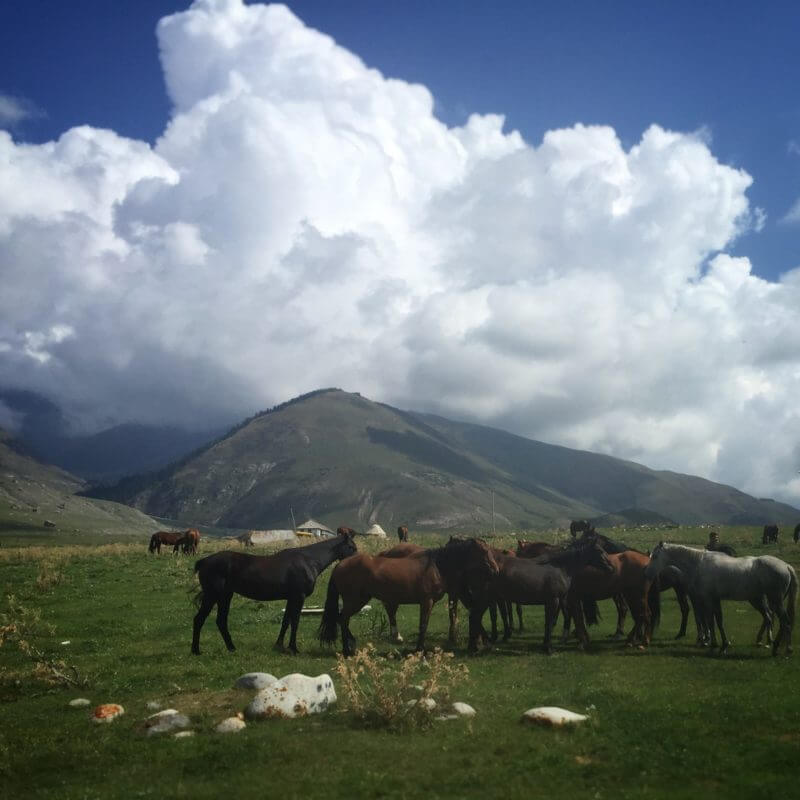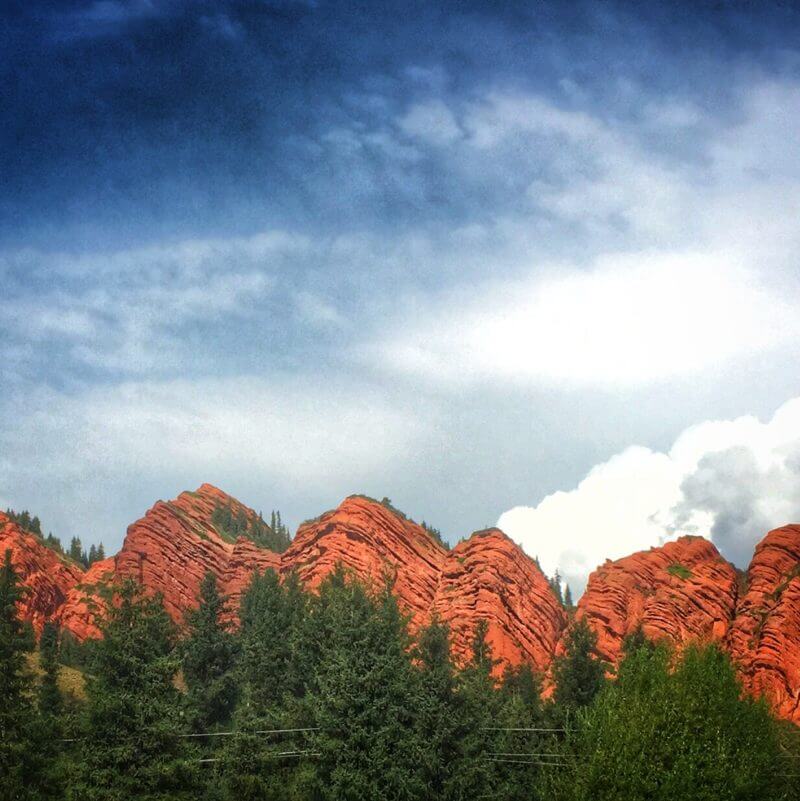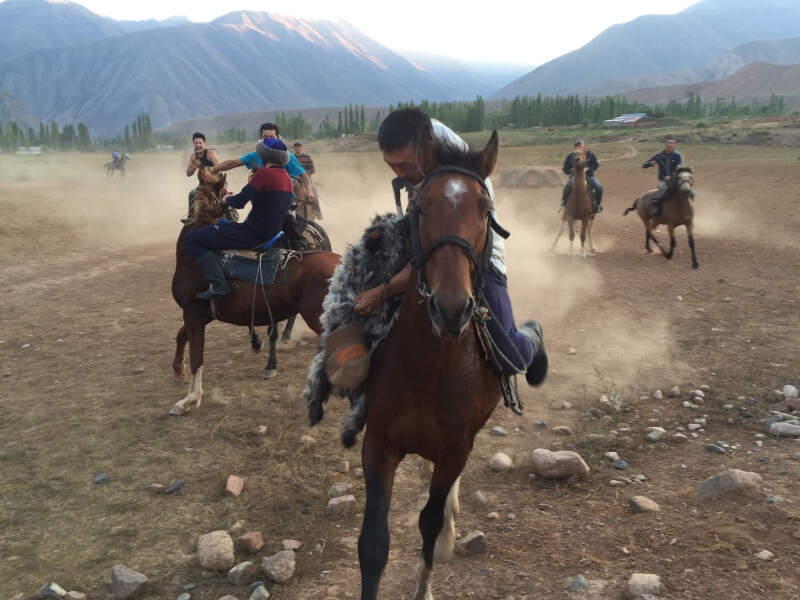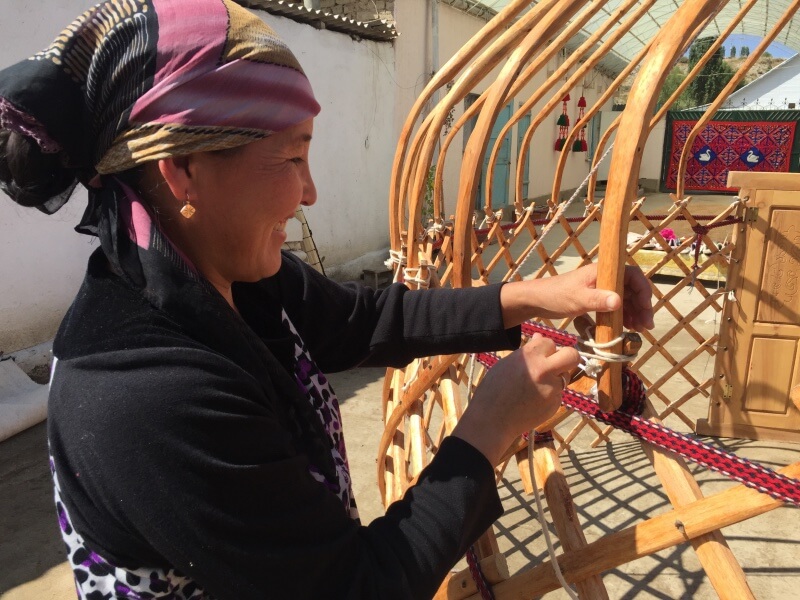 So that's a quick overview of some of Kyrgyzstan's high points but in reality, you can throw the list away and just get on the road. Anywhere you go will be enchanting, and you'll be drawn in. People are curious and friendly, food is easy to find, and it's difficult to get lost.
THE ONE EVENT YOU SHOULDN'T MISS
If there is one single event you should get yourself to in Kyrgyzstan, it's the World Nomad Games (first held in 2014), which are trying to safeguard fast-disappearing nomadic traditions and culture.
Sadly, they only take place every two years and are announced only six months or so before the actual games.
Centuries ago, when nomadic tribes swept through Asia, they used games to sharpen their physical and intellectual skills.
Now, nomadic traditions are fighting for survival.
Nomadism suffered a severe blow under the Soviet Union, which absorbed all of Central Asia from 1924 until its fall towards the end of the 20th century. In many places, nomadic lifestyles were declared illegal and nomads were forced to become sedentary.
Even if you're not into spectator sports, you'll find it hard to tear yourself away should you attend the games. They are in turn clever, brutal, competitive and exhilarating, so it's not surprising the event is often referred to as the Nomad Olympics.
Two main venues hosted the Games. Some competitions were held in various sports facilities throughout Cholpon-Ata, on the shores of Lake Issy-kul. The other venue was about an hour's drive away, at Kyrchyn Gorge.
However much I enjoyed watching some of the unusual events in Cholpon-Ata, the gathering at Kyrchyn Gorge was the place that stole my heart.
Men and women from across Central Asia caught up on gossip, fried boorsok dough in hot oil to make pastries, or handed eagles to passers-by – the most natural thing in the world.
The mood was joyous and there was a fair bit of being pulled into yurts, drinking yak or horse milk (never again!) and eating fried things, all accompanied by gestures, laughter, and unintelligible exchanges.
While many cultural festivals are put on nearly exclusively for tourists, with overly stylized performances tailored to what is thought to be our taste, this was somewhat different: a festival by nomads, for nomads.
EATING YOUR WAY THROUGH KYRGYZSTAN
Kyrgyzstan food is heavenly for meat-eateers, you'll be well fed wherever you go in Kyrgyzstan. In homes it won't take long for food to appear, and chances are it will be on the table even before you arrive. The people of Kyrgyzstan are incredibly hospitable and will make sure you eat! I can't say I found too many vegetarian options but the food was tasty and plentiful, if somewhat greasy – perfect for the rough climate and nomadic lifestyle.
In the South, shashlik – skewers of beef or mutton – reign. If you leave your car window down, as you head South, you'll be guided by your nose. Lagman is a classic dish (see below), wheat noodles topped by meat and a few rare vegetables. Another is plov, or rice, typical to Central Asia and never made the same way twice. Usually it'll be served with onions or garlic or a few bits of carrot. Satisfying.
One thing you'll find everywhere is kumys, fermented mare's milk. And no, I didn't try it. (Wimp.) The one thing I couldn't get enough of: bread, which comes in many sizes and shapes.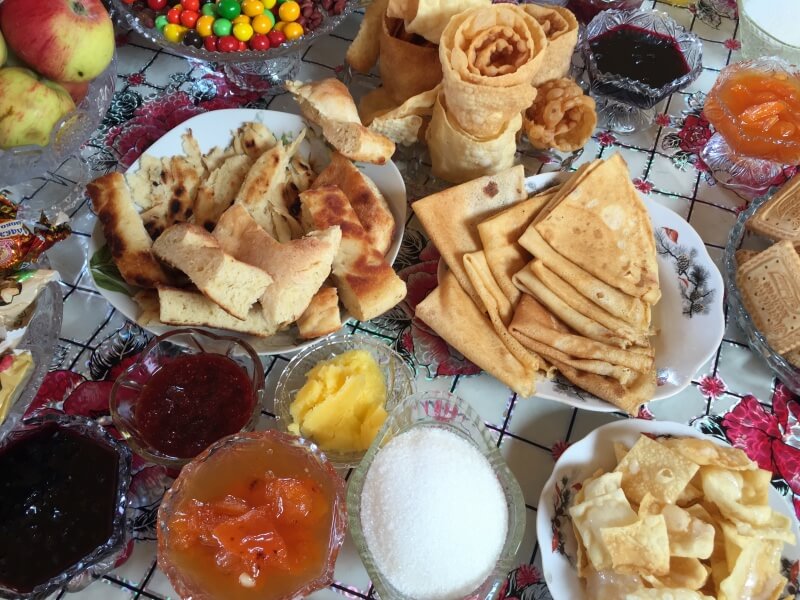 SAFETY AND ATTITUDES TO WOMEN
Is Kyrgyzstan safe? Yes!
The joy of traveling to Kyrgyzstan as a woman is that it's relatively safe wherever you go – while there are never any guarantees of safety, this is not a country in which being a woman should cause you worry.
That said… you've heard of bride kidnapping, right? A woman is literally kidnapped and married against her will. Yes – Kyrgyzstan does that.
Nearly everyone I met had a family member or friend who had been kidnapped. Sometimes, the kidnapping is symbolic, with the woman having been forewarned but often, it is not.
One mother from a rural village was kidnapped in the 1980s and her daughter suffered the same fate two years ago (the little boy was the result). The daughter has found happiness in her marriage but it was very much against her will – she was finishing her business studies in Bishkek when she was shoved into a car and taken back to her home village to live with a man she had been seeing. Despite her pleas to her mother, she was locked into a room a few houses away from her parents' home and her mother, fearing shame, refused to help. They agreed to let me use their photograph but asked that I not reveal their names or location.
Interestingly, a local sociologist told me kidnapping often occurs when the man lacks confidence to ask.
A law has now been passed banning bride kidnapping but like everywhere, the mere existence of a law doesn't erase a custom of culture. Still, at least in urban areas, attitudes are changing and plenty of young women I spoke to told me they're rather not date and risk being kidnapped – because yes, it's often the 'boyfriend' and by dating, she is seen as tacitly 'accepting' his advances.
The chances of this happening to a foreign woman are slim, but it's important to be aware of social customs and to be on the alert when talking to local men.
The Kyrgyzstan religion is primarily Muslim, so mores are extremely conservative and premarital sex or pregnancy are rare.
So is Kyrgyzstan safe overall?
Other than the high and narrow roads, the one thing that did scare me in Kyrgyzstan: stray dogs at dusk, especially in Bishkek. They roam the streets in packs and converge near bins or garbage dumps as the sun sets and kindly residents put leftovers out for them. They aren't violent and ignore you but rabies is common in the region, and finding rabies shots could be complicated (especially in rural areas). I would also be cautious on dark streets at night… that frontier spirit still isn't too distant.
WHAT TO WEAR AND WHAT TO BUY
Bishkek is like any city – casual for tourists and students, more formal for business. If in doubt, err on the conservative side. Even though it was summer, the only bare skin I saw (other than lower arms and legs and the occasional short skirt) was on foreigners.
Once you leave the city, consider you are in a rural area or in the countryside and dress as you would there. In Karakol, when visiting the Russian Orthodox Church, you'll have to wear a scarf over your head (bring your own if you don't want to put on a used scarf). A the Dungan Mosque, I was promptly handed a chador-type robe (green velvet, no less). The Dungan are a Chinese minority who fled China more than a century ago and have settled in and around Karakol but have retained their Muslim faith.
There isn't a huge amount to buy in Kyrgyzstan, other than a shyrdyk or traditional carpet. They are heavy and yes, I could have bought a small one, but to fit in my backpack would have required something very very small and I was still in the early days of my trip when I saw these. (I made up for the carpet-buying fail a few weeks later, in Uzbekistan.)
Somehow I don't feel I'm doing justice to Kyrgyzstan travel. It is far more beautiful than my photographs can show, and people are among the most welcoming I've ever met. Food is always on the table, if not a full meal, then a series of wafers and breads and chips and candies that will keep you calm until the real food arrives. I don't think I ever walked into a home without being fed, a true mark of hospitality.
Its position at the crossroads of Central Asia makes the country a 'cauldron of diversity', as I've heard it called so appropriately. Most times, that diversity mixes well, in spite of the occasional ethnic clashes. Society is in full transition, torn between the safety of the Soviet net and the possibilities of the future. A Muslim country, Kyrgyzstan has so far avoided fundamentalism but there are concerns, among government and parents, that young people lacking opportunities at home (many migrate to Russia for jobs) may turn to extremism for solace.
Perhaps what struck me the most was the solitary silence I was able to experience, so rare in most parts of the world. As I got further off the beaten track, there were hours during which all I saw were herds of horses, and the occasional, distant yurt.
At night, no urban light spoiled the huge sky and if you turned on your phone, all you'd get is the dreaded 'No Service'. Except here, no service is just the way it should be.
10 EXPERIENTIAL ADVENTURES IN KYRGYZSTAN
The following 10 experiential adventures were developed in partnership with World Expeditions and their #WEVentureOut campaign.
1. Your house will come down every year
A Kyrgyzstan yurt is where many people live in the mountains during summer; during the harsh Kyrgyzstan winter, they pack it up and head home to their village. Staying in a yurt will give you a powerful nomadic experience.
2. Things roam wild and free
Kyrgyzstan is a haven for wildlife. You may spot eagles, bears, wolves, or lynxes. Among the rarer animals are the glorious Snow Leopard, Marco Polo sheep, and the Siberian Ibex.
3. High altitude sensations will chase you through the Pamir and Tian Shan
More than 80% of Kyrgyzstan is above 1,000 meters, and nearly half of it soars to more than 3,000 meters. If you have a professional guide, you might tackle one of the three soaring summits that break the 7,000-meter barrier: Lenin Peak, Pobeda Peak, and Khan Tengri.
4. Cycle the roads of Kyrgyzstan
Cycling across Kyrgyzstan can be a paradise of high mountains, little traffic, and sandy lakeside beaches. If you enjoy being challenged, cycling in Kyrgyzstan will not disappoint.
5. Watch them ride – not your everyday game
Kyrgyzstan loves its games, and you haven't experienced the country's essence until you've spent an afternoon watching a goat carcass being thrown around by men galloping on horseback. Called kok boru, it is similar to Afghanistan's buzkashi.
6. Drift along the quiet magic of Lake Song-Kul
Kyrgyzstan has many areas of great beauty, but few are as stunning as Lake Song-Kul, sitting at 3,000 meters above sea level.
7. Immerse yourself in Kyrgyzstan history
Kyrgyzstan has faced sweeping historical change for centuries. In the era of Mongol invasions, it was a key link on the legendary Silk Road from China to the West. It eventually fell to a domineering Russian Empire, which later morphed into restrictive oversight by the Soviet Union until independence in 1991.
8. Bargain in the bazaars
Mountains of spices and mounds of dried fruit vie for space along alleyways so narrow they could be washed away in heavy rain. Pick up a round of bread or chat with merchants. And yes, you can bargain.
9. Hobnob with artisans of the past
Felt making is a traditional craft of Kyrgyzstan. Kyrgyz men often wear traditional felt hats and women produce two types of Kyrgyzstan felt rugs, the Ala-kiyiz and Shyrdaks, that keep yurts warm and colorful.
10. Let's go on a Kyrgyz road trip
In some parts of the country, you can almost go days without seeing anyone. Kyrgyzstan solo travel is incredibly rewarding. With a sturdy vehicle, every corner of the country can be uncovered, discovered, and explored, from unequaled vistas to occasional old- fashioned villages with that 'old-time' feel.
KYRGYZSTAN TRAVEL RESOURCES
How to get to Kyrgyzstan: Not too many airlines fly to Bishkek – I used Turkish Airlines, and Aeroflot also has flights to Kyrgyzstan.
The best time to visit Kyrgyzstan is between May and September, although you might not be able to visit Song Kul until the snows melt in June. I visited in early September and the camps were closing down for winter.
Try to book a room for your first night or two in Bishkek (I always reserve my first few nights, just to get my bearings). You will find some cheap hotels in Kyrgyzstan, but part of the joy in this country is staying in yurts.
CBT, a community travel organization, can help you with your independent travel arrangements – they can set up transport, homestays, staying in yurts, visits to artisans, as well as provide general Kyrgyzstan travel advice.
You will find some Kyrgyzstan package vacations, but to tour the country, I recommend using CBT (above) to organize it all. They know the lay of the land.
I used the excellent Bradt Guide to Kyrgyzstan to plan my travels.
Visa page of the Kyrgyzstan Embassy to the US – lists countries whose citizens can enter the Kyrgyzstan visa-free.
Caravanistan is a great online resource for travel in Kyrgyzstan and for all of Central Asia.
Please don't forget your travel insurance! Women on the Road recommends World Nomads if you're under 66 (70 in some countries). If that birthday has come and gone, click here for travel insurance recommendations that cover you at any age.
— Originally published on 17 October 2016
SHOP THIS POST ON AMAZON
PIN THESE PICTURES AND SAVE FOR LATER!