By Sarah Brown
"Is Rio safe?" This is the first question most women ask when they're headed to Rio de Janeiro – especially if they're traveling on their own.
It's a perfectly valid question – and the answer is far from straightforward. With reasonable precautions and armed with facts, your stay in Rio can be the best adventure of your life. If you'd rather avoid the hassle, there are other towns in Brazil that would be safer choices, but you'd definitely miss out on a lot of amazing experiences that Rio has to offer. In addition, safety isn't the only question regarding Rio, nor is it the most important one.
So we will address the nuances of safety, but bear with me – because there's a lot more to Rio and you deserve to know all about it.
It's hard not to get excited when you think of Rio de Janeiro.
It is a city influenced by samba and defined by a sprawling metropolis that blends dense forest with a tropical coastline. It explodes with vibrant colors and music, with friendly people and distinctive cuisine. Rio fascinates for its remarkable beauty and energy and is far more than its reputation of crime and violence.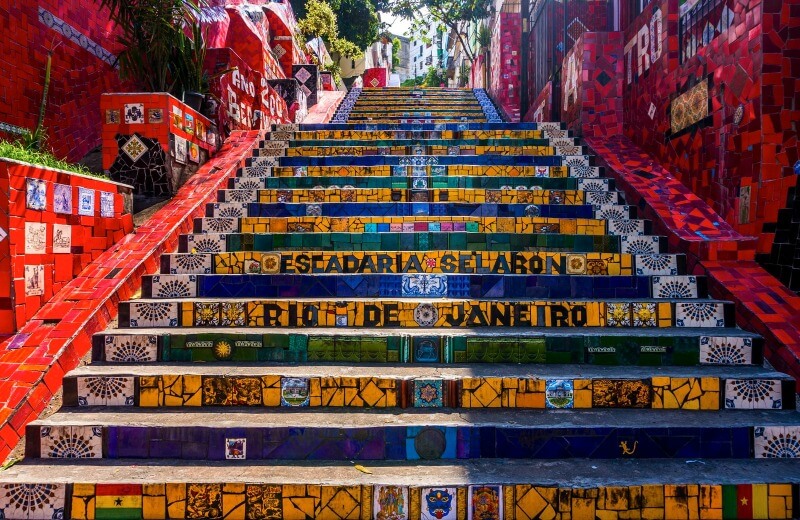 Let's start with the top 5 things to do in Rio de Janeiro
The soul of Rio stretches along its beaches, among the city's best features and the thought of a lazy day of sunbathing becomes irresistible here. The most-visited beaches are Copacabana and Ipanema, popular for their iconic status and nearby abundance of trendy bars and international restaurants. However bustling during the day, these areas, especially the beaches, are deserted and unsafe at night. For a more secluded retreat, head to Prainha, Joatinga, or Grumari in the west of the city. All of them are popular surf spots thanks to the strong, powerful waves there but are also remote getaways for those in the know looking for a quieter, peaceful beach to relax and wind down.
Leblon is an upscale neighborhood near Ipanema, and it has a beautiful beach, along with fashionable stores and dazzling nightlife to the sounds of Brazilian music.
Rio's longest beach – it goes on for 11 miles – can be found at Barra da Tijuca. This part of the city is modern and stylish, with world-class fashion shops in its luxurious shopping malls. A lot of foreigners live in this chic corner of Rio. The beach, on the other hand, has fewer facilities than Copacabana but is attractive and relatively peaceful.
Of course, you'll want to visit Sugarloaf Mountain – take the cable car from the station next to Praia Vermelha in Urca to get to the top. The cable car is more than 100 years old, and dates back to 1912 – it was the third cable car ever built in the world.
A crisp, sunny day is a superb time to go to enjoy the panoramic views over Guanabara Bay, its boats bobbing along one side and the spiky mountain peaks sloping down to the bustling city on the other. Possibly, however, the most rewarding time to go may be in the evening, just in time for sunset.
The Escadaria Selaron is the bright mosaic stairway that leads up to Santa Teresa. It is the work of Jorge Selaron, a Chilean-born artist who dedicated the last few years of his life hand-decorating the steps with small pieces of vibrantly-colored tiles in honor of Rio, his adopted second home. Lapa, the city's nightlife quarter, is nearby. Whether you want to chat over a few chilled beers, sip on caipirinhas while listening to soul-warming live music or dance the night away to classic Brazilian beats, the night in Lapa never ends before sunrise.Another essential attraction is Christ the Redeemer, a landmark familiar the world over. To get to the top, ride the van (it has pickup points throughout the city) or take the trail that winds through the forest on Corcovado – it is often accompanied by a live samba band for the ultimate local experience.
Rio is home to several great museums and art galleries that make it almost impossible to recommend just one or two.
The most popular is the Museum of Tomorrow, an attraction whose futuristic architecture is as intriguing as the content inside that explores sustainability, climate change, and future possibilities of our planet.
MAM (the Museum of Modern Art) in Flamengo holds some of Brazil's most important collections of modern art and its grounds were designed and sculpted by the famous Brazilian landscaper, Roberto Burle Marx.
The Institute of the Memorial of the New Blacks often slips under the culture radar – but shouldn't. It provides a well-documented history of slavery in Rio de Janeiro and is one of the few places that actively preserves the city's Afro-heritage. It is also the resting place of thousands of enslaved Africans who didn't survive the trip from Africa to Rio and whose bodies were left buried in the port, providing a humbling, eye-opening visit.
And two offbeat Rio de Janeiro tourist attractions
You shouldn't miss one of the largest street murals in the world.
Once a rundown part of town, Rio's port area was renovated in time to greet the wave of visitors to the 2016 Summer Olympics. Part of this revamp allowed Brazilian street artist, Eduardo Kobra, to design and paint a mural on the old, plain walls of local warehouses. Five giant portraits of indigenous people representing five tribes from five different continents were the result. The mix of photogenic accuracy with abstract shapes and vibrant colors is striking and the area is safe to take plenty of photos.
The other must-see is the Feira de São Cristóvão, a lively indoor market that is the largest of its kind in Rio de Janeiro. It sells northeastern Brazilian products and food so expect a glimpse into the culture and day-to-day life of places like Bahia and Pernambuco. It is a wonderful rainy-day activity with plenty of stalls selling bottled chilies, bottled melted butter (popular in the northeast of Brazil to pour over savory food), unusual ornaments and unique souvenirs. Check out the large food court for huge portions of typical Brazilian foods such as dried meat with rice. There is always live music, typically forro from Northeastern Brazil. Either sit back and enjoy being a spectator or let yourself be led to the dance floor by the super friendly crowd there.
Where to stay in Rio
These five Rio de Janeiro neighborhoods are considered the safest for women:
Leblon is Rio's wealthiest neighborhood and is blessed with wonderfully clean beaches, and a solid collection of upscale bars and high-quality restaurants. It is a safe area – just use the usual precautions of not walking alone late at night and it's always best to keep valuables hidden in your purse. The tree-lined streets here give a charming town feel.
Who hasn't heard of Ipanema? This trendy part of town has a mix of traditional and modern bars, international restaurants, and a modern, younger crowd. It is also home to one of Rio's best beaches and includes Arpoador, the section for beginner surfers and for watching sunsets.
Equally famous is Copacabana, Rio's most iconic neighborhood. Copacabana is a lively area filled with the hustle and bustle of daily life. The beach here gets crowded on the weekends and is filled with sports lovers, sunbathers and beach vendors. It's the best place for an evening stroll and its famous black and white promenade remains busy after dark. Copacabana has plenty of great bars and restaurants, but the Copacabana beach is not the safest place to be at night.
Just 20 minutes by subway to the beach, Botafogo offers an escape from the body-conscious shores of the south zone. It has an active bar nightlife scene and exudes a real hipster, laid-back vibe. It is also a bit cheaper than the beachside neighborhoods. Head for the rooftop terrace of Botafogo Praia Shopping center for a great view of the Sugarloaf mountain.
For a total escape from the beach, head to the hills into Santa Teresa's bohemian hub. The area is popular with artists, musicians and writers and as a result, it is filled with art galleries, artisanal items and creative workshops. You'll also find a wonderful collection of great bars and restaurants. There is no subway there so it's best to use Uber to get up and down the hill. Santa Teresa is a great neighborhood but be careful after-dark and never walk alone in the evening. Take the Santa Reresa tram, a historical line that connects the area with central Rio – one of the world's oldest streetcar lines.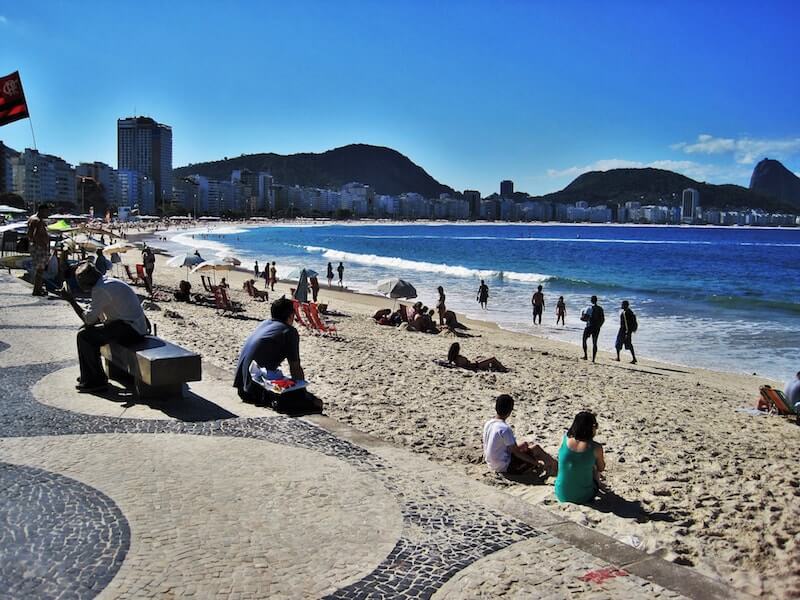 Transportation in Rio de Janeiro: Getting around Rio
The metro system in Rio de Janeiro is good and safe. There are women-only carriages in the morning and evening when the subway is most crowded so you can travel throughout the city with peace of mind.
You need to buy a ticket for each journey. You can also buy a prepaid card to save you from buying a single ticket each time and just top up with however much money you want. The metro is basically two lines – the orange and the green – although the yellow line is an extension of the two. They follow the same path, with one going up to the north zone and one going to the south zone.
The bus system is quite tricky and even locals get confused sometimes. Check the front of the buses to see the places they are going to and show the driver an address – they normally are quite willing to help. Make sure you wave the bus down from the pavement, even if you are at the bus stop, as they often don't stop if they think no one wants to get on.
Uber is a safe and convenient way of getting around and is also relatively cheap. Cabs are fine too and are in abundance – look out for the yellow cars for authorized drivers. Blue radio taxis tend to be larger and air-conditioned, usually ordered in advance.
Despite a bad reputation, most cabbies are honest people doing an honest job and will get you from A to B without any problems. Some, however, may take advantage of tourists by driving an unnecessarily long route to add a few extra reais to the journey.
Where to see Rio from above
Rio is undeniably beautiful and the best way of appreciating its beauty is from a high viewpoint. Here are some of the best spots to see Rio from above.
Dois Irmãos: Take a moto-taxi or van through the Vidigal favela to arrive at the entrance (this is Rio's safest favela and is totally fine to visit, even as a solo woman traveler). From there, it's a 40-minute hike to the top with fine views over the coastline, the forest-covered peaks and the city itself.
Mirante Dona Marta: The best way to arrive here is by cab or Uber, but make sure you schedule a return ride as very few cabs circulate in the area. The view represents the classic Rio vista: Guanabara Bay with the Sugarloaf mountain in the backdrop and the ocean stretching out into the distance.
Pedra Bonita: Take the metro to São Conrado and from there, ride the bus (line 448) towards Alto Boa Vista, getting off at the Pedra Bonita entrance. Two things are worth trying here: the easy 25-minute hike to the top with views of the west zone of Rio, or hang-gliding – Pedra Bonita is the base point for this extreme sport and several tour companies offer English-speaking hang-gliding excursions.
Traditional drink and food in Rio de Janeiro
Brazil has its own unique cuisine, the result of years of indigenous, African, and European influences.
Most main meals are served with rice and black beans so expect hearty, filling foods with meat or fish. The feijoada (pork and bean stew) is a source of national pride and worth trying – perhaps leave an hour for a food-induced nap afterward. Being such an active and on-the-go city, Rio has a selection of great snacks such as pao de queijo (cheese bread made with cassava flour so it's gluten-free), açai, pies and pastels. The best pastels are found at the farmers' market on the weekend and are served with sugarcane juice. The most famous dessert is brigadeiro, which is chocolate condensed milk rolled into a ball and covered with chocolate sprinkles.
To drink, local beer is always served extra chilled and usually in small cups to stop it from warming up quickly. The most famous national cocktail is the caipirinha made from cachaça and lime, although modern-day versions mix in strawberries, passionfruit and other exotic, local fruits.
There are few things better than a cooling, freshly-squeezed fruit juice on a hot, summer's day and in Rio, you'll find them on almost every street corner in the coastal neighborhoods. Just look for open-walled fruit bars with people standing up at the counter. Some of the best juices are the fresh pineapple with mint, mango or orange. Personally, I love the watermelon juice. It's fresh and cool with no added sugar. The watermelon is so good that they just don't need it.
Bibi Sucos, Big Nectar and Polis Sucos are some fruit bar names to look out for.
And what could be more tropical than ordering a fresh coconut on the beach? The coconuts in Rio are the green, hairless ones and are kept among ice to keep cool. Ask any of the beach kiosks for an 'agua de coco' and they will expertly slice open a coconut, pop a straw inside, and it'll be ready to drink.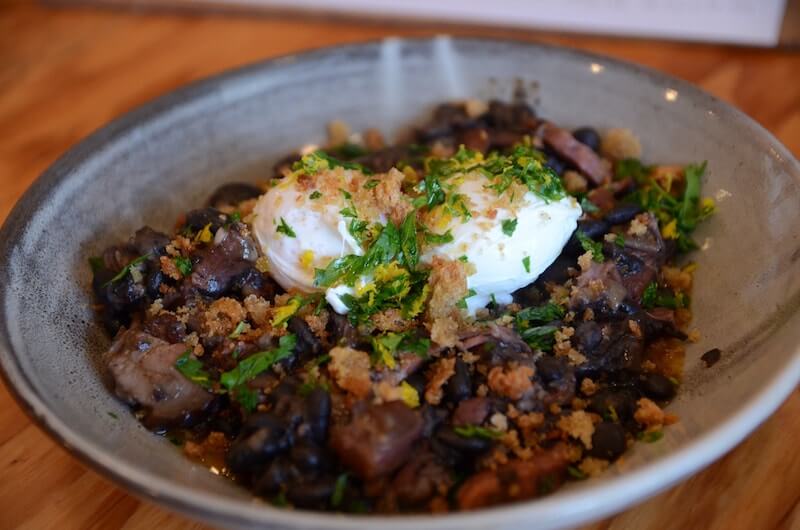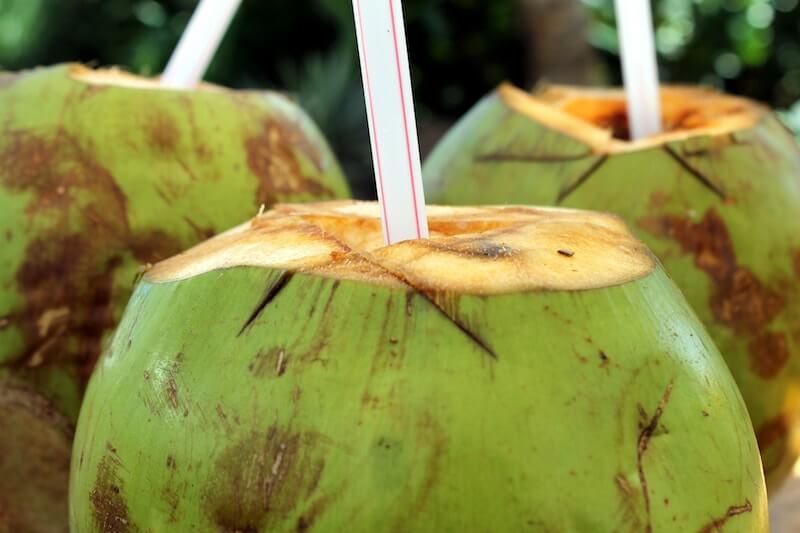 Top three woman-friendly restaurants in Rio
Eating out alone in Rio is safe, and there's nothing for solo women to fear. That is, of course, as long as you keep to the safe neighborhoods and know where you're going to dine next. Here are a few of my recommendations in different price brackets.
Aprazivel in Santa Teresa is in the expensive range. Rustic, countryside decor coupled with fine views across Guanabara Bay set an unforgettable scene at this upscale restaurant in the bohemian neighborhood Santa Teresa. The Brazilian cuisine is locally-sourced as is the cachaça, which makes a wonderfully tasting caipirinha. Food options are traditional Brazilian dishes with a contemporary, innovative twist. (Restaurante Aprazível, Rua Aprazível, 62, Santa Teresa, Rio de Janeiro)
In the mid-range category is Casa da Feijoada in Ipanema, Rio's tourist hub. Casa da Feijoada specializes in – you guessed it – feijoada, the Brazilian classic, which is a slow-cooked bean stew mixed with smoked sausage, dried meat and pork, served with fluffy rice, fried kale, farofa (pan-fried cassava flour) and slices of orange for seasoning. Most people opt for the modern version but for those looking to try the true feijoada popular years ago, dinner can also be served with pig's ears and trotters. (Casa da Feijoada, Rua Prudente de Morais, 10B, Ipanema, Rio de Janeiro)
The more budget-minded should try Estação Sabor, the 'taste station', in Copacabana. The restaurant operates on a per-kilo system: you take what you want from the buffet and pay by weight. Food options here are hearty with several types of rice, pasta, meat, vegetarian options, beans, and an ample salad bar. (Avenida Nossa Senhora de Copacabana, 493, Rio de Janeiro)
Rio nightlife: Top three woman-friendly bars in Rio de Janeiro
While many of Rio's bars are perfectly accessible to solo women, these three are particularly welcoming and Rio de Janeiro at night should be experienced. As anywhere, keep your eye on your drink (and don't have too much!)
Canastra in Ipanema is a French-owned bar that serves the best national wine and cheese in town and is packed every night with an equal mix of Brazilians and foreigners. It's an easy place to meet new people or simply relax with your own thoughts and a good glass of chilled wine. If you love oysters, head there on a Tuesday night to enjoy fresh oysters served by the dozen. (Canastra, Edificio Paranoa, Rua Jangadeiros, 42, Ipanema)
Belmonte in Copacabana is a classic Brazilian bar serving traditional Brazilian food and snacks accompanied with extra chilled beers, just like the locals love them. The friendly atmosphere makes it a fun spot for solo travelers to mingle or simply people-watch. One of the best snacks on the menu is the empanadas – open-topped pies – with the dried meat or prawn and cheese ones the most popular. (Belmonte, Rua Domingos Ferreira, 242, Copacabana, Rio de Janeiro)
Comuna in Botafogo represents the gastronomical revolution in Rio which recently saw the humble hamburger being upgraded to fancy gourmet versions. Comuna was at the forefront of this move and nowadays serves homemade burgers with delicious caipirinhas and chilled beers. This bar is one of the most popular in Botafogo and gets crowded on weekends so it's best to arrive early. The vibe here is casual, attracting the local hipster and alternative scene. (Comuna, Rua Sorocaba, 585, Botafogo, Rio de Janeiro)
The above bars and restaurants are great places to relax and enjoy Rio's vibrant lifestyle. As a solo woman, you can go to these bars and restaurants and enjoy your own company without people hassling you. However, if you do want to meet other people, these are friendly venues and you can easily strike up a conversation with others if you want – it will be on your terms.
And if you need to stay in shape in Rio
Fancy an exercise class on the beach in Rio?
You'll find circuit training every weekday morning from 6 am – 9 am and in the evenings from around 5 pm – 9 pm. They take place near every 'posto' (the large, white lifeguard towers dotted along the beach from Leme to Leblon). Some charge a monthly fee or you can pay for each class you join, but this varies depending on the training camp. Many of these outdoor training spots have instructors who speak English so simply ask one that takes your fancy about availability and prices.
From yoga groups and guided meditation to language club meetings, there's a lot going on in a bustling city like Rio. The best source of information is by searching meetup.com for yoga in Rio de Janeiro. Several meetups are free.
All these outdoor activities are perfectly safe and ideal for a solo woman traveling in Rio.
Crime in Rio de Janeiro: Safety tips for the solo female traveler
We mentioned it at the beginning: no write-up about Rio would be complete without talking about safety, so yes, Rio does experience high crime rates. That said, most crime takes place away from tourist areas. That said, like anywhere else in the world, staying safe requires common sense and preparation.
Here are some travel safety tips for Rio:
Take extra precautions at night. Try to avoid walking by yourself after sunset, especially in empty streets or unfamiliar areas. After a late night of drinking, exploring or dining, your Uber app will come in handy. Get the Uber to pick you up right outside wherever you are and ask to be dropped off in front of the place you're staying.

Be careful with your belongings. It's not the best idea to wave your expensive cell phone in crowded places as it's all too easy for someone to grab it. Armed assaults rarely happen in places such as Ipanema and Copacabana during the day; mostly, the thieves are opportunists and are looking for an easy robbery. Don't make it easy for them; simply use your phone quickly to check messages or take photos and then pop it straight back into your bag.

Take care at cash points. Check for any unusual devices at the cash point as credit card cloning can and does happen in Rio. And don't withdraw large sums of money that could draw attention – it's best to take out little bits at a time. NOTE: cash points close at 10pm in Rio to avoid nighttime robberies.

Armed assaults do exist in Rio – but their probability is slim. The huge majority of tourists will have no problems whatsoever so don't let this possibility taint your trip. If you are assaulted by a thief who is armed, simply hand over your items – do not attempt to negotiate, fight back, run away, or scream. In these cases, the thieves use weapons simply to make the robbery quick and easy for them and as long as you cooperate, there is no reason for the criminals to act aggressively.

Car theft. If you do hire a car in Rio, keep your doors locked and windows closed whilst driving. If you're driving at night, you will notice most cars don't stop at red lights if the roads are empty. This isn't bad driving – it is actually tolerated in Rio at night as it avoids potential theft while waiting at the traffic lights. Stay aware of your surroundings, stick to main roads, don't enter favelas, and you should be totally fine.

On crowded buses, make sure your belongings are safely tucked away in your bag to avoid being pickpocketed. If you sit by the window, be sure to close it to avoid someone reaching in to grab your phone – it's rare that this happens but it can, so it's best to be extra careful.

Stick to certain neighbourhoods. Places in the south zone of the city like Copacabana, Ipanema, Botafogo and Urca are considered the safest. Centro, Lapa and Santa Teresa are popular tourist places too and a visit there comes highly-recommended – just take care in these neighbourhoods at night, along with Copacabana. Avoid favelas, except Vidigal, Rocinha, and Babilonia, the three safest in the city. The north zone of the city is best avoided – it is mostly residential anyway and has few if any tourist attractions.
If you're feeling a bit nervous about safety, jump on some day tours to see those parts of town you'd rather not explore on your own.
So keep your wits about you, use common sense – and have a fabulous time in Rio, one of the best cities in the world!
Sarah Brown is co-founder of Now in Rio, a travel and culture website about Rio de Janeiro for both tourists and anyone interested in Brazil. "We seek to change perspectives, shatter stereotypes and introduce you to the real Rio de Janeiro – its vibrant communities, delicious local cuisine, thriving underground culture and unbelievable scenery."
And please – don't forget your travel insurance before you go! I recommend SafetyWing if you're 69 and under. If that birthday has come and gone, click here for travel insurance that covers you at any age.
Rio de Janeiro travel resources
Where to stay in Rio de Janeiro: Click here to compare hotel prices in the city's various districts.
You'll find excellent information about Rio on Facebook at the following pages:
The Rio|Girls Gone International group is a wonderful community to meet solo women travellers in Rio de Janeiro
Girls Love Travel is great to meet like-minded women and have a strong community of female travellers at your fingertips
Expats in Rio is great for local news and tips from locals and local expats
Websites with great Rio de Janeiro information include:
Visit Rio, a government site and one of the most comprehensive sites for Rio. It has tips on places to eat, stay and go and also has information about transport
Internations is a good place to meet people in Rio, both travellers and expats
Here are some great insider tips and comprehensive information on budget travel in Brazil
These two sites have bus information within Rio and to other cities: Rio.com and Check My Bus
— Originally published on 29 July 2017, updated in April 2023
PIN THESE PICTURES AND SAVE FOR LATER!