By Samantha Glauser

One of the best solo travel destinations in Europe is Lisbon – especially you're looking for an incredible city offering culture, history, and a massive amount of charm.
Plus, it's surprisingly affordable for Western Europe and is perfect for all age groups.
What follows are the reasons why Lisbon is one of the best places to travel solo, even if it's your first time – along with things to consider, some helpful travel tips, and amazing things to do when you're there.
WHY YOU SHOULD VISIT LISBON
Visiting Lisbon alone offers an incredible opportunity to wander through some of the most important times in history, as well as a beautiful city with a sea of terra cotta rooftops overlooking the Tagus River.
Lisbon is also one of the oldest cities in Europe. There's evidence it was inhabited as early 1300 BC and later, it was the site of a Roman settlement. Lisbon, and the neighborhood of Belém, ​​played a prominent role during the Age of Exploration in the15th century. Some of the most influential explorers left for the New World and established new trade routes from Lisbon.
This city enjoyed a time of prosperity until the mid-18th century when the earthquake of 1755 destroyed most of the city except for one area – Alfama. And here's why this is interesting: first, the earthquake was on All Saints' Day on November 1. Second, Alfama was the neighborhood where the prostitutes, thieves, and other "undesirables" lived. The only part of Lisbon left standing on a day of religious significance was the neighborhood of ill repute.
Following the massive earthquake, the resulting fires, and the flooding from the Tagus River, the only part of town left standing was Alfama. So, if you're planning a solo trip to Lisbon, that's where you should start.
TOP THINGS TO DO IN LISBON
There are a lot of incredible things to see in Lisbon and you'll find great lists in guidebooks. But to really get the pulse of this extraordinary city, you'll want to learn about its past and wander around the most historic areas in the city center. If you can spend three days in Lisbon, you'll have time to see the best of Lisbon.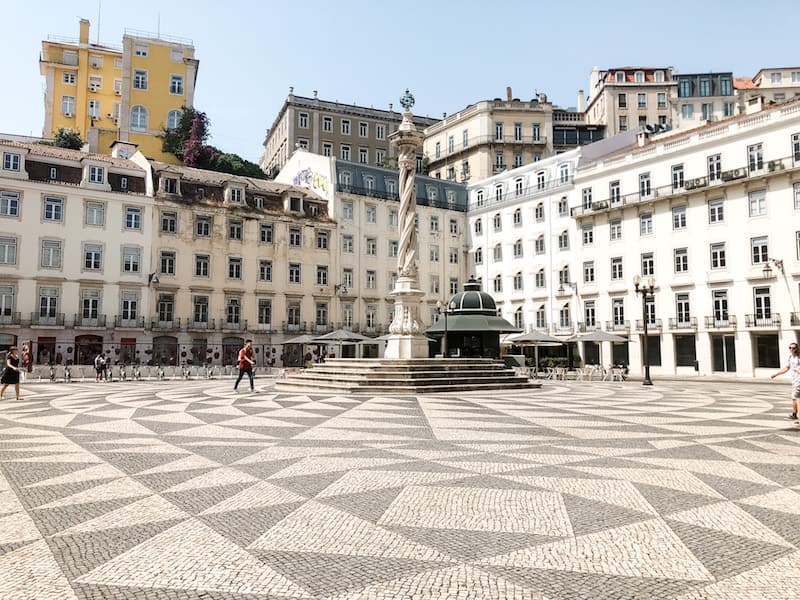 Lisbon Walking Tours
A walking tour is a wonderful way to visit Lisbon and to explore this area to learn more about its history. It's a good idea to consider a tour of central Lisbon as well as a tour of Alfama (or even one for Alfama and Graça).
When you walk around Lisbon, be on the lookout for Fernando Pessoa, the most influential poet you've never heard of. It's fun to find sightings of him throughout the city in statues, paintings, and pictures. The best known is a statue of him sitting in front of his favorite haunt, A Brasileira.
You'll also find a statue of him perched on a balcony and some other places around town. It's like a modern-day historical scavenger hunt! There's even a tour dedicated to Pessoa sightings, so check it out.
Learn about the Carnation Revolution, where a dictator was overthrown by a peaceful protest of people carrying red carnations, and about the anti-seismic rebuilding of Lisbon after the great earthquake.
Learn about the history of Lisbon while checking out all the best Lisbon sights…
Things to do in Alfama and Graça
Alfama is one of the most picturesque areas of Lisbon.
The narrow, winding streets offer a glimpse into what it might have been like hundreds of years ago. And given its location high on one of the hills of Lisbon, it offers some incredible views from the miradouros, or lookouts.
Some favorites are:
Miradouro das Portas do Sol
Miradouro de Santa Luzia
Miradouro da Senhora Do Monte
Miradouro de Santa Luzia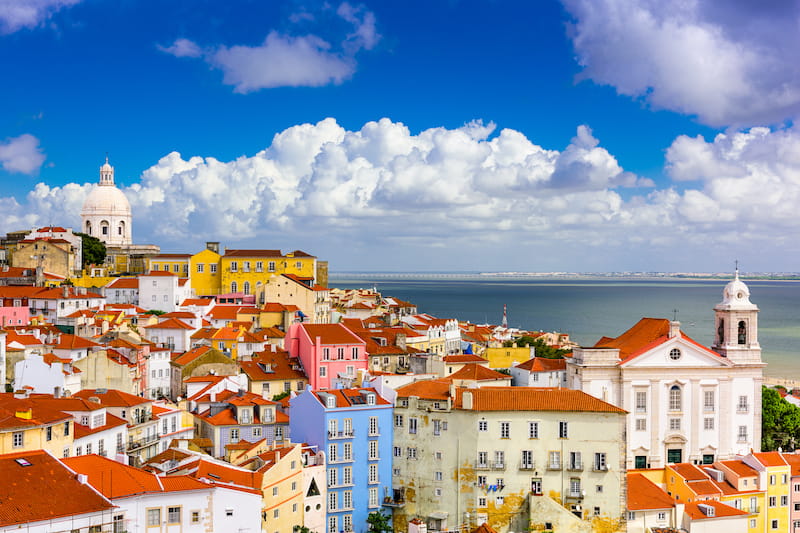 For a lesser-known travel tip, many tourists take the Santa Justa Lift for the views and because it climbs part-way up the hill to Graça. You can actually climb up the back steps of the lift near the Carmo Convent for no charge to take in the views.
If you visit Alfama on a Tuesday or Saturday, check out Feira da Ladra, the "Thieves Market." It's a street market where locals and tourists shop for anything and everything. The name pays homage to the neighborhood and the people who once lived here.
Graça is at the top of the hill in the neighborhood where the Castelo de Sao Jorge is (Saint George Castle). Though the castle is a ruin, it also offers some incredible city views. And, where else can you "conquer a castle by elevator," thanks to the Santa Justa Lift?
You'll find a lot of street art in this area, including a wall filled with cartoons providing a brief summary of the history of the area which is quite unique.
Dine at an "Illegal" Chinese Restaurant
For something interesting and a little different, head to the Mouraria neighborhood to eat in one of Lisbon's underground Chinese restaurants. These "off-the-books" places are located in a residential and non-touristy area. They were originally started by Chinese immigrants opening an unofficial restaurant in their home. It caught on, and now it's a fun thing to do when you visit Lisbon.
You won't see any signs giving them away. But you'll be able to find them by the incredible smell. And sometimes, you'll see discrete red lanterns hung above the door.
Enjoy a Night of Fado Music in Lisbon
One thing you will not want to miss is Fado. This style of music originating in Portugal is soulful and beautiful. It's like the Portuguese version of Spanish flamenco or the US blues.
The Portuguese are a sea-faring people, known for both fishing and exploring. They took center stage during the Golden Age of Exploration in the 15th and 16th centuries with explorers like Vasco da Gama and Ferdinand Magellan leaving the harbor of Belém. It's said that fado was born of the women waiting for their men to return home.
Fado is found in certain bars and restaurants late at night, usually starting at nine or ten p.m. but sometimes later. It's sad, beautiful, emotional, and quintessentially Portuguese. You could visit Lisbon without seeing fado, but why would you?
Tasco do Chico in the Bairro Alto neighborhood is one of the most popular places to go. This neighborhood is known for its nightlife, with a lot of bars and restaurants.
It's a great place to invite your new friends that you make on this trip to join, or go solo. They pack people in and you'll sit at a large table with locals and tourists to enjoy the hauntingly beautiful tunes. Fado is very much a group participation event, so be prepared to clap, sing, and maybe even shed a few tears.
If you'd feel more comfortable going with a group in the evening, take your pick of these Fado and Portuguese tapas get-togethers. Yum! For something more cultural, learn all about Fado with a Fado singer on this guided walking tour.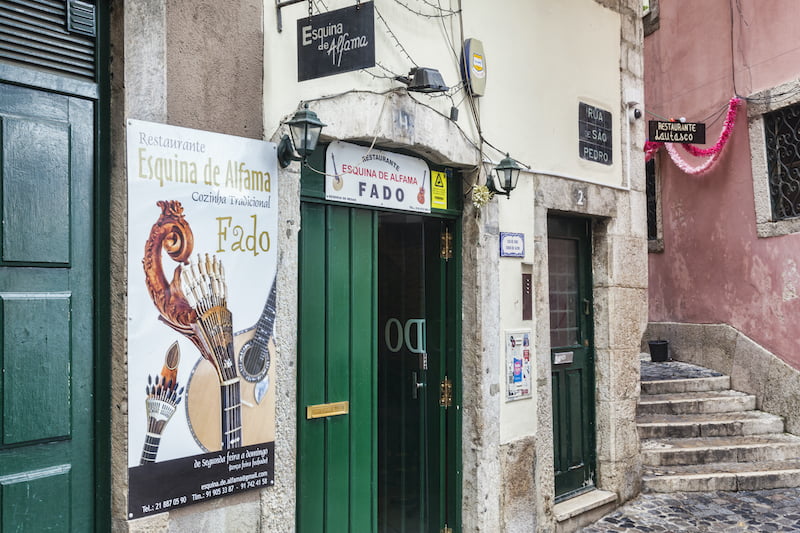 You can also take a day trip from Lisbon to Sintra's Pena Palace (also a World Heritage Site), to Cascais, Fatima, or a number of other nearby sites.
SOLO TRAVEL LISBON: TRAVEL TIPS
Lisbon may be a large city, but its historic center is very walkable. It's easy to get around Lisbon and you'll get a great workout climbing the steep hills. If you get tired, there is ample public transportation with trams, buses, trains, and funiculars to help you navigate the inclines. Better yet, get a Lisbon City Card for 1-3 days, which includes public transportation, some nearby trains, and plenty of Lisbon attractions.
And now the big question: how safe is travel to Lisbon for solo travelers?
Solo travel in Lisbon is perfectly safe, and Lisbon is widely considered to be one of the best places to travel solo in Europe. That said, no place is 100% safe so here are some helpful Portugal travel tips for Lisbon to make sure your visit will be unforgettable – in a good way.
Hold onto your belongings
The crime rate is quite low for violent crimes, so you can feel safe walking around, even at night. However, you'll want to take standard precautions that you would in any city. Pickpocketing is common, so keep an eye on your belongings and tuck away items of value either in an anti-theft bag or a money belt.
Be careful on public transportation
One thing to be aware of in Lisbon is the "snatch and run" when you're taking public transportation. Locals will warn you that people will wait until right before the doors close to snatch something and run with it since you won't be able to chase them if they time it right. So, be especially careful on trams and buses right before the doors close.

Don't overindulge
While it's safe to walk around Lisbon at night, you'll still want to be careful. Walk down well-lit streets, and be aware of your surroundings. And, while Portugal has some delicious wines, take care to not overindulge, especially if you're walking alone at night.
WHERE TO STAY IN LISBON
There are a lot of amazing hotel options in Lisbon for any budget. Here are some great options located in some of the best and most central neighborhoods offering easy access to anything you may want to do.
Lisbon budget hotel: Hotel LX Rossio. This low-cost hotel is in the heart of Lisbon in the Baixa/Chiado neighborhood. It literally is in the center of it all, and it's the perfect location for exploring what this incredible city has to offer. And, don't let the price tag fool you as this hotel offers some nice amenities.

Lisbon hotel Mid-Range: Dalma Old Town Suites. This surprisingly affordable hotel features themed apartments so you can feel like a local. It's nestled in the Alfama neighborhood, just a short walk from the castle and other popular sights.

Luxury hotel Lisbon: Solar do Castelo. If you've ever wondered what it was like to live like a queen, here's your chance! This former 18th-century mansion is built on the site of the former royal palace kitchens within the walls of Castelo de Sao Jorge. You'll find every modern comfort in this premium location.
WHERE TO EAT IN LISBON
Portuguese foods are flavorful, with rich seasonings. Given Lisbon's proximity to the ocean, seafood is very popular and includes bacalhau (salted cod, which tastes much better than it sounds!), sardines, and shellfish. If your time is limited and you want to taste all the city's specialties, a food tour might be just right.
The Portuguese are obsessed with pastries, and just as there is a coffee shop in the US on almost every corner, pastry shops can be found everywhere in Lisbon. One that this area is famous for is the pastel de nata. It's a rich egg custard in a pastry shell, but you'll have to try it to truly understand how amazing it is.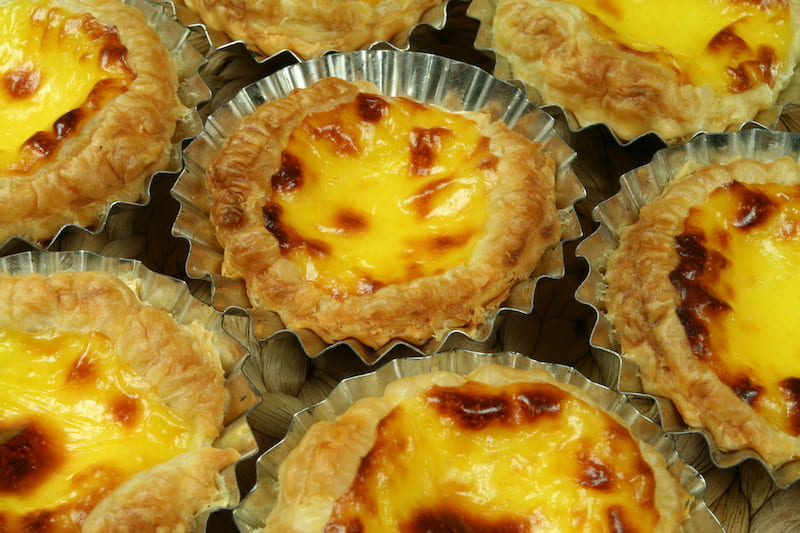 You'll need to go to Pastéis de Belém in the Belém neighborhood of Lisbon for the best this city offers. They are delicious, but try Manteigaria for a delightfully good alternative. You may even like these better. Love them so much you want to learn how to make them? Check out this pastel de nata cooking class.
One of the best restaurants for a solo female traveler is Taberna Sal Grosso. This tiny establishment opens for a few hours for lunch and dinner only and has a few tables, so you'll be seated with others to maximize space. It's a great way to meet people while enjoying a great meal.
The menu is informally written on a board up on the wall and is based on whatever fresh goodies can be found at the market that morning. You'll want to arrive before opening hour as people line up waiting for this incredible find. It's located near the Santa Apolonia train station just down the hill from Alfama.
A great historic option in the Chiado neighborhood is A Brasileira. For well over 100 years, this cafe has fed artists and satisfied patrons, earning its place of prominence in Lisbon history. Dining here is walking through the pages of Lisbon's varied history. You can even enjoy a bite with Pessoa.
Another great place is Atira-te ao Rio in Cacilhas. Hop on the ferry across the Tagus River and it's a ten-minute walk along the water. You'll get incredible city views along with views of the 25 April Bridge and Christ the King statue. Request one of the outside tables overlooking the river and enjoy their incredible fresh seafood dishes with a glass of vinho verde.
WHY YOU SHOULD TRAVEL SOLO TO LISBON
Lisbon is an incredible city to visit and a perfect place to travel solo. It's easy to get around, people are friendly and helpful, and it's safe for all kinds of travelers. There are plenty of things to do in Lisbon, a city filled with rich history and culture. It's a city you'll love if it's your first time, but you'll definitely want to repeat the experience.
When is the best time to go to Lisbon?
The shoulder season is the best time to visit Lisbon, either late spring or early autumn. This means you'll avoid the heat of summer and crush of tourist crowds but enjoy wonderful weather.
Is Lisbon safe for solo female travellers?
Lisbon solo travel is perfectly safe. In fact, Lisbon is reputed to be one of the safest cities in Europe for solo women.
Is Portugal safe to travel alone?
The same can be said of Portugal as a whole.
Sam is a travel-obsessed animal lover on a quest to create a life of travel with her dog—join her in creating a life to dream about on My Flying Leap!
SHOP THIS POST ON AMAZON
PIN THESE PICTURES AND SAVE FOR LATER!