by Julie Dawn Fox
The first thing that struck me about Portugal was how safe I felt just wandering around on my own. Admittedly, I'd spent the previous year living in Caracas so the contrast was stark. Twelve years later, I still feel it's the safest country I've travelled in and that sentiment is echoed by female friends who come to stay with me.
It's also quite easy to get around, especially the more populated areas, and public transport is relatively cheap, clean and comfortable.
Oh, and did I mention how beautiful and fascinating it is? And the wine, people and food?
EXPERIENCING PORTUGAL OFF THE BEATEN PATH
Portugal may be a relatively small place but it's so diverse that it's hard to choose a handful of experiences.
The best time to visit Portugal is in spring or autumn. Summer is lovely weather-wise but a little crowded. Winter can be rainy and cool but you won't have to battle the crowds and you will definitely get SOME sunshine, especially in the South.
I would definitely go on a winery tour and start experimenting with Portuguese wines. The terraced hillsides of the Douro Valley wine region are a UNESCO site so if you can, visit one of the quintas – or wine-producing estates – with a view of the river. Even if you don't make it up north, there are wine regions all over Portugal so you'll have plenty of opportunities to get acquainted with both table and fortified wines such as port and moscatel.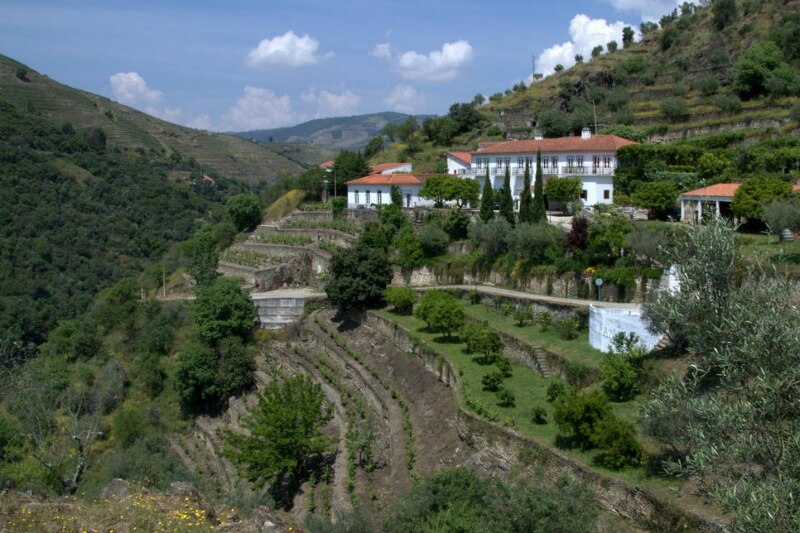 Another of Portugal's UNESCO World Heritage sites is the Convent of Christ in Tomar. Built as the headquarters for the Knights Templar in the 14th century and subsequently enhanced with Manueline (Portuguese Gothic architecture) doorways and windows, it's a stunning example of Portuguese architecture and much quieter than the famous Jeronimos Monastery in Lisbon. I particularly like the Charola, the circular chapel with arched entrances that meant the knights didn't need to dismount to attend mass or meetings.
Lello Bookshop in Porto: Stairway to Heaven?
Repeatedly classified as one of the most beautiful bookshops in the world, this lovely haven with the neo-gothic facade has two claims to fame.
The first comes from its tenuous association with J.K. Rowling, über-successful author of the Harry Potter series.
Before she became a billionaire, Rowling taught English in Porto and was briefly married to a Portuguese journalist here. As a young struggling writer, she may well have spent time in the bookshop, although she's never confirmed it herself.
It's easy to believe that Porto provided some inspiration; one look at Lello's fantastic spiral staircase is a convincing argument, as are the dark suits and capes worn by the city's students – another Harry Potter source of inspiration?
The second bit of notoriety is more recent: in 2009 the bookshop was named the third most beautiful by The Guardian, and a year later received a similar distinction from Lonely Planet.
Lello's Notoriety: A Blessing or a Curse?
Lello & Irmão, located in central Porto on Rua das Carmelitas, has been a local institution since it was designed by engineer Xavier Esteves in 1906.
"We would spend hours here, remaking the world. It was an island of serenity, away from the busy world of Porto. But now it is ruined," said tour guide Leonora, as shared her memories of afternoons spent in this magical place.
Ruined? Yes, she insists, because its notoriety has come at a price.
Busloads of curiosity-seekers have replaced ardent debaters, crowding the narrow steps to the point of distraction; not many are there to browse the stacks.
Initially, the bookshop battled with its newfound notoriety. While hordes of tourists milled about taking photos without buying anything, patience wore thin until angry clerks began raising their voices: "No photos!"
While the bookshop became somewhat of an unwilling cultural icon, it has adapted. It now charges a modest entry fee which can be applied to the purchase of a book. This may have helped ease the burden of fame, allowing book lovers and tourists to share the unique and enchanting beauty of this lovely venue.
―Leyla Giray Alyanak
Porto's Palacio da Bolsa, Where Empires Once Traded
Portugal was once a majestic trading empire with global reach, and a visit to Porto's Palacio da Bolsa, the former stock exchange, will plunge you right back into a world of wealth and abundance.
From the outside, it doesn't look like a stock exchange at all but more like a palace or a wealthy monastery. Started in 1842 on the ruins of a burned-out Franciscan convent, the interior was completed only in 1910, so it went through a number of architects and artists, which contributes in part to the sometimes whimsical mixture of styles.
The Palacio da Bolsa blends neo-classicism with Greek and Roman influences. There are even palladian elements, courtesy of Andrea Palladio, a 16th-century Italian architect.
The Hall of Nations is one of the Stock Exchange's most spectacular rooms. Around the edges, you'll find coats of arms of the many countries with which Portugal had trading relations. Whether you look at the domed ceiling, the walls or the ornate mosaic floor, your head will spin with colors and shapes.
The official descriptions talk of "a sensation of indescribable glory," and while this may be over the top, I did get a sense of Portugal's majestic past by looking up at the sweeping spaces.
One of the most astounding rooms – and my personal favorite – is the Arabian Room, inspired by Granada's Alhambra, they say, but inescapably Moorish and ornate.
Although the Palacio da Bolsa hasn't been used as a stock exchange since the 1990s, dignitaries enjoy receptions under this room's glittering lights.
Another room that still serves a practical purpose is the General Assembly room, where the Porto Trade Association holds his annual meetings, a testimony to this once powerful trading center.
Porto was the home of Prince Henry the Navigator, whose farsightedness and financing allowed explorers to round the Cape of Good Hope and establish a sea route to the Indies, introducing Portugal to an era of discovery (and of slavery and colonialism). In these rooms, that sense of empire is all around.
―by Leyla Giray Alyanak
Serra do Pilar Monastery in Porto is another unique building with a circular church and adjoining cloisters that form a figure eight. It's now owned by the military so the guided visit to the dome is conducted by uniformed soldiers. You won't get better views of Porto than from up there
Guimarães, Portugal: Women, Hearts and History
What is that saying again… Behind every great man stands a great woman?
At first sight, Guimarães is a typical town of the North: massive Catholic churches dedicated to Mary, orange-tiled roofs, stone houses and winding cobblestone streets (thankfully filled with outdoor cafés).
Already a UNESCO World Heritage Site, Guimarães was named 2012 European Capital of Culture, a title shared with Maribor in Slovenia. Both cities, coincidentally I'm sure, are staunchly Roman Catholic, societies in which women should know their place – and stay home.
Except things don't always happen the way they're supposed to.
Guimarães, it seems, was home to two historically outstanding women, who did anything but stay home.
The first was the powerful wife of the Count of Portuscali, Countess Mumadona Dias, who ruled Portugal's Northwest for more than two decades after her husband's death. Around 950 AD she founded the Monastery of Our Lady of the Olive Tree and built the Castle of Guimarães to fend off a vast assortment of threats. By commissioning a street to connect the castle and the monastery, she also gave birth to the town.
No countess, no Guimarães.
The second historically vital woman of Guimarães was Teresa, wife of Henry of Burgundy, Count of Portugal. Teresa was still young when her husband died (the women do seem to outlive their illustrious husbands) but she had already given birth to the man who would become the country's first king.
Like Mumadona before her Teresa became a leader. She built armies and fought – and won – wars. She also took a Galician lover, whose interests she would defend (this would get her into trouble).
Teresa's penchant for war would eventually pit her against her own son: he dreamed of an independent Portugal, while she (and her lover) wanted no such thing. (At the time the country of Portugal was ruled by the Kingdom of Leon in what is now central Spain.)
Mother and son fought and Henry won, declaring himself King of Portugal, the first of a line of monarchs who would rule for eight centuries. The date of his victory, 24 June 1128, is celebrated annually as the day Portugal was born.
Without Teresa, there might well have been no Portugal. Two women, two histories.
―by Leyla Giray Alyanak
If you like the sound of a multi-day hike through gorgeous scenery and historical towns, you could follow the ancient pilgrim route that runs from Porto to Santiago de Compostela, known as the Portuguese Way of St. James, although I'd start in Barcelos, which is where the route gets more scenic. You can follow it to the border town of Valença or continue all the way through Galicia to the cathedral in Spain.
The beauty of this walk is that it's well-signposted so you shouldn't get lost and popular enough that you should meet other walkers. Local people will also understand why you're out there walking alone and will help if you run into difficulties.
One of my favourite towns is Ponte de Lima in the Minho region of northern Portugal. Its historical centre is pretty, compact and full of interesting architecture while the surrounding countryside fills me with joy. It hosts an annual international garden festival, a wine festival and other events although I prefer it when the streets are quiet.
At the other end of Portugal, everyone raves about Portugal's beaches, especially the ones backed by dramatic sandstone cliffs in the Algarve region. My favourite beach is actually on the west coast where the Algarve and Alentejo regions meet at Odeceixe. The river runs across the wide sandy beach and forms a lagoon at high tide and the cliff-top walks are spectacular. You're far less likely to run into the package holiday crowd here than on southern beaches.
An under-explored area of the country is Central Portugal. Tourism is still in its infancy so it's easy to escape the crowds.
Go to one of the many river beaches during summer months to swim in the company of dragonflies in the shade of overhanging trees or with a backdrop of magnificent mountains. Or venture into the Lousã Mountains to discover the hidden schist villages of Talasnal and Cerdeira. If possible, try to visit Cerdeira mid-July during the Elementos à Solta outdoor art festival.
I'm also a huge fan of Sintra, the magical palace-filled town near Lisbon. Backed by woodland and full of mystery and romance, it attracts many tourists but there are ways of avoiding the crowds, such as visiting Monserrate Palace or the Capuchos Convent.
For natural beauty, the island of São Jorge in the Azores has won me over completely, especially the north side of the island which is green, unspoilt and heart-stoppingly beautiful. Lagoons, waterfalls, rock formations, tropical plants and very few people make it an ideal place to escape from the stresses of everyday life. When I'm feeling frazzled, I yearn to be able to spend a few days there alone with a book and a camera.
WHAT TO WEAR IN PORTUGAL
Packing for Portugal is similar to packing for the rest of Europe.
Whatever you do, bring comfortable, non-slip footwear. The cobbled pavements that brighten up Portuguese streets are attractive but uneven, often with gaps, and alarmingly slippery when wet. Leave your stiletto heels at home as they will get ruined.
I always carry a cotton scarf with me to help transition between changes in temperature and to cover my shoulders if visiting churches in the summer.
Another essential item throughout the year is a pair of sunglasses. You'll be unlucky not to need them at some point.
Spending the night in spectacular Sintra? You should!
You MUST stay in my favorite guest house: São Miguel. The owner is a writer, a true artist. The interior is chock full of taste and antiques – no wonder, because her son is a world-class antiques dealer. There are NO better places to stay in Sintra! Click here to book (and say Hi from Women on the Road!)
Essentially, you can wear what you like. Skimpy tops and shorts are fine in summer, except perhaps in religious buildings. That said, if you are travelling alone in rural areas, you may feel more comfortable if you're not baring so much flesh. Men do stare and some will make comments that you probably don't want to understand and should ignore. Other (older) women will likely be more sympathetic towards you if you have less on show.
There's no need to bring dressy clothes unless you are attending a special event or going to the poshest of restaurants. Smart casual or casual is fine for most situations. Scruffy is not looked upon kindly though. People here take pride in how they dress and look; they notice other people's appearance and judge them accordingly. Some dreadlocked youths in shorts and t-shirts attended a communal lunch in my village hall and were repeatedly referred to by my neighbours as "the dirty English" even though I'm sure they had showered before coming.
CORK, CERAMICS AND PORT
You won't be able to walk down any heavily-touristed street without seeing a plethora of cork products including purses, belts, jewellery and caps. Some of it is really well-made – just avoid the tacky stuff. There are quality crafts available everywhere if you look for them.
Portugal is also famous for its azulejos, the hand-painted or printed ceramic tiles that decorate the inside and outside of many buildings. Beautiful though they are, beware of anyone trying to sell you antique tiles – they belong on the buildings and you shouldn't encourage anyone to remove them by buying them, especially from flea markets.
If you have check-in luggage, don't go home without a bottle of aged tawny port, or perhaps moscatel wine. If you're subject to hand-luggage restrictions, go for the sheep's cheese – Azeitão or Serra da Estrela, amanteigada (gooey) if you can get it vacuum packed.
CULTURAL DO'S AND DON'TS
In cities and busy towns that are used to tourists, the normal precautions about keeping an eye on your valuables and not putting yourself in vulnerable or risky situations will suffice. Portugal is quite a conservative country so overtly flaunting yourself will attract frowns or worse.
In remote rural areas, roles for men and women are clearly defined and may appear old-fashioned and chauvinistic. As a foreigner, you will not be expected to know or respect all of these norms but at least try to greet a woman before approaching their man to avoid unintentionally alienating anyone.
Kissing is a typical way of greeting friends and family and you may find people leaning in for two cheek kisses from you when you are introduced to them. Even after 12 years, I'm uncertain about the kissing rules, which vary according to social class (snobby women tend to air kiss) and more. My rule of thumb is to go along with it but don't initiate.
It might surprise you to know that however close the two languages, Portuguese people don't appreciate you speaking Spanish to them unless it's the only way you can communicate. Try to learn a few basic phrases before you go, even if it's just please (por favor) and thank you (obrigada).
And one must of course talk about food…
The idea of eating octopus wasn't one that initially appealed to me but somehow I was persuaded to try polvo à lagareiro, baked octopus with garlic, olive oil and tiny baked potatoes. I scrape the suckers off the tentacles unless they're crispy but that's a small price to pay for the delicious, slightly sweet, tender octopus meat underneath.
Something that often catches visitors unawares is the custom of bringing small dishes of appetisers to your table unbidden. If you don't want to be charged for them, politely send them back or find out how much they cost before tucking in if you're sticking to a tight budget. Olives and bread are usually cheap but cured ham, cheeses and octopus salads can add a lot to your bill. By law, you can refuse to pay even if you ate the food but didn't order it but it's better to avoid an altercation by simply waving it away.
This guest post is by Julie Dawn Fox, a British writer and Portugal travel expert who moved to central Portugal in 2007 and swiftly fell in love with the country. Julie Dawn Fox in Portugal is a valuable resource for people planning to travel or relocate to Portugal. She also offers personalised Portugal itinerary coaching and design services for discerning cultural travellers. Follow Julie on Pinterest and Facebook.
Please don't forget your travel insurance! Women on the Road recommends World Nomads if you're under 66 (70 in some countries). If that birthday has come and gone, click here for travel insurance recommendations that cover you at any age.
---
PORTUGAL AT A GLANCE
Top 5 Portugal must-sees
Pastel de Nata custard tarts in Lisbon
Francesinha in Porto
Fado music in Lisbon and Coimbra
Port wine from the Douro Valley
Colorful ceramic tiles
Top 3 off-the-beaten track
Schist villages in Central Portugal
The beautiful riverside town of Ponte de Lima in the Minho region
Palacio dos Marqueses da Fronteira in Lisbon
Women need to be aware that…
Male (and female) attitudes towards women are still outdated in some communities, especially among the older generation who lived through the Salazar dictatorship which regulated the length of women's skirts and under what circumstances they were allowed out unaccompanied. In general, though women traveling alone should not experience problems.
You can't leave Portugal without buying…
A replica painted tile (don't buy the antique originals as it encourages theft) and a bottle or several of Portuguese wine.
You can't leave without trying these 3 foods
Polvo à lagareiro (baked octopus)
Naco na pedra (steak on a hot stone)
Cabrito (roasted kid)
For even more information on Portugal
— Originally published on 14 November 2016
PIN THESE PICTURES AND SAVE FOR LATER!