By Svetlana Rubejov
Visiting Las Vegas alone can be challenging and rewarding, especially if it's your first time. Here is a collection of my Las Vegas solo trip top tips for women.
Dubbed an "adult playground", Vegas is one of the most fun places in the world, which everyone should see at least once in their lives. However, the popular city attracts not only good peaceful travelers, but also unfriendly ones, as well as con artists and plain criminals.
But fear not – it's easy to travel to Las Vegas by yourself, have a blast and meet a lot of good people, if you follow these simple tips.
WHAT TO WEAR IN VEGAS
If you're traveling to Vegas alone it's best not to stand out from the crowd – wear what everyone else does. No one wears tuxedoes or cocktail dresses anymore and people dress comfortably – in jeans, shorts, nice pants, skirts and shirts. For late dining, people tend to dress up, and so can you.
While in casinos, people wear whatever they wear in the street, even shorts. But most restaurants and nightclubs enforce a strict dress code. No high heels needed and you can follow their rules by wearing a pair of black pants and a nice blouse. Just avoid flip flops, running shoes and jeans (especially ripped jeans) and you will fit right in.
Also keep in mind that in summer Vegas can get really hot, while indoors it can be quite cool, even chilly. Try to wear layers that you can easily take off and put back on.
HOW TO PLAY ALONE IN VEGAS CASINOS
If you go gambling, you should be extra alert – security cameras do not stop crooks from hanging around. Keep your eye on your chips.
Don't have too much money with you – set a gambling limit. You don't know how addictive it can be if you haven't tried!
If you win a large sum of money, do not walk to your hotel room by yourself – ask casino security to accompany you. Since you won, a nice tip to the security officer would be a good and fair gesture. Hide your winnings in the safe. (Ed. note: consider asking your hotel front desk if they have a safe – things aren't always safe in your room.)
Casinos offer free drinks, free rooms and other freebies and coupons to those who lose a lot of money. If you like to play, and you're losing, make sure the pit boss notices. If you can't win, you can at least get a free drink or a free stay on your next trip.
If you are planning to play at the casinos, join their players clubs. By joining a players club, you will receive a few perks, coupons, or discount hotel rooms for your next trip. Many casinos offer this option in order to attract customers – and you can join as many clubs as you like.
SAVING MONEY – OR HOW NOT TO GO BROKE IN VEGAS
Sin City is not cheap anymore, and vacationing here can be quite costly. If you are budget-conscious, there are a few ways to cut costs. Here are my best tips on saving money in Las Vegas.
To save on restaurants, try to dine during off-peak hours when most people have had lunch but it's too early for dinner. For example, eat between 3:00 pm and 4:00 pm, when many restaurants offer "happy hour" – half price off drinks, free drinks, 10% off the bill or cheap fixed menu lunches. If you don't like eating out on your own, these solo dining tips will help.
Tix4tonight is a company that specializes in half price tickets to same-day shows. They have many booths along the Strip and are very easy to find (many top shows aren't available so if you're really keen, book in advance). They also offer coupons for various restaurants. Restaurants at the Tropicana Hotel, for example, always have run coupons that offer 30% off entrees, or 10-15% off the entire meal.
Watch for coupon books, magazines and papers distributed free in hotels. They might have great deals there for restaurants, shows and attractions.
As mentioned above, join the players club of every casino you are gambling in – you will receive multiple perks and free stuff simply for joining them.
VEGAS SOLO FEMALE SAFETY TIPS
Is Vegas safe in general?
It's pretty much as safe as any other city in the US. There is police in the street, hotels have security, night clubs have bouncers, and casinos have security cameras. But that does not mean anything goes!
Arrive in Vegas during the day. Although the city is well lit, you don't want to be wandering around parking lots, taxi stands or bus stops in the dark.
Hotels in Vegas are usually huge, and it can take a very long time to walk to your room. Walking alone can present additional challenges. When booking a room, try to ask for one closer to the elevator so you don't have to walk far. But not too close, because you don't want to be woken up by drunk revellers coming back from a nightclub at 5:00 am!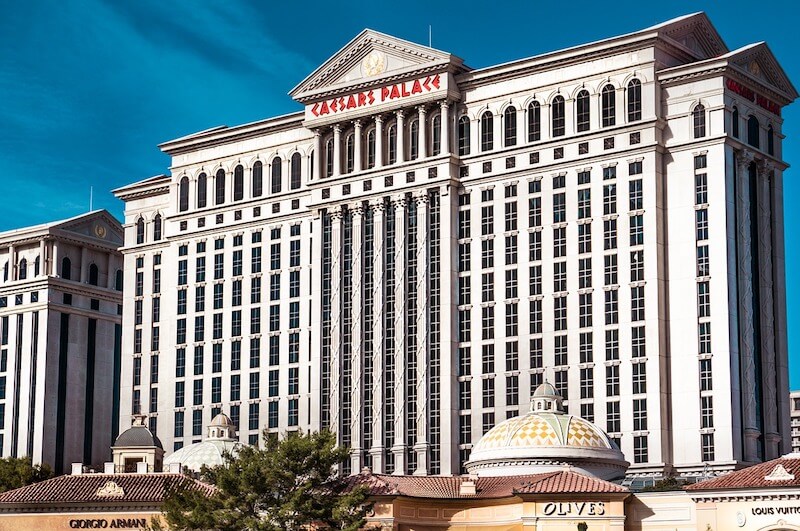 Keep your money in a hotel deposit box. Only carry as much money with you as you need, especially if you are going to gamble. Do not constantly check your money – this can draw attention.

Try to avoid less reputable areas of the city if you're in Vegas alone. Stay either on the Strip (the main area where all tourists are) or downtown on Fremont Street (a favorite place among locals). Try to avoid travel to restaurants located far from these two areas.

Have copies of all your travel documents – keep them in a separate place.

Exercise extra caution if you are going to a night club. Don't dress too provocatively and always keep an eye on your drink, especially if you are talking to a stranger.

If you rented a car, do not walk alone to the parking lot at night. Ask hotel security or anyone working at a place where you are to walk you to your car. Tip them – $2-$3 dollars will do.

Free shows in Vegas always attract crowds, so always keep an eye on your purse and hold it close if you are going to a free show.
WHAT TO DO IN VEGAS BY YOURSELF: TOURS WORTH TAKING
So what are things to do in Las Vegas alone other than gambling? There are multiple guided tours within the city, as well as many day trips to the Grand Canyon, Hoover Dam and Red Rock Canyon. All guided tours in Vegas are fine for women traveling solo – they are organized in small or large groups and are perfectly safe. 

If a tour is long, a lunch is usually provided for free, so don't have too much cash with you. Try to wear something comfortable – jeans, walking shoes and a hat if the tour involves walking. In summer, always use sunscreen and although water is usually provided, have some with you just in case. 
ENTERTAINMENT DURING YOUR SOLO TRIP TO VEGAS
There are so many shows in Las Vegas it may be hard for you to choose. Therefore, I'll recommend you the best of the best, like I would do for a close friend.
Start with the free entertainment (but remember my tips about keeping an eye on your belongings in a crowd!) Free shows in Vegas include Dancing Fountains of the Bellagio Hotel, Fashion Show at the Fashion Show Mall, The Mirage Volcano, Living Statues at the Forum Shops.
Once you've gone through those, Cirque du Soleil is of course a must – especially Mystere or O. Many agree that these two are the Cirque du Soleil's most impressive shows.
Have a wonderful solo Vegas Trip!
This guest post is by Svetlana Rubejov, whose website Las Vegas Entertainment Guide provides an up-to-date list of shows in Las Vegas.
— Originally published on 22 July 2017
Please don't forget your travel insurance! Women on the Road recommends World Nomads if you're under 66 (70 in some countries). If that birthday has come and gone, click here for travel insurance recommendations that cover you at any age.

PIN THESE PICTURES AND SAVE FOR LATER!