You can have too much of a good thing, so after spending days in Italy's capital you just might be ready for a few day trips from Rome.
These three are varied -all can be done by public transport of varying levels of difficulty, but in one case at least a car would be best. Italy is full of delightful corners and these three are close enough to Rome to be experienced in a day.
What follows are my three top picks - and if these three aren't enough, here are even more day trips from Rome!
OSTIA ANTICA: IF YOU DON'T HAVE TIME TO GET TO POMPEII BUT LOVE ANCIENT RUINS
If you swoon at the sight of Roman ruins, you'll marvel at the 50 hectares (124 acres) of Ostia Antica, the best thing this side of Pompeii and Herculaneum (and an ideal alternative if you're not going to Naples, the jumping off point for both).
Once the official port of Rome, the silting of the River Tiber eventually condemned what was once a large city to near-extinction, as did the eventual crumbling of Rome itself.
Walking into the ruins through the Porta Romana − the monumental entrance for those arriving directly from Rome − is breathtaking, the sweeping cobblestoned Decumano Massimo sweeping forward into the distance. It is the backbone of the ancient city, with the remnants branching off on either side of the road. (For some reason, the area's application for protection as a Unesco World Heritage Site has somehow not been accepted yet, at least not as of September 2021.)
The stunning theater will mesmerize you. Its graceful semicircle slopes downward, step by step, until it reaches the stage, still used for special performances today. The beauty of Ostia Antica is that, for some reason, it isn't crowded, which means that the perfect photograph will manifest itself if you only exercise a bit of patience.
Here are a few more of the stunning sights you can stroll through in Ostia Antica:
Baths of the Cisiarii, or cab drivers, who ferried passengers back and forth from Rome
Baths of Neptune, one of the largest complexes in the city
Barracks of the Vigiles (firemen) – this is where the firefighters stayed (fires among the grain stores and warehouses were common)
Casseggiato dei Doli, a dolia being a large terracotta jar to store food, oil or wine
Forum square and the Forum Baths
The Round Temple, the Temple of Hercules, the House of Cupid and Psych
Christian Basilica
Synagogue, which dates back to mid-first century AD
The oldest buildings date back to the third century BC. Ostia, whose population reached 100,000 during its heyday between the 1st-3rd centuries AD , was eventually abandoned in the 9th century AD.
The best place to see the artwork that emerged from this city is in the on-site museum, a delightful collection of Grecian sculptures (adapted by the Romans, of course)
A fun way to explore Ostia Antica − in addition to following the rudimentary pamphlet that accompanies the audio guide, should you choose to rent one − is to wander down what qualifies as "back alleys", the small streets that criss-cross the old city, lined with little more than crumbling foundations, with the occasional surprise − a fresco here, a mosaic there.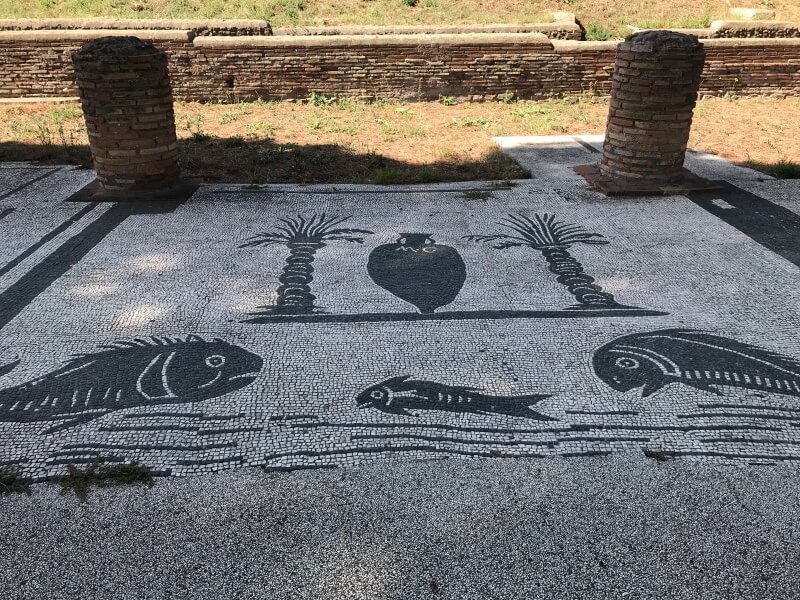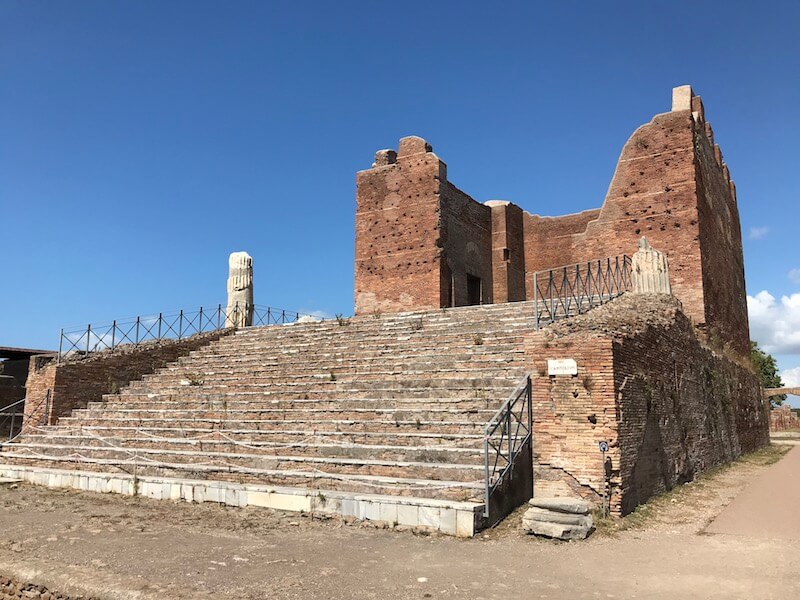 Getting to Ostia Antica
This is one of the quickest day trips from Rome. If you're staying in Rome, you can either take a cab or public transportation. The easiest route is to take Line B on the metro to Piramide. Then switch to the Roma Lido commuter train and get off at Ostia Antica. Follow the signs for ten minutes or so to get to the ruins.
Rather than stay in Rome, I spent the night in Ostia, Rome's weekend beach getaway, which I found perfectly pleasant. I stayed at the modest Hotel Sirenetta, right on the beachfront, a few minutes' walk from the Ostia train station. Beware though: typically in Italy, beachfront is private and to get onto the sand you'll need to rent your little patch, along with cabana and beach umbrella. Walking along the boardwalk won't provide any glimpse of the sea…
If you don't want to battle with public transportation on your own and would like a guide to the ruins, take a worry-free half day tour from Rome to the ruins.
Whatever method you choose to get to Ostia Antica, make sure you wear a hat; there are a few trees but if you're visiting in summer, you'll need it. Also bring along some drinking water and wear good shoes – you'll be trudging along sand and dirt and strolling over cobblestones. This may be one of the region's major tourist attractions, but it still lives in Antiquity.
CASTEL GANDOLFO: SO PRETTY SOME POPES SPEND THEIR SUMMERS HERE
This luxuriant area in the Castelli Romani region − a skip and a jump by train from the capital, one of the easiest day trips from Rome − has welcomed summer visitors for centuries.
The town itself is small and simple and seductive, winding as it does along the volcanic Lake Albano, of a deep turquoise so intense any photograph looks manipulated.
As many oft-visited Italian towns, you'll find a charming central square, surrounded by cafés whose wood and straw chairs crowd the perimeter. Along the main cobblestoned street, outdoor tables mix with gelato and souvenir shops to welcome tourists waiting to visit the Papal Palace, which dominates the town. The palace has belonged to popes since 1596 but the villa has undergone many changes and only gradually became a papal hideaway, several renovations later.
But what people are really coming for are the Barberini Gardens, laid out in geometrical perfection behind the castle walls. Once for papal eyes only, Pope Francis opened the 55-hectare gardens to the public. In the gardens you'll also find the ruins of Emperor Domitian's palace, upon which the complex was built. You can only visit with a guided tour and you're advised to book tickets in advance through the official website. That said, the Saturday I stopped by, tickets were being sold at the door. Still, better safe than sorry.
The complex at Castel Gandolfo is made up of several summer papal villas, the oldest of which dates back to medieval times. Once owned by a wealthy family, the Gandolfi, this only became a papal residence in the 17th century. Urban VIII was the first pope to make this his summer residence and expanded the property, adding a new wing overlooking the gardens and the lake. Within the complex is an observatory, Villa Cybo, Villa Barberini, a summer college, an old monastery and the convent of the Albano Clarisses.
Heading down towards the lake from the town is my own favorite restaurant here − the fourth-generation Antico Ristorante Pagnanelli (here's their Facebook page). I liked it so much I went twice! For the food, of course (see evidence below), but for the view and the excellent wine cellar set up like a mini-family museum and well worth time exploring.
While Castel Gandolfo is a lovely place to spend the day, if you have a car you can go further afield to the nearby towns of Nemi, Albano or Ariccia, through the winding forests and lakes of this lovely region. Or to Norma, my final day trip choice (see below).
Getting to Castel Gandolfo is simple
By public transport: From Roma Termini station you'll find trains leaving quite frequently and the ride is only around 40-45 minutes, depending on the train. It's an easy journey and a perfect way to catch lunch in this lakeside town.
If you're short on time and would like things organized for you, you can take a Barberini Gardens tour from Rome (which includes the entrance ticket into the gardens)
NORMA: A PICTURESQUE VILLAGE (NOT IN TUSCANY FOR ONCE!)
When you hear of a "lovely hilltop town" or "rows of cypress trees", do you instantly think of Tuscany?
You might, but you wouldn't necessarily be right.
One of the more unusual day trips from Rome is just over an hour's drive from the capital (and also accessible by public transport, but not easily). The hillside village of Norma, whose 3000 or so inhabitants like to throw a good party in summer. On weekends, you'll hear plenty of music blasting along the main street.
Driving to Norma is "interesting", the switchback road providing suspense and drama as you climb dizzyingly up from the olive farms that blanket the valley. A few deep breaths around each curve should help steady your nerves.
Arriving in Norma, the climb suddenly levels out as you unsuspectingly erupt into the village's central piazza. Bounded at one end by the church, the main street leads towards the older part of town, with its cobblestones and tightly packed medieval buildings and flowered window baskets.
A few houses have been recently bought and renovated but so far, Norma has avoided gentrification. Instead of chain stores, the local shop sells pens, notebooks, magazines, lamps, jewellery, umbrellas, needles and thread, hair barrettes… but this being Italy, there's a café or gelateria every few meters.
A couple of tourists wander about but mostly, Norma remains authentic, its infrastructure for use by locals, not foreigners.
It is time for the evening passeggiata, or stroll, a time-worn custom throughout the Mediterranean coast which once gave young men and women the opportunity to eye one another under the strict gaze of chaperones. Now, those shy would-be couples have been replaced by young tattooed mothers, the Senegalese leather salesman, teenagers on Vespas, grandfathers who despite smoking will probably live to be 100.
Men walk with men, women with women, while children on bicycles race across the worn stones and their yelling dominates the street. Grandmothers sit on plastic chairs whose legs tremble on the uneven pavement. They pull their hand-knit shawls across their shoulders to protect them from an imagined evening chill. The smell of fresh pizza mixes with French fries from across the street, and everyone seems happy to see everyone else.
What to do in Norma
The most intriguing sight are the ruins.
Once upon a time, Norma was called Norba, an old Roman city whose walls were built to keep a warring faction out. The ruins lie out of town but here, that means a ten-minute walk from the historic center. What's stunning about these ruins is their setting, overlooking the valley all the way to the sea. The ruins may be far less spectacular than those of Ostia Antica, but only a tiny part has been excavated, and who knows what is yet to be uncovered.
My second recommendation is the Giardino da Ninfa, or the Garden of the Nymph, which the New York Times has called one of the world's most beautiful and romantic gardens. The gardens are only open a few weekends a year (you have to book ahead). The website is in Italian but it's pretty straightforward − scroll down their page for opening dates. Time your drive to see the garden either on your way up or on your way down to Norma, to avoid an extra journey along the serpentine road.
There's plenty more to do around Norma, from visiting wine farms to sports for the younger at heart (and body): you could try the world's longest zip line. At 2.2km, it drops more than 400 meters and reaches maximum speeds of 150 km per hour (93mph). Or perhaps just drive up and down the mountain for a thrill. The Norba ruins are also a great jumping off base for paragliders!
Getting to Norma (Latina)
By car: Norma is about 1.5 hours from Fiumicino Airport, and renting a car at the airport is the easiest way to get there if you want to avoid driving in Rome. (If you're staying in Rome, don't even think of renting a car in the city – get out to the airport and rent it there.) A lovely drive is on SP217 over Chiampino to Lake Albano (you can combine Norma with Castel Gandolfo in one day if you're traveling by car.)
By public transport: Take the train from Roma Termini to Latina Scalo, which is some 15-20 minutes from Norma. In fact, if you look up, you can see Norma at the top of the hill. Trains run approximately every hour. You can catch a bus to Norma from the train station but they only run every two hours, and not on Sundays. So yes, it can be done, but Norma is best visited by car. Without one, you'll miss some of the best nearby sights!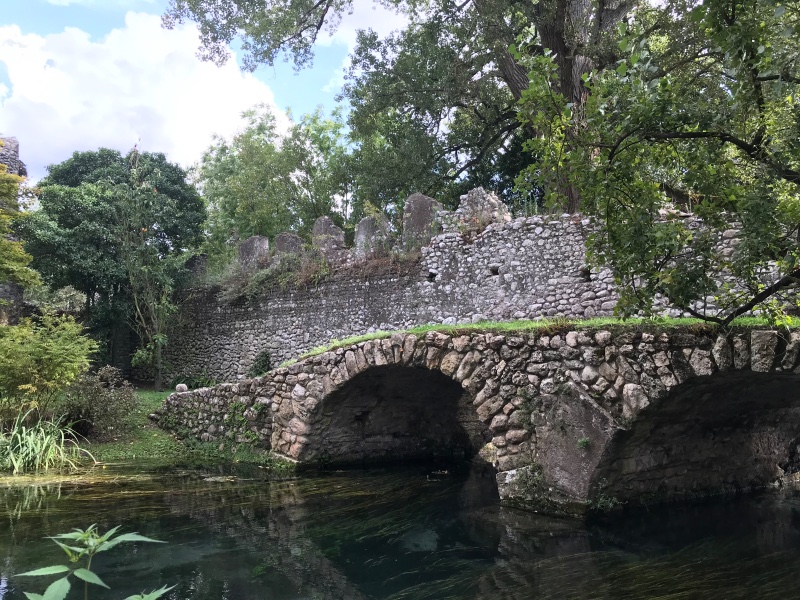 Where to eat in Norma
La Piccola Fontana is not only delicious, but the terrace has a breathtaking view over the valley. Get there in time for sunset. It's at the entrance to town, right next to the main square.
Other great restaurants include the Vecchia Osteria Antichi Sapori on the middle of Via del Corso (excellent traditional food) and the Locanda da Valentino (high-quality inventiveness at reasonable prices). For a couple of dollars, you can buy a slice of pizza in several spots and sit outside for your own people watching.
Where to stay in Norma
I stayed at La Passeggiata, five minutes out of town right next to the Roman ruins, ideal if you want a peaceful rest while still being right next to the village. The breakfast is extraordinary. You can have sweet or savoury or both eggs bacon, different breads quest song. You can pretty much eat your fill, and not be hungry for a number of hours, which is great if you're going out sightseeing.
SHOP THIS POST ON AMAZON
PIN THESE PICTURES AND SAVE FOR LATER!