Have you been dreaming of Rome solo travel? Not quite sure where to start? Keep reading…
Many of us have long dreamt of traveling to Rome, and it's certainly up there with Paris when it comes to culture and sheer beauty. The "Eternal City" has an impossibly rich history, with architectural remains dating back to the Roman Empire.
Rome is the capital of Italy, and this is reflected in the delicious regional foods and wide range of dishes served in the city, from the mouth-melting gelato flavors to the typical Roman pastas presented with such pride.
From a light lunch in a small local café or an expensive dinner in a fancy restaurant, there are delicious options for you in Rome.
Rome is one of the best places in Italy for solo travellers and as a solo travel destination, Rome has it all – it's safe, it's delicious, and it has enough culture to keep your heart and mind busy for as long as you want.
Rome is both incredibly stylish and laid back, a contrast that adds to its unique charm. Its location on the banks of the Tiber River helps too.
Rome − or technically the Vatican City − is also home to the Roman Catholic Church and has been an important religious center for centuries. Whether you are religious or not, the ancient churches and awe-inspiring statuary and decor are nothing short of impressive.
Everywhere you look, it'll be a feast for the eyes (and for the belly!).
Is Rome safe for solo female travelers?
Have you ever thought, "I want to visit Rome", but didn't because you couldn't find someone to go with you?
It may be time to reconsider: Rome is a safe city for tourists and one of the top European solo travel destinations.
Rome's vibrant nightlife means the streets are rarely empty and outside a very few winter months, evenings are warm and you'll want to stay up late, walking down quaint streets and sampling authentic cuisine.
I tell you this because I've experienced female solo travel into Rome not once, but several times. It's a bustling city and I never felt dangers lurking around the corner.
Oh wait − there is one major exception: petty crime. The two times I drove to Rome, my car was broken into and things stolen.
SAFETY TIP: This suggestion comes from someone in the security industry and applies to Rome or any city. If you're ever concerned about being followed, lean against a wall and adjust your shoes. If anyone is following you, they'll have to keep going (or be discovered). A simple, and effective escape. Click here for more travel safety tips.
Despite my visits to Rome, I haven't explored it as I should − I seem to know the periphery (I've taken several day trips from Rome) better than the city itself.
In the spirit of providing you with the latest information, I asked several Rome-savvy travel bloggers (all of whom have experienced going to Rome alone) to provide their own insights
Rome Alone: The best things to do in Rome as a solo female traveler
If into the best places to visit if you're traveling alone in Rome alone, this Rome solo travel guide will help you find your way. What follows are their suggestions, which make up this Rome solo travel guide for independent women, especially if you're over 50.
1. Explore St Peter's Basilica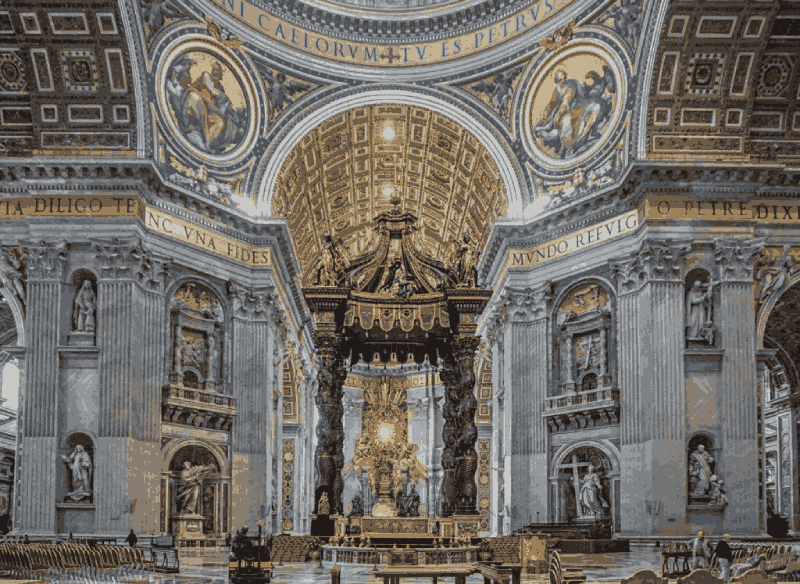 While technically not in Rome, you can't say you've been to Rome if you haven't visited Saint Peter's Basilica. Located in Vatican City, it is the largest Catholic edifice in the world and a wonderful example of Renaissance architecture.
As you might have guessed from its name, the basilica has a strong connection to Saint Peter, as it was built on his place of burial. Pope Julius II replaced the original church, designed by Donato Bramante, with the present building. The famous names who worked on the project over the years include both Raphael and Michelangelo who, by the way, designed its dome, the tallest in the world.
While the basilica undoubtedly looks impressive from the outside, you'll be even more overwhelmed by the interior. Not only it is massive and stunning, but it is also of utmost cultural importance, housing many works of art.
These include "The Pity", sculpted by Michelangelo (and the only piece he ever signed), as well as the statue of St. Longinus, the "Baldacchino", and the "Chair of St. Peter" by Bernini.
Saint Peter's Basilica is free to visit, but you'll need a ticket to visit some parts of the basilica, like the dome or the crypt. That said, a guided tour will help you understand its history and cultural significance even better.
Exploring the basilica will take at least 1-2 hours to avoid the crowds, try visiting during the low season (November to March) or early in the morning/late in the evening (it's open until 6:30 p.m. outside the tourist season and 7 p.m. during the summer months).
As with most churches, make sure to dress appropriately – your knees and shoulders covered – or you may be turned away from the basilica.
—by Andreea Ioana of Andoreia Travels the World
2. See the Vatican Museums
Many solo travel Rome adventures begin with the Vatican Museums, home to masterpieces by artists whose names are recognized worldwide. This is one of the largest art collections on the planet, with seven kilometers of gallery space to explore.
Guided tours are available for those who want to make the most out of their visit, but you can wander around independently too.
You'll discover giant tapestries and wall hangings depicting medieval scenes, as well as ceilings that sparkle in gold with colourful frescoes that bring Biblical scenes to life. There are marble sculptures, and paintings by such luminaries Raphael, Da Vinci, and Caravaggio. The galleries are vast, so allow yourself at least a couple of hours to wander around.
The main event is of course the Sistine Chapel, with its famous Renaissance frescoes by Michelangelo adorning the ceiling. The opulent papal chapel is one of the most iconic places to see in Rome as this is where the cardinals meet for conclave to elect new popes.
The Vatican Museums are notorious for being crowded, but if you want to enjoy a relatively quiet visit where you won't be jostling for space, go on a Wednesday at 10 a.m. This is when the Pope traditionally gives his General Audience, and most Vatican visitors will be in St. Peter's Square to see him and receive his blessing.
—by Heather Cole of Conversant Traveller
3. Take a trip to the Colosseum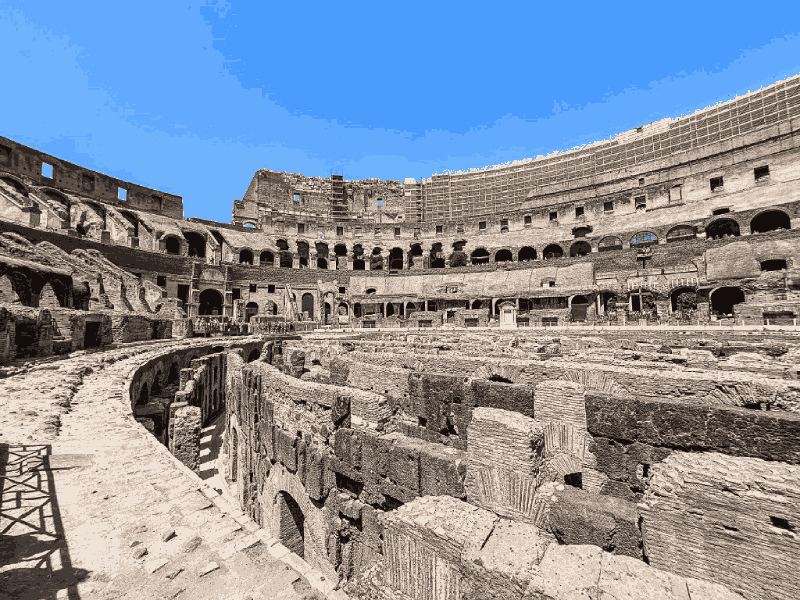 The Colosseum is a testament to Ancient Rome's greatness and definitely one of the top 10 things to do in Rome. It was built as a place of entertainment for the citizens of Rome by the Flavian dynasty.
This amazing UNESCO World Heritage Site was the biggest amphitheater in the ancient Roman world, and at its height more than 50,000 people filled its stands, eager to watch gladiator fights and dramatic shows.
Today, more than six million people visit the ancient arena each year.
If you want to get a good look at the Colosseum from the outside, head to the Via Dei Fori Imperiali, where you'll have a fantastic view of the monument's best preserved façade.
Two other important Roman sites sit next to the Colosseum.
One is Palatine Hill, the centermost of Rome's seven, home to the ruins of several ancient Roman structures and temples. The other is the Roman Forum, with remnants of the vast public area in which the ancient Romans carried out all aspects of life (more on the Forum below).
The Colosseum, the Roman Forum, and Palatine Hill are all within close walking distance in the center of this ancient city. One of the best tips for visiting the Colosseum is to schedule a guided tour that includes skip-the-line entry to all three of these sites. There's no question that these landmarks are among the most iconic in Italy
If you're a night owl and you'd rather visit the Colosseum without the loud crowds and long queues, you might want to investigate taking a night tour.
—by Lyndsay Crescenti of The Purposely Lost
4. Visit the Roman Forum
One of the most beautiful places to visit in Rome is definitely the Roman Forum, right in the historical center. It is on the UNESCO World Heritage List, along with the Colosseum and Palatine Hill.
The Forum is the oldest of its kind, once the center of political, economic, cultural, and religious life. Here, among other things,
The ruins were once vibrant markets, with numerous stores and stalls, and with important administrative and religious buildings from which the city, and the empire, were governed. This is where elections were held and where speeches took place.
When you visit the remains of the Forum, you'll be amazed by the numerous excavation sites, the historic monuments, and the former temples. Among the most important sites are the Via Sacra – the main street that ran through this forum, the Temple of Antoninus and Faustina, the Temple of Saturn and many more.
The Forum is located right between the Palatine Hill and the Colosseum. Palatine Hill is supposedly the site where Rome was founded by Romulus and Remus, two brothers from ancient Roman mythology who were said to be raised by a wolf. You can visit the cave where the mother wolf supposedly found and nursed the two young boys and see the remains of the first Roman emperor's residences.
You can save money with a combined ticket, which includes all three sights. A visit is recommended in the early morning, because then you can enjoy this impressive attraction away from the crowds.
—by Martina of PlacesofJuma
5. Visit the Spanish Steps
The Spanish Steps is one of the top sights in Rome and with good reason.
Standing since the 18th century, this Baroque staircase climbs from Piazza di Spagna to Piazza Trinità dei Monti, leading to the beautiful Trinità dei Monti church. For years, the steps have been a meeting place for countless Italians and now, of course, for tourists.
The steps are so famous they have been featured in many movies including "Roman Holiday", the 1953 classic, starring Audrey Hepburn and Gregory Peck. The steps may have long been loved by Europeans, but this movie brought them greater international fame.
The area around the Spanish Steps is also a great place to stay in Rome if you're looking for a luxury experience. You'll be within walking distance of many delicious fine dining restaurants and surrounded by designer shops such as Gucci, Dior, Versace, and many more.
Accessing the Spanish Steps is easiest with the Spagna Metro stop, located just at the top of the stairs.
It's recommended that you arrive before sunrise if you wish to take magical, uninterrupted photos here as during the day, this attraction is often crowded with tourists and locals alike.
If you want to take magical, uninterrupted photos of the steps, try arriving before sunrise to avoid the crowds.
—by Yulia Saf of Miss Tourist
6. Drop by the Villa Borghese
After ascending the Spanish Steps, turn left and keep walking to reach the sprawling gardens of Villa Borghese, a Rome must see.
While not the largest park in Rome, it is one of the most beautiful. The greenery provides welcome shade in the heat of summer and even though it is at the top of the Pincian Hill, it is relatively level.
It was remodelled into an English-style garden in the 19th century and features lakes, fountains, a replica of a Roman temple (housing an ancient statue of Aesculapius, the god of medicine). From the Pincian Terrace, there is a fantastic sunset view of Piazza del Popolo below and of St Peter's Basilica in the distance. If you're looking for the cheapest way to visit Rome, put these gardens at the top of your list – entrance to the garden and the terrace is free of charge.
Art lovers should make a beeline for the Borghese Gallery, which houses sculptures and paintings by the likes of Bernini, Caravaggio, and, Raphael. Don't forget to look down and admire the Roman-era mosaics on the floor!
One could spend an entire afternoon in the gardens and the Borghese gallery alone, and it would be wise to budget more time (and ticket fee money) for some of the other attractions on the site.
For art that is more contemporary, head to the Carlo Bilotti Museum in the former orangery, or the Galleria Nazionale. The other buildings around Villa Borghese include a museum of Etruscan artefacts, a replica of the Globe Theatre with regular theater performances in Italian, a sculptor's former studio and even a cinema that shows international films.
—by Nicholas Lim of Rambling Feet
7. Visit the Pantheon
If you're looking for incredible sights, one of the best places to visit in Rome is the Pantheon.
Located in the city center, the Pantheon is one of the best-preserved buildings of Ancient Rome.
It's thought to have been built to honor the gods, as its name literally translates to "of all the gods", although more recent research suggests it might have been build for dynastic purposes.
The Pantheon is known for its spectacular architecture, outstanding beauty, and it's 2,000-year-old history. Not only is it linked to gods and emperors, but it's thought to have been the first-ever temple built for the common people.
As you head inside you'll get to see the highlight of this incredible building – the eye of the Pantheon.
There are no windows in this iconic structure, so the only light beams in the eye (or oculus as it's sometimes known).
If you want the best experience, head there towards midday. This is when the rays shine through the eye right down into the center of the Pantheon.
Nor will you have to worry about rain, as the building's drainage system allows the water to flow away.
If you simply want to explore by yourself you can, but there are a couple of other options.
You can reserve an audio tour of the Pantheon or take an actual guided tour if you'd like to learn more.
The Pantheon is one of the most popular attractions in Rome for a reason, and a trip to the city isn't complete without paying this site a visit.
—by Jack and Abbie of A Couples Calling
One of the most famous and iconic places to visit when in Rome is Piazza Navona, perhaps the most beautiful of the many squares in Rome. Piazza Navona has no fewer than three stunning fountains, along with a 9th-century baroque church, Sant'Agnese in Agone.
The square was built on the site of Emperor Domitian's former stadium in 86 CE. The stadium, which was larger than the Colosseum, was used for festivities and sports competitions. The fact that Navona Square was built on the former stadium's site accounts for the oval shape of this square.
The stadium was known as Circus Agonalis and it is believed that over time, its name changed to "in agone" and then to "navone" and eventually to "navona". In the 15th century, the stadium was paved to give birth to Piazza Navona.
The main attractions in Piazza Navona are the three fountains. The central and largest fountain is Fontana dei Quattro Fiumi (Fountain of the Four Rivers), created by Bernini. The fountain has four figures, each representing a river on a continent – the Nile, the Ganges, the Danube and the Rio de la Plata.
Today this piazza is an excellent place to take a break. On its edges, you can sit at one of the terraces for lunch or just to enjoy a glass of Prosecco (one of the more enjoyable things to do when traveling alone). The square is also known as a meeting place for artists, who exhibit their drawings and paintings around it.
—by Corina Preda of Another Milestone Travel Blog
9. Explore Quirinale Hill
Dating back to the 2nd century, Trajan's Market offers a unique glimpse into ancient Roman life and is one of the most important places to see in Rome. The market was built as part of Trajan's Forum complex to conceal the scars of excavation made on Quirinale Hill to build Trajan's Forum.
While known as Trajan's Markets, or Mercati di Traiano in Italian, the name can be misleading because this was actually a multifunctional center serving the adjacent Trajan's Forum. It wasn't a place for selling fruits and vegetables or trading cattle but mainly a series of offices where the emperor's public functions were arranged.
Trajan's Markets consist of several buildings on the slopes of Quirinale Hill. One of the largest areas is called the Great Hemicycle, due to its concave shape. It touches Trajan's Forum, the large archaeological site you can see from Piazza Venezia.
Today, Trajan's Markets are home to a stunning museum showcasing the findings from the Imperial Fora, the five fora along Via del Fori Imperiali, the road connecting Piazza Venezia to the Colosseum.
As you walk through the market, you can't help but marvel at the engineering feat required to build such a complex, a testament to Roman ingenuity and a fascinating look at how they lived and worked.
As an added perk, you can access the actual Trajan's Forum from the markets.
—by Angela Corrias of Rome Actually
10. Admire the Monument to Victor Emmanuel II
This is one of Italy's most famous landmarks. Built between 1885 and 1935 to honor Victor Emmanuel II, today, it is one of the country's national symbols.
This famous historical site has the largest statue in Rome representing Victor Emmanuel II, and is flanked by two beautiful fountains at the front: Fountain of the Tyrrhenian and Fontana dell'Adriatico. Inside, you'll find a painting and sculpture museum, along with a café.
Victor Emmanuel II was the first king of a united Italy. His achievements during the First Italian War of Independence (1848 – 1849) have been honored abroad, and nationally, with the Medal of the Liberation of Rome and the Gold Medal of Military Valor.
Victor Emmanuel II's monument is in Piazza Venezia and stands out due to its decorations, colonnade, and impressive stairway of Vittoriano. During siesta in Italy, when most places are closed, tourists walk up the stairs to admire the great panoramic views of Rome.
The Victor Emmanuel II Monument is next to Campidoglio and is only a 15-minute walk from the Colosseum. Its central location makes it easy to explore, and it is also surrounded by many other famous landmarks such as Basilica di Santa Maria in Ara coeli or the Roman Forum.
—by Paulina of Ukeveryday Travel Blog
11. Stroll around Trastevere District
When solo in Rome for the first time, visitors typically stick to the historic center of the city, but those who venture into Trastevere will find this an incredibly rewarding neighborhood.
Located on the other side of the Tiber River Trastevere is packed with history and interesting sights.
It is easy to reach on foot from places such as Largo di Torre Argentina (you'll cross the river at Tiber Island) and an short walk from St. Peter's Basilica,
Unmissable places to visit include the church of Santa Maria in Trastevere – you'll find it on the very central Piazza di Santa Maria in Trastevere. While the church dates back to the 12th century, it is built on the site of an even older church 340 C.E.) and a sanctuary (221-227 C.E.).
Another church you should not miss is the 5th-century Santa Cecilia, located on the site of Saint Cecilia's martyrdom in 230 C.E. – that's where you'll also be able to see a 1289 fresco of the Last Judgement by Pietro Cavallini.
Other interesting places to visit in Trastevere are Villa Farnesina, where you can spot Raphael's work in the Sala Galatea, and the Porta Settimiana, one of Rome's most ancient gates. If you walk through this gate, past Villa Farnesina, and up the hill, you will reach the Janiculum, where you can admire the impressive Acqua Paola fountain. From the terrace, you can catch one of the best views in Rome that spans all the way to the Altar of the Fatherland.
Finally, Trastevere is famous for its many trattorie and bars and is, in fact, one of Rome's nightlife hubs. It's a highly recommended destination if you're looking for great Rome nightlife for solo travelers. The streets are bustling at mealtime and you'll feel perfectly safe among the crowds.
As you wander around, you'll see plenty of street art – Trastavere is famous for it. If you find yourself wanting more murals, head to the Quardraro or Garbatella district, (both considered safe areas to stay in Rome).
—by Claudia Tavani of Strictly Rome
Rome solo trip: How to get around in Rome
You can explore most of Rome, especially the city center, by foot. There's so much to see in Rome that walking from place to place will likely be one of your highlights, as you'll discover hidden gems along the way.
Much of historic Rome is covered in cobblestone streets – so skip the heels and wear comfortable walking shoes when you go solo Rome sightseeing!
When traveling to Rome alone, you may look for transport, especially if you get tired or you're heading home late at night.
Public transportation in Rome
By Mayuri from Canada Crossroads
Before your solo trip to Rome, it's good to figure out how to travel Italy alone.
There are a variety of options for getting around Rome. The city has an extensive public transportation system that includes buses, trams, and metros. You can also choose to walk or ride a bike.
Rome's public transportation system is reliable and efficient. The main train (and metro) station is the Roma Termini, which connects you from the airport to the heart of the city, and beyond. One of my top travel tips to Rome is to book accommodation near the Roma Termini station – it can enable you to visit more of Rome.
When traveling to Rome solo, use the simple public transport network. The Rome Metro, known locally as the Metropolitana, runs daily from 5:30 am to 11:30 pm, and a little later on the weekends. The simple Metro network, which has only three lines, is probably the easiest way to get around Rome.
From Roma Termini, you can catch also a bus or train to your final destination in another Italian city or town. While in the city, you can take one of many day trips from Rome to enjoy the countryside and nearby towns.
You can easily book an Uber. They tend to be cheaper than taxicabs and allow you to sit and finish your drink and meal without having to worry about getting home.
Rome's city center is relatively small and easy to navigate on foot. You'll see plenty of interesting spots just walking around Rome in one day. You'll find that many of the popular tourist attractions are within walking distance of one another.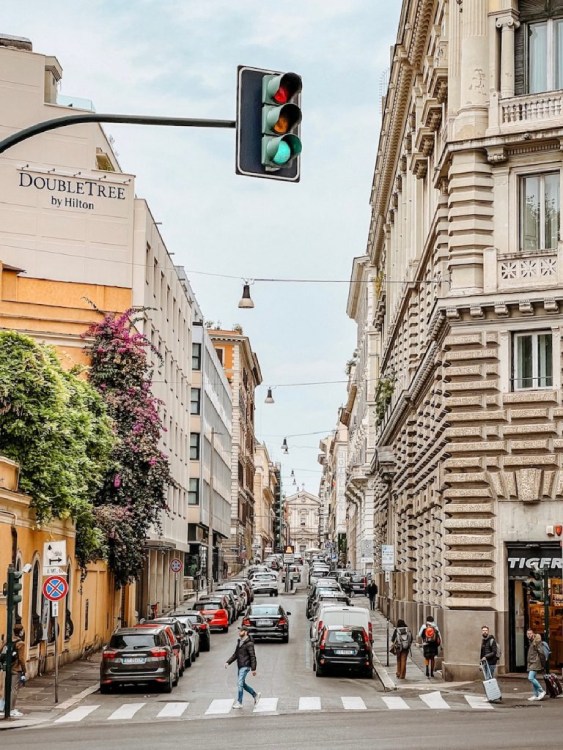 You can buy tickets for public transports in Rom at any newsstand or tobacco shop. In order to save money on transport for a longer visit, consider buying a Rome Pass (for 48 to 72 hours) to ride free on public transportation (and also save money on attractions tickets).
Take note: this is one of the top things to know before traveling to Rome. This card allows free use of the city's public transport network like buses and trains; including underground lines, within the territory of the Municipality of Rome.
Where to stay in Rome?
When talking about the best hotels in Rome for solo travellers, Blogger Mayuri from ToSomePlaceNew.com recommends the Prassede Palace Hotel, a beautiful mid-budget accommodation option, located in the heart of the city of Rome. It is about a 15-minute walk to the iconic Colosseum and many other popular photo spots in Rome.
There are plenty of other places to stay and you can browse easily by using the map below:
Rome FAQ: Rome solo travel answers and resources
What are the best places to stay in Rome for solo travellers?
When looking for a place to stay (especially when you as a solo female travel Rome), you want to choose neighborhoods that are safe and well-connected to tourist attractions. All of these would fit those criteria: 
Monti – Situated right in central Rome, rich with street food, pubs, vintage shops, and art galleries this neighborhood with a lively vibe is a place locals love to hang out in too. Expensive, but exceptionally safe and convenient for solo travel to Rome. You may even see the Colosseum or the Roman Forum from your hotel window!
Prati – A quieter residential area near the Vatican – a bit further from central Rome but gives you the opportunity to visit Vatican museums early!
Trastevere – The vivid nightlife hub, Trastevere comes alive at night – it may be a bit loud, but it has some of the safest hostels in Rome, and its cobblestone streets are well-connected and absolutely charming.
What are the best places to eat in Rome?
Is Rome safe to travel alone?
Yes! Rome solo travel is considered exceptionally safe – it's one of the safest destinations for any solo adventurer, and the best solo travel destination in Italy. The large city is dotted with tourist hubs, so you'll likely be surrounded by other tourists wherever you go – and someone who speaks English will work at any establishment around you. 
Of course, keep in mind common-sense rules to avoid risk and keep your eyes open (and your valuables safe) for potential scams and pickpockets in crowded areas during the day, and stay in touristy neighborhoods at night.
Is it safe to travel to Rome alone as a woman?
If you're wondering is Rome safe for solo female travellers specifically, the answer is also yes, very much so. Like elsewhere in Italy, you may get an occassional "Ciao bella!" – and as long as you ingore it, it poses no threat at all. 
The city is safe, there's always plenty of things to do in Rome alone and it's so rich with attractions that it's best taken at your own pace: Rome solo female travel is ideal for any free spirit.
How safe is Rome at night?
You don't have to question is Rome a safe place to visit. Safety in Rome is overall excellent, during the night too! In fact, except for a few remote residential areas, this lively city buzzes with activity at all times, day or night. 
From ancient times, Rome saw plenty of excitement and human activity at night. During the Roman Empire, the streets came alive at night: car and cart traffic was forbidden during the day, so trade flourished after sunset. 
In general, you don't need to worry about safety in Rome – the city experiences very little violent crime, with pickpocketing and scams as top dangers for tourists. At night, there is a certain degree of crime like drug dealing or prostitution, but those usually affect the local population more than tourists (goes without saying – don't take drugs, especially not in a foreign city).
How many days do I need in Rome to see everything?
If you lived your whole life in Rome, you probably wouldn't get to see everything. It's incredibly rich with beautiful oases like hidden yards and gardens, residential-area street art, and galleries, let alone mainstream historical attractions. You may be able to cram the most important sights in 2 or 3 days, but if you can, take some more time to explore the city and really feel its timeless energy.
Rome budget travel: is it possible?
Traveling to Rome on a tight budget is not easy, but it is possible if you take some of our travel tips for Rome. Mainly, plan your trip around the beginning of the month – as the entrance to all museums and galleries is completely free of charge on the first Sunday of every month (as part of the Sunday at the Museum initiative). Also, use the metro to travel – even better if you get a combined ticket you can use for unlimited trips over the course of several days.
Rome solo travel: some final thoughts
Rome is one of those cities, a bit like Paris, that you can never see in its entirety. You'll explore the main sights and snap away at the major landmarks, but the city is so rich in art and history that there is always something more to see – a room in a museum, a small square, a statue or fountain.
Rome is a bit like chocolate: the first bite is delicious but then, you want more.