Two days in Florence is hardly enough to scratch the surface but sometimes, it's all you have, especially if you're planning to visit the rest of Italy on a single trip.
But even 48 hours is enough to at least see something − and to whet your appetite for a return visit.
Because every woman has at least one Florence in her, or two. Or three. (It's for good reason that Lonely Planet lists Florence as one of the top 10 cities in the world to visit in 2022!)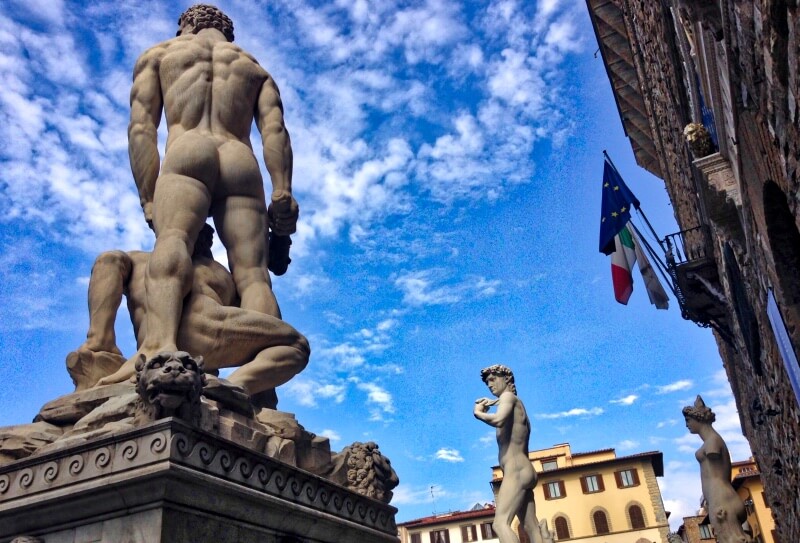 My own history with Florence dates back to childhood. I must have been around ten when my parents took me out for lasagna so good that now, many decades later, I still yearn for it.
Each time I visit, I search (so far unsuccessfully) for the restaurant with a green awning and a cellar dining space whose name I can't recall.
To visit Florence is divine: must-see in Florence
There's only one word for Florence: art, arguably the best in the world. The Uffizi, the Accademia, Michelangelo, every word a sparkle that will fight for your attention.
But it's not perfect.
The city of Florence has been called pretentious, superficial, and snobby – it is probably a little of each of these but it might be a good idea to leave your designer duds at home. Any high heels will give you a twisted ankle in this cobblestoned city, and there's enough street theft to discourage you from bringing any bling. 
Is Florence crowded?
In summer, high season, it can be hot and so crowded your elbows hurt − less so if you avoid the main attractions at peak times.
Is Florence expensive?
Not particularly, although you'll pay plenty to stay in a good hotel in the heart of the city and the price of all those museums and attractions does mount up. But it remains an affordable city for those living in the West.
Before you go, a bit of research about Florence
Get yourself into the Florentine frame of mind by reading books and watching a few films. Of the thousands of books about Florence, here are a few worthwhile ones you might have missed:
I'll stop now – but there are many many more.
Would you rather watch a movie? Here's a selection of films with major Florence visuals.
2 Days in Florence: an itinerary
This isn't an itinerary in the purest sense – you won't be told where to go at what time, but this is a list of what you should be able to see on a 2 day Florence itinerary. The city's historic center is compact so you can walk all this easily – most sights are nearly next to one another.
Essential Florence highlights you can see in two days
My favorite, Piazzale Michelangelo – there's something about seeing Florence's expanse from above; the Duomo naturally, the so-called 'crowning glory' of Florence; the Piazza della Signoria, the city's heartbeat (and a crowded one in summer); the Ponte Vecchio; the world-class Uffizi Gallery; the Palazzo Pitti Palace and the nearby Boboli Gardens.
The business of seeing art in Florence
If you'd rather not stand in a sweltering line outside or risk not getting in, buy your tickets ahead of time, especially for the Uffizi and the Accademia.
Or go see less crowded art. Like the Opera museum in the Duomo, which houses Michelangelo's (yes, him again) Florentine Pietà.
Tired of all that glorious history? Fight your way across the Arno River along the Ponte Vecchio. When you reach Florence's Oltrarno district, wander around the street art. Or if you're more the literary type, why not follow in Dante's footsteps with this itinerary?
Want something wildly different?
Sometimes you just need a break from art. Surely one of Europe's largest armory collections  (the Stibbert Museum), qualifies?
Take a course in Florence
You can actually take some courses even if you're only spending 48 hours in Florence.
I can't think of a better place to take Italian cooking classes − if you have half a day to spare you can learn to cook a Tuscan dinner or, for something different, head out to the countryside for a pizza and gelato cooking class (Florence seems to quite like this combination!) or a wine tour.
Of course this being Florence, an art course at the Scuola Toscana would be just the thing, from a half-day Italian language and art history class to a half-year Renaissance Art curriculum (yes, your two-day Florence visit won't be enough for that).
A few Florence tips
Watch out for counterfeit goods and illegal art reproductions – if you can afford a designer item, it's probably a fake.
As befits Italy, style is supreme and you wouldn't be caught dead wearing flip-flops, gaudy T-shirts or tiny tops and shorts (especially if you're visiting churches)
Even if you're on your own, you might run into a social occasion – in which case you will promptly either give or receive a kiss on each cheek (unless it's your first meeting, in which case a handshake is fine).
Good table manners, courteous drinking habits and – who would have believed it possible – no more smoking in public.
Finally, Florence on Mondays can be dismal because most tourist attractions are closed. On the positive side, you'll have fewer people in the streets.
Is Florence safe?
The 21st century notwithstanding, Italy remains Italy and men will pay (often vocal) attention to women. In their minds they're being more complimentary than rude, so do expect the word 'bella' to be bandied around regularly. Be Italian: ignore it and it will (usually) go away.
Safety issues? Few. I have wandered around the city at all hours (and at every age) and was unconcerned. Of course, as always − common sense, no dark alleys, not too much bling, especially when there's no one else around, keep hold of your purse, and if you're going to loiter, do so in a well-lit area.
My biggest fear in Florence? Pickpockets.
I separate my valuables (and carry very few) among different purses and pockets.
I sometimes use a money belt but most often, I use one of my cross-body anti-theft purses. If I'm feeling in a particularly stylish mood, I'll use one of my infinity scarves with hidden pockets. Whatever I use, I make sure my papers and money are secure.
Eating in Florence
Here's what you can expect to eat in Florence: bistecca alla Fiorentina, (a slab of tasty mouth-melting steak), crostini di fegato (toast with liver paté) or tripe (not for me!)
If you're not meat-inclined there's panzanella (cold tomato stew) or ribollita (cabbage and beans – better than it sounds), and cantuccini (almond cookies) at the end of your meal. Those so inclined should add a small glass of Vin Santo, a typical Tuscan dessert wine.
For a lunchtime snack, head to the Mercato Centrale, a huge reconverted space with upmarket eateries upstairs. Go early, or you might end up like me, wandering around forever and unable to decide – until closing time! Take your pick, pay for your food (a burger with Florentine beef!) and sit at a communal table, perfect for the solo traveler. While at the market, look around the souvenirs or pick up your staples among the food stalls.
For a reasonable meal and inexpensive risotto daily special, try Da Nerbone downstairs.
If you've stuffed yourself at lunch and are in the mood for nouvelle cuisine Florentine-style in the evening, you might try Ora d'Aria, and watch Chef Marco Stabile prepare it all from his open kitchen. Reserve! Very Italian, but very different.
The one thing you shouldn't miss if you love Italian cuisine is a foodie tour – how could you not try this in Florence?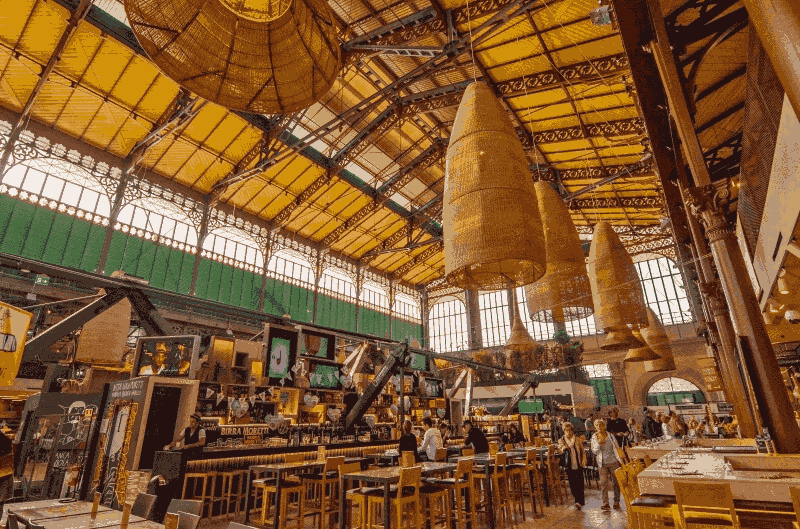 The Splurge: Once-in-a-lifetime Florence experiences
Getting to Florence
Flying to Florence is a pain, or at least I've found it so – few airlines, high prices. The budget airlines fly into nearby Pisa airport, where you can catch a bus or train to Florence.
There are other ways to get here. For example, if you're arriving from Rome or Venice, you could take the train but be aware there are two stations. Most of your trains will arrive and leave from Santa Maria Novella although long-distance trains may stop at Campo di Marte to avoid central Florence
To go further afield around Tuscany, you could take the train or use the regional buses.
Getting around Florence
Inside Florence, walk. It's the best way to get around. Streets are narrow, street parking in Florence is a nightmare, and parking outside of Florence will take away from your valuable sightseeing time.
Even if most of what you need is within walking distance, occasionally you may want to take the bus in Florence. Buy your tickets in advance at a kiosk or Tabacchi, but forget taxis, you have to call, not hail them. And don't forget to validate your bus ticket (the fine is NOT worth it). The one destination you might want to ride the bus is up to
Given your limited time, you may want to take the Hop-on-Hop-off bus if you want to see as much as you can.
Don't worry about taking the bus – except to reach the Piazzale Michelangelo to capture an aerial shot of Florence. If you're in the mood for a long flight of stairs then start walking − or hop on bus #12 or 13.
Where to stay in Florence: accommodation at all budget levels
WHERE TO STAY IN FLORENCE, ITALY
Luxury hotels in Florence
– Firenze Number Nine Wellness Hotel is a stylish hotel only a few steps from Santa Maria del Fiore Cathedral
– Hotel Lungarno Collection (and its Michelin-starred restaurant) is set in a beautiful building along the river Arno near the Ponte Vecchio
Mid-level and boutique hotels in Florence
– The elegant Palazzo Roselli Cecconi is a 10m walk from Ponte Vecchio
– Hotel Rapallo, in a quiet area close to the Accademia Gallery, features classic modern decor
Budget or cheap hotels in Florence
– Hotel Dali, in the heart of Florence, has rooms decorated with ancient furniture at reasonable prices
– Recently refurbished, Hotel Jane is in a residential area 15 minutes from the center
A few final Florence resources
Please don't forget your travel insurance! Women on the Road recommends SafetyWing if you're under 69. If that birthday has come and gone, click here for travel insurance recommendations that cover you at any age.
---
Florence at a glance
Top 5 Florence must-sees
Piazza del Duomo, one of the most beautiful architectural complexes in the world. The Cathedral, the baptistry, and Giotto's bell tower are masterpieces of the late Middle Ages and early Renaissance. 
The Uffizi Gallery, one of the most important museums in the world, where you can admire paintings from Leonardo da Vinci, Michelangelo, Raffaello, and other famous artists. 
Ponte Vecchio, the iconic bridge spanning the Arno river. Cross it, but also look at it from different perspectives.
Palazzo Vecchio, overlooking Piazza Della Signoria, with a copy of Michelangelo's David. Don't miss the beautiful courtyards and the Salone del Cinquecento, a giant room with sumptuous paintings and decorations from the late Renaissance.
Piazzale Michelangelo for a breathtaking view of Florence. If you're brave take the steep walk up the ramps (or take a taxi or bus).
Some off-the-beaten track Florence sights
If you're an art lover, don't miss the church of Santa Maria del Carmine and the magnificent Cappella Brancacci. The frescoes by Masaccio and Masolino are masterpieces of the early Renaissance.
Visit the S. Ambrogio Market (Monday to Saturday, from 8:00 am to 1:00 pm) to get a taste of everyday life, since this market is where local Florentines buy food and groceries.
Women need to be aware that…
Florence can get really hot in summer, but be aware that to visit churches you must wear appropriate clothes. That means no miniskirts or shorts, and covered shoulders. Carry a lightweight sarong (or two) in your bag!
You can't leave Florence without buying…
Perfume, cosmetics, home fragrances or herbals at the famous and beautiful Farmacia di Santa Maria Novella (via Della Scala 16). This old shop is worth a visit even if you don't plan to buy a thing.
You're in Florence: buy leather! Shoes and bags. And pottery and fabrics.
I'm a stationery addict so I'll also drop by Il Torchio or Pineider for luscious papers (they also sell fine leather goods).
For lovely artisan goodies, head off to Oltrarno and browse around the leather workers and silversmiths.
You can't leave without trying these 3 foods
Ribollita, a traditional soup made with vegetables and bread which are reheated. A simple dish from the countryside but absolutely delicious.
Not for vegetarians or vegans, but otherwise, Bistecca Alla Fiorentina is a must. A thick mouth-melting T-bone steak, usually from the Chianina breed.
Torta Pistocchi, a scrumptious chocolate cake invented some 20 years ago that has quickly become a signature Florentine dessert.
For even more information
— Updated 16 September 2022. Originally published on 14 December 2016. Additional information by Simon Falvo of Wild About Travel
---
SHOP THIS POST ON AMAZON
PIN THESE PICTURES AND SAVE FOR LATER!