Have you ever tried to go out at night lugging a large bag or cumbersome backpack? Uncomfortable, right? And not particularly attractive. Or wondering whether things will be safe in your hotel room?
I've often faced that problem – I need to look good but have my hands free. This is where the handy pocket scarf comes in.
So I'm about to be exceptionally enthusiastic about a little travel accessory that doesn't take up any room in your luggage, is as light as a feather, and brightens up your look. It's something I take with me whenever I travel.
I'm talking about an infinity scarf with a pocket (also known as a scarf with a hidden pocket or a travel scarf withpocket). It's incredibly handy, keeping you warm as well as ensuring your valuables stay safe. For me, the best way to carry light things around is with the best travel scarf with a pocket.
Let me explain why.
What is a travel scarf with pocket?
When I travel, I need to have my basics on me at all times. That includes my passport because you should never be without your ID in a foreign country; my hotel room key; some cash; a card or two; and my iPhone. (This one is essential because that's what I use to take all my photographs.)
Most times, I can use one of my trusted travel handbags or if the occasion is super-casual a daypack.
But sometimes, I need to dress up and even the best purse won't do: an evening reception, for example, or a crowded buffet dinner where it's not safe to leave your bag on your chair. My only option would be to keep things in my hands… and that just won't do. This little fashion accessory makes it so much easier!
Here's why I love my hidden pocket scarf so much.
The pros and the cons of the infinity scarf
Normally when I try something out I have a list of why I like the item and an equally long list of why I don't. Fortunately, this is one with a whole lot more pros than cons!
✅ Attractive, and can really dress up an outfit
✅ Great for urban situations
✅ Often use relatively heavy fabrics, great for hiding contents
✅ Worn over your clothes so no digging around
✅ Useful if you need regular passport access
✅ Hands-free so you can take photos without having to clutch anything else
✅ Get a print – they don't show stains
✅ Can turn a boring wardrobe into something stylish
✅ Hygienic, since you don't have to put your bag on the dirty floor even for a moment
✅ No straps to cut into you and cause neck or back pain
And now the cons:
❌ You have to get used to the extra weight around your neck
❌ Can feel a bit awkward until you're used to it
Travel scarf with hidden pocket: My top two
We all have our favorites and I believe in quality. Any item I wear regularly has to withstand the packing and unpacking, the regular washing, and the stuffing with umpteen travel necessities.
I can recommend these two travel infinity scarf models.
---
This is the Sholdit travel scarf – they call it a clutch wrap purse and it is the original infinity scarf. When you're tired of using it as a scarf, you can just turn it inside out, stuff it into the zipper pocket and it becomes a clutch! I love mine (it's similar to the model in the picture) but there are plenty of lively and delightful colors, some with textured weaves and frosted shimmers. This is a classic in my travel wardrobe and should be in yours too.
The Sholdit was developed by a traveler who was fed up with not having a place to stash her stuff, so in 2010, with no marketing knowledge, creator Angela threw herself into coming up with the perfect product: the Sholdit, an infinity scarf with a pocket that is both decorative and practical.
"I love the look and feel of a scarf, the security of crossbody bags, and the simplicity of a clutch. Why not incorporate everything to create an entirely new and different way to carry the necessities!"
She filed for a patent and the rest is history. Her creations have appeared in major media and her products are so popular she has branched out into convertible infinity scarves, neck gaiters, a nursing scarf, a convertible sarong and even face masks.
---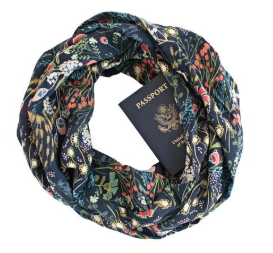 You can also buy the Speakeasy travel scarf, another infinity scarf with a hidden pocket that zips up.
What I like about this one is that it uses a range of materials, ranging from lightweight scarves made with summer cotton to a warm scarf made with cozy winter flannel. The Speakeasy scarf comes in all sorts of patterns and can really dress up an outfit. This is the brainchild of a travel blogging couple who developed the kind of product they felt they could have used often during their own travels
---
The infinity travel scarf with a hidden pocket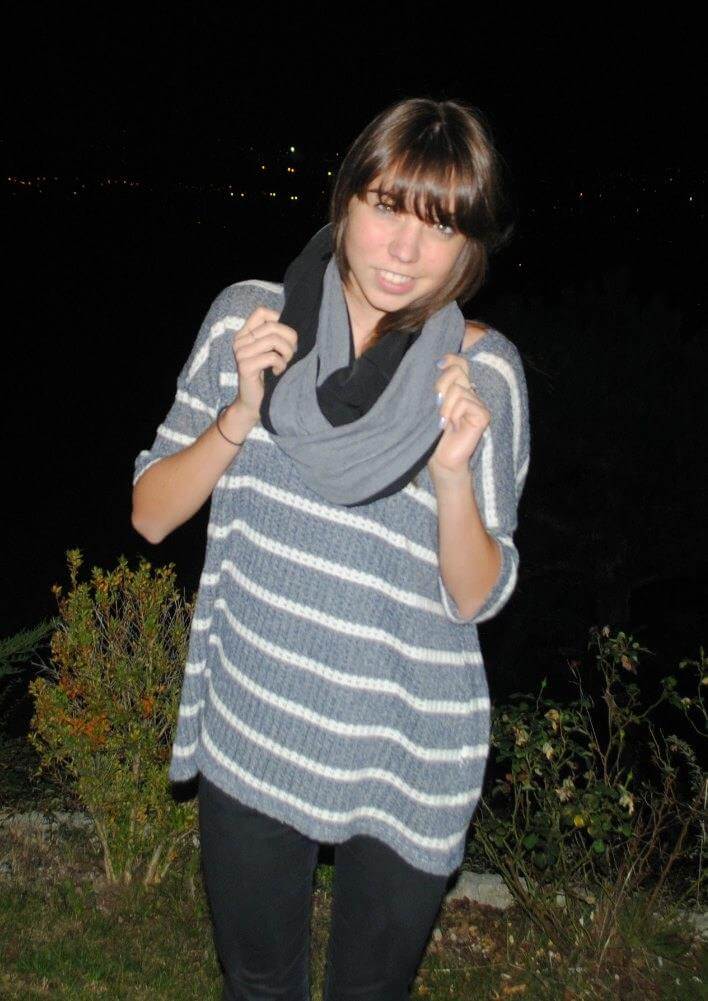 When I first decided to try my Sholdit out, I wore it for two full days in Geneva, Switzerland, and my friend Caroline (top photo) wore it out in Annecy, France. She also asked her daughter Camille (left) to test it.
Here's what happened.
I stuffed it with my TWO passports (France and Canada), my international vaccination certificate, my train pass, some loose change, my driver's license, all my credit cards, and my (large) iPhone. Caroline did more or less the same.
I kept taking things out and putting them back in; wrapping the scarf in different ways; scrunching it; dropping it (not on purpose) and pretty much abusing it in any way I could.
I was thrilled with this little invention. Basically, it's a purse that masquerades as a double-sided scarf, with a zipper that opens into a pocket where you can keep your money and your papers. It's so simple it's the kind of thing you wish you'd thought of yourself.
The ingeniousness of this travel money pouch lies in its very simplicity: few thieves or pickpockets are going to slice your scarf off, are they? They'll look for your bag or backpack or external money belt. But a scarf? Not unless the thief is a fashionista.
After having had my passport stolen in Beijing (because I stupidly carried it inside my pack!) I'm extra careful about how I protect my important papers. Getting a replacement is a memory I'd rather leave behind…
And of course, this is a staple item on both my long-term travel packing list and my European travel packing list! I would recommend every traveler invest in one of these handy scarves with hidden pockets.
PIN THESE PICTURES AND SAVE FOR LATER!