Whenever I travel, I take a guidebook. Sometimes I use it religiously, sometimes I barely glance at a map, but having it provides me with a certain amount of security and predictability.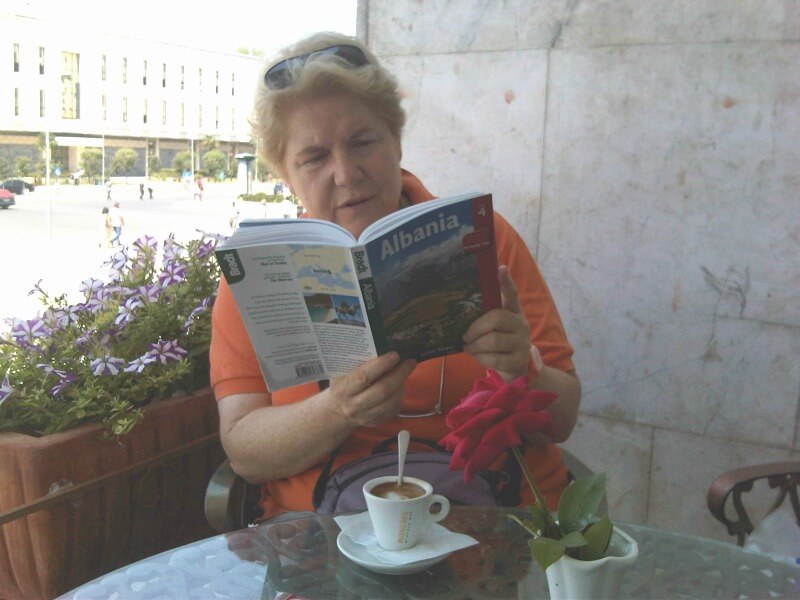 I use guidebooks to plan my journey, because most of the information is available in a single place and because sometimes, I prefer an actual book-book to an electronic device. Actually, two book-books, because it is very rare that I rely on a single guidebook, and every series has its own perspective.
But I then go to the web to double-check practical things − has a visa requirement changed, is a border crossing open, does a museum have new opening times…
A few years ago I wanted to visit Vietnam and was confronted with close to a dozen guidebooks. How do you tell the difference, and which one do you choose? Which are the best travel guidebooks, and aren't they all pretty much the same?
When I looked more closely I discovered each has its own style, audience, and voice, and different series cover different destinations. Some specialize in countries, others in regions, and yet others in cities. Some are more cultural and sophisticated, others friendlier and more casual, some are for young people and others for the less young, some are best for independent travel and others for group holidayers. A few are more woman-friendly or even aimed at women.
It's a jungle out there, so I've tried to put a bit of order into these travel guidebook reviews to provide you with a shortcut!
What do I personally look for in a guidebook? Scroll to the bottom of this page to find out. But first, the guidebooks.
Here are some great travel guidebooks of use to women. The first few are women-specific, and they are followed by the more general guidebooks series, not particularly aimed at women – but at least not offensive.
Woman-specific travel guidebook reviews
Beautifully written by Marcia DeSanctis, this is more than a guidebook − it meanders and is part memoir, part women's contemporary history as she tells their stories and dives into a place's inner workings. Of course, there's plenty of 'guidebook' here but this is a book you want to actually read, not just highlight (although you'll want to do that too).
I live in France and much of this was a revelation, filled with wonder.
If you're heading to France and are getting only one book, this is it. A different author writes the one for Italy, which I haven't read yet.
This is the only series on this page I haven't tested myself − but since it's one of the few guidebook series for women I could find, I'm including it.
The series is mostly written by one author, Erica Stewart, and covers a number of cities including Prague, London, Paris, Florence, and Rome.
I would love to be impressed because, you know, women, so I'll eventually buy and test one of these guides. For the time being, I can only encourage you to check this out and writers to publish guidebooks specifically for women − because we simply don't have enough.
General travel guidebook reviews
Bradt Guides are among my favorites − they were publishing entire books on offbeat destinations back when the others provided barely a page or two.
I particularly like them for two reasons:
First, they tend to have a 'single voice' that shines through − regularly updated by the same authors − rather than the 'committee' approach taken by some of the other publishers. (That said, some people prefer more authors and feel this provides a greater breadth of information.)
Second, they focus on places few others write about and are especially strong in Africa and Eastern Europe/former CIS, with entire guides dedicated to countries that barely get a mention in other guides.
In past, I've used no-frills no-nonsense Bradt Guides for Eritrea, Ethiopia, Malawi, Mozambique, Nigeria, and Uganda, and on a recent trip, I used their guides to Kyrgyzstan and Uzbekistan.
I don't use them too much for planning ahead but they are perfect for on-the-spot guidance.
Unless you've never traveled or have lived under a rock, the Lonely Planet guidebook series should need very little introduction. It's the grandaddy of backpacker guidebooks. LP isn't a guidebook series, it's an empire.
LP was once aimed at the real budget traveler, although these days it has gone distinctly upmarket.
Their large tomes are great for first-time travelers, books that cover entire continents like Africa, the Middle East, the Caribbean, or even Europe. But the series also drills down to regions (Eastern Europe or Southern Africa), countries, city guides, road maps, phrasebooks, and specialist themes like national parks, travel writing, or cookbooks. Because of its scope and resources, it can cover more than anyone.
An LP advantage is their excellent hand-drawn maps which are a great help in getting around new towns. On the other hand, the series has been sold and re-sold and, sadly, has lost some of its soul. That said, there are a few places LP doesn't cover…
Find all their titles on Amazon
This is one of Lonely Planet's main competitors, especially since it switched from a more narrative style of writing to small, bite-sized sections. The two series were once far easier to tell apart.
When confronted with a choice between the two, I'll usually buy the more recent one.
One tiny criticism I have is that the special interest "boxes" are too faint to read easily. On the other hand, the paper is a bit thinner so there's more information in the same space.
Like LP, Rough Guides go beyond travel and explore music (from World Music to Opera), culture, and other specialties. Although it's a matter of personal preference, I might have a soft spot for Rough Guides – there's something friendly and aware about them, maybe a bit less corporate and more culturally oriented.
I just love Marco Polo guides − they're different!
They're short, amusing, and filled with graphics and bite-sized information. Let's be clear: this is not the in-depth guide you'll need to see a country in its entirety. Although they do have some country guides, I'd prefer something wordier for my country guides. But if I'm going to a smaller area, a city, for example, these are perfect. In fact, for a weekend getaway, they're a great choice.
Marco Polo also happens to have a range of travel journals, which I've tried and loved. Not only is the paper smooth to write on, but the page has dots to keep your writing in line, not to mention a range of stickers you can use to highlight your favorites. They try to make it fun, and they succeed.
Rick Steves focuses on Europe and has a broad collection of guides to the main European countries. One thing you can say about them – is they are thorough. And that means that if this is your first time in a country and you really need to know the nitty-gritty, this is the right guidebook for you. By nitty-gritty I mean exact itineraries and the ins and outs of public transportation.
This is the guidebook to help you get around, whether on foot or on the train and especially if you're a novice traveler not quite sure of yourself. Just follow one of his itineraries and you're all set, or at least for a few days until you get the hang of a country.
Funny, I used to think Frommer's Guides were for stuffy polyester travelers. True, they tend to cover food and lodging that is more expensive than the average backpacker could afford, even though when I travel I do like to 'upgrade' once in a while. Well, I was wrong about them. They're absolutely fab! They are more for families than for solo travelers but that doesn't make them any less useful.
I've used their guides to Switzerland and Panama and keep referring back to them. For some reason, they seem more accurate and complete than their companions and I have yet to go wrong with a listing.
Speaking of lists (which I love) they cover things like the best beaches, top 10 museums, scenic drives, restaurants… If you're already somewhere and need a quick reference guide to what's best in the area, these practical guides will come in quite handy. This is more a travel companion than a planner.
DK Eyewitness Guides have always been heavy on the visuals − the operative word being heavy. Printed on thick glossy paper, these were always great guides to explore at home but not really designed to lug around on your travels.
Then they had a major makeover and that is all in the past. They still have gorgeous photographs but these travel guidebooks are now light enough to carry and have been overhauled, with new front sections and visuals.
The first time I set eyes on one of the Insight Guides I couldn't put down their extraordinary photography − not just great shots but outstanding printing (not surprising since the series was started by a graphic designer). This is the full-color guide for travelers who want to know about a place's history, culture, and art, who want 'insight', in other words.
The practical information is at the end and limited, and in my opinion, won't quite be enough for all your planning needs. Insight Guides are the perfect background research tool for an in-depth understanding of a country. The glossy paper and stronger cover make them heavier than many others so I read these at home before leaving, and take something lighter (or electronic) for the road.
Published by the renowned Michelin, the Green Guides (or Michelin guides, as they were once called) used to cover France but have branched out into Europe and North America (with a few titles beyond). Their specialty is the A-Z structure, with each region or city listed alphabetically (some people find this a hindrance rather than a benefit, especially if they don't know an area).
I love their detail when it comes to history and architecture, where they don't assume you have the attention span of a butterfly and move you on quickly. On the contrary, the ex-Michelin guides take their time when it comes to culture.
They are also good on directions, guiding you easily to the best sights, but in truth − at least for the European guides − they're road-based and not too useful if you're using public transport or flying in.
What I particularly like is the breakdown into several itineraries you can choose from depending on how long you have. It also has a rating system for sights − a must-see, should-see, could-see… but then, what else would we expect from the people who give restaurants their stars?
Footprint travel guides get rave reviews from Michael Palin onwards, so I bought a recent one for a trip to Vietnam, a country I hadn't been to − just wanted to try the series.
There's a lot that's good. It has excellent listings for hotels and restaurants, as well as things to do − exhaustive and thorough. It is particularly good for transportation, which helps with planning.
It has also managed the magical feat of publishing a hardcover book that is lighter than a paperback − well done! Its boxes delve more deeply into topics of particular interest and that's nice too. This was also the most recent of all the guidebooks available.
However, I would have liked better descriptions of the regions as well as some great itineraries, but the lack of these doesn't in any way diminish one of the longer-standing series. Far more pluses than minuses but a little more description and emotion would be helpful…
Find Footprint Guides on Amazon
Now here's a little series of e-guidebooks that was utterly unexpected: Bob Fowke's Guides for History Travellers. I say little because there are only four books − Spain, France, Greece, and Turkey − and unexpected because of the joyful approach they take to history.
This isn't history for the stuffy, although it's absolutely accurate. These books are filled with humor and tidbits, gossip and ideas for the traveler who is keen on understanding a bit of why a certain place is a way it is.
I must say I came to look at Toledo differently when I found out Nationalists chased by Republicans during the Civil War retreated into the Alcazar and were forced to eat rats during the siege, and was surprised to find out bullfighting had existed under the Romans and plenty of other juicy facts. I was brought up in Spain and I learned a lot from reading this short e-book − and I had great fun doing it. Now I'm off to read the other three.
Find Bob Fowkes' guides on Amazon
And there are more…
I can't cover them all right now but you could also travel in the company of, Moon Guides, Marco Polo… I'll try to eventually get to all of them. And if you're a mega-planner who likes to have it all laid out before you go, why settle for one when you can carry two or three?
Here's what I look for in a travel guidebook
Publication date
The more recent the better (unless I'm only looking for history and culture).
Author
I prefer a single author rather than a group effort but it's my personal choice − the voice of the guidebook seems more personal and more authentic this way.
Specificity
I like my guidebook to be as focused as possible − there's no point in taking an Asia guide if I'm only going to Laos and Cambodia.
Target audience
I prefer guidebooks for women but these are scarce so I tend to choose those for independent travelers. Are you a gap-year traveler or a retiree? It'll make a difference in your choice of the guidebook − the same goes for budget and how much money you can spend on your journey.
Culture and history
These are two important factors for me and no guidebook will pass muster unless they deliver on this front.
A sense of society
I want to know what people are like, what's rude and what isn't, how people behave; that sense of culture is one of the most important factors for me.
Visuals and special features
I find maps important but I don't care about photographs, since I can easily find out what a place looks like online. I do love lists and deep dive into special or unusual topics.
Itineraries
I find guidebooks that break down a destination into days or weeks are the most helpful. I also love guidebooks that layout a culinary or art tour of a city for me to follow along
Accommodation listings
This is something I don't care about in a guidebook so it's not a plus for me; I'd rather get the latest price and availability updates online.
Restaurant recommendations
While these are interesting, a recommendation means everyone who reads the same guidebook will end up there, and I'm not sure that's where I want to end up too (but please, tell me about culinary specialties and give me a sense of which part of town I might find them).
Physical attributes
If you plan to travel light, beware of the heavy tomes. Also, the cost may be a factor, with some guidebooks more expensive than others.
Moral factors
Where a guidebook stands on issues matters to me. For example, if it promotes activities that endanger animals or appears to discriminate against a group of people, that's one guidebook for the garbage pile. The same goes for all issues: I like my guidebooks to stand on the right side of humanity and tolerance.
Truth and honesty
This may actually be the most important factor. I'm not talking about accuracy, although that is an obviously crucial qualification for a good travel guidebook. I'm more talking about the way a destination is portrayed: if every sight is divine, the book will be of no help in guiding travel choices so please, let's hear it the way it is.
And when you can't find a guidebook you like…
Read a book set in your destination instead!
A novel, a history book, a biography… Here's an international travel book list by the country you might want to browse through!
PIN THESE PICTURES AND SAVE FOR LATER!