I traveled to Moldova in a bit of a funk.
It's boring, I was told.
The capital of Moldova, Chisinau, is ugly.
Some said Moldova was "all right", but without much to see, a country best dispensed with quickly.
So I arrived with trepidation, kicking myself for having planned to stay several days.
Each time I spotted a piece of broken or upended sidewalk – and there were many – I sighed, AHA! Yes, it's true, I should try to leave sooner.
The one thing I never expected was to fall in love with Moldova.
Seems I was a minor celebrity here – when local travel bloggers found out I was coming, they posted about my arrival on Facebook, and people began getting in touch. What fun!
Meet Ana. A reader of Women on the Road, she overcame her shyness and, in her words, "went out of my comfort zone" and reached out to me on Facebook when she heard I was headed for her country.
But let me backtrack a little.
The night train from Bucharest to Chisinau
I had arrived in Chisinau on the overnight Soviet train from Bucharest, Romania's capital. From cloth curtains to plastic flowers on tables, this was a page straight out of Soviet history books.
It was also possibly the worst bed I'd ever slept in, sloping as it did both downwards and sideways.
After trying in vain not to slide towards the floor, I was jolted awake at around 4am to the sound of heavy metal heaving and creaking.
Romania and Moldova have different-sized train tracks; according to popular legend, the Soviet dictator Josef Stalin wanted to slow the advance of potential invaders and preventing trains from reaching Moscow seemed like a good strategy.
So they change the wheels on the train. It goes something like this.
First, the carriages are uncoupled. Each is then elevated using green and yellow hydraulic jacks (yes, we go up in the air, train and all). The existing wheels are unfastened and rolled away, and new wheels take their place, a sort of Communist industrial dance with geopolitical undertones. This is not a quiet event and the sound of steel on steel is rare in our world of alloys and plastics.
Not only was the train ride on one of the few remaining Soviet trains in Europe an adventure, so was my arrival (cautionary tale follows).
From the outside, Chisinau train station is a palace but from the inside, it's a dimly lit cavern whose five or so daily trains to Bucharest, Moscow and Odessa give it a regal yet empty feel.
On the train, I had exchanged a few words (me in English, she in Romanian and Russian) with a lovely lady called Maria, who tended the bar car. (She was most disheartened I didn't drink!)
Upon arrival I immediately got lost in the giant station and she guided me out, only to find the currency shop closed (it was Saturday) and no taxis outside. There I was, stranded in Chisinau without wifi to call my hotel or a single local coin to grab a cab. Maria took care of it all: she exchanged a bit of money for me, waved down a random man to drive me to my hotel and warned him not to overcharge me.
Fast forward to the afternoon and my newfound friend Ana. As we slurped ice cream, I told her about my railway adventures.
"I know all about that train," she said, "my aunt works on it."
"Her name isn't Maria by any chance?" I asked, jokingly.
Of course it was.
What are the odds? At that point I had spoken with exactly two Moldovan people, both delightful, and they happened to be related. Normally this happens only in fiction.
Although I was here for work, I was beginning to suspect there might be more to this little country than I'd been led to believe.
But first, a bit of Moldova geography.
7 Entertaining things to do in Chisinau (when you're not eating ice cream)
I met my third Moldovan best friend, Corina, during work: she had been my interpreter during meetings. After work, she kindly offered to show me the 'real' Chisinau (she happens to be a Chisinau guide when she's not interpreting).
Like Ana and Maria, Corina exemplified the friendliness and hospitality I experienced daily.
The question of what to do in Chisinau didn't even pose itself. Off we went to explore although granted, the center of Chisinau (or Kishinev, as it was once known) is small and doesn't take much time. But there were enough Chisinau sights to keep us busy all afternoon.
Suck up some free wifi and smell the roses at Stefan cel Mare park
All roads downtown seem to lead to this park, an extremely pleasant patch of greenery right in the city center, an ideal place to cool off from the hot summer sun.
A few years ago, Chisinau's youthful mayor (who owed much of his election to the city's young people) decided to give something back. He built bicycle lanes and equipped the park with free wifi. In a gesture to artists and freelancers, he then installed electrical outlets every 20m (21 yds) so they could top up their batteries. On a nice day, you can move your office here…
If Moldova has a national hero, it would be Stephen the Great, who reigned in the latter half of the 15th century and is best-known for defeating the Ottomans and halting the advance of Islam. His statue stands at the entrance of Stefan cel Mare park (named after him, of course) and decorates much else, from money to monuments.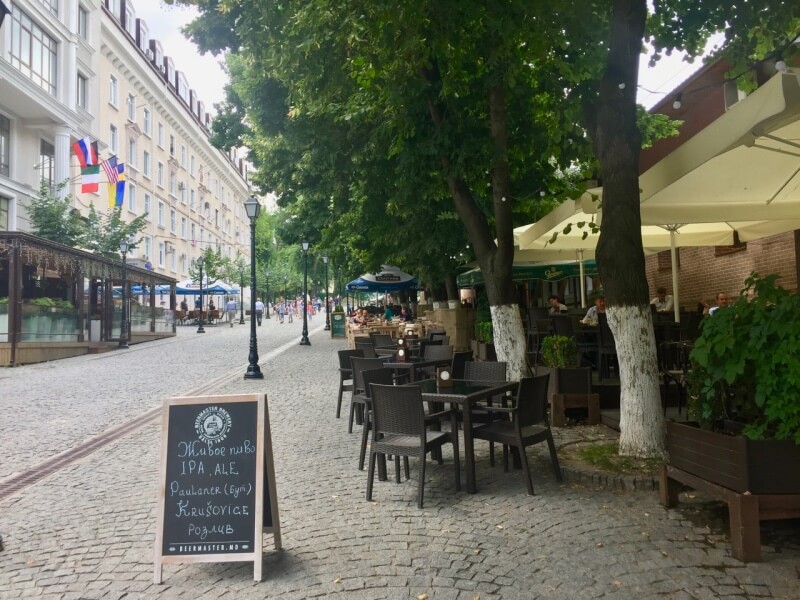 Five minutes away, across the city's broadest avenue is the Arch of Triumph, which sits in front of the cathedral. It was once the cathedral's gate and home to a huge bell. The Soviets, determined to wipe out religion and remind the masses that the most powerful entity was the government, removed the bell.
Along the way the Soviets destroyed churches or transformed them into warehouses, nightclubs or psychiatric hospitals… but the cathedral survived, along with plenty of other religious buildings. And the bell is now in the belfry, replaced by a flag under the arch.
Each time Stephen III, his proper title, won a battle, he built a monastery. He won several dozen battles… and so his monasteries dot the countryside.
Stefan cel Mare park is also a paradise for rose-lovers. In fact, all of Chisinau is filled with these red flowers, which Moldovans love above all (and from which they make delicious and popular rose petal preserves). Speaking of flowers…
Visit the flower market
In this country of flower lovers, Chisinau has one of the largest flower markets. I'm told it's two blocks long but I felt I'd walked much further by the time I emerged, nostrils tingling.
As the story goes – and Moldovans seem to have a story for everything – the market is open 24/7 because men who have been out drinking with their friends are in dire need of forgiveness when they return home. When they ring the doorbell and their wife looks through the peephole, she'll see the lovely flowers rather than a drunken face, and the husband's chances of not spending the night on the stairwell will have improved significantly.
Stroll around Valea Morilor, a big lake right downtown
I never would have found this had it not been for Corina, but right behind one of the ministries where I attended meetings sits a forest crisscrossed with walking trails. And if you walk just a little further, you'll end up at the summit of a sweeping stairway – actually longer than the famed Potemkin steps in Odessa – that will transport you right down to the edge of a large-ish lake, Valea Morilor.
You can canoe, rollerblade, run, walk or simply sit on a bench and slurp ice cream while waiting for the sunset (you know which one I did, of course). It's particularly popular because Moldova has neither sea nor mountains, so this makes up (in a small way) for that slight.
Sip your brew at Tucano
Tucano is a homegrown coffee franchise whose owner is known for having started many businesses that failed before hitting upon this genial idea.
This is the place to relax, enjoy free wifi and great coffee, and simply chill. I wrote a lot of sentences at Tucano. It even has a motto: Love. Peace. Coffee. How's that for a modern twist on my generation's mantra?
There are at least four in Chisinau, but they now have branches in Russia, the UAE and Kyrgyzstan (and more expected in other countries soon). Watch out, Starbucks, the Moldovans are coming!
Visit the National Museum of Moldovan Art
Its stunning white interior takes you on a trip through centuries of Moldovan art, some if it quite unexpected. The museum provides a mixture of styles and art forms that spans centuries, along with occasionally biting social commentary.
And if you're visiting in summer, it's the perfect hideaway from the beating sun.
Shop for Soviet memorabilia
The USSR may no longer rule Moldova but in Chisinau's crafts market, there's plenty of Soviet memorabilia for sale in case you're feeling nostalgic.
Under the Soviet regime, rather than a raise, workers received a pin to honor their success. You also got one if you excelled in school, did extra community or somehow deserved recognition. Money was kept at a minimum (at least for the working classes) – it would have been unseemly for you to get extra cash while your proletarian neighbor or colleague did not…
Have dinner in a former Soviet home
There are many fantastic Chisinau restaurants and prices are low compared to Western Europe, but one place stands out: Propaganda Café. The food is excellent, mainly traditional with a few excursions beyond Moldova. But that's not what matters here.
Propaganda was started by a well-known television journalist whose pointed questions often make politicians and oligarchs uneasy. She's been threatened and blackmailed but continues her work. Hidden away was a dream she'd carried since childhood: opening a restaurant.
The venue is a former home in central Chisinau and rather than remodel, it was left pretty much as is, with a few improvements designed only to showcase life under the Soviet Union: old television sets, dark wallpaper, family photos on the walls and out-of-date books on the shelves. I spent as much time wandering around as I did eating… (you'll find it at Strada Alexei Şciusev 70).
And by the way, because Moldova is a poor country, it can't afford many fertilizers so most of the local produce is perfectly organic – and has the taste to prove it. Speaking of Moldovan food, in case you're wondering, it's not too different from Romanian food but has added accents from Ukraine and Bulgaria. Meat is popular, and all the meat I ate was amazingly tasty, as fresh as the fruits and vegetables.
Of course there are plenty of other things to see in Chisinau… the Synagogue and Jewish center, more parks and museums, more churches, definitely enough to keep you busy for several days. I just couldn't get to it all!
What to see in Moldova beyond Chisinau (easy Moldova day trips)
While I did spend the bulk of my time in Chisinau (work constraints) there is so much more to see here than the capital.
First, the wine.
Cricova and MileStii Mici wineries
When people ask what to do in Moldova, the first answer usually involves wine.
I am in no position to discuss these as I don't drink BUT – my hotel hosted a party of six French visitors who were in Moldova for one reason only: the wine. It is apparently excellent and keeps winning prizes.
Never heard of it? That's probably because under the Soviet regime, most wine was shipped to Russia and other Soviet republics (there wasn't that much wine to begin with). This continued after the downfall of the USSR but when Moldova made moves to join the EU in 2014, an angry Russia slapped an embargo on its wine. That might have actually helped Moldova because it forced the industry to turn westward to find new (and better paying) markets.
Today, Moldovan wine is easier to find in the West and those who can't find it at home come here to drink it. There are two main wineries within easy reach of Chisinau.
Cricova Winery is barely 20 minutes from the capital and makes for a perfect half-day visit. Its 120 kilometres (75 mi) of limestone tunnels along which wine barrels are stored have been around since the 15th century. The story is that during World War II, the barrels were used to hide Jews from the Nazis. This is also where Vladimir Putin celebrated his 50th birthday – before the wine embargo, of course.
Not enough wine? Then head for Mileştii Mici, which has made it into the Guinness Book of World Records as the world's largest wine collection and cellar, with 200km of tunnels you can drive or walk along. These are also close to Chisinau but heading South instead of North, and newer than Cricova.
I can't compare the two and everything I've read gives both wineries excellent marks so if you enjoy wine, you can either flip a coin or try both.
Take a day trip to Transnistria
If truth be known, Transnistria – which means beyond the Dniester River – was the one reason I initially wanted to visit Moldova. It's one of the world's unrecognized countries, or countries that consider themselves independent but that don't belong to the UN and that no one else recognizes.
Below is a quick overview of my Transnistria visit, which was one of my top Moldova things to do.
Getting to Transnistria on your own is certainly possible but I felt better knowing I had someone with me who spoke Russian. To visit Transnistria on your own, you can take the train that goes to Odessa (but I remember thinking the schedules were simply not workable) or the bus, which runs often between Chisinau and the Transnistrian capital, Tiraspol. Given a choice I'd take the bus.
The second simplest way is to book a tour with Transnistria Tours, based in Tiraspol. Just email them and ask them to find you a driver to take you from and back to Chisinau. This was the option I chose but in hindsight, I might have been better off with a fully organized tour for this one because my option only included a few of the sights, and I realized afterwards there was so much more I hadn't seen.
The third and most complete option would be to book a full-day tour from Chisinau to Transnistria and back. This would have allowed me to spend more time in Transnistria and roam around. In fact, if I were to go again, I think I'd even like to spend a night or two.
Try the equivalent of 'agriturismo'
Much of the money that has made it back to Moldova from overseas remittances has gone into housing and real estate, often into country homes built by parents for children who will never live in the Moldovan countryside. So instead they are being turned into homestays and bed and breakfasts for visitors in search of peace and quiet, away from the hubbub of the city.
Hailatara is one travel agency that offers rural tours and houses you with a Moldovan family. I've not tried this but it does seem like an excellent way to experience rural Moldovan life. (If you want to meet Moldovans, don't neglect hospitality networks or homestays.)
Drive around the countryside
After spending a bit of time out of the city, I concluded that driving in Moldova wouldn't necessarily reduce my life expectancy. Driving can be a bit erratic, but drivers go relatively slowly and the roads aren't crowded (although I'd watch out for slow-moving vehicles, like donkey carts).
If you'd rather drive than take a local bus or taxi, I'd go for it. You can head north to some of the smaller cities, hunt for monasteries, or even travel south to Gagauzia, an autonomous enclave where the native language is a variation of Turkish. The good news is that car rentals in Moldova are not expensive, so it's an affordable option.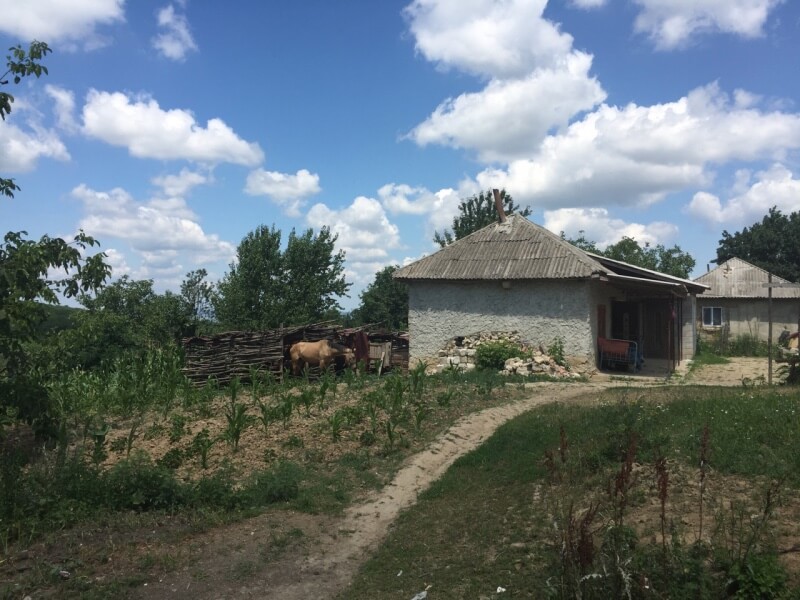 Moldova, a country of contrasts
Despite its 3.5 million people, this is a country of extraordinary diversity and just when you think you've understood a thing or two, another layer of complexity appears.
Walk the streets of Chisinau and look around: young people are dressed smartly, chatting on their cellphones. Scratch a little and you'll find a conservative undercoat, with a bit of a post-Soviet tint. Despite the veneer of gender equality in the workplace provided by Communism, women continue to occupy traditional roles. Being unmarried at 25 is cause for concern, and not wanting children is akin to courting tragedy, although young people – especially those who have traveled – feel those mentalities are changing.
The country's infrastructure may be decrepit in places, yet Moldova has some of the best Internet in the world – the third fastest. You'll find fast cars and snazzy shops in the capital, but in some rural areas, the poverty is shocking.
And then there are the East-West tensions that rumble beneath the surface, but we'll get to that in a moment.
Even language leads to confusion here.
Moldova people and culture
Moldovans have a national language that is nearly identical to Romanian, although nationalist fires may burn hot under those who have the temerity to point this out.
Around 80% of the population considers themselves Moldovan language natives BUT – and there's often a 'but' in Moldova – you'll hear plenty of Russian, in part because of long years of Soviet occupation, but also because Russian is the preferred language of the country's other minorities, its Ukrainians, Bulgarians and Gagauzi.
Curiously, during conversations, people switch from one language to another easily but not all Moldovan speakers know Russian, nor do all Russian speakers know Moldovan, which can lead to confusion when a group conversation is involved.
The social mixture can be at times volatile, and not everyone gets along.
Take the Roma, once disparagingly called gypsies because of their itinerant lifestyles.
During my work writing about human rights, I visited a Roma village and conditions were deplorable. The Roma are among the poorer groups of Moldova and live in difficult conditions, often facing heavy discrimination.
The village's roads are impassable as soon as it rains, and a bus stops at the top of the hill once a day. To get water, villagers can pump it out of a well – it takes half an hour to fill a plastic container. Conversely, young men can ride a horse and cart to the next village, where there is running water.
Some of the discrimination against the Roma comes from stereotypes, but some also comes from superstition, and many Moldovans admit to being afraid of curses, despite the country's strong religiosity (90% of Moldovans are Christian Orthodox).
That said, the Moldova government is working hard to address the country's inequalities. It has passed a set of robust laws that promote equality and fight discrimination in society, not only towards Roma but towards all stigmatized minority groups. They're not quite there yet, but they're working on it.
A bit of Moldova history (and some inevitable Moldova politics)
A true understanding of a country must pass through its history, and for a quick historical timeline, check out the BBC's country profile but more recently, Romania and Moldova were one country: Moldova was part of Romania. It eventually joined the USSR in the early 20th century and when the Iron Curtain broke down, it declared independence in 1991.
In 2014 this former Soviet socialist republic ratified an association agreement with the European Union, which it hopes to join (the most recent poll in June 2018 showed 46% in favor of joining the EU and 36% in favor of the Eurasian Economic Union). The EU agreement irritated Russia no end and placed Moldova in a difficult geopolitical position which compels it to be friendly to both Russia and Europe.
This East/West rope tug complicates things. For example, much of the support for Russia is based on nostalgia for a time when life was predictable, jobs stable and the future assured. Capitalism wiped all that out and many people, especially older Moldovans, feel destabilized and would like a return to the 'old ways'. The shift of the Moldova economy from communism to capitalism did not take place without pain, and as was the case in many other former communist countries, there was an early banking collapse and plenty of poor judgment when investing money.
Moldovans were unaccustomed to having more than their neighbors. One of the tenets of communism was equality (at least for those who didn't belong to the ruling classes). So when Moldovans began making money either at home or by seeking work abroad, they had little experience in managing their newfound wealth. As a result, much was squandered. You'll see luxury automobiles in the city whose owners bought them as status symbols yet can no longer afford to fill their tanks with gas.
Still, many people are adapting and are keen to keep the clock moving forward.
Romanians and Moldovans share historical and cultural bonds but under the Soviets, Romania – which sided with Germany in World War II – was 'the enemy' so this clash of histories is also unsettling, sometimes pulling people in opposite directions. There is a flourishing movement to rejoin Romania but its chances are slim.
Because of this history, many Moldovans can acquire a Romanian passport through family ties and leave the country. While they once left in search of jobs, today, the opposite is true: there are plenty of jobs but no one to take them. The country faces a severe brain drain, with professionals leaving en masse.
Here's why. A doctor in Moldova can expect to earn US$300 a month. If she moves to Italy, a preferred destination, she can earn upwards of US$1000 a month and be housed and fed by working as a live-in assistant to an elderly person… Moldovan nannies, too, have excellent reputations and with a shortage of jobs at home, people are leaving.
In a country this small, every departure is painful.
That said, here too Moldovans are adapting. Dentists are providing excellent care at a fraction of Western prices, and Chisinau's reputation as a dental tourism center is growing.
Today, there is freedom of speech and Chisinau has a culture of protest. Its people regularly take to the streets when something doesn't meet their standards – usually elections that they believe were unfair, or decisions that pit pro-EU young people against their more traditional or nostalgic elders. A recurring topic of conversation is corruption, much of it based on nepotism. It's all about who you know!
Is Moldova safe for solo female travelers?
No story for solo travelers would be complete without a warning or two about dark streets and alleys… So how safe is Moldova and, specifically, Chisinau? I admit I did get lost after dark once in a gloomy neighborhood with a man walking a few steps behind me. He passed, that was that, and that was as close as I came of being afraid of anything in Moldova.
I was downtown on my own at night and while the streets aren't as well lit as they should be, there was no reason for concern. My only query would be about staying out very late on weekends when bars and pubs empty… but that goes for any city in the world. So while I'd consider Chisinau perfectly safe, remember that things can happen anywhere so use your usual common sense to stay safe.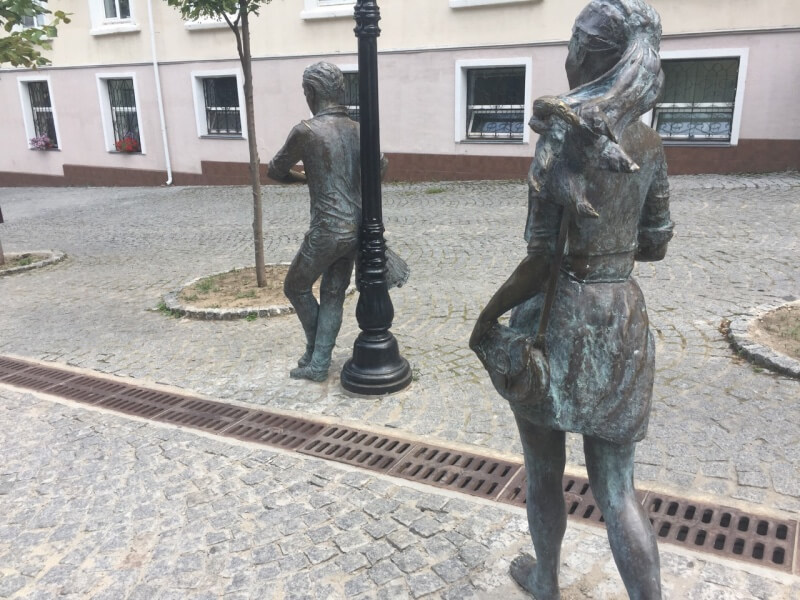 Where to stay in Chisinau, Moldova
Moldova is inexpensive as European countries go so you can find excellent accommodation in Chisinau at reasonable prices. Here are my suggestions:
I stayed at the Art-Rustic Boutique Hotel, about a 10-minute walk from the downtown core. I liked the English-speaking staff, the large room and delicious breakfast.
A friend of mine stayed at the City Park Hotel, which is right on the pedestrian street (and kitty-corner from La Creme de la Creme pastry shop).
If you REALLY want to keep costs down, Chisinau has some funky hostels that defy prices you'll find elsewhere in Europe.
Want more information about Moldova? Come see for yourself
Getting to Moldova isn't particularly difficult.
You can fly from several points in Eastern or Western Europe. You'll arrive at Chisinau Airport and getting into town with public transport is easy (there are several currency exchanges at the airport) as long as you're not too late or on a weekend, in which case you can take a taxi.
You can come overland, the most common routes being by bus (or train): you could travel from Odessa to Moldova by either bus or train, take the Kyiv-Chisinau bus or train or the Chisinau-Sofia bus.
The best time to visit Moldova is May-June and September-October. I, of course, went in the middle of July… Moldova weather is similar to that of some Canadian cities in temperature: it can hit 40℃ in summer and –30℃ in winter, definitely extremes. If you come in winter, expect snow and sludge, with streets that are sometimes left uncleared because of lack of equipment. Every Moldovan I met recommended staying away during the winter months.
As I boarded yet another Soviet train to Kyiv, I was sad to leave the lovely people of Moldova.

My compartment was half-full with one other passenger, a young Russian woman so pregnant I worried she'd give birth before we reached Kiev. In our mutually unintelligible languages I believe I understood she was the wife of a Russian peacekeeper stationed in Transnistria, the breakaway Moldovan republic, and was heading to Moscow to have her baby because her mother was there. (Or she may have just been heading there for a haircut or furniture shopping – my Russian is that good!)
Moldova is a good example of recommendations gone wrong. It was delightful, friendly and fun (it was also summer, and I'm sure a grim November might shift my opinions somewhat). Nothing will take away the fact that it is one of the most interesting countries to visit in this region, and certainly one of the most welcoming.
Would I go back? In a minute!
Please don't forget your travel insurance! Women on the Road recommends World Nomads if you're under 66 (70 in some countries). If that birthday has come and gone, click here for travel insurance recommendations that cover you at any age.
A few practical Moldova facts and questions
Is Moldova in the EU? No. It signed an association agreement in 2014 but several things stand in the way, including poverty, and the unresolved issue of Transnistria.
Where is Moldova located? Between Romania and Ukraine, around 180km (111mi) from Odessa.
What is the Moldova time zone? GMT +3 (an hour ahead of Paris).
What is the cost of living in Moldova? Here you go!
And the Moldova currency? The Moldovan Leu.
Moldova size? About the same as Switzerland.
A few more Moldova fun facts? It has the largest winery in the world (you knew that!) and Moldovans drink more than anyone in the world (18l of pure alcohol per person per year, or 4.7 gallons).
Oh, and it's pronounced KISH-ee-now… and if you want to spell it properly, it's Chişinău.
— Originally published on 22 October 2018
SHOP THIS POST ON AMAZON
PIN THESE PICTURES AND SAVE FOR LATER!