If you think a travel skirt sounds like a nutty item to take on your trip, think again. I took a "midi" travel skirt with me across Africa for a year, never thinking I'd actually wear it. I dislike skirts but – I loved it! And I ended up wearing it nearly every day.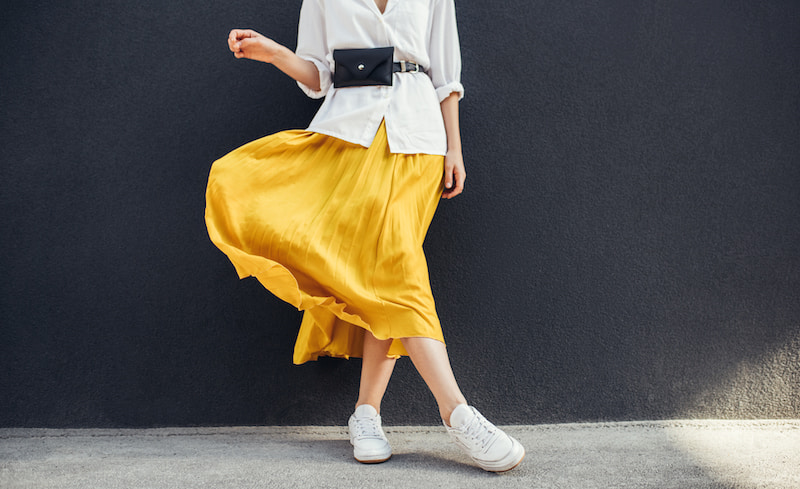 If you know you need a travel skirt and are just trying to choose one, have a look at the comparison table below.
But if you need some convincing, jump down to the reasons why travel skirts (and dresses) rock! If, like me, you're not usually the skirt type, you might change your mind after you read this page.
The best travel skirt – a comparison of the top travel skirts for women: Buying guide
| Name | Image | Features | Details | Buy |
| --- | --- | --- | --- | --- |
| Kosher Casual Women's Running Skirt | | 88% Polyamide + 12% Spandex | Below The Knee | Quick Dry | Hidden Key Pocket | For something completely different, this skirt has built-in leggings. It's also designed to be used as swimwear in more modest countries. | Buy Now! |
| Dani's Choice Stretch High Waist A-line Flared Skirt | | 65% Rayon + 30% Spandex | Below The Knee | Not A Quick Dry | Don't Have Pockets | It might take a bit longer to dry but it's wrinkle-resistant so great for travel - and flattering. | Buy Now! |
| Colorado Clothing Tranquility Reversible Skirt | | 92% Polyester + 8% Spandex | Knee-Length | Quick Dry | Don't Have Pockets | This is a reversible skirt - so you get two in one. The dark colors are more opaque than the lighter ones so stick to those - a skirt you can wear almost anywhere. | Buy Now! |
| RipSkirt Hawaii - Quick Wrap | | 93% Polyester + 7% Spandex | Above The Knee | Quick Dry | Hidden Card Pocket | This is more of a beach-wrap style skirt but unlike many of those, this one isn't see-through. Think of it as something you can tuck into your daypack for emergencies. | Buy Now! |
| ExOfficio Camina | | 86% Polyester + 14% Spandex | Above The Knee | Quick Dry | Contains 2 Pockets | If you want something hip-hugging and a bit on the short side, the ExOfficio Camina is stretchy, light, doesn't wrinkle, dries fast - the ideal travel skirt. If you're headed to the sun your thighs (the top part at least) will stay protected. It has a UPF of 50+ and - great for me - pockets! | Buy Now! |
| CATALOG CLASSICS Women's Reversible Broomstick Skirt | | 100% Cotton | Below The Knee | Quick Dry | Don't Have Pockets | Most travel skirts travel well because they're made of soft cotton. This one is made of cotton so needs a little more maintenance but it's chemical-free, machine washable and comfortable. | Click Here |
| Wrap-Around Indian Vintage Reversible Knee Length Skirts | | Silk & Polyester Blend | Knee-length | Quick Dry | Don't Have Pockets | For something completely different, this skirt gives a touch of vintage India silk saris. It is reversible and wearable from both sides. | Click Here |
One final skirt I have to talk about because it's so controversial is the Macabi skirt. I can't show it to you because I don't have their permission to use a photograph but you'll find some here. This is a skirt that converts into pants and shorts. I tried one on and looked like a stuffed penguin. A tall friend of mine, on the other hand, was able to carry it off well, and they have several styles worth looking at. It's one of those skirts that you either love or hate but versatile it is, perfect for conservative countries.
So now: why would you even think of wearing a travel skirt?
Lots of reasons!
Skirts are cool and allow the air to circulate around your legs better than travel pants (trousers, if you're from the UK).

Many women's travel skirts are made of sunblocking materials of SPF50 or more and will protect you from a burn.

They are often culturally appropriate for women traveling in conservative countries, especially a long travel skirt (best not above the knees or too tight if you're in a country where modesty is valued).

Skirts are flexible. If you choose the right skirt, you can wear it to travel during the day and to go out at night. Just shake it out, hang it up for a bit and throw it on.

They take up less space in your luggage than trousers do. You can usually roll them up or bunch them into a small ball when they're wrinkle-resistant, especially those with more lightweight fabrics.

Skirts are usually easier to care for than pants. Quick-dry skirts are made with modern fabrics that don't stay wet long, don't wrinkle, and wear forever without losing their shape.

Some skirts are reversible and can be adapted to become shorts or pants with a few snaps or clips.
Travel dresses and skirts can be the perfect travel clothes for conservative countries where women's pants aren't common.
Have I convinced you yet?
I traveled the length of Africa for a year wearing a skirt most days and it's the best item of clothing I could have taken along.
We all have our favorites. Mine was a wonderful model by Tilley Endurables. I could crush it or snag it but somehow it always looked fresh. It also dried quickly.
Of course, they don't make it anymore (isn't that always the case when something is great?) The only good news is that I've kept it so even if it's not made anymore, I still have mine.
How to choose the best travel skirt for your trip
You can find travel skirts in almost any style but there are a few characteristics you should look for.
A great travel skirt should have as many of the following characteristics as possible.
Lightweight. Lightweight skirts for travel are essentialIf you're traveling light, weight is of the essence. A big bulky skirt will weigh you down and take up valuable space in your ever-shrinking luggage. A great skirt for travel should be easy to pack.

Resistant to wrinkles. Ironing during a trip is not how you want to spend your time. I like cotton skirts for travel and love linen, but linen wrinkles too easily to pack – at least for me. If it's high summer I'll make an exception, especially if I have evening events to attend.

Quick-drying. If you're traveling constantly you'll need something that dries quickly, but if you're staying put this might not be an issue. When I was on the road as a foreign correspondent I changed locations almost every night and one thing I couldn't afford was a wet item of clothing.

Flattering. No, your skirt doesn't have to be gorgeous but it should at least be flattering – otherwise you won't wear it. And what's wrong with looking good?

Neutral in color. Depending on the kind of trip, color will matter. If you're mostly in the city, a black skirt can double as evening wear. If you're in the countryside or somewhere dusty, black is the last color you'll want. Better opt for gray, khaki or beige instead. Black and white show dirt the most.

Of appropriate length. Your height matters but so does the length of your skirt. In conservative countries you should choose long travel skirts over short. But the issue of comfort is also important and you need a length that is natural to you: for some women that's short, for others it's knee-length, and for others a comfortable length is a long one.

Practical. That's right – travel skirts with hidden pockets! Or not hidden… I can't live without them. A pocket with velcro is a bonus!

A comfortable waist. I prefer an elastic waistband because hours of travel can make your waistline chafe. If not elastic, at least comfortable.

Well-sewn. I have sensitive skin and even a bumpy seam or sharp zipper can bother me. I need the kind of comfort you can only get from something well-sewn, and sometimes that means I have to pay the price.

Versatile. If you're traveling light, you'll want to carry fewer items so a skirt that is reversible or adaptable to both day and evening wear is like gold.

Not too expensive. If you're a normal person who can wear clothes that don't rub and chafe then you'll find many travelers head to the nearest Walmart or similar discount store to get a cheap skirt they can easily replace when it wears out. Whenever I've done that I've wasted my money. Try handing your cheap skirt to a laundrywoman with powerful arms and it could fall apart on first wash. I prefer something…

Sturdy and long-lasting. A tough skirt won't let you down. You can wash it, wrinkle it, stain it, scrunch it and try to destroy it but it will continue to serve you faithfully.
Travel skirts are becoming increasingly popular items in women's travel clothing. Even if you're not accustomed to wearing skirts – I rarely wear them – travel is another story and they make perfect sense when you're on the road. Here are some of the favorite and best skirts for travel.
Much as I love to wear skirts for travel, sometimes you just can't. When you're hiking in the rainforest, for example, and the ground is rife with creepy crawlies. And when it's so hot your thighs chafe (if that's a problem for you use Body Glide – won't happen again).
Most times though? I wouldn't leave home without one.
— Originally published on 03 January 2011
PIN THESE PICTURES AND SAVE FOR LATER!