Paris may be the most visited city in the world but beyond France's capital, you'll find city after French city with so much charm and character you won't be able to tear yourself away.
Here are some fantastic recommendations by savvy writers who travel for a living - you can add these to your next south of France itinerary! France is an ideal country for solo female travel and every single one of these south of France cities is worth a visit.
The best time to visit south France cities – and the rest of France – is either in spring or autumn, although winter can be great in many southern France towns, especially if you want to climb up into the Alps for some skiing. Even if you don't, winter in the South can be quite sunny, the summer crowds will be gone and you'll have all these lovely towns virtually to yourself.
The region of Nouvelle Aquitaine
We'll start our journey in the Nouvelle-Aquitaine region in France's southwestern corner.
It's also France's largest region and home to Bordeaux wine country, the ceramics of Limoges, and the terrific foods and resorts of the Basque country nearest Spain.
Bordeaux, newfound glitter and glory
From Jennifer from Luxe Adventure Traveler: Of course, Bordeaux is known the world over for its famous wines, but the city itself has undergone a transformation. Once a shipping port, Bordeaux's grime-covered buildings earned the city the nickname "Sleeping Beauty."
But it's not just the lovely limestone that has been polished to glistening golden perfection again that makes this one of the chicest cities in south France to visit. With 347 listed buildings that span over 2000 years of history, Bordeaux is a beautiful city to stroll around.
There are also museums that cover everything from Bordeaux wine to modern art, urban adventure activities like stand-up paddle-boarding on the Garonne River to see sunken WWII ships and bike trails that lead to the Atlantic Ocean. Or, simply indulge in all the best French foods like foie gras and oysters from the South West.
Click here to book a hotel in Bordeaux
---
Saint-Emilion for wine tastings and history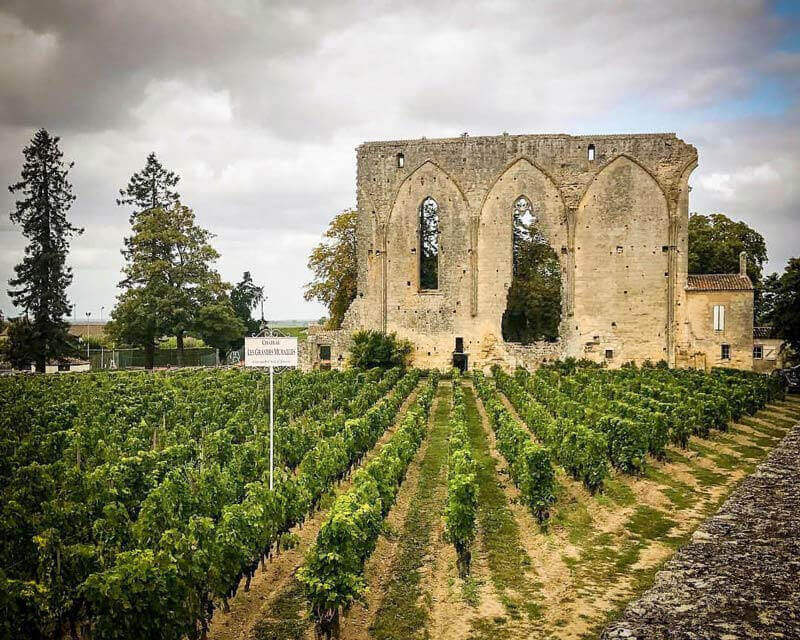 From Stephanie Craig of History Fangirl:  After staying in the bustling city of Bordeaux you could visit the charming town of Saint-Emilion, a complete delight. One of the bastions of Bordeaux wine, Saint-Emilion is chock full of chateaux where you can enjoy wine tastings (just make sure to call ahead).
There are also plenty of beautiful and interesting things to do in the town beyond wine culture. The walking tour, which leaves from the central square, touches on the important points in town history, including the origin story of their namesake saint.
The town's tourist office is extremely helpful. They have a list of chateaux that can book last-minute tastings, so if you show up without as many appointments as you'd like, head to the office as soon as you arrive and ask for their assistance.
Click here to book a hotel in Saint-Emilion
---
Le Bugue and its lovely local markets
From Tracey Kifford of Pack the PJs: Le Bugue is a beautiful small market town in the heart of the Dordogne and a perfect base from which to explore the UNESCO listed sites along the Vézère Valley – including the Lascaux Caves, the Grottes des Maxange, and La Roque Saint Christophe.
Another close-by 'must visit' should be the Maison Forte de Reignac. Had enough history? Then there's the Aquarium du Périgord Noir in Le Bugue. Or you could hire a canoe for half or a whole day and explore the river.
A wonderful time to be in Le Bugue is on Tuesday morning – Market Day! It's a beautiful market that starts by the river bridge and extends all the way up the main shopping street and around to the large (free) car park on Pré St Louis. The market sells mainly local produce – on a recent visit, strawberries were in abundance. The region is famous for its foie gras, which is readily available from several stalls.
After shopping the market, Pack the PJs suggests heading to Patisserie Caudet, on rue de la Republique. Weather permitting, sit outside, overlooking the river…. read a book, chill out for a while, and people watch!
Click here to book a hotel in Le Bugue
---
Sarlat, jewel of the Dordogne
From Gillian Denovan of Bucket List France: If you love the Dordogne, Sarlat is the jewel in its crown and a must on your Southern France itinerary and your French bucket list.
This beautifully preserved medieval town draws in thousands of visitors every year and you too will fall under its charm.
It is set around a beautiful square, Place de la Liberté, and has many winding, cobbled alleys leading from the square into the old town. Head there on a Saturday for the wonderful weekly market and marvel at the many stalls of local, fresh and seasonal produce. Be sure to include La Lanterne des Morts, Sarlat's Panoramic Lift, or the indoor market in the converted Church of Sainte-Marie.
Why not spoil yourself with an amazing meal at the award-winning restaurant, Le Présidial? Sarlat also hosts a number of special events throughout the year including a Truffle Festival, a Walnut festival, and a Goose Festival – a foodie's dream!
Click here to book a hotel in Sarlat
---
Pau, unsung but delightfully preserved
From James Cave of This Travel Guide: Situated in the Pyrénées-Atlantiques in Southern France, the small city of Pau is almost always overlooked in favor of nearby Toulouse and Biarritz. The reason is accessibility: unlike the other two, Pau's local airport has almost no international flights. While this is no doubt a bane for local hotels and other businesses, this inaccessibility has allowed Pau to remain unspoilt and incredibly rewarding for those who make the special journey to visit it.
Pau was once a winter destination for European aristocrats, and their presence led to the development of mainland Europe's first golf course, beautiful green areas like the Parc Beaumont, grand English-style mansions that dot tree-lined boulevards, and the Hippodrome de Pau racecourse. All of these amenities are incredibly majestic in design and, set against the backdrop of the nearby Pyrenees mountain range, make this an incredibly photogenic small city in southern France.
The relatively unknown Jurançon wine region lies just outside of Pau and produces high-quality wines (particularly dessert wines). Tours and tastings are available at many of the vineyards and are a fantastic opportunity to taste a wine you're unlikely to easily find again.
Click here to book a hotel in Pau
---
Biarritz, at the southwestern tip of France
The French Rivera might have gained its fame as the setting for Hollywood's poshest movie festival, but Hollywood also influenced another stretch of former fishing towns turned to chic beach getaways.
Biarritz, on France's Basque Coast, was a playground for royalty long before Hollywood discovered it. Made famous when Napoleon III and Empress Eugénie took up residence, then built their not at all modest summer palace, Biarritz had been attracting European royals and aristocrats since the 17th century.
But it was American screenwriter Peter Viertel who put Biarritz on the map in 1957 when he smuggled in his surfboard while filming The Sun Also Rises. Hemingway himself looked on as Viertel paddled out on his longboard and caught a wave on the Côte des Basques. From that day forward, glitzy casino goers and surfer dudes would come together to make Biarritz the jewel of France's Atlantic Coast and the surf capital of Europe. 
Click here to book a hotel in Biarritz
---
OCCITANIE REGION
Moving eastward from the Nouvelle Aquitaine is the region of Occitanie, the second-largest in mainland France and which has Toulouse as its capital. The bustling city contrasts with the warm, sunny beaches at the region's other end and the majestic Pyrenée mountains that separate Occitanie from Spain. From history to sand to food and wine, Occitanie seems to have it all.
Toulouse, the Pink City
From Shobha George of Just Go Places:  Toulouse, the region's capital, is known as the "ville rose" because of the local reddish-pink stone used to construct its buildings. Although it is the fourth largest city in France, Toulouse is off the beaten path for many tourists.
It has a small-town atmosphere and a sun-drench faded charm as well as two UNESCO world heritage sites (the Canal du Midi as well as the Basilica of St Sernin). You can people-watch in its main town plaza. go to the Opera, stroll the riverside path or hang out with the hipsters in the back street cafés. Toulouse is also a great connecting point for other parts of southwest France, with its own major airport and plentiful train connections.
Click here to book a hotel in Toulouse
---
Lourdes and its sacred history

From Raoul Pino of I Live to Travel:  Southwest of Toulouse, the town of Lourdes has been a major pilgrimage destination for Roman Catholics since the Virgin Mary appeared in a grotto to a local girl named Bernadette. It is a veritable meeting point for Catholics from around the world, both for the meaning of this apparition and for the healing waters from the spring of Lourdes (if you are Catholic do not miss the "pools"!). 
While it is an amazing place to visit for believers, Lourdes is equally worth a visit by non-Catholics. Seeing faith so visibly expressed by both the sick and their companions is simply moving, and the area known as the "Sanctuary" is impressive.
Several basilicas and minor churches sit along the local river and walking around, one can admire the architecture and the natural setting of the Sanctuary and the grotto itself. Climb to the top of the top basilica for great views!
Though the town is filled with souvenir shops, the old town is definitely worth exploring despite the crowds that come to pay their respects.
Click here to book a hotel in Lourdes
---
Cordes-sur-Ciel, dominating its surroundings
From Carolyn Schonafinger of Holidays to Europe:  Heading east we come upon the southern French town of Cordes-sur-Ciel, widely regarded as one of France's most beautiful and when you visit, you'll see why.  A hilltop town in the Tarn department, and just a short drive from Toulouse, Cordes is a beautifully preserved medieval town that oozes charm.
One of the first fortified towns of the region, Cordes prospered in the 13th and 14th centuries thanks to the weaving and leather industries. Today, 800 years later, the narrow, cobbled streets of Cordes are home to over 30 art galleries and artisan boutiques. One definitely worth a visit is Atelier de la Barbacane, where the owners sell their beautiful paintings and jewelry.
Central to Cordes is an impressive covered marketplace, a great place to enjoy a coffee and people-watch. Nearby, Place de la Bride offers stunning views over the surrounding countryside and really gives you a sense of why this location was chosen for the town.
However, the beauty of Cordes-sur-Ciel can be found in the back streets. Each corner uncovers another idyllic view – medieval gateways invite you to wander through, flowers spill from pots alongside half-timbered houses and tranquillity surrounds you.
Click here to book a hotel in Cordes sur Ciel
---
Albi, waiting to be discovered
From Fiona Maclean of London Unattached: Only half an hour's drive away, Albi in the Tarn is the city that tourism forgot. Despite being a UNESCO World Heritage Site, with a cathedral older than the Palais des Papes in Avignon, we found a quiet, unassuming place where the market was full of local foods for local people and where most people were just going about their daily business.
Yes, there were a few obvious UNESCO-list ticking visitors, along with a few more discovering the life of Toulouse Lautrec - the French painter and poster artist - who was born in the city.
Stay in Albi and you will find plenty to do, from river-watching to exploring the Cathedral, the surrounding gardens and the Toulouse Lautrec museum, which is housed inside the Palais de la Berbie, itself dating back to the Middle Ages and built for the town's Archbishop. 
Pork is a specialty – salt ham, sausages, black pudding and melsat (a type of white pudding made with meat, bread and eggs). There are cherries, local tommes of cheese and a particular kind of sweet and delicate pink garlic which comes from the nearby village of Lautrec but which you'll find in plentiful supply in the market.
Click here to book a hotel in Albi
---
Minerve and the Cathar siege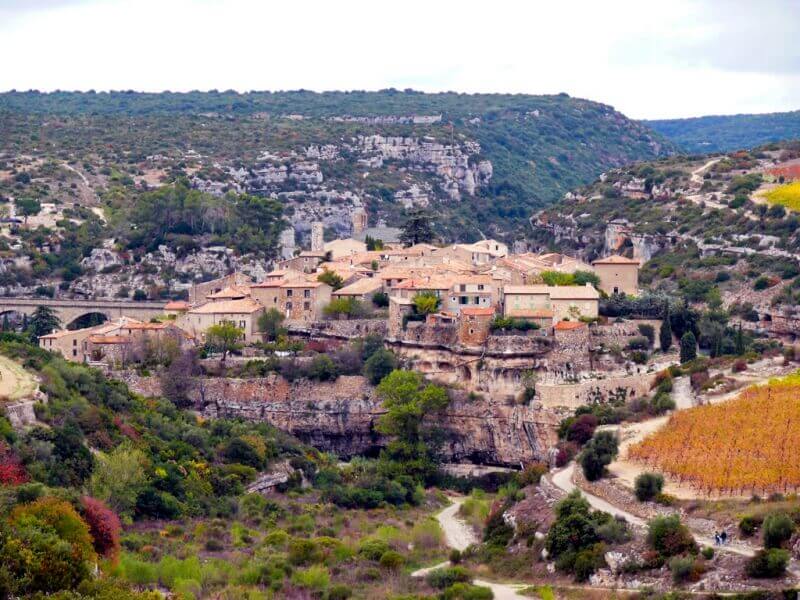 From Elisa Subirats of World in Paris: Continuing our sweep east we encounter the fortified village of Minerve, classified as one of the most beautiful villages in France, is a must-see in the Occitanie region.
But Minerve is best-known for one of the most ferocious sieges in the Middle Ages against the Cathars, a Christian sect established in the south of the country between the 12th and 14th centuries. In 1210, a group of Cathars escaped Béziers and found refuge in Minerve. It took the brutal Simon of Montfort six weeks of siege, after which the town surrendered and 140 Cathars were captured and burned at the stake.
Today, Minerve is visited both for its beauty and its Cathar past. Indeed, most of Minerve's sights are related to that terrible siege, like the reconstruction of a catapult used to fling rocks onto the walls of Minerve during the siege, or a Cathar cross commemorating the village's martyrs.
Minerve is also known for its wine, le Minervois, an AOC wine in the Languedoc-Roussillon wine region. The best way to explore Minerve and its surrounding area is by car as public transportation is scarce. Before your visit, I also suggest reading about the Cathars and the Pays Cathar.
Click here to book a hotel in Minerve
---
Collioure, cobblestones by the sea
From Gábor Kovács of Surfing the Planet: Collioure is a small town on the border between Spanish and French Catalonia. Although it belongs to France, its history is strongly connected to neighbouring Spain, and you can feel this double heritage while visiting Collioure. Antonio Machado, the famous Spanish poet, died here after escaping from Franco's terror during the Spanish Civil War, and many Spaniards still visit his tomb.
Nowadays, Collioure is a picturesque coastal town that gets very busy in summer, when tourists from both sides of the border come for an afternoon stroll to enjoy the town's gastronomy and artistic heritage.
The main sights to visit in Collioure are the beautiful Notre-Dame-des-Anges Church and the hilltop fortress of Château Royal de Collioure, which was held by several European royal families. A favourite thing to do in Collioure is getting lost amongst the narrow streets of Moré, the old fishermen's neighbourhood right on the coast. These cobbled streets are nicely decorated with flowers and other art objects. Here's a tip: don't miss out on trying a plate of anchovies in one of the local restaurants.
Click here to book a hotel in Collioure
---
Sète, there's something about you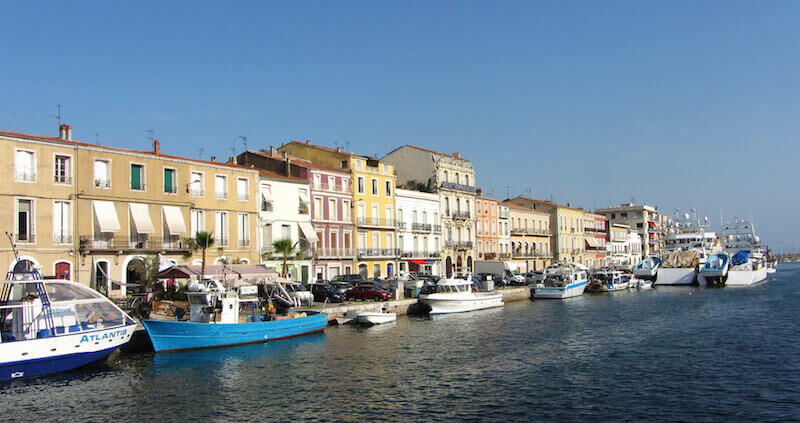 From Joanne Amos of The Wandering Wordsmith: The Étang du Thau, a saltwater lagoon, separates Sète from the Mediterranean coast. According to the Wandering Wordsmith, there's something about this charming port town…
Its setting is magical. The lower town is crisscrossed by canals, their banks lined with colourful fishing boats and restaurants serving succulent seafood. To the south, a 12-kilometre strip of wild Mediterranean beach separates the lagoon from the sea, its golden sands dotted with rustic cafés.
The main town encircles a low hill, Mont St Clair. It's a steep climb up, but worth every step; the view stretches from the canals of Sète along the lagoon and beaches to the distant Pyrenees.
There are no major attractions here, although the pageantry of the water jousting draws the summer crowds. But there's a distinctly bohemian vibe. The old fishermen's area, the Quartier Haut, is home to a number of artists, its streets adorned with colourful graffiti.
The annual Worldwide and Jazz festivals attract music lovers to the magical Théâtre de la Mer, a suitable destination after a stop at Les Halles to slurp a plate of fresh oysters…
Click here to book a hotel in Sète
---
Montpellier, laid back and relaxed
From Michael Gerber: Montpellier is a lovely city only 10 kilometers from the Mediterranean Sea. It is not as well-known as nearby Nice – and maybe not as fancy but every bit as enjoyable.
First of all, it is a perfect location to relax. The beaches are quiet and beautiful, and easily reachable with public transportation. There are plenty of flowered parks if you're looking for some downtime to perhaps read a book or spend some time relaxing or sample some of the delicacies.
The Place de la Comédie in the city center is especially delightful at night, with its cozy bars and restaurants to spend a great evening. A perfect half-day trip from Montpellier is the Chateau de Flaguergues, which consists of an old castle and an absolutely stunning garden.
Click here to book a hotel in Montpellier
---
Aigues-Mortes: take a walk along the walls
From Terry and Maura McKenna:  If you're looking for a day trip from Marseille or Montpellier, the TravelKiwis suggest the fortified town of Aigues-Mortes. Set on the salt plains of Petite Camargue, Aigues-Mortes has wonderfully preserved medieval walls: the first tower, Tour Matafère - built for defensive or religious purposes - was erected in 791, and in 1240, Louis IX began construction of the town itself, which took some 30 years to build. In 1272, King Philip the Bold, King Louis' successor, decreed that the town should be surrounded by ramparts - which took another 30 years to build.
Any visit to Aigues-Mortes should include a walk along the medieval walls, for which you should allow at least two hours. Why? First, there are fabulous views over the salt plains, and yes, they are pink. Second, each tower tells part of the history of Aigues-Mortes and gives an overview of how life was in its early centuries. Third, to explore the Tour de Constance (Constance Tower), built on the remains of the original Tour Matafère. It commemorates the imprisonment of Protestant women, including Marie Durand, who was held in the tower for 38 years.
When you walk along the ramparts, notice the streets within the walls. They are all linear, making it hard to get lost when wandering. An ideal place to wind down after walking the walls is at a table in the main square of Place Saint Louis. Enjoy a glass of rosé wine and some wonderful French cuisine while taking in the view of the Saint Louis fountain.
Click here to book a hotel in Aigues-Mortes
---
Nîmes, the Rome of France
From Nadine Maffre of Le Long Weekend:  Ancient Nîmes is by far one of the most attractive south of France cities and should be on every southern France itinerary. Known as the "Rome of France" it's home to some of France's and the world's best-preserved Roman monuments. Some of these monuments appear almost surreal against the city backdrop, such as the Maison Carrée, which sits in stark contrast to the ultra-modern Carré d'Art (contemporary art museum) next to it. And the Roman amphitheater which is tucked behind streets lined with restaurants and bars. 
My favorite part of this intriguing city is the Jardins de la Fontaine – among the first public gardens in Europe, this is a park like no other. Built to incorporate large ponds and island gardens, it feels like you've been transported to another world. The Roman theme runs strong here too and you can picnic on grand lawns or explore the Temple de Diane, before heading up the terraced hill for the best views in the city.
Tip – If you climb up the hill behind the Nîmes you will reach the Magne Tower – the last trace of emperor Augustus' rule.
Click here to book a hotel in Nimes
---
THE REGION OF PROVENCE-ALPES-CÔTE D'AZUR (PACA)
The cobbled-together name of this region approximately covers what used to be known as Provence and includes the territory that stretches from the Southern Alps to the so-called Riviera. Its capital, Marseille, is followed closely in size by Nice, and the region is popular with visitors from around the world, who gather here for sunshine, of course, but also for the picturesque towns of its interior.
Avignon, France's most famous bridge?
From Faye Haines at Delve into Europe: One of the largest southern French cities, Avignon is also among its most beautiful. It is best known for its famous bridge, the Pont St Bénézet, the remnants of a bridge that once spanned the river Rhône. Only four of its 22 arches survive, the rest having collapsed into the river by the 17th century.
The bridge is the setting of a medieval song, "Sur le Pont d'Avignon", about people dancing on the bridge (and one of the first songs any French child learns). Something was lost in translation somewhere down the line as the original lyric was 'sous le pont' rather than 'sur' – so the dancing was meant to take place under the bridge, not on it.
The view of the bridge with the cathedral, Notre Dame des Doms, and the Palais des Papes (Popes' Palace), is one of the highlights of a visit to Avignon, and is a 20-minute walk across the river from the city center. As you cross the bridge, you can also see Mont Ventoux, the highest mountain in the region.
According to Delve Into Europe, one of the less obvious highlights of Avignon is hidden away back across the river and has remnants of a very different side to Avignon's past. The Rue des Teinturiers is a lovely cobbled street running alongside the narrow Sorgue River, named after the dyers that plied their trade there for hundreds of years. Four waterwheels remain from this era, and it's now one of the best places in the city to sit and eat outside, especially during the balmy spring and summer months.
Click here to book a room in Avignon
---
Arles, from Romans to van Gogh
From Chris Román of Explore Now or Never:  Not far from Avignon, Arles feels a little more "workaday" France than its more polished neighbor and so offers travelers an experience that feels authentic and true. In fact, it was the light in Arles that first drew Vincent van Gogh here for his most productive time as an artist. He pained 189 paintings in just 15 months here!
You can see the light that inspired van Gogh for yourself as you sip a glass of wine while the sun sets on Arles' incredible Roman amphitheater, a UNESCO world heritage site. Take a few moments to scan the skyline and then imagine 20,000 Roman citizens filing into the amphitheater to watch the spectacle of a bloody Gladiator battle.
Then meander over to Chardon (reserve ahead) for a spectacular meal focused on fresh local bounty prepared by this tiny restaurant's current chef-in-residence. We had our most memorable meal in France here, multiple courses with a total bill for two at just 70 euros.
Click here to book a hotel in Arles
---
Saint-Rémy-de-Provence: end of the art trail
From Punita Malhotra of 100 Cobbled Roads:  Speaking of Van Gogh, if you're a diehard fan, the art trail in South Provence is for you. Start at Arles and finish in the town of Saint-Rémy. 
The highlight of Saint-Rémy is not in the town itself but in the Saint Paul of Mausole Monastery, located on the town's outskirts. This monastery housed the psychiatric establishment where the famous painter lived for a year before he died. An astounding 146 of his oil paintings and 150 of his drawings came to life here, including art pieces of his favourite wheat fields.
Look for copies of some of his works all over the hospital complex and try comparing them with the real scenes you see around you. Spend a few moments of solitude in the modest bedroom where his cot still lies, next to a window with iron grills. The austerity and solemnity of the room are overwhelming. What a brilliant life and what a sad end!
Click here to book a hotel in Saint-Remy
---
Roussillon – a swirl of colors
From Rashmi & Chalukya of Go Beyond Bounds: A little further inland, in the Lubéron, Roussillon is less than an hour's drive from Avignon and is known for rich deposits of ochre, the natural pigment that has been used since prehistoric times. The deposits, in a wide range of reds and yellows, are found in the magnificent cliffs surrounding Roussillon.
A top thing to do in Roussillon is to wander through the narrow alleys and explore the buildings, shops and even churches painted in different shades of ochre. Another interesting activity is to hike through one of the walking trails and explore the cliffs with ochre deposits. The hike is of medium difficulty but if you do not want to cover the complete trail you can just walk around the cliffs next to town. You'll find plenty of information about the origins and use of ochre along the way.
Worth tasting during your visit to Roussillon is lavender-flavoured gelato, which I tasted for the first time. Or buy colours in the local paint shop to take home. Once in Provence, you'll need to explore Provence's lavender fields…
Click here to book a hotel in Roussillon
---
Antibes, sand under my feet
From Brenda Tolentino of Dish Our Town:  As the train pulls into the town of Antibes, you'll notice the coastline is different from nearby towns along Cote d'Azur: your first impression may be of a sand beach, as opposed to the region's ubiquitous rocks. 
Along with the seductive red sands is what you might consider the most enchanting town on the coast. It is filled with shops that tempt both the pocket and the stomach and is rustic in the best sense of the word and posh in its sensibility.
Walking through the center, where there are countless outdoor eateries, you might feel part of a Peter Mayle book. There are markets by day, showcasing fruit and vegetables that are the earth's pieces of art. These same markets get dismantled at night, replaced by tables and chairs set out by the surrounding eateries. Though the businesses are independent, the place feels like one big restaurant, highly recommended for good food at affordable prices. 
There are sites to be visited, highlighted by the Picasso Museum, formerly the Chateau Grimaldi, one of the most beautiful structures overlooking the blue waters.
Grab a sheet and towel, sit toward the end, opposite the private area which draws so many tourists (not worth paying for) and take in the sun, and the locals. And if you're lucky, the food truck will be parked near you, doling out the best Salade Niçoise you'll find in these parts.
Click here to book a hotel in Antibes
---
Biot – history, glass and art
From Carol Perehudoff of Wandering Carol: Just four kilometres from the Mediterranean is the medieval hilltop town of Biot, an appealing destination on the Cote d'Azur. Located between Nice and Cannes, Biot is known for its glassmaking artisans and famous 'bubble' glass, as well as its spacious museum devoted to the Cubist artist Fernand Léger.
Travelers should aim for the Place aux Arcades, a pleasant square with graceful arcades that date back to the 13th century. Now an atmospheric place to stroll or stop for a café crème, it was once a base for the Knights Templar. Before that, the town was a haven for pirates and even earlier, it was a Roman settlement.
Less crowded than many towns in the south of France along the French Riviera, Biot makes a great day trip for history and art lovers, while souvenir hunters can check out the stunning handmade glass at Verrerie de Biot.
Click here to book a hotel in Biot
---
Nice – did you say ice cream?
From Veronika Primm of Travel Geekery:  Heading east along the Mediterranean coast, Nice offers itself as an ideal base for day trips to French Riviera. However, the city itself has a lot to offer. Old Town charm is almost taken for granted in this part of France, but in Nice it combines with the feel of a modern metropolis.
One of the most relaxing things to do in Nice is just to stroll along the Promenade des Anglais. It runs by the beachfront and if you come here for a walk on a Sunday, you can expect lots of local families, bikers, and rollerbladers. If you feel up for a challenge, you can walk the whole length – it's seven kilometers long!
Nice also features a Michelin 2-star restaurant called Chantecler in the Negresco Hotel. It's considered uber-luxurious by the locals – a friend of mine from Nice thought they had a diamond chandelier! (Side note – it's actually made of crystal.)
When in Nice in summer, you shouldn't leave out the ice cream! But beware, there's a difference between Pinocchio and Fenocchio ice cream parlours. While Pinocchio feels more traditional and Fenocchio has wilder tastes, locals favour Fenocchio. The rivalry is best visible at Place Rossetti.
Click here to book a hotel in Nice
---
Menton, far from the crowds
From Noel Morata: The final French southern town on our itinerary is Menton, one of those parts of the French Mediterranean that for some reason gets overlooked compared to its famous neighbours Nice and Cannes. But the best thing about visiting this coastal city is that you'll avoid the masses of tourists and have a unique and wonderful crowd-free time instead.
Menton is the last town on the French side before the Côte d'Azur becomes Italy. According to Travel Photo Discovery, what you'll find in this charming town are beautiful pastel Mediterranean colours with Belle Epoque architecture, uncrowded promenades and waterfront, clean beaches and fantastic restaurants and cafés with delicious regional cuisine.
Surprisingly for a town frequented by few tourists, there are several Michelin-star restaurants - people here know about feasting on the amazing regional and popular farm-to-table type of cuisine the area is known for, without the exorbitant prices of its popular neighbours.
Click here to book a hotel in Menton
---
If you enjoyed this post, please share it with your friends who love France, and visit my other site, Offbeat France!
And you won't forget your travel insurance, right? I use SafetyWing whenever I travel and recommend it if you're under 66 (70 in some countries). If that birthday has come and gone, click here for travel insurance recommendations that cover you at any age.
To tour Southern France by car, here are some deep discounts for car rentals.
PIN THESE PICTURES AND SAVE FOR LATER!