Home :: About Leyla
About Leyla...
My name is Leyla and I'm a nomad - at least in spirit, because wherever I am, I usually want to be somewhere else! 
PLEASE NOTE: Every effort is made to keep articles up to date but the changing coronavirus situation has made it impossible to provide information about the pandemic or travel restrictions. You'll find updated information from the CDC about travel conditions by country but please check all appropriate sources before you travel as situations can change in minutes. 
On the Quetzal Trail in Panama. I'm not at my most athletic
It started many generations before me - rumor in our family had it we could trace our ancestry back to Genghis Khan (and we know how much he moved around). 
My maternal grandfather was one of seven brothers who emigrated from France in the late 19th century, each to a different country - Brazil, Australia, Canada, the USA, England, Greece and Egypt (that's my branch of the family).
My upbringing was no more sedentary. I was born in France (and left at the age of five weeks), and grew up in Canada, Spain and the Middle East. I rarely stayed long enough in a country - my engineer father made sure of that - to finish a school year.
I took my first solo trip (without my parents' permission) from Spain to Morocco when I was 15 - I still remember sitting in a café by the sea sipping mint tea, watching the ships come in, and feeling as though I owned the world.
Here I am again in Morocco, some 45 years after that original trip. I'm trying out a selfie, without great success, I might add!
I became a journalist, a foreign correspondent, following stories across borders with the occasional sedentary stretch, soon interrupted by yet another travel obsession. I moved from Madrid to Montreal to Geneva to Bangkok, a serial expat. I now live in rural Eastern France, the first time I live in the country of my birth.

A few years ago I left a long-term job with prospects and a relationship (without prospects) to cross Africa as a foreign correspondent for the now defunct Earth Times. I had planned to travel six months - I was gone over three years, with my backpack and one of those first-generation laptops that drew stares wherever I went.
The result? Africa (12 countries), Asia (9 countries), Cuba, and the Baltic States.
I wrote about development, about HIV/AIDS, poverty, war, women's rights. I care deeply about these issues and eventually joined an international development agency, from where I retired in May 2015.
Whether you're dreaming about travel, on the road or living abroad as an expat, Women on the Road will inspire and inform your travels with ethical, practical and fun advice. 
Over the years I somehow managed to get lost in a Mozambican minefield, paddle my way out of a Philippine flood, get shot at in Beirut and survive an elephant cow stampede in Nigeria - so I've learned the art of taking care of myself on the road or in any foreign city.
What I share with you here is first-hand experience, sometimes learned the hard way, but always rewarding.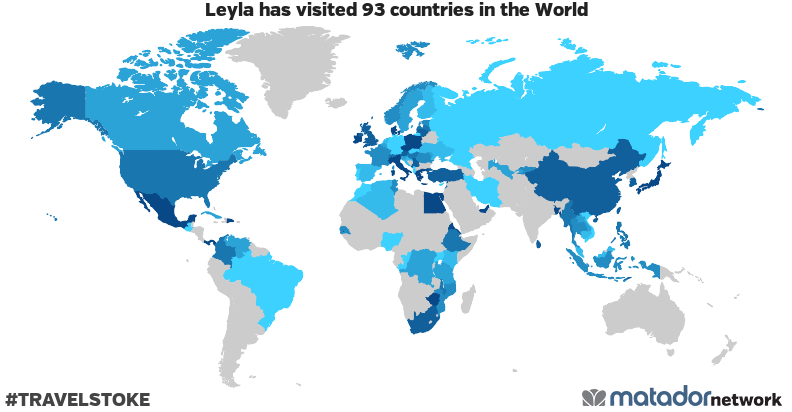 Yet despite my ancestry I'm not the most likely traveler at all.
As life goes on (I'm on the 'other' side of 60) I still marvel at seeing the world: I get motion sick on most transport, I can't swim (I've almost drowned before) and I have vertigo so I tend to close my eyes in the mountains (not recommended). Yet I spend a great part of my life on moving vehicles, I love to kayak and you can often find me in high places.
This website, Women on the Road, is here to help you travel, whatever your fears. Whether it's to plan a trip, discover the world or live abroad, this is where we can have conversations about how women travel differently than men and why, like it or not, it's less safe for us out there. It shouldn't have to be that way.
If I can inspire women to travel independently, strongly, proudly and safely, that closes the gap a bit. The more of us get out there and claim the world, the more we assert our right to do so. 
Please join me and 10,000+ other subscribers for free updates every Tuesday, right in your Inbox.
(and I'll make sure to send you the List of 9 indispensable items I always take with me when I travel) 
---