Writing about best ladies underwear for travel isn't necessarily my first choice for a topic but let's face it: it's an important one that can make or break your trip.
Sound a bit excessive?
Think about it. If your outer clothes are uncomfortable, you can stop and change. It's a bit harder with what you're wearing under your clothes – privacy isn't always available. Whatever has happened to that underwear will have to wait until you get back to your room.
Yes, of course you can wear your regular underwear when you travel and that's fine for walking around the city. But if you're going hiking or plan to do anything more strenuous than stalking the Mona Lisa, purchasing the best travel underwear for women makes perfect sense.
Many ladies travel underwear choices offer things like light, practical and washable options, all of which make a huge difference in packing and traveling!
So let's look at what is travel underwear, why you need it, examples of different kinds (depending on your travel style and body), and I'll provide some travel underwear reviews to help you feel confident in picking the best panties for travel.
Comparison chart: top women's travel underwear
| Name | Image | Material | Style | Details | Buy |
| --- | --- | --- | --- | --- | --- |
| Patagonia Women's Active Hipster | | Synthetic | Hipster (low ride) | Wide lay-flat band, so comfortable. Fast drying odor free underwear, moisture-wicking and Polygiene® permanent odor control. Also available in brief style for more tummy control. | Buy Now! |
| Boody Body EcoWear Women's Boyleg Briefs | | 80% rayon made from bamboo, 13% nylon, 7% spandex | Boyshort | These boyleg briefs come with mid-rise coverage and a large waistband to prevent rolling and binding. They size small and are moisture-wicking, breathable underwear for women and feel silky soft. Static repellent (if you're wearing a skirt) but are not quick-drying women's underwear. Bamboo is organically grown. | Buy Now! |
| Icebreaker Merino Sprite Hot Pants | | Nylon, Merino wool | Boyshort | Nylon fibers wrapped in (soft) merino wool. Lining creates a fast-drying women's underwear and has elastic in leg hem, so no rolling up or bunching. Lots of bright colors and fun stripes. | Buy Now! |
| ExOfficio Women's Give-and-Go Bikini Briefs | | 94% Nylon 6% Lycra Spandex | Bikini or full-cut briefs | Incredibly breathable and fast-drying (outdoors - but may shrink in dryer). No bunching, riding up or chafing. Moisture-wicking material - and no panty lines. | Buy Now! |
| Tilley TU10 Travel Briefs | | 100% polyester | Brief | My brand of choice for the best travel panties. Expensive, but my two pairs lasted across Africa for a year. Dry incredibly quickly, super lightweight and non-sweat. Not exactly sexy, mind you. | Buy Now! |
| Balanced Tech Women's 3 Pack | | 92%Nylon, 8%Elastane | Hipster brief bikini | Great comfort because of seamless construction and 4-way stretch material. No seam and no tags means no chafing. Made to subdue panty lines. Dry quickly and resistant to odors. Moisture wicking. | Buy Now! |
| Warm Sun Women's Bamboo Viscose Fiber | | 95% Bamboo Viscose Fiber and 5% Spandex | Mid-waist | Multiple colors and sizes, full front and rear coverage with 2" wide band in front. Plenty of stretch and soft to the touch. Breathable, lightweigh and eco-friendly. | Buy Now! |
| Fruit of the Loom Women's Underwear | | 94% Polyester, 6% Spandex, 100% Cotton liner | Bikini | Breathable and cool, super comfortable, especially the waistband. Moisture wicking, no tags and micro-mesh promotes breathability. No seam, no panty lines. Perfect for active women. | Buy Now! |
Best women's travel underwear: here's the skinny!
All the above travel panties are good travel buys and it's hard to make a decision, so I've highlighted some of these pairs for you here – those I consider to be some of the best underwear for travelling.
Boody Body EcoWear Women's Boyleg Briefs
For travellers who prefer boyshort coverage AND natural fibers, consider these. Although they do include nylon and spandex, these are primarily made from organically-grown bamboo (a sustainable plant fiber). The price is less than half the cost of ExOfficio panties, making them easier on your pocket book. They only come in basic "boring" colors, and hit mid-rise height (just above the hips). They do tend to run small, so give yourself some breathing room to prevent chafing or binding. If synthetic materials tend to irritate you, try these instead. The biggest drawback? Like my favorite cotton panties, they just don't dry as quickly as purely-synthetic products.

PROS: Made from natural fibers (bamboo) | Comfortable silk travel underwear feel | Inexpensive | Breathable | Good for sensitive skin

CONS: Run small | Limited color choices | Not quick-drying
Prices pulled from the Amazon Product Advertising API on:
Product prices and availability are accurate as of the date/time indicated and are subject to change. Any price and availability information displayed on [relevant Amazon Site(s), as applicable] at the time of purchase will apply to the purchase of this product.
Tilley TU10 Travel Briefs
We all have our favorite travel underwear - and Tilley is mine. I used an earlier Coolmax model (which I dont think is available anymore but these are very similar) on my one-year cross-Africa trip and I had two pairs. They both withstood constant washing - I washed one pair every night, so thats about 170 washes in a year per pair. They kept their shape, unbelievably! Most important when youre constantly on the go is that they dry very quickly - overnight indoors for sure, but after a few hours in a draft. When youre packing and unpacking daily, as I was, this is an irreplaceable advantage. These keep you cool and fresh, too, even in the hottest African tropical weather. Heading for a long trip but need to travel light? Get two of these.

PROS: Keep their shape | Breathable | Very quick-drying panties | Lightweight | Anti-bacterial fabric | Moisture-wicking

CONS: Expensive | Not particularly attractive
Prices pulled from the Amazon Product Advertising API on:
Product prices and availability are accurate as of the date/time indicated and are subject to change. Any price and availability information displayed on [relevant Amazon Site(s), as applicable] at the time of purchase will apply to the purchase of this product.
Best women's underwear for travel: how to tell your briefs from your thongs
First things first: when you choose women's travel underwear, consider the style.
Brands like ExOfficio offer panties made from the same moisture-wicking, odor-controlling material, but with different levels of coverage. Which one is right for you? Check out this list to learn more.
NOTE: Definitions often vary by country/region, and there is always some overlap between styles depending on the manufacturer. This is a quick guide, but read reviews to learn more about how a particular pair tends to fit.
Classic/Full-Cut Brief
These are probably what you imagine when someone says "underwear" (or pants, panties, undies or whatever you call them). Often referred to as "granny panties," these fully cover your bottom (and front) and depending on the pair, the band sits well above your hips or even above the belly button. Classic and comfortable, these are almost always a sensible option. They'll take up more space in your bag, but that's about the only travel-related downside.
Click here for Amazon's Best Selling Ful Cut Brief Travel Panty
High-Cut Brief
Like the classic brief, these provide full bottom coverage and rise up on the stomach, but the leg openings are cut higher towards the waistband. This reveals more skin in the front, while keeping full coverage in the back.
Click here to read more reviews
Hipster
As the name implies, these are briefs that sit at hip-level. You still get medium back/bottom coverage, but with less fabric up around your midsection. These are a great choice if you prefer low-rise trousers, or if standard briefs tend to cut into your tummy. They still offer enough coverage to keep your comfortable during a hike, but will also save space overall.
See Amazon's Choice for Best Hipster Travel Underwear
Bikini
Essentially a hipster with a narrower waistband. Again, great for anyone who wears low-rise pants or simply dislikes extra fabric around their middle. These are probably the best compromise between comfort and space-saving.
See Amazon's Choice For Best Bikini Travel Underwear
Boyshort
Because only men can wear shorts? Despite the sexist name, these women's underwear closely resemble men's boxer briefs. The fabric is skin-tight like normal panties, but these look more like shorts rather than bikini bottoms. Most sit on or below your hips, and many women love the full bottom coverage, while others dislike that the legs sometimes ride, roll or bunch. They'll take up more space in your bag, but otherwise they make great undergarments.
Click here to see the Best Women's Underwear on Amazon for Boyshorts
Cheeky
Not to be crass, but these are bikini panties that show off a lot more cheek! They aren't as revealing as a thong, and offer more coverage to your undercarriage. Women often wear these under jeans or trousers because you're less likely to see panty lines, but you still feel like you're wearing underwear. They save space, for sure, just make sure they stay put and don't leave you with a wedgie!
(Another name for this style is the "tanga": Although some manufacturers consider these to be two different styles of underwear, others use the terms interchangeably. If anything, the tanga provides even less coverage than the cheeky.)
See Different Cheeky Style Travel Underwear Here
Thong
These come in various degrees of tinyness, but the central marker of a thong is frontal coverage and an exposed rear. Some thongs have wider waistbands than others, and those connected with just a string are called g-strings. While these will certainly save space in your bag, I wouldn't bet on them for comfort. And, you can't wick away moisture with so little fabric.
Click Here For Amazon's Best Thongs For Travel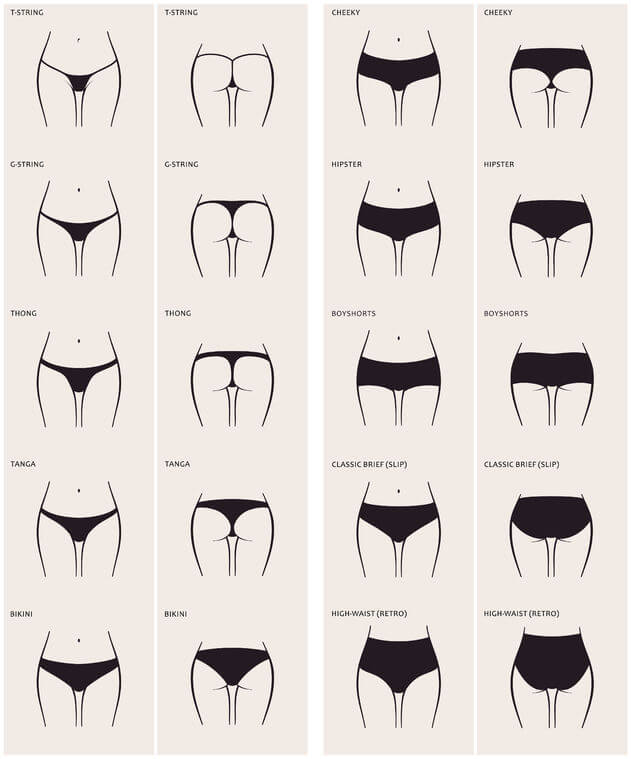 Women's disposable underwear
One more thing: on a very short trip, women's disposable underwear for travel might be worth considering. You can actually wash some of the models once or twice so they're not one-time wear only (the environment thanks you).
The following are reputable and well-liked:
What to look for in travel undies
Not all travel underwear are alike, so here's what you should look for.
Best quick-dry women's underwear: When you're traveling, the last thing you want to cart around is soggy underwear so yes, quick dry women's underwear is a good idea. Women's underwear that dries quickly is made of modern synthetics that are so performing you can wash and wring your undies after dinner and wear them again for breakfast. (I personally prefer cotton for comfort but sadly they take too long to dry.)
Click here for the best women's quick dry travel underwear
Comfort: If it's hot you certainly don't want the elastics to pinch and chafe, around your thighs or your waist. (Plus ill-fitting undies can be bad for your health!)
Click here for the best women's underwear for hot weather
Form: Make sure those elastics are sturdy and last as long as your trips. Saggy elastics are just as uncomfortable as tightly gripping ones. The elastic should last at least as long as your trip!
Fibers: You'll probably want something that breathes – and most modern fabrics do, while wicking sweat from your body and keeping you comfortably cool. Some panties have anti-microbial properties, useful when you can't change as often as you'd like. Wicking properties are important to control sweating.
Colors: A pair that matches your skin tone is the most versatile and reduces the risk of visibility through light fabrics. You can of course spring for something red or fuschia or anything under the sun – just avoid packing white pants.
Style: Boyshort, thongs, bikini, hipster, brief? This comes down to personal preference, and there's no "right" answer. Boyshorts and full-cut briefs take up the most space, while thongs and bikinis can fit almost anywhere. But don't pack tiny underwear just to leave more room in your bag: you'll regret it a million times if they aren't comfortable.
Easy to wash: It's hard to tell before you actually try to wash a pair because a lot depends on the soap you use or the hardness of water but yes, when you travel, your undies should wash with ease.
In addition to the bottom − known as underpants, panties or travel knickers, depending on the country − there's also a top called a camisole or vest (you'll find several on this page). The best camisoles for travel are made of wicking material and mostly used in colder weather.
When I travel, I sometimes take along a camisole (if I'm heading into the cold) and 2-3 pairs of travel women's underwear: two if I plan to wash a pair every night, three if I'm feeling a bit lazy. If I'm washing a pair each night, you can see how important it is that they dry quickly!
I bet you thought it was a lot easier to choose the best travel undies!
— Originally published on 03 January 2011
PIN THESE PICTURES AND SAVE FOR LATER!