Home :: Travel Destinations :: My Top 10 Travel Destinations

My Top 10 Travel Destinations for Women (entirely subjective, of course)
Coming up with any top 10 is a tricky job. There is NO SUCH THING as a top 10 and trying to identify them is futile. But what I can do is pick my own top 10 travel destinations for women - can't argue with that, right?
So yes, this list is utterly subjective but I have established a few criteria. Not overly scientific, but... rules.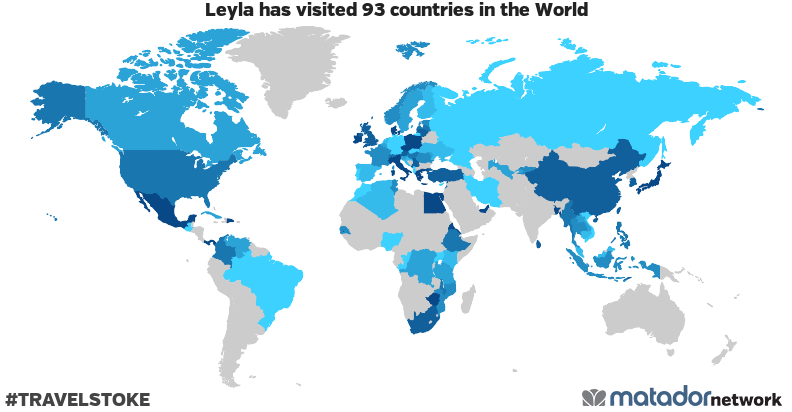 So what are those rules, you ask?

I've been there in person. Of course. Either solo, or if I visited with others I wouldn't hesitate to return alone.
It's safe enough, as in "I can walk around looking for supper on my own without getting mugged."
I feel welcome as a woman (although age has a lot to do with it).
I'd be happy to stay for a week or more. (And in a number of cases, I did.)
The food is good.
It's easy on the senses - beautiful, great music, fine art or pungent flowers...
It didn't ruin my budget. At least not permanently.
It has a certain je-ne-sais-quoi, a feeling, something that draws me back...
Your top 10 destinations will be different from mine. As you are different from me.
---
Vilanculos (Mozambique)
Bjørn Christian Tørrissen GFDL via Wikimedia Commons
I visited this coastal area of Mozambique in 1996 and I can't shake this place. It's not so much the town of Vilanculos but the Bazaruto Islands off its coast. I was first turned on to this region by James Michener's The Drifters many years ago and the islands are dream-worthy: miles of untouched sand and you'll feel you're the first person to ever crush those grains. Wade into limpid warm waters, watch fluorescent fish nibble your toes, sail colorful dhows and experience extraordinary sunsets while munching barbecued fish on the beach... I think I'm getting carried away. 
---
Fez (Morocco)

I've chosen Fez but I could equally have chosen Marrakesh or the Sahara. Morocco is a country I never tire of, made up of one part exotic, one part hospitable and one part 1001 Arabian nights. This is a place for all the senses to shift into overdrive. The softness of the leather calls upon your sense of touch, while the rancid smell of dye vats reminds you of how difficult life can be for those working here. I've traveled here solo half a dozen times (here's some more on travel to Morocco) and this place always touches me.

---
Annecy (France)

I'm biased because Annecy in Eastern France is in my backyard,. This is the city where I shop, one of many French cities worthy of their own postcards. It's at least as safe as any medium-sized French city and I wander around on my own all over. The pluses: local cheese specialties, old town arcades, winding canals, a spectacular lakefront, plenty of outdoor excitement, and a monthly antiques market, a bit expensive but great for gazing. Top it all with a glorious ring of mountains and some of the best food in France (which means the world). In all honesty, this city was a toss-up with Lyon, my other favourite French city.

---
Barcelona (Spain)
Has this become everyone's favorite city? It seems to top every list and I can understand why: glorious location on the coast, sublime seafood, divine food markets and cooking schools, and art - Gaudi, Dali and Miro are just a few of the famous names linked to the autonomous province of Catalonia, not to mention the spontaneous bursts of art throughout the city, like here in the Born district, or the proliferation of street art everywhere you turn. Just hang on to your wallets though - it's pickpocket heaven but otherwise safe. (Sometimes I'm torn though - I was brought up in Madrid and it holds my heart, especially the Old Town.)

---
Havana (Cuba)
Possibly the fastest-changing city in the world but Havana still remains mysterious after years nearly off-limits (at least legally) to millions of Americans. As a Canadian, I stayed for a couple of months and lost myself in the style and friendliness of the people, the energizing music and the living, breathing history that permeates every street corner. Things are changing fast and you may find some, like these 1950s cars, won't be around much longer. (Photo Annabel Haslop)

---
Istanbul (Turkey)
There's a timeless feel about Istanbul, a soft sense of millennia gone by, sometimes at odds with its present hustle. In the souks life goes on as it always has yet the city is at ease in the 21st century. Turkish food, of course, leads me astray but I love the art of haggling and the flashbacks of the Ottoman Empire, when this city - then known as Constantinople - ruled a large part of the world. And the coffee, oh, the coffee...

---
Kyrgyzstan
A few months ago I spent three weeks in Kyrgyzstan on my own - and it is one of the countries I would return to instantly. I rarely encountered so much friendliness, and felt incredibly safe throughout. The country is mountainous and dirt roads will take you along impossibly scenic routes along which you'll hardly meet anyone. The pinnacle of a journey to Kyrgyzstan is a climb to lake Song Kul, whose high-altitude beauty is best enjoyed riding on the back of a horse.
---
Sabah (Malaysian Borneo)
For years I had dreamed of Borneo and lush rainforests and dense wildlife and when I finally visited, it all came true. The extraordinary sunsets over the South China Sea, the transparent waters and fine sands, the innumerable species sitting within arm's reach - everything a nature lover could wish for and more. Sabah is only one province on the island of Borneo - Sarawak is the other Malaysian province. The rest of the island belongs to Indonesia and is even wilder. This little fella just wandered over to say Hi - and then moved on.

---
Stresa (Italy)
If you love history, Italy, old stones, manicured gardens and villages where time stands still, visit the Italian lakes if you're ever in Milan (it's only a half-hour train ride away). Jump on a boat and take a tour of the Borromean Islands - a bit kitchy, but... I spent part of my childhood and youth around here so let's just call it... sentimental value. You'll be chatting away with passengers on the ferries all day! 

---
Montreal (Canada)
Montreal will always hold a place in my heart. I lived here for a year or two as a child, and I returned to attend university. This photograph looks down on Montreal from Mount Royal, the city's main hill (amusingly called 'the mountain'). I attended McGill University, ate my way through the city's smoked meat, trudged through its winter slush and took my first professional steps in journalism at the Canadian Broadcasting Corporation here. If it weren't for the cold in winter, I might still be living there...

---
Ella (Sri Lanka)
Have you been keeping count? If you have, you'll notice I'm now up to 11 favorite places. It's not that I can't count - it's that I've just returned from Sri Lanka and have a new top destination. And I can't bear to delete one so... here you are, 11 instead of 10. And look at this view: it's what I woke up to in the mountains above Ella, in Sri Lanka's hill country. Surely I couldn't leave this out?
---
Hello! Some of the links on this page are affiliate links. If you use them to buy something, you don't pay more - but this website earns a small commission, which helps pay the bills, so thank you!