What are some of the most interesting and fun things to do in Hanoi?
I certainly hadn't planned on falling in love with Hanoi and in fact, everything initially seemed to work against the city – exhaust pollution, life-threatening street crossings, and taxi scams, all of which should have been sent me packing.
But I fell, hard and heavy, and tried my utmost to fit in all the best things to do in Hanoi. I also vowed to return.
First impressions of Hanoi
What I loved, at first sight, was the sense that I was truly in a different country, one that hadn't been globalized to death and where – despite the ubiquitous brand names plastered everywhere – the country itself still shone through.
It's no wonder so many ex-pats love this city and my neighborhood, Tay Ho, some 5 km north of the Old Quarter, seemed to be home to most of the city's English teachers (despite this, English isn't widely spoken).
What struck me immediately was that Hanoi is a low-rise city. There is a part of town with highrises but they tend to be grouped together while the rest of the city's buildings are four or five stories high.
As with many cities emerging from years of authoritarian or communist regimes, there are plenty of contrasts at play, and they make a major contribution to the city's charm.
Hanoi is ancient, with centuries-old temples and gardens, but these can be set right next to modern buildings and cranes.
The car traffic is relatively light (for the city's size) but you risk life and limb when crossing a street because of the heavy motorcycle and scooter traffic.
Street food is plentiful and delicious, and many small cafés jut out into the crowded streets. Yet raise your eyes and you're bound to see a KFC, Burger King or McDonald's.
While smog can clog the view across the lakes, the scenery right along the water can be serene and peaceful.
Transportation in Hanoi
While I'm making ad hoc observations, beware the taxis. Few have seatbelts that work; in fact, few even have meters that work (I know this from sorry experience… get your hotel to call one because flagging one down yourself is done at your peril). Or call a Grab, the local equivalent of Uber.
Another solution is to get a day ticket for the Hop On Hop Off bus – use it for those attractions that aren't close enough together.
Also, be conscious of opening days and times. I managed to miss a few museums and shows because of odd timing instructions, places that closed every other Wednesday or shut at 10:30 in the morning.
But perhaps what engaged me the most was its pedestrian nature. Despite the traffic and bikes and dangers, Hanoi is a surprisingly walkable city. You may have to weave around the many obstructions cluttering the sidewalks, but it's still a city best seen from street level.
So, walk I did…
1. Walk around Hanoi's Old Quarter
A wonderful place to start any walking tour in Hanoi is in the Old Quarter, whose streets, now as in past centuries, are dedicated to the specific trades or guilds that gave them their names. You'll find a street for sweets, a street for religious items, a street for cooking implements… Some streets have changed specialties, like Hàng Buồm street ("sails street"), which is now dominated by Vietnamese cakes and candy.
Claudia Tavani of My Adventures Across the World says one of the fun things to do in Hanoi is to explore aimlessly, wandering around and taking it all in – the products which almost tumble into the streets from their narrow storefronts, the pedestrians dodging bicycles, motorbikes and cars, the many coffee shops from which you can watch all the action.
2. Learn a craft in the Old Town
As you stroll around the Old Quarter, you're bound to notice the variety of crafts on display. Lola Mendes of Miss Filatelista says you can learn how to make some yourself by taking a craft workshop with a local artisan. One traditional expert teaches you to make your very own wooden stamp – an item small enough to squeeze into your backpack and take home with you. While most tourists work on their own likenesses, Mr. Hung, who has been practicing his craft for over 30 years, will happily guide you towards a genuine cultural experience.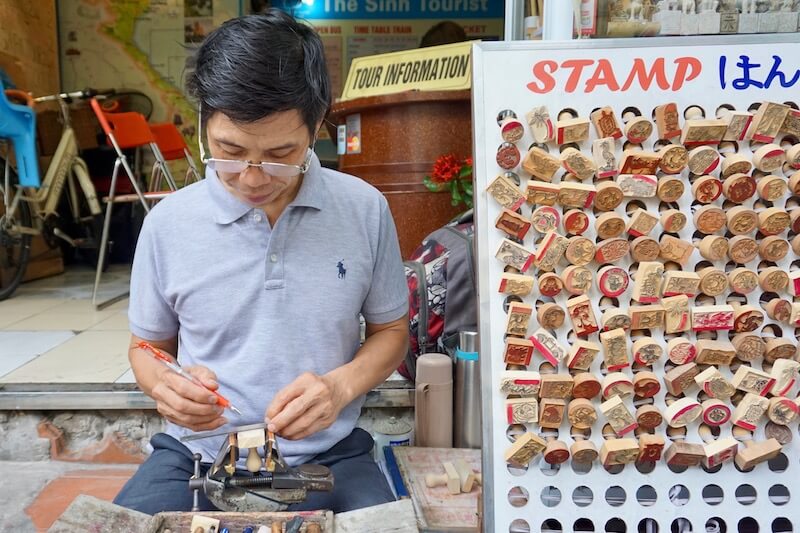 3. Buy some not-so-tacky souvernirs in Hanoi
Speaking of taking things home, Emily Lush of Wander-Lush recommends skipping the tacky tourist products and seeking out the more authentic Hanoi souvenirs like lacquer wear, pottery, silver jewellery, dong ho woodblock prints and silk. Propaganda posters, Nón Lá hats and textiles from northern Vietnam's ethnic communities are also popular take-homes.
Her favorite gift shop in Hanoi's Old Quarter is Collective Memory, a veritable emporium that stocks more than 30 local and independent brands. Also worth a visit is Tanmy Design (an embroidery house that's been around since the 1960s), Craftlink (a textile shop near the Temple of Literature), Zo Paper (a handmade paper goods boutique on 'Train Street' and wonderful local culture preservation project that offers workshops and activities), and Tohe Style (a colorful kids' store that doubles as a social enterprise).
4. Admire Phung Hung street murals
A lesser-known corner of the hugely popular Old Hanoi is Phung Hung Street, which Elena Tchijov of Traveling Bytes tells us has been revived with stunning murals recalling city's centuries-old charm and traditions. This quiet and slightly shabby spot along the walls of a viaduct (part of the historic Long Bien Bridge) has become a favorite photo location and a cultural space for locals and city visitors.
The undertaking is called Public Art For Better Space and was a joint Vietnam-Korea project commemorating 25 years of diplomatic relations between two countries in 2017. There are 18 murals along a 200 meter span, eight by Korean artists and ten by Vietnamese, with 1000 years of Hanoi history as the overall theme. Artists were encouraged to use their diverse skills and the result is a fascinating mixture of traditional artwork, 3D-cutouts, metalwork, and even an old Honda motorcycle morphed into an epic story about a bygone era.
If you simply don't have the time to explore on your own, a one-day city tour will save you time and hit all the high notes – the Mausoleum, stunning pagodas, the Old Quarter, a water puppet show and plenty more. I'd rather explore, but on some trips there's simply not enough time – and I want to see as much as I can!
5. Visit Train Street
Not too far from the Old Quarter, just south of the train station Ga Ha Noi, is a most unusual and narrow residential street called Train Street because it has a train line running through the middle.
If you're looking for something outside the traditional tourist attractions in Hanoi, Cat Smith of Walk My World suggests dropping by the aptly named 'Train Street.' Until recently, you could drop by any day around 3:30 pm when all the chairs and objects on the street were rapidly packed away to make way for the oncoming train. The gap between the carriage and the walls of the surrounding buildings is so small that it is hard to believe the train can actually fit! After the train passed, the street would return to normal, chairs set up again and people sitting and chatting beside the sleepers.
Enterprising locals had set up makeshift cafés along the tracks, so it is worth arriving a little before the train.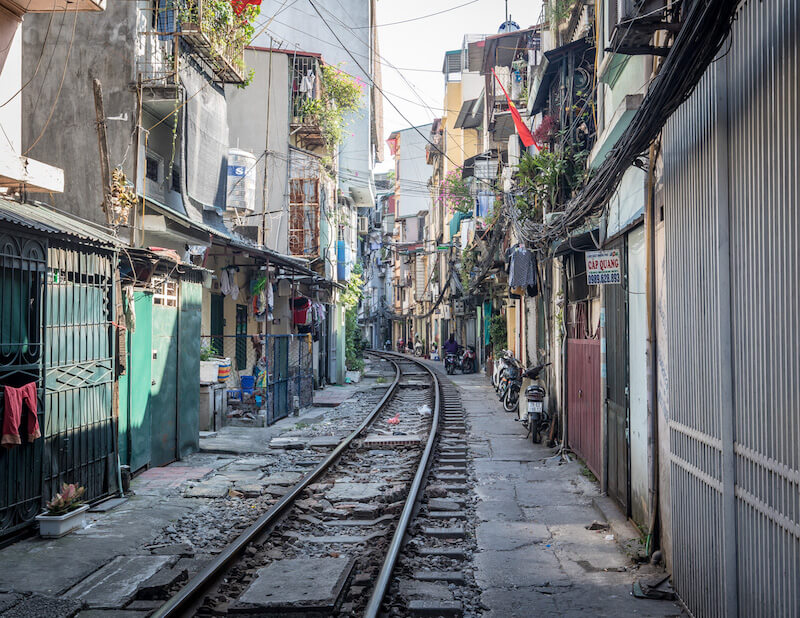 6. Exercise at dawn along Hanoi's parks and lakes
If you'd rather avoid the traffic and the city's cacophony, Michelle of Intentional Travelers suggests taking a stroll through Hanoi's parks or along one of its 100 lakes. I've done this myself and the peace and quiet belies the fact that you're in the heart of the city.
Early morning exercise is a daily habit in Hanoi and you'll find plenty of activity around the lakes at dawn. If you're the running type, Hoàn Kiếm Lake in the Old Town or Hồ Thành Công (which also has an outdoor fitness area) are great for doing laps. Join in for a free cultural experience and amazing people watching. Keep an eye out for the energetic jazzercise* groups as well. Consider dressing more conservatively than you may be used to while exercising to respect cultural norms and avoid unwanted attention.
* In case you're not familiar with it, this is Jazzercise.
7. Admire Art Deco buildings in the French Quarter
Another favorite of mine was the French Quarter, but then, I'm an architecture nerd and all that Art Deco turns my head. And I'm not the only one! Shweta Singhal of Zest in a Tote also loves the French Quarter, not only for Art Deco but for its delightful colonial buildings, grand mansions (of which a few are converted to hotels), government offices, personal residences and pedestrian-friendly paths. I mean, just look at these buildings! I'd go back just to photograph houses…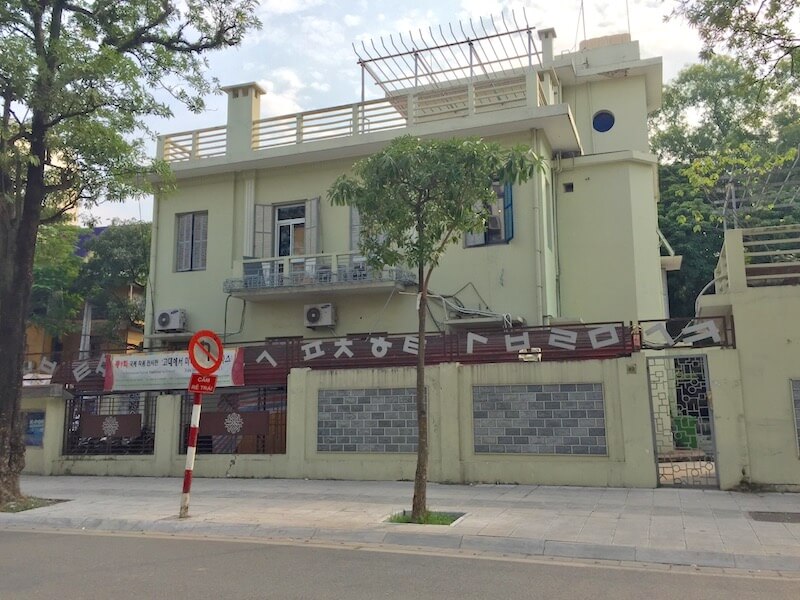 8. Become a bit French: Hanoi's Opera House
Possibly the best-known representation of French architectural influence in the city is the Hanoi Opera House, which still hosts regular shows.
Darja Gogunova of DeeGees Life caught a performance of My Village, a unique mix of contemporary circus, dance and acrobatics accompanied by the rhythm of folk instruments. The stories about everyday life in a traditional Vietnamese village are told with poetry and feeling, with a special place in the performance reserved for bamboo, both as the central element in the production and as part of the stage set.
9. Visit Hoa Lò Prison, once known as the Hanoi Hilton
Located not far from the French Quarter, this was one of the more emotional experiences I had in Hanoi. Each time I decide to visit a site related to war or death (what's commonly called dark tourism) I hesitate, but I usually give in because I'm a strong believer in the power of history to remind us of past excesses and prevent future ones (though sometimes I wonder).
When the French ruled Indochina they used Hỏa Lò for political prisoners and when they left, the North Vietnamese took it over for prisoners of war. One of the most famous of these became John McCain, who spent part of his POW captivity here. There's a bit of a credibility gap because torture in this prison was widely reported, but Vietnam's authorities insist American POWs were treated well, if not luxuriously.
There's only a small part of the original prison left, and it replicates some of the poor conditions under which Vietnamese prisoners were held by the French (much of the more recent history, with the exception of that which places the Vietnamese in a good light, is glossed over).
To cheer myself up I made a beeline for what I consider to be one of the top 10 things to do in Hanoi: a water puppet show, enacted in thigh-deep water with puppets manipulated by hidden puppeteers using lengths of bamboo.
On each side of the water stage, musicians and actors sit on raised platforms and tell stories of hardship and hunger and love. They sing and play instruments and recite, and even if you don't understand a word of Vietnamese (I didn't) you'll thoroughly enjoy this performance.
I was in the front row and would have gladly sat through a second hour. It's not exactly what you'd call sophisticated entertainment but it was fun and reminded me of the timeless social issues everyone faces, everywhere.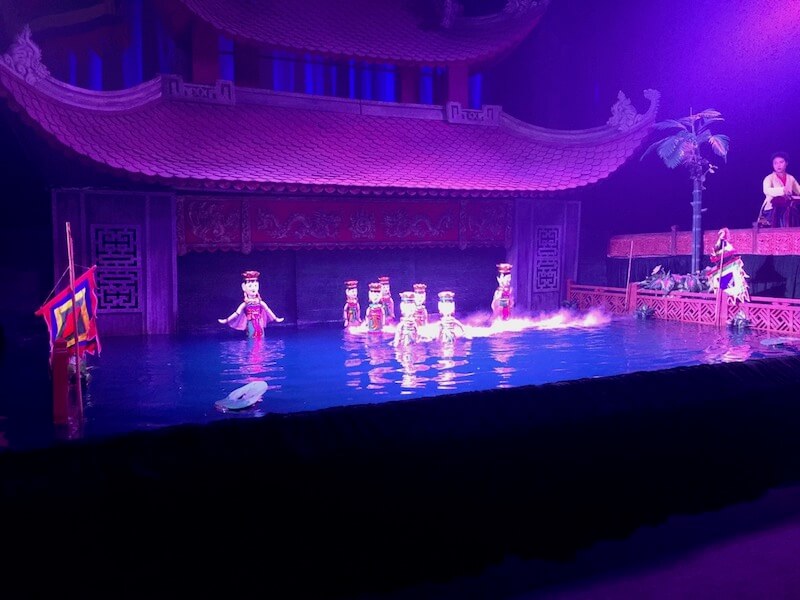 11. Stay in a legendary hotel
If all that walking around Hanoi exhausts you, Abi King of Inside the Travel Lab suggests we take some time off to enjoy the history lessons hidden in the corners of the Sofitel Legend Metropole Hanoi, in layers as rich and decadent as the sugar-dusted mille-feuilles that await in its Club Bar.
This is the place to imagine literary giant Graham Greene, writing The Quiet American, ensconced in the vintage furniture, or singer-songwriter Joan Baez, who used audio recorded in this spot during an air raid in one of her subsequent hits, Where are you my son? Guests can visit the bomb shelter underground, now a wine cellar, with graffiti from an Australian diplomat who got left down here one night and whiled away the hours testing the produce and carving his name.
12. Visit the Women's Museum in Hanoi
Enough relaxing – there's still a lot to see! Hanoi is a fantastic museum city and one I thoroughly enjoyed was the Vietnamese Women's Museum, which, in addition to history, provides insight into Vietnamese women's ethnic diversity and roles in society. With more than 1000 objects on display, every aspect of women's lives is examined. You can book a tour of the museum here ahead of time.
Priyanko Sarkar of Constant Traveller particularly enjoyed the Women in Fashion section, which details the traditional garments and way of life of the country's 50+ tribes. She and I agree that the Women in History section was fascinating, providing a female perspective of the Vietnam War, a welcome change in a country where men dominate the war narrative.
13. Learn about culture at the Ethnology Museum
One museum I did not manage to see was the Museum of Ethnology, some 7km from the center. The good news is that Jeanne Malherbe of Learning to Breathe Abroad did spend time there and says it's definitely worth visiting.
The museum details the culture of the country's ethnic minority groups through their clothes, architecture, food and traditions, along with clothing, traditional art and artifacts, along with videos depicting their everyday lives. The museum's gardens have replicas of each ethnic group's houses, most with thatched roofs and built on stilts. Clamber up to examine the traditional furniture, explore the layout of the rooms and gain insight into a traditional way of life.
14. Understand more history at the Ho Chi Minh Museum
One of my favorite museums in Hanoi is the Ho Chi Minh Museum, next to the Mausoleum which holds the revered leader's body (he ruled Vietnam and its communist party throughout the 1950s and 60s – here's a bit of history). Most people head straight for the Mausoleum and I did try, but failed. I was told it was closed and that Ho Chi Minh's body had been shipped to Russia "for maintenance", which apparently it is once a year, yet a long queue snaked towards the entrance as I was leaving – so either I was misinformed, or everyone wanted to look at an empty casket. I was quite disappointed to have missed this opportunity.
But the museum, which is part of the same complex, was intriguing and traces Uncle Ho's life, as he is affectionately called, from childhood until his death in 1969. What particularly called to me were the many letters he had written or received, often in French, and which provided snippets of insight into the politics of that heady age.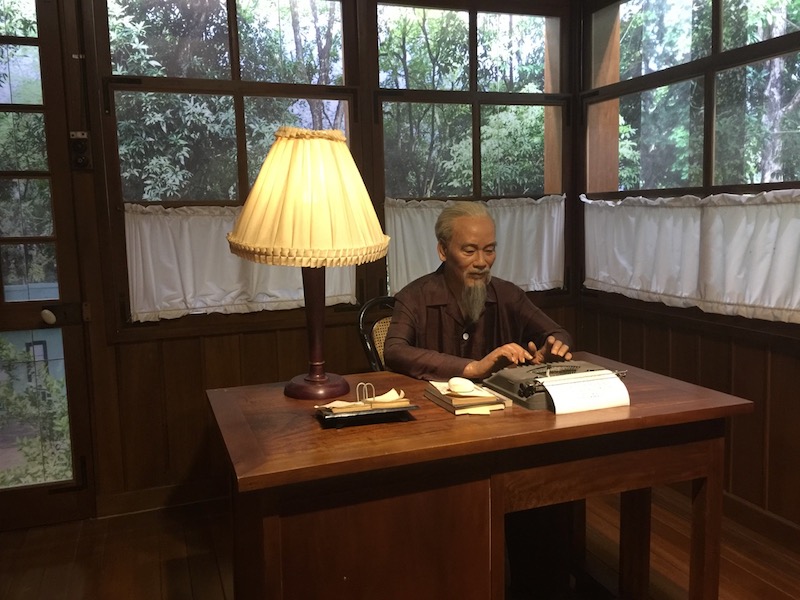 Day trips from Hanoi
I sadly didn't have enough time to leave the city but my friends there and many others who have been to Hanoi recommend these destinations that can be reached from Hanoi:
15. Wander around the Temple of Literature
This was one of the most delightful places I visited in Hanoi – and one of the few places not battered by noise, an island of serenity in the heart of the city. Built nearly 1000 years ago, this was Vietnam's first university, the Imperial Academy. It was initially designed for the elite and the nobility and dedicated to Confucius.
The temple is made up of a series of courtyards connected by avenues of formal gardens and even though there are plenty of visitors, a few corners escape the crowds and provide a temporary refuge in history. It's a wonderful example of Vietnamese architecture and perfect to cool off and rest for an hour.
Visiting the Temple of Literature might require some prior sustenance so I'd like to suggest a restaurant right across the street from the temple's entrance. It's called Koto and the restaurant is only a small part of its work.
The restaurant's profits are ploughed back into Koto's training program, which teaches disadvantaged young people all aspects of the restaurant business. The foundation arm also raises money for various charities and has won plenty of prizes. Clearly the students are taught well because the meal I had here was delicious and the staff incredibly solicitous, so yes, in this part of town, make it to Koto Van Mieu for lunch.
Hotels in Hanoi
Take your pick from all budgets!
17. Decide the best thing to eat in Hanoi
So many people visit Vietnam for the food, and if I'm honest, food was at the back of my mind when I visited too (okay, maybe at the front…) I had innumerable bowls of pho, that large rice noodle soup with beef or chicken and a variety of herbs.
Nancy from enSquaredAired says the one dish you can't leave Hanoi without eating is bún chả, a typical North Vietnamese meal that comes in multiple plates and bowls. She says this dish is so good that the late Anthony Bourdain shared it with Barack Obama during their visit to Hanoi. Why not eat where they ate – at Bún Chả Hương Liên, also known as the "Obama restaurant"?
"Low plastic stool, cheap but delicious noodles, cold Hanoi beer." This is how I'll remember Tony. He taught us about food — but more importantly, about its ability to bring us together. To make us a little less afraid of the unknown. We'll miss him. pic.twitter.com/orEXIaEMZM

— Barack Obama (@BarackObama) June 8, 2018
This dish usually comes out with a plate of noodles, herbs, dipping sauce, and a huge heaping of vegetables. Simply dip in a handful of noodles, mix some of the fatty pork into the dipping sauce, and presto! Or, you could wrap the pork into the lettuce leaves, turning it into a healthy taco-like dish. Do add the condiments that are usually placed on the table: soy sauces, chilli and minced garlic, and enjoy.
Good food is something you'll never run out of in Hanoi. No matter where I went, I was well fed, even in the tiniest café or food stall.
One thing I love to do is take a walking food tour in the city (I wasn't able to this time) and there are plenty of offbeat food tours that are making my mouth water:
It may seem as though there are so many things to do in Hanoi that you'll never get through them all. If your time is limited, don't despair, there's still plenty you can see and do in a day if you follow this jam-packed one day in Hanoi itinerary.
Hanoi was a delight and my only regret was not staying long enough. It wasn't perfect (no place is) but in Hanoi, I felt I was in a traditional corner of Asia, with startups and gleaming steel still in the future. In much of Southeast Asia, that sense of tradition and history is often reserved for small towns or rural areas. In Hanoi it was everywhere – in the narrow streets of the Old Quarter, among the pagodas and traditional shows, in the architecture and crafts and in the slowly exercising groups at dawn by the calm edge of the lake.
And please – don't forget your travel insurance before you go! I recommend SafetyWing if you're 69 and under. If that birthday has come and gone, click here for travel insurance that covers you at any age.
SHOP THIS POST ON AMAZON
PIN THESE PICTURES AND SAVE FOR LATER!