by Alexandra Heidler
Singapore is often considered the "Gateway to Asia". It is a heavily blended city-state, highly developed, and one of Asia's safest destinations for women. These Singapore travel tips will point you towards the highlights and show you how to visit this fantastic destination as a solo woman.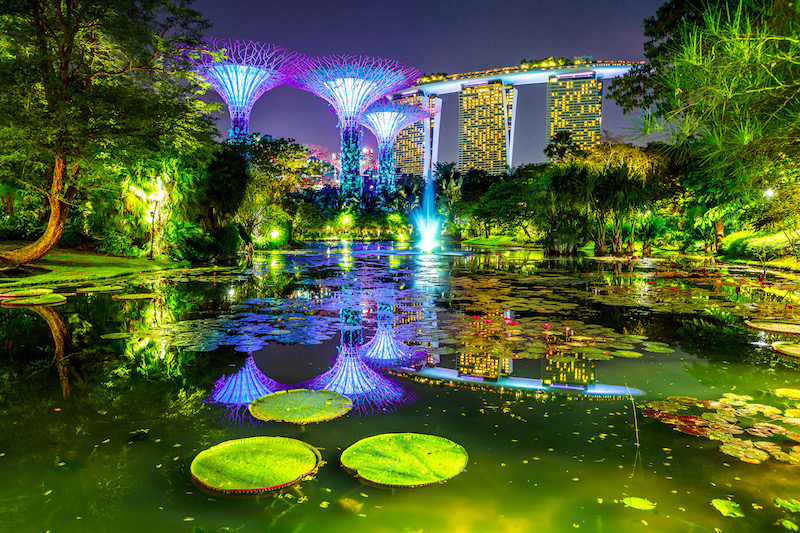 Being solitary will attract more attention than being a female.
Walking in many districts with a backpack and my wide eyes, I felt relaxed enough to exhibit typical tourist behavior – gawking, picture taking, and stopping in the middle of a sidewalk to look at the map on my phone. In a dangerous city, this would have been an absolute no-no, a bit like painting a bullseye on your back. While I certainly stood out traveling in more ethnically condensed districts like Chinatown and Little India, I never felt threatened.
Even if you feel the urge to explore beyond the normal tourist hubs, it is absolutely safe to walk the streets alone. Crime is low, the city is well-organized, and walking around was so easy I felt like I was in my own hometown.
Singapore's

pinch of diversity
One of Singapore's most fascinating facets is its diversity. Many destinations chirp away about their various cultural influences but rarely do you see them coexisting so smoothly. There are of course various districts known for exemplifying a specific background – Little India or Chinatown, for example.
Little India is good for spices and inexpensive clothes. If you're a fan of Indian food, stop by to pick up ingredients from markets, grocery stores, and perhaps try a plate or two of local cuisine.
Singapore's Chinatown is ideal for strolling along alleys and hawker centers for cheap good fare, a relaxing reflexology massage, or gifts to send home. An enticing one-stop shop is Yue Hwa Chinese Products at the corner of Eu Tong Sen and Upper Cross Street. It is five whole levels of goods, from ginger-flavored candy and silk-embroidered mandarin jackets to exquisite ceramic tea sets.
If you know anyone locally, you may have the great fortune of being invited to a Chinese New Year celebration; it will give you an entirely different glimpse into one of Singapore's dominant cultures.
CHINESE NEW YEAR IN SINGAPORE
The Chinese New Year, or spring festival, is probably at least 4000 years old and begins on the first day of the lunar year. It is said to celebrate the legend of the beast Nian, who terrorized helpless villagers until an old man found his three weaknesses: noise, sunshine and the color red. The villagers set off firecrackers, banged on drums and pots, built a huge bonfire and painted everything red. The beast ran off and was never seen again.
Though firecrackers are banned for safety reasons, huge fireworks take their place and there is red, red, red everywhere. The streets are crowded as last-minute shoppers inch into stores for that final gift and hawkers stridently plug sweet dried shredded pork, which once tasted cannot be forgotten.
Throughout Singapore, doors were decorated with red origami-style cuttings bearing such good wishes as happiness, wealth, fertility, or longevity.
On the day, smells began drifting irresistibly from the kitchen and we crowded closer, waiting for food to appear. While the new year is certainly a time to strengthen family ties, pay old debts and set aside grudges, what it's really about is food.
It was a feast. The table was heavy with enough food for an army, and indeed an army came, the families of eight or nine of Soh-Koon's brothers and sisters, their children, a few selected uncles, even Number One Son who visits once a year.
As everyone (but me) dove into '100-year eggs,' we waited impatiently for the piece de resistance, the buah keluak, a traditional Straits Chinese dish which looks like chestnut peels and is stuffed with minced pork and shrimp.
The evening was capped with hours of card-playing. Armed with coffee, we stood vigil late into the night since it is believed that the longer children stay up, the longer their parents will live.
The next day, the children (even adult ones) received red packets, paper envelopes stuffed with cash.
We visited two temples, the first a crowded affair in Chinatown whose access was obscured by hundreds of petitioners seeking better business luck. The entrance was lined with stalls selling fresh flowers and incense sticks, their thick scent cloying. The second temple was smaller, more private.
People came to pay homage to their ancestors, whose cremated remains are held here or who are buried nearby, a bronze-framed photograph the reminder of that loved one's smile.
-by Leyla Giray Alyanak
And a dash of culture
Many temples in Singapore are open to the public and welcome non-believers into their grounds. Be mindful that these spaces, while gracious enough to open their doors to the curious, are places of worship.
I had the great honor of entering a Burmese-style Buddhist temple for some meditation and blessings. I made a point to watch others first before coming into the main hall and was helpfully instructed on how to observe the deities with incense.
There's much you can do in Singapore that's free and the Internet is a good place to start looking. Target museums, libraries, or gardens, or find some of the new cultural hot spots which are becoming so widespread as Singapore invests in cultural institutions and arts.
The Singapore Botanical Garden and Singapore's National Gallery are perfect places to wander around if you're on a solo trip to Singapore. If you're willing to splurge on overpriced liquor and appetizers, head to one of the many bars on top of the museum's roof for a dazzling view of the city. There is also a great set of bars on top of the Esplanade overlooking Marine Sands Bay.
By the way, no tipping is necessary in Singapore and many places levy a 10% service charge. I took multiple cabs, drank at several bars, ate in restaurants, and was always given exact change without any afterthought. I saw one Westerner provide a tip to a bar on my final night, but he had to insist the server keep the change. This may not be the case forever…
A THOROUGHLY MODERN CITY
During my first visit to Singapore, everything had been perfect: the hotel's management impeccable, the streets and air clean, the traffic bearable, everyone smartly – albeit similarly – dressed. My memories were those of a staid and stolid high-tech island state, a land more suitable to shopaholics than to tradition.
Toilets flushed automatically, a novelty. Public ashtrays were positioned strategically along the sidewalk. Traffic was orderly and fluid.
That comfort carried a steep price tag: uniformity, blandness, rigidity, and restriction.
In this perfect land, disagreement was taboo and individualism a character flaw. Like the yellow lines which demarcate where people must stand to board the subway, Singaporeans lined up, an entire nation hell-bent on making money. Globalization was their deity, mirrored in the gleaming but tedious stretch of familiar chain stores and international franchises which have sadly become the staple of any world-class city.
During a visit years later, I discovered that, while the control and rigidity remain, Singapore was shaking off its shell. I spotted some youths with orange spiked hair hanging around a street corner, cigarettes stuck to the corners of their mouths. Once unthinkable, billboards advertised – and showed – a women's underwear line on the subway. The vaunted yellow lines are mostly ignored as Singaporeans shed some of their imposed discipline and begin to act like Asians in other big cities, pushing to see who will get in first.
Certainly, there are those who believe the country is too neat and regimented. Entering a shop dripping from the rain, I am promptly handed a slim plastic bag in which to place my wet umbrella.
At one point, Singapore's best-selling T-shirt depicted a series of 'forbidden' activities – from chewing gum (now no longer illegal), flower-picking ($500), spitting ($1000), bird-feeding ($1000), to water-wasting ($500).
It takes sophistication and self-confidence to laugh at your own foibles. Like the new casualness on the streets of the city, this visit was a breath of fresh air.
-by Leyla Giray Alyanak
What to wear in Singapore
Do you wear a hijab? Do you like your shorts short? Summer dresses or a nice top with some jeans? Singapore is a cosmopolitan city and a major shopping destination so (almost) anything goes.

Singapore is certainly about style. This means well-tailored silhouettes and chic textiles. You don't have to be rich to look good, but granola styles are going to make you stand out. Showing some skin and being conservative in dress is all about a matter of choice here in Singapore, with harmonious examples of both co-existing.

On a practical note, make sure your shoes are made for walking but if you want to blend in, leave the muddy sneakers at home. And remember that Singapore is on the equator, where it's hot and humid. Keep that in mind when you pack and don't forget your umbrella.
What to eat in Singapore
Many people travel to eat, and Singapore offers a rich cuisine with tangy spices, fresh ingredients, and local grains. While there are plenty of vegetarian dishes, most are based on some kind of meat.
Here are some of the most popular dishes served in Singapore:
Laksa: a delicious blend of Chinese and Malay flavors, this traditional meal fits into a single bowl. The dish is a mouth-watering combination of noodles, vegetables, meat, and curry. If you're vegetarian or vegan, you can have it with tofu instead of meat.
Bak kut teh: if you like pork then you're going to love this dish. Hearty and filling, the pork is cooked with garlic and pepper and served with rice. The pork is tender and falls easily off the bone.
Chicken rice: If you fancy something simple and tasty, order this dish. The ingredients (rice, chicken, and sauce) are a classic combination.
Roti prata: these popular flatbreads are a bit like an Indian chapati. They are often served with a side curry, but you can also get them filled with cheese or even sweet toppings! A great on-the-go lunch.
Chili crab: if you like seafood you can't leave Singapore without trying their spicy chili crab. The crab is mixed in with rice and a delicious tomato sauce before being plated up for you to enjoy!
THESE COOKBOOKS ARE GREAT IF YOU WANT TO COOK SINGAPOREAN FOOD AT HOME
Where

to eat in

Singapore
Singapore has a range of eateries suited to every budget and taste. There are fancy, high-end restaurants in the city that serve a mix of western and oriental flavors that you can visit if you feel like splashing out on a meal.
Possibly the best food in Singapore is to be found in its hawker stalls. It also happens to be incredibly cheap.
These once used to dot the streets but have now been grouped into clusters. Each neighborhood has its own specialty and each stall adds its unique twist.
Changi Airport
Airports don't usually make it onto the list of places to visit in a country, and for good reason. They tend to be overcrowded, stuffy, and pretty boring. Changi is a re-invention of the airport experience.
There is a complex in the airport, called Jewel, that joins up the terminals. The building is dome-shaped and made of glass, and cost US$1.25 billion to build. That might seem a bit extravagant, but wait till you hear what's inside…
The airport complex has a rain vortex (this 130-feet waterfall is the biggest indoor waterfall in the world), entire floors of entertainment and shops, and the Shiseido Forest Valley, designed to feel like a rainforest trail that leads to the Canopy Park that has restaurants and views of the Jewel from above. It's not surprising that Changi Airport is consistently voted the Best Airport in the World.
Singapore travel tips for solo female travelers
Is Singapore safe to travel alone? Definitely. Singapore is safe – as safe as a large city can be. There is occasional petty crime, but violent crime is quite rare.
Nervous about carrying cash? Don't be. Singapore has one of the lowest crime rates in the world. That said, using credit cards is easy but if you insist on cash, it's easy to find a money changer.
Singapore is extremely law-abiding or tries to be. There are plenty of rules and regulations and don't even think of flouting them. Things like littering, chewing gum, or jaywalking do carry fines.
Wifi is everywhere! Museums, libraries, and theaters will provide coverage after you agree to the terms and conditions. Public parks and heavily tourist-trafficked areas like the Esplanade, Marina Bay Sands and Clarke Quay will also have wifi, even if you are physically outside.
Public transport is a dream, whether underground or by bus, both accessible with a tourist pass and perfectly safe if you're traveling to Singapore alone. The underground stations are well-lit, clean, and have plenty of security attached. Bus stops are well-maintained and heavily used by the local population. Figure out the underground with the Singapore MRT LRT Offline Free app and the bus system with SG Buses – Singapore Public. Taxis are everywhere, but not cheap. You'll need them if you go out at night, though, since most public transport shuts down relatively early. You can also use Uber or Grab.
Singapore hotels: Compare hotel prices across the city – it's not a cheap destination but you can get good deals with a bit of perseverance. Have a look at the map below for a wide range of prices.
Not only is Singapore a wonderful place to visit, but many visitors decide to make it their home. Here are some pros and cons of living in Singapore.

Alexandra Heidler has traveled her own country far and wide, then decided to marry her college sweetheart who happened to be from the other side of the planet. She is a freelance writer and English educator currently residing in Bandung, Indonesia where she runs PuzzledPilgrim.com
— Originally published on 08 December 2017
And please – don't forget your travel insurance before you go! I recommend SafetyWing if you're 69 and under. If that birthday has come and gone, click here for travel insurance that covers you at any age.