An around the world plane ticket: you've heard of this, right? If not, it's a single ticket that will allow you to stop over in many destinations around the world. You'll start – and usually end – your trip in the same place, so you'll be circumnavigating the globe.
If you're considering extended travel for whatever reason (a gap year, sabbatical, mid-life crisis or retirement) a single RTW ticket (usually valid for a year) can save you money, avoid hefty fees when you change dates, help you travel longer and remove the hassles of trying to connect dozens of flights. Your biggest challenge will be how to plan it all.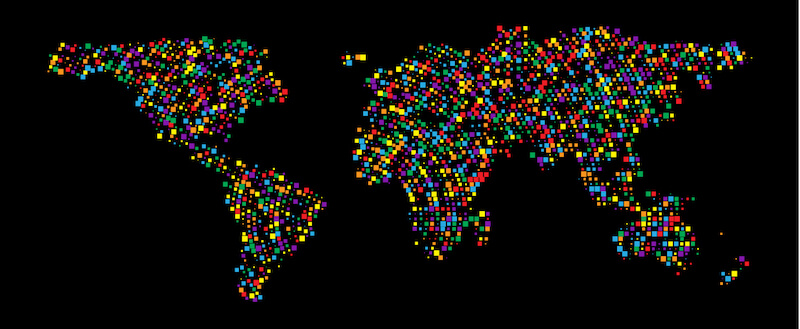 A ROUND THE WORLD TRIP: EVERY TRAVELER'S DREAM
Even if you've never heard the term, you're certainly familiar with the idea of round the world travel. Essentially, you block off some serious time (usually months but often up to a year) to travel the world rather than taking shorter trips throughout the year.
Instead of flying back home after spending a week or two in a dream destination, you charge onward into the next unknown and enjoy a trip around the world.
DEMYSTIFYING THE ROUND THE WORLD TICKET – HOW IT WORKS
Getting an RTW ticket is relatively straightforward and there are three standard ways of doing it:
By checking out each airline alliance and building a personal itinerary that suits you best.
By using the Airtreks round the world trip planner tool to plan the itinerary for you (it's free). An experienced third party like Airtreks is somewhere between using an alliance and handling all your own arrangements – it can save you money and grief but is also flexible. Because they know all the ins and outs, in the end this might be as cheap as the DYI option.
By doing it yourself and buying individual tickets for each leg of your journey.
Each option is analyzed in detail below.
1. BUYING RTW FLIGHTS THROUGH AN ALLIANCE
There are three main global alliances: OneWorld, Star Alliance, and SkyTeam, all consisting of reliable, scheduled airlines. Cheap budget airlines are excluded from these alliances, so you won't enjoy the drastic price savings of a point-to-point ticket – nor will you have to submit to the treatment travelers now accept from rock bottom carriers.
If you go this route, you'll head over to a website for one of the three major airline alliances, select some RTW routes, settle on an itinerary and dates, and pay for a round the world air ticket.
People who buy an around the world plane ticket usually travel in economy class – but it's not compulsory! If you're feeling flush, you can certainly go round the world first class or get an RTW business class ticket. (I haven't had that good fortune yet but still hoping!) Ask about prices: some are lower than you think.
Here are the major alliances and an overview of what they offer.
Oneworld around the world ticket
It may have the smallest number of member airlines, but it is the only alliance with a no-mileage-limit option.
Oneworld member airlines (as at November 2019)
American Airlines
British Airways
Cathay Pacific Airways
Finnair
Iberia
Japan Airlines
LATAM Airlines
Malaysia Airlines
Qantas
Qatar Airways
Royal Jordanian
S7 Airlines
SriLankan Airlines
plus Fiji Airways (partner) and Royal Air Maroc (coming soon)
Coverage area
Oneworld has decent coverage throughout Europe, North and South America, and Australia, but very little in Africa. So if you're looking to stop in every country (what a feat!), it's not ideal. But it's a great option for most travel.
Oneworld RTW ticket options
Oneworld Explorer: this ticket is based on the number of continents (as defined by Oneworld) you travel through, and what class you fly (economy, business or first class). There are no mileage restrictions, which makes this an attractive choice. Full terms and conditions (with all those rules I had mentioned) can be examined here.
Global Explorer: this ticket actually allows you to fly with airlines NOT in the alliance, including Aer Lingus, Alaska Airlines and its affiliate Horizon Air, Bangkok Airways, Fiji Airways, Jetstar, Jetstar Asia, Jetstar Japan, Jetstar Pacific, Air Italy and WestJet. Unlike the Oneworld pass, however, you will be charged on the basis of mileage and class.
Tier 1: up to 26,000 miles (economy class only)
Tier 2: up to 29,000 miles (economy class only)
Tier 3: up to 34,000 miles (economy, business or first class)
Tier 4: up to 39,000 miles (economy class only)
Examine the terms and conditions here.
Star Alliance round the world tickets
It is the first and largest airline alliance, designed to connect every major city in the world — and does it pretty well!
Star Alliance member airlines (as at November 2019)
Aegean Airlines
Air Canada
Air China
Air India
Air New Zealand
ANA
Asiana Airlines
Austrian Airlines
Avianca
Brussels Airlines
Copa Airlines
Croatia Airlines
EgyptAir
Ethiopian Airlines
EVA Air
LOT Polish Airlines
Lufthansa
SAS
Shenzen Airlines
Singapore Airlines
South African Airways
Swiss International
TAP Portugal
Thai Airways International
Turkish Airlines
United
Coverage area
The best alliance for overall worldwide coverage. You can get just about anywhere with Star Alliance.
Star Alliance ticket options
All ticket prices are based on mileage, point of origin, and class. You have four options for maximum mileage.
26,000 miles (Special Economy and Special Business only)
29,000 miles
34,000 miles
39,000 miles
You can "stop over" or stay in a location up to 15 times, but you must break your journey for 24 hours at least twice (except with the Special Economy fare, which requires 3 stops, and limits you to 5 overall). More rules and regulations can be examined here.
Skyteam round the world airline tickets
Skyteam is the only alliance that allows backtracking and features an easy-to-use online round the world trip planner.
Skyteam member airlines (as at November 2019)
Aeroflot
Aerolineas Argentinas
Aeromexico
Air Europa
Air France
Alitalia
China Airlines
China Eastern
Czech Airlines
Delta
Garuda Indonesia
Kenya Airways
KLM
Korean Air
MEA
Saudia
Tarom
Vietnam Airlines
XiamenAir
Coverage area
You'll get great coverage in North America, Asia, Europe and the Middle East, but your choices in Australia, New Zealand and South America are limited. There is average coverage of Africa.
RTW ticket types
You pay for mileage and class, and can make between 3 and 15 stops on the way.
26,000 miles
29,000 miles
33,000 miles
38,000 miles
Rules and regulations are outlined here.
Best airline alliance
So which alliance is best? That really depends on your itinerary and travel style. Skyteam's ability to backtrack can be nice if you have a good reason to backtrack, but Star Alliance's amazing coverage may get you to remote corners of the globe. And if adding up mileage stresses you out, Oneworld's Explorer pass is a breath of fresh air.
Advantages of using an alliance for round the world airtickets
Clarity and ease: one ticket supplier, one itinerary, one confirmation email. If you purchase a OneWorld RTW ticket, you'll be dealing directly with OneWorld rather than 10 or 20 different airlines (as would happen if you went the DIY route).
Tradition: some people just like doing things the way they've "always" done them. Obviously air travel is only a century old, but still — it might seem easiest to just stick with the status quo.
Free time/date changes: while you are subject to availability (not every flight you want will have a seat, or a desirable seat), if you change your mind at the last minute about when you want to leave you can get another flight to the same destination without fees.
Less stress during your trip: if you choose to DIY your round the world air ticket and buy as you go (rather than book everything ahead of time), you'll constantly be on your laptop or phone scoping out good deals for the next leg of your journey. A pre-planned ticket gets rid of those concerns.
Downsides of using an alliance for RTW air tickets
No backtracking: want to visit Beijing first and then Hong Kong? If you came from Istanbul, you can't since Hong Kong is further east and alliances don't allow you to backtrack.
Limits, limits everywhere: mileage limits, stopover limits, must-be-used-by-limits. Depending on the alliance, there are plenty of "rules" attached to these tickets. You'll have to read their terms and conditions carefully to make sure you understand what you can and can't do.
Stop/start rules. You need to begin and end your journey in the same country, which might not be what you want.
Cost: it can be more expensive. I'll price out a sample trip below, but it's easy for an RTW ticket price to climb. That said, sometimes it does work out cheaper.
2. ROUND THE WORLD FLIGHT PLANNER WITH AIRTREKS
First, plug in your itinerary into the Trip Planner on Airtreks' website and get an initial cost estimate for your trip. (BONUS: they have plenty of sample itineraries and "specials" to inspire you.)
Next, submit your itinerary and an Airtreks Personal Travel Consultant (a real person and expert on round the world flights!) will get in touch to help refine your trip and give you a refined quote by nailing down flight times, departure dates and more. That person will reserve all your seats.
Finally, it's payment time.
The good news about using AirTreks
Simplicity: it's easier than the DIY approach. Most flight aggregators like Momondo don't have an RTW planning function, so you'd have to buy each ticket individually — Airtreks streamlines the process.
Real-person interaction. Your consultant will not only help you plan your trip but will provide customer service while you're away if you hit any snafus.
No rules. With no mileage restrictions or backtracking prohibitions, you can plan a trip to your exact specifications.
Travel anywhere. While some of the alliances go to most places you want to visit, Airtreks really will – they can use ANY airline to get you where you need to go, not just member airlines (although the US government does prohibit them from working with Cubana Airlines (Cuba) and Air Koryo (North Korea).
Overland segments. While you could always take a bus or train between Paris and Munich if you're traveling on an alliance ticket, alliances count the miles travelled on land as part of your overall mileage allowance (even if you aren't flying!) It's a bit unfair, and Airtreks avoids that. In any event, if you're spending any time in Europe you'll get much more out of your visit if you use Eurail passes.
The Internet. As I write this I'm sitting in a hallway in Dili, East Timor, trying to catch a few rays of wifi – it's taking me days of work rather than hours to pull this page together because wifi comes and goes. If I had to rely on this connection to buy my onward ticket, I might be stranded for weeks! Also, this isn't the kind of wifi I'd like to entrust my credit card details to, so having someone deal with all that while I'm enjoying the sights would be a major relief: security, reliability and peace of mind.
The less good side of using AirTreks
No flexibility. Your travel dates and locations are set before you leave. You can change these for a (hefty) fee, but bottom line is that you have to be clear about your plans well ahead of time.
The 11-month rule. Because Airtreks works with online schedules (as opposed to alliances, who know their own fares better than anyone), you can't plan a year-long RTW trip with them. The best you could do – if you leave tomorrow – is to plan an 11-month trip. Airtreks also needs at least three business days prior to departure to plan your trip. Depending on how long you want to travel, and how far in advance you want tickets, that can dilute your plans. They recommend in these cases to purchase your first set of tickets four months in advance, and then a second set days before departure to cover the next leg of your trip.
You may not be able to earn miles. You can tell your consultant this is important to you, and they will work with you, but some frequent flyer plans won't allot you any miles if you order tickets through a third party.
So who should consider Airtreks? Someone who likes planned-out trips more than last-minute decisions and enjoys getting a good deal, but doesn't have the patience or desire to buy 16 different point-to-point tickets.
But don't take it from me – take it from the experts at AirTreks.
An interview with AirTreks: FAQ
I recently spoke with Nicola Cook, Expert Travel Planner at Airtreks – she knows all the routes and tickets inside out and she and her colleagues will save you a ton of time planning your trip. Here are her ins and outs of round the world airline tickets, with plenty of great advice.
3. THE CHEAPEST RTW TICKETS (SOMETIMES): THE DIY APPROACH
If you're up for a challenge (and a challenge it will be), you can map out your dream itinerary and then find flights that fit your budget, prefered flight times, and general itinerary needs all on your own. In some cases, this might be the way to score cheap RTW tickets (although it's really NOT a RTW ticket at all).
You already know how to do this if you've ever bought a ticket through a website: go online, choose your dates and let the magic happen as the aggregator shows you the cheapest flights that meet your criteria. Then buy a ticket and voila – you'll have a confirmation email in your inbox in minutes. Do this as many times as it takes to map out your entire RTW trip. Just don't change your mind afterwards – and don't miss any connecting flights!
It's not hard to find cheap international flights. I still remember paying US$900 from Geneva to Rome, a trip that can now cost as little as $50 thanks to the new breed of low-cost airlines. The world of aviation has changed dramatically, and it's in our favor.
So what's the good and bad with this approach?
The pros of the DIY approach
Choose the cheapest or most convenient flights. You have total control over every detail of your trip, so you can be picky about anything. You could even choose business class for a long-haul flight, while saving on economy for short trips.
You can book-as-you-go. Instead of nailing down an itinerary a year or more in advance, you can simply book a flight when you're ready to leave, or just a month or two in advance once you have a better idea of where you're going. You know you can use your frequent flyer miles and earn rewards. While the alliances may allow the use of some miles/rewards, there's lots of complicated fine print to get in your way.
You can save a lot of money. If you are savvy with your miles/rewards, timing, and flying budget airlines, you COULD save a lot.
Disadvantages of DIY RTW tickets
Tons of paperwork. You might end up with a dozen or more confirmation emails!
No cancellation/flight change benefits. Unless you purchase extra protection, you will pay a hefty fee to get a new ticket.
Very time-consuming. Multiply the time it takes you to plan one ticket by … 7, 8, 9? You have to buy each ticket separately, so that's a lot of entering credit card and flyer info!
It could cost more. If you wait to purchase tickets you may end up paying a premium on long-haul or popular routes.
Tips for RTW DIY
If you decide to go this route, here are some tips and tricks to keep costs down:
Do your research. Certain times and days are cheaper, like early Sunday morning, mid-day weekdays or flights in the middle of the night. Booking with the airline itself can be cheaper than using a booking engine, so double-check.
Check all the airlines. Look into scheduled, discount and charters – you never know which one will be cheaper.
Check the extras. That no-frills airline may come in cheap but once you've added the credit card fee, the baggage fee, the seating plan fee and the cost of food and coffee, you might be in for a shock.
Book early. On many discount airlines, the first few tickets sold for a flight are much cheaper than the last few. You could pay $40 for a flight booked a few weeks in advance, and $400 for the same flight booked on the same day.
Consider overland segments. Remember, you don't have to fly everywhere, so comparison shop – there are other cheap ways to travel. One of my favorites is rail, especially in Europe, where cheap train travel is still within the realm of the possible. And there are plenty more – travel by bus, boats, bicycles…
Look into single journey tickets. Fly with one airline and return with another, taking advantage of the cheapest fares each way.
Explore nearby airports. Many cities have alternative, more distant airports for low-cost airlines; if there's public transportation to town, you could save a bundle by using these.
Split your trip. I once tried to fly from Geneva to the Far East at an exorbitant price. Instead I flew discount to London and then on to Asia on a scheduled airline. I don't remember the cost but it was half, including the night I spent in London! Give yourself time though – if you miss your flight, you won't get a refund, since technically you're not 'connecting'.
Plan ahead. Changing tickets at the last minute will cost you money.
Sign up for frequent flyer plans. I flew to Borneo from Europe for free. And to Panama. All because I religiously keep track of my miles.
Read up online. Airlines often have special offers or web-only promotions. Stay on top of airfare news and be the first to grab that discount ticket! Sign up for newsletters or email alerts of those airlines flying to your destination.
HOW MUCH DOES AN AROUND THE WORLD TICKET COST?
Now, a look at round the world ticket prices.
These of course depend on your itinerary, but just to give you an idea, I chose a sample trip and costed it out (in 2019 prices).
New York > London > Bangkok > Singapore > Hong Kong > Melbourne > Fiji >
Los Angeles > New York
Oneworld: $5,938.96 USD (does not include a stop in Fiji, since it's not covered by Oneworld)
Star Alliance: $6,103.00 USD (includes stop in Fiji)
Skyteam: $6772.00 USD (omitted stop in Fiji due to mileage restriction in economy)
Airtreks: $2,403 to $3,146 USD (Airtreks only provides an estimate)
*DIY via an airline aggregator: $212.70 + $552 + $147.30 + $133.20 + $272.50 + $279.30 + $742.35 + $179.60 = $2,518.95 USD
*Note that I chose flights each one month apart on the first of each month (i.e. March 1, April 1, and so forth). Obviously time/date changes would change the cost of these flights, but this allowed some flights to fall on weekends and others on weekdays to give a VERY rough comparison.
While the Oneworld rtw fares here appear the lowest of the alliances, remember this ticket doesn't include the Fiji stop at all so the Star Alliance RTW ticket would be the cheapest alliance fare for the full route.
In this case, I'd have Airtreks do the legwork because it would cost about the same as doing it myself (but cost far less in stress), and up to half as much as booking directly with an alliance.
But again, a round the world ticket cost is extremely volatile: it depends on your itinerary and travel dates and you can't really say one system is more or less expensive. You'll have to look at your own itinerary to get a more realistic comparison.
HOW TO PLAN ROUND THE WORLD TRIPS
Now that you know where and how to buy your tickets, it's time to plan your trip.
Even if you choose to buy your around the world flight ticket from an alliance or build it all yourself, at least use Airtreks' planner tool to get started and see your entire journey on the globe.
If you have no idea where to start, have a look at these suggested itineraries and get inspired.
For a full guide to planning ANY trip, check out my 11-step process here. Just expand it to your long-term trip, and you're golden!
BEST RTW TICKETS: INSPIRATION FOR YOUR ITINERARY
An all-time favorite: NY > London (for a bit of Europe) > Bangkok/Singapore/Hong Kong (Asia is a must) – Australia/New Zealand (perennial faves) > Fiji (for something a bit different) > LA > NY
Europeans in Asia: London > Middle East (Turkey, for example) > Bangkok (use it as a base for Vietnam, Laos, Cambodia and more) > Bali > Tokyo (sushi from the source!) > Rio (yes, you can throw in a Latin American stop if you want) > London. Conversely, you could travel via the US. This works well if all your papers are in order and you have the latest electronic and biometric passports but if you don't benefit from a visa waiver, travel through the US (even if only in transit) is a hassle. An alternative is Canada – via Vancouver, Toronto or Montreal.
Southern Hemisphere extravaganza: start in Madrid and head for Rio, Buenos Aires and Santiago, then out to Easter Island and over to New Zealand and Australia. Forge on to Southeast Asia (Bali, Singapore, Kuala Lumpur) then cross to South Africa before making your way back to Madrid.
OVERLAND TRAVEL: HOW TO MAXIMIZE YOUR ROUND THE WORLD PLANE TICKETS
I've mentioned this briefly, but traveling overland via bus or train (especially in Europe) between nearby cities can really stretch your travel dollar — you'll have to pay for those miles if you travel with an alliance, but not if you use Airtreks or plan your own trip.
What I like to do is use flights to travel long distances — such as one continent to the next — and use land transportation for shorter (or more scenic) routes.
Be judicious, however, because which this applies easily to Europe and a few other parts of the world, many countries lack safety regulations and customs when it comes to land transport (and this would be a good time to remind you to get some solid travel insurance before embarking on a world trip).
Equally, the world is full of unregulated or banned airlines, so be sure to do your research (or at least ask an expert to do it for you).
IN CONCLUSION: WHICH IS THE BEST ROUND THE WORLD TICKET?
I wish it was that simple to choose! With so many variables – destination, season (peak or off peak), class – there's no one-size-fits-all when it comes to round the world airfares. But instead of just saying, "it depends" here's my recommendation:
If you want to fly first or business class….
If you need flexibility…
If you don't mind paying for convenience…
And if you don't mind abiding by alliance rules like no backtracking and starting/stopping in the same country….
Choose an alliance!
If you are looking for a good deal…
And alliance restrictions are too confining…
But you don't have time to do all the work yourself…
And you're ok with planning a whole trip before you go and paying the penalties for changing your mind…
Choose Airtreks!
If you need the lowest possible fares…
Or want to do tons of overland travel…
Or you hate the idea of planning your whole trip at once…
And if you have the time and patience to buy several cheap international point to point tickets either all at once or as you travel…
DIY it!
— Originally published on 10 November 2018