Clothed in a dark velvet gown, she glides down the passageway, a flash of metal glinting beneath her cape.
She holds her breath before sliding open the compartment door, as if anyone could hear a tiny squeak over the thunder of rolling track. She silently pulls out her knife.
That's more or less how I remember a scene from Agatha Christie's Murder on the Orient Express, as the group pulled out of one of Europe's most beautiful train stations.
In an era predating low-cost airlines and multi-lane highways, steam and soot would have crept through the windows, the scent of exotic woods and cigar smoke mixed in the dining car air and a menu, usually handwritten, offering up exotic dishes clothed in magical names.
Train travel isn't quite the same anymore, but many of the stations are as stunning as always, whether massive halls held up by iron girders and glass panes or modern concrete extravaganzas. A visit to some of the world's most beautiful railway stations can be almost as exciting as the trip upon which we are about to embark.
Only a few years ago, going to the train station was an expedition. Picnics would be prepared, Sunday clothes spread out on beds, and the excitement of 'going somewhere' – even at an age when the 'where' mattered little – would all combine into a sleepless night of anticipation.
Children would run up and down the aisles under the benevolent gaze of adults, too busy munching on snacks to pay much attention to a few overexcited kids.
The train station itself would be a major destination, its café a place of wonder, the bar too tall to reach but heaving under many wonderful concoctions, at least from a child's perspective.
For some of us, that wonder hasn't ceased. Entering a great travel hall can be the start of a magical journey, and starting it on the right foot is every bit as important as arriving safely at destination.
Even now, many people try to travel by train. It may be cheaper to fly, but trains are faster on short routes, they deliver you downtown, and trains have huge historical homes, those cavernous and intricately designed stations that are a nostalgic antidote to antiseptic and overwhelming airports.
HERE ARE SOME OF THE MOST BEAUTIFUL TRAIN STATIONS IN THE WORLD
Train stations are the stuff of adventure, of encounters and mysteries. They protect their hidden corners and underground secrets, especially if they were built before function began superseding form.
Even the most modern structure can dazzle, if it whispers the names of far-off places or transports you to an epoch when the journey was as important as the destination.
This collection of beautiful train stations exemplifies the unique, the unusual. Some are historical monuments, others are gleaming and gorgeous and yet others are ordinary buildings that tell extraordinary stories and carry the memories of generations.
There's just something about them.
São Bento, Porto, Portugal
Set in the historic centre of Porto, Portugal, is São Bento train station, one of Europe's most beautiful train stations, exquisitely decorated. São Bento often tops the list of things to see in Porto, and once you step inside the halls it is clear why: large-scale white and blue azulejo panels adorn the walls and depict important events from Portuguese history, allowing you to lose yourself in the past – and lose track of time. Contributed by Yoga Wine Travel
---
Amsterdam Central Station
The enormous Neo-Gothic or Neo-Renaissance style building of Amsterdam Central Station was built between 1881 and 1889, in tandem with other important public buildings like the Stadschouwburg (City Theater), Concertgebouw (Amsterdam Philharmonics) and the Central Post Office (now the Magna Plaza shopping mall). Called Amsterdam Centraal or simply CS by locals, the station was designed by Dutch architect Petrus J.H. Cuypers, who also designed the Rijksmuseum. Cuypers was first and foremost an architect of churches (the Sint-Bonifatiuskerk in Leeuwarden was a career highlight). So don't be surprised if Amsterdam Centraal reminds you of a church! Contributed by Flip Flop Globetrotters
---
Bialowieza Forest, Poland
One of the most memorable train stations in Poland is an abandoned railway station in Bialowieza Forest. It was built for the Tsars of Russia in 1903 so that they could travel to their hunting mansion in style. The station is now a hotel and restaurant decorated with original furniture from that period. The one train still standing on the tracks was transformed into a luxury sleeping coach with independent double apartments. A truly unique way to feel like a Tsar. Contributed by Where Life Is Great
---
Chhatrapati Shivaji Maharaj Terminus, Mumbai, India
Once known as Victoria Terminus, this major Mumbai landmark was renamed Chhatrapati Shivaji Maharaj Terminus (CSMT) in 1880, in honor of a 17th-century Hindu warrior king. Frederick William Stevens designed the station in line with the fashionable gothic revival in England using Indian craftsmen, materials and climate. This resulted in a unique style, known as "Bombay Gothic." In November 2008, two terrorists armed with AK-47s entered the passenger hall of the CSMT, opened fire and threw grenades, killing 58 people and injuring 104. That didn't deter local Mumbaikars and the station was reopened the next day. Contributed by Castaway with Crystal.
---
Berlin Hauptbahnhof
Any listing of notable train stations has to include the Berlin Hauptbahnhof, Europe's largest crossing station. The giant convex glass structure is also the continent's most modern connecting station, with photovoltaic cells in its roof to help power the station during daylight. Handling about 1,000 trains daily on two separate levels, it was completed in 2006 after over a decade of construction.Contributed by She Escapes
---
Flinders Street Station, Melbourne
How many train stations can brag about having their own ballroom? Flinders St station in Melbourne certainly can! Australia's first train station was built in 1854 and the ballrooom, originally a lecture hall, hosted lively dances in the mid-20th century. Major renovations now underway include plans to restore the ballroom, which for now is accessible by invitation only, and rarely at that. Today, the station remains one of the city's iconic buildings and consistently ranks in top things to see in Melbourne. Contributed by Traveling Honeybird
---
Gare Saint Lazare, Paris
The V-shaped iron and glass structure of Saint Lazare station in Paris hasn't changed much since it was painted by Monet. Inaugurated in 1837, it was the departure point to trendy beach suburbs to spend the weekend. The station's architecture symbolized speed and industrial progress and was painted often by Impressionists. Today it is a busy hub but also a meeting point for billiard players in the clubs outside the station. Meantime, musicians frequent the Rue the Rome, famous for its lute-makers – who can be seen at night fine-tuning their instruments – and specialist music bookstores.Contributed by World in Paris
---
Roma Termini
Rome's main train station, Roma Termini, didn't get its name from "ending, terminating" but from Diocletian's thermal baths nearby. The initial project was submitted to Pope Pius IX in 1860, when Rome was still under Papal rule. Located on Esquilino Hill, a temporary station opened in 1863 and was replaced by a more permanent one in 1874. Plans to rebuild it began in 1937 but were interrupted by World War II, so the new station wasn't inaugurated until 1950. Its modern incarnation features a winding concrete platform roof Romans like to call "the dinosaur". Contributed by Rome Actually
---
City Hall Station, New York City
City Hall Station in New York City is one of the most beautiful stations in the world… but not many people know about it since the train doesn't stop there! The station opened in 1904 and closed in 1945. Luckily for us, you can still see it from the inside of a subway car. Take the 6 toward Brooklyn Bridge and stay on the train after the last stop. The City Hall station serves as the turnaround point, and if you sit on the right side of the train, you can peek through the windows into the time capsule of days gone by. Contributed by The Sweet Wanderlust (Photo: City Hall IRT Station (disused), New York" (CC BY-NC-ND 2.0) by Matt Blaze
---
Grand Central Terminal, New York City
Grand Central Terminal in Midtown Manhattan has more train platforms than any other station in the world (44), along with 35 dining options and 68 shops. It is famous for its ceiling (which depicts the zodiac – backwards) and clock (the world's largest Tiffany clock), but fewer people may know about the whisper gallery (an acoustic anomaly carries sound throughout) on the lower level – let alone its hidden bar, the secret room (used for clandestine operations in WWII) or, yes, a tennis court. Contributed by Two Traveling Texans
---
Lviv, Ukraine
Lviv, Ukraine, is one of the most spectacular examples of beautiful railway design and Art Nouveau architecture in Central Europe – and much of it remains unspoilt. At the turn of the 20th century, stations built across the Austro-Hungarian empire were built with particular care and Lviv Station was architecturally influential. Shortly after it opened in 1904, architects from other parts of Europe visited, using the inspiration to build other stations in cities such as Prague or Vienna. Contributed by Kami and the Rest of the World
---
Slavutych Station, Ukraine
Not many people have heard of the city of Slavutych, Ukraine, near the Belarus border. It was built by the Soviet Union specifically for those affected by the Chernobyl nuclear disaster. The residents of Pripyat, where Chernobyl is located, were moved here and while many were retrained into new careers, about 3,000 people are still employed by the nuclear power plant. Several times a day, a train leaves Slavutych station to ferry people to work in the Chernobyl Exclusion Zone. Slavutych was the last city the Soviet Union built and was completed in 1988. Contributed by Megan Starr
---
King's Cross, London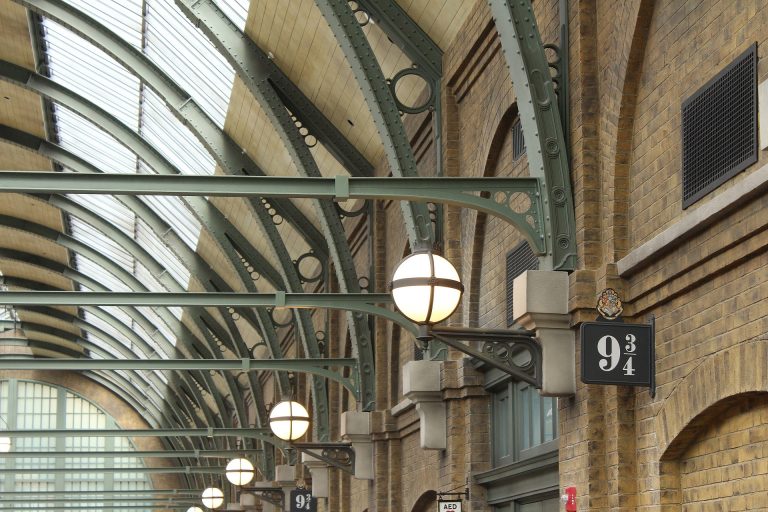 King's Cross in London was built in 1852 and is the main station for trains coming from Northern England and Scotland. It is now famous for Platform 9 ¾ where Harry Potter boarded the Hogwarts Express that would take him to the school for Witchcraft and Wizardry. Many Potter fans queue along the concourse to have their photo taken pushing their trolley through the wall. Contributed by Yorkshire Wonders
---
Shinjuku Station, Tokyo
With 36 platforms, 200 exits and over 3.5 million daily passengers, Shinjuku Station in southwest Tokyo more than earns its place as the busiest train station in the world. For years, the tiny closet-sized yakitori restaurants of Memory Lane, next to the station, have served food and beer to waiting passengers. A few hours on Memory Lane provides a fascinating glimpse into daily Tokyo life. Contributed by The Whole World is a Playground
---
Helsinki Train Station, Finland
Helsinki train station, a modest example of Finland architecture, might seem small or insignificant – unless locals are in a playful mood and try to dress up the two now famous statues that peacefully guard the entrance. They were once dressed like the band Kiss!, an event noteworthy enough to make them international news. Contributed by Pretty Wild World
---
St Pancras, London
London's St Pancras railway station is both a feat of engineering and a Victorian gothic revival masterpiece. Built almost 150 years ago in 1868, its single span arched train shed was the largest ironwork structure of its kind. Left to decay after sustaining considerable damage during both world wars, St Pancras was saved from demolition in the 1960s and revitalised in 2004. Now the terminal for Eurostar connections to Paris, it is one of the most recognisable buildings on the London skyline thanks to its distinctive design by architect George Gilbert Scott. Contributed by Untold Morsels
---
Tiahuanaco, Bolivia
Don't miss your train here – you could wait a month for the next one! Tiahuanaco is not only home to the most celebrated pre-Incan ruins in Bolivia but also to one of the world's least busy train stations. On the second Sunday of the month, a tourist train leaves the mountain town of El Alto for a return trip to Guagui on the shore of Lake Titicaca. Along the way it stops for 90 minutes at Tiahuanaco – passengers can visit the museum and archaeological site, along with the train station that was built to get them there. Contributed by Living la Vida Global
---
Antwerp Central Station, Belgium
Antwerp Central Station, built by King Leopold at the turn of the 20th century, is an architectural jewel whose eclectic style defies definition, ranging from Gothic to Neo-Baroque and even defined as an Art Deco train station. Designed by Louis Delacenserie, it is one of the city's treasured landmarks and survived severe bomb damage during World War II. By mid-20th century the building had deteriorated and demolition was considered. Saner thoughts prevailed and the station was restored, its structure strengthened and it was thoroughly modernized to allow high-speed trains. It is considered one of the world's most beautiful train stations – and one of the most romantic. Contributed by Nomad is Beautiful
---
Union Station, Denver, Colorado
Opened in 1894 after an earlier station on the same site burned, Union Station in Denver, Colorado served as the city's main transportation hub for over 150 years. As fewer people rode trains, it fell into disrepair. The local government decided to undertake a massive restoration and upgrade in 2011 to revitalize it: the historic building has 22 gates serving multiple long distance and commuter routes, as well as bookstores, coffee houses, and eateries. Contributed by Cosmos Mariners
Rossio Train Station, Lisbon
Rossio Train Station in Lisbon is an architectural gem in the Neo-Manueline style, unique to Portugal. Some of Lisbon's most famous buildings, such as the Monasterio de San Jeronimo, were built in this style. Erected in the 1880s, the station has served the Portuguese capital ever since, although under a different name: it was once called the Estação Central thanks to its location on one of Lisbon's central squares.Contributed by The Discoveries Of
---
Chandigarh Station, India
Chandigarh is a small yet bustling city in northern India. The city is host to a beautiful rock garden and this is also represented in its train station. Like all other train stations in India, it has a sense of being overcrowded but the rock statues built outside make it truly endearing. These rock statues are carved from granite and studded with chips of marble. Best time to visit Chandigarh is from October to January. Contributed by Salt and Sandals
THE END OF THE LINE?
However many dreams have been concocted while waiting on time-worn benches for the next train, many things conspire to make the romance of railway stations a thing of the past.
As faster and cheaper transport takes over, stations are abandoned, their crumbling, overgrown walls flashing by the window as reminders of forgotten places where no one stops anymore.
Thankfully not all have suffered this fate. Some wonderful stations have escaped destruction and are enjoying their second act as malls or hotels. Others are being refurbished, their brasses shining brightly, their ceilings scoured.
Walking into one of these is like walking into a surreal tableau where, for a moment, we can experience the luxury of time, anticipation and a sense of the true excitement of travel – while leaning against the counter of the café, espresso in hand, and a sense of history.