I was in Kotor, Montenegro, a small coastal town, for all of 36 hours. As much as I'd like, I won't be giving you an in-depth Kotor travel guide.
What I can do is provide you with all the Kotor travel tips you'll need if you're on a quick trip and you haven't had much time to do research.
I'd heard so much about Kotor but I tried to manage my expectations – no place is perfect, right?
So I went with an open mind – and instantly fell in love. But like all loves, once in a while it can get rocky…
What to do in Kotor, Montenegro – and what you should know before you go
As I drove into Kotor from the south, it unfurled, first the outskirts (never an attractive part of town), then the walls of Kotor's old town, and then out the other end, along the bluest, calmest of waters, on a small, nearly car-free road bordered by glorious Italianate villas and… I'm getting carried away.
Is this one of the best places to visit in Montenegro? You decide…
The exquisite Kotor Bay sweeps out in front of you, behind you, almost everywhere you look. There are hidden nooks and crannies and stairways heading up the mountain, many of them hidden under ancient vines or behind lush flowers.
Kotor has been blessed with an environment that is striking at worst, sublime at best.
(If you don't have time for a full trip to Kotor, you can easily visit on a day trip from Dubrovnik.)
The further you go, the more gorgeous Kotor gets
First, a disclosure if you will… I did NOT climb up here myself.
I sat in a café in the Old Town sipping a macchiato (at the San Giovanni, if you must know) and watched the brave and hardy trudge up the more than 1350 steps towards the confusingly named fortress, whose official name is St Ivan, but to locals it's St. Giovanni – which translates to St John Fortress for visitors. They began their climb with a spring but, as they advanced, they began to slow, probably once the full realization of their ambition caught up with them.
This hike isn't for the untrained.
Certainly, it wasn't for me, but oh, those views…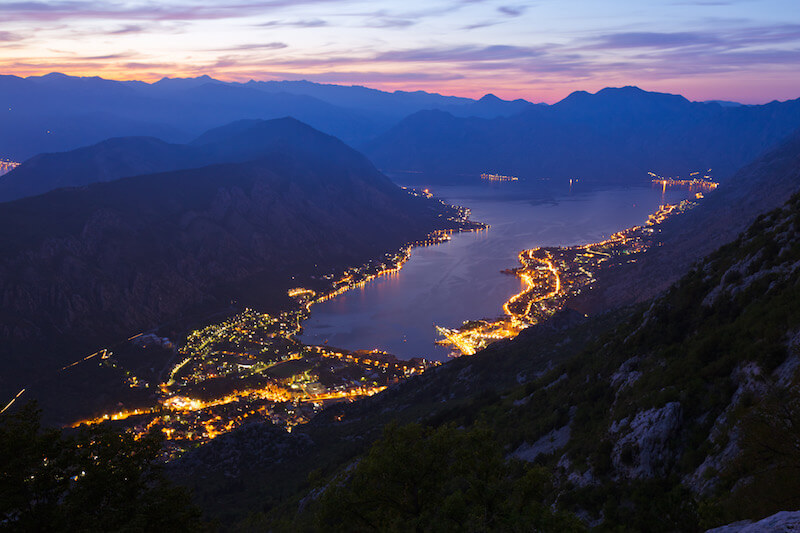 Yes, Kotor Old Town is every bit as stunning as they say
Kotor is striking even in the rain!
It rained the entire time I was in Kotor and a test of a place's attractiveness is how you see it when water is pouring down the streets, off your umbrella, and, eventually, onto your head. (If you seek refuge under one of those large protective umbrellas used by restaurants, note this: do not sit where two umbrellas join; when it pours, the water can fall between those cracks and onto your unfortunate head, bag, and pasta…)
But once you give up on the pasta and start walking around, nothing, not even the rain, will dampen your enthusiasm. (I do seem to attract the rain, though – on a recent trip to Milan, I struggled to find some sun too…)
Do you love cats? If not, skip this section…
Plenty of cities have cat cafés but Kotor has raised its feline veneration to loftier heights: no cat cafe here, but an entire Cats Museum.
Because Kotor is full of cats… but how did they get here?
According to informed popular belief, the cats probably arrived on ships – Kotor is a port, after all – and they stayed and multiplied, feasting on the city's mice and snakes (Kotor is surrounded by mountains, so wildlife is plentiful).
As I sat drinking my macchiato, a cat sauntered by, took a bored look at me, and kept going. What? No begging? No rolling around being cute in the hope of a pastry morsel? Not in the least.
And then it happened again, with another cat. These cats weren't hungry. On the contrary, they seemed chop-licking smug and satisfied, well-fed and content.
Homage to these cats is paid by the Cats Museum, a tiny but delightful collection of feline paraphernalia, ranging from cat bingo cards to antique etchings – and a souvenir shop (yes, I bought two cat fridge magnets). The museum also helps feed the town's cats, so don't forget to donate!
Not up for cats? Head to the Maritime Museum or the Palace of Living History while waiting for the rain to stop.
The best time to visit Kotor: It's not when you think
Usually, this refers to the best time of year but for Kotor, it's all about the best time of day.
Kotor is not a well-kept secret, with tens if not hundreds of thousands of visitors every summer. Walking through the old town at high noon, even in the rain, I felt as though I could reach out and touch every single one of those tourists.
In some of the narrower alleys, I had to wait for long lines to pass through, in a single file (umbrellas didn't help), and listen as tour guides tried to outdo one another in volume and explanations.
BUT – not all is lost. You can avoid the crowds in Kotor.
The first thing is to visit outside the rush hour. From what I can gather, the larger groups begin in earnest at around 10 am and pedestrian traffic (the entire old town is car-free) thins out around 5 pm so if you avoid those peak hours, you won't have the place to yourself, but you won't risk losing an eye to an umbrella or elbow.
My other tip is to burrow into the smaller alleys – and there are plenty. Most tour groups stick to the main squares and the larger alleyways, so don't hesitate to dart off into the more neglected side streets. You'll be delighted!
Ah, but there's another blight
There be ships. Huge ships. Kotor is a cruise ship port… And a mind-boggling number of visitors disembark each day, making a beeline for the old town. During my visit, two such ships were berthed, and it wasn't even high season.
Kotor is a foodie town
I was told to eat fish and seafood, and being the obedient type I headed straight for a plate of fried calamari; my next meal was pasta with shrimp; and my final meal was a giant pot of steamed mussels.
Kotor lived up to its foodie reputation – three out of three, in my opinion.
The fried calamari were of a rare crispiness and so fresh I could almost inhale them. There was also fresh fish but it was priced per 100g. Without any notion of the weight of a fish (and being on my own to eat it) I hesitated, and stuck to seafood. If you do decide to go for fish, and it did look good, make sure you ask how much it weighs before you order it or you might be in for a surprise.
My single recommendation: Konoba Akustik, about 5 minutes out of the old town, towards the right, at the start of Dobrota, the section of Kotor that follows the shoreline. Some of the best Kotor restaurants are apparently inside the old town… I just can't recommend any because I stuck to Akustik.
Speaking of Dobrota…
While I can understand the charm of staying in the old town – the entire region is protected as a World Heritage Site under UNESCO, by the way – I was thrilled to be staying in Dobrota (I found a cozy, reasonable hotel, the Vila Panonija). The seafront section of this "suburb" winds along the shore for several kilometers, and the homes that line it – elegant mansions, scattered churches, and a few modern flats – are no more than a couple of meters from the water (many have been turned into summer rentals).
Tiny pebble beaches dot this part of town, which you can enjoy either in your bathing suit or from the comfort of one of the many restaurants that jut out to sea along the promenade. It doesn't get much better.
And it doesn't have to be costly. Yes, there are plenty of luxurious restaurants, but there are also perfectly affordable pizzerias and casual eateries. Check also if they have live music, which can add an extra dimension to your evening!
'Try' to take a walking tour of Kotor
I put 'try' in quotes because I tried and failed.
Being a solo traveler, finding a paying tour is expensive. Most are priced with 3-4 people in mind, so the prices you see posted on any popular tour platform are the prices you'll pay if several people are on the tour. I did try, but each time I chose 1 person in the drop-down menu, the price snowballed and the initially reasonable prices that attracted me quickly disappeared. If you can get a small group together, though, go for it, because you'll learn plenty of history.
So I tried the Kotor Free Walking Tour, which sounded quite promising – I've taken free walking tours in many cities and usually enjoyed them. I even paid €1 to reserve a Saturday tour online, a week ahead of time… and 55 minutes before it was supposed to start, as I was leaving my hotel, I received an email telling me I couldn't join because of "lack of availability". Perhaps I was the only person on the tour and it wouldn't have been worth it for the guide… or maybe they were spooked by the rain… either way, I was not destined to have a walking tour of Kotor.
That said, visiting Kotor on your own without a tour is perfectly fine. Just wander the streets of the old town, stroll along Dobrota, or head up to the fortress.
You'll be welcomed in restaurants (and no, you won't be seated behind the potted palm). I found it to be perfectly safe, certainly until after dinner. I walked quite far along the shore after supper and back – the boardwalk was crowded with families.
Day trips from Kotor
Not only did I fail to find a walking tour – but I was obviously not destined to have a tour of the bay, either… For 20€, I signed up for a slow boat tour (there are plenty of speedboats but no thanks) and waited for the scheduled departure, along with half a dozen others. But then they told us a group was late and the tour would leave in three hours so, again, fail.
In this case, I would opt for a tour from a well-known brand, more likely to go ahead under most circumstances. Here are some of the best-rated ones:
You must try to get out of Kotor town and travel along the Montenegro coast, even for an hour or two. A quick look at the photos below will show you why.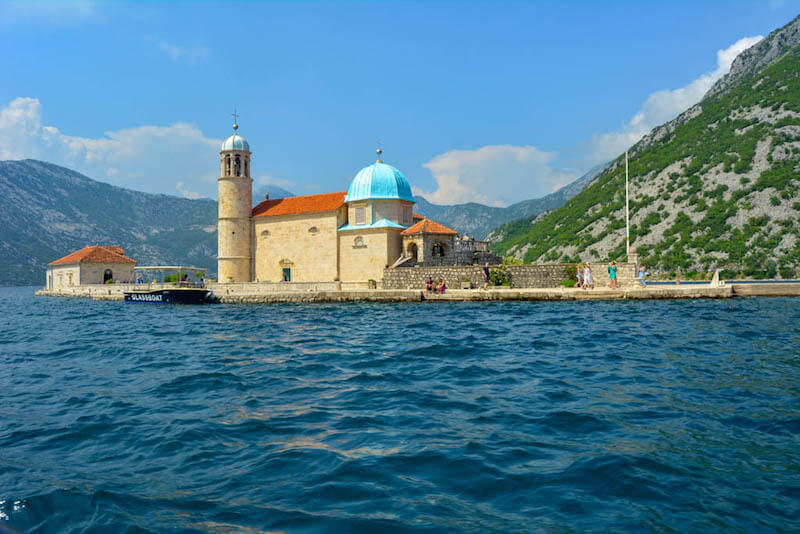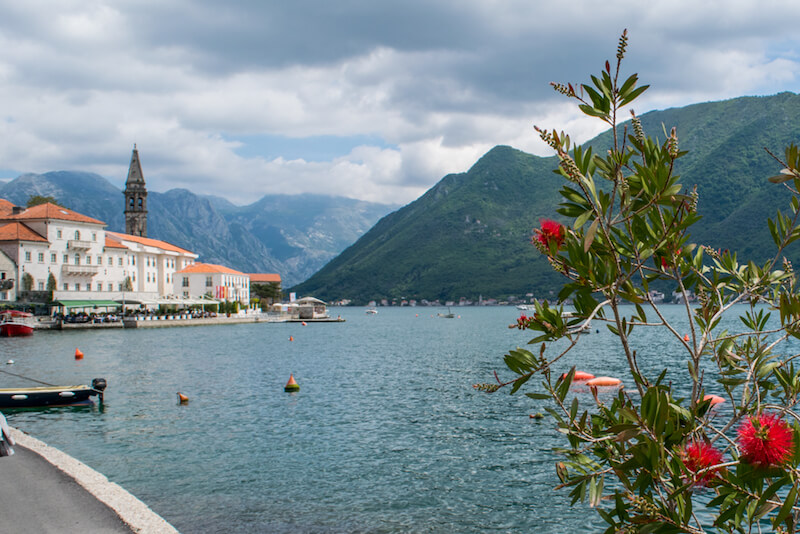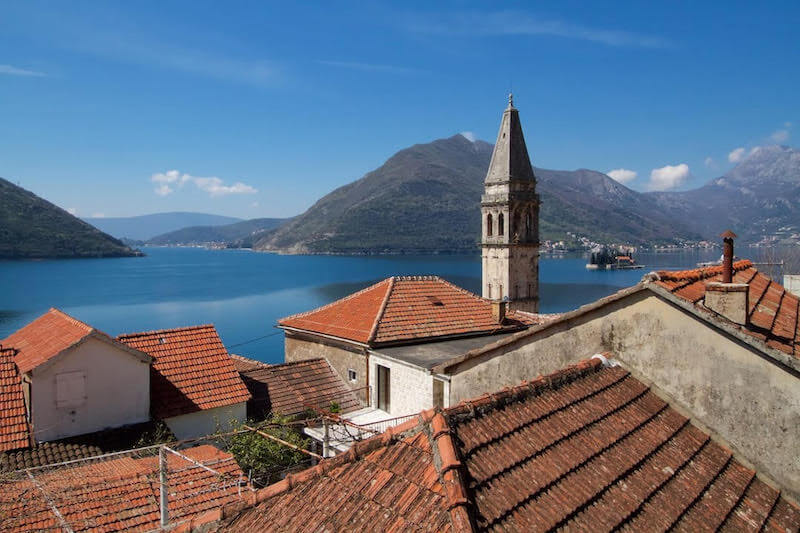 If you happen to find a tour headed towards Lovcen National Park, about 20 km away, then take advantage and go. This full-day tour of Montenegro also includes Lovcen, home of the "Black Mountain" which gives Montenegro its name.
Islets worth visiting near Kotor
The entire Bay of Kotor is beautiful, but the tiny islands off the coast of Perast are truly breathtaking. If you feel like taking in the views from a boat, a trip from Kotor to these islands can be a spiritual experience.
Saint George is worth visiting for its 12th-century monastery
Our Lady of the Rocks is an intriguing artificial island built when two fishermen discovered an image of the Virgin Mary on a pile of rocks on 22 July 1452. People piled on additional rocks, expanding the island, and a custom was born: each year on this day, at sunset, people from Perast throw rocks into the sea to grow the island (the custom is called fašinada). The church is also home to a tapestry embroidered by a woman waiting for her sweetheart to return. She wove her own hair into it, and over time, those strands turned from black to grey.
So you see, it's not just a video game
Yes, you read right. If you happen to be a Star Wars fan, you may know Kotor as a video game based on the popular cinema franchise. So when I tried to research Kotor online before my trip, I kept finding Star Wars references – and that's because the game, Star Wars: Knights of the Old Republic, is also known as Kotor.
But no, nothing to do with the city… as far as I know
A few more random observations
I saw plenty of police in Kotor, which I think were there to regulate the many tourists, buses, and cars. They seem effective: I saw a pedestrian stopped for jaywalking, and other visitors reported their cars being towed for parking in the wrong place so beware: if you're driving, make sure you head for the nearest parking lot.
I also observed quite a few abandoned buildings, unfinished or in disuse, so if you happen to be an urban explorer, it might be worth hunting some of these down.
And finally, in terms of getting to Kotor, you have plenty of choices. I flew into the capital, Podgorica, and hired a car and driver for €50 each way. You can't take the bus directly from Podgorica airport but you can take a taxi to the bus station and then hop on a bus. Kotor itself has an airport, Tivat (TIV/LYTV), so you could go there directly. Or if you happen to be in Dubrovnik, you can take a Dubrovnik to Kotor bus, or one of several organized group tours. You can also visit for the day from Tirana, the capital of Albania.
And that's my first impression of Kotor: stunning, delicious, and worth a bit of planning to avoid the crowds.
A few points about Montenegro
Because there are some things that apply to the entire country, and while I spent far too little time in Kotor, I did spend a week in Podgorica, the capital:
Montenegro means Black Mountain – but then you probably knew that…
The currency is the Euro, even though Montenegro is not a member of the European Union – but unlike EU countries, it doesn't produce its own coins.
The roads to the main tourist areas are excellent, but the driving can be interesting, especially that bit about "who owns the solid line in the middle". But generally, people adhere to speed limits (and the views are spectacular).
Montenegro is a small country (smaller than the US state of Connecticut) with a population of 620,000 – close to the population of Baltimore or Las Vegas.
It has only been an independent country since 2006.
People still smoke indoors here and it can be quite a shock for your meal to arrive at the same time as the table next to you is lighting up. Definitely not cool. There is a law against it, but…
Montenegro travel often involves teeth – it is a growing dental tourism center. I had my teeth cleaned in Kotor at one-third the price of my Geneva dentist but with more modern equipment.
And finally, and this was a surprise, you know those URLs that end with dot-me? As in .me? So lovely and personal? Well, .me is Montenegro's code – the country just happens to market it internationally, a bit like .tv which is owned by the country of Tuvalu. Smart thinking.
So… would I come back to Montenegro? In a flash, to revisit Kotor, of course, but also to see the rest of the country.
A few extra Kotor resources
And please – don't forget your travel insurance before you go! I recommend SafetyWing if you're 69 and under. If that birthday has come and gone, click here for travel insurance that covers you at any age.
If you liked this story, pin and save for later!